There is a general consensus among those who posted their considerations of the Oakland fair that it is a good venue and that sales and attendance figures were mainly above expectations, that the location is acceptable and the number of restaurant and hotel options is very satisfactory. That was our conclusion, too, here at Caliban Books. The Northern California book fair committee and especially Michael Hackenberg, along with the new promoter, White Rain Productions, deserves thanks for making the fair a success. Read below for more reflections from exhibitors.
-- John Schulman, Caliban Book Shop
Chic Goldsmid:
Congratulations and thank you to Michael & the Committee, and to White Rain. I share the favorable view of the venue, load in, hotel room, White Rain staff, Marriott staff (consistently polite and helpful) and the EPI load & unloaders (they were careful, efficient, pleasant, responsive).

In my view, the downtown Oakland location rates above the Concourse location and well above the Concourse neighborhood (especially of the late 1980s and early 1990s). One can get to downtown SF and Berkeley etc. from Oakland quickly/efficiently. And in that regard, Oakland Convention Center/Marriott is better than Concourse and many of the LA venues of the last 20 years. I love downtown SF, but I am a fan of the Oakland (and of the Pasadena) locations.

Load in and out went efficiently/quickly for me and for most people I talked to. I heard there were some people with delayed load-outs because of confusion due to the load out being on two sides of the venue. The only negative of the venue is the narrow and not very deep loading dock. Because the rain held off during load out, EPI was able to load into cars on the street easily and it went well. I'm not sure how widely it was known/announced (or if this is true) but I heard that in the event of rain-- EPI has tarp & awning arrangements they use.

I thought attendance was good. Even on Sunday when rain was no small thing. (My librarian count included UC-Berkeley, Stanford, Huntington, Columbia, Toronto, Virginia, and others I can't recall.)

Downtown Oakland has some interesting architecture. I was able to squeeze in some exploring of downtown and enjoyed: Preservation Park (a gathering of nice old Victorian residences); City Hall, the Flatiron-type building at Broadway (and 16th?), exterior of the Fox Theatre (across from Bibliomania), Tribune Tower, Smart & Final. (And a short bus ride to Tavistock on Alameda-- stops a matter of yards from the Marriott and leaves you almost at Vic's shop.)

(In past years, my wife and I took the ferry from the SF Ferry Terminal to Oakland which is has great views of the SF-Oakland port, bay, etc.) My major regret was not getting to Heinolds.

Carol Sandberg of Michael R. Thompson Books:
I can only echo your sentiments here, but I want to add my two cents because I think that Michael Hackenberg and the Northern California Book Fair Committee deserve all the kudos we can give them. Since I am on the Southern California Book Fair Committee, I'm well aware of the anxiety they have been through, moving to a new venue, and all the nay-sayers they have had to answer for many months. As with our move to Pasadena, the move to Oakland proved to be an excellent one, and we look forward to many more ABAA fairs at both venues. I heard a number of people remark that they did not miss the cold, leaky Concourse one bit!

The Marriott was very comfortable, and, as many said, the staff was extraordinarily courteous and responsive to our needs. The exhibition hall was attractive and well-lighted. My feet greatly appreciated the carpeting, which left them less painful at the end of the day than they were at the Bustamante Fair the week before in Pasadena. Load-in and load-out were as easy as any fair we've ever done. I had several nice meals in Oakland, including one right across the street at Le Cheval. I heard good reports about several other restaurants within walking distance, some of which I hope to try at the next Oakland Fair. Though I personally didn't venture too far from the Marriott, I know that many dealers and customers appreciated the fact that the Oakland venue was so near the BART station.

Michael Thompson was unfortunately not in attendance because of medical problems, but our sales were very good, and I'm sure he would have liked this fair a lot. There were crowds around every day. If anything, the fair started rather slowly for us. On Friday night our customers seemed to be assessing the new venue and getting the lay of the land, and our sales were modest. But Saturday was a strong day, Sunday was even stronger, and the residual fair business this last week was exceptional.

Thank you, Northern California Book Fair Committee, and White Rain, for all your hard work. Michael and I congratulate you and look forward to the Oakland Fair in 2017. And now we have to get to work on the 2016 Pasadena Fair.
Boris Bruton of Plaza Books:
I loved the Oakland venue. I wouldn't want to go back to the Concourse even if we could. And every aspect of the fair went smoothly and well for me. Thanks to all responsible.
Ken Sanders:
Will the naysayers please shut up now and/or continue to stay away? The venue is great: large and roomy and well lit and non-leaky. The hotel was fine, and the neighborhood was great. Lots of eateries down Washington Street; a great deli, Ratto's, that's been around since 1897 (fortunately their pastrami is lesser aged) and a great breakfast joint two blocks down: the Cock A Doodle Doo. Had great dinners too. I must say the bar was far too collegial late at night and got more so as closing time crept close. An innovative Brad Johnson dickered with the bar staff to bring in his own beer and pay a "corkage." First I've seen of that.
BART station across the street from hotel and I didn't witness or participate in a single murder or mugging. I did lose half of my book bucks though, so that might qualify as a self mugging. Was surprised to learn the subway shuts down round midnight, though.

Crowds seemed excellent both on Friday and Saturday, although we could not sell a book on Sunday. Our sales were all right, and more importantly, we swung a few deals there that will result in
significant future sales.
We had some fun over Donner's Pass Monday morning as Kent got nabbed by the chain control and had to stop to put on chains. Seems one of them decided not to come back off. This of course was right before the Donner Pass Road, but fortunately AAA saved him from cannibalism. Although I'm not sure eating one's self qualifies as cannibalism.

Thanks to the hard working Northern California chapter of the ABAA and Molly and Lynne and the White Rain folks. Well done. And I must confess, for those of you who saw Michael Hackenberg's shiner, I was responsible. or least my bookcase was. Come to think of it, that was a Serendipity bookcase so the ghost of Peter B. Howard must have done it.
Margueritte Peterson's blog for Tavistock Books:
Vic Zoschak's assistant, whom he often refers to as Ms. P., has posted a blog on their website here about the fair which includes a picture of the mayor of Oakland looking over an old map of the city with Vic.
Howard Prouty of ReadInk:
Much of this will certainly be "more of the same," but for what it's worth here are my impressions of last weekend's shindig.
I am far less experienced than most other commenters, this having been only the sixth book fair (four of them ABAA shows) I've ever done, and only the third venue I've been in: twice at the Concourse in S.F., three shows in Pasadena, and now Oakland. Of those sites, the Oakland Marriott is easily my favorite, the Pasadena Convention Center a close-ish second, and the Concourse a *distant* third. The latter did have a certain down-at-the-heels charm, but that doesn't disguise or excuse the fact that it was, frankly, a dump. The load-in-and-out, the parking (for customers), the surrounding neighborhood, and the immediate-proximity restaurants were all less than ideal, to put it politely, and most decent hotels were both distant and pricey. And as Vic and others have mentioned, the past weekend's deluge would have turned it into Plastic Tarp City. So in my opinion, any lingering nostalgia for the good old Concourse is more than a little myopic (as I guess nostalgia is, by its very nature).

The Oakland Marriott venue, in stark contrast, was outstanding in every way. Load-in could not have been easier, and the exhibit hall itself was very attractive with excellent lighting and a generally "warm" feeling to it, which extended to the lobby. (And I'm not the biggest fan of the Pasadena venue in this regard, where the lobby is a bit ugly, and the exhibit hall itself somewhat cavernous in a not-especially-inviting way.) Every single person I dealt with – both the White Rain folks and the facilities people – was unfailingly pleasant, prompt and effective. In fact, I'd like to give a special shout-out to the folks who unloaded and loaded our vehicles, and transported our boxes to and away from our booths – those very people who one pre-fair commenter referred to quite rudely and unjustifiably as "apes." Load-out didn't go quite as efficiently -- my wait at curbside was about 20-25 minutes -- but that's only to be expected when *everybody* is trying to get out at the same time, as opposed to load-in, which is spread out over a couple of days. It was certainly no worse than I've experienced at other shows/venues.

As a Southern Californian, I probably shouldn't get too deeply into the S.F.-vs.-Oakland debate, but I will say that it seems even more obvious in hindsight that the "fear of Oakland" that was being whipped up by some people prior to the fair was wildly exaggerated. Are there parts of Oakland that should probably be avoided, especially at night? Of course. But this also happens to be true of every major city (and a lot of minor ones) in the whole damn country, and there's no need to make any more of it than that. And what I saw of downtown Oakland, in the immediate vicinity of the venue, was a hell of a lot cleaner and a good deal less threatening than many areas of downtown S.F. these days.

As far as the fair itself went, I was very happy with both the volume of my sales and the general level of activity and action in and around my booth. I wrote 40 invoices over the course of the show, nicely balanced between dealer and public sales, and am pretty sure it was my most profitable show ever. Best of all, I sold about half a dozen books that I'd had in my inventory for a bit too long, and that were starting to feel a little bit over-exposed.

Speaking of numbers, in lieu of any kind of official attendance/admission figures (forthcoming?), I'll offer two anecdotal observations. (1) on both Friday and Saturday, there were quite substantial crowds in the aisles, and occasionally even enough in my booth that I had to step outside to give them all room to move around; Sunday was typically slower and less populated, but that's hardly unexpected. (2) I heard somebody state that the show had surpassed some kind of previous record (or maybe just the previous ABAA NoCal show?) for the number of advance ticket sales; presumably somebody has those numbers and will eventually share them. In any event, it would seem that enough East Bay people showed up to offset those who couldn't be bothered to cross a bridge or take a ten-minute BART ride to get to Oakland.

The free lunch on set-up day was just fine, and the concession food seemed to be up to snuff as far as such things go (although the only thing I actually had was the tuna salad sandwich) – certainly MUCH better than at Pasadena, where it truly and verily sucketh big time. I did miss the Pasadena-style fruit-and-yogurt spread in the exhibitor courtesy room (which I understand wasn't do-able in Oakland because of some union-related food-handling issue), but the $50 worth of vouchers made up for it, at least in my case. (I spent nothing out of pocket at the concession stand.) Not having indulged in a hot dog, I have nothing to contribute to the Great Pickle Relish Controversy.

I should also mention that my immediate booth neighbors -- Argonaut Book Shop on the left (the venerable Bob Haines and his less-venerable but just as personable daughter Angela) and First Folio on the right (the Dennae from Tennessee) -- were not only congenial company, but all that attractive leather in their booths made a nice contrast with all that garish colored paper in which most of my own merchandise is wrapped.

In sum, I think the NoCal Fair Committee members are to be highly commended for all their efforts in pulling this off, and I hope that the pre-show nay-sayers (especially the ones who went so far as to actually stay home) are properly chagrined and regretful. It seems possible, unless some hitherto unknown or as-yet-unbuilt venue should magically pop up on the other side of the Bay in the next year or so, that the fair may settle in for a good long run in Oakland, which will be just fine with me.
Kevin Mac Donnell:
I had very good buying and OK selling (I don't sell books in Oklahoma, so don't be confused). Good buying and selling during set-up. Dismal selling opening night. Strong Saturday but things got quiet again Sunday. The weather on opening night could explain a lot. East coast flight delays could also be a factor. I dunno.
The venue is excellent. No leaks, no runs, no drips, and no arctic blasts of wind in the hall. We stayed at the Marriott and had no complaints. We flew into SF (airfare to Oakland was weirdly expensive!!) and took the BART for $8.95 each way. Since I have knee surgery this week, we came out to the fair and flew right back today, with no booking or scouting outside the fair. I tried not to limp and weep openly, and getting around the hotel and book fair was easy even for me in my gimpy limpy simpy wimpy state.
Given the situation with the Concourse and the available options I think the book fair committee made a good decision and a fine execution. All praise to everyone involved –I don't know everyone who was involved so I'll leave it to someone else to name them all for fear of leaving somebody out.
There was some mild excitement when a potential book-thief was spotted. I reported the person and took a photo, and the security folks watched him every minute when he returned to the hall. The item that was removed from a nearby booth was returned to its owner. The incident was handled professionally and appropriately and I hope that the info on this fellow is passed along to the Boston book fair folks. He was not caught in the act, so I'll refrain from naming the suspect or commenting further.
If you like the venues at the Pasadena and Boston book fairs you will feel right at home in Oakland. We did.
Pia Oliver:
Home -- my own house with my own bed, with my two dogs and two cats and one husband -- sweet. My aching feet are almost recovered but it will take longer for the waistline -- those poppy seed cake slices for breakfast… the mornings were fine for food but later… unlike some I was not able to go outside the fair during the day, and the concession stands with their hot dogs and hamburgers were not the least bit appealing -unfortunately I missed out on the good coffee at the other place. They were closed every time I went there. I do think that closing those concessions at 3pm when the fair runs to 8, 7 and 5pm respectively, is not the best thing to do. Probably my biggest, and perhaps only, gripe.
The book fair is a memory of a weekend with lots of energy, lots of excitement, lots of friends, lots of great books, not lots -- but very good sales -- and, for me, the pleasure of seeing things at the fair and talking, via my trusted Macbook, to customers on 3 different continents from where I was, and then buying for them! I loved it! The fair was very good to us, not just that we can add some money to our bank account, but in that I got to shoot my mouth off to a lot of customers and colleagues and no one seemed to mind. For me, the talking with colleagues, the gossiping (I am not shy to say I enjoy the gossip) about what's going on in the book world is one of the biggest bonuses of any fair. Being in the backwater of Santa Barbara I feel like the country hick come to town at the fairs, and enjoy every minute and am glad to get home to the simple life.

Lynn did a great job, as usual I was about to say, but I do believe that she works hard and I appreciate that. The staff were great and smiling, and the security staff were young and agile and smiling. Especially at load out, the staff were really good, helpful, courteous and even smiling. For a while we thought we had to load out in the rain but as it turned out when our turn came the gods were smiling with moonshine. Staff was quick and kept the line moving, and put up with our quirks that we wanted that box there in the car, and this one over here.

The venue is great with lots of light, very similar to Pasadena Convention Center, and it's well located with many restaurants within walking distance, drug stores (if you forget stuff like toothpaste at home...) and if you are too cheap to pay $5.25 for a bottle of water and want to buy it for less than a dollar. The hotel was quite comfortable and the staff friendly. My room was triangular and had magnificent views on one side and a pool and HVC equipment on the other. I found the buildings around interesting and that view from the 6th floor was magnificent, even in the rain. The elevators were a bit on the slow side, and made you wonder if there were more than two that were functional -- seemed like I was always using the furthest left one…
The entry to the fair was very good, it did not leave anyone wondering what they were letting themselves in for, and no way could they get lost and end up at the boat show (for those who remember the only fair at the LA convention center). We had a back booth, row 400, and it took a little while for the "horde" to reach us each day, but once they did, they were pretty steady. Sunday had a pretty good turnout, albeit the sales were definitely the slowest that day. I thought there were a number of new faces, and younger faces, and more good questions that showed a genuine interest -- not so many partners/spouses/bf/gf who were dragged along but rather people with a real interest. I loved to see little kids and at one point had three adorable 18 month old children by our booth -- they were giggling and laughing and having a great time.
I hope the two dealers from Moscow and the two Hungarian dealers had a good fair and that they also had a good time. Missed some dealers who were not there this year both from the US and other parts of the world. I found it interesting that John Steinbeck dominated the fair as opposed to Jack London. Wish I could have attended the lecture about London and his photography. I thought "Discovery Day" was very poorly attended and wondered how the few attendees had found it. The room was freezing but the books were interesting. Where normally there is a roomful and not enough time, today there was plenty of time and not enough books. Regardless, I would like each person to be limited to 2 books apiece. I like to meet people and hear their stories and when they bring 3,4 or 5 books and they are all "invaluable religious texts" I get bored. Probably not PC to say that, but I do.
A great fair, and thank you very much to the committee, and those who were there will know that next year we send in our registration as early as possible so we won't miss out!
Lorne Bair:
Back in the office this morning after a late-night return from Oakland, and I'll add my two cents to the Oakland Book Fair reviews.
In short, it was a great fair for us. We're always happy to exhibit in the Bay area, partly because we have a strong customer base there but most importantly because given our specialty it's the most productive scouting destination in the country. This year did not disappoint; we started our trip with a very productive house call, and scouting both at the fair and among local booksellers was fantastic. But the most pleasant surprise for us this year was that we actually sold enough to cover (and then some) our substantial purchases. From a selling standpoint, it was our best California event ever. There was no perceptible drop-off in the number or quality of attendees from the Concourse two years ago; Saturday was in fact almost uncomfortably crowded with shoppers, and there were moments when I actually would have liked to feel one of those chilly gusts of Pacific wind through the hall, a la the Concourse. Institutional buyers were present and active, and all whom I polled were extremely happy with the event's location and with the quality of what they were finding.
The Oakland Marriott has indeed undergone a recent renovation, and I found my room to be capacious, well-appointed, and the staff extremely friendly from front desk to housecleaning. The hotel restaurant was neither good nor bad, as hotel restaurants go; and whatever we found wanting in cuisine was made up for by the bartenders' generous pouring hands (I've found the only way to mess up a Makers Mark on the rocks is to pour too little of it in the glass; happily that was never a problem). As expected, White Rain Productions did a superb and congenial job of organizing the event; my only cavil (hating to disagree with Vic) was the quality of the catering — it was up Concourse standards, but no better, and that's not saying much. But I don't come to these fairs to eat (appearances to the contrary notwithstanding), and as complaints go you should file that one under "he had to come up with something so as not to sound like a total Pollyanna."
Finally, I promised the list I'd share the results of Sunday morning's benefit auction once they were in, and they are. Assuming all bidders pay up, the event raised $9,625 for the Woodburn Fund - a little less than half of last year's result, but still a respectable number. Maybe just a sophomore slump, maybe a sign of donor fatigue, but personally I feel the auction was hampered by too short a window for donations, especially since that window occurred between Thanksgiving and Christmas. Many would-be donors have told me they never even heard about the auction this year — hard to believe, but a clear reflection of the difficulty we have communicating to our membership, especially during the distracted holiday season. I'm going to try to broaden the window next year, so prepare yourselves to be good-naturedly dunned over the course of months, not weeks, in 2015.
In any event the news is pretty good; combined with the generous cash donations we received during the Thursday night Booksellers' Reception, we'll bring something like $12,000 into the Fund, enough to pay for about ten scholarships to CABS and RBS. Sincere thanks to all of you who so generously contributed, and thanks especially to the Benevolent Fund Trustees -- John Thomson, Sarah Baldwin, and Tom Goldwasser -- and my fellow Benevolent Committee members: Sunday Steinkirchner, Howard Prouty, Owen Kubik, Teri Osborn, Rusty Mott, Rob Rulon-Miller, and Don Heald. We are making progress towards getting our charitable funds to a healthy, self-sustaining level, but we still have a long ways to go. I hope any of you out there with ideas or feedback about how to make our charitable fundraising efforts more effective will get in touch with me personally. We hope to involve as many of our association's members as we can in this effort, because it's one that truly benefits all of us. And by truly I mean, truly.
Scott DeWolfe of De Wolfe & Wood:
We made it back to Boston this morning at about 7:00 a.m. Less than a 5 hour flight which seems pretty good. Thanks to all who worked hard to arrange the show. I was pretty sure I was not going to like Oakland but by the end of the show I was really enjoying the old town area. Sales were a bit above average for us and I really have no major complaints.

Travel back was a problem but I ended up spending yesterday doing fun tourist stuff in S.F. with friends and had a great time. Frank and I are looking forward to the 2017 show.
Bob Haines of Argonaut Bookshop:
How the Oakland Fair did for us, and some observations:
1. Notice I've called it the Oakland Fair. Perhaps, our new mantra.
2. Load-in was a snap. Very quick. Good.
3. Load-out was also a snap. Very quick. Good. (although I heard complaints from colleagues about load-out timing).
4. The garage ramp was disgustingly narrow. But then, they did say 5 mph. Good-.
5. The room was spacious, well-lit and all on one level. Good.
6. The dealer's room (forgot what it is called) was fairly well equipped with snacks. But, it did lack the usual snacks in favor of mundane snacks. Bring back the trail mix and other snacks. Keep the coffee and lemon-aid filled. Ran out too often. Good--.
7. Well-run show. The promotional staff was willing to assist and they did a great job. Good+
8. Sales for us were beyond expectations, not that I had any real expectations to start with. I did not duplicate the amount taken in a year ago in Pasadena, but was well-pleased. Fair for us was pretty busy the entire time.
9. The best part is that I met a couple of new customers that spend money!
10. The leather collection (early printing) that most of you know about did very well. I will be eating off that collection for the next two years. Yea.
11. Bought a very nice set of a key California item. Yea.
James Dourgarian:
Jim's blog on the fair (he had a great show and has lots of positive things to say) can be found here...
Alexander Akin of Bolerium Books:
I have one main complaint about the fair: I didn't have as much time to scout as I would have wished, because there were too many customers in the booth.
Seriously, as the junior partner at Bolerium I've only been going to these shows for about six years, overlapping with the recession. Thus I don't know how much weight my impressions can really carry. For what it's worth, though, it was the best fair in my personal experience.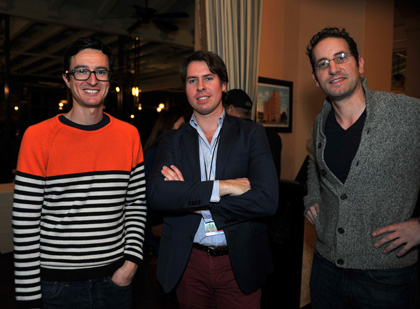 Ken Karmiole:
Very pleased overall with this well executed first Oakland fair. A large well lighted, high ceiling exhibition space. Very easy load in AND load out (at least for us), and every request handled quickly by the staff. Good attendance for all 3 days. Obviously, as at every fair, some people I expected to see didn't show up, trade, librarians, and collectors, but I really think the show was well advertised. Every effort was made to get them to attend. I had 25 invoices, from low hundreds, to low (very low) 5 figures. I'm sure to have some "after fair" sales from many people who took notes. Buying was less than usual, which didn't surprise me, but overall a very worthwhile 3 days.
Vic Zoschak of Tavistock Books:
My experience echoes Ken's... sales, everything. Even the concession food was much better than just edible, and the Bloody Mary good enough to occasion a second order.

For us, road-side load-out took a bit longer than expected, though found out that was because many exhibitors shipping with Caledex, et al, had left their trunks in the aisles (vice their booth), such that the fork lifts had difficulty maneuvering. But of the load-out staff, well, let's just say I was very favorably impressed by the 2 ladies that handled our 'large', heavy banner… they were very solicitous of its care & well-being, and in one instance, saved it from a potentially disastrous crash when the wind caught it (out on 11th).

I'll end my quick summary by quoting a query made to me late Sunday afternoon by a prominent Stanford librarian... "Vic, I loved this fair, can you make it 4 days next time?"
Dennis Melhouse (newlywed) of First Folio:
We agree with everything Ken said.
The only glitch was that the bungling teamsters caused us an unnecessary nearly two-hour delay on move out.
The event staff was very professional and efficient -- carrying on the great example set by Lynn Winslow.
All-in-all a smoothly run fair.
Thanks to the event staff and the fair committee.
Andy Nettell, Back of Beyond Books:
Having arrived safely home last night, I'm in a reflective mood regarding Pasadena and Oakland. Disclaimer: I love book fairs! I get nervous at set-up, I get depressed if traffic lulls and excited when the booth is full of customers. Luckily Marcee was able to join me in Oakland; she keeps the mood swings to a minimum and beautifies the booth.
For sake of reporting, I'm combining both fairs. Great venues, easy move in and out, very strong foot traffic. Intelligent customers and wonderful colleagues. The hot dogs in Oakland were large, tasty and filling!
We sold 107 items. Of that, 59% were to the public, 32% to dealers and 9% to institutions. In terms of revenue, the public accounted for 43%, dealers 27% and 30% to institutions.
Of the 107 items sold, 63% was new stock. In this case, I define new stock as an item in our possession for 2 months or less. We recently acquired a large southwest collection, which almost killed me with late, late nights pricing and cataloging. Some of the new stock was acquired via a last minute rendezvous with a dealer alongside interstate 17 outside of Sedona, AZ. I'm surprised no one called the police reporting suspicious book activity. 55% of all fair sales were items I hold on consignment.
In terms of the two fairs, Oakland accounted for 65% of sales for the two weeks.
Perhaps my most exciting take home thought is that over 60% of all sales were to new customers including two new institutions. Oakland was our third ABAA fair and easily our best fair yet, ABAA or otherwise.
Now to unpacking....
Tom Congalton, Between the Covers:
My report of the Oakland Fair doesn't differ too much from anyone else's in the generalities. The facility was bright, clean, and convenient. While I feel some very modest and very rapidly fading nostalgia for the drafty, leaky, inhumanly proportioned, and inconveniently located Concourse (and for Susie's, although I found myself foreswearing the charms of that beloved bistro as advancing age caused me to value my mortality), this was a far more felicitous venue. The organization, amenities, and security were all excellent. The promoters and Committee did a great job, and aside from our thanks, deserve our sympathy for having to bear the caterwauling of those pantywaists who repeatedly insisted that the fair and all they who attended it were surely doomed.
I wasn't among those who were particularly daunted by the move to Oakland, but the success of the fair exceeded my expectations. One could get a good or even very good meal within a few blocks, the hotel facilities were perfectly fine, the bartenders had pleasant demeanors, good memories, and heavy hands, and even the bar food was reasonably edible if one didn't want to brave the mean streets of Oakland.
The fair was very well attended. Librarians were in evidence a-plenty, and I think the ABAA's interaction with RBMS, spearheaded a decade or so ago by Priscilla Juvelis, Sarah Baldwin, and others, has certainly borne fruit and should surely be acknowledged. Librarians used to be in notably short supply at fairs, and were often timid and furtive when found out, but now they seemed happy to shop, loiter, and even sup and drink with the booksellers.
My sales weren't particularly good (as usual, and probably due to my own fault for packing haphazardly in my eagerness to get to the fun buying part) but they were at least acceptable. The buying was excellent. As always, I can never understand anyone who says they can't find any good material. Perhaps I'm not discriminating enough (probably true), but I usually run out of money (or the willingness to commit it in 30 days) well before I run out of good stuff to buy from my colleagues.
Summary: I was very pleased and heartened by the fair and confident of its future.
Taylor Bowie:
This was my first trip anywhere since my Health Adventure last year and I had been looking forward to it for many months.
The trip down was uneventful, the Lincoln did its usual good job of getting me someplace with as little awareness of "the road" as possible.
I had a great dinner in Ashland on Tuesday the 3rd, at Omar's. Anyone who wants details should look for my "Non Book" post about it.
The Marriott: I don't really like this kind of hotel… the giant corporate chain which gears itself to conventions, tour groups, airline crews and always has a bar where they make a big deal about "Happy Hour." So, that said I was really pleased with the place and my room but especially with the staff who were all terrific. As Peter indicated in his report, the food service was not what you would write home about unless the people at home enjoy hearing you complain.
Book fair venue: Superb! A really pleasant room, well-lit, no "bad locations" for booths that I could tell. Unloading and post-fair loading were about as easy as one could imagine with a genial and very able crew to assist. The breakfast bread assortment in the Hospitality Room was better than the regular hotel breakfast service and there was plenty of Starbuck's Coffee to keep most of us at least half buzzed.
Sales: Mine were not very good but they were about what I deserved. I still don't have a heap of energy and I admit I did a very half-assed job of planning and packing for this show… and I only brought ten banker boxes of stuff total… which reminds me of the joke I like about the two women having lunch at the resort in the Catskills. "The food here is just terrible!" "Yes… and such small portions, too."
I was surprised that some of the more expensive things in the case didn't get any action but who knows why that is… one of my more amusing sales was the Yolla Bolly M.F.K. Fisher book with a preface by Alice Waters, bought by the same person who took my GPO pamphlet "Feeding Garbage To Hogs."
I did meet a nice librarian right near closing and she will be good for some money in the near future.
Buying: Again, my energy level was not up to racing around much but I found a few menus and other food items to keep myself amused.
I would also like to echo what Peter said about all the Nervous Nellie yammering ahead of time about how "terrible" it was to move the fair to Oakland and how it was a recipe for disaster. As is usually the case with such sky-is-falling talk (wait… that was Henny Penny, not Nervous Nellie) it just didn't turn out that way. We were all used to the Concourse (still standing, by the way, but awaiting the wrecking ball) but that's over and done with. Although the Marriott isn't as nice as the Mark Hopkins in SF, it is just an elevator ride from your room to the fair itself, and that is a major plus.
Every book fair committee deserves praise but this NoCal bunch really deserve an extra gold star, given all the negative crap tossed at them from the very moment we learned that the Concourse was doomed.
I also failed to have one decent meal during the book fair, again entirely my fault. Several committee members gave me all kinds of tips of good places, which I failed to follow. In 2017, I will know better and will look forward to returning to the Oakland Book Fair.
Edward Nudelman:
More of same, and similar impressions as Taylor and Peter. We were also pleased with the service and attentiveness of the hotel and workers at the venue, including the security staff. Given the torrential rains, the new venue, our remote booth location near the far wall... all was copacetic -- and we did moderately well with respect to sales. As well, we managed to buy some gems and make some great new contacts. All in all, I'm impressed with how seamlessly the fair transitioned from its erstwhile locality. It can't be overstressed, having the exhibitors in the same venue is almost an overriding positive, capable of dispelling any lingering negatives that always seem to pop up no matter where you exhibit!
Peter Stern:
While I have not been on the "chatline" for the better (and I mean better) part of the year, Taylor has helpfully agreed to post my (let us all hope) brief report on the California fairs. I have no intention of returning to the fray, nor posting on an incorrect venue.
As to travel, we were treated to winter's pleasures, as well as its inconveniences to and from the golden (and thirsty) west, and the difficulties posed by the return trip were much discussed and worried over by my New England colleagues on the Sunday of Oakland. While our scheduled Sunday night flight was cancelled, we were shifted to a Monday morning flight, miraculously arriving in Boston on time, and as there were so few flights arriving, the cab line was even shorter than usual.
But first, we were in Pasadena at Bustmanente's "shadow" fair. Facility and management were top-notch. It's a nice place to be and Ken Karmiole paid for a very good dinner. Buying was weak, and adding "very" in front of that would not be, in my view, undeserved. Sales were modest, but decent. We flew on to San Francisco, Union Square, and three days of panhandlers, homeless, and other unfortunates, most of whom have been turned loose on the streets to our and their detriment and possible danger. It is disturbing and it is our shame.
I have caught snippets here and there of the panic (I suggest that it went beyond angst) over the move to Oakland. I've heard much of it: murder, mayhem, all but certain death, destruction, and, at the very least, dismal failure, awaited us. Before the fair, I must have been asked dozens of times on how I thought it would turn out, and my reply was that, in LA, when we moved to the airport, colleagues cried that no one would ever go there to visit our fairs. After several years at two venues there, when we had to move, there was more crying about how horrible it was that we had to leave the airport. We don't like change, and perhaps we can be excused, given that we are antiquarians, but please, get a grip, and abandon any notion that we are a class, prestige event that venues clamor for.
Besides, I must have left my crystal ball somewhere as I had no idea how it would be. However, I think that, not only was it fine, but it shows promise. It is a beautiful facility, and our committee and fair management performed perfectly. The guest rooms and public areas at the Marriott were excellent, as was the staff, although one wouldn't travel for the restaurant. For those bemoaning our late venue at the SF Concourse, allow me to point out that its neighborhood was not wonderful, transportation was just about non-existent, and our eating choices fell below meager (although many appreciated Susie's for its throwback, threadbare greasiness -- arugula never darkened their door).
I am aware that there are vast no go areas of Oakland, and we didn't go there, but the streets near the venue had many small restaurants, and there was even a hint of charm. I didn't see one murder and not even a single robbery, rape, or theft – except, of course, within the fair itself by the exhibitors.
Results varied, to be sure, but our sales were very good -- buying not so much. One dealer of our acquaintance unhappily commented that all of their sales were to the trade or institutions, and I replied that money is fungible. If you deposit a thousand dollars into your bank account, it's a thousand dollars whether from a civilian, a colleague, or a library. There is much to be said, even ruefully commented upon, regarding those who buy or don't buy books. I will refrain from doing so. Things ain't what they used to be – think of your knees.
This chatline and book fairs ain't either, but lack of support, participation, sincerity, common sense, appreciation for the work of others, and simple effort are not going to improve them. I noted previously to the effect that the chatline is what you make it, and maybe that holds true of fairs as well. Given that we engage in a trade, or at least pretend to be merchants, one of those things is worth saving.
Finally, Fine Books Magazine were also favorably impressed by the new revamped show...