Helen Younger, a specialist in collectible children's books and illustrations, discusses points of the first edition of Ludwig Bemelmans' Madeline and how it has fared in the rare book market.
Very few people who attempt to have a children's book published actually succeed in either getting it published or if published, having it sell well. One may be able to write a decent story but because he/she is not an artist, a sympathetic illustrator is needed. Sometimes the text isn't conducive to illustration. Often the illustrations overpower the text.
This year (2014) Madeline turns 75 and the fact that its popularity has endured since 1939 is no accident. In Madeline, Ludwig Bemelmans managed to accomplish the near impossible of creating both an appealing story and illustrating it with artistic flair. The story told in simple rhyme features 12 little girls who live in a Catholic boarding school in Paris. Madeline is the smallest but also the bravest when she faces going to the hospital.
Published by Simon & Schuster, Bemelmans' illustrations are rich color lithographs that are well printed on good quality paper. If there were one negative, it would be that the binding of paper over boards including the backstrip was not able to sustain the repeated use that most copies were subjected to, so it is common to find copies with covers in various degrees of detachment from the binding, chipping of the backstrip, worn edges, etc. The pictorial dust wrapper is often missing or in rough condition. As a collectible book, Madeline is a "high spot" on the list of those who collect children's books but it is also sought after by collectors in many other fields as well. All of this adds up to a relative scarcity and with high demand that equals a high price for fine collectible copies.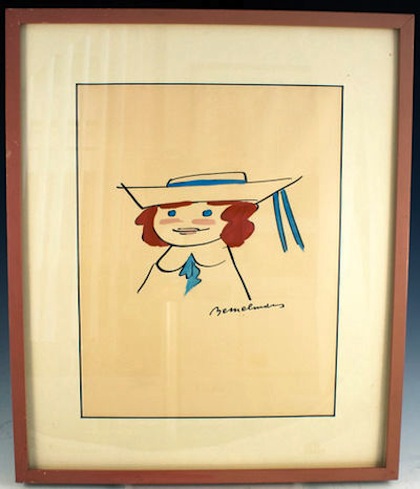 Watercolor drawing of Madeline. c. 1956. Watercolor and ink on paper, measuring 11 by 8 1/2 inches. Matted and framed. Signed by Bemelmans. This shoulder-length portrait of Bemelmans's most enduring character is done in the later, bold style encountered in Madeline and the Bad Hat, and it shows red-headed Madeline wearing her characteristic wide-brimmed hat trimmed with a blue ribbon and high-collared shirt with a blue neckpiece. Although Bemelmans was quite prolific, original drawings of Madeline seldom appear on the market. (Offered by Bromer Booksellers, Inc.)
Over our nearly 40 years in business we've seen huge changes in the collectible children's book market. I decided to see if I could track the price of prime condition copies of Madeline that we've sold over the years. It was an eye opener. In 1985 it was $125.00, ten years later in 1995 it was $600.00, in 2005 it was over $2000.00 and today between $3000.00 and $4000.00. Better than a first printing of Madeline is a copy signed by Bemelmans. As an illustrator, Bemelmans wrote and illustrated many books for adults, several that have limited editions and some with little watercolors. However when it comes to Madeline, there are few signed copies and fewer still with drawings. We were fortunate in having for sale a first printing with a full page original color drawing of Madeline, signed by Bemelmans. I don't expect to ever have another copy like that but as the saying goes "you never know."

Search abaa.org for collectible Madeline books by Ludwig Bemelmans...
How to Recognize a First Edition of Madeline
Obviously the key factor in price is edition. Muddling the picture with
Madeline
is that there are always copies
for sale described as first printings that aren't. There are a few things to look for in determining a first printing
plus there is an "urban legend" that seems to perpetuate itself on the internet.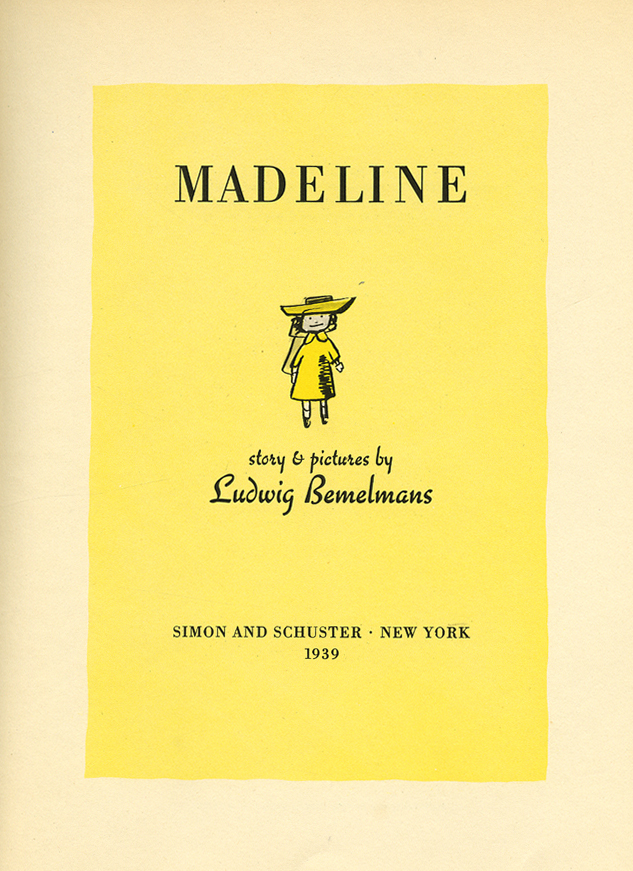 First of all, Madeline has to be published by Simon & Schuster, not Viking which took over the publishing at some later time without changing the appearance of the book. Next, a first printing ALWAYS has the date printed on the title page as well as on the copyright page. A date on the copyright page without subsequent printings listed does not denote a first printing. It also has to have the proper dust wrapper without any review blurbs or testimonials. Some dealers ignorant of this will put a later dust wrapper on what they think is a first printing and incorrectly describe the whole book.
Now for the "legend". Approximately 35 years ago, a dealer (whose identity is not known) declared that there was a point that identified a first printing which was that on the page reading "They went home and broke their bread" there are 12 girls at the table when there should be 11 because Madeline was in the hospital. That would be interesting if you didn't find the same illustration used in later printings, but you can. Before the internet, this myth was perpetuated in a guide to identifying first editions. Now that it is on the internet it will be there forever.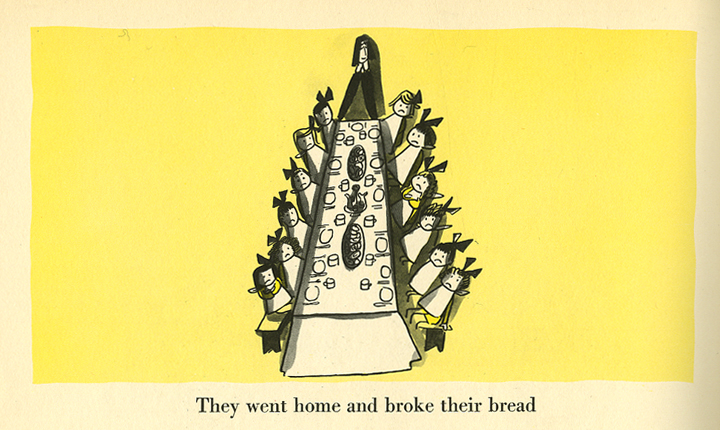 After the success of Madeline, Bemelmans wrote five sequels to his original: Madeline's Rescue (which won the Caldecott Award), Madeline and the Gypsies, Madeline and the Bad Hat (also issued in a limited/signed edition), Madeline's Christmas (first as an insert in a 1956 McCall's Magazine and not in book form until 1985), and finally Madeline in London. Bemelman's grandson continued writing sequels and of course Madeline is now a franchise. In 1998 there was a live action movie of Madeline that incorporated all of the stories. Everyone assumes that when a film version of a classic is released that there would then be a rush to buy first editions but we've never had that experience.

Search abaa.org for collectible Madeline books by Ludwig Bemelmans...
---
Other books in the Madeline series...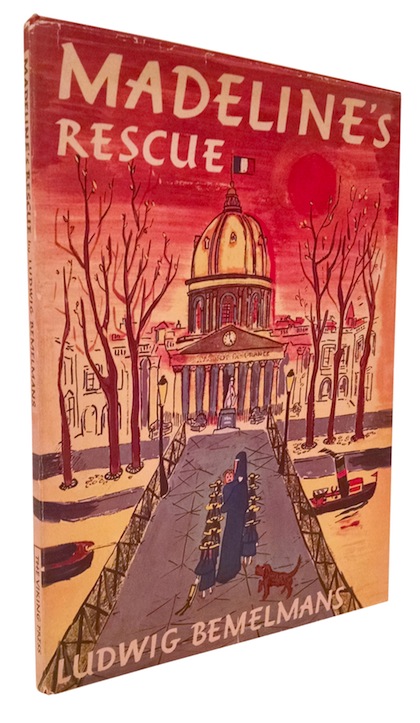 Madeline's Rescue. New York: Viking, 1953. Red pictorial cloth with mild shelf wear; color illustrated dust jacket with light edge wear, small repair to rear panel, original price intact ($3.00), No award seal. Madeline is saved from drowning by a dog who then returns with the girls and Miss Clavel. Wouldn't you know it, the dog will need the help of Madeline and her friends very soon after. Awarded the Caldecott Medal for 1954. First Edition. Near Fine/Very Good. Illus. by Ludwig Bemelmans. (Offered by E.M. Maurice Books)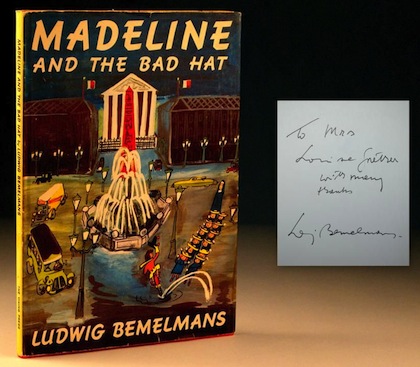 Madeline and the Bad Hat. New York: The Viking Press, 1956. First edition. Quarto, original red cloth. Inscribed by the author "with many thanks Ludwig Bemelmans." Fine in a near fine dust jacket with a few closed tears. A very sharp copy, uncommon inscribed. (Offered by Raptis Rare Books)

Search abaa.org for collectible Madeline books by Ludwig Bemelmans...
* This article was originally posted in October 2014. It has been updated and reposted.