The Rare Books and Manuscripts Section (RBMS) is a division of the Association of College and Research Libraries (ACRL), which itself is part of the American Library Association (ALA). As the RBMS website states, "RBMS strives to represent and promote the interests of librarians who work with rare books, manuscripts, and other types of special collections."
Each year, the RBMS holds a conference in a different city: dinners are organized; there are plenary sessions on topics of interest to special collections librarians, and there is also a "showcase" in which ABAA members who sign up can exhibit some of their items. This represents a rare opportunity for ABAA members to connect with special collections librarians, have conversations, gain some understanding of how librarians think, operate, make decisions, acquire items, etc. It also affords librarians the chance to get to know some dealers that they may only know of through their catalogs or on-line listings. For both dealers and librarians, this conference can be a valuable few days: sales are made, connections forged, friendships can flourish, and the human dimension becomes for many the most enriching part of such a conference. This year, the conference is in New Orleans, June 19-22.
One of the items F. A. Bernett Books will be displaying at the RBMS showcase: Grosz, George. Interregnum. Black Sun Press, 1936. 19 pp. introductory essay by John Dos Passos, followed by a suite of 64 black and white hand-struck lithographs depicting the interrogation and torture of political prisoners in concentration camps established after Adolf Hitler was appointed Reich chancellor.
The conference is sold out and is not open to the public. But it is important for the public to know that the ABAA engages in many good works on behalf of the world of rare books and that, while we are essentially a trade organization, we have a vested interest in preserving interest in rare books, in supporting institutions that have special collections, and in contributing both materially and educationally to future generations of librarians, readers, collectors, dealers, binders, and conservators. The ABAA takes great pride in its sponsorship of the RBMS conferences and in contributing to scholarships to Rare Book School at the University of Virginia and to the Colorado Antiquarian Book Seminar. The ABAA also manages both the Woodburn Fund and the Benevolent Fund. It is important for the public to realize that we take these responsibilities seriously: to value the past and to embrace the future.
This year there are three main plenaries: The Workplace, Materiality, and The Environment. RBMS is also on the forefront of establishing progressive values in the workplace and their statement on diversity, front and center on their website, is a model of inclusivity and progressive values that all such organizations should consider adopting. The "Materiality" plenary establishes goals of how to use various kinds of collections to flesh out hidden corners of the historical record, including underrepresented voices and works that are not part of established canons. The plenary speakers on the environment will address what is becoming a pressing issue for special collections librarians and booksellers alike: how to protect and preserve our holdings when there are increasing signs of violent weather, forest fires, earthquakes, etc. as part of recent alarming and radical shifts in weather systems that impact all of us.
The ABAA is one of the main sponsors of the conference, and individual members are also listed among the top sponsors, including Jonathan A. Hill, Philadelphia Rare Books and Manuscripts Company, William Reese Company, and John Windle. Also sponsoring various seminars and programs, presentations of papers, etc., are the following ABAA members: Langdon Manor Books, Read'em Again Books, Tavistock Books, Liber Antiquus, Bromer Booksellers, Lux Mentis, Martayan Lan, Franklin Gilliam :: Rare Books, and Bartleby's Books.
A list of the exhibitors at the showcase can be found here.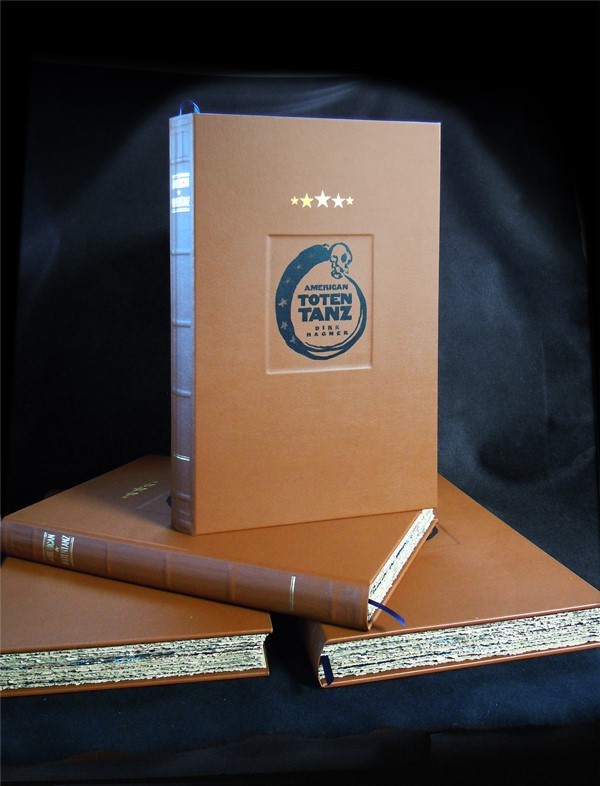 One of the items Vamp & Tramp Books will be displaying at the RBMS Showcase: American Totentanz. By Dirk Hagner. San Juan Capistrano, California: Dirk Hagner, 2017. Edition of 5. 22.5 x 30" (57.2 x 76.2 cm"). Full bleed woodcut prints in up to 8 colors. Hand printed on 250 gm Stonehenge Kraft rag paper, to deckle edges. Bound in Naugahyde.
Already, I've heard reports of Ian Kahn & crew (Lux Mentis) making their way down from Maine, actively cutting a wide swatch through the barbeque shacks of the south, and with shrimp and grits, crawfish and beignets (not to mention absinthe) clearly on the agenda. We've also checked in with some of the booksellers who will be exhibiting at the RBMS showcase, and have elicited the following remarks from them.
Tom Congalton (Between the Covers):
On the evolution of the showcase. I've done most of the ABAA/RBMS showcase events. In the earliest days the dynamic most resembled that of a middle school dance, with all of the booksellers on one side of the room and all of the librarians on the other, with the gap nearly unbridgeable. I think that the first year of the Showcase only two or three brave and experienced librarians ventured into my booth. But now because of the good work done by both the RBMS and ABAA organizers, and whoever the genius was that put the cocktails over by the booksellers, the barrier has been largely broken down and that last year I'd say that I engaged with nearly a hundred special collections librarians, many of whom I hadn't met before, and several with whom I've developed good and/or profitable relationships.
On why it's good for both booksellers and librarians: I've noticed over the years, at both RBMS and at Rare Book School, where I've taught for the past ten years, that librarians and booksellers are traditionally and perhaps irrationally a great enigma each to the other, and even occasionally unaccountably hostile figures of whom one need be very cautious. While far be it for me to counsel against caution, I think that rather the opposite is true, we are two communities with a common interest and similarly intersecting goals - the preservation of the primary source materials that shape and define history and culture. Librarians are the natural consumers of primary source material, and booksellers are an important source for that material. Knowing each other's interest and strengths is benefit to both groups. What could be more symbiotic?
Why I'm doing it: While I don't view the Showcase as a big sales opportunity (although things do get sold there), it has become one of the most important events on my calendar: a chance to gauge enthusiasm and interest in what fields are being currently pursued, clues to who has the enthusiasm (and a budget) to acquire material in a particular field, and just a chance to catch up on rare book gossip. The camaraderie that has developed between special collections librarians and booksellers is just a bonus!
Don Lindgren (Rabelais Books):
The RBMS ABAA Showcase is my best opportunity to strike up new conversations with a wide variety of special collections librarians. It's also an occasion to consider how a small selection displayed in a small area might best represent what Rabelais offers. I need librarians to know we're not just selling cookbooks, but food and drink material contained within early printing, medical manuscripts, artists' books, Americana, and so on. The forms of the material are broad as well: books and manuscripts, ephemera and photographs, commercial advertising and original art. For RBMS18 in New Orleans, our list is about forty items, and we will bring perhaps sixty items in all, including an 1859 menu from the Louisville to New Orleans Mississippi Steamer, the James Montgomery; an Elizabethan treatise on food; an unrecorded Louisiana rice cookbook; an early cookbook from the Congo; the first two American distilling books; a British naturalist's unpublished volume of drawings of molluscs; a German mycologist's massive folder of field notes and drawings; and a Sunshine Biscuit Company salesman's sample book. All small group of rare community cookbooks will represent our forthcoming multi-volume catalogue, Local American Cookery. I try to maximize the chance of having a chat about an object that really excites me.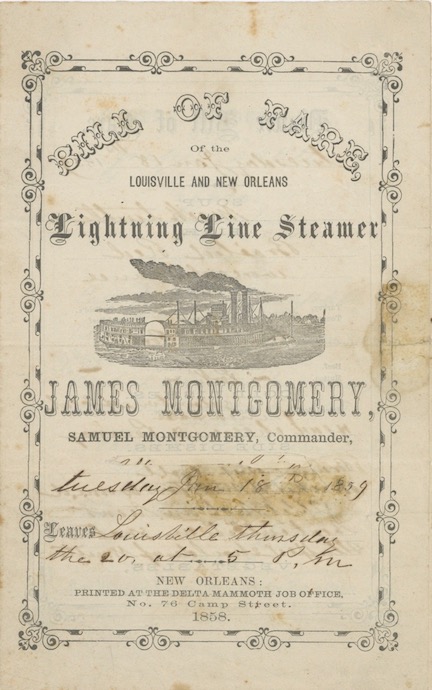 One of the items Rabelais will be exhibiting at the RBMS Showcase: Bill of Fare from a New Orleans steamer, 1858.
Ken Sanders Rare Books has been attending, exhibiting and supporting RMBS for a good many years now; going back to the Melissa Sanders and Kent Tschanz days. This year, Esther Cannon and Jezebel St. John will be attending.
Librarians and booksellers need one another, and a good in-person relationship with our institutional colleagues is essential in forming those ties.
RMBS is that rare opportunity to visit one on one and learn the specialties and collection development needs of our librarian colleagues. Through these face to face interactions, relationships can be formed, to the betterment of both parties.I'm grateful to RMBS and the ABAA, for providing this unique opportunity.
Mary Gilliam (Franklin Gilliam :: Rare Books) writes:
Franklin Gilliam :: Rare Books has either attended, exhibited, or sponsored a program at RBMS since the 1980s.
We strongly believe RBMS, ABAA, and RBS are part of the same community with a shared interest in material culture -- the physical book, manuscripts, documents, ephemera, photographs and archives. These artifacts are the vehicles that transmit the ideas, beliefs, and values of a culture.
ABAA's showcase at RBMS along with individual dealer's sponsoring programs or attending the Conference raises the awareness that this is an interconnected world and not adversarial. It illustrates the role each organization and their members play in this larger book community.
Sheryl Jaeger (Eclectibles) puts it succinctly:
Each year I eagerly await the RBMS conference, welcoming the opportunity to meet "electronic" acquaintances face to face, to better understand the needs of the librarian community, and to make new acquaintances.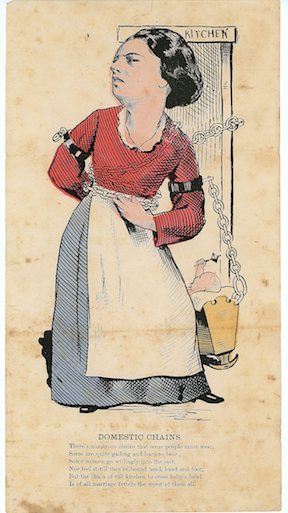 One of the items Eclectibles will have on display at RBMS.
Michael Utt (The Book Collector, Inc.) writes:
We will be attending the event as an exhibitor as well as four other members of the Texas Booksellers Association. A great place to network and recruit potential special collections librarians to attend the three fairs sponsored by the TxBA. Each year we have had an increase of special collections librarians and our exhibitors have found that very rewarding.
In addition, I always set up pre-show meetings with libraries in the area, so I arrive a few days early. Also at the evening restaurant gatherings after the show closes on Wednesday, and network with those librarians who attend those dinner gatherings.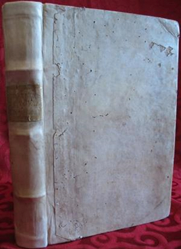 One of the items Utt will be displaying at RBMS: Maffei, Giovanni Pietro (1533-1603). Historiarum Indicarum libri XVI. Selectarum, item, ex Jindia Epistolarum. eodem interprete Libri IV. Florence, Apud Philippum Juncatam, 1588.
Some members of the ABAA already have prepared lists of what they're bringing. Rootenberg's list can be found here. John Hellebrand of Palinurus has supplied a list that can be downloaded here. Paul Dowling of Liber Antiquus's list can be looked at here. Jonathan A. Hill's RBMS list can be accessed here. All of the exhibitors are upstanding members of the ABAA and will look forward to conversing, showing, dining, selling, and yes, possibly even drinking with new friends and old.