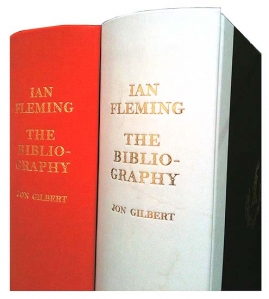 Well, not literally. But the International League of Antiquarian Booksellers has announced the winner of the 16th ILAB Breslauer Prize for Bibliography, and the prize goes to Jon Gilbert for his bibliography on Ian Fleming (Jon Gilbert. Ian Fleming: The Bibliography. Preface by Fergus Fleming. Foreward by Michael L. Vanblaricum. Edited by Brad Frank. London, Queen Anne Press, 2012).
Gilbert's bibliography had stiff competition, but the Jury could not ignore his "outstanding work of meticulous scholarship." Arnoud Gertis, the Secretary of the ILAB Breslauer Prize, said that Gilbert's bibliography not only covers all aspects of "gives insight into the conception of a book, the editorial process, in short, this book covers…all one can possibly know about Fleming and his writings."
Gertis continues, "It not only shows that modern authors are collectible, but also that modern authors merit exhaustive bibliographical scholarship."
The award ceremony will take place during the 41st Congress of ILAB in April 2014. Congratulations!