Few people know that the most famous pop artist in the world, Andy Warhol, began his career in New York as a commercial artist and book illustrator. Born in Pittsburgh in 1928 to immigrants from present-day Slovakia, he majored in Commercial Art at the Carnegie Institute of Technology (now CMU), graduating in 1949 and quickly moving to New York after that. There he found work as a freelance illustrator for magazines and trade publications, and also designed dust jackets for several publishers. By the late 1950s, he had made a name for himself as a hardworking, dependable artist who could work in a variety of media.
Now, there is a new exhibit of Warhol's work as a book artist and illustrator, currently on display at the Andy Warhol Museum in Pittsburgh and running through January 10, 2016. After that, there are plans for the exhibit to travel to other museums around the country. Curated by the museum's chief archivist, Matthew Wrbican, the exhibit begins with Warhol's student work in the 1940s and covers all aspects of his book-related activities up to his death in 1987.
During the 1950s, Warhol was not only developing as a commercial artist but as a fine artist as well. He exhibited some of his whimsical sketches and drawings at the Bodley Gallery (including a few of his famous shoe drawings) and he also began self-publishing his own books of drawings, sometimes archly captioned, using what had become his trademark broken, stippled, "blotted" line. These books, fragile and rare, can command in the thousands of dollars when they come up for sale.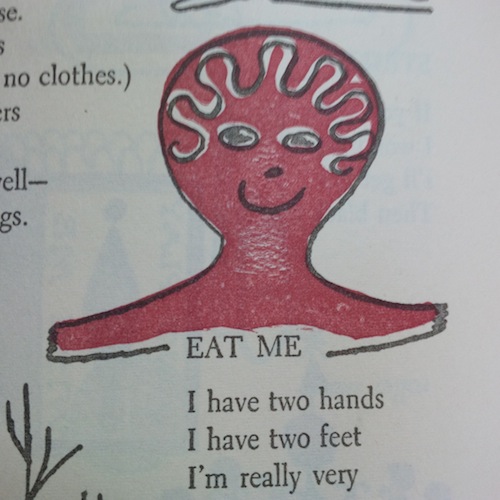 Warhol's distinctive illustrations can be found in several volumes of The Best in Children's Books series 1957-1963.
Early on, Warhol also came to the attention of several trade publishers who commissioned artwork from him for dust jackets. In 1951, at the age of 23, he designed the dust jacket to Aaron Marc Stein's Doubleday Crime Club mystery, Pistols for Two, and during the next years also designed dust jackets for the New Directions books The Desire and Pursuit of the Whole by Baron Corvo, Maude Hutchins' Love is a Pie and Three More Novels by Ronald Firbank. He did several other dust jackets for other trade publishers through the fifties.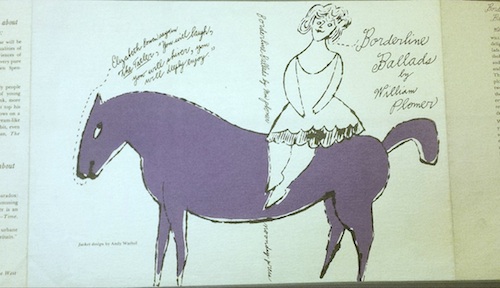 Warhol's dust jacket for William Plomer's Borderline Ballads (Noonday, 1955). The exhibit features the books, plus Warhol's sketches and preliminary designs for many of the finished products.
Warhol also illustrated a number of books during the 1950s and 1960s. Best known among these are his illustrations for Amy Vanderbilt's Complete Cookbook and her Complete Book of Etiquette. Both of these books went through several editions but retained their Warhol illustrations, which are a bit more restrained than the quirkier illustrations he produced for seven of the thirty-something volumes of Best in Children's Books that Doubleday published between 1957 and 1963. Each of those volumes is a cheaply produced anthology of stories, riddles and poems, using several illustrators per book. Although Warhol's work is identified in each volume, it's fairly easy to spot his distinctive style.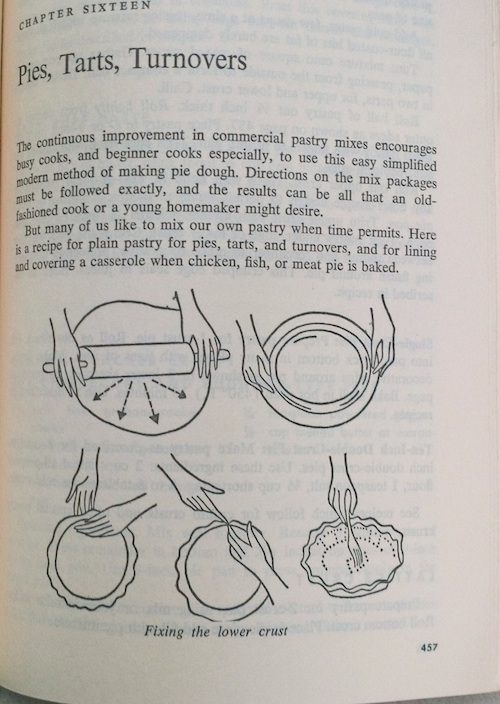 Warhol illustrates proper pie dough technique in Amy Vanderbilt's Complete Cookbook.
1963 is the year that Andy hit it big in the art world. His work, including his famous soup cans, was exhibited at the Festus Gallery in New York, and his career and fame as an artist took off. A large canvas from 1963, Silver Car Crash (Double Disaster) recently set a record at auction of $105 million. In 1965 he had his first major one-man museum show at the Philadelphia ICA. By then, he no longer needed to do journeyman commercial illustration work, but his interest in book arts continued, and many of his publications in the 1960s and 1970s were progressive and cutting-edge in design and construction, including his famous Index Book (1967) and the huge 1969 catalog for the Moderna Museet Exhibition in Stockholm that was so popular it went into several printings.
Walking through the Warhol By the Book exhibition on opening night we were gratified to see that several items the museum had acquired from Caliban Books were on display. It demonstrated once again that a bookseller can be an institution's best friend. Several years ago, Matt Wrbican, the archivist, told us what gaps there were in the Warhol Museum collection, and we enthusiastically set about finding them.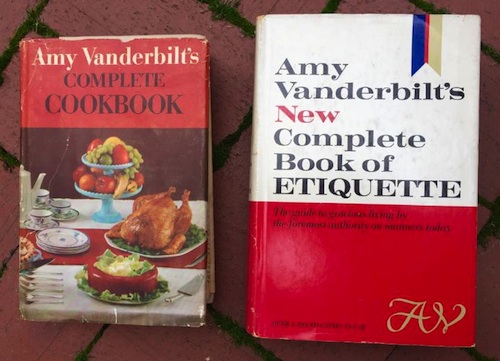 Amy Vanderbilt's Cookbook and Etiquette Book are common on the market but are an affordable way to acquire some of Warhol's charming illustrations.
Back then, our search was somewhat haphazard. Now, there are two books that have full bibliographies of Warhol's work in journals and books: Nina Schleif's Reading Andy Warhol (Hatje Cantz Verlag, 2014), published for an exhibition of Warhol's book-related activities at the Brandhorst Museum in Munich in 2014; and Paul Marechal's Andy Warhol, the Complete Commissioned Magazine Work 1948-1987 (Prestel, 2014). Both of these books are great finding aids for collectors and curators.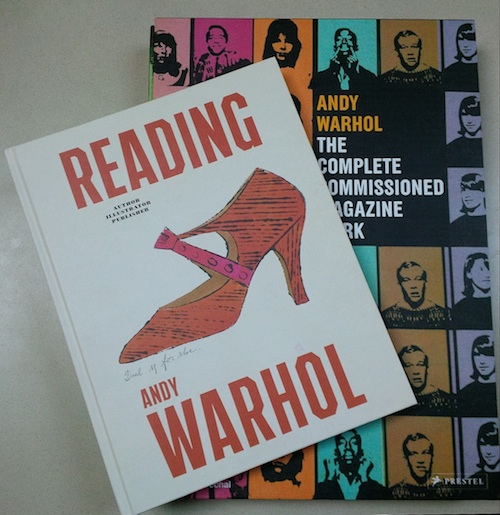 These two books will be of great assistance to those seeking obscure Warhol items.
An inveterate collector and bargain-hunter himself, Warhol would be pleased to know that one doesn't have to spend millions to own something by him. Collectors interested in getting a Warhol-illustrated book from the '50s or '60s can even find some items, with a little looking, well under $20. Fine copies of books from the '50s with Warhol dust jackets can range from $50 into the low hundreds. And frankly, for my money, I like the delightfully odd pre-Pop Warhol the best of any of his work, with its distinctive modernist wit and style -- and this is a blessing, since a bookseller's budget usually doesn't allow for the acquisition of original Warhol canvases.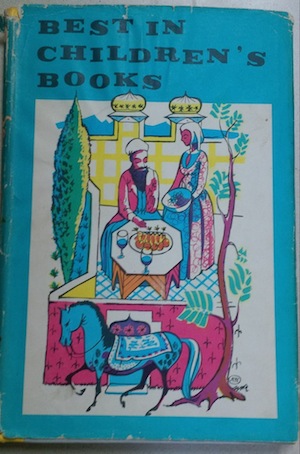 The Best in Children's Books series published from 1957 to 1963 included seven volumes with Warhol illustrations.
But what about signed Warhol books? Warhol usually signed his books with a black felt-tipped pen, sometimes with such a thick tip it might even be a Magic Marker he's using. In 1975 Warhol published his extremely funny The Philosophy of Andy Warhol (from A to B and back again) (Harcourt Brace Jovanovich). He retained several hundred of these and inscribed each of them with a broad black "AW" often scrawled vertically up the fore edge of the first page. At any given time, one can find several copies of this book, thus signed, on the market in the mid-hundreds. Occasionally, Warhol would also, with a thinner pen, inscribe a copy with his full signature and usually accompany it with a hastily drawn soup can. Asking prices of those copies are usually anywhere from $800 to $2500 depending on the nature of the inscription and the elaborateness of the soup can drawing. Warhol was also fond of signing copies of his photography book, Exposures (Grosset & Dunlap, 1979), usually using his full signature, and copies of Interview Magazine, published under his auspices – and these can usually be found for well under $1000.
Because Warhol has an easily forged signature (especially those "AWs"), it's always best to purchase signed books by him from a reliable source, like your friendly neighborhood member of the ABAA.
Whatever one's budget for collecting Warhol, this exhibit is worth attending to see Warhol's progression from commercial artist to fine artist, and how, to a great extent, Warhol remained a commercial artist all of his life. More than any modern artist, he both embraced and critiqued the idea of art-as-commodity. Thus, it would delight him to know that many of the items on display in Warhol By the Book can still be acquired for modest prices in the antiquarian book marketplace.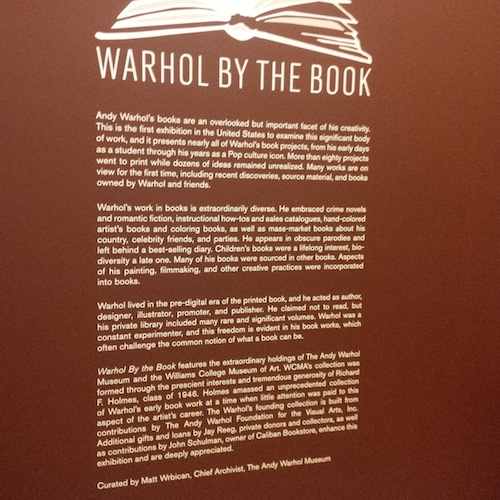 Warhol By the Book shows the artist's development from gifted commercial draughtsman to Pop icon.
---
Featured Books
ANDY WARHOL'S EXPOSURES. Signed and with an original sketch by Andy Warhol
New York: Grosset & Dunlap, 1979. 255 pages of text. Original hardcover binding has a thin strip of sun-fading to the edges, more prominent at the bottom edge; minimal shelfwear. The unclipped dustjacket is moderately sunned on the spine, with a tiny chip at the lower edge of the spine, four tiny tears, and minor rubbing and shelfwear; protected in archival mylar. The dustjacket is signed "Andy" in black felt marker over the word "Exposures" on the front panel. Additionally signed and inscribed in black felt marker by Warhol on the half title page "to Joe and John love [signed] Andy Warhol." Under the inscription is a small original sketch by Warhol of a butterfly or a broken heart or another form. The inscription has trasferred lightly through and shows on the adjacent pages. The bottom of the closed page edges has a small and light stain, not affecting the text. Contains 360 black & white photographs taken by Andy Warhol. The endpapers contain an index. The text is clean and unmarked. Stated "first printing." First edition.. Signed. First Edition. Hardcover. Very good condition/Very good condition (DJ).
---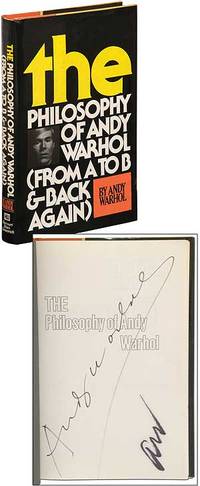 The Philosophy of Andy Warhol (From A to B & Back Again)
New York: Harcourt Brace Jovanovich. (1975). First. First edition. Fine in fine dustwrapper with a little bumped area on the front flap fold. Initialed by Warhol, and additionally with his full and readable Signature, both on the half-title.
---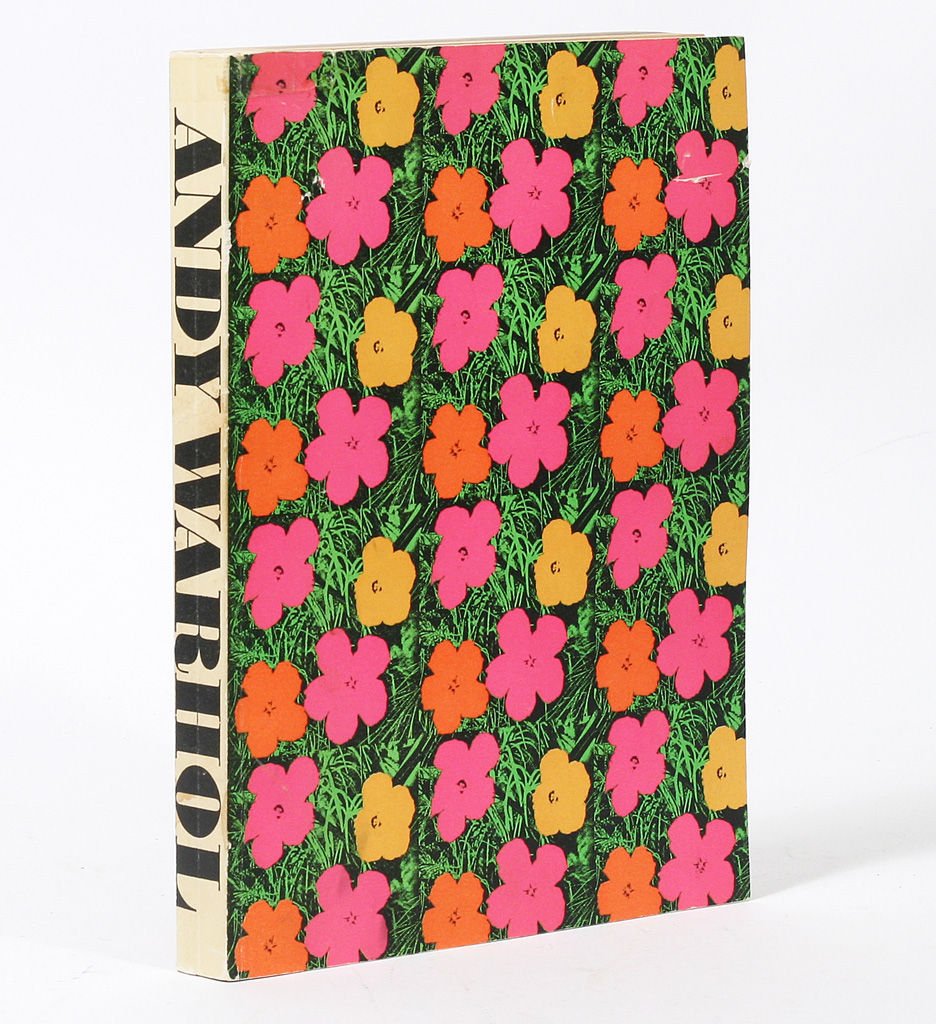 Andy Warhol: Moderna Muséet Exhibition Catalog
Stockholm: Moderna Muséet. 1st Edition. Soft cover. Very Good. FIRST EDITION, profusely illustrated with full-page black and white photographs. Warhol's Moderna Muséet catalog "is a fine example of the catalogue-as-artist's-book, a form that ostensibly began with the Dadaists and Surrealists, and is produced with some of the roughest reproductions ever seen, which are entirely appropriate, and supplemented by a long section of Factory snapshots by Billy Name. The genre was revitalized by the Pop movement, and Warhol in particular, which demonstrates his position as a latter-day Dadaist. The Moderna Museet publication especially had a great influence upon Japanese photography in the late 1960s and 1970s, particularly the photobooks of the Provoke era" (Parr and Badger, Vol II). Published by Moderna Muséet, Sweden, in 1968 as an exhibition catalogue for the show "Andy Warhol" at the Moderna Muséet in Stockholm, February - March, 1968. Stockholm: Moderna Muséet, 1968. Quarto (approx. 8.5 x 10.5 in.), original illustrated paper wrappers. Small piece of tape at top of spine; superficial split at center of glue binding (as often), everything holding. An outstanding copy of a fragile book that is extremely prone to wear.
---