Pioneering screenwriter Anita Loos was born on April 26, 1889. After learning her trade acting and writing one-act plays for her father's somewhat-disreputable theater troupe, Loos began submitting unsolicited scripts to film companies.
D.W. Griffith directed The New York Hat, a film based on her screenplay, starring Mary Pickford and Lionel Barrymore in 1912. In 1915 Loos became the first "staff writer" for a film production company, when she signed on with Griffith's studio. She wrote hundreds of scripts during the silent era of cinema, most of which went unproduced, but the films that were made were noted for their wit and humor — all the more remarkable for being silent!
Her collaboration with director (and future husband John Emerson) began by working on several romantic comedies which made Douglas Fairbanks a star. In later years, many of the scripts that carried both of their names would be primarily Loos' work, however. It was often convenient, in the Hollywood system of the 1930s and '40s, to have a male co-writer, as some directors were unwilling or uncomfortable discussing the script with a woman.
During a period of infatuation with H.L. Mencken (who apparantly had a thing for blondes) Loos wrote a series of stories about a chorus girl on the lookout for a rich paramour, the Lorelei Lee stories. These were such a hit for Harper's Bazaar that they soon became a novel, Gentlemen Prefer Blondes (1925) which became a runaway bestseller. A broadway adaptation followed in 1926, and naturally, a (silent) film version in 1928 (both written by Loos). The musical was revived in 1949, and the well-known film starring Jane Russell and Marilyn Monroe followed in 1953.
Gentlemen Prefer Blondes (First Edition)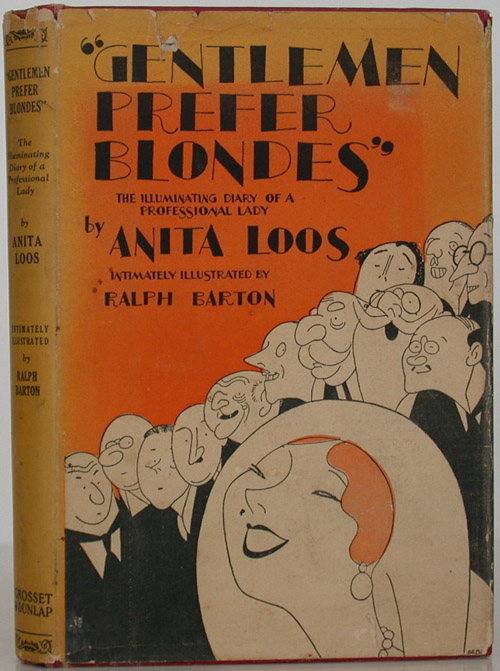 Boni & Liveright, 1925 First edition, first issue Boni & Liveright edition with "Divine" in Table of Contents. Grosset and Dunlap dust jacket supplied. Very good in a very good G & D dust jacket, 1925 on both copyright page and title page, with no mention of later printings. Comes in a custom-made collector's slipcase. 1st Edition.
Offered by Bookbid Rare Books.
Vintage Souvenir Book for Gentlemen Prefer Blondes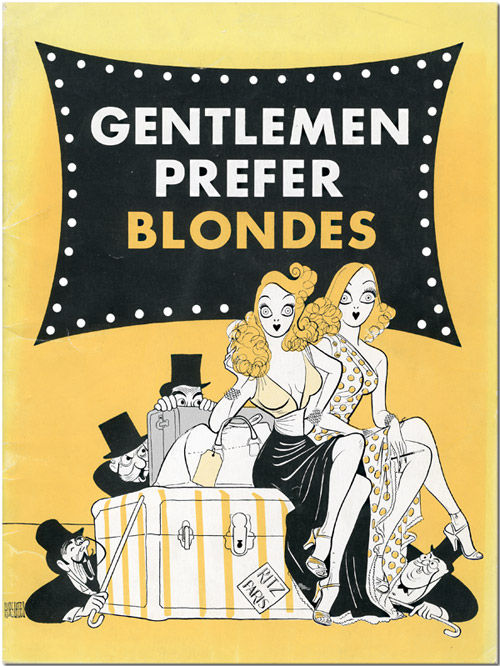 New York: Kal Efron, 1950. [20]pp. Quarto. Stiff two-color pictorial wrappers, cover art by Al Hirschfeld. Numerous black & white photo illustrations and essays about principal actors. Wrappers a bit sunned, lightly rubbed, very good. Delightfully illustrated with production stills and principal portraits. Featuring lyrics by Leo Robin, and music by Jule Styne, this mid-century revival played 740 performances at the Zeigfeld Theatre, followed by road engagements, starring Carol Channing.
Offered by William Reese Company.
Gentlemen Prefer Blondes (Inscribed First Edition)
New York: Boni & Liveright, 1925. First edition. Very Good. Second state with "Devine" on contents page. Inscribed by the author: "To Mr. and Mrs. Pell | the best publicity agents an author ever had. Affectionately Anita Loos | Nov. 3, 1925." Book Very Good with spine a bit dulled and cocked, several newspaper clippings are tipped in on the early pages, presumably publicity work of the Pells.
Offered by Whitmore Rare Books.
Like many writers of the time, Loos was equally at home writing for both stage and screen, although she was most in demand in Hollywood. She followed up the success of Gentlemen Prefer Blondes with a sequel, But Gentlemen Marry Brunettes, in 1927, and further Lorelei Lee stories were included in the posthumous volume Fate Keeps on Happening in 1984.
In the late 1930s, Loos befriended Aldous Huxley and helped him find work writing screenplays in Hollywood when WWII broke out. Her film output slowed during and after the war, particularly as several of her scripts — which often celebrated liberated and fearless women — fell afoul of the censor.
In later life (living to the age of 92, Loos out-lived most of her contemporaries and friends), Loos wrote several volumes of memoir, dishing on decades of Hollywood and Broadway life. By any standards, she had an amazing writing career, and blazed a trail for all screenwriters -- not just female ones -- to follow.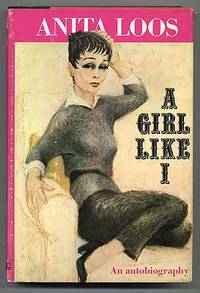 New York: The Viking Press. (1966). First edition.
Offered by Between the Covers Rare Books.
A Group of Letters, Signed, to Critic Leonard Lyons and Sylvia Lyons, with Retained Copy of a Typed Letter to Orville Faubus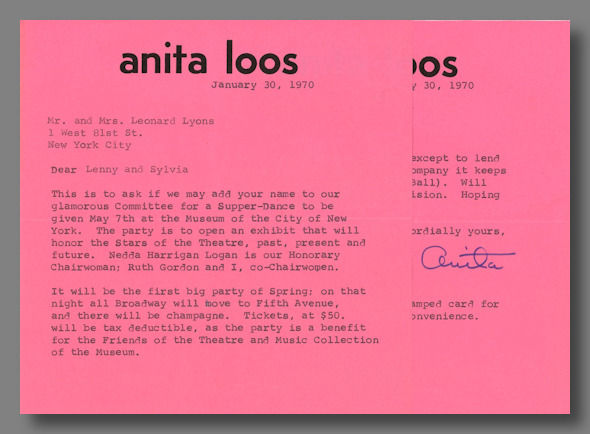 New York, Bermuda, and n.p., 1979. Consisting of: 4 typed letters, signed, 2 autograph letters, signed, a typed note, signed, an autograph note, signed, and an autograph postcard, signed ("Anita"). Octavo and 12mo, several on Loos's hot pink letterhead, three with original mailing envelopes. Some minor wear and creases from having been mailed, but very good. A sequence of friendly notes and letters from Loos.
Offered by William Reese Company.
If that hot pink letterhead reminded you of Marilyn Monroe's dress in the famous "Diamond's are a Girl's Best Friend" number, you're likely not alone. The dress attracted a lot of attention when it was sold at auction in 2010.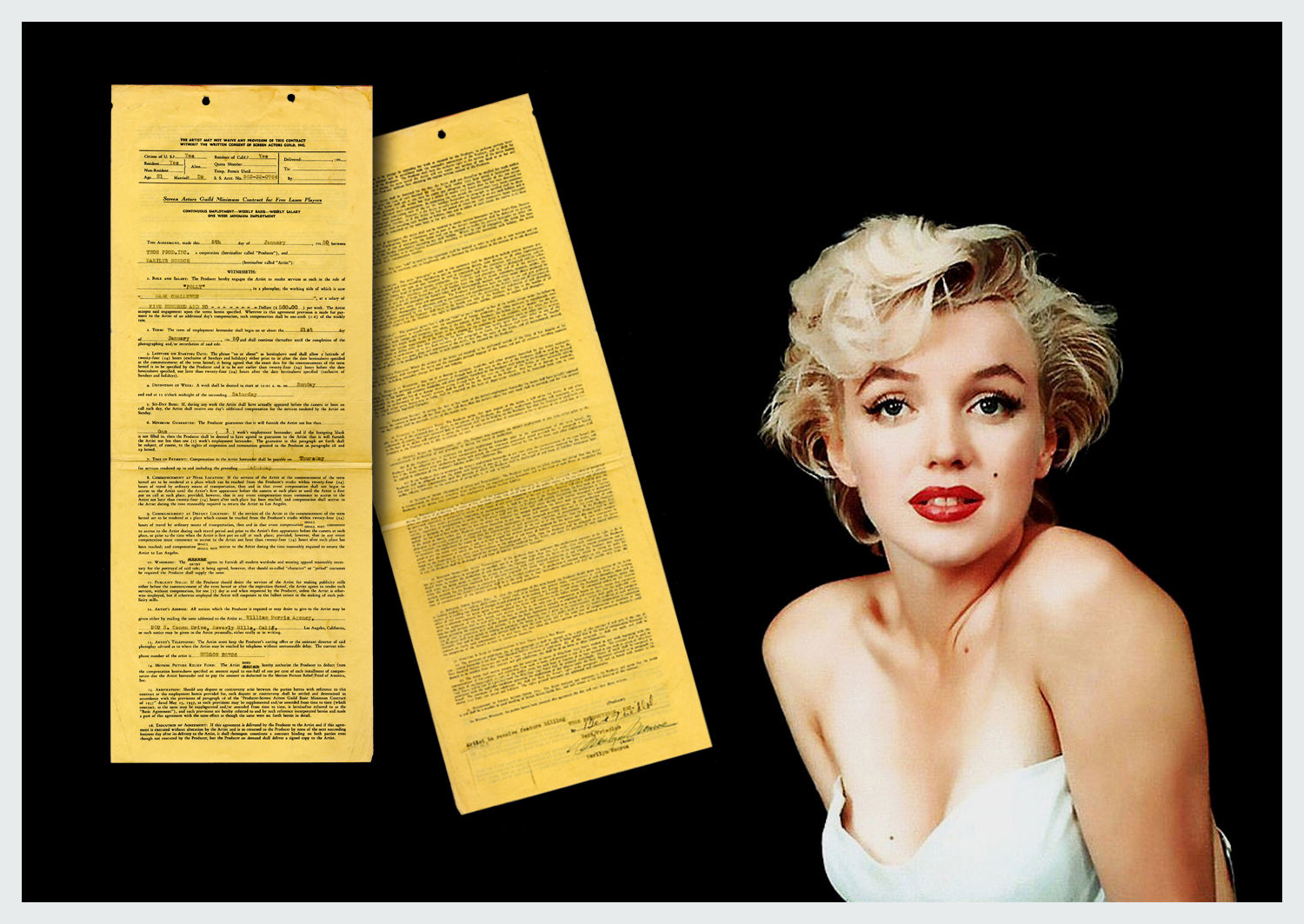 [Beverly Hills, California], January 5, 1950. 8.5" x 21.5". "Document Signed, ""Marilyn Monroe,"" two pages, 8.5"" x 21.5"", [Beverly Hills, California], January 5, 1950, a yellow Screen Actors Guild freelance contract between Monroe and Thor Productions for her appearance as the character ""Polly"" in the 1950 film, The Fireball starring Mickey Rooney and Pat O'Brien (described in this document under the working title, ""Dark Challenge""). Countersigned by producer, ""Bert Friedlob"". File holes at top, light soiling at margins, horizontal crease, else very good to fine condition.

The Fireball was the story of an orphan, ""Johnny"" (played by Rooney), who runs away from Father O'Hara's orphanage to become a roller-skating star. As his fame rises, he is chased by numerous women (including Polly) who he realizes love him only for his fame. Johnny then contracts polio and spends the balance of the film recovering. Monroe signed the contract at a relatively low point in her career. Just the year before, financial concerns prompted her to pose nude for a photo session. However, soon after The Fireball's release, Monroe's career began to gain momentum and she began booking roles in more serious films. That same year she auditioned for John Huston who cast her in Asphalt Jungle. Her performance brought strong reviews, as well as the the notice of Joseph Mankiewicz, who cast Monroe in All About Eve.
Photograph Signed by both Douglas Fairbanks and Mary Pickford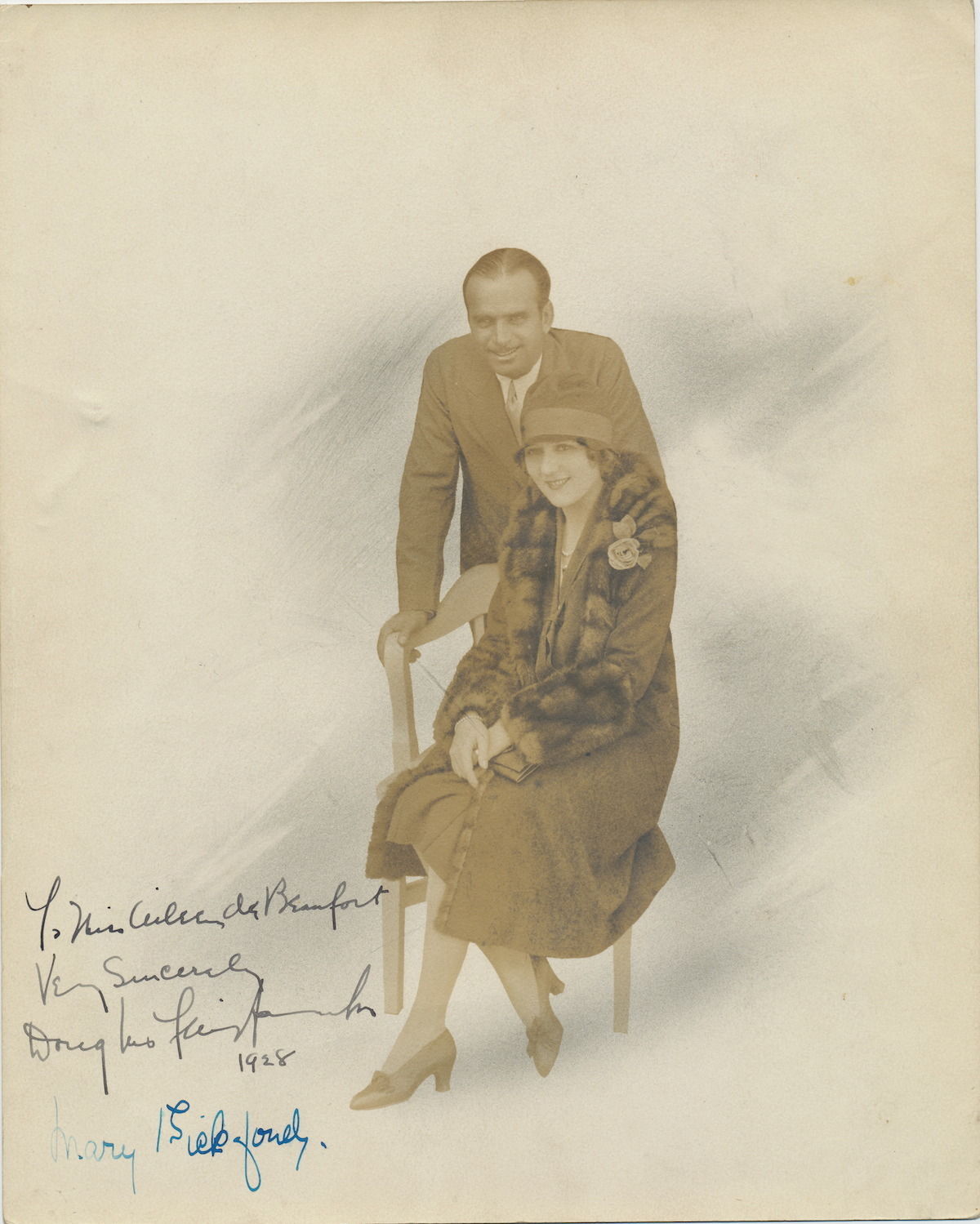 Fairbanks inscribes signs in full and dates, 1928, Pickford signs in full, slightly light first name.
Offered by Schulson Autographs.