This election is unlike any other in terms of the candidates, the frequent emotional rollercoasters, the influence of the wealthy, the corporations and the media, and the volatile and complex nature of the issues – guns, race, religion, nationalism, foreign policy, poverty, immigration, nuclear arms, pestilence, famine, ecology, the Supreme Court, etc., etc.. How to make sense of it all?
Most antiquarian booksellers feel that the books of the past can illuminate the present, and so, in that spirit, knowing that we cannot get you to unplug the telly, log off from Facebook or stop obsessing over FiveThirtyEight, we recommend the following books to supplement your daily media intake. These texts will give you The Long View, supply historical context, make you the life of the cocktail party, and perhaps even provide you with a modicum of hope for the future of humankind.
1. The Constitution
When Khizr Khan held up a copy of the U. S. Constitution at the Democratic National Convention and pointedly asked Donald Trump whether he had ever read it, one of the results was a brief flurry in sales of pocket copies of the Constitution. And that was likely, in part, because a lot of people, including me, muttered to themselves with a pang of self-reproach, "I haven't read it either."
Reading it in a flimsy paperback edition is one thing, but it can be utterly transforming to read the Constitution as it appeared in 1787. Once it was ratified, copies were immediately printed in a variety of formats, as broadsheets and pamphlets and in magazines and newspapers. The Columbian Magazine, published in Philadelphia in September of 1787, contained the entire Constitution, and bound volumes come to market with some frequency. It is an amazing feeling, to commence your reading of the Constitution ("We the People…" – even I know that much) from a copy printed during the heady tumult of 1787.
Once immersed in the Constitution, you'll notice odd turns of phrase that harken back to old English law. In the section on treason for example, "no Attainder of Treason shall work Corruption of Blood, or Forfeiture except during the Life of the Person attainted," which guarantees that even though a treasonous person may have corrupt or "tainted" blood, parental treason cannot be held to punish the heirs. This will provide much comfort to Trump's children, should their dad ever cross the line.
---
The Columbian Magazine for September, 1787
Philadelphia: Printed for Seddon, Spotswood, Cist, and Trenchard, 1787. pp.615-674 plus two plates (one folding). Original blue pictorial wrappers, with later stitching. Wrappers soiled and worn, spine perished. Text tanned and a bit soiled, some light foxing. Withal, in very good, unsophisticated condition (save for the later stitching). Untrimmed. In a half morocco and marbled boards clamshell case, spine gilt, gilt leather labels.
The first periodical printing of the United States Constitution, probably issued within a week of its issuance as a broadside. The Constitutional Convention ratified its final draft on Monday, September 17, 1787. The followingday, September 18, the broadside version, issued for members of the Convention, was printed by Dunlap and Claypoole, the official printers. On September 19 the same printers issued the first public printing of the Constitution in their newspaper, THE PENNSYLVANIA PACKET.
The present magazine was probably printed late in the week, and the final signature, containing the Constitution and recent news, was probably printed on Saturday, September 22. This is the last internal date, on the last page, and actually refers to an event that took place on the 17th as "Monday last." From a survey of Mott's HISTORY OF AMERICAN MAGAZINES in the period, it seems that it was common practice to issue monthly publications by the last week of every month. This issue would seem to have been out and in general circulation by Monday the 24th, one week after the end of the Convention. Its version of the Constitution was executed, most likely, on the 22nd, four days after the official broadside and three days after the first public, newspaper, appearance. This issue also contains the text of John Quincy Adams's Harvard commencement address (he finished second in a class of fifty-one), which was given in Cambridge on July 18, 1787. It is his first published writing.
The COLUMBIAN MAGAZINE was a distinguished publication of the period. Mott calls it one of the best 18th- century American magazines. It began in September, 1786, and was well established, with Matthew Carey's AMERICAN MUSEUM, as one of the two major periodicals then being issued in Philadelphia, or for that matter the country, at the time. Since the magazine probably had wider circulation than the newspapers issued in Philadelphia, it is likely that this printing was one of the chief means of disseminating the Constitution immediately after its first publication. The front wrapper contains a striking engraving of an eagle perched atop a globe. An exceptionally early and important printing of the Constitution. (Offered by William Reese Company)
---
2. Democracy in America
A widely cited recent study by two professors (Martin Gilens and Benjamin Page) concludes that we no longer have a functioning democracy in the United States but rather an oligarchy, where the interests of the wealthy have a much greater impact on policy-making than do the concerns of the poor or the middle class.
A little more than fifty years after the Constitution was ratified, Alexis de Tocqueville and Gustave de Beaumont were commissioned to study the prison system here. Traveling through the United States in 1831, they not only surveyed the penal system at work, but made many insightful observations on the workings of the American political and legal system. De Tocqueville's Democracy in America, (published in France between 1835 and 1840 and shortly thereafter in English) collected his observations and contain his musings on the nature of democracy, its advantages and its pitfalls.
It is worth reading again for his astute political sense and to observe how things have changed since then. Tocqueville's admiration for the American political system was not without some articulated concerns he had about the functionality and success of a democratic republic. To read him these days is to ask anew whether the tendency toward "soft despotism" he marked has been realized in the years since he published his work, and whether we are now at the mercy of a "tyranny of the majority" which he thought inevitably leads to the election of "mediocre" politicians who are not exceptional in brains, judgment, energy or leadership.
---
Democracy in America (Two Volumes)
London: Saunders and Otley, 1838. Third edition. Original brown cloth boards decorated in blind, rebacked to style. A very good or better set, boards rubbed, rebacked to style, renewed endpapers, some minor restoration to corners, light marginal stain to top edge of last leaves of vol. I, contents sharp, map fine.. xxxvi, 302; viii, 325 pp. Illus. with one folding map. With half-title in Volume II. This first part was published the same year as the first American edition. (Offered by Kaaterskill Books)
---
3. The Life of Reason
"Those who cannot remember the past are condemned to repeat it," appears in the first volume of George Santayana's five-volume philosophical work, The Life of Reason, published between 1905 and 1906. This is a much quoted line, as every day we find a new reason to voice it. The rabble-rouser of today reminds us of similar sorts across the epochs. And it never ends well.
Yet Santayana's work should not be reduced to single line, especially since this work is actually uplifting, and contains some of the most elegant philosophical prose of our time, advocating a political philosophy that was a mix of "natural aristocracy" and democracy, but sensing in democracy, much like Tocqueville, the danger of its becoming a "vulgar, anonymous tyranny." The Life of Reason imagines a society based on reason, meritocracy, equal opportunity, and science, and fleshes out details on how such a society can come into being. Despite the pessimism of the one sentence people quote from Santayana, the book's message is a positive one, if (and it's a big if) we can commit to a life based on reason.
4. Huey Long
As a candidate and as a personality, Donald Trump is often compared to Huey Long, the Louisiana politician who was assassinated in 1935, shortly after announcing his candidacy for President of the United States. There are indeed similarities between the two, in terms of their flamboyance, their trash-talking of the opposition, multiple accusations of legally shady dealings, upended traditions, rules and codes of conduct (on meeting with FDR, Long refused to remove his straw hat and insisted on calling the President "Frank"), and how both have been called demagogues and threats to American economic and political stability.
Like Trump, Long was adept at campaigning as a populist and as a nationalist, preaching an anti-immigration policy of isolationism, having absorbed much of his political sense from his mentor, Father Charles Coughlin, a Roman Catholic priest who pioneered the use of radio to spread his crypto-fascist, anti-New Deal polemics, just as Trump has employed Twitter to communicate with his followers. Long was a tireless speaker at rallies, employing trucks with loudspeakers on occasion, an inveterate pamphleteer and leafleteer, founding his own newspaper to promote his brand, a frequent presence on the radio, and a bully. Sound familiar?
The similarities end there. Long really was a populist who actively sought to improve the lot of poor Louisianans. His public works programs and educational initiatives, paid for by taxes levied on oil companies, particularly Standard Oil, resulted in thousands of miles of newly paved roads, many new buildings, 100,000 textbooks for schools, night school programs for workers in a state that had a 75% illiteracy rate in some parishes, and thousands of new jobs. He was also a strongly committed advocate of income redistribution, at one point even proposing in all seriousness a revolutionary tax structure with a cap on income and a graduated income tax of 1% per million, such that any income over $100 million would be taxed at 100%.
---
Press Photograph of Huey Long with a Country Music Trio
New York: International News Photos. 1934. Sepia toned press photograph. 8.5" x 6.5". Near fine. A portrait of an overall-wearing Long seated by an ax vacationing in Hot Springs, Arkansas, with a trio behind him playing a guitar, mandolin, and steel-resonator guitar, captioned on the rear: "Senator 'Kingfish' Long in Role of Woodchopper ... Exercises was interrupted by a 'Hill-Billy Band'... The group of minstrels were... Murray Lucas, Ralph Pearson and Earl Wynn". (Offered by Between the Covers Rare Books)
---
Long's commitment to the disenfranchised and to labor was evident in his many leaflets and speeches, where he inveigled against parasitical capitalists and the Federal Reserve system, and sermonized on the topic of personal empowerment and fulfillment. His first book, the autobiographical Every Man a King casts his own life in those David and Goliath terms.
His second book, My First Days in the White House, detailed what he would do differently from Roosevelt once in power. Roosevelt considered Long a threat to the stability of the country, but many historians have concluded that FDR's more left-leaning New Deal programs, such as the WPA, were partly a response to being outflanked on the left by Long. Long was killed in 1935 by the son-in-law of an adversarial judge whom Long had just redistricted out of a job.
5. Sinclair Lewis and Robert Penn Warren
Huey Long was thought to be a grave peril to America's economy and democracy if he became President. Sinclair Lewis' It Can't Happen Here, published just after Long was assassinated in 1935, details the ascent of Senator Berzelius "Buzz" Windrip to the presidency, where, although elected on a populist platform, he quickly becomes a fascist dictator who establishes a totalitarian style of rule. Many people I know are currently reading this novel, seeing it as a parable of what might happen if Trump is elected, and a new stage adaptation of it by Tony Taccone and Bennett Cohen will come to the Berkeley Repertory Theatre in September, 2016.
Mr. Taccone kindly responded to our queries regarding his production with the following:
"In 1935, Sinclair Lewis wrote It Can't Happen Here, a novel that imagines the rise of fascism in America. Concerned about race riots, a huge income gap between the rich and the poor, the stigmatizing of immigrants, global terror, and a right-wing extremist running for president, Lewis' novel reads like it was ripped out of today's headlines. Whether he's describing Buzz Windrip, the demagogue who wins the presidency based on the promise of making our country great again, or Doremus Jessup, a liberal newspaper editor who simply waits too long to take Windrip seriously, Lewis' understanding of our political system was precise and far-reaching. Reading the book now is somewhat shocking, if only because it's impossible to dismiss our current situation as an aberration. As one of the characters in the book says, the problem's not Windrip; 'it's the sickness that made us throw him up that we've got to attend to.'"
---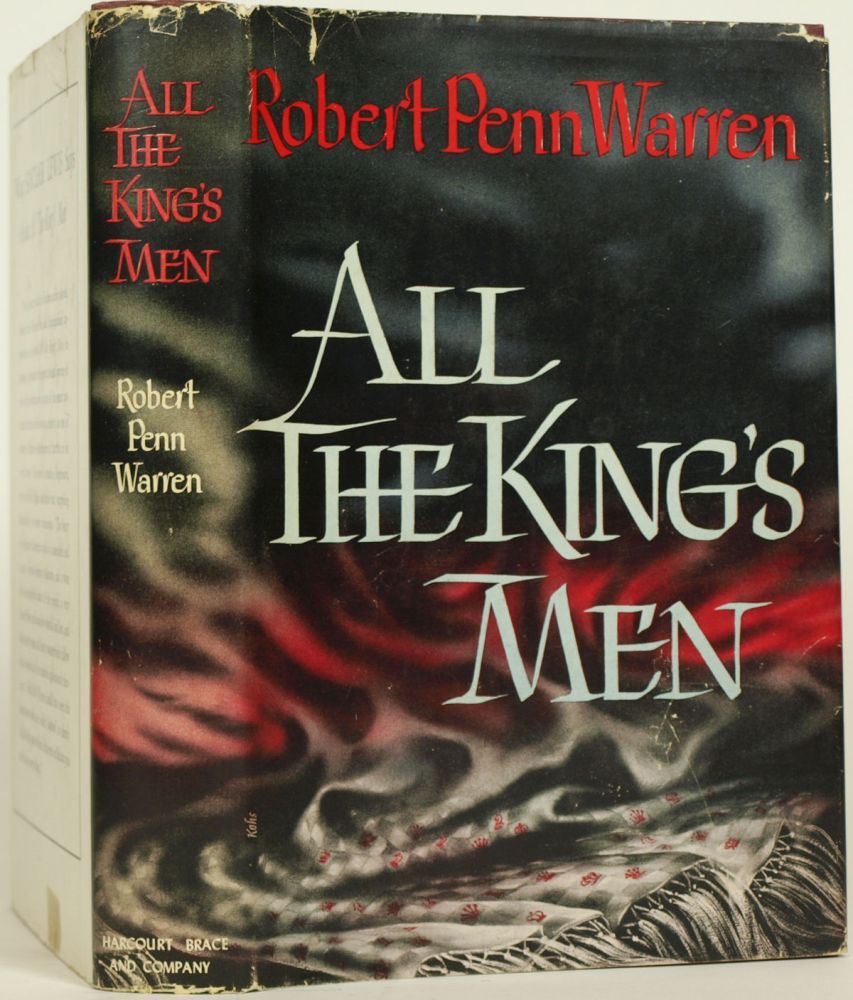 by Robert Penn Warren
New York: Harcourt Brace, 1946. First edition. Maroon cloth, a fine copy in lightly used first issue dust jacket (a few small old tape repairs on the jacket back). An advance copy, with the publisher's dated review slip, tipped to the front free endpaper. (Offered by Thomas A. Goldwasser Rare Books)
---
Robert Penn Warren's novel, All the King's Men (1946), which won the Pulitzer Prize in 1947, also details the rise of a Long-inspired figure, Willie Stark, a messianic, narcissistic southern governor. The title is a nod to Long's oft-used expression, "Every man a king, but no one wears a crown," which in turn was borrowed from William Jennings Bryan. Like Long, Stark gets obsessed with power and builds a political machine based on corruption, intimidation and political patronage. While Lewis's novel is more a vision of what might happen if such a figure becomes president, Warren attempts to explain the psychology of such a figure, and why that kind of person is attractive to those around him.
---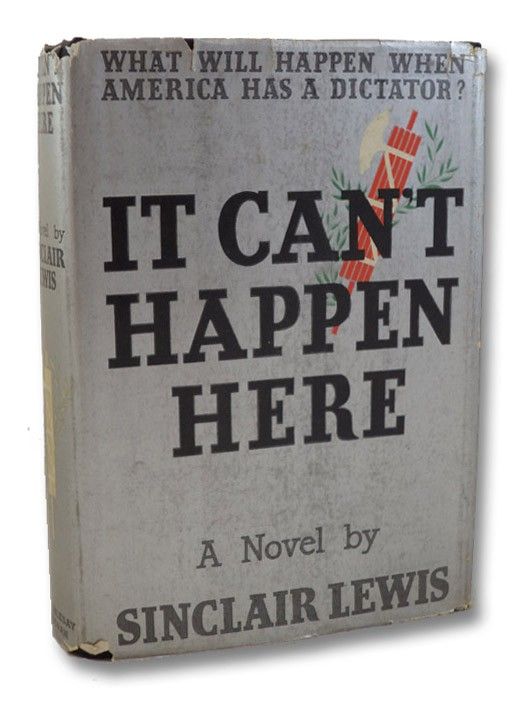 by Sinclair Lewis
First edition. Top page ridge lightly foxed, jacket edge wear with minor chipping at spine head and base. Doubleday, Doran & Company, Inc., Garden City, 1935. First Edition. Very Good/Good. 458 pp. 8vo. Original black cloth, gilt titles.
A satirical work of dystopian fiction envisioning an American dictatorship. The causes for the descent into fascism are authentic, making the novel an insightful glimpse of what it looks like to trade one set of evils for another. Lewis wrote the book during the Great Depression, basing the dictatorship on Hitler's, but replacing hateful indoctrination with misleading appeals to American values. Many believe the novel to be a direct reaction to the possible candidacy of Huey Long for president in 1936. It was published five years after Lewis became the first American writer to win the Nobel Prize for Literature.Lewis also won (and declined) the Pulitzer Prize for his 1925 novel Arrowsmith. (Offered by Yesterday's Muse, Inc.)
---
6. Anti-Intellectualism and Dystopian Fiction
If you are as astonished as I am by how many Americans are voting against their self interests in this election, and how there is a wide swath of anti-intellectualism out there, as well as a cult of personality evident in both the Trump and Sanders camps, you might first read Anti-Intellectualism in American Life by Richard Hofstadter, published in 1963 and winner of the Pulitzer Prize in 1964. In it, he blames America's long tradition of democratizing education, echoing De Tocqueville and Santayana.
Then reread those novels you slogged through in high school, beginning with Lord of the Flies, then Brave New World, Nineteen Eighty-Four, and finishing up with Fahrenheit 451, all of which can be read as allegories of how people tend to cede power and freedom to either charismatic individuals or to the state. If you find these novels illuminating and prescient, consider buying a first edition. (There is a limited first printing of Fahrenheit 451 bound in asbestos that might be a little troubling, but heck, you have Obamacare, right?)
7. Alas, Babylon
Are there any novels where a female becomes the President of the United States? Well, uh, there's Pat Frank's Alas, Babylon (1959), a dystopian novel about a nuclear war between United States and Russia, resulting in the apocalyptic destruction of much of the two countries. Most of the governments on both sides have not survived the holocaust, and the President is now, by default, Josephine Vanbruuker-Brown, the former Secretary of Health, Education and Welfare. She does OK, but the country has suffered such tremendous damage that it is now receiving aid from third world countries. John Lennon apparently read the book in 1965 (took him all night, they say) and it intensified his anti-war stance.
---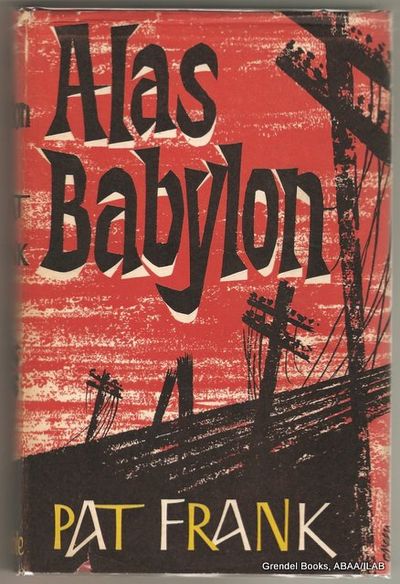 Alas, Babylon (First British Edition)
by Pat Frank
London:: Constable and Company,. Very Good in Very Good dust jacket. 1959. Hardcover. First British edition. Very good in a very good (minor edge wear and age toning, one small chip at the base of the front panel) dust jacket. ; 254 pages. (Offered by Grendel Books)
---
8. Utopian fiction: Herland and other Fantasies
At this point in the reading list, you are probably feeling hopeless and depressed. Are there any books that offer a vision of a better world? We recommend Herland by Charlotte Perkins Gilman.
In Herland (1915) three male adventurers set out to explore an uncharted land where there is rumored to be an entirely female society. They find themselves captured by some of the women and given accommodations in the utopian community where there are no conflicts, where pragmatism and aestheticism , sharing and learning are valued above all else. The men are forced to confront their views of women and are not altogether successful in changing their attitudes and adapting to the new and better paradigm the women have established.
Other utopian fictions in which the societies are either matriarchal or female-dominated include Joanna Russ's The Female Man and Marge Piercy's Woman on the Edge of Time (1976). The authors of these books clearly feel that when women are in charge, things are better. My wife told me she just listened to an NPR piece on how older female killer whales (or orcas) are most likely to lead their pods during lean times when salmon are sparse; it is the old females who are the keepers of wisdom, and that the younger whales in such pods honor and privilege the older "granny" whales accordingly. Maybe we should, too.
9. Poetry
If reading dystopian and utopian fiction isn't enough and you're still worried about things, we recommend a little poetry. Basically any poetry will do. Charles Simic, himself a fine poet, wrote a short essay about poetry and utopia in a 2012 issue of the New York Review. In it, he quoted William Hazlitt's line, "Poetry dwells in a perpetual utopia of its own," agreeing with this sentiment and elaborating on it. He imagines a young man in a rural town reading an ancient Chinese poem in a book borrowed from the library. "With each reading he brings the voice of the dead poet to life. For one unforgettable moment, he steps out of his own cramped self and enters the lives of unknown men and women, seeing the world through their eyes, feeling what they once felt and thinking what they once thought. If poetry is not the most utopian project ever devised by human beings, I don't know what is."