A couple of literary first editions caught to eye this week, along with an original WWII propaganda poster, and an entertaining and very honest description of a first edition Julia Child's Mastering the Art of French Cooking.
by Sylvia Plath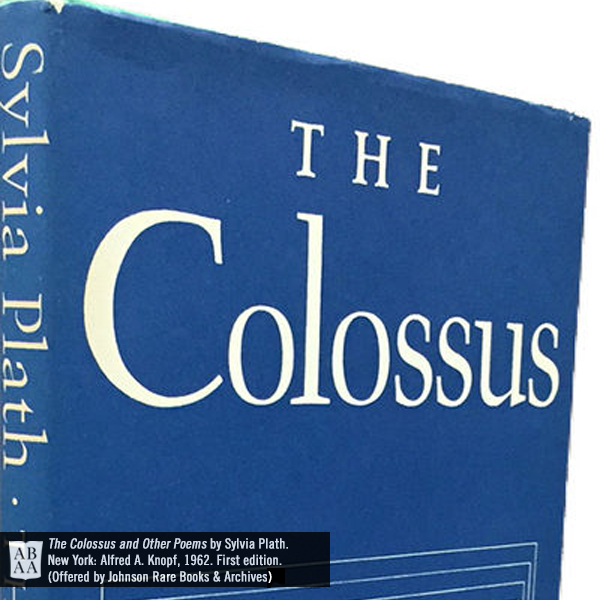 New York: Alfred A. Knopf, 1962. First edition. Hardcover. Fine/Fine. 84 p. First American Edition. With this startling, exhilarating book of poems, Sylvia Plath (1932-63) burst into literature with spectacular force. In such classics as "The Beekeeper's Daughter," "The Disquieting Muses," "I Want, I Want," and "Full Fathom Five," she writes about sows and skeletons, fathers and suicides, about the noisy imperatives of life and the chilly hunger for death. This copy belonged to Anne Wilder, the confidant and lover of poet Anne Sexton, with Wilder's signature to the front flyleaf. The two engaged in a passionate affair and a prolific correspondence (Wilder is identified as "Anne Clarke" in Anne Sexton: A Self-Portrait in Letters), which reveals much about Sexton's work and her psychological struggles during the mid- to late 1960s. Like Plath, with whom she shared a brief but intense friendship while attending Robert Lowell's graduate writing seminar at Boston University, Sexton was among the finest confessional poets of her generation. The two remained inextricably linked by their work, which explores the darker, feminine aspects of the American experience, and by the nature of their untimely deaths. Octavo. Original green cloth binding. A very fine copy in a fine dust jacket.
Offered by Johnson Rare Books & Archives.
Mastering the Art of French Cooking (First Edition)
by Julia Child, Simone Beck, & Louisette Bertholle.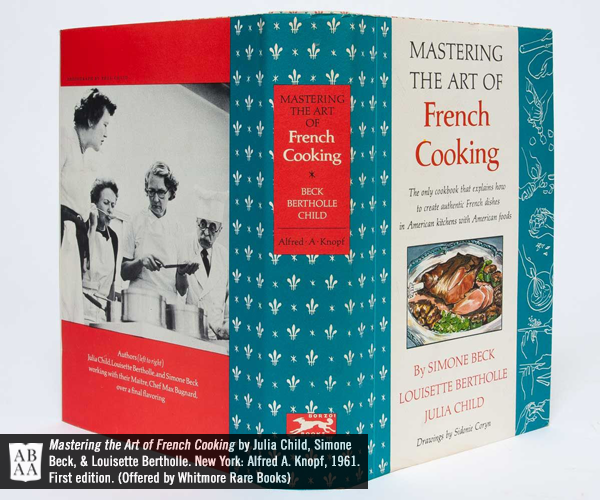 New York: Alfred A. Knopf, 1961. First edition. Near Fine/Near Fine. Book Near Fine on account of some small spots of foxing to the closed fore-edge of the page block. Price-clipped dust jacket also Near Fine on account of a printer's flaw, a faint line running the length of the front panel. Otherwise dust jacket is spectacular. First issue dust jacket with the correct points.
A scarce first in any condition, but, not surprisingly, most copies splattered with wine around the coq a vin recipe, glued with cheese on the soufflé page and seemingly dipped in hollandaise sauce, not to mention the copious notes written in the margins around family favorites. This copy suffers from none of those annoyances; a true collector's copy. Near Fine in Near Fine dust jacket.
Offered by Whitmore Rare Books.
He's Fighting For You; Join the Club - A Stamp A Day... For The Man Who's Away... (Propaganda Poster)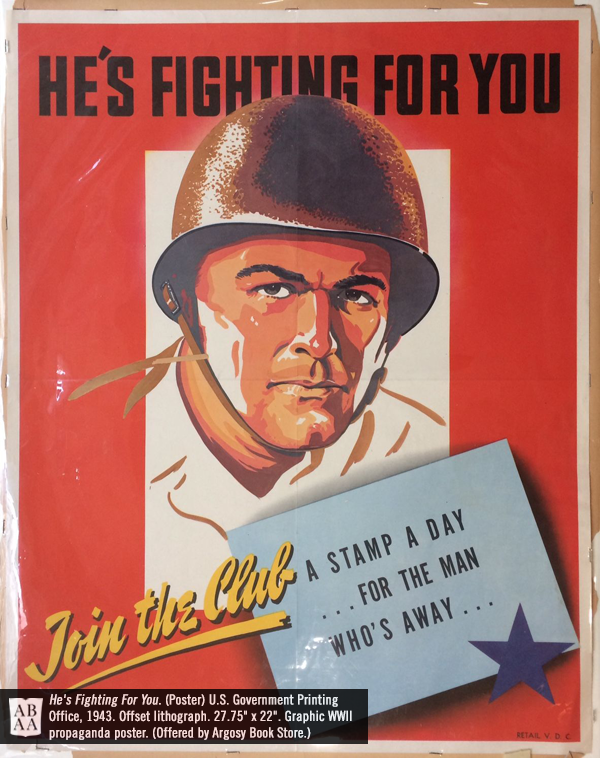 U.S. Government Printing Office, 1943. Unbound. Very good(+). Poster. Offset lithograph. 27.75" x 22". Shows a .5" tear at left bottom corner, some light wear to edges. In very good condition. 2 fold as issued. Graphic WWII propaganda poster.
--This is just one of several wartime propaganda posters and other artwork recently listed by Argosy Book Store!
by Lynd Ward
New York: Jonathan Cape Harrison Smith, 1930. First edition. Hardcover. Very Good +/very good. 8vo. Stated "first published 1930" on copyright page. Magnificent volume of woodcuts by Ward. His second major work. A story told in pictures. Shelfwear to bottom of board edges else an excellent very good plus copy in decorated boards. The price-intact dustwrapper ($3.00) is toned at spine and has some noticeable chipping and paper loss at spine ends. Still, a solid and handsome example of this classic work.
Offered by Derringer Books.
Les Miserables (First American Edition)
by Victor Hugo (Translated from the original French, by Chas. E. Wilbour.)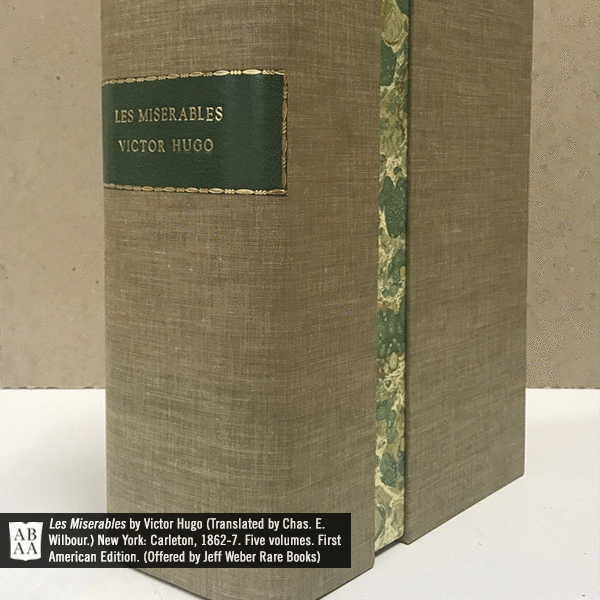 New York:: Carleton, 1862-7., 1862. Five volumes. 8vo. [ii], 171, [5]; 164, [4]; 150, [2]; [ii], ii, [7]-184; vi, [7]-165, [3] pp. Advertisements are found at the rear of 4 of 5 volumes (as issued). Original maroon blind and gilt-stamped cloth by George W. Alexander, Binder, New York, with his ticket at the rear pastedown of vol. III: Marius; some neat repairs to spine ends. Modern sturdy green cloth pull-off case, red morocco gilt-stamped spine title. Very good copy, with new box. FIRST AMERICAN EDITION, with translation by Chas. E. Wilbour, who was employed by Carleton Publishing Company to translate the highly popular masterpiece by the French authorVictor Hugo, clearly one of the most important and influential novels of the nineteenth century. The American edition was published in the same year that the original French edition was also issued, in 1862.
The publisher, Carleton, issued the book in two forms: cloth or wrappers. This copy is from the original cloth bound format. / The books are not issued as numbered volumes. Instead the publishers show the entire work as five entirely separate novels, each complete and each is sold separately (thus complete sets are unusual). I: Fantine. II: Cosette. III: Marius. IV: Idyl of the Rue Plumet and Epic of the Rue Saint-Denis. V: Jean Valjean. / "Beginning in 1815 and culminating in the 1832 June Rebellion in Paris, the novel follows the lives and interactions of several characters, particularly the struggles of ex-convict Jean Valjean and his experience of redemption." Upton Sinclair described the novel as "one of the half-dozen greatest novels of the world," and remarked that Hugo set forth the purpose of Les Miserables in the Preface: "So long as there shall exist, by reason of law and custom, a social condemnation, which, in the face of civilization, artificially creates hells on earth, and complicates a destiny that is divine with human fatality; so long as the three problems of the age—the degradation of man by poverty, the ruin of women by starvation, and the dwarfing of childhood by physical and spiritual night—are not solved; so long as, in certain regions, social asphyxia shall be possible; in other words, and from a yet more extended point of view, so long as ignorance and misery remain on earth, books like this cannot be useless." PROVENANCE: William S. Downs, Chicago, 1862 (his name written twice and also gilt-stamped on the upper cover and spine of both COSETTE & MARIUS vols. – Mothin [?] December 1st, 1862 – Jane E. Judd, Augusta, Maine [Jane Elizabeth Williams Judd] (1819-1899), her husband was Sylvester Judd (1813-1893) and they had two known girls (Jane Elizabeth & Francis). Jane's parents were Hon. Reuel Williams (1783-1862) and Sarah Lowell Cony Williams (1784-1867). Hon. Reuel Williams was a member of the United States Senate from Maine – A.D. Barbor [?] 5.
Offered by Jeff Weber Rare Books.