The Boston International Antiquarian Book Fair (BIABF) is making its much-anticipated return to the Hynes Convention Center in Boston's Back Bay from November 11-13, 2022. The 44th Boston Book Fair is the annual fall gathering for book lovers and collectors, featuring the top selection of items available on the international literary market, sanctioned by the Antiquarian Booksellers' Association of America (ABAA) and the International League of Antiquarian Booksellers (ILAB).
An alluring treasure trove awaits seasoned collectors and first-time attendees. More than 100 exhibitors, from 9 different countries–Canada, Denmark, France, Georgia, Germany, Italy, Netherlands, the UK, and the US–will showcase the finest in rare and valuable books, photography, illuminated manuscripts, autographs, maps, historic documents, maps, fine bindings, original illustrations, ephemera, fine and decorative prints, and much more. A full list of exhibitors can be found at bostonbookfair.com/exhibitors...
Highlights of items available at this year's fair include rare first editions of Charlotte Bronte's Jane Eyre and James Joyce's Finnegans Wake; a gorgeous lithograph of Alphonse Mucha's Salome; the first edition of the health and civil rights landmark Our Bodies, Ourselves; a copy of the Highgrove Florilegium featuring botanical paintings of plants and trees growing at Highgrove, the Gloucestershire garden of King Charles III, signed by the newly crowned King of England; Inaugural addresses of the Presidents of the United States by John F. Kennedy (1961), inscribed by the widowed Jacqueline Kennedy; Kamisaka Sekka's stunning 1909 Momoyogusa, considered to be the finest Japanese design book of all time that features 60 exquisite double-page color-printed woodblocks; and an evocative collection of 19 photographs by African-American photographer Dan Bolling of Jazz greats like Miles Davis, Pharaoh Sanders, and Freddie Hubbard performing at Boston's Jazz Workshop and Lennie's on the Turnpike in Peabody, MA, in the late 1960s.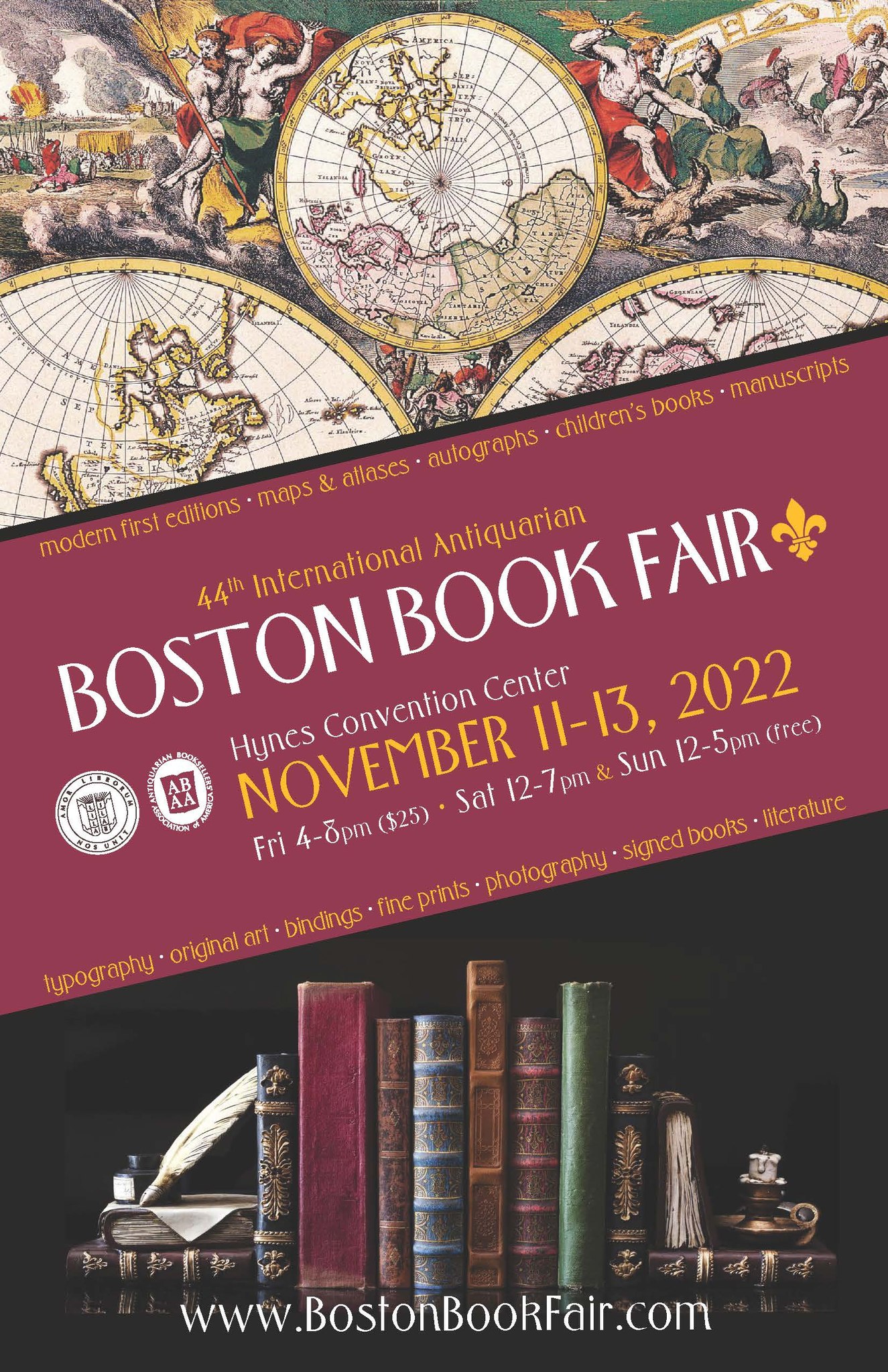 Whether just browsing or buying, the BIABF offers something for every taste and budget—books on art, politics, travel, gastronomy, science, sport, natural history, first editions, Americana, fashion, music, children's books, and much more—appealing to a range of bibliophiles and browsers. From the historic and academic to the religious and spiritual, from the exotic to everyday—the Fair has selections in every conceivable genre and subject. Attendees will have the unique chance to view rare and historic museum-quality items, offered by some of the most prestigious participants in the trade.
"We are thrilled to be welcoming our stateside and international dealers and attendees back to Boston for the first time since the pandemic," says Betty Fulton, CEO of CommPromo, producer of BIABF. "Returning to the in-person format in a time when tangible, printed materials are more valuable than ever and continue to be a source of escape and comfort during a period of uncertainty, the Fair has never been more relevant and meaningful to our lives."
In recent years, BIABF has increasingly captured the attention of novice and young collectors seeking one-of-a-kind offerings at more accessible price points. For attendees wanting to start a collection without breaking the bank, there will be dealers offering "Discovery" items priced at $100 or less, so there is something for everyone.
SPECIAL EVENTS
Special events at this year's fair will include in-person talks on Women in the American Wilderness with collector Caroline Schimmel & curator Regan Kladstrup; The Architecture and Furnishing of the Private Library with Reid Byers, author of The Private Library; The Ticknor Society Collectors' Roundtable: Artists' Books; Booked by Fate: A Life of Dealing in the Exotic World of Rare Books with bookman Phillip J. Pirages; and The Trials and Triumphs of Collecting Romance Novels with author and collector Rebecca Romney.
The popular Free Appraisals will be held on Sunday, November 13, from 1:00-3:00pm.
OPENING NIGHT
The first night of the 2022 Boston International Antiquarian Book Fair is a ticketed event. Doors open at 4pm EST. Tickets are available for $25 here...
HOURS
Friday, November 11 -- 4pm-8pm EST -- Ticketed Opening Night event.
Saturday, November 12 -- 12pm -- 7pm EST (free admission)
Sunday, November 13 -- 12pm -- 5pm EST (free admission)
For more information, visit bostonbookfair.com...
The Boston International Antiquarian Book Fair is sponsored by the New England Chapter of the Antiquarian Booksellers' Association of America and Biblio.com.