A short list of catalogs describing the rare books and ephemera ABAA members will be exhibiting at the 2016 Boston International Antiquarian Book Fair at Boston's Hynes Convention Center over the weekend of October 28-30.
Lorne Bair Rare Books Booth 106
F.A. Bernett (.pdf auto download) Booth 527
Eclectibles Both 227
Donald A. Heald Booth 314 (Addendum...)
Liber Antiquus, Early Printed Books & Manuscripts Booth 114
Ken Lopez Booth 313
Lux Mentis, Booksellers Booth 306
Oak Knoll Books Booth 120
B. & L. Rootenberg Booth 224
John Windle Booth 110
This list will be updated as more catalogs are announced. Most catalogs related to book fairs are published in the week immediately preceeding the fair, so check back next week for an expanded list.
Get a sneak preview of selected items ABAA members are bringing to this year's Boston Book Fair...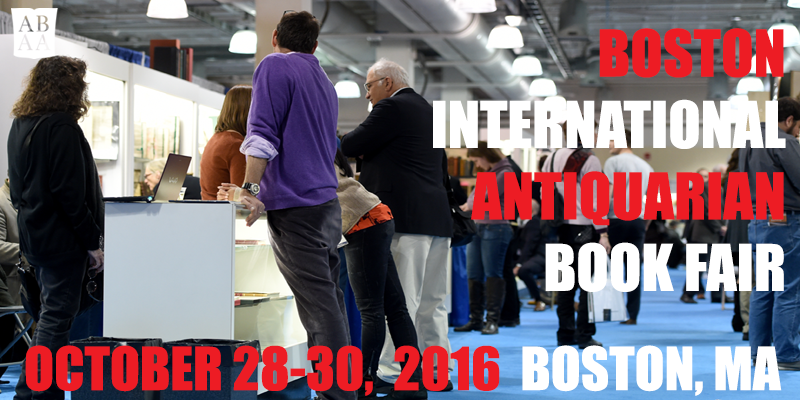 Click here for more information on the 2016 Boston International Antiquarian Book Fair...