Marvin Getman, a seasoned and affable fair promoter, is using the newly built Brooklyn Expo Center in the Greenpoint neighborhood for the second time, September 19-20, 2015, as a venue for a fall book and antiques show. Last year, Getman garnered considerable praise from ABAA exhibitors at the fair, which has encouraged many of us to either return this year or try it out for the first time. This time around, there are over 60 ABAA dealers among the 140 exhibitors.
Because Getman was literally the first person to host a fair there last year, there were naturally a few problems with the building (kindly scrutinized in Greg Gibson's blog about the show, which you can read here), but this year, the show should run much more smoothly.
Last year, many dealers commented on the youthful energy and hipster vibe of the show-goers. Ed Pollack wrote that Getman "put together a strong combination of nearly 100 Booksellers, and Art and Antiques dealers and presented a very good looking show in the well located new facility. All three days were well attended. Every 'usual suspect' ever seen was there, a very significant number of prominent non-exhibiting dealers attended, and, importantly, a large number of younger people who appeared to reflect the new Brooklyn demographic: couples w/ and w/o kids , artists, gays, foreign-born, etc. I think the book dealers were generally pleased, both with sales and with the obvious future potential of this venue. Even I did 'OK,'which for me is very good: sold prints, an object and even a book! There were a few glitches, but surprisingly few for a new venue in which this was the very first show."
Ken Mallory echoed Ed's comments. "Personally, I had a blast this weekend… the crowd was younger and at least one couple in their thirties that I spoke to found it somewhat amusing that so many dealers were commenting on the fact. It may be my perspective, or the material I bring, but I found myself chatting with and selling to civilians all weekend, people who happen to like the same stuff I like and some of them with money to spend and even though I didn't break the bank dollar wise, I left excited about the future of this show."
Bryan Bilby of Appledore Books was also enthusiastic and heartened by the 2014 Brooklyn show:
"A breath of fresh air…. and a much-needed shot-in-the-arm for the trade. That's how I view this past weekend in Brooklyn. After limping along the last few years, feeling uninspired by almost all of the non-ABAA shows, I was expecting more of the same this past Friday morning in Brooklyn. I just assumed I'd be walking into a room of anxious and somewhat defeated booksellers. And I assumed that once again there'd be that palpable sense of resignation, that feeling in the air that the best most of us can now hope for is to break even or possibly head home a tiny bit ahead of the game.

But within minutes, this show felt very different to me… and I attribute a lot of that to the space itself. Except for the magnificent Park Ave. Armory, I can't recall feeling so impressed with a setting. The fact that the good people of Greenpoint resisted the temptation of forcing a mini-Javitz Center (or some other anonymous public space) on this small, proud community was a good sign. So was the reasonable scale of the building, which I thought showed a respect for its surroundings and was as much in keeping with the feel of the neighborhood as an Expo Center possibly can be. I also found myself really responding to the all-glass aesthetic. It not only guaranteed a bright and sunny space --with excellent visibility-- but it also created a sense from those passing by on the outside that good things were happening inside and that they better think about coming in and checking it out. I know this because my booth was basically right up against Franklin St. (Greenpoint's main commercial street) and I spent much of the weekend watching attractive, interesting-looking young people actually notice us and, in many cases, come on in as a spur-of-the-moment thing. If only 5% of those passing by succumbed to their curiosity this time around, what will it be next year and the year after that when they're even more comfortable with this eye-catching new space?

Even though my sales… and those of most of our colleagues who I spoke with… were vigorous, that's not really why I'm so impressed with Marvin Getman. What really did it for me is that in this one experience he managed to restore hope into my outlook on the shows. In my opinion, he found a terrific venue -- one with tremendous upside and potential -- and in a confident, steady way showed all of us this past weekend that in these unsteady times this is how it should be done."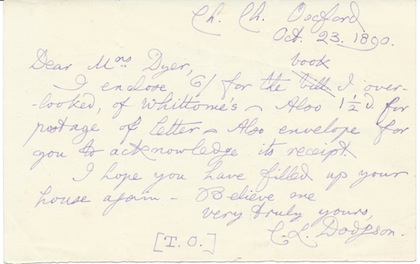 ALS from Charles Dodgson (Lewis Carroll) (Offered by John Kehoe Bookseller)
John Kehoe is exhibiting for the first time at this show, and says that he's interested because the "demographic skewed younger" and might be interested in the kinds of items he carries. "I'm bringing a lot of visual material, particularly an assortment of ALS, TLS, handbills, photographs, broadsides and the like, a lot of framable/displayable material with a literary connection."
Roger Friedman is also exhibiting for the first time, and will bring a truly diverse range of material, from early Aldine imprints to Weegee's Naked City. He tells me that he's impressed by how professional and organized the promoters are.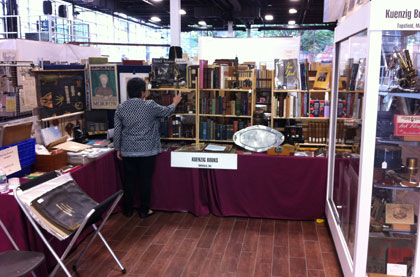 John Kuenzig also enjoyed himself so much that he titled his blog about the fair, "A Money Tree Grows in Brooklyn…" and specifically cited the Peter Pan donuts as an added bonus. He'll be back this year with a great selection of books on science, technology and related artifacts.
John Townsend of Town's End Books exhibited last year and liked what he saw, especially the way Getman ran the show, the easy load-in and load-out, and how it was an excellent alternative to the "exorbitant freight of a booth across the river." Among the items he'll be taking to this year's show are a fine first edition of Maxfield Parrish's masterpiece, The Knave of Hearts, and first printings of Uncle Tom's Cabin, A Christmas Carol, Two Years Before the Mast, a lovely copy of Cook's Description of Central Park, and many other treasures.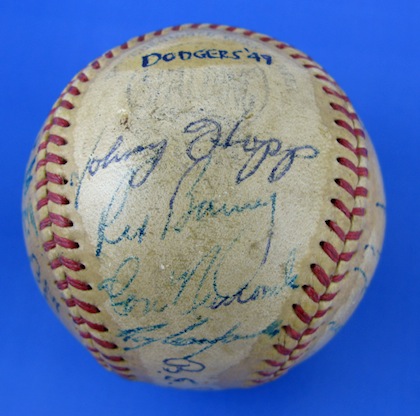 John Reznikoff from University Archives is exhibiting for the first time, and bringing along some items he thinks might be of interest to those who love Brooklyn's cultural history, legendary sports teams, and Jewish orientation. Thus, he'll present an amazing Woody Guthrie manuscript when he was at Brooklyn State Hospital, a baseball signed by the NL Champion Brooklyn Dodgers of 1949, including the autographs of Jackie Robinson and Roy Campanella, and a long letter on Judaism by the famous rebbe Menachem Schneerson, dated 1960, Brooklyn.
Tom Nealon of Pazzo Books has mixed feelings about the grilled cheese sandwiches and free beer last year, but will be back this year with a wonderful selection. "Not quite sure what I will pack up, but I'll bring this beat up but charming copy of Athanasius Kircher's Ars Magna Lucis Et Umbrae that was owned by Wilhelm Reich (with his signature) and given to him by Aurora Karrer, that last of the women in his life. A pretty great association of two of history's great scientist-kooks."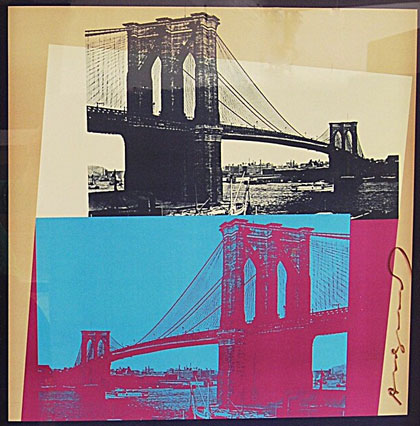 Warhol, Andy. (1928-1987). Brooklyn Bridge Centennial Poster - SIGNED
Brooklyn Bridge Centennial Poster. Signed boldly in black ink along the right edge. Color offset lithograph on paper published by the 1983 Brooklyn Bridge Centennial Commission, In., New York. 36 x 24 in., framed. Not examined out of frame but in apparently fine condition. (Offered by Schubertiad Books)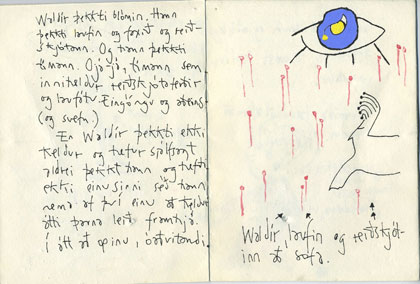 Björk. (b. 1965). Um Úrnat frá Björk - Handmade Original Book. A very rare Icelandic fairy tale and poetry book written and produced by Björk in 1984 when she was a teenager. 16 pp., folded paper with pictures and poetic text, with handwritten text and outlines printed in facsimile, extensively illustrated in original watercolor and colored pencils entirely in Björk's hand, this example also signed and inscribed by Björk on the first page in blue ink.
Acquired directly by our consignor from Björk in downtown Reykjavík when she was a young girl selling these on the corner, just on the threshold of world stardom. The text is a story/poem of Björk's fantasy beings, some of whom later appeared in other of her texts. A few small stains to the cover and scattered small impressions to the pages, otherwise in fine condition. Other examples of this book, apparently existing in fewer than 100 copies total, each uniquely illustrated, were recently displayed in the 2015 Björk exhibition at the Museum of Modern Art, NY. No copies recorded by Worldcat and none to our knowledge in the trade. (Offered by Schubertiad Books)
Schubertiad Books will bring with them a dazzling array of books and art, much oriented toward their expertise in music, including a handwritten Icelandic fairy tale book produced by the 19-year-old Björk in 1984, a poster celebrating the centennial of the Brooklyn Bridge signed by Warhol, and many other unusual and unique items.
Susan Liebegott from Enchanted Books likes the venue very much and will be bringing some truly unusual items this year including a complete and uncut paper doll set of the British model Twiggy, and a first printing in dust jacket of the Dr. Seuss classic, The Grinch that Stole Christmas.
Don Lindgren of Rabelais Books writes, "Yes, exhibited last year and loved it. Even thought the venue was still in the final stages of construction, it was terrific. Big, bright, visible from the outside to the public, and right in the middle of a great neighborhood. The crowds were everything I had hoped a new fair in Brooklyn might bring. Lots of new people; a younger, affluent, hip group of people, who may have been new to rare books, but who were happy to see what we had, and to buy. I also saw a fair number of Manhattan book fair regulars and some special collections folks. Marvin, as always, is endlessly helpful and always on the ball. Perhaps the mix of antiques and book dealers was not a natural fit, but he's adjusted and this year looks to be a better integration. " Rabelais will feature selections from his "massive collection of pig iconography" he calls Swinalia, plus many other great culinary items, including a handful of items from a newly purchased library of rare French cookbooks.
And Caliban Books will be exhibiting for the first time; we're excited to do so, and we'll bring our usual assortment of weird stuff, unearthed from various musty spider-webbed basements, including the hickory-shafted golf clubs of Eben Byers, the great golf champion of the 1900s (won the US Amateur in 1906 and was runner-up in 1902 and 1903), and who died horribly from having consumed 1400 bottles of a quack medicine that contained radium. Don't you think some bearded, flannel-T-shirt-wearing, millionaire, artisanal ketchup-factory owner would like them?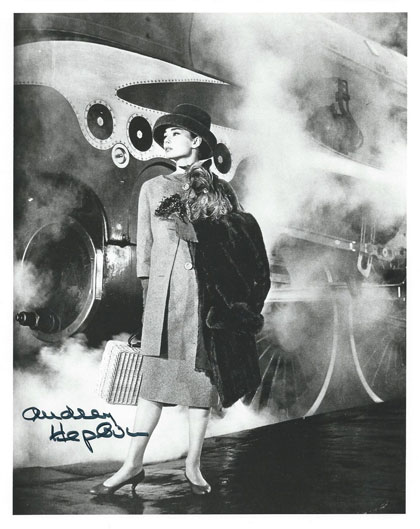 Hepburn, Audrey. (1929-1993) by Avedon, Richard. (1923 - 2004). Signed Avedon "Funny Face" Photograph. Vintage glossy 8 x 10 photo of a magnificent Hepburn standing next to a locomotive, holding a yorkshire terrier, the steam swirling about her. The image taken by Richard Avedon while the filming was done on the edge of the platform while he stepped to the side to shoot this classy shot. Signed boldly with her name alone in black ink "Audrey Hepburn" and in very fine condition. Obtained in person in 1988 by our consignor.
The 1957 American musical film directed by Stanley Donen, includes assorted songs by George and Ira Gershwin. Although having the same title as the 1927 Broadway musical Funny Face by the Gershwin brothers, and featuring the same male star (Fred Astaire), the plot is totally different and only four of the songs in the stage musical are included. The photographer Richard Avedon designed the opening title sequence and consulted on the film, in which Astaire plays Dick Avery, a still photographer, who is based in part on Avedon himself. (Offered by Schubertiad Books)