Previously, John Schulman offered some tips on giving antiquarian books as gifts and using the ABAA website to find what you're looking for. Today, he focuses on choosing antiquarian books specoifically for children.
Giving children's books to children requires just as much thought and insight as giving books to grownups. Children are generally just as aware as adults when it comes to assessing the degree of thoughtfulness and consideration that went into the gifts they receive. Thinking about the child's interests and personality is key. Much as you love the N. C. Wyeth illustrated edition of Treasure Island, don't give it to a six year old girl into race cars and robots.
But we all have favorite books from our childhood, and many of us hope (myself included) that our children will read those books and get the same kind of pleasure, comfort and wisdom out of them that we did. A good gift is one which strikes a balance between these two oppositions: what we want and what they want. And many of us (myself included) think that kids these days watch too much TV, play too many video games, spend too much time in front of screens of one sort or another, and that inspiring kids to love reading actual books will save them – and civilization – from becoming zombies.
Giving a good book to a child is your small way of establishing continuity with the past and saving the future.
---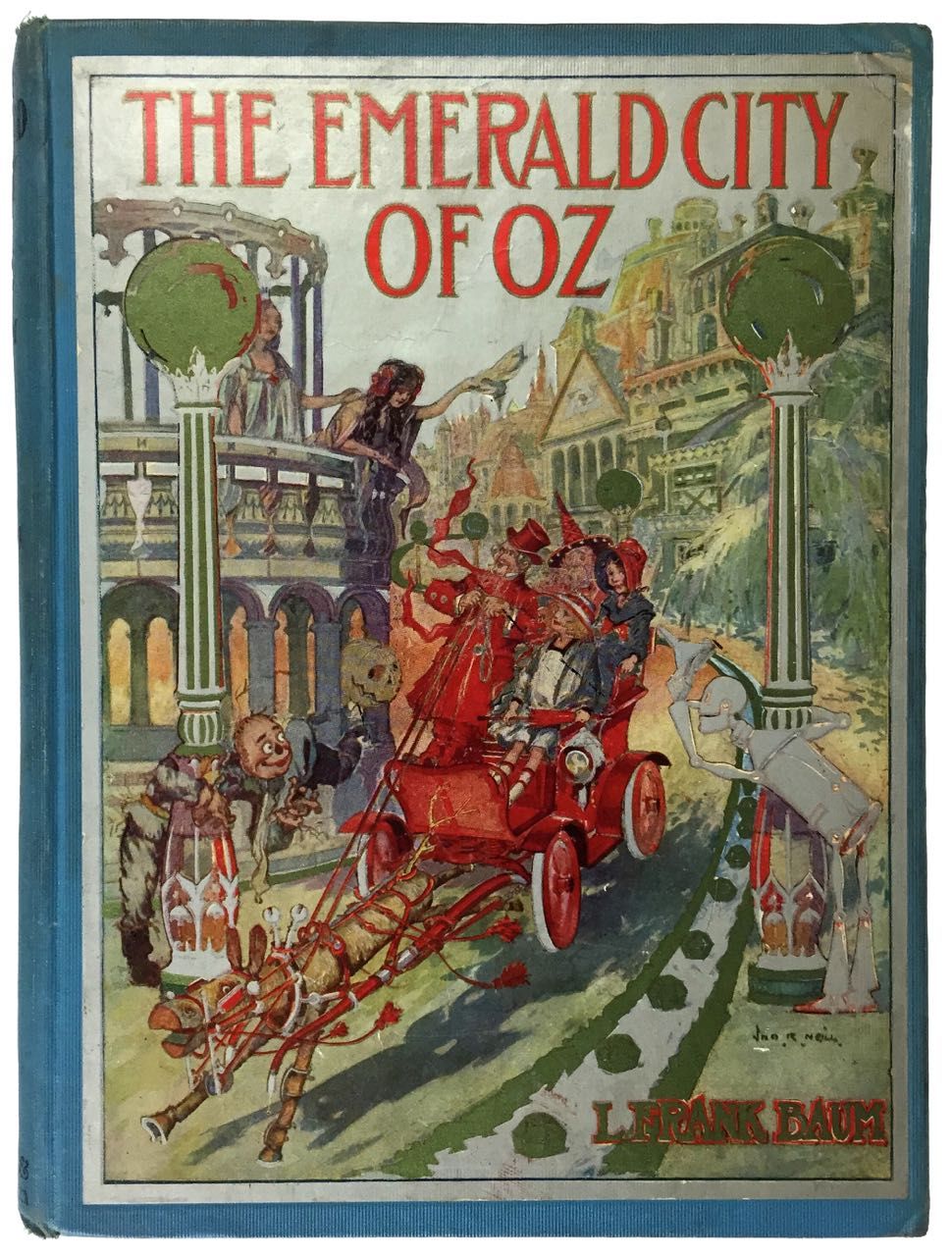 by L. Frank Baum
Chicago: Reilly & Britton, [1910]. First edition. Original light blue cloth with full-size color pictorial insert on cover depicting a number of the characters driving through the city in a toy donkey-drawn carriage. First edition, first state with light blue cloth, five titles on verso of ownership page, two-color endpapers in orange and black and sixteen full-page color playes by John R. Neill (later copies have 12). A stunning copy with the silver and black both present on rabbit on spine and both hinges in tact with no signs of starting. The brilliant color plates indicate a very early first issue imprinting, with the metalic green block (appearing on some illustrations) extremely bright and reflective. Very minor cover wear, occasional browning to a few plates but unobstrusive and minor. A fine copy of a book seldom found in this conditon in the first issue state. (Offered by Nudelman Rare Books)
---
Award Winners
For young children (under the age of 8), we generally recommend staying away from pricey first printings of children's classics if the kids are going to read and enjoy the books. Although ABAA dealers are best known for their rare and antiquarian books, many still list books in the under-$30 range. A safe bet for a child you don't know that well would be a Caldecott or Newbery prizewinner. The Caldecott Medal has been awarded since 1937 to the most distinguished American picture book of its year; the runners-up are the Caldecott Honor Books. The Newbery Medal is awarded to the most distinguished contribution to children's literature for each year. It is easy to find the lists of these books on the internet, and also to find copies on the ABAA site. Here's a quick way to search on the ABAA site:
On the homepage (ABAA.org) to the right you'll see Find Books for Sale. Under Keywords put Caldecott winner and click Search. And voila! About 300 items turn up. From there you can sort by title, author or price. Vary the search terms in key words (Caldecott medal; Caldecott honor; Newbery medal, etc.) for different results. You can also use More Search Options (the click-through to the left of Search) to refine your options still further (price range, date range, whether you prefer results to have a photo image or not, etc.).
Interest Areas
Or maybe the kid is obsessed with fire engines and you're thinking of getting a nice old children's book on fire fighters. Can you get the ABAA website to accommodate such a narrow want? Sure. Put fire engines in the Keywords and search. Over 200 results come up. In the left-hand column, however, titled Refine Search, if you scroll down, you can click on "Children's Books" – you don't have to click Search again, it'll do it on its own, narrowing the results to children's books that have something to do with fire engines. OK, now you can cross the six-year-old pyromaniac (or hater of pyromaniacs) off your to-do list.
---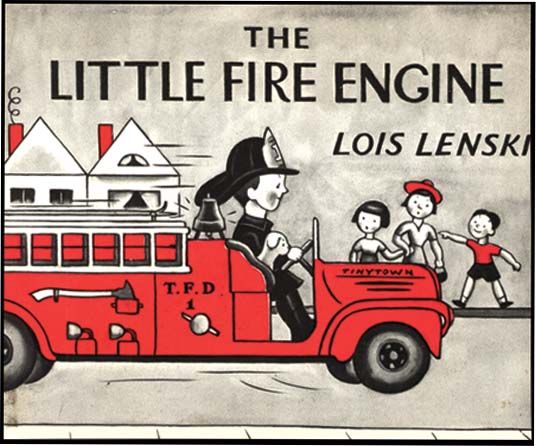 The Little Fire Engine by Lois Lenski
NY: Oxford University Press 1946 (1946). Oblong 8vo (8 1/2 x 7"). 4to, cloth, Fine condition in dust wrapper. 1st edition. Mr. Small has a fire engine. Charming color illustrations on almost every page, with minimal text. Lenski at her best. Nice 1st editions in dust wrappers are rare. (Offered by Aleph-Bet Books, Inc.)
---
Nota Bene. Although we don't recommend buying rare or delicate children's books (like a pop-up masterpiece by Voitech Kubasta for example) for young kids, especially the kind prone to tearing stuff up, let us acknowledge that the collecting bug starts early. By the time I was eleven, I had amassed over 1,100 vintage science fiction paperbacks and had already keyed on Ballantine Originals as a focus. Planting the collecting seed by giving a child a first edition of Charlotte's Web is a great idea. That's the kid who might win the National Collegiate Book Collecting Contest (partly sponsored by the ABAA) later on.
---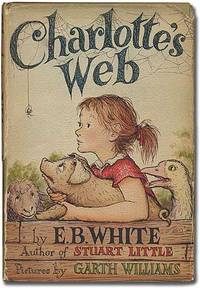 Charlotte's Web by E.B. White
New York: Harper and Brothers. (1952). First. First edition. Fine in near very good dustwrapper lacking the bottom inch of the spine, a small chip on the front panel, a tear along the edge of the spine, and some age-toning. A presentable copy of an enduring children's classic about a spider who befriends a pig. (Offered by Between the Covers Rare Books)
---
Don't Think of Rare Books as Investments
One the other hand, giving a child a book as an "investment" strikes us as misguided. There's a good chance the book won't rise greatly in value. And it sends the wrong message: in stead of giving something to be treasured, handled, loved for its contents and binding, a book-as-investment comes with warnings: don't touch, don't read, in fact, don't even look at it, we'll wrap it up, put it on a high shelf where you can't get at it till you're older and more responsible, because this isn't a book, it's money.
(We don't recommend buying books as investments in general. Lord knows it's hard enough for us booksellers to make any money in this profession, let alone advise non-booksellers how to profit from their purchases.)
But enough about your child, what about me? When I was a kid I was a voracious reader, as I suspect many book dealers were, and I can't help recommending favorites from my own youth when customers ask for something to give to a young one. This is a common habit of booksellers: we push what we like.
Children's Classics Never Go Out of Style
Here's just a handful that I often find myself suggesting: Lloyd Alexander's Chronicles of Prydain, five volumes from the 1960s that include two Newbery winners – The Black Cauldron and The High King; the beautifully drawn horse books of C. W. Anderson; Suzuki Beane, the strange beatnik kid's book illustrated by Louise Fitzhugh, author of Harriet the Spy (recommended!); wait, my wife just shouted, "Don't forget to mention Tove Jansson's Moomin books!"… the sturdy and crazy pop-up and moveable books of Jan Pienkowski… and there's Robert McCloskey, Mary Norton, Norton Juster, Jean Craighead George (for some reason, as of this writing, nobody is offering My Side of the Mountain, the best book for your go-it-alone kind of kid ever written), Judy Blume, Beverly Cleary, E. L. Konisburg, whose From The Mixed-Up Files of Mrs. Basil E. Frankweiler is perhaps the sneakiest way ever to get a kid interested in Michelangelo, William Pene DuBois, and on and on…
---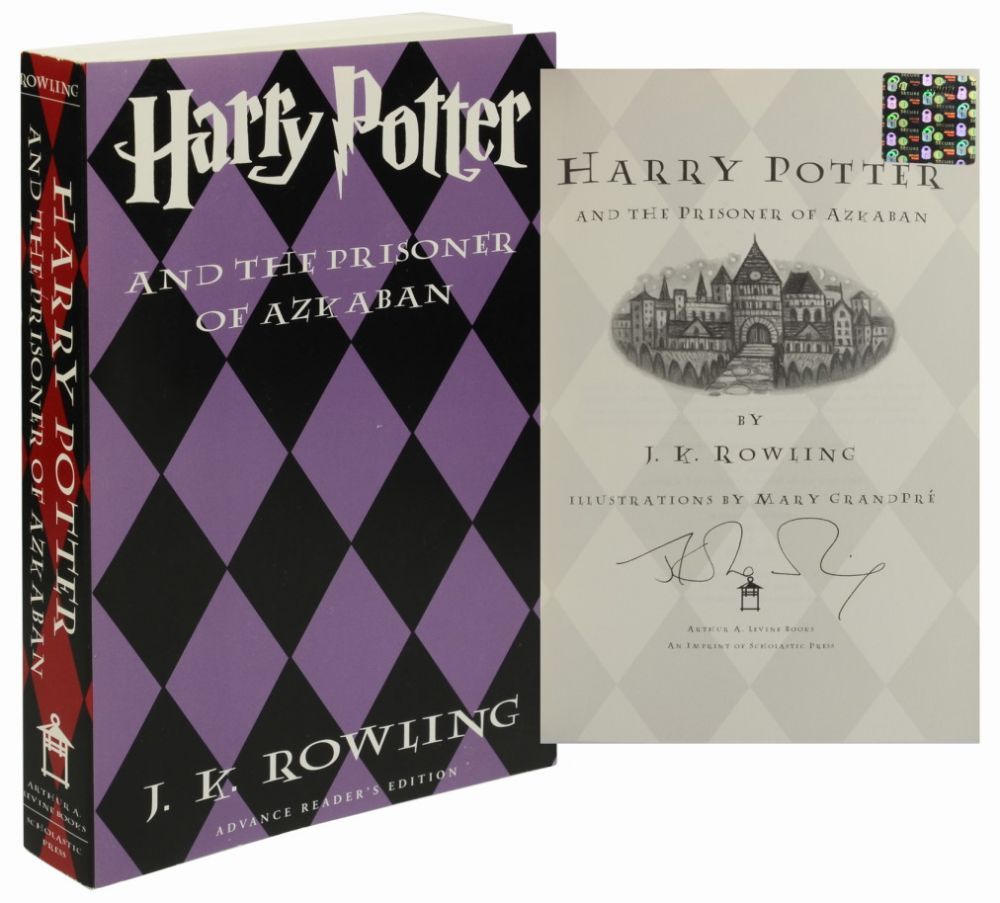 Harry Potter and the Prisoner of Azkaban (Signed, Uncorrected Proof)
New York: Arthur A. Levine; Scholastic Press, 1999. First American edition. Fine. A Fine copy of the Advanced Reader's Edition (ARC) for the American printing. Signed by Rowling directly on the title page with special security hologram attached. (Offered by Whitmore Rare Books)
---
Enough about me, what about you? If you've read this far, I bet you're thinking about the children's books you particularly cherish. There's ample room in the comments box below to share your own favorites. As Stuart Little snaps at a bus driver who remarks on having never seen a mouse take the bus before, "Live and learn!"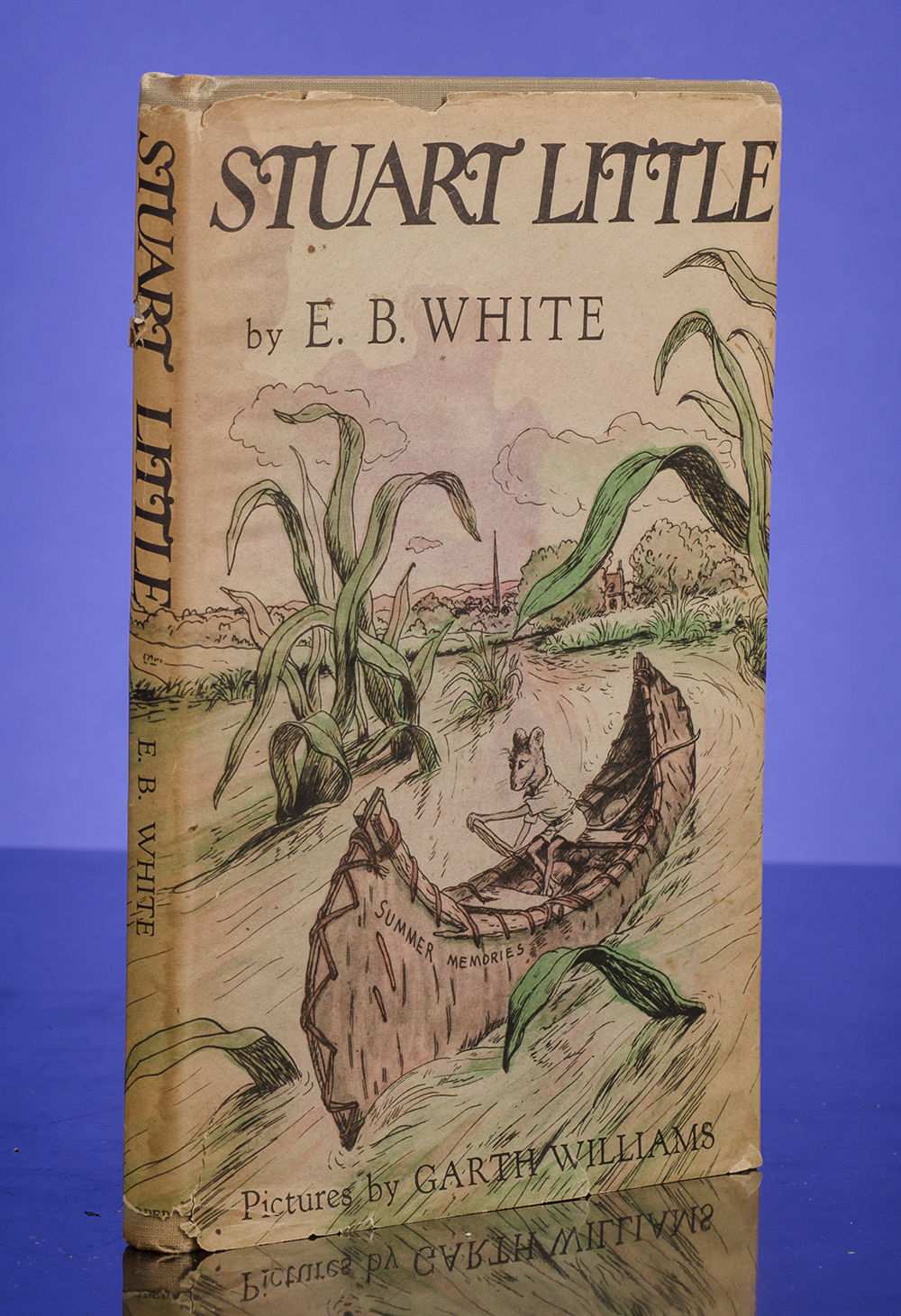 by E.B. White
1945. first edition. A Realistic Fantasy About A Talking Mouse"WHITE, E.B. Stuart Little. Pictures by Garth Williams. New York & London: Harper & Brothers, 1945. First edition (stated on copyright page with 10-5 and I-U). Octavo (8 x 5 1/4 inches; 202 x 134 mm.). viii, 131, [1 blank] pp. Five full-page line drawings (including frontispiece) and numerous line-drawings in the text.Publishers gray linen over boards, front cover and spine pictorially decorated in green and white, pictorial endpapers printed in green. A very good copy in the original first issue color pictorial dust jacket (with $2.00 on front flap). (Offered by David Brass Rare Books, Inc.)