One of my great pleasures as a bookseller in Pittsburgh is to go on house calls to buy quantities of books. Most of the time, the accumulation of books and whatnot reveal the tree rings of their possessors' lives and provide a chronology of intellectual growth and predilection: first the kids' books, then the school books, yearbooks, college texts, then on into adulthood – cook books, art books, obligatory novels by Updike and Roth, Robert Frost's poems, manuals on how to behave, choose wine, decorate a house, have a baby, biographies of Kissinger and Marie Antoinette, travel guides to Portugal…a life revealed.
Occasionally, however, I run into someone who has accumulated books with a greater sense of purpose, whose assemblage is not just an inadvertent life chronicle. Such a person is a collector.
So it was that when Linda C. emailed me from Aliquippa about her signed first editions and vintage science fiction paperbacks, I rode out to see her on a recent sunny July morning. Even under a glorious blue sky, Aliquippa looked depressed and sullen as I drove through its half boarded-up downtown. After the Jones & Laughlin steel plant shut down in the 1980s this bustling mill town on the Ohio River basically called it quits, too. By the time I got to Linda's house, I wasn't expecting much.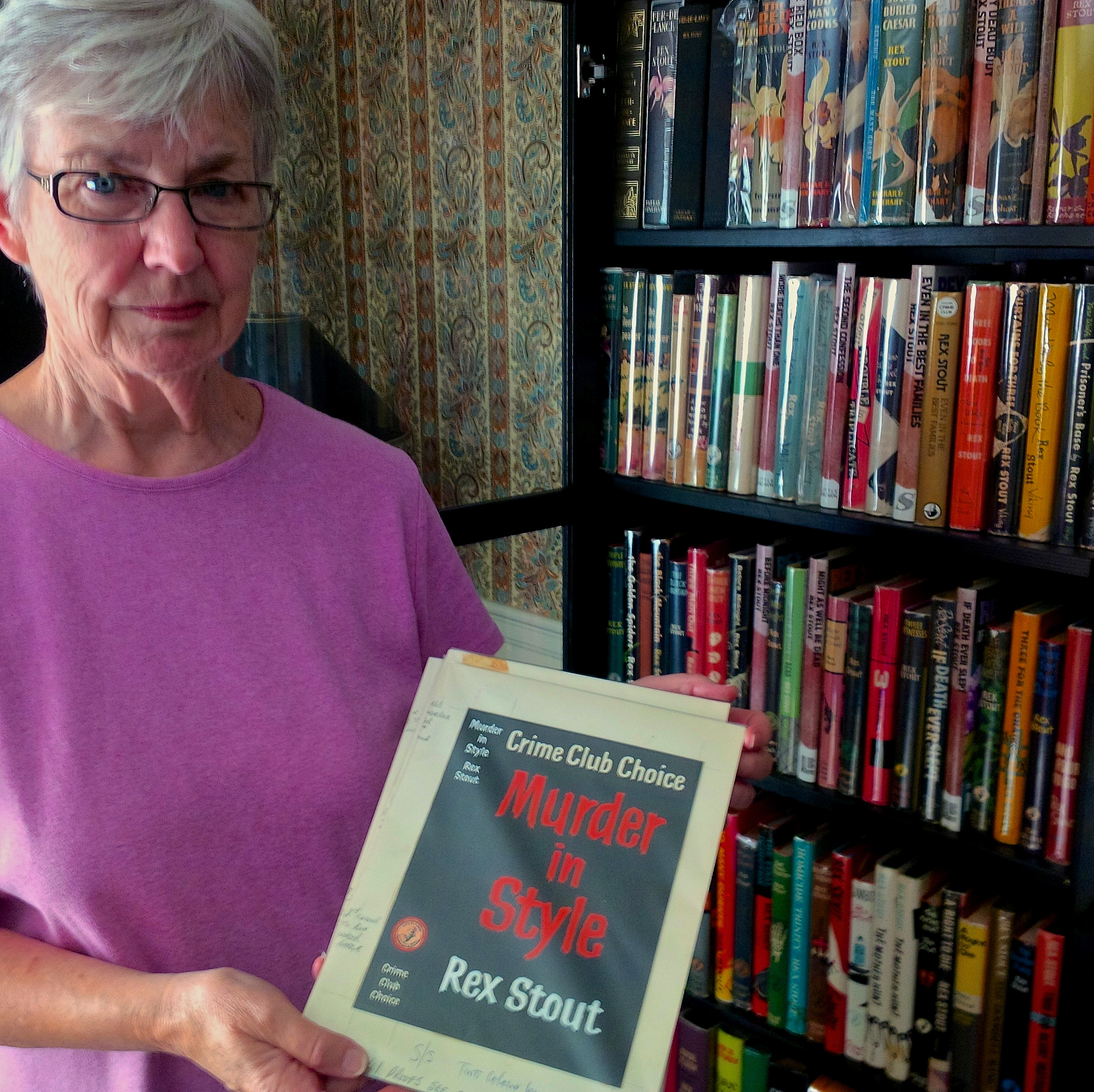 Linda greeted me at the front and led me around the side to the lower floor. "That's where the books are," she said. She is a pleasant woman in (I'd estimate) her mid-sixties, and she keeps a tidy house. Inside I was immediately struck by the well-ordered ranks of books on the many bookcases that walled the large room. "When I like an author," she said, "I try to get all their works in first editions. I'm a completist."
She showed me the neatly arranged books she was willing to sell and we concluded our business quickly. Then I turned my attention toward the shelves of books that formed her collection. It was clear that she was a seasoned collector in the field of genre fiction – mysteries and thrillers. I recognized some of the authors, like Janet Evanovich, Lawrence Block, Robert Crais, Harlen Coben, and Stuart Woods. I asked her whether she liked Donald E. Westlake (1933-2008), a current favorite of mine. "I'll try him out," she said, writing his name down.
I learned, in response to questions I asked her in a subsequent email, that Linda C. was retired after 33 years as a reference librarian at a community college. She has been collecting since 1969, when she picked up a Rex Stout Nero Wolfe mystery to read while working in St. Thomas in the Virgin Islands. "I think I was first drawn to Nero Wolfe because he reminded me of my lawyer brother, who at the time, weighed a 7th of a ton. On returning home, I started to collect all Nero Wolfe titles." Nero Wolfe is the heavyset, orchid breeding, haughty, cantankerous gourmand, and the protagonist detective of most of Stout's books, which are narrated by his wisecracking sidekick, Archie Goodwin.
We went upstairs to see the core of her collection: her Rex Stout and James Lee Burke Books. Her goal was to acquire all of Stout's books in first printings, including translations, as many proof copies, galley sheets, review copies, signed copies, even original examples of the Nero Wolfe comic strip and other serialized appearances of Nero Wolfe in magazines and newspapers as she could. She had several inscribed Stouts, most of his earliest books in dust jackets, and many original letters. I took a photograph of Linda holding one of the mock-ups for the dust jacket to an English edition of a Nero Wolfe mystery. Her pleasure in showing me this collection was infectious.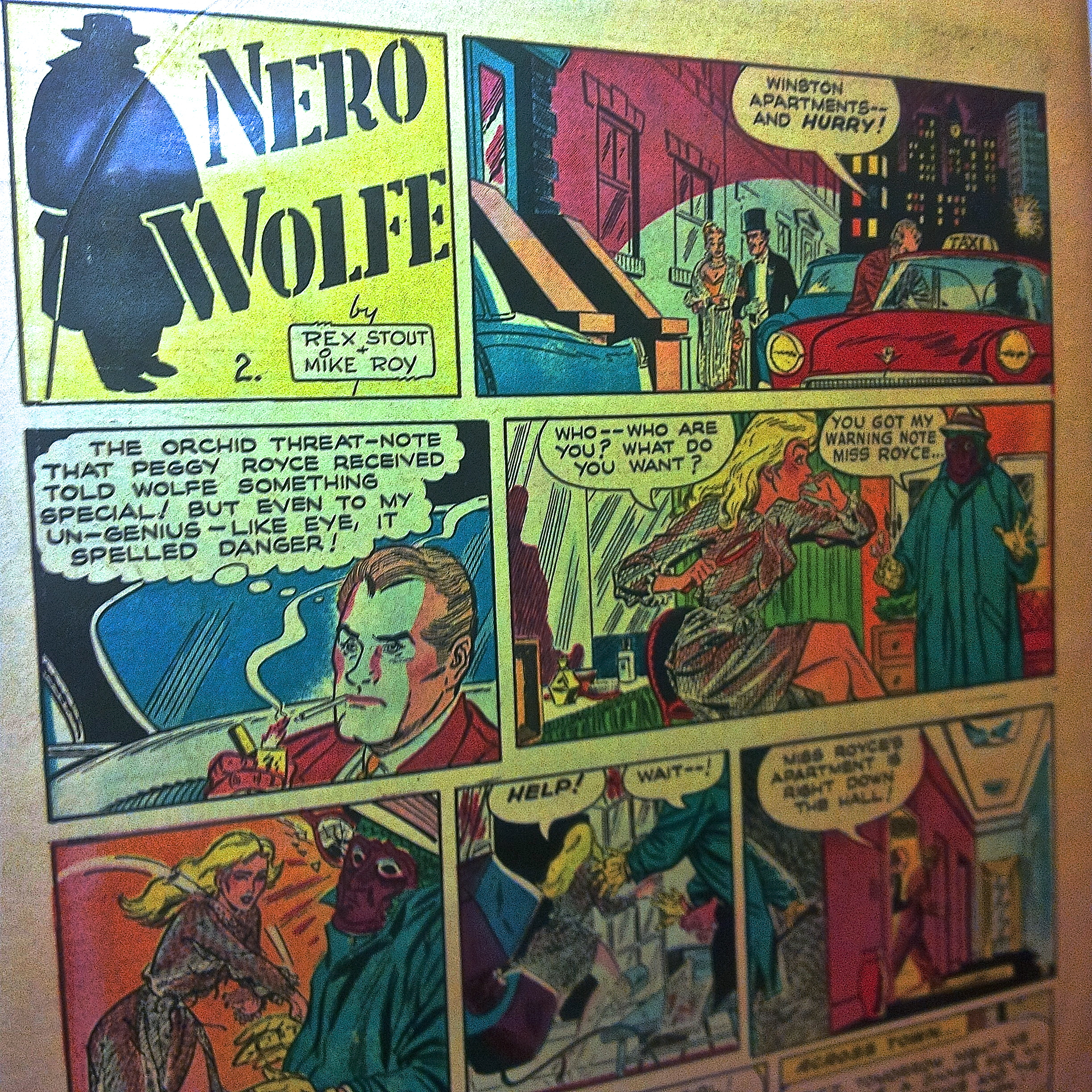 "In the beginning, I knew so little about collecting. I just wanted every Nero Wolfe title. I did not know the difference between a book club and a first edition. While visiting the Mysterious Bookshop in New York City, I asked the gentleman at the desk about the different prices. I need to thank Otto Penzler for my first lesson in collecting. Little did he know what he was creating by sharing this information. Obviously, many of my Stout books and ephemera come from the Mysterious Bookshop. In the past, I have also dealt extensively with Steve Powell in Connecticut and Frank Pollack in Illinois for my Rex Stout books." Linda also mentioned that Kevin Johnson of Royal Books was someone she trusted.
What's the most Linda ever spent on a book? "Oh, I don't know, maybe around $2,000," she said. It was clear that the idea of books as an investment was the furthest thing from her mind. "Although once, I found a copy of Ayn Rand's The Fountainhead at a local book sale for $2 and sold it to a New York dealer for $10,000. That was nice."
We crossed the room to a glass fronted case on the other side and looked at her amazing James Lee Burke collection. "I was attending a Mid-Atlantic Book Show in Philadelphia in the early 1990s. A book dealer was mentioning Burke and that he was one author that seemed to 'get better' with each new book. I purchased Heaven's Prisoners. That was the beginning. The hunt started. As with Nero Wolfe, I liked the characters of Dave Robicheaux and Clete Purcel." (Robicheaux is the New Orleans detective who is the protagonist of 20 Burke novels, a recovering alcoholic, Vietnam vet and consumer of beignets. Burke beautifully evokes the seamy side of New Orleans and the Louisiana Delta in his books).
For Burke, Linda has attempted to get every edition of every one of his books – including signed limited editions, lettered copies, variant printings, U.K. editions, etc. She has a want list, and many mystery dealers across the country and in England have her list on file. When she finds a book that has been on her want list a long time, it makes her very happy.
"As strange as it appears…I was looking for a first to complete my Carola Dunn collection. While 'just walking' around a new area when visiting San Diego I found a small bookstore. There was my book on the shelf. It was very difficult not to jump up and down. I just held it close. I felt like a 5 year old at Christmas."
I asked Linda in an email why she collected. "I'm am not sure why I collect, except I love books. If I am being honest – I can be obsessive! I appreciate an author's creativity and talent. How can you not enjoy Lawrence Block's creativity with his John Keller's attitude and profession?" (Keller is the mild, stamp-collecting assassin, protagonist of five of Block's books). As for what her intentions are with her collection, she's vague on that front: "My husband will tell you that I do NOT have an exit plan. He is probably correct. He constantly tells me that someone someday will sell them at a yard sale for $1.00 each! At present, I do not have any real plans for my books."
Driving away from Linda C.'s house, I stopped at Mac's Donuts and got a mixed dozen for the guys at the warehouse, excellent proxies for the Burkean beignets I really desired. Munching on a glazed donut, I thought about Linda C. and about another collector I knew, Todd S., and how they were similar.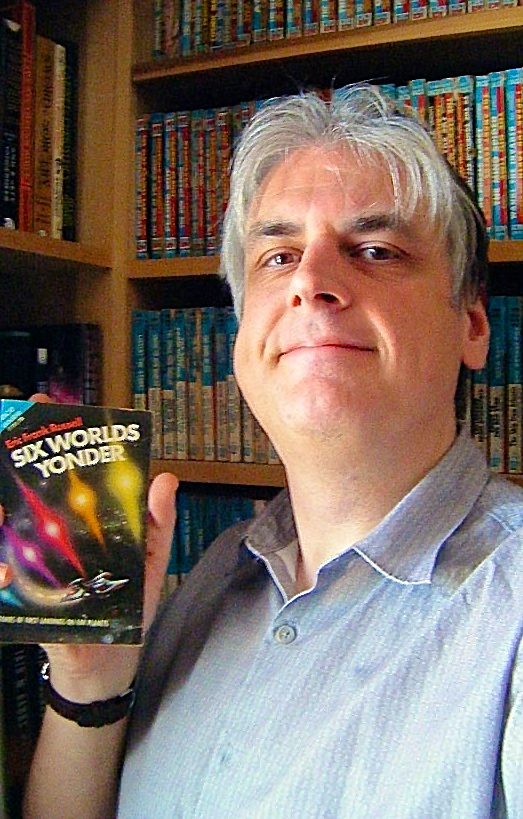 I've known Todd for twenty years. He's a computer whiz, poet, translator of surrealist French poetry, book designer and book printer, and, among other pursuits, an avid collector of Ace Doubles, but only the science fiction series. In 1952 Ace started publishing paperbacks with two novels bound dos-a-dos (once you finish one novel, you flip the book upside down and read a second novel), often with garish, lurid covers. The first science fiction Ace Double is D-13, 1953, Leslie Edgley & Theodore S. Drachman, The Judas Goat/Cry Plague! Notable Doubles include Philip K. Dick's first book, Solar Lottery (bound with Leigh Brackett's The Big Jump) from 1954, an early Robert E. Howard Conan book, and – not in the science fiction genre – William S. Burroughs' first book, Junkie, published under the pseudonym William Lee, along with Maurice Helbrant's Narcotic Agent. Copies of Junkie on the ABAA site range from $1200 to $2500.
When I got back to Pittsburgh, I distributed donuts to the Caliban staff and emailed Todd. Why are you collecting Ace Doubles? I asked. "I've always liked science fiction and been attracted to 50s pulp covers. Ace Doubles typically paired a known author with an up and coming one and I enjoy the wide exposure to a broad swath of styles and narratives. A lot of the stories are dreck of course but many of the paired authors have gone on to become well regarded writers."
He went on to say the most he ever spent on one is $7.50 but he expects D-13, one of five left that he needs, will eventually cost him $70. "Part of the game of this collection is letting them come to me. I could probably find the remaining copies easily enough on EBay but I prefer to do it the hard way and keep looking for those hidden gems in used bookstores. Mostly because I wind up finding a lot of other books to buy as well."
Just as for Linda, Todd's collecting impulse has nothing to do with the monetary value of what he buys. Why does he collect? "To explore the many variations on a theme of the thing being collected, to feel there is organization in the world, to be a curator and custodian of something that interests me." Ace used a number of catalog numbering schemes for their Doubles, and for the last twenty years, Todd has kept a list of the hundreds of Ace codes in his wallet, crossing off the tiny entries as he acquired them. Now that tattered and tired mini-sheet of computer paper is nearly obsolete. Five code numbers remain.
It reminds me of the Arthur C. Clarke story, "The 9 Billion Names of God," where, once the Tibetan monks finish chanting the aforesaid names, the universe comes to an end. Or maybe not: "All of my science fiction books will eventually go to my two nephews."
Linda and Todd represent the best type of collectors. They're passionate about books, and collect their favorite books out of a deep sense of rightness, order, obsession and pleasure. They couldn't care less about demonstrating through their books their social status, intelligence, quirkiness, or size of ego and wallet.
Of course, they take pride in showing off their collections, but it seems a secondary concern. Todd: "Oh everyone is always wowed when they first meet me and visit the library in my house. My family all collects something or other. I think it is in our nature." Linda: "They usually are amazed at the number of books I own, then equally amazed at what some of the books cost!"
Both of them also enjoy working with dealers and rely on their friends in the trade to quote them books of interest. Both of them have collected on modest budgets and have only passing regrets about those items they can't afford. And for both of them, it is the journey as much as the destination that is important, which, as I rack up the miles on my old van, can probably be said of me as well.
Interested in adding a Rex Stout or James Lee Burke title to your collection? Click the respective links to see what ABAA members have to offer.