John Schulman shares his history with the Discovery Day program at the annual New York Antiquarian Book Fair.
In 1996, after being asked to appraise books and manuscripts for PBS's first season of Antiques Roadshow, I discovered that I had a knack for quick and competent evaluations, and while I am not the most photogenic or well-spoken guy, the producers at WGBH in Boston liked me enough to invite me back year after year. For the first several years, the book tables at the Roadshow featured a healthy mix of auction house specialists and independent dealers, all of whom were ABAA members. Now in its 19th season, there are fewer indie dealer-appraisers at the book table, but they are still all ABAA members: me, Ken Gloss from Brattle Books, and Ken Sanders. All three of us are generalists (Sanders is also a specialist in Mormon and LDS material) who have about a hundred combined years in the trade and have handled tons of books. Literally.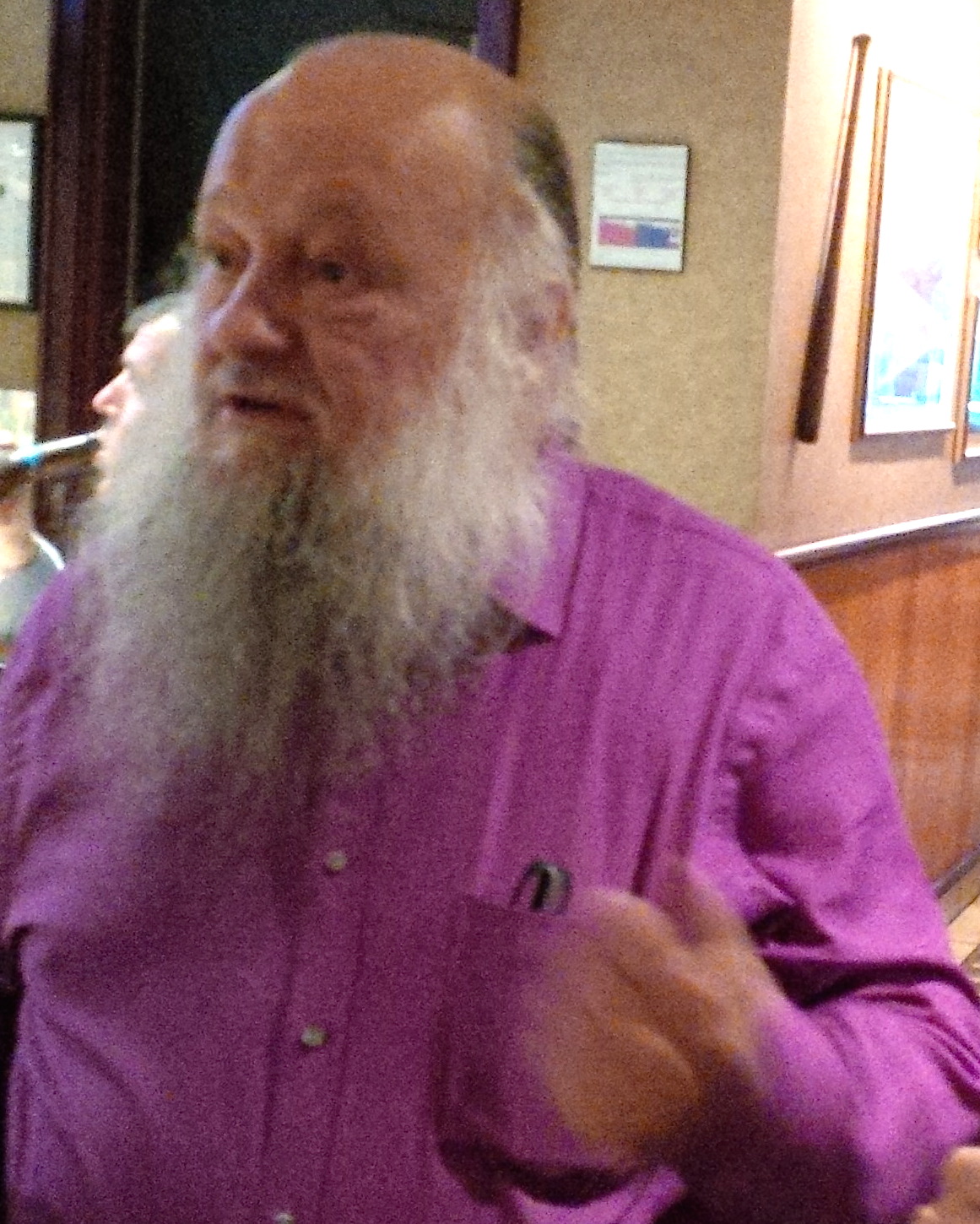 You can trust Ken Sanders to appraise your Palmyra 1830 Book of Mormon
Since 2000, building on my experiences on the Roadshow, I've coordinated the Discovery Days at both the New York Antiquarian Book Fair and the Boston International Antiquarian Book Fair (held every November). Every year, we've had great ABAA dealers willing to freely evaluate books, autographs, manuscripts and ephemera, and every year we see wonderful items and give knowledgeable advice and estimates.
Plate from an 18th Century German book on midwifery seen at a past Discovery Day in NY.
If an item stumps us, we can call upon the services of the over 200 dealers exhibiting in the main hall. One of them is bound to know how to assess even the trickiest item.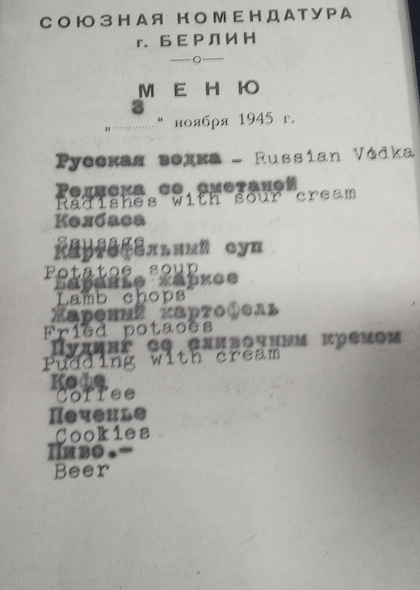 Russian menu from the Allied occupation of Berlin, 1945.
If you are bringing items to get appraised, here are some tips that will help to make for a satisfying Discovery Day experience:
Discovery Day assessments are verbal, informed opinions from professional dealers on the worth of your item(s). We do not give appraisals at the fair that can be used for legal, tax, or insurance purposes, and we don't provide written evaluations. You are welcome, however, to request that an item be appraised for its wholesale value (what a dealer might pay for it) or its retail value (what a dealer might charge for it).
We are not there to make offers on your items. If you wish to sell your items after they've been assessed, you are welcome to ask our advice, and we'll give you what guidance we can, but our main intent is to impart information, not to purchase material.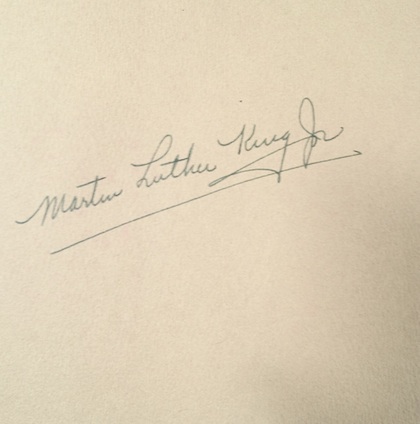 Is this an authentic signature of Martin Luther King, Jr.? Easily answered at Discovery Day.
Only bring five items. If you have a set of books, that counts as one item, but don't bring the whole set, just the first volume, the last one, and the one in the worst condition. Also, although we'd be happy to take a look at autograph albums or archives of material that contain many separate components (letters, photos, documents, etc.), we don't have the time to give more than a cursory evaluation to such accumulations. Finally, if you've brought items to Discovery Days in previous years, don't bring them again. Prices don't vary that much from year to year.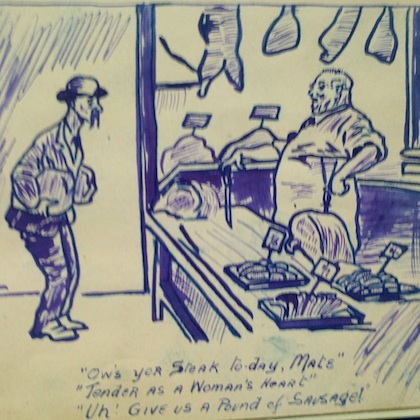 Cartoon from an original sketchbook, ca. 1930. We can even appraise unique items.
Don't cite prices for your items that you've found online. If you've already researched your books on the web, and you trust the information you've found, the sellers, and the prices, you might as well leave your books at home. We're volunteering our time to give our clients at Discovery Day the most reliable and educated assessments we can. We ABAA dealers pride ourselves on our integrity and high standards of business practice, whereas the internet is populated with crooks and ignoramuses who wouldn't know a first state of Huckleberry Finn if it smacked them in the head.
Be prepared to hear that your books are not worth that much. Most books are neither rare nor valuable, so keeping a few lessons in mind from Book Collecting 101 on what makes a book collectible might help you decide what to bring:
Just because a book is old doesn't mean it's valuable. In fact, unless a book is printed before 1700, the age of a book is one of the least significant determinants of a book's price.

Textbooks, schoolbooks and even primers (like McGuffey's Readers) are hardly ever worth anything. This includes old editions of classics that were used in the schools.
The presence of a dust jacket, if a book was issued in one, increases a book's worth anywhere from ten to a hundred times. The Great Gatsby without a jacket: a couple thousand. With a (fine) jacket: a couple hundred thousand. Most books published after 1920 had dust jackets.
Book club editions and Book of the Month Club editions are never worth much at all.
Books with library markings, which are referred to as "ex-library," are worth a tiny fraction of what they're worth without those marks.
Books with missing pages or illustrations are worth a tiny fraction of complete copies.
The condition of a book is a huge factor in determining its worth. If you have a book with the covers loose or detached, with wear, tear, taping, damp staining, etc., there's a good chance that the book is worth very little.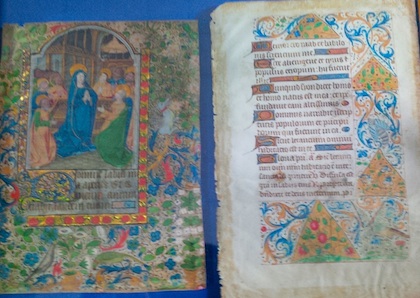 Two leafs from a medieval book of hours, evaluated at Discovery Day 2014.
Other incidental tips include: don't lug in those big fat heavy Bibles from the 1870s and 1880s with their elaborately embossed leather bindings. In fine condition they might be worth a little (never more than a couple hundred dollars), but I am prone to using phrases like "family value" and "high personal value" to describe their lack of monetary worth more gently. Also, reprints of books by well known authors such as Dickens are hardly ever worth much, no matter how old they are.
On the other hand, be prepared to find you've brought in a real treasure. Each year, we see some very valuable pieces, and some of the most nondescript books can also be among the rarest and most pricey. We're excited to see what you bring in this year!
Discovery Day at the 2016 New York Antiquarian Book Fair takes place from 1pm to 3 pm on Sunday, April 10.
---
Featured items: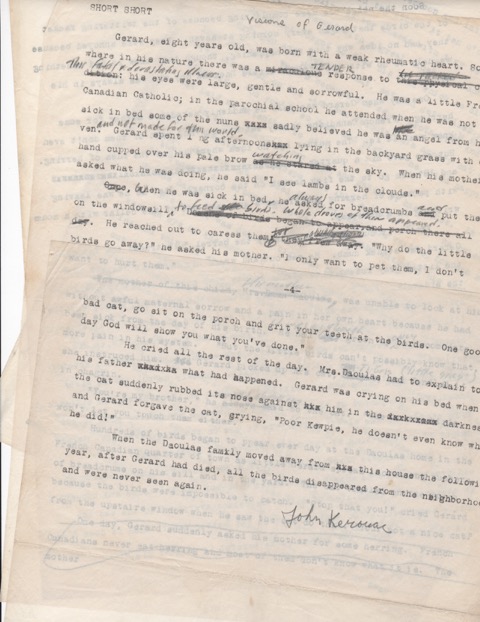 Kerouac, Jack. "Visions of Gerard".
Corrected typescript signed. [ca. 1950?]. Signed in pencil "John Kerouac" at the end of the last page. 4 pages, single spaced carbon typescript on onion-skin paper, with extensive manuscript revisions by Kerouac on the first page, and a few on the others, totaling 45 words in his hand. This draft typescript, identified by Kerouac on the first page as a "short short", is the germ of the novel of the same title, and probably the earliest extant fragment of Kerouac's "Legend of Duluoz". In our typescript, Kerouac tells the stories of his saintly eight year-old brother Gerard who died in 1926, when Jack was four years-old: Gerard feeding birds which flocked to his windowsill, and his rescue of a mouse, which his cat then ate. Here Kerouac uses the name Daoulas as his family name; connecting this draft with his unfinished Michael Daoulas book, written in 1945; he'd also used that name before settling on "Martin" for the family in "The Town and the City" and before adopting a more French sounding version "Duluoz". In a lengthy confessional letter to Neal Cassady, dated 28 December 1950 - Jan. 3, 1951, Kerouac tells these same stories, writing of the cat and mouse story: "My mother heard every word of it; the text has been translated to me a million times, now it's garbled. If I could only have heard his exact words. Don't you see, Neal, I never told you, I believe my brother was a saint... I could not live without this confession". On stylistic grounds our typescript appears to precede this letter which was among his first experiments in spontaneous prose, although identical sentences appear in both. Folded twice as for mailing. Provenance: Jonathan Goodwin - Maurice Neville. (Offered by Thomas A. Goldwasser Rare Books) - Booth E21
---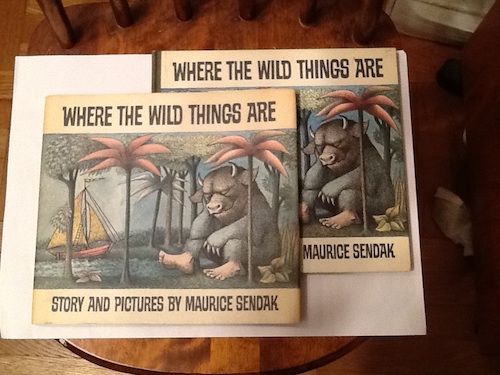 Where the Wild Things Are by Maurice Sendak
It is a lovely clean and tight copy of the true First Edition in the Dust Wrapper (with all points and no affixed medal). This copy is made extra special because it is inscribed to Suzanne Glazer - someone who formerly worked in publishing. She had a huge fan club of writers and illustrators. This copy of "Wild Things" is one of the best copies I have seen. (Offered by Enchanted Books) -- Booth E6
View more featured items available at the 2016 New York Antiquarian Book Fair...