What's the difference between a first edition, first printing, first issue, and first state? Pay attention, there will be a quiz!
Sometimes the most simple questions have the most complicated answers. Does God exist? What is love? Who wrote Shakespeare's plays? And what IS the difference between a first edition, a first printing, a first issue, and a first state?
If you already know the difference, scroll to the bottom of this blog and take a quiz to test your knowledge of the first state or issue points for various famous works.
For those of you still curious about our convoluted answer, we have thankfully secured permission from Terry Belanger, one of the greatest scholars of bibliography and printing history, to quote his definitions of these terms from the Bibliographical Society of America website. Thanks also to bookseller Cynthia Gibson for showing us Terry's work.
Edition
Terry Belanger: "Publishers tend to use the word rather loosely, but edition has a precise bibliographical meaning. An edition of a book is all copies printed at one or later times from the same setting of type. Within an edition, all copies printed at any one time are called an impression. A number of impressions from the same setting of type may be produced over a period of many years, but they are all part of the same edition, because the type itself is identical in each of these impressions."
Not only do publishers use the term loosely (by this, Terry means that publishers sometimes indicate first impressions as "first editions" – for example, most first impressions published in the 20th Century by Doubleday and Knopf are designated "first edition" on the copyright page) but many antiquarian booksellers use the terms interchangeably, too.
Note that a first impression and a first printing are the same.
The intermingling of "first printing," "first impression," and "first edition" probably came about with the establishment of that category of antiquarian books known as "modern first editions," that is, literary first editions published in the 20th and 21st Centuries. No one who deals in or collects such books refers to them as "modern first printings" or "modern first impressions." Many antiquarians, bibliographers and collectors see the melding of "first edition" and "first printing" as a sign of the decline in antiquarian bookselling standards, and that sloppy use of nomenclature is an indicator of the general dumbing-down of the book world. We confess to being part of this trend, having cataloged first printings as "first editions" occasionally, so there's bibliographic blood on our hands, too.
But no ABAA dealer will catalog a book as a "first edition" without also indicating if it is a later impression. If customers have doubts, it is always worth inquiring, just to make sure.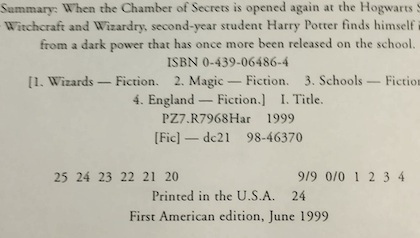 Copyright page for J. K. Rowling's Harry Potter and the Chamber of Secrets, where "First American Edition" is stated, but with a number line that indicates this is a 20th printing.
Sometimes, the publishing information given in books contributes to the confusion. In the case of Harry Potter books, for example, the copyright page says "First American Edition" but oftentimes there will be a number line that looks like: "35 36 37 38 39 40…" – which indicates that it is a 35th printing. In other words, such a book is indeed a first edition, but a (way) later printing.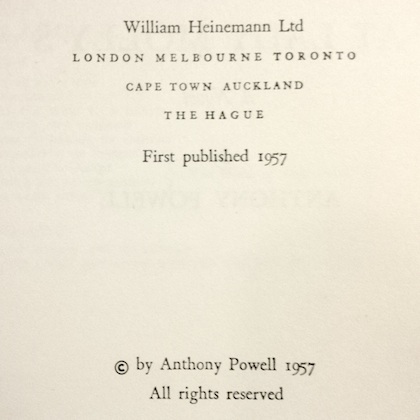 How they denote first printings in the UK; copyright page for Anthony Powell's novel, At Lady Molly's, states "First published 1957."

There are, of course, dozens and dozens of publishers, each with their own way of designating first printings. English publishers will often put on the copyright page (the flip side of the title page) the phrase "First published in [date or year]" and if there are no subsequent printings, one can assume that the book is a first printing. Other English publishers will merely say "Copyright" on the copyright page and that will indicate that the book is a first printing, unless subsequent printings are listed. Neither of these ways of denoting first printings was taken up by American publishers.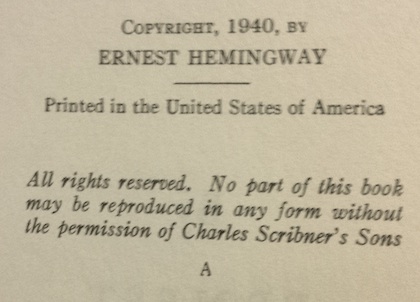 This copyright page of For Whom the Bell Tolls has the "A" indicating a first printing.
Number Lines
In the United States, there is such a multitude of ways of indicating edition and printing that it's hard even for a seasoned bookseller to keep it all straight. Starting in 1929 and lasting through the 1980s, Scribner's would indicate first printings with a letter "A" on the copyright page ("B" would mean second printing and so forth). And in the 1970s some publishers began using number lines to indicate each printing. Thus, if the number line began with "1" as in "1 2 3 4 5 6 7 8 9 10" one could be assured that the book was a first printing. A variation on this was Random House's practice of putting "First Edition" or "First Printing" on the copyright page followed by "2 3 4 5 6 7…." where the "First Edition" stands in place of the number "1." Houghton Mifflin would often indicate later printings by removing the published date from the bottom of the title page, but they would not necessarily state "Second Printing" etc. on the copyright page. In fact, most if not all publishers were almost whimsically prone to occasionally breaking their own established practices, which makes it even more confounding for a bookseller or collector.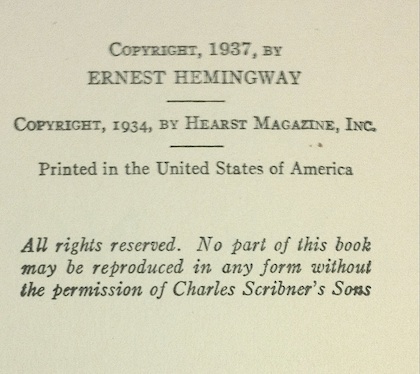 Copyright page for To Have and Have Not by Ernest Hemingway, without the letter "A" so therefore a later printing.

Issues and States
And sometimes, it's not enough for a book to conform to a publisher's particular manner of designating first printing. Let's take the famous case of Mark Twain's Adventures of Huckleberry Finn. First published in London in 1884, the "first issue" will have ads at the back dated October, 1884. When the book was issued again, the title page and everything else about the book looks the same, but the ads at the back have a later date; those would be "later issues" of the same book.
What is an "issue?"
Terry Belanger: "An issue is that part of an edition offered for sale at one time, or as a consciously planned unit, and an edition is occasionally sold by means of several different issues. Different issues within an edition will be largely the same, but they might, for example, have different title pages, one giving the name of a New York publisher for distribution in the United States, the other giving the name of a London publisher for distribution in Great Britain. Sometimes books are later remarketed with slight additional matter or with a new title page date. In 1842, the London publisher Henry G. Bohn reissued Charles Timperley's Dictionary of Printers and Printing, which had originally been published in 1839. Bohn replaced the original title page with a new one and changed the title of the book to An Encyclopedia of Literary and Typographical Anecdotes, and he added a 12-page supplement at the end. In all other respects, the two issues—both using the same sheets printed in 1839—are identical."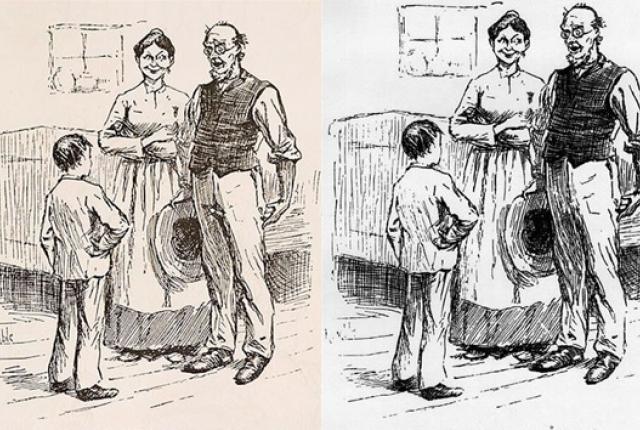 First state (left) and second state (right) of the notorious p. 283 of Huck Finn.
Although Huck Finn was published in England first, it is considered one of the great American novels, and so most collectors actually prefer the later American edition published in 1885. It can be found in a variety of bindings, most commonly in green pictorial cloth, scarcer in blue pictorial cloth, and even more scarce in publisher's leather. Although the title pages to all these editions look the same, with 1885 at the bottom, there are some well documented textual variants that provide evidence that this book has a number of "states." The most famous variation in Huck Finn occurs on p. 283, which shows a vignette woodcut of a man with a subtle bulge near the crotch of his trousers. There are entertaining speculations about how this illustration came about, but at some point in the printing process, the publishers caught the error, sliced p. 283 out, glued a newly printed page on to the original stub showing the same gentleman in a less priapic condition. So, when you have a copy of the book where p. 283 is integral (not glued on to a stub) and shows the gentleman with bulge that's the "first state" of that particular point. When you see that p. 283 has been glued in, that means you have that book with that point in a second state.
What is a "state"?
Terry Belanger: "State refers to the minor differences in the printed text between one copy and another of the same book. When an error in the text is discovered during the printing of the pages, for example, the press is stopped long enough to make the correction. Sheets printed before the error was noticed constitute the uncorrected state; sheets printed after it was caught constitute the corrected state. Thus in the first Shakespeare folio of 1623, page 277 is incorrectly printed 273 in a few copies. Clearly, the error was caught early in the press run, because most surviving copies have the correct page number. Variant states generally occur in the printed sheets, before they go to the binder, and before publication. Variant states are caused before publication, just as variant issues are caused upon or after publication."
But sometimes, in the case of Huck Finn, where there were multiple errors that were corrected or changed during production, you can have a "first edition" with "mixed states" – a variety of first, second and even third states all in the same volume.
Mark Twain expert Kevin Mac Donnell has even more to say on the subject of states and issues.
"A 'state' is any difference found between texts or bindings, without regard to priority or how the difference came about. An issue is a group of copies of a book treated by a publisher as a unit when distributing them (for sale or for free), and usually represents an intentional act by the publisher rather than happenstance. A printing is a group of sheets printed in a single press run without interruption.
You can have states within printings and issues. You can also have a state that is divided into several issues, or a state that persists through several printings. You can have an issue consisting of more than one printing. You can have a single printing divided into several issues. And, of course, a single state can also conform exactly to a single printing or issue.
Determining states is easy, but determining whether a difference in state represents a different printing depends upon the bibliographical evidence, usually a consistent pattern or some strong forensic bibliographical evidence of a stop-press action that proves a separate printing. Determining an issue depends on other evidence, usually historical rather than bibliographical, like correspondence, publisher's records, ownership inscriptions, advertisements, etc.
With the advent of stereotype plates it became much harder to determine the priority of states or printings because the forensic evidence is obscured by the fact that master plates are retained and can be used to recast one page or an entire form at any time during the printing. Books like some of Twain's titles, that were printed simultaneously at two printing plants from duplicate stereo plates, can also be tricky to sort out. Now, with photo offset and POD books, establishing priority has become extremely difficult.
If you can demonstrate priority, you can then talk about first states, etc. It is very poor methodology for bibliographers to proclaim priority for issue, state or printing without citing specific evidence."
If your head is reeling from Mac Donnell's exegesis, you're not alone. But the bottom line is that there are crucial differences between first editions, first printings/impressions, first issues, and first states. Once one gets the hang of it, it's as easy as riding a bike, that is, once in a while you'll get a flat, the chain might fall off, and once in a while you yourself might fall off, too.
A Quiz!
The brains of most collectors and dealers are usually filled with trivial nonsense and utterly useless minutiae, including memorized first state and first issue points for well known titles. Below there are twenty such points listed. Simply match the book title in the supplied list with the first state or issue point. Please note that we have supplied several more titles than issue points in order to make it just a little harder.
Example. First state clue: "looking like a man-woman" on p. 25, line 16. What is the book? Answer: Cold Mountain by Charles Frazier.
Ready?
Dust jacket priced $3.50 with 3-paragraph blurb on the book. No mention in jacket copy of having won a prize.
"and only moved because the heavy hands were pendula" on p. 9, lines 20-21.
200/200 on front inner flap of dust jacket.
"sick in tired" p. 205, lines 9-10
"reduplicate" on line 20 of p. 21
Photographer's name missing from back panel of the dust jacket
Typographical "head" ornament appears on title page
"Oh, catch it – oh, catch it…" p. 351, lines 29-30
"stoppped" p. 181, line 26
"Allan Tate" on title page
Humanity Uprooted priced $3.00 on the rear panel of the dust jacket
With 16 pages of ads dated "August mdcccxcviii" at end
Page 213 in vol. 2 wrongly numbered 231
"Aind" for "And" in last line of p. 14
Initial capital "I" on p. 11 poorly aligned so that the top of the "I" is almost at the bottom of the first line of text.
First edition is stated, in red cloth, dust jacket priced $3.00, some titles advertised on back panel of jacket
"transmitted" line 1, p. 297 of first volume
copyright page is blank, portrait of author printed directly onto the page and not tipped in.
"Stave I" and not "Stave One" on first text page
Publisher's circular device blindstamped at center of sides
Match the following titles with the 20 first state or first issue points listed above.
A. White Buildings by Hart Crane
B. The Sun Also Rises by Ernest Hemingway
C. Light in August by William Faulkner
D. Leviathan by Thomas Hobbes
E. In Dubious Battle by John Steinbeck
F. Where the Wild Things Are by Maurice Sendak
G. Moby Dick by Herman Melville
H. Leaves of Grass by Walt Whitman
I. Of Mice and Men by John Steinbeck
J. The Great Gatsby by F. Scott Fitzgerald
K. The House of the Seven Gables by Nathaniel Hawthorne
L. The Waste Land by T. S. Eliot
M. Ulysses by James Joyce
N. The Fountainhead by Ayn Rand
O. A Christmas Carol by Charles Dickens
P. Knight's Gambit by William Faulkner
Q. The Cat in the Hat by Dr. Seuss (Theodore Geisel)
R. All the Sad Young Men by F. Scott Fitzgerald
S. Descent of Man by Charles Darwin
T. Sound and the Fury by William Faulkner
U. The War of the Worlds by H. G. Wells
V. Sylvie and Bruno by Lewis Carroll (Charles Dodgson)
W. The Scarlet Letter by Nathaniel Hawthorne
X. Tales of the Grotesque and Arabesque by E. A. Poe
Y. Tarzan of the Apes by Edgar Rice Burroughs
Z. The Adventures of Tom Sawyer by Mark Twain
AA. Taps at Reveille by F. Scott Fitzgerald
BB. North of Boston by Robert Frost
CC. A Boy's Will by Robert Frost
DD. As I Lay Dying by William Faulkner
EE. Tales of Shem and Shaun by James Joyce
FF. Oliver Twist by Charles Dickens
GG. The Wizard of Oz by L. Frank Baum
HH. For Whom the Bells Toll by Ernest Hemingway
---
ANSWERS: 1/F 2/I 3/Q 4/J 5/W 6/HH 7/D 8/AA 9/B 10/A 11/T 12/U 13/X 14/CC 15/DD 16/N 17/S 18/H 19/O 20/G