The latest catalogs from ABAA members have landed just in time for summer.
To receive a monthly list of new acquisitions, primarily concerning the American West, sign up here...
Photography -- catalog of vernacular photography albums (No. 206)
Theatre -- a sampling of plays, scripts, screenplays, playbills and theatrical ephemera, including items of significance to LGBT and African American history and to the labor movement.
Elist 33 -- A selection of recent acquisitions; these include rare works, many of them signed by, Ansel Adams, Manuel Alvarez Bravo, Alphonse Bertillon, Louis Desire Blanquart-Evrard, P.R.P. Dagron, P.H. Emerson, Robert Frank, Lorraine Hansberry, Eikoh Hosoe, Georges Hugnet, Germaine Krull, L. Moholy-Nagy, Nadar, and others.
Catalog 132 -- Recent acquisitions.
Early Theatre -- 16-18th centuries, including a few prints and a rare 18th century album of engravings of the stage settings from the Amsterdam Schouwburg.
The latest elist (Miscellany, 36 items) from John Michael Lang Fine Books is available upon request from jmlbooks@isomedia.com
LIBER ANTIQUUS EARLY PRINTED BOOKS & MANUSCRIPTS
The latest elist from Ken Lopez Books can be found here...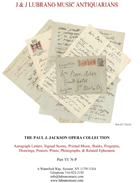 J. & J. LUBRANO MUSIC ANTIQUARIANS
The Red Finch -- new monthly catalog of items at auction.
Catalog 310 -- A spring catalog of books about books.
PHILADEPHIA RARE BOOKS AND MANUSCRIPT COMPANY
RABELAIS - FINE BOOKS ON FOOD & DRINK
RICHARD C. RAMER, OLD & RARE BOOKS
Catalog 335 -- Literature & Book Arts
Catalog: Gender Studies 1965 to the Present -- to request an electronic copy, visit www.secondlifebooks.com.
Catalog 292: Church History & Theology, 16th- 19th Century, Recent Acquisitions -- Mormon: Pratt's Voice of Warning, 1837 1st ed.; Erasmus against Luther 1526; Erasmus on Marriage, 1526, Folio Latin Bible 1527; Cotton Mather's Christian Philospher, 1721 1st ed.; plus a few manuscript leaves from the 13th & 15th centuries.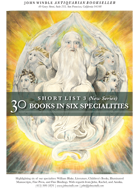 JOHN WINDLE, ANTIQUARIAN BOOKSELLER
Short List 3 (New Series): 30 Books in Six Specialties
Catalogue 170 -- Rare Books and Manuscripts New and Recent Acquisitions, 81 items.
View last month's rare book catalogs...
--
Remember, you can always browse and download the latest catalogs published by ABAA members on ABAA.org by visiting the following link: https://www.abaa.org/catalog/... (You can also access this page by selecting 'Booksellers' from the top menu, scroll to the bottom of the page to 'Member Catalogs', and click on 'View All'.)