Editor's Note: I asked Russell Freedman of Second Life Books in Lanesborough, MA, a specialist in women's history and literature and in female suffrage, to pick a handful of titles that reflect changing attitudes from the 19th to the 20th Centuries on the role of women as mothers. Here's what he came up with.
-- John Schulman, Caliban Book Shop
---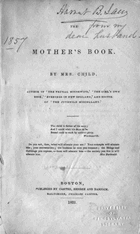 CHILD, Mrs. [lydia Maria]. THE MOTHER'S BOOK.
Boston: Carter, Hendee and Babcock, 1831.
This was reprinted a number of times in the 19th Century. Child offers views of matrimony and child rearing as well as general notes for mothers. She was a strong supporter of women's rights and an ardent abolitionist, but perceived that first progress had to be made on the anti-slavery front before the subjugation of women could be addressed.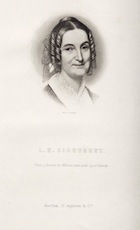 SIGOURNEY, Mrs. L[ydia] H[untley]. LETTERS TO MOTHERS.
NY: Harper, 1838.
This also was reprinted a number of times and is a "sequel" to her best-selling LETTERS TO YOUNG LADIES, both of which advocate a traditional, Christian-based approach to female conduct. One would have to search pretty carefully to find strains of feminism in Mrs. Sigourney's work.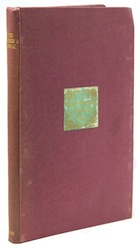 [TROLLOPE, Frances.]. THE MOTHER'S MANUAL; or, Illustrations of Matrimonial Economy.
An essay in verse. With twenty plates. London: Treuttel and Wurtz, 1833.
Trollope (1780-1863) was the mother of novelist Anthony Trollope and was best known for her account of her trip to America to support the Utopian aspirations of her friend Frances Wright. This trip led her to her notorious and earliest work, Domestic Manners of the Americans, which was both critical and patronizing of American women. The preface notes: "I seek not, ex cathedra, to improve/ the laws of nature; but would fain remove,/ by plain example, and by reasoning clear,/ those warm, but weak affectations, which appear/ so often to perplex, thwart, vex, and smother/ the best laid plan of the most cautious mother."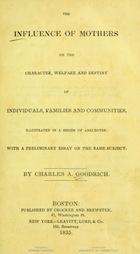 GOODRICH, Charles A[ugustus] [ed.]. THE INFLUENCE OF MOTHERS on the character, welfare and destiny of Individuals, Families and Communities, illustrated in a series of anecdotes: With a preliminary essay on the same subject.
Boston: Crocker & Brewster, NY: Leavitt, Lord, 1835.
Goodrich (1792-1862) was born in Ridgfield, CT and was a Congregational clergyman. Here, he asserts that women, purveying the teachings and spirit of God to their children can save the world. "In the course of his reading, the author has met with striking and interesting facts and scenes, relating to maternal influence; and which he has here thrown together, for the purpose of showing to mothers, what mothers have done and suffered, and which mothers now living may do in similar circumstances ... in a series of narratives taken from contemporary periodicals and journals."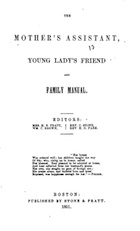 BROWN, William C., Pratt, Mrs. H. B., And Rev. C. Stone, Park, Rev. H. G. Editors. THE MOTHER'S ASSISTANT YOUNG LADY'S FRIEND AND FAMILY MANUAL.
This Boston-based journal was published in the 1850s and is a celebration of women in the dominion of home life, with engravings, fiction, poetry, advice for mothers about the influence of women in the home and the role of bringing up children. Includes Washington Irving on "Maternal love," "The Dying Year" by Lydia Sigourney; "Affection," by Longfellow; John Pierpont, etc. There were many articles on mothering, and family life.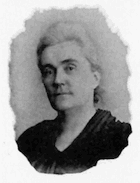 STEVENSON, Sarah Hackett. WIFE AND MOTHER; or, Information for every woman, adapted from the writings of Pye Henry Chavasse, M.D. together with an introduction by ...
Chicago & Phila: H. J. Smith, 1887.
After initial studies at the Women's Hospital Medical College in Chicago, Stevenson moved to London where she studied with Thomas Huxley at the South Kensington Science School. In London she beame associated with feminist publisher Emily Faithful. Returning to Chicago, she graduated in 1874 and was appointed Professor at the Woman's Medical College. Later she was professor of Obstetrics at the Northwestern University Woman's Medical School and was the first woman physician at the Cook County Hospital. In 1880, together with Lucy Flowers, she founded the Illinois Training School for Nurses. In 1893, she became the first woman to be appointed to the Illinois State Board of Health and she was the first female member of the AMA. This is a medical book for women from a woman's point of view.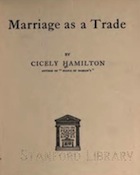 HAMILTON, Cicely. MARRIAGE AS A TRADE.
NY: Moffat, Yard, 1909.
Hamilton (1872-1952) was an English actress, playwright, and suffragist, and much of her work addresses the changing role of women and how they can juggle multiple roles – wife, mother, worker.
KEY, Ellen. THE RENAISSANCE OF MOTHERHOOD. translated from the Swedish by Anna E. B. Fries.
NY: Putnam,1914.
Key proposes a study of eugenics; a year of social services as a preparation for motherhood & state pensions for mother. Key was an active Swedish feminist whose writings were widely circulated in the US.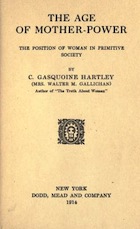 HARTLEY, C. Gasquoine. THE AGE OF MOTHER-POWER, the position of woman in primitive society.
NY: Dodd, Mead, 1914.
Historical study of the age of 'mother-descent and mother-right, with conclusions drawn to the discussion of the Twentieth Century as the 'age of woman."
SANGER, Margaret. MOTHERHOOD IN BONDAGE.
NY: Brentano's, 1928.
Letters to Sanger from women asking for help in preventing pregnancies. Most have desperate stories of hardships due to poverty, ill health, and multiple births. Scarce book of "confessions of ...enslaved mothers...appealing for deliverance from forced maternity..." Sanger (1879-1966) was an incredibly influential thinker, writer and progressive, especially on such issues as birth control, legalized contraception, reproductive rights and sex education. She was a founding member of women's health organizations that eventually coalesced into Planned Parenthood, and she was a prolific writer and fearless educator.
-- Russell Freedman