Trying to cajole John Thomson of Bartleby's Books to contribute a couple paragraphs on Moby Dick, I asked him whether he still read it every few years. "Oh yes," he said, "still do." I asked him why he kept on reading it, what he could possibly get out of it by now. "I would find it impossible to put into words how much that book means to me and what I find in it. Its meanings change, and I change with it," he said, "about time I read it again."
Layers of meaning, garnering new insights with each reading, is one of the hallmarks of great literature. Melville drew on the Bible, Shakespeare, Hawthorne, old whaling lore and cetology (the scientific study of whales), on sea shanties and old tales of exploration and shipwrecks (including that of The Essex), and on his own seagoing experiences aboard The Acushnet, to shape his narrative--and then mixed in his own proto-existentialist ruminations on the nature of good and evil, the existence of God, and progressive ideas on sexuality, class and society. The resulting mix gives the book its power, depth, and mutability.
Influences on Moby Dick
Melville was also influenced by the story of Mocha Dick, a similarly white huge sperm whale who was given to sinking whaling ships. The author-explorer Jeremiah N. Reynolds heard accounts of this whale from various sailors and published an article about it in an 1839 issue of the Knickerbocker Journal under the title, "Mocha Dick, or, The White Whale of the Pacific – A Leaf from a Manuscript Journal." According to Reynolds, the "old bull whale" was huge, 70 feet long, and when finally killed, yielded over 100 barrels of oil, a quantity of ambergris, and had at least 19 harpoons in his sides.
Two other books are frequently mentioned as having shaped Melville's perceptions of whaling and life aboard a whaler: Owen Chase's 1821 chronicle of the sinking of the whaleship Essex, rammed by an angry sperm whale. Owen, who was first mate on the ship, provided an exciting firsthand account, but the book was apparently as rare in 1851 as it is today; Melville's father-in-law finally obtained an "imperfect" copy and gifted it to Melville in the spring of 1851. It was such an important book to Melville that he had it rebound and accorded it a place of honor in his library.
NARRATIVE OF THE MOST EXTRAORDINARY AND DISTRESSING SHIPWRECK OF THE WHALE-SHIP ESSEX, OF NANTUCKET...
by Owen Chase
New York, 1821. 12mo. Original blue paper boards, modern paper spine, printed label. Boards lightly soiled. Light foxing and soiling to leaves, worn at edges.... A good copy. The extremely rare first authentic account of the famous Essex shipwreck, whose sinking by a whale was, apart from being a sensational story in its own right, a landmark in American literature as the inspiration for the climax of Melville's MOBY DICK. Learn more about this item...
(Offered by William Reese Company)
And John Ross Browne's Etchings of a Whaling Cruise, released in 1846 by Melville's American publisher, Harper & Brothers, gave a detailed report of life aboard a whale ship in the 1840s. Melville authored a positive review of the book, and many of the passages in Moby Dick on the day-to-day travails of the Pequod's crew owe a debt to Browne's descriptions.
The first edition of Moby Dick
In debt, Melville was forced to pay for the typesetting and "plating" of his novel and finally sent the sheets, care of his brother, to his English publisher, Richard Bentley, in the fall of 1851. I asked Kevin Mac Donnell, my go-to source on the ins and outs of publishing in the 19th Century, to explain why many of the great American novels of the 19th Century, including Moby Dick and Huckleberry Finn, came out in England first. He explained it was to prevent Canadian publishers from hijacking and publishing books; if the books were published in England first, Canadian publishers, subject to English copyright law but not to American law, couldn't legally publish those books without first obtaining an arrangement with the copyright holder.
Richard Bentley printed 500 copies of the novel in October, 1851 as a three volume set (a triple-decker). John Carter, in More Binding Variants (London, 1938), called it "the most stunning and successful piece of bravura treatment on any mid-century three-decker of my experience." Around 200 were bound in sea-green cloth boards and cream-cloth spines showing whales rendered in gilt (right whales as opposed to sperm whales), their flukes up and heads down; the rest were eventually bound up in "remainder bindings" – usually plain dark purple cloth with gilt titles on the spines. Bentley advanced Melville 150 Pounds, but the book was never a great seller in either the UK or America in Melville's lifetime; altogether, he made less than $3,000 from the sales of Moby Dick at the time of his death.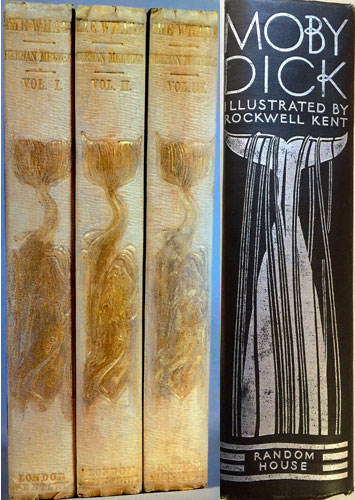 Left: spines of the 1851 three-volume set (The Whale); Right: spine of Rockwell Kent's 1930 edition.
Copies of the London first printing in original cloth without any rebinding or restoration are nearly impossible to acquire. Scrolling through auction records, there is the occasional entry for the set rebound or restored, but one has to go all the way back to 1993 to encounter one in original cloth without major restoration; it sold, with buyer's premium, for just over $75,000. But I did remember getting a catalog nearly twenty-five years ago from Biblioctopus that featured a stunning set of The Whale – and so I emailed Mark Hime and asked him whether he had any pictures on file of the set.
In response, he sent me a poster of the three-decker he had printed on occasion of the 1991 San Francisco book fair where he presumably had the set on display. The set was as delectable in the poster as I remembered it, and I only wish I could have seen it in person. I didn't ask Mark its selling price back then, but if I had to guess, a very good or better set in original cloth could well fetch a quarter of a million in today's market.
Harper & Brothers published the American edition almost exactly a month later, in a one-volume format. Bound in a variety of cloth colors (green and red most commonly, but also in black, blue and brown) it was apparently more pleasing in appearance to Melville and also more whale-like in shape. The American edition also corrected some hundreds of changes in language and punctuation that the English publisher had made to the book, and restored 35 deleted passages, including the Epilogue which explains how Ishmael survived to tell the tale, and other passages Bentley must have considered too profane, sacrilegious, or suggestive. Because of its bulk, it's not easy to find a fine copy of the American version, but less persnickety collectors will have no problem finding half a dozen less-than-fine copies popping up each year at auction or in catalogs. The American edition is titled Moby Dick, or, The Whale, whereas Moby Dick is not part of the title of the English edition.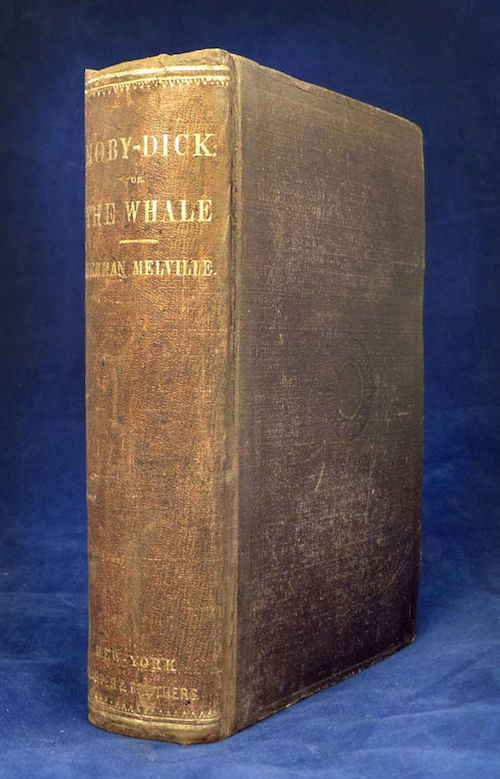 Moby Dick, or the Whale by Herman Melville
Thick 8vo. New York: Harper & Brothers and London: John Murray, 1851. Thick 8vo, xxiii, 634, (635, Epilogue), (6, ads.) pp. Original brown cloth, backstrip lettered in gilt, publisher's blind-stamp on both covers, orange endpaper darkened at the centre as usual. A skillfully restored copy, with a small blank section of the title-page filled in, hinges repaired and text recased, backstrip strengthened. In a new quarter blue morocco box. First American edition of one of the greatest novels of the century in English. Learn more about this item...
(Offered by John Windle, Antiquarian Bookseller)
Illustrated editions of Moby Dick
Two editions of Moby Dick stand out in the 20th Century for their design and illustrations: the Rockwell Kent-illustrated edition of 1930 and the Arion Press edition with Barry Moser illustrations published in 1979.
Rockwell Kent, the foremost woodcut illustrator of his time, was also a seasoned traveler who favored oceanic voyages and cruises. His book Voyaging Southward from the Strait of Magellan (1924) a gorgeous quarto volume with his bold illustrations, charts his journey by sailboat to Tierra del Fuego; N. By E. (1930) is his account, also with woodcut illustrations, of taking a 33-foot cutter from New York Harbor all the way to Greenland. In 1930, the Lakeside Press of Chicago engaged Kent to illustrate a three-volume large quarto edition of Moby Dick that was published in black cloth decorated in silver, with dozens of in-text and full-page woodcuts by Kent, limited to 1000 copies, housed in an aluminum slipcase. It is notable that this "triple-decker" also features an image of a whale on the spines, flukes up, head down! This is the crowning achievement of the Lakeside Press and also one of the triumphs of Machine Age book design and illustration in America. Kent's affinity for the sea and knowledge of sea-faring gave his illustrations even more power and accuracy.
Moby Dick or the Whale (Illustrator: Rockwell Kent)
Chicago: The Lakeside Press, 1930. ONE OF 1,000 COPIES n. Hardcover. 301 x 217 mm (11 3/4 x 8 1/2"). Three volumes. Original publisher's black cloth decorated and titled in silver, one quarter of the leaves UNOPENED. Housed in fine later dark blue folding cloth box.... Although certainly not obscure, "Moby Dick" was surprisingly less well known at the time of our publication than it is today, and the popularity of the Kent illustrated edition was significant in reinforcing the novel as the classic it is now considered. Learn more about this item...
(Offered by Phillip J. Pirages Fine Books & Manuscripts)
That same year, Random House published a trade edition of this in a short, squat single volume, retaining all of the illustrations. If one can't afford the three-decker, the Random House edition, if it doesn't have its dust jacket, can be found in the $200-400 range. We have seen asking prices for fine copies in the pictorial dust jacket for $1000-1500.
Andrew Hoyem's Arion Press edition of Moby Dick, published in San Francisco in 1979, in an edition of 265 total copies, is considered one of the two or three greatest American fine press books ever. It typically auctions upwards of $9,000, and copies rarely come to market. There was a trade edition published by University of California Press that retains the look of the type and the illustrations, done in woodcut by Barry Moser.
Andrew Hoyem is considered by many, including myself, to be the leading fine press book publisher of our time. I called Mr. Hoyem and asked him about the production of Moby Dick. He was in New York at the time, on the way to see the production of Berg's opera, Lulu with set designs by William Kentridge, and told me he was excited about doing a book of Frank Wedekind plays with illustrations by Kentridge. At 80, he is as active as ever.
"I started with the first page of the text, setting it in 18-pt Goudy Modern by hand. It occurred to me as I was doing this and seeing how it would look, that the most important pages are the second and third full pages of text, which established the line width, the number of lines per page, and the margins, not the opening paragraph, which I tied up and left to the last to determine the treatment.... The wave of the 'C' of 'Call me Ishmael' almost jumps out of the book, like a Hiroshige wave."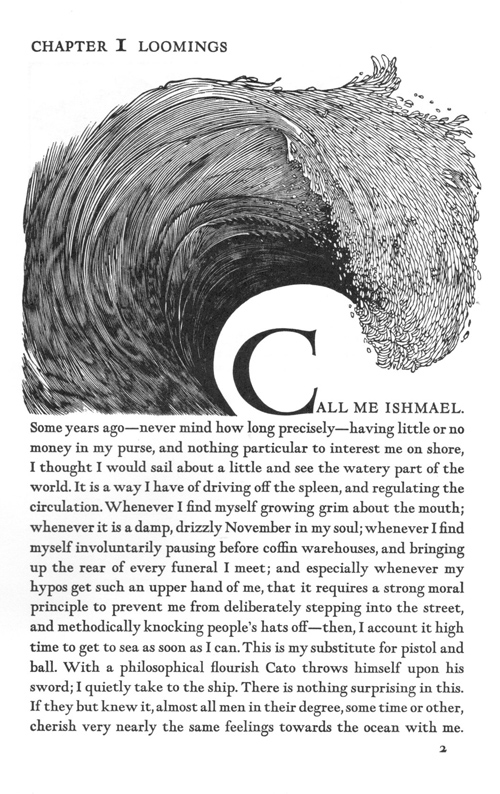 How was it collaborating with Barry Moser?
"Working with him was great, although he initially wanted to do illustrations of the characters and I told him I didn't want pictures of Ishmael or Starbuck or Queequeg, and especially not Ahab; what I wanted him to do was illustrate life at sea, things that readers couldn't imagine – the harpoons, the ships, the whales, the birds. I wanted to resist an illustrative work that included the dramatis personae."
(When I was discussing the Arion Press edition with John Thomson, John said, "You know what I like about the Barry Moser illustrations? There are no pictures of the main cast of characters. That's what the novel is for, what it's supposed to do, give you word-pictures of those people and you can work them up in your imagination. I don't want an illustrator interfering with that.")
Andrew Hoyem: "Getting the details right in the illustrations was important to me. 1851 was right at the cusp of the Industrial Revolution, and there were marked changes in the technology of sea-going craft because of that in the years after Moby Dick. Even harpoons were different, some were more like firearms and were gas-powered or used gunpowder—you no longer had to throw them; the ships were different, too, with added sails. We wanted to make sure we got every detail right."
How long did you work on Moby Dick?
"A year and a half. And we were solving problems in look and composition up to the last page. There were maybe half a dozen of us working continually on it. We got specially made paper with a blue tint with a watermark that included an image of a whale. More people came aboard when we bound the book in blue levant."
Did you know that when the book comes to market it can sell for upwards of $10,000?
"Really? When were first offered the book for sale in 1979, I set the price at $1,000. People were saying to me that it was a crazy price, that no one would pay that much, but selling them at that price would help recoup the costs of its production, so I stayed at that price and said, if it doesn't sell at that, I can live with it, if this is the book that sinks me, I can live with it."
Other editions of Moby Dick
A gentleman named Bill Pettit in Albany has for the past some years collected over 150 editions, many in foreign language, of Moby Dick. For a look at his collection, which includes pictures and commentary, please see this New York Times article and Mr. Pettit's blog.
What his collection shows is that a great work like Moby Dick opens itself to multiple interpretations not only from readers, but also from book designers and publishers. In fact, one of the more meta passages in the book (and by meta I mean that ironic something whose self-referential reverb shoots a frisson of joy down the spine of an armchair deconstructionist) is the "Cetology" chapter wherein Melville compares various types of whales to various sizes of books, with the smallest whales being "duodecimo," middling whales "octavo" and the largest whales, including the sperm whale, "folio." Which in turn suggests that all of us book dealers and collectors, as we chase after the big folios, sometimes to the point of self-destruction, have a rapport with the captain of the Pequod. Call me Ahab.

Search abaa.org for Moby Dick...