Full Members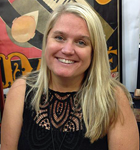 Jen Johnson is the co-owner of The Book Shop, LLC in Covina, California, along with her husband Brad, a member of the ABAA Board of Governors. The Johnson's are celebrating their 10th anniversary of ownership of The Book Shop, a bricks-and-mortar store that has been serving Southern California for more than 35 years. Specialties of The Book Shop include California and the West, archives and ephemera, and heavy metal music.
Jen is a native of Nebraska and a graduate of Pepperdine University. She is a former newspaper reporter and public relations executive. She became an associate member of the ABAA in 2010, serves as the co-chair of the Southern California Book Fair Planning Committee and was recently selected to receive a scholarship as the ABAA's representative to the 2016 ILAB Congress in Budapest, Hungary. Her favorite part of the book trade is the research and discovery that comes with working with archives.
Curiosity about his mother's ancestors, led Duane Stevens into bookselling. He began acquiring books, maps, and other documentation related to the family's coming to New York in the 1640's, migration to Canada and their return. He grew up in Houlton, Maine, a border town where his grandparents had settled.
After founding Wiggins Fine Books in 2007, he began doing book fairs that have since become his focus. Stevens look forward to making his ABAA book fair debut in Boston later this year. As the co-founder of Book Arts Promotions (with ABAA member Mark Brumberg) he produces the annual Northampton (Massachusetts) Book and Book Arts Fair held at Smith College in December.
Stevens is a member of the Southern New England Antiquarian Booksellers (SNEAB) and is currently the 2016-17 President. He resides in Shelburne Falls, Massachusetts with his family, where the rare book gallery of Wiggins Fine Books is housed in a two-story renovated Civil War era addition.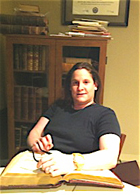 Andrea Tomberg graduated with a degree in Psychology from the University of Michigan (Ann Arbor) and holds a MPS in Elementary and Special Eduction and Post-Masters Literacy Degree from Manhattanville College (Purchase, NY). She is also a graduate of the Colorado Antiquarian Book Seminar.
Tomberg Rare Books specializes in preserving the 20th & 21st Century cultural movements through archives and collections. Areas of focus include: Women & Gender Studies, the Counterculture, Social Movements and Ephemera from the 1970s, 80s, & 90s. Tomberg Rare Books is based in FL, after many years in Greenwich, CT.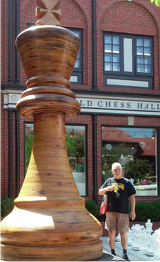 Michael Utt has been in the business since 1995, first as an online seller, and then both through online and book fairs. In 1998, along with several other sellers, he formed the North Texas Booksellers' Association, which soon morphed into the Texas Bookseller's Association and began sponsoring fairs in Texas. His Specialty is early works on exploration, voyages and travel, colonial America with an emphasis on colonial Spain, anthropology of the Americas, select literature and works on the game of chess. Chess is the only area he expands beyond the book form with ephemera, such as score sheets, photographs letters and original documents. The Book Collector has works on this subject dating from the 1500s. Currently two of Michael's items are on loan to The World Chess Museum in Saint Louis for a special exhibit on 'Women in Chess." Michael is a member of the Ken Whyld Association of Chess Collectors.
Associate Members
Erika Hapke joined F.A. Bernett Books in Boston as a part-time shipping assistant in 2011, moving to a full-time position as office manager in 2013. Prior to joining F.A. Bernett, Erika had attended the Massachusetts College of Art and Design, earning her B.F.A. in both animation and art history in 2010. She spent a number of years post-graduation working as an assistant manager within the animation department, helping students learn the tools of filmmaking. Originally from Connecticut, Erika has enjoyed learning about every aspect of the antiquarian book trade, with the annual trips for ABAA book fairs being one of the highlights of her experience. She looks forward to new opportunities for learning and exploring the future of the antiquarian book trade within the ABAA.