There are a great many new catalogs and electronic lists from ABAA members this month showcasing their latest acquisitions. This is the first place antiquarian booksellers list their wares, so make sure you read these catalogs carefully. You never know what treasures they may contain.
Bromer Booksellers present two catalogs: Catalog 140, a collection of new acquisitions, and a collection of work by David Jones.
The Colophon Book Shop also have a brace of catalogs for perusal: Books About Books and WWI Aviation.
Joslin Hall Rare Books unveil Catalog #354: A Selection of Books & Ephemera for April, 2015.
Brian Cassidy, Bookseller's latest catalog collects rare books on Medicine & the Body.
Garrett Scott, Bookseller release Occasional List 25: Hands All Around.
Golden Legend have two new offerings. The first collects Artists Books and the second focuses on Book Collecting 101.1.
Charles B. Wood III, Inc. release Catalog 165 Rare Architectural Books 1543-1950.
Lawbook Exchange have several new catalogs: March 17, Catalog 77, and two other catalogs which are downloadable here...
R&A Petrilla's latest lists focuses on Ethnic Studies and their recent arrivals.
Jeff Hirsch Books hit send on E-list 66.
Veatchs Arts of the Books publish Catalog 81: The Black Art (and some color)
Philadelphia Rare Books & Manuscripts Co. have several new catalogs this month: New Arrivals Part 1, Part 2, Manuscripts, Literature, Gift Books.

Nudelman Rare Books announce Catalog 33.
Schubertiade Music & Arts launch their 2015 Spring Catalog.
Richard C. Ramer Old & Rare Books release Special List 200.
Rulon-Miller Books also have a List of Recent Acquisitions.
Priscilla Juvelis - Rare Books announce Catalogue 65 Book Arts
Humour is the subject of the spring 2015 catalog from G. Gosen Rare Books & Old Paper.
J. & J. Lubrano Music Antiquarians LLC publish The Jacob Lateiner Collection Part V With Additions from Other Private Collections: Robert Schumann from the collection of the pianist renowned for his interpretations of 20th-century music and other private collections.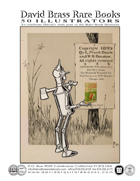 David Brass Rare Books' new catalog celebrates 50 Illustrators.
William Reese Company focus on Literary Women - Catalogue 321.
INDIA: Books from an Ambassador's Library comes from R&A Petrilla.
---
Remember, you can always browse and download the latest catalogs published by ABAA members on ABAA.org by visiting the following link: https://www.abaa.org/catalog/... (You can also access this page by selecting 'Booksellers' from the top menu, scroll to the bottom of the page to 'Member Catalogs', and click on 'View All'.)