Bolerium Books look at Cuba, in Revolution & in Exile...
Bromer Booksellers publish Catalog 144.
James Cummins Booksellers unveil their latest acquisitions in Catalogue 131...
Honey & Wax Booksellers present their first Micro Catalog: Illustrated Classics...
From Joseph J. Felcone, Inc., a short list of Americana before 1861: 133 books and pamphlets, and a few manuscripts and graphics, 1695-1860.
Fashion is the focus of the new catalog from Joslin Hall Rare Books.
New catalogs from The Lawbook Exchange include:
Little Sages Books present their latest micro-cat, New York, Etcetera...
The latest elist from Ken Lopez Books can be found here...
J. & J. Lubrano Music Antiquarians present Catalogue 77: CHAMBER MUSIC Part II: H-P...

The Philadelphia Rare Books & Manuscripts Co. unleash a broadside of new catalogs:
Richard C. Ramer, Old & Rare Books presents
Rulon-Miller Books announce a Short List of Recent Acquisitions...
Schulson Autographs list Catalog 170.
Tavistock Books is pleased to announce its first fully illustrated catalogue of 2016, March Miscellany...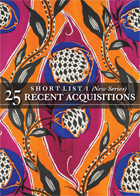 John Windle Antiquarian Bookseller reveals the first in a new series of short lists...
Yesterday's Muse offers April 2016 Monthly Miscellany -- includes: a review of the first freedom of religion case presented before the U.S. Supreme Court, involving a Mormon charged with bigamy; an 1880 publication related to women's suffrage; WWII-era plane identification references; dime novels; 1879 July 4th festival broadside; 1497 incunable leaf; and more...
View last month's new rare book catalogs...
--
Remember, you can always browse and download the latest catalogs published by ABAA members on ABAA.org by visiting the following link: https://www.abaa.org/catalog/... (You can also access this page by selecting 'Booksellers' from the top menu, scroll to the bottom of the page to 'Member Catalogs', and click on 'View All'.)