The latest catalogs and elist announcements from ABAA members for June 2015:
Biblioctopus invites you to "Play"...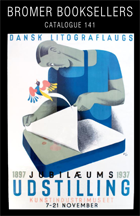 Bromer Booksellers unveils Catalog 21.
James Cummins Bookseller releases Catalog 127.
Eclectibles offers e-list16: Miscellany: Funerary & Other Advertising, Israel & Palestine Travel, HRH Prince Henry of Prussia.
Jeffrey D. Mancevice, Inc. presents a new catalog of recent acquisitions...
Be it known that John Michael Lang Fine Books have announced an e-list, #38: A Miscellany, Mainly New Arrivals. Please email jmlbooks@isomedia.com to recieve a copy of this elist.
Ten Pound Island Book Company have not only redesinged their website, but launched Maritime List 230...
Richard C. Ramer, Old & Rare Books unleashes Special List 206: Forty-Nine Books about Food, Cookery, & Gastronomy, Sixteenth through Twenty-First Centuries and Special List 207: Political Thought, Sixty-Seven Items, Sixteenth to Twentieth Centuries.
Sanctuary Books offers a new catalog of Incunable and Early Printed Leaves.

Boston Book Company announces A Short List of Finely Bound and Extra-Illustrated Books and a selection of documents relating to the French Revolution.
G. Gosen Rare Books & Old Paper hopes to tickle your funny bone with Humor…
Tavistock Books presents their summer catalog, Find Another!
The Book Shop, LLC of Covina, CA brings forth a selection of 35 volumes of poetry and verse and (my personal favorite) a selection of heavy metal books, zines, flyers, photo albums, original artwork, and other materials. Rock on!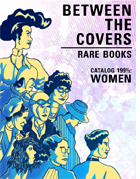 Between the Covers Rare Books, Inc. reveals Catalog Number 199½: Women
The Lawbook Exchange, Ltd. have released several new catalogs lately:
-- Highlights include: an early printing of Stracca's Mercatura that includes an important treatise on insurance; a handsome 1686 edition of Malynes's Consuetudo, Vel, Lex Mercatoria; the preferred edition of Peru's first commercial code; and, a 1599 Venetian Edition of the Consolato del Mare.
There are seven new catalogs from The Philadelphia Rare Books & Manuscripts Company:
Yesterday's Muse, Inc. draws back the curtain on their May 2015 Catalog.
The new list of science books from Liber Antiquus, Early Books & Manuscripts is only available by email, but their summer catalog is online.
Bauman Rare Books unveils a catalog of new acquisition for June 2015.
Oak Knoll Books offers a selection of books from The Private Collection of Richard Yanul and another catalog dedicated to Artists' Books & Private Press.
Lorne Bair Rare Books is happy to announce their latest catalog of Books, Graphics, and Manuscripts Relating to 19th and 20th Century Radical Social Movements, including nearly 200 uncommon, rare, or unique items.
John Waite Rare Books announces three special collections that are only available as single lots. The first is a collection of 80 books & manuscripts by or relating to Charles Lamb, the second comprises 25 Robinson Crusoe titles from 1769 to 1930, and the third is 100+ Items in the Daniel Webster collection. Email jwrb@comcast.net if interested in any of these collections.
Rulon-Miller Books reveals their June 2015 Catalog.
Ken Lopez - Bookseller announces their latest elist.
Jeff Hirsch Books also releases an elist, highlights include a Raphael Soyer Association Copy, several signed broadsides from the Lord John Press, plus books signed by Berenice Abbott and Richard Avedon.
Michael Laird Rare Books is participating in the ABAA Showcase at the RBMS Conference in Oakland this month. Here is their list...
Golden Legend reveals New Acquisitions: June 2015 and detour into French Art & Literature.
E.K. Schreiber posts their June List of Early Books, featuring 47 continental books printed in the 16th- and 17th-century.
Palinurus Antiquarian Books have a Short List of New Manuscripts and Books.
Vamp & Tramp, Booksellers, LLC focus on Body Parts - Book Pages, Artist Books that feature a body part within the pages of the book.
---
Remember, you can always browse and download the latest catalogs published by ABAA members on ABAA.org by visiting the following link: https://www.abaa.org/catalog/... (You can also access this page by selecting 'Booksellers' from the top menu, scroll to the bottom of the page to 'Member Catalogs', and click on 'View All'.)