March is the month some of us emerge (relatively speaking) from hibernation after winter. The rare book experts of the ABAA have been spending their long, dark winter nights appraising private libraries, researching unusual items, and cataloging their latest acquisitions. The fruits of these winter labors can be seen at upcoming book fairs (such as the April's 56th Annual New York Antiquarian Book Fair) and found in the pages of these new catalogs...
Artisan Books & Bindery recently finished cataloging a large collection of volumes of Philosophical Transactions of the Royal Society of London. Their list for the Ephemera Society of American Conference and Fair, Ephemera 36 can also be viewed online.
Bay Leaf Used & Rare Books have had to split their latest acquisitions into two catalogs:
F.A. Bernett Books is pleased to announce their newest catalog...
Between The Covers Rare Books attempt to raise your spirits with Catalog #204: Midwinter's Miscellany...

Bolerium Books have a plethora of new catalogs on topical concerns:
The latest newsletter from Books Tell You Why, Inc. invites collectors to browse Modern First Editions from the 1980s...
The Boston Book Company unroll new catalogs of Maps and Atlases and Posters, and showcase a Collection of Japanese Design Books...
Meyer Boswell Books, Inc. explore "A 17th century work exploring the scientific theories, pro and con, of Aristotle, Robert Boyle, and Descartes."
Ian Brabner, Rare Americana tempt us with Short List 7...
Catalog 143, the latest from Bromer Booksellers, Inc., promises to be particularly strong on Massachusetts private press items...
Andrew Cahan: Bookseller, Ltd. offers a selection of recent acquisitions -- including works signed by M. Alvarez Bravo, Ilse Bing, Wynn Bullock, Robert Frank, Lee Friedlander, O.Winston Link, et al.
The new catalog from The Colophon Book Shop can be downloaded on their website...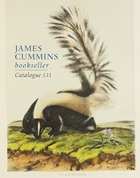 James Cummins Bookseller, Inc. unveils Catalog 131...
Eclectibles energize our late-winter days with three lists:
Joseph J. Felcone, Inc. showcase books from several recently acquired private libraries in their first new catalog of 2016: Books from Five Centuries: A Miscellany
Recent catalogs from Golden Legend looks at Spanish (or Related) Rare Books and Recent Acquisitions...
Jeff Hirsch Books hit the send button on:
Sign up for E-Lists from Jeff Hirsch Books here...
John Michael Lang Fine Books has a new list available. Email jmlbooks@isomedia.com to request
The Lawbook Echange, Ltd. has published the following new catalogs:
David M. Lesser, Fine Antiquarian Books, LLC have published Catalogue 149, Rare Americana [March, 2016]
Liber Antiquus, Early Books & Manuscripts announce several new lists:
Little Sages Books reveal short lists Miscellany: Lucky 13 and Blackjack: Lucky 21...
The latest elist from Ken Lopez Books can be found here...
J. & J. Lubrano Music Antiquarians have three new catalogs to delight both the eyes and the ears: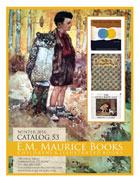 E.M. Maurice Books offer Catalog 53, Winter 2016 -- featuring new arrivals such as Leo Lionni's first book, Little Blue and Little Yellow; Louis Wain's Great Big Midget Book, Anne Anderson's Sleepy Song Book, Florence Harrison's Rhyme of a Run, an uncommon ABC book, The Jaw-Breaker's Alphabet as well as Caldecott Medal and Newbery Medal titles, classic picture books and favorite illustrators.
Musinsky Rare Books, Inc. unleash E-Catalogue 8 -- a chronological catalog of European books, 1470-1817.
The recent newsletter from Oak Knoll Books focused on the books published by the legendary Black Sparow Press, and their new catalog zeros in on the Limited Editions Club.
Philadelphia Rare Books & Manuscripts Co. announce WOMEN - By, For, About - ILLUSTRATED -- Women as Writers, Editors, Translators, Illustrators, Printers, Binders, & Readers.
Rabelais' Fine Books on Food & Drink celebrate some Fresh Arrivals...
We invite you to peruse a quartet of new catalogs from Richard C. Ramer, Old & Rare Books:
ReadInk have recently launched their first electronic catalog. It can be examined in all its glory at this link...
Rulon-Miller Books showcase "a dozen disparate offerings" in their latest catalog...
Sanctuary Books focus on several distinct areas in their latest catalogs:
Schulson Autographs publish Catalog 167 -- a fully illustrated catalog consisting of 23 items in the areas of Art, Literature, Music, History, Science and Film.
Ann Arbor's Garrett Scott, Bookseller keep things interesting with two exemplary new catalogs:
Second Life Books offer an eclectic list of new arrivals: Americana, Travel,: Africa, Asia, Witchcraft, Etc.
Ten Pound Island Book Company launch Maritime List 235...
Finally, four new catalogs from Yesterday's Muse, Inc. seek to surprise and delight:
--
Remember, you can always browse and download the latest catalogs published by ABAA members on ABAA.org by visiting the following link: https://www.abaa.org/catalog/... (You can also access this page by selecting 'Booksellers' from the top menu, scroll to the bottom of the page to 'Member Catalogs', and click on 'View All'.)