October is the season of leaf peeping. Some dress warmly and do their leaf peeping in scenic beautyspots, other relax in a comfy armchair and examine the leaves of rare book catalogs (either in printed form or through their electronic device of choice). This month's crop of new catalogs is as colorful and overwhelming as any fall vista.

Antipodean Books, Maps & Prints present Elist 19: Maps, Manuscripts, Mountaineering, Etchings, Australia
Artisan Books & Bindery releashed their latest catalog at the very end of September, thus making the list for this month: New Acquisitions: September 2015. They then followed that up with a list of Important and Sumptuous Sets.

Lorne Bair Rare Books, Manuscripts, & Ephemera announce E-List 11: Post-Colonial African Literature -- featuring 100 works of postcolonial and subaltern literature by writers from the African continent.
Bauman Rare Books reveal their Autumn 2015 catalog.
The latest "Archives & Manuscripts" catalog from Between the Covers Rare Books can now be viewed online...
Bolerium Books present LGBT Books from the Tamara Turner Collection and Exiles & Refugees.
The Book Block showcase Elbert Hubbard and the Roycroft Press
-- The Roycroft press served as an outlet for Hubbard's writing and those of many of his favorite authors. It also helped to familiarize the public with the Arts and Crafts movement. Although the work of the press did not achieve the high artistic and quality standards of Morris' English Kelmscott press, Roycroft publications fostered interest in American printing, bookbinding and graphic arts.
Marilyn Braiterman announces Catalogue 34.
Language Poetry is the focus for Brian Cassidy in his latest catalog, and in his shortlists:
The Colophon Book Shop launch their latest catalog of 150 items on WWI Aviation and follow it up with a catalog of Books About Books.
James Cummins, Bookseller reveal Catalogue 128: First American Edition.
James M. Dourgarian, Bookman has a photography collection available (68 items, including Ansel Adams, Robert Capa, Paul Caponigro, Eliot Porter, Galen Rowell, Brett Weston, Edward Weston, and others). For full details contact bookman@jimbooks.com...
E-list 18 Miscellany: Non-fouling Anchors, Geissenhainer & of Course - the Children is the new list from the aptly named Eclectibles.
First Folio highlight the delights of Gothic Literature in their recent catalog.
Golden Legend, Inc. tantalize us with catalogs collecting numerous Fine Bindings and books on Fashion and Costume.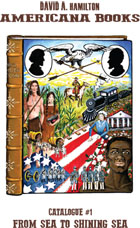 David A. Hamilton Americana Books are happy to reveal Catalogue #1 From Sea to Shining Sea -- Fifty items representing American History, Literature, Art, Music and Recreation.
Joslin Hall Rare Books roll out CATALOG #357: A Selection of Books & Ephemera for October, 2015.
Americana was the subject of Kaaterskill Books' 21st catalog, which followed their 20th, Latin American Beginning with Brazil.
Michael Laird Rare Books & Manuscripts announces their catalog for the Seattle Antiquarian Book Fair: A Florilegium.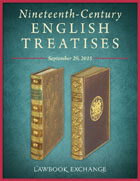 The Lawbook Exchange has publiched several new catalogs:
Modern Horror is the topical focus of the latest catalog from Ken Lopez Books.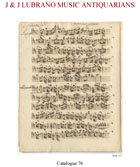 J. & J. Lubrano Music Antiquarians uncover Catalogue 76 - Part II: C-G; Part III: H-L; Part IV: M-P -- Rare Printed Music & Musical Literature Musical Autographs & Manuscripts.
Kenneth Mallory invtes you to peruse List #3: New Arrivals.
16th-Century Italy is the destination for Jeffrey C. Mancevice, Inc. and their new catalog #44: Italian Theater 16th-18th Century.
The Manhattan Rare Book Company presents a new list featuring issues of Alfred Stieglitz's legendary Camera Work.
Musinsky Rare Books serve up a Baker's Dozen of new acquisitions.
The latest catalog from Palinurus Antiquarian Books can be downloaded here...
R & A Petrilla Booksellers/Appraisers publish Catalog 263: Women's Studies and The Bluest Eye and Other Recent Arrivals.
Miniature Books and Near-Miniatures are the subject of the newest catalog from The Philadelphia Rare Books & Manuscripts Company. However, the week before releasing this catalog, the Pope's visit motivated several additional catalogs on religious topics: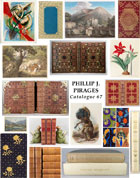 Phillip J. Pirages Fine Books & Manuscripts announce Catalog #67 -- 19th- and 20th-Century books in various fields.
Richard C. Ramer, Old & Rare Books has new catalogs looking at Photography Relatively Recent Portuguese Imprints (Catalog 216), Golden Age Spanish Literature Published in Lisbon, 1590-1674 and Two Works of Golden Age Spanish Literature Published in Coimbra 1555 and 1658.
Rulon-Miller Books offers a short list of new acquisitions.
Sanctuary Books' latest focuses on Natural History.

If signed documents and autographs are you passion, Schulson Autographs' most-recent catalogs (Catalog 165 and Catalog 166) are available for your perusal.
Garrett Scott Bookseller unleashes Occasional List 28: Handily, devoted to the handmade, handwritten, or items small enough to fit in the hand.

Tavistock Books presents a fascinating collection of personal Albums & Archives of diverse individuals, such as a 19th century silver miner and a WWII Admiral.
Get in the Halloween spirit with Maritime List 232: Bad Witch from Ten Pound Island Book Company.
Jett W. Whitehead keeps the flag flying for Modern Poetry in his latest catalog.
Yesterday's Muse serve notice of several new catalogs:
---
Remember, you can always browse and download the latest catalogs published by ABAA members on ABAA.org by visiting the following link: https://www.abaa.org/catalog/... (You can also access this page by selecting 'Booksellers' from the top menu, scroll to the bottom of the page to 'Member Catalogs', and click on 'View All'.)
---