For some, September is the busiest time of the year, with children heading back to school, the pressure mounting at work to hit end-of-year targets, and the holiday season lurking just around the corner. For others, it's the last hurrah of balmy summer days and outdoor pursuits before the cold of winter descends. For booksellers, it's a time of quickening; new students are dropping in to check out the books, serious readers are stocking up on books for winter's long nights, and publishers release new books by their heavy hitters to build buzz before the holidays (spurring a surge of interest in their backlist and early works).
Collectors of rare books are more likely to curl up with a stack of rare book catalogs rather than the latest best-seller, and ABAA members have a plethora of varied and interesting catalogs to tempt and beguile...
Athena Rare Books gets philosophical with List 17, featuring works by Rene Descartes, David Hume & Arthur Schopenhauer.
Be it known that the latest catalog of books, art and ephemera relating to labor history, radicalism, and social movements from Lorne Bair Rare Books is now on-line.
Bauman Rare Books unleash trio of new catalogs:
Between the Covers Rare Books, Inc. exhibit their latest Photography Catalog (#201).
Bolerium Books seek to influence the next generation with a catalog of Children's Books (Bolerium Style): Children's books with an emphasis on social movements along with China, Tibet and Mongolia.
The Colophon Book Shop unleash their most-recent list of titles on WWI Aviation.
Eclectibles are please to present e-list 17: Miscellany: From M. Hooper Mott to Tarot & Ruffles.
G. Gosen Rare Books & Old Paper also looks at children's books with a collection of Children's Book Catalogs -- presenting sixteen publishers' catalogs of books for children 1938-1944 with various related ephemera.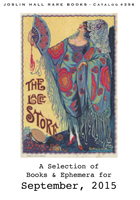 Joslin Hall Rare Books reveals CATALOG #356: A Selection of Books & Ephemera for September, 2015
Priscilla Julevis, Inc.'s latest catalog focuses on Contemporary Book Arts.
John Kehoe Bookseller published his Big Brooklyn List.
The Lawbook Exchange continue their practice of releasing a new book catalog every week with:
Small Books: American Continental and English
"We know that in September,
we will wander through the warm winds
of summer's wreckage. We will welcome
summer's ghost."
--Henry Rollins
Golden Legend, Inc.'s latest list looks at Poetry.
Liber Antiquus announce their Fall 2015 Catalog.
Ken Lopez publishes a weekly elist and a new catalog of Modern Literature.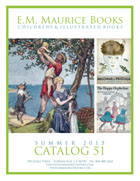 E.M. Maurice Books presents Catalog 51: Summer
--125 items including a signed limited edition of Muirhead Bone's Children's Children, an uncommon Lois Lenski decorated title, Book of Enchantment from 1928 in the original dust jacket, Harold Gaze's Goblin's Glen, beautiful and affordable French language titles, a scarce Caldecott Honor title by Susan Jeffers and a signed copy of the Newbery Medal winning Higher Power of Lucky as well as a signed copy of Moon Over Manifest.
Oak Knoll Books reveal Catlogue 308: A Summer Miscellany of Books About Books.
Old Imprints has just issued A Catalog of Theatrical Ephemera, including items such as play bills, prints and magazines. This richly illustrated catalog provides a fascinating view into the world of the theatre from the eighteenth century to the recent past.
The Philadelphia Rare Books & Manuscripts Company announce Profit Takes a Holiday -- 50 selected items from our stock at 25% off; a collection of items relatated to the 14th Amendment; and a very short, eclectic, and visually arresting catalog that gathers books and chapbooks incorporating or treating of "hieroglyphics," both Egyptian and Native American and as per the extended definition that embraces rebuses.
Richard C. Ramer, Old & Rare Books casts an eye across the centuries with Special List 210: Recent Acquisitions: 87 Items, 17th-21st Centuries; Special List 212; and Special List 213.
L&T Respess Books debut three new catalogs:
List 299: Alternative Medicine
List 300: An Early Summer Miscellany
List 301: Sporting Books, Manuscripts & Emhemera
Fashion and Costume is the focus for Sanctuary Books' latest catalog.
E.K. Schreiber Rare Books release Fall 2015 List 1, which includes recent acquisitions.
Garrett Scott, Bookseller unleashes Occasional List 27: Verify the Truth: 29 interesting items--mostly American, mostly 19th century--ranging from a woman's account of killing a rattlesnake outside Dodge City in 1885, to a fine polygraph trade catalog, to 19th century vernacular dust jackets.
Second Life Books reveal Catalog #193 and Catalog #104 (although you will have to contact the store directly to obtain a copy of the latter).
Marc Selvaggio, Books & Ephemera announces the appearance of Catalogue 144: Ephemeral Americana - "devoted exclusively to pamphlets, catalogues, brochures, and other printed items and ephemera on divers topics, including business, advertising, trade catalogues, health & medicine, education, women's health & culture, amusements."
New ABAA members Triolet Rare Books reveal a catalog of recent acquisitions.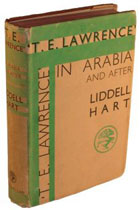 Walkabout Books focuses on the man, the myth, the legend: Lawrence of Arabia with a selection of items by or about T.E. Lawrence (Lawrence of Arabia)--including some ephemeral rarities, some "must-have" titles for any Lawrence collection, and a few oddball items such as a Dutch comic book history of Lawrence in the Arab Revolt.
John Windle Antiquarian Bookseller has published Catalogue #62: Illuminations -- focusing on fine illuminated books and manuscripts including stunning miniatures and illuminations from the 13th through the early 16th century, as well as the very first book printed by computer from the 19th century.
Charles B. Wood III, Inc. release a short list: "One Stunning Manuscript & Eleven Rare Nineteenth Century Photographically illustrated Books, Albums, Portfolios."

Yesterday's Muse notify us of two new catalogs: September 2015 and Rochester Book Fair.
---
Remember, you can always browse and download the latest catalogs published by ABAA members on ABAA.org by visiting the following link: https://www.abaa.org/catalog/... (You can also access this page by selecting 'Booksellers' from the top menu, scroll to the bottom of the page to 'Member Catalogs', and click on 'View All'.)
---