The 59th annual New York International Antiquarian Book Fair takes places at the Park Avenue Armory, Marcy 7-10, 2019. Over 200 American and International dealers will be exhibiting. Below we present a preview of the fabulous books and related material our members will be bringing to the show.

Special Collection Revolving Around Sendak's "Where The Wild Things Are"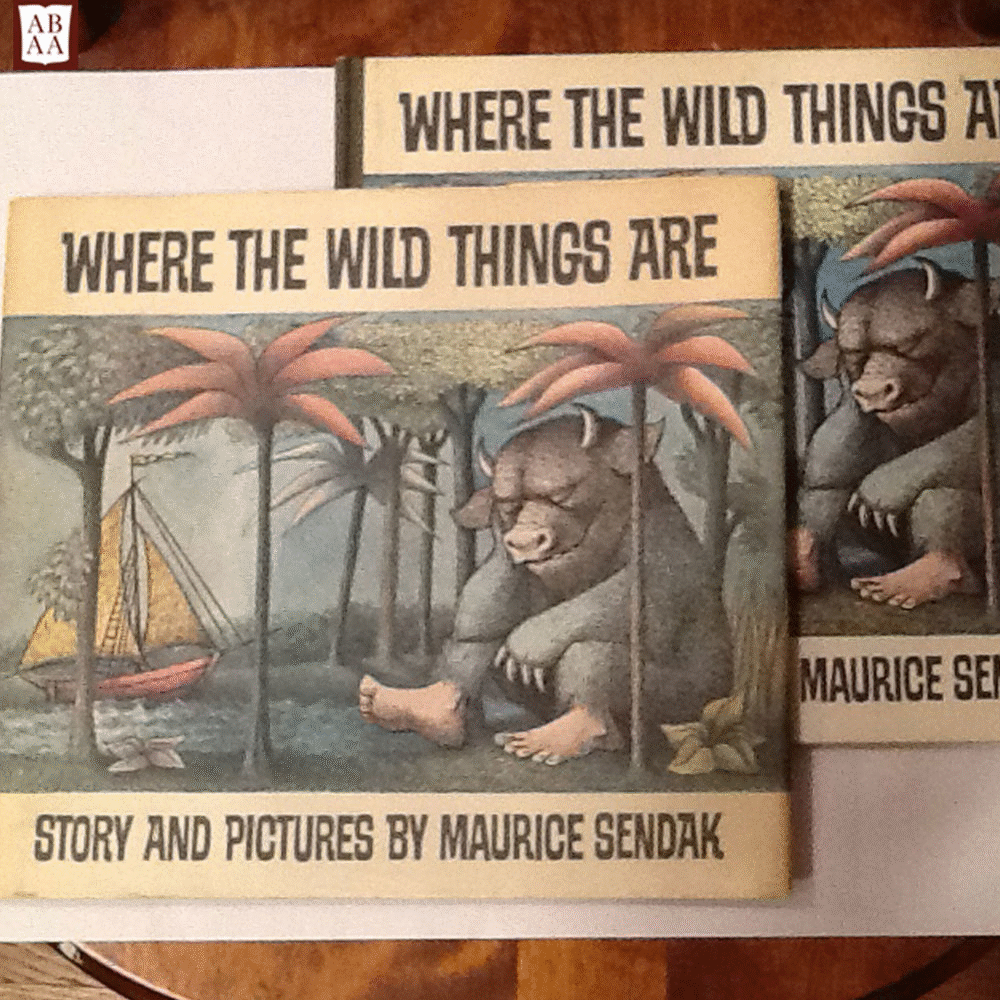 A collection including a fine 1st edition of "Where The Wild Things Are" -- inscribed by Maurice Sendak to Suzanne Glazer, formerly of Random House. Along with Sendak's book is a collection of original art, poems and letters to Suzanne Glazer by authors, illustrators and co-workers in response to Random House firing her.
Offered by Enchanted Books, booth E11.

Nineteenth Century Louis Vuitton Trade Card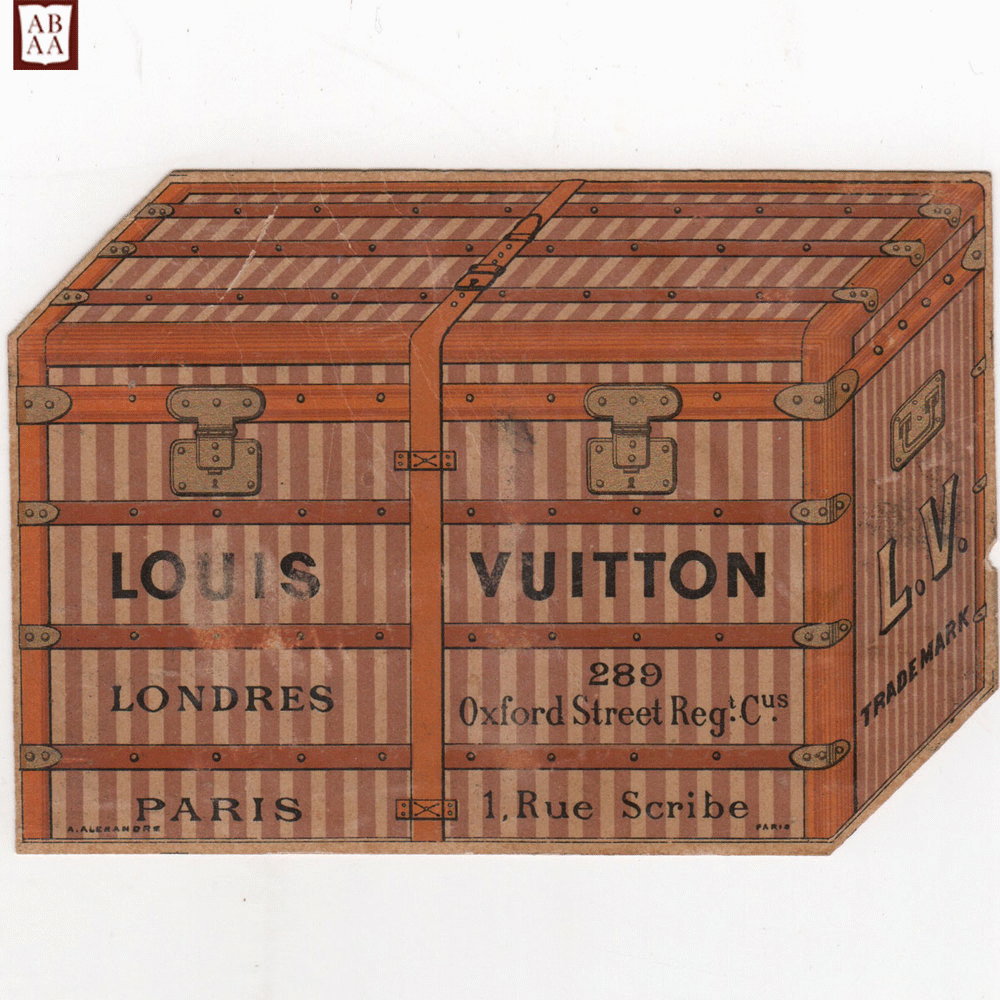 Paris: A. Alexandre [Printer], [ca. 1885]. Color lithograph printed on thin card in the shape of a travelling trunk, 3.5" x 5" (irregular) approx. Verso printed in black on white, repeating the address information in English for Louis Vuitton's Paris and London stores which are given in French on front. Recto with a bit of surface rubbing and some very faint crease lines; verso with scattered adhesions and very minor surface loss (likely from removal from album), unobtrusive. Overall, very good or better. Very good.

The birth of an iconic brand. Founded in 1854, Louis Vuitton was a trailblazer from the start, designing his trianon canvas trunks to be not only lightweight and waterproof, but stackable. These innovations, however, led - almost from the very inception of the company - to a host of imitations and knock-offs. So by 1876, Vuitton created the striped design seen on this card in order to help distinguish his brand, the beginning of a process that culminated in 1888 with the development of the Damier pattern that remains the cornerstone of the company's look to this day. The card dates to approximately 1885, listing the addresses of Louis Vuitton's iconic Paris store at 1, rue Scribe, which opened in 1871 in the fashionable district around the Place de l'Opéra; also listed is the London store at 289 Oxford Street – the company's first overseas – which was opened in 1885, but closed after only a few years in favor of new premises in the Strand. A rare and early example of a trade card from one of the most famous and enduring brands in history, capturing the transition to its signature and defining visual identity.
Offered by Brian Cassidy, Bookseller, booth B33.
Exceptional Metamorphosis Overlays of a Man and Women with 97 Overlays - Clothes Make the Man.
Netherlands. 1808. The entire content is original art. Comprised of 3" x 2 ¼" portrait cards of a nude woman and man in an undershirt. The women has forty-six (46) cut-paper watercolor overlays and the man has fifty-one (51) cut-paper watercolor overlays. In all ninety-seven (97) different possible portraits, spanning professions, fashions and extraordinary hairstyle One of the female overlays (no.10) is dated 1808. Each with a half-length or head and shoulder drawings with cut-outs to expose the face of the portrait. Some with more intricate cuts to provide accessories for the costume or change the character of the face. Somewhat unusual is the fact that the set represents both female and male faces in two separate base portraits. Housed in a paper covered pressed board box with a separation at center. The box most likely is not contemporary to the piece and added at some time in the 19th century. Each is numbered. Exceptional.
Offered by Eclectibles, booth E27.
Liberty Enlightening the World: Gustave Eiffel's Original Drawings for the Statue of Liberty.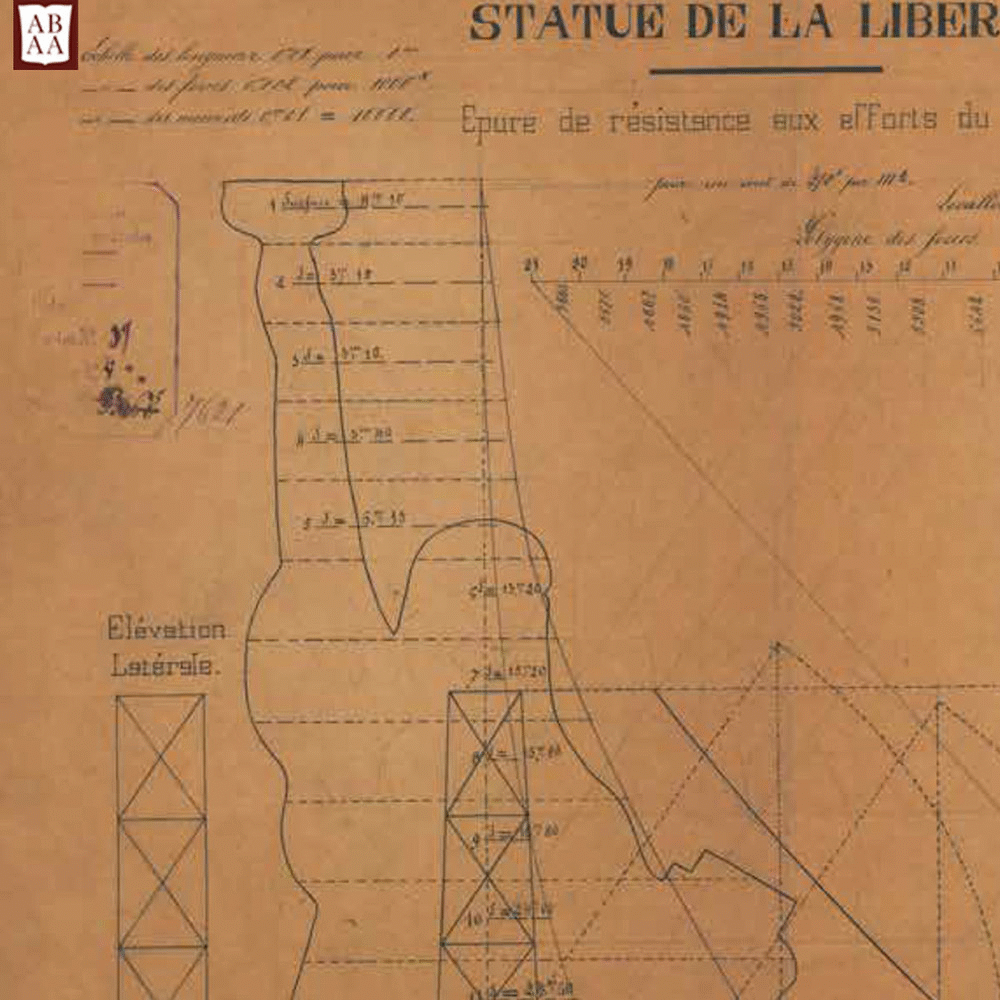 An unparalleled architectural archive consisting of all the extant Établissements Eiffel drawings for the Statue of Liberty, executed at the firm's workshop at Levallois-Perret, Paris, from 1880 to 1883. The archive consists of 22 original drawings, 12 blueprints and whiteprints, the original lettered folder, and a series of tables and other supporting matter.
Offered by Barry Lawrence Ruderman Antique Maps Inc., booth A8.
Ulysses by James Joyce (Signed) * ONE OF 100 COPIES SIGNED BY JOYCE *
James Joyce, Ulysses. 4to, original blue green wrappers. Paris: Shakespeare and Company, 1922. First edition. One of 100 numbered copies printed on Dutch handmade paper and signed by Joyce, out of a total edition of 1000 copies; this being number 15. Sold entirely by subscription, the first printing of Ulysses consisted of three issues: copies numbered 1-100, as here, were printed on Holland handmade paper and signed by the author; copies numbered 101-250, a large-paper issue, were printed on vergé d'Arches; and the remaining 750 copies, the regular issue, were printed on a linen paper; all were bound in blue-green paper wrappers resembling the color of the Greek flag. Slocum and Cahoon A17. Some expert restoration to spine, light wear to edges of wrappers, otherwise a very good copy, in a half-morocco folding box.
Offered by James S. Jaffe Rare Books, booth A20.
Anon. - Early album of "papier découpé" - SILHOUETTES.
Album of 109 paper-cut silhouette scenes backed with contrasting color coated laid paper, ca. 1790. [France?]. Oblong 8vo booklet, sheet size appx. 140 x 155 mm, made up of various color coated laid paper stocks; 100 leaves. The pictures are mounted verso or recto only; a small number being recto and verso. The mounting is primarily accomplished by threading small tabs through slits in the paper and then folding them over. Near fine; boards rubbed and chafed; ties missing. Original, contemporary flexible paste paper boards.
A startling album of unusual paper cut-outs depicting children at play, hunting scenes, domestic life, mourning etc. all placed within frames that are landscapes of billowing flora. There is no text with the exception of one autograph legend along the base of a single cut-out illustration. The author's hand is small and crabbed. The text is in French and reads: A.D.J. Tonnelieu [or Tournelieu] / Le pauvre et le riche l`aimaient [or l`aimèrent] et la [or le?] pleurent (The poor and the rich loved her [or him] and weep for her [or him]). The cut-out illustrations are done in colored paper: orange, brown, green, blue, and white. They are in stark contrast to the background coated papers on which they are mounted and that make-up the booklet: green, khaki, blue, metallic silver, yellow. In style and accomplishment they appear to be the work of one individual. It is nearly impossible to come to a conclusion as to why such an album was assembled. Papier découpé, Schnittbilder, Schattenrisse, or paper cut-out silhouettes name the process, but do not identify the art; it grows out of a tradition in Europe that goes back to the 17th century and was especially popular in France, but originated in Persia. The fragility of this craft and the practice of it at such a high level of accomplishment assign this album a singular place in the genre. Yet it retains an uncomplicated, provincial appeal. See Adolf Spamer, Das kleine Andachtsbild ...., pp. 94 - 97; see also the entry for Johanna Beckmann ('Silhouettenschneiderin') in the final volume of Doderer's Lexikon der Kinder-und Jugendliteratur for some historical perspective on the art-form. A generally informative essay on early silhouette art-work is available in the 1913 book 100 Silhouetten. Schattenrisse von einem anonymen Weiner meister des XVIII Jahrhunderts published by the Beyer Verlag in Vienna.
Offered by Palinurus Antiquarian Books, booth B10.
Samuel Beckett/Sidney Meyers Correspondence; FILM
Beckett, Samuel. Twelve autograph and three typed letters signed, 1964-70, Paris, Ussy-sur-Marne, Alghero Sardinia, and Nabeul Tunisia, to Sidney Meyers and his wife Edna Ocko Meyers. Together with some related correspondence and a complete 16mm reel of "Film", Beckett's 1965 motion picture featuring Buster Keaton. Five of the Beckett letters written on cards; the rest on plain paper. The shooting and editing of "Film" brought Samuel Beckett to New York for several weeks in the summer of 1964. It was the only time he travelled to the United States, as well as his single venture into cinematic work. A rigorously conceived silent film, "Film" featured Buster Keaton in one of his final roles. Sidney Meyers, was an experienced filmmaker, documentarian, and a longtime fixture in New York circles of social documentary filmmakers, artists, and left-wing activists. An enigmatic legend in the New York film scene, Meyers had been deeply involved in radical filmmaking since the 1930s.
Offered by Locus Solus Rare Books, booth A12.
Mark Twain, The Adventures of Huckleberry Finn
New York: Charles L. Webster and Company,1885. First American edition. Bound in the publisher's green cloth, stamped in black and gilt. Contains the three first printing points: "Huck Decided" on p. 9; "Him and another Man" listed on p. 88; and "with the was" on p. 57. The other leaves were assembled at random and have no bearing on whether a copy is first or second printing, although variant states exist. A Near Fine copy with minor rubbing (slight loss) at the base of the spine and lower corners, otherwise in excellent condition without repairs or restoration. On the whole, an excellent copy of the book that Hemingway claimed was the source for all modern American literature and "the best book we've had." BAL 3415. MacDonnell, 31.

Recounting the adventures of Huckleberry Finn as he flees his own abusive father and aids Jim in his escape from slavery, Twain's novel has been praised for its "distinctly American voice," putting at its center two common people who find an uncommon friendship. "Today perhaps the novel's greatest significance lies in its conception of childhood, as a time of risk, discovery, and adventure. Huck is no innocent: He lies, steals, smokes, swears, and skips school. He accepts no authority, not from his father or the Widow Douglas or anyone else. And it is the twin images of a perilous, harrowing odyssey of adventure and perfect freedom from all restraints that so many readers find entrancing" (Mintz). A metaphor for a young and rebellious nation, as well as its individualist inhabitants, Huckleberry Finn defies genre by being simultaneously an adventure story, a road novel, a coming of age tale, an expression of nostalgia for the expansive natural spaces lost to industrialization, and an exploration of race and class. Listed on the American Scholar 100 Best American Novels and one of the 100 Best Novels Written in English. Near Fine.
Offered by Whitmore Rare Books, booth C7.

O'HARA, Frank. A City Winter and Other Poems.
New York: Editions of the Tibor de Nagy Gallery, 1951 [i.e. 1952]. First edition, deluxe issue. Small quarto. Linen over decorated paper boards, title lettered in gilt. Frontispiece and two illustrations by Larry Rivers. Extremities a bit rubbed and modestly darkened, spine a bit sunned and smudged. One of twenty numbered deluxe copies printed by hand in Bodoni types on untrimmed Japanese Kochi paper by Ruthven Todd, specially bound, with an original graphite and wash drawing (24.2 x 15.2 cm; 9.5 x 6 inches) by Larry Rivers tipped in to serve as the frontispiece. Frank O'Hara's first book, published under the auspices of the Tibor de Nagy Gallery. The gallery's director, John Bernard Myers, was an instrumental figure in the New York Schools of both poetry and art, publishing, along with O'Hara's debut, the first books of both John Ashbery and Kenneth Koch in subsequent years. The artists represented by the gallery included Larry Rivers, Red Grooms, Fairfield Porter, Jane Freilicher, Grace Hartigan, Helen Frankenthaler and others. O'Hara gave Rivers full credit for getting the book published; in a late letter to the younger poet Joseph Ceravolo, he wrote, "I doubt very much if John Myers would ever have published my first pamphlet, A City Winter, if one of his artists, Larry Rivers, hadn't wanted him to and wanted to do the drawings for it." The poetry and art worlds were deeply intertwined, and collaboration between visual artists and writers was a major characteristic of the New York School. In addition, O'Hara and Rivers were lovers at the time as well, adding an extra charge to their collaboration. The original drawing used here as a frontispiece, of a standing male nude, could quite possibly be of O'Hara, although there is no direct evidence to confirm so. Rivers painted a full-length nude of O'Hara in 1954 in a strikingly similar pose, and his famous portrait of O'Hara used on the front cover of O'Hara's Collected Poems (Knopf, 1971) is also quite comparable. The ordinary issue consisted of about 280 copies on Arches paper. Although the colophon called for 130 copies, many copies were issued unnumbered, without wrappers, as folded and gathered sheets, and it is in this unfinished format that the publication is most often seen—of the small number of copies that have come available, the majority have been in the form of unbound sheets, and a search of OCLC shows many institutional holdings are of this unbound configuration (deluxe copies were located at the Morgan, Emory, and Bates College). The colophon does not call for the book to be signed by either the author or the artist; nor were all of the original drawings by Larry Rivers that were used for this special issue signed by the artist, making this signed drawing quite special (particularly if it is indeed of O'Hara). Certainly one of the most significant debuts of modern American literature, and while uncommon in all formats, genuinely rare in this deluxe edition.
Offered by Triolet Rare Books, booth B30.
Adreas Vesalius, De Humani Corporis Fabrica
Basel: Joannem Oporinum, 1555. Folio. With the famous woodcut title, portrait of Vesalius, 23 full-page and approximately 180 cuts in the text, large and small historiated initials. Complete with the 2 folding plates (bound in) and large printer's device on verso of last leaf. Modern full calf in a contemporary style.
This second edition, "more lavish than the first" (Heirs of Hippocrates), contains Vesalius's final revision of the text, along with significant typographical improvements, corrections and additions. This epoch-making work is the first modern treatise on anatomy based upon dissections of the human body. Vesalius (1510-1564), the father of modern anatomy, for the first time fully and accurately describes the body as we know it.
Offered by Rootenberg Rare Books & Manuscripts, booth D24.
Collection: HISTORY OF LGBTQ IN FILM
This is a large general collection on LGBTQ cultural history, spanning work in film, stage, and music. It is divided into two general sections. The first part consists of LGBTQ artists, actors, film makers, writers, musicians, stage directors, etc. The second part represents films and plays.
Kinsey once indicated that there was a scale on which a person's sexual orientation could be quantified. This is clearly a subject for extensive future research. Every artist listed here cannot, with final certainty, be stated to be LGBTQ. Many Hollywood stars in the past preferred to mask their true identities to preserve their public
personas. This is much less so today. No one is listed here frivolously. There is now extensive knowledge about the lives of most of the artists in this collection, including such people as Carson McCullers, George Cukor, Agnes Morehead, Freddy Mercury, and Rock Hudson. There are others, such as Katharine Hepburn, Spencer Tracy and Robert Bresson, about whom much has recently been learned. Finally, there are others about whom there have been various claims made, which will require extensive scholarly work to adjudicate.
Hence, the photos in this collection are included with the knowledge that these people represent a range of LGBTQ experience, and a range of certainty about each individual. The vast bulk of images are of people about whom there is extensive agreement about their sexual orientation. A much smaller number are on the other side of the scale of historical certainty.
PART ONE: PEOPLE. Listed in alphabetical order.
PART TWO: FILMS AND PLAYS. Listed in chronological order.
This collection consists of:
42 vintage film and theater scripts.
1200+ photos (including some laid in loosely to film presskits) and lobby cards, as well as a single collection of over 80 photographic contact sheets, which in turn contain at least 1000 images. This makes in total over 1300 unique photographic sheets of paper, which in turn contain a total of at least 2300 separate photos.
45 pressbooks (with ad mats and tear sheets), presskits, promotional books and flyers, and programs. The collection overall contains 1300+ separate objects, which in turn contain over 2300 photographic images
Offered by Walter Reuben, Inc., booth C26.
STEADMAN, Ralph [THOMPSON, Hunter]. BATS OVER BARSTOW.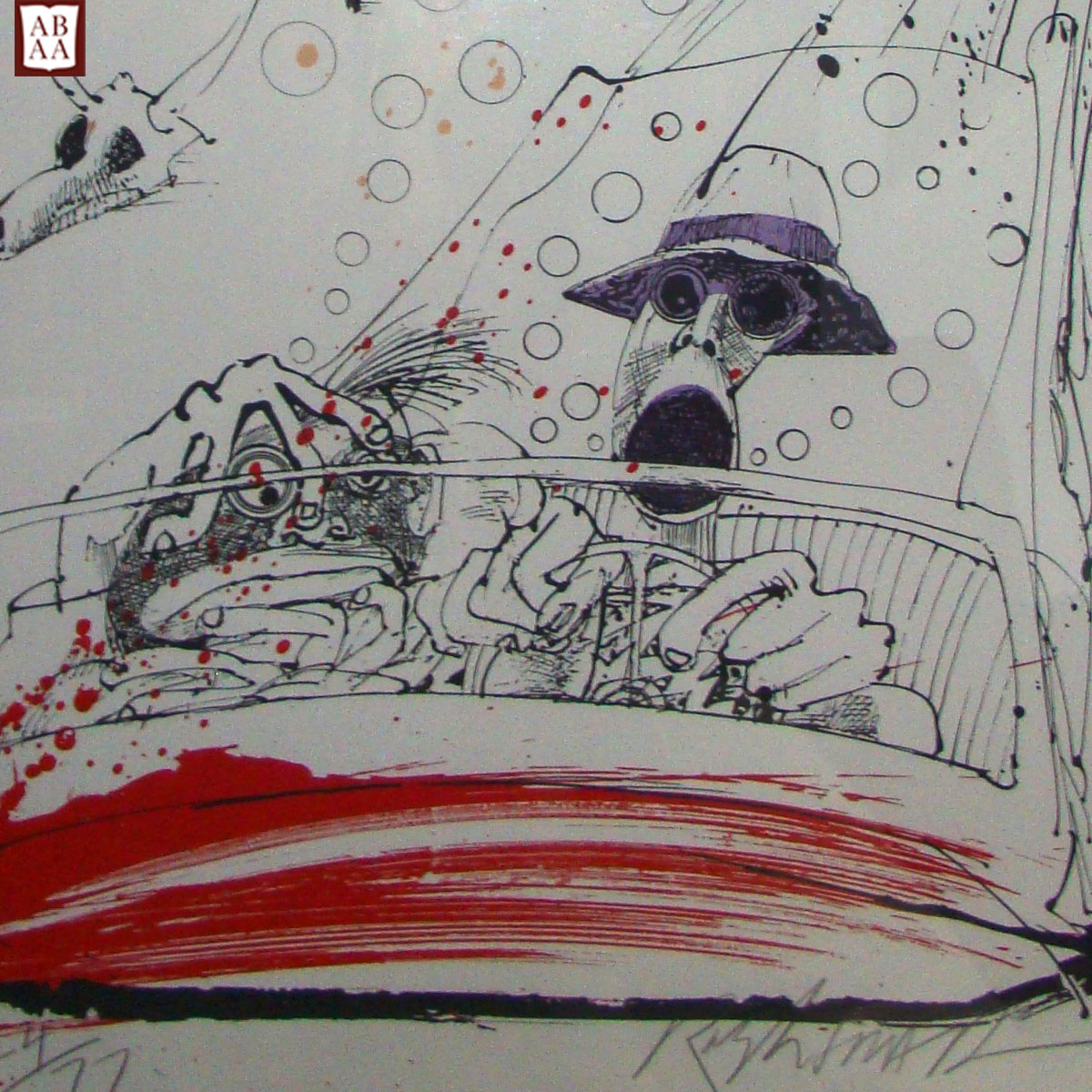 [Lexington, KY]: [Petro III Graphics], [1994]. First Edition. Copy #24 of only 77 SIGNED by Steadman of this large (26" x 40" framed to an overall size of 36" x 50") color silkscreen print, a redrawn version of the illustration for the cover of FEAR AND LOATHING IN LAS VEGAS. The opening sentence of the book is perfectly captured in this image--"We were somewhere around Barstow on the edge of the desert when the drugs began to take hold"--with Steadman's successful surrealistic attempt to disorient the viewer as Thompson did with his prose. An iconic image and extremely scarce in the marketplace. Fine, not examined out of the frame.
Offered by Charles Agvent, booth D23.
(Game - Shadow Theatre) - Dacier, Mauclair. Tableaux Lumineux et Ombres Chinoises.
Exquisite turn-of-the-century French shadow theater, comprised of a chromolithographed box illustrated with a central scene depicting the Revue du 14 Juillet à Paris and two smaller scenes from the 1893 Fêtes Franco-Russes, Dunkerque-Cronstadt and the Réceptions au Palais Catherine, the box containing within: an elaborate wooden framed theater stage with chromolithographed front showing an orchestra and labeled "Ombres Chinoises", meant to be displayed in front of a light source, and outfitted with a double-crank system and two rolls of paper which can be scrolled through using the cranks, the paper depicting twelve comic shadow/silhouette scenes as well as containing swaths of red, green, yellow, and blue paper with black hatchmarks, the theater frame also having a slot into which a frame can be slid behind the "curtain" of the stage; six chromolithographed punched paper scenes, meant to be displayed in front of the scrolling colored paper to mimic the impression of fireworks or light displays; a blank screen for shadow figure plays and scenes; approximately thirty-four cut-out shadow figures mounted on cardstock together with two thin metal rods, including children, wild animals, farm animals, mythological figures, a wizard, and Black caricatures; and three sheets of uncut figures, some with the possibility of articulated limbs, depicting knights, dancers, street criers, hunters, and a butterfly chase, among others. Descriptive label affixed to inside of lid. A few of the pierced paper scenes with some tears, one large tear to scrolled paper shadow scenes, some of the tears have been professionally repaired, and some minor soiling, wear, and rubbing to box, overall very fine condition. Box measures approx. 15-1/2 by 20 inches, pierced paper pictures approx. 14-1/4 by 17-1/4 inches. Paris (Pellerin/Dacier) n.d. (circa 1903).
Although the concept of shadow play and puppetry dates back to antiquity, and is especially prevalent in Chinese, Thai, Cambodian, and Southeast Asian tradition, shadow puppetry came to Europe at the end of the 17th century. French showman François Dominique Séraphin first presented his shadow play in a hôtel particulier in Versailles in 1771, going on to perform in front of royalty at Versailles. In 1784, Séraphin moved to Paris, giving regular shows at the Palais-Royal. His nephew took over the show when he died, and his heirs continued the performances until the theatre closed in 1870. Following on this popularity, around the turn of the century, several French publishers put out portable Chinese shadow "games" meant for personal and home use. Some were even included in the catalogs of the famous department stores, La Samaritaine and Au Bon Marché. Mauclair Dacier was foremost among these producers, distributing beautiful and elaborate shadow play theaters. The six punched paper scenes included in this theater are: Revue Navale en l'Honneur du Couronnement du Roi d'Angleterre; l'Arrivée d'Édouard VII a Paris; Couronnement du Rou d'Angleterre; la Loie Fuller ou la Danse Serpentine; Pont Alexandre III, Exposition 1900; and Fêtes du Centenair de Victor Hugo.
Offered by F.A. Bernett Books, booth A15.
An Extremely Rare and Early Autograph Letter Signed by the Future Empress of Russia Written Shortly after Arriving at the Russian Court, Ordering a Gift for her Future Husband Whom She Would Later Depose
CATHERINE II. (1729-1796). Empress of Russia. ALS. ("Sophie A[uguste] F[rederica] P[rincess] A[nhalt] Z[erbst]"). 1p. Small 4to. Moscow, May 13/3, 1744. To her beloved French governess ELIZABETH "BABET" CARDEL (?-?) in Zerbst. In French with translation.
"Mademoiselle, I do not think I am telling you anything new when I say that I have been in agony. It started with a cold and a high fever, and a few days later it was thought to be smallpox, so they bled me, and Her Majesty [Empress Elizabeth] sent me, as is the custom here, a very lovely diamond cluster pin and earrings to match. Finally, on the fifteenth day, after having great pain on my right side, a lot of matter came out that made the doctors decide I had an abscess. In the five weeks that I counted I was sick, I was bled eleven times. Counselor Muller would not have done it as often and pictured me dying in his hands. Everybody was amazed at my courage. I forgot to tell you up there that His Imperial Highness [Catherine's future husband and Emperor of Russia, Peter III] gave me a beautiful watch encrusted with rubies and diamonds. I am sending you two samples of gold and would like you to have 30 ells made of it at the factory, and of the silver one, the one of gold, dear Papa will be so good to pay for. It is for the Grand Duke [also Peter III]; and the silver one I ask you to pay; I will send you the money. If it were possible, the carrier of this letter could bring them both back, at least the money. You could use the opportunity to get rid of the rings and ask the carrier to bring them to me. Please know for sure that all my life I will be, Mademoiselle, Your very loyal friend and servant…"
German princess Sophia Augusta Frederica of Anhalt-Zerbst was the daughter of Christian August, Prince of Anhalt-Zerbst (1690-1747) and his much younger wife, Johanna Elisabeth of Holstein-Gottorp.
Written on a folded sheet with the integral address leaf intact. Biographical notes in an unidentified hand in the lower margin. Some tears to the integral leaf from the wax seal with remnants of the red seal attached. Gently creased and in fine condition. A very rare and early letter: fewer than a dozen earlier letters are known to have survived.
Offered by Lion Heart Autographs, booth A34.
Rodchenko, Alexander; Varvara Stepanova (Designed by); V. M. Gorfunkel (ed.). Москва реконструируется / Moskva Rekonstruiruetsya (Moscow under Reconstruction). Moscow: Ин-т изобразительной статистики сов. строительства и хозяйства ЦУНХУ госплана СССР, 1938. First edition.
Square folio (13 1/2 x 13 1/2"). Unpaginated. Original blind-stamped blue cloth. Illustrated endpapers.

"Moskva Rekonstruiruetsya (Moscow under Reconstruction) is one of the grandest of the Soviet photobooks designed by Alexander Rodchenko and Varvara Stepanova. Like most Soviet propaganda books, the title is quite literal: it documents the extensive reconstruction of Moscow during the 1930s, when Stalin used his absolute power to transform the city...
The book begins conventionally enough, with the usual portraits of Lenin and Stalin, and some full-page photographs, but it is not long before the graphic pyrotechnics begin. A four-page fold-out panoramic photograph of a new hotel in Manezhnaya Square is followed a few pages later by the first of the 'keyhole' effects ... circular life-up flap in a photograph reveals another beneath. And so begins a whole raft of graphic effects, each piled upon another. There are cutaways, fold-outs, a spectacular map section with a separate photographically illustrated booklet pasted into it. ...
As with many Soviet propaganda books, one might ask whether--amongst all the graphic exuberance, the paintings, drawings, maps and diagrams--the photographs become lost, and therefore whether this is a true photobook. The answer to this complicated question is that in the greatest examples, such as this one, the book's primary message is carried by photographs ..." from The Photobook : A History Volume I / Martin Parr and Gerry Badger. London : Phaidon, 2004.
Spine rubbed and partly frayed along joints. Corners slightly rubbed. Tip of lower corner of front free endpaper chipped. Ex-library stamp, and previous owner's name in ink to moderately foxed and age-toned title page (not affecting lettering). Text in Russian. Binding in overall good-, interior in good to very good condition. g- to vg. Hardcover.
Offered by Eric Chaim Kline, Bookseller, booth B29.
DEZALLIER D'ARGENTVILLE, Antoine-Nichole. VOYAGE PITTORESQUE DE PARIS, OU DESCRIPTION...
Paris: De Bure, 1770. 12mo. Contemporary calf. Colored engraved frontispiece, X, (ii), 483, (5) pages, 7 plates of which 3 folding (a total of 8 plates). Fifth edition.

A popular guide to the art treasures of Paris, for visitors and residents alike. It incorporates "plus dans cette Vile, Peinture, Sculpture & Architecture." Plates are of major sites and monuments in Paris. The volume's author guides the visitor round all twenty of the city's historic quartiers, mentioning every building of importance and listing every major painting on display in the city's churches and public and private art collections. He also names the architects of many of the more recent public buildings and aristocratic town houses. Ink ownership inscription of "C.J. Preston, Paris Sept. 8: 1776," a British visitor of the time. Front end pages show removal of bookplate. Ex-library copy from Glasgow University Library with two small stamps on verso of title leaf and last pages. A bright copy in original mottled calf with gilt spine, repaired.
Offered by The BookPress, booth B8.
Dumas, Alexandre. Les Trois Mousquetaires
Brussels: Lebègue, 1844. First Edition. Hardcover. 5 vols. in 2. 1st edition preceding all others, 1st issue (published by Lebègue in 18mo.). The real 1st edition, 1 of 4 known sets, listed first by Munro (Alexandre Dumas Pere. A Bibliography of Works Published in French), without dispute, and prior to anybody else's 1844 edition, including multiple editions listed by Munro from Meline, Hauman, and Muquardt, as well as Lebègue's reissue in 24mo., and Baudry's 1844 Paris edition (issued last of all the 1844 editions). Contemporary half morocco, marbled boards, a chunk of pages in vol. II bound out of order (easy to reposition) but a complete copy with all 5 half–titles, in very good condition. An amazing unearthing, rare by any criterion. Munro lists a set (not ours), and we know 2 others off a dedicated worldwide search, so that makes 4 recorded, and again, if anyone knows of another real set I'd like to hear about it, but let me continue. No copies of this Lebègue edition at auction in 50 years (the only Brussels editions of Les Trois Mousquetaires recorded as sold at auction were 2 copies, of Meline's Brussels and Leipzig imprint 13 y ears ago, and that issue is the 2nd Meline edition, the 6th overall, and the most common of the 7 Brussels editions in 1844. More surprisingly, OCLC located no (zero) sets of this Lebègue 1st edition in any National or University library, and only single volumes I, II, and V at Sommerpalais, Germany (OCLC does record libraries holding sets of the other Brussels editions).
Offered by Biblioctopus, booth C19.