To mark World Book and Copyright Day, April 23, ABAA booksellers had four "Pop-Up" book fairs around the country, donating the profits to UNESCO. We have reports and pictures from some of the organizers below. (Perhaps they will inspire other booksellers to get involved next year.)
Chicago
Greetings, Booksellers:
I want you to know what happened at the pop-up bookfair the Midwest Chapter organized in Chicago in celebration of World Book and Copyright Day. Read on if interested!
Our hard work and effort paid off, and we raised $800 for UNESCO.
The venue was beautiful, and everyone seemed busy chatting, buying books from each other, and selling to librarians, Caxton Club members, and retail buyers. Parking kind of sucked for customers, but hey, this is Chicago.
Quality fixings for sandwiches from a northwest-side European Deli were provided for dealers and attendees, as well as coffee and fresh baked pastries. Beer and wine was made available for a small donation to UNESCO. The Caxton Club contributed toward the cost of the food.
While we had just over 100 visitors to our event, the quality of attendee was outstanding. Not only were there some new onlookers who may have been exposed to rare books for the first time, I met a number of librarians from Indiana, Wisconsin and the Chicago area that were new to me. Also, local folks that had only browsed my inventory at previous events became customers. Some entirely new book-buyers showed up and made off with some goods (after paying).
ABEbooks.com sent a design representative (Christi Kay) who not only attended the fair, but she took photographs which were uploaded to the ABE blog page. Rob Rulon-Miller, the Hirsch's, and James Borg have inventory featured on the ABE blog, and they posted a group shot of the entire 2016 pop-up crew. (Watch a video from the event...)
In addition to this, Christi visited several bookstores in Chicago the day prior to the pop-up, took photos, spoke to dealers, and will use the images and information to promote the Midwest as a sort of bookbuyers destination. I met with her and I think the message about the importance of the ABAA, especially our Code of Ethics will make it back to Vancouver Island loud and clear. ABEbooks also sponsored the fair by contributing $250 toward the expenses and asked absolutely nothing in return. They sent a fine emissary and I can't imagine any other outcome from ABE's interaction with our event other than good worldwide publicity and a reminder that within the ABAA are many of the USA's finest booksellers.
Leslie Hindman Auctioneers provided the wine and beer, which accounted for about 25% of our donations. They also provided the coffee and soda. We are appreciative of their generosity and participation, and for sending out a notification about the event to their customers.
I suspect that we will hold this event again next year. If you are not in the Midwest Chapter but wish to participate, consider yourself invited. The cost was minimal (about $100 per dealer) to be in a venue in an area with an incredible demographic. I've already made note of ways to improve things for next year. You are welcome to contact me if you want to chat about your idea to hold a pop-up fair in your city.
While this is an ILAB-convened event, our Chapter and our organization was the main beneficiary and the pop-up was great for us. We had a literature table set up, and alongside the Caxton Club, Frank Lloyd Wright Trust, Cliff Dwellers, Poetry Foundation, American Writer's Museum, and others, our organization distributed numerous membership directories. In addition to having the event promoted by each of the above named entities, we received a lot of recognition for organizing the event and it was good for our brand. I expect we will work with these groups again.
What a great way to enjoy your colleagues, sell some books, and do good work. I encourage others to organize pop-ups in their cities, or let us in the City of the Big Shoulders do the heavy lifting and come join the fun. It is good for the ABAA and I think it is good for the antiquarian book trade and the perception others have of us.
Thank you to the proprietors and staff of Columbia Books, Abraham Lincoln Book Shop, Inc., Rulon-Miller Books, Kubik Fine Books Ltd, West Side Book Shop, Powell's Bookstore, Jeff Hirsch Books, Borg Antiquarium, Booklegger's Used Books, and Main Street Fine Books & Manuscripts, Ltd. for their hard work, dedication, companionship, collegiality, and participation and for making this upstart event a modest success.
--Kurt Gippert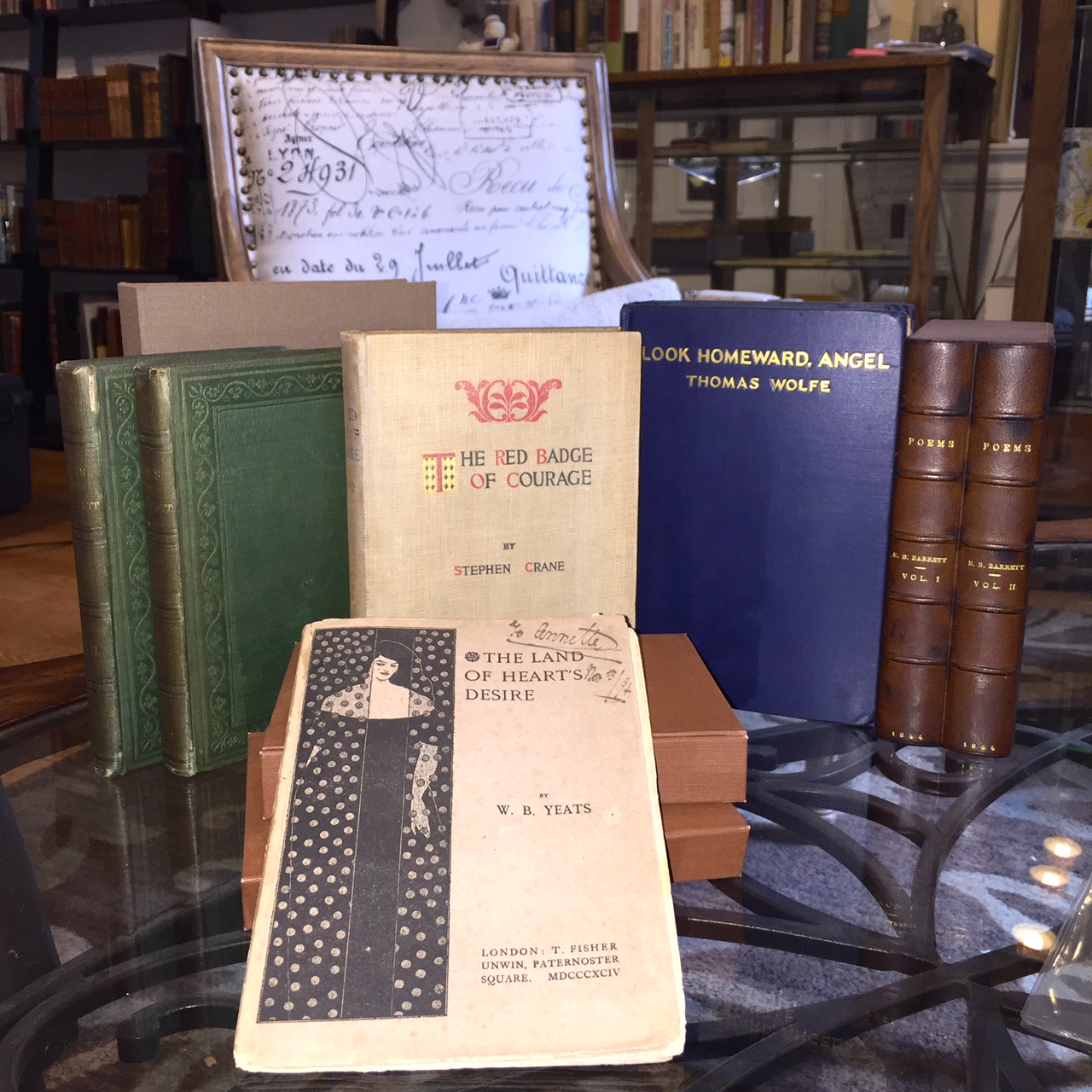 --A picture from the New York Pop-Up Fair.

Portland
Last year, Portland ABAA booksellers held a UNESCO/ILAB Pop Up fair in a downtown Portland pub; this year, we went further afield to the West Linn Public Library, about 20 miles south of Portland, where local members were joined by three local booksellers to put on an afternoon of book browsing and free book appraisals.
The appraisals were the most popular feature with the general public, and also provided interest for the booksellers who volunteered for the task – as can be seen from the photo of Charles Seluzicki and John Henley conferring with the owner of a particularly intriguing association item.
While the foot traffic was not as brisk as we had hoped it was a good opportunity to reach out to people who aren't usually seen at book fairs in the area and to promote the June Rose City Book Fair sponsored by the local Cascades Booksellers Association. Sales were made (with the usual spread of results!) and funds were raised for the UNESCO literacy program in South Sudan.
Those who made it all possible include West Linn Public Library Director Doug Erickson; ABAA members Nat Des Marais, Charles Seluzicki and Elisabeth Burdon; local booksellers Crooked House Books & Paper, Wrigley-Cross Books and Columbia Basin Books; appraiser John Henley; and Tammy Stotik.
Seattle
We only had 14 people stop by our location despite notice in the Seattle Times of our event, and beautiful weather. There are days like that up here. I want to thank Elisabeth and all of her helpers down in Portland, and in Seattle our gratitude and thanks to Chet Ross, John Lang and Taylor Bowie.
Altogether, the ABAA pop-up book fairs raised over $1,400 for UNESCO.