We humans are a superstitious bunch. Some touch wood frequently, others mutter about rabbits on the first day of each month, and apparantly a large number wear particular socks or T-shirts in the pursuit of that most ephemeral of things, luck. Do book collectors have particular rituals or superstitions regarding visits to a rare bookstore or the examination of rare book catalogs? We're sure you do. Let us know your particular good-luck rituals or habits in the comments below... if you care to reveal your secrets.
While you ponder that question, here are the latest rare book catalogs from ABAA members for your temptation and enjoyment.
E-list: 10 Items Pertaining to Time!
New Acquisitions, September 2016 -- featuring 57 items of Americana
Recent Acquisitions -- list only available to mailing list subscribers. Sign up here...
E-list #21: Bookplates & Bookplate Literature
ANDREW CAHAN, BOOKSELLER, LTD.
E-list #34: Photographic Periodicals
E-List: Joe Brainard -- NY School poet and painter Joe Brainard.
List 224 -- Books about Books, Press Books, Literature
Occupations: Art, Squatting, & Contested Spaces -- A short list of 20 items related to the them of Occupation, including material related to ABC No Rio and the Real Estate Show, People's Park, the American Indian Movement, and international squatting movements.
THOMAS A. GOLDWASSER RARE BOOKS
G. GOSEN RARE BOOKS & OLD PAPER
Brooklyn Rare Books & Art Fair Sept. 9-11, 2016
Catalog 70: Book Arts -- Fine printing from the Kelmscott Shakespeare to a selection from Perishable Press; fine bindings including two by Donald Glaister, photography including Cig Harvey's new book, and a selection of non-traditional artist's books including Elizabeth McKee's interpretation of the child's rhyme, "Hey, Diddle Diddle.
Brooklyn Show/ Catalog 3.6: What Makes a River, the Water or Its Banks?
Occasional List 2016-1 -- 51 items published from 1839-1986 on or about photographically illustrated books, the technology and/or chemistry of photography, and a few actual photographs.
E-list #46 is availble to email subscribers only. The receive electronic lists from John Michael Lang Fine Books email jmlbooks@isomedia.com...
DAVID M. LESSER, FINE ANTIQUARIAN BOOKS
LIBER ANTIQUUS, EARLY PRINTED BOOKS & MANUSCRIPTS
Sex, Death & the Devil -- An expansion of an established theme exploring visually stimulating, intellectually engaging, and often challenging items. This selection of material includes rare editions, archival materials, and obscure media illustrating facets of human sexuality, gender diversities, mortality, and contentious belief systems. The catalog is both diverse and thoughtful, exploring a broad spectrum of interests.
J.& J. LUBRANO MUSIC ANTIQUARIANS
List #6: Nexus Press -- 53 items, ranging from exhibition catalogs to artists' books, and a few things in between.
Catalog 265 -- 80th Anniversary Catalog
E-Catalogue 9 -- 21 books, manuscripts, and prints
PRODUCTS FOR THE HOME: Manufacturers' Catalogs 1900s - 1950s
Chemistry ca. 1800 -- Lavoisier to the atomic theory.
R & A PETRILLA, ANTIQUARIAN BOOKSELLERS
PHILADELPHIA RARE BOOKS & MANUSCRIPTS
RICHARD C. RAMER, OLD & RARE BOOKS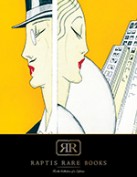 From Darwin to Dalloway -- Includes an extremely rare presentation copy of Darwin's On the Origin of Species, inscribed first editions of the reclusive Thomas Pynchon, and a rare signed portrait of Charles Dickens. Other highlights include a first edition of Pride and Prejudice by Jane Austen, an inscribed first edition of The Fountainhead by Ayn Rand, and a first edition of How to Trade in Stocks by Jesse Livermore in the rare original dust jacket. Within these pages, you will discover not only classics of adult and children's literature, but also landmark books regarding scientific discoveries, politics, economics, sport, and exploration.
Fall 2016 -- Consisting of 29 early (16th-17th-century) continental books.
Catalog 171 -- Featuring signed photographs, illustrations, and documents.
Occasional List 34: Instrumental Materialization
Catalog #199C: Books & Autographs
MARC SELVAGGIO, BOOKS & EPHEMERA
Catalogue 145: E.F. The Fascist Era in Italy, 1914-1945 -- Gathering of books and a variety of pamphlets and ephemeral material... sheet music, posters, flyers... representative of propaganda created and distributed during these three decades.
JOHN WINDLE ANTIQUARIAN BOOKSELLER
Catalog 8 -- Featuring Romanov family material, poetry, DP camp publications, emigre imprints, and more, in various Slavic languages. Also included are several items of/about Russia in German, French, and English.
View last month's rare book catalogs...
--
Remember, you can always browse and download the latest catalogs published by ABAA members on ABAA.org by visiting the following link: https://www.abaa.org/catalog/... (You can also access this page by selecting 'Booksellers' from the top menu, scroll to the bottom of the page to 'Member Catalogs', and click on 'View All'.)