The ABAA's Woodburn Fund provides financial support for scholarly research and education relevant to the antiquarian book trade. This includes annual scholarships to Rare Book School, California Rare Book School, and the Colorado Antiquarian Book Seminar. Ezra Tishman of Aardvark Books/Ezra the Bookfinder attended the Rare Book School on a Woodburn Fund scholarship this year. (We published his rave review of the Rare Book School and the Woodburn Fund in June.) We asked Ezra a few questions about his time at the Rare Book School, and he responded with a glowing review of the whole experience.
ABAA: Why is it important for a bookseller to take part in this kind of "mid-career" training?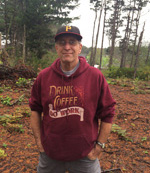 Ezra Tishman: Mid-career booksellers can easily become overwhelmed with the logistics of acquiring, cataloging and selling stock, preparing for fairs, etc. A mid-career training offers the opportunity to "blow out the pipes" so to speak, to view the trade afresh, and to keep the bookseller open to educational avenues either neglected, or those never yet known.
Those outside the trade might assume you acquire all the knowledge you need through your daily experiences dealing with what comes through your door?
ET: Not by a long shot. Developing as a mature and capable bookseller means being ever-willing to be schooled, on multiple fronts — not only by the books and customers who cross my threshold, but by being open to filling-in specific gaps in knowledge, widening and strengthening familiarity with the multiplicity of tools and ideas.
What kind of areas did your Woodburn Fund scholarship enable you to delve deeper into?
ET: This happened in several ways. First, the scholarship allowed me to feel better about leaving my business fallow for a full week, and finally taking the time to become more familiar with bibliographical resources. Secondly, the opportunity to be part of a serious cohort, (ranging from special collections librarians, to booksellers, to serious collectors, to state archivists) all of whom were eager to expand their awareness. I for one had been fairly ignorant about just what happens in a rare books library, and the gathering of dedicated staff, each of whom harbored a slice of encyclopedic knowledge about various disciplines, acquisition, cataloguing, repair, etc.
Finally, the rare opportunity to sit before a world class expert on the science of bibliography, who just happened to be a gifted pedagogue and a humble and generous soul as well, was nothing short of thrilling. Joel Silver is a national treasure and I implore any bookseller who takes her or his craft seriously, to avail yourself of Professor Silver's mastery of bibliographical sources. He seems uninterested in committing this knowledge and its lively presentation to film or other archival media, so my suggestion would be for ABAA to commit funds to make this possible before Professor Silver retires. He teaches a much more detailed bibliography course to Library Science students at Indiana University, and it would be this semester-length course which should be recorded for future generations of booksellers.
Can you illustrate how your awareness of bibliographical resources has changed how you work post-RBS?
ET: Let me just say that my "toolbox" of go-to resources quadrupled, at the very least.
Woodburn Fund Scholarships are awarded annually and are open to full and associate members of the ABAA as well as employees of members. Please contact ABAA Headquarters for more information.
Donations to the Woodburn Fund are tax-deductible and go toward supporting the Fund's mission. Click here to contribute.