Harper Lee has passed away, but her great novel, To Kill a Mockingbird lives on, accompanied by either a second novel, Go Set a Watchman, or as many have speculated, simply the published version of an early draft that would become TKAM with much input from her editors at Lippincott, who upon reading the manuscript in 1957, asked her to rewrite it and set it twenty years in the past. TKAM was finally published in 1960, went on to win the Pulitzer Prize, and sell (to date) over 45 million copies, but whatever Lee had been working on since then remains almost entirely unpublished. She apparently had a couple books in the works in the ensuing decades, but was unhappy with them and they have never come to light. Maybe now they will.
She lived in Monroeville, Alabama, with her older sister, Alice, and kept a low profile, refusing interviews, but by no means practicing the kind of hermetic privacy achieved by J. D. Salinger or Thomas Pynchon. The dozens of signed copies* of To Kill a Mockingbird on the market at any given time attest to her willingness to engage at least at that level, and she is said to have many friends and correspondents. Alice functioned as a kind of watchdog for her, and that the manuscript of Go Set a Watchman was "discovered" only two months after Alice died has caused many to question the motives of the person who claims to have discovered the manuscript and the veracity of her story.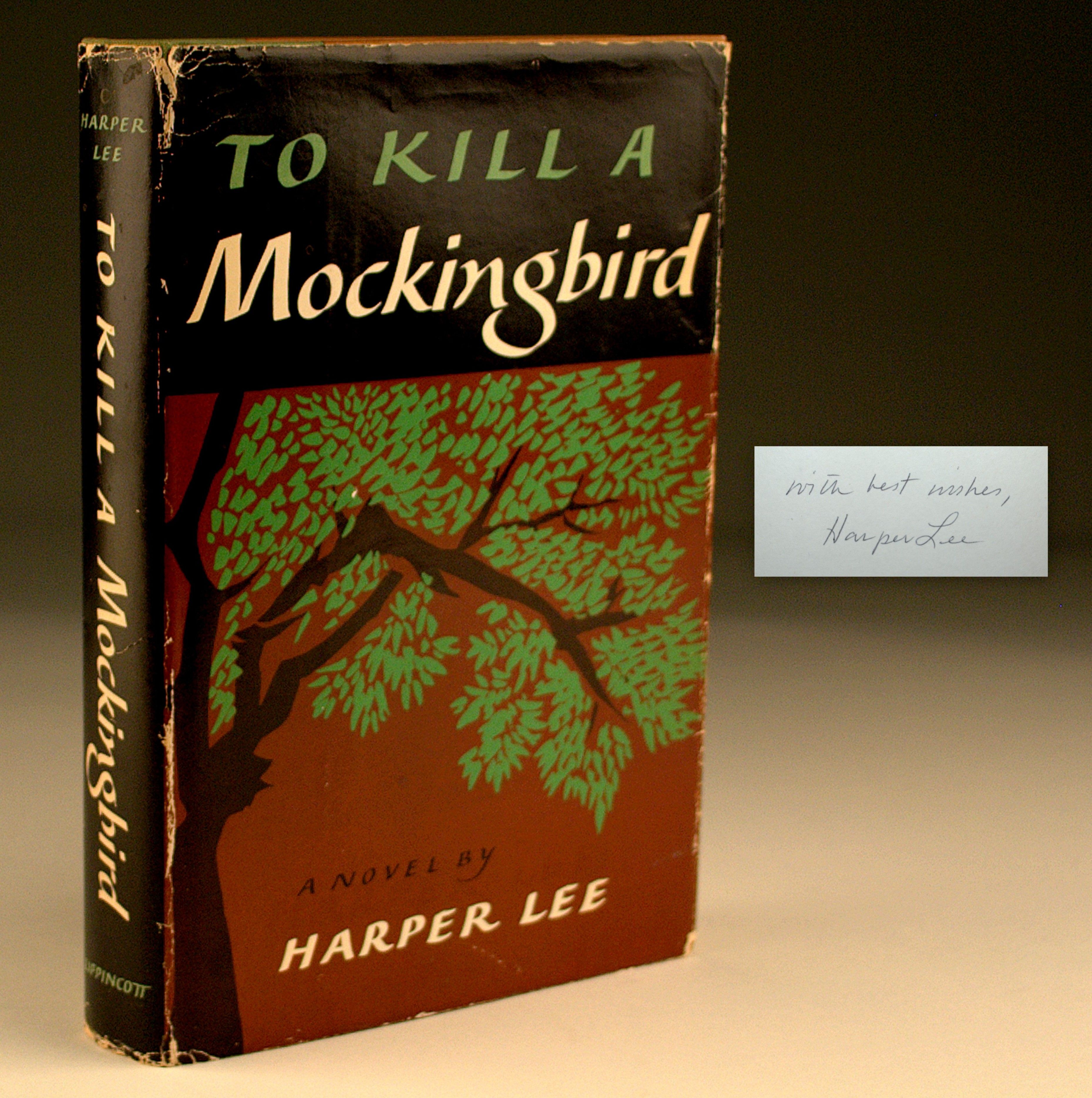 To Kill a Mockingbird (Signed, First Edition)
Philadelphia: J.B. Lippincott Co., 1960. First edition of the author's Pulitzer Prize-winning novel. Octavo, original green cloth backed brown boards, titles to the spine in gilt. Signed by Harper Lee on the front free endpaper. Near fine a very good dust jacket with some rubbing and wear to the extremities. The first edition had an estimated printing of 5,000 copies. To Kill a Mockingbird became an immediate bestseller and won the 1961 Pulitzer Prize for Fiction. The New Yorker declared it "skilled, unpretentious, and totally ingenious". It has gone on to become of the best-loved classics of all time and has been translated into more than forty languages selling more than forty million copies worldwide. Made into the Academy Award-winning film starring Gregory Peck. Named the best novel of the twentieth century by librarians across the country (Library Journal). (Offered by Raptis Rare Books)
Thus, Harper Lee published one novel, perhaps two, and as Tom Congalton wrote in a 2010 article on collecting Harper Lee, ABAA member Patrick Cather published what might be considered her second book: "In 1993, an Alabama bookseller and historian, Patrick Cather, received from Lee permission to reprint in pamphlet form Romance and High Adventure, a brief essay the author wrote about her passion for Alabama history that had previously appeared in an anthology.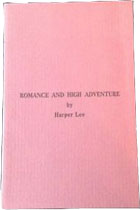 Limited to just a 100 copies, none were offered for sale by agreement with the author, but rather given away by Cather as a free keepsake to interested acquaintances. Of course, being as he is a bookseller, a lot of his interested acquaintances were booksellers as well. So while he reaped nary a penny on the venture (or adventure?), copies of this rare little pamphlet quickly made their way into the trade, and for the most part have been swallowed up by those looking to collect another Harper Lee 'book,' however slight it might seem." (Currently there is a copy for sale at an online auction site for $1500 but we expect it to be gone before the public reads this article.)
Harper Lee did publish other pieces, but they've never been collected or reprinted, and they're incredibly hard to find, mainly because she published in college literary magazines and newspapers in the late 1940s. After college, she moved to New York and worked at a series of clerical and bookstore jobs, but did not publish. Charles J. Shields, in his biography of Lee, Mockingbird, relates that she submitted several short stories to editors but did not get very far with them, and then started working on the book that would become To Kill a Mockingbird. He tantalizingly reports that she had at least 111 pages of another novel called The Long Goodbye. Maybe she quashed that when Raymond Chandler published his book of the same name in 1954!
Lee's publishing begins with the poem "Springtime" in the April 1, 1937 issue of The Monroe Journal, the town newspaper run by her father (she was 11). Although she and Truman Capote grew up together and shared their juvenile writings with each other, she showed her work to only a few other people, and after Truman moved away, she wrote almost in secret.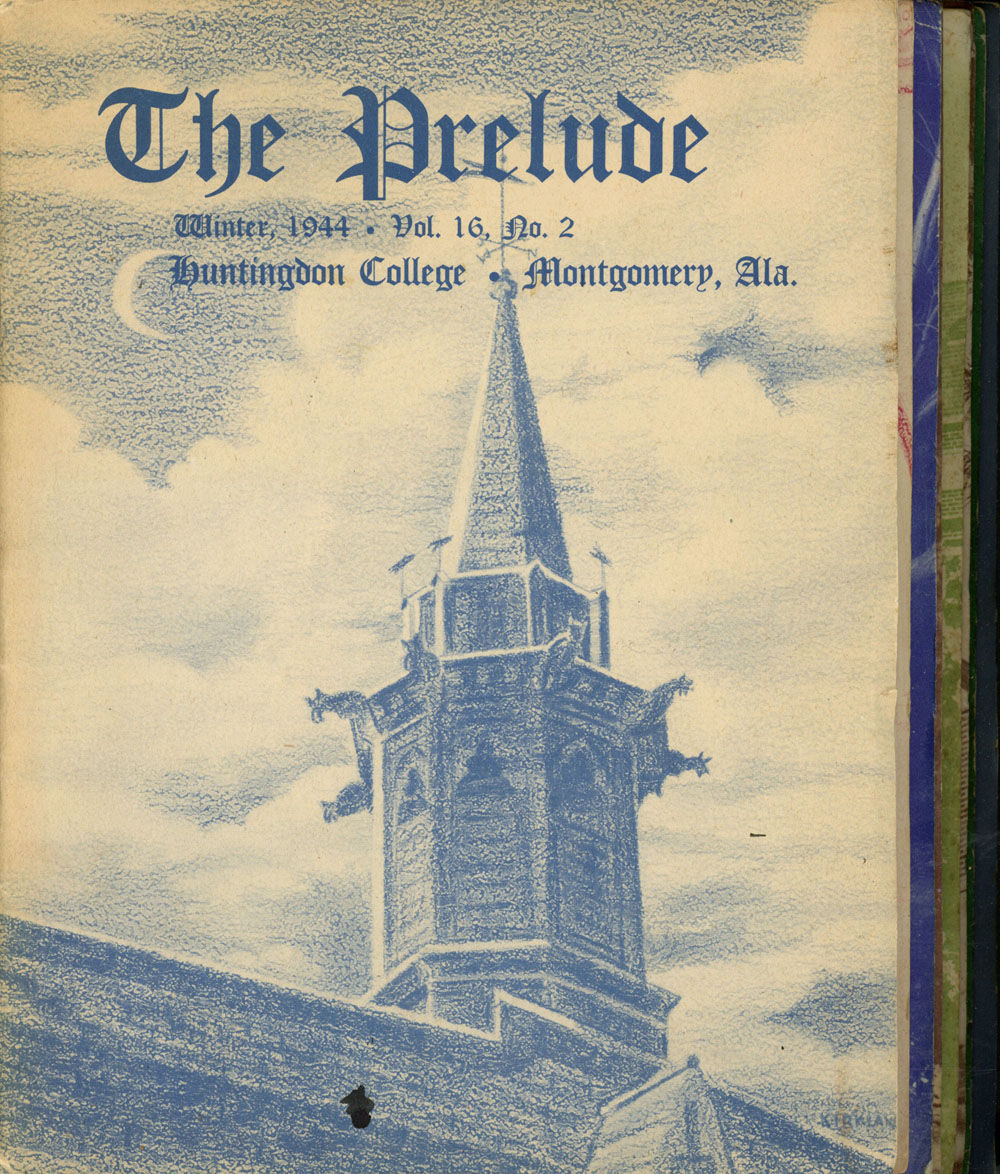 9 issues of The Prelude, the literary magazine published at Huntingdon College, Montgomery, AL during Harper Lee's era, 1940-1944
Montgomery, AL: Hungtingdon College, 1944. Paperback. Very Good. 9 issues of this literary magazine. 4to, wraps, ca. 20 pp each, good to very good. We have Fall, 1940, Spring 1941, Fall 1941, Spring 1942, Fall 1942, Winter 1943, Fall 1943, Spring 1944, Winter 1944. Harper Lee started her freshman year there in Fall, 1944, and while she was intrigued by the magazine, she did not become part of the staff or publish until the Spring, 1945 issue (when she published her first two short stories). (Offered by Caliban Book Shop)
It wasn't until 1945, when she was a freshman at Huntingdon College in Montgomery, that she published two short stories in the Spring, 1945 issue of Prelude, the school literary journal. Collectors also might look for the 1945 Huntingdon College yearbook, called Bells and Pomegranates. I haven't seen one, but the 1944 edition has pictures of every girl in every class, so there should be one of Harper as a freshman (under the name she used then, Nelle) in the 1945 issue. Looking through pictures in the 1944 yearbook offers a glimpse into a genteel, demure, fashion-conscious and casually racist world. Lee, who was known to smoke a pipe, swear, and disdain all the makeup, elaborate hairdos and fancy clothing of her classmates, never quite fit in.
Unhappy with Huntingdon College's sorority-based life and also wanting to study law, Lee transferred to the University of Alabama in 1945 and by the late fall was doing editorial work and writing a few pieces for Rammer-Jammer, the university's humor magazine.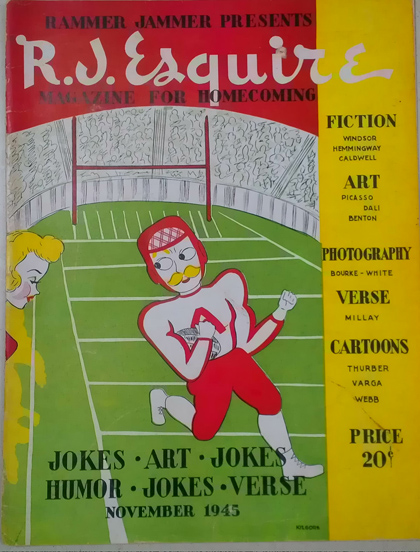 Her first piece for Rammer-Jammer appeared in the November, 1945 issue. "Some Writers of Our Times," is a semi-serious look at what it takes to become a serious writer. It opens with a vicious jab at a barely disguised Truman Capote, as the author is approached by a "blond young gentleman" who asks, "May I thit here?" and commences to whine in a lisp about shabby treatment at the hands of his editor.
"'Honey, I'm thuck. My novel ith about a thenthitive boy from the time he'th twelve until he ith a gwown man. MISTHER Kimbrough thez I've justh got to cut it thum, but all of it ith tho poignant I justh can't bwing mythelf to change a WORD of it.'"
After giving some tongue-in-cheek advice about the upbringing of a serious writer (useful to have an abusive father and alcoholic mother), she goes on the ruminate on regionalism in a way that prefigures what she accomplishes in To Kill a Mockingbird:
"An author's environment is important to his training in the gentle art of self-expression. The general trend today is small towns, preferably Southern Villages. There must be the annual race riot full of blood & gore which causes violent reactions in his sensitive (I use that word because all writers are supposed to be sensitive) soul. A whole chapter of his book must be devoted to pondering over the vigorous religion of the holy-rollers ensconced in a tent just outside of town. And he certainly must not omit his reflections upon the way justice is so casually administered by the crooked Judge in the broken down courthouse."
Could it be that Harper Lee was already conceiving the outline of To Kill a Mockingbird while she was a sophomore in college?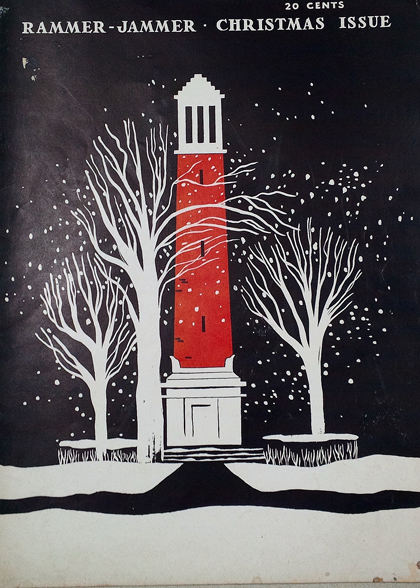 On the basis of this piece, Lee soon found a place doing editorial work and contributing to issues of Rammer-Jammer and the Crimson White, the campus newspaper. Other issues of Rammer-Jammer feature a parody of Romeo and Juliet and a short piece for the Christmas 1945 issue on Santa Claus that plays on the use of "fairies." Her work for the Crimson White included a regular column that was mainly humorous but did not shy away from the politics of race. The newspaper editors were liberal and decidedly anti-Klan.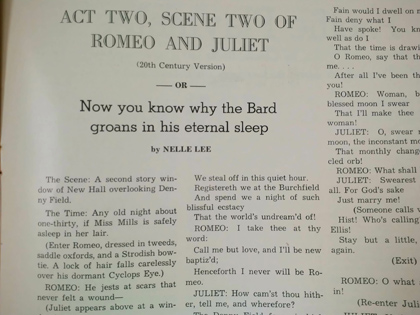 By the fall of 1946, Lee had become the chief editor of Rammer-Jammer, but had to resign by 1947 because completing her demanding load of classwork took all her time. She left the University of Alabama in 1949 – without a degree. The 1947 class yearbook – The Corolla -- features half a dozen pictures of Harper Lee in her various capacities including as a "campus personality." Mention of Lee can be found in the 1946 and 1948 Corollas as well.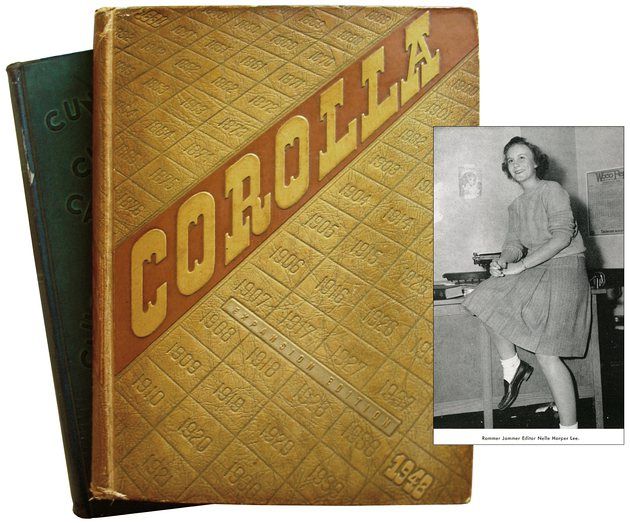 Tuscaloosa: University of Alabama. 1947-1948. Two volumes of the yearbook of the University of Alabama, where Harper Lee studied law between 1945 and 1949. The 1947 Corolla shows Lee as editor of the humor magazine Rammer Jammer; sitting on the Board of Publications; voted one of the "campus personalities"; pictured as a student of law; and as a member of Chi Omega and of Triangle, an honor society of seniors who guide freshmen. In all, at least a half dozen pictures of Lee. Wear to the edges, rubbing to the joints; near fine. (Offered by Ken Lopez - Bookseller)
After that, there is only To Kill a Mockingbird -- and one short article in the December 1961 issue of McCall's Magazine, "Christmas Means to Me" -- until Go Set a Watchman. Maybe there will be a time in the future when the manuscripts to The Long Goodbye and the other books that she worked on but never finished will finally become available to the public. But until then, those enthusiasts who have read To Kill a Mockingbird a dozen times and have also got their fill of Watchman will have to content themselves with her incunabulee – short works, mainly in the humorous vein, that appeared in college magazines and newspapers, and mentions of her in print, sometimes accompanied by photos, in her school yearbooks. Collecting her early appearances requires diligence and patience, but now that you know what to look for, you might even find a bargain!

Search for items by Harper Lee...
*Always be wary of signed copies of To Kill a Mockingbird unless they are offered by a reputable dealer or come with impeccable provenance (and don't trust "certificates of authenticity"). Her signature is easy to imitate and we've seen a plethora of "signed" copies appearing lately in online auctions, thanks in part to the hype accompanying the publication of Go Set a Watchman.
---
---