One of the more remarkable comeback stories of the 21st century has been the rebirth of the vinyl record. Once the most-common form for sales of popular music, the vinyl record was consigned to the dustbin of history by the late 1980s thanks to the rapid adoption of new formats (first 8-tracks, then cassettes, and finally CDs), along with the accompanying miniaturization of the playback machines themselves. As consumers, the mass market embraced smaller, more-portable formats, and vinyl records and the necessary cumbersome equipment to play them were judged obsolete.
However, the emerging digital technology that made our smart phones and streaming services possible were based on compromises in sound quality that many aficionados could not accept, so vinyl records never truly went away, even as decades passed without most chart-topping music recordings being made available on vinyl. Speciality vinyl stores endured! Collectors and die-hard fans ensured that interest remained passionate, and have enjoyed building up their own record libraries as people without record players dispose of their parents often vast album collections.
In recent years, micro-presses have been established all over the world, and for many bands, vinyl versions of their albums have become premium products, produced in limited editions and often selling out swiftly. Major retailers are again stocking vinyl albums, and records can be purchased at most malls in the US. Picture discs, colored vinyl, and other novelty vinyl discs have returned and record player sales are surging.
(Vinyl Record): Kellogg's Presents Superman - Volume 1-4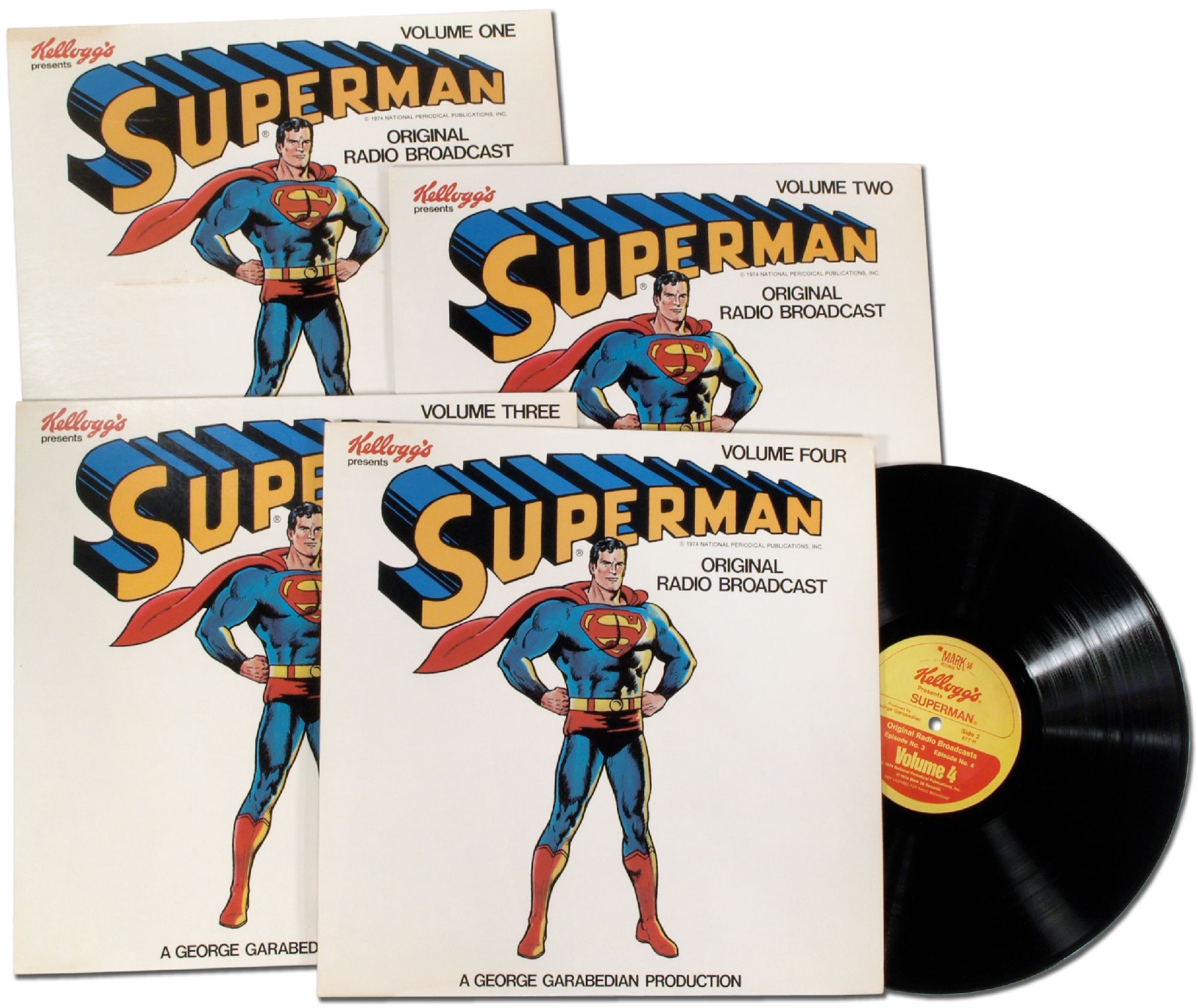 Anaheim, California: Mark56 Records, 1974. Unbound. Near Fine. First edition. Original 33 1/3 rpm vinyl albums with original mailing carton. Overall near fine with very minor wear at the corner; volume one has a horizontal indentation (and not cuts) from where the mailer was opened. A collection of early radio programs from the 1940s with an introduction from radio historian Jim Harmon.
Offered by Between the Covers Rare Books.
While vinyl records are not a core part of most ABAA-members' business, many members do carry some, and a few have an impressive selection. Generally speaking, book collectors tend to be interested in the more-literary vinyl. Recordings of poets reading their poems were extremely popular in the mid-20th century. A large number of early recordings of folk songs, musical theater, and vaudeville acts are likely to still be unavailable digitally. Radio stations used to broadcast feature documentaries and radio plays, and occasionally released these as vinyl albums. Religious leaders and politicians recorded sermons and speeches and many of these were released on vinyl. Even self-help books were packaged as motivational talks and available for purchase on vinyl. And of course, there has always been an interested market for vinyl albums autographed by the singer or musician in question!
Ernest Hemingway Reading: The Nobel Prize Acceptance Speech, Second Poem to Mary, In Harry's Bar in Venice, The Fifth Column, Work in Progress, Saturday Night at the Whorehouse in Billings, Montana (Vinyl LP Record)
by Ernest Hemingway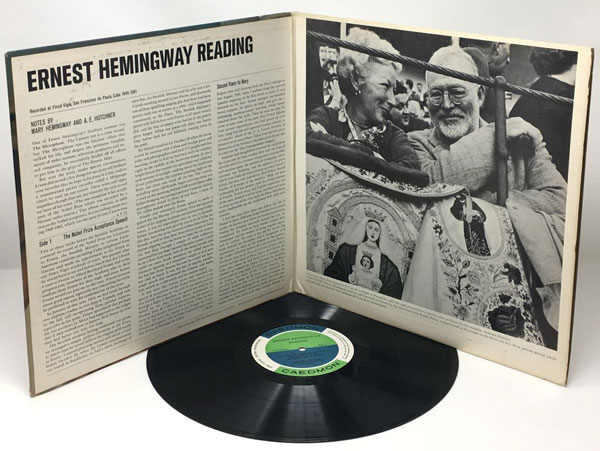 New York: Caedmon Records, Inc., 1965. Record. Very Good. TC 1185. Vinyl LP record in gatefold sleeve. LP is very good with only faint scratches; sleeve has minor yellowing, scuffs and corner wear. Sleeve includes notes on each of the tracks. Recorded at Finca Vigia, San Francisco de Paula, Cuba, from 1948 to 1961. The recordings vary in quality, but offer a unique window into Hemingway's cadence and emotion as a writer.
Offered by Bay Leaf Books.
Here is a selection of the vinyl records currently listed by our members that showcase the diverse categories and subject matter immortalized by this unexpectedly resurgent format. Vinyl records are a great (and unexpected) gift idea for somebody who has read all their favorite author or poet's books, or for one who devours biographies and might love to own a recording of their hero's speeches -- or even a signed album!
Gerald McBoing-Boing (45 RPM Record)
by Dr. Seuss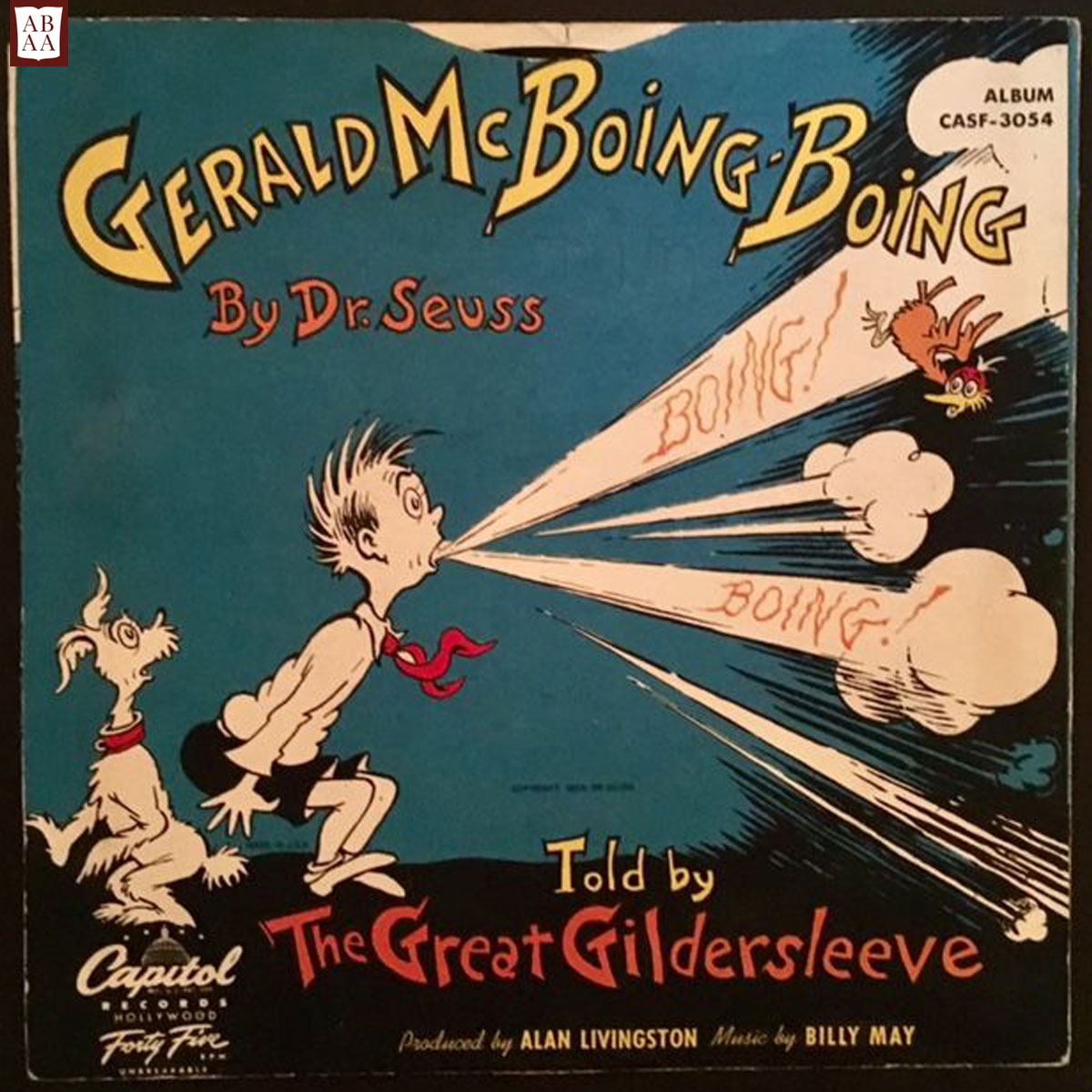 Hollywood: Capitol Records, 1950. Vinyl. Near Fine. Dr. Seuss. Told by the Great Gildersleeve. 45 rpm record of this rare Dr. Seuss item, featuring a fabulous color pictorial sleeve done by Seuss (based on the UPS movie and preceding the book --which was published in 1952). Both the record and sleeve are crisp and clean and Near Fine. Produced by Alan Livingston, music by Billy May. Quite scarce.
Offered by Appledore Books.
Through the Looking Glass, The Lewis Carroll Classic Complete on 4 LP Records - Boxed Set Read and sung by Cyril Ritchard, Original Musical Score by Alec Wilder played by the New York Woodwind Quintet
by Lewis Carroll; Cyril Ritchard (Performer); John Tenniel (Illustrator); Alec Wilder (Composer)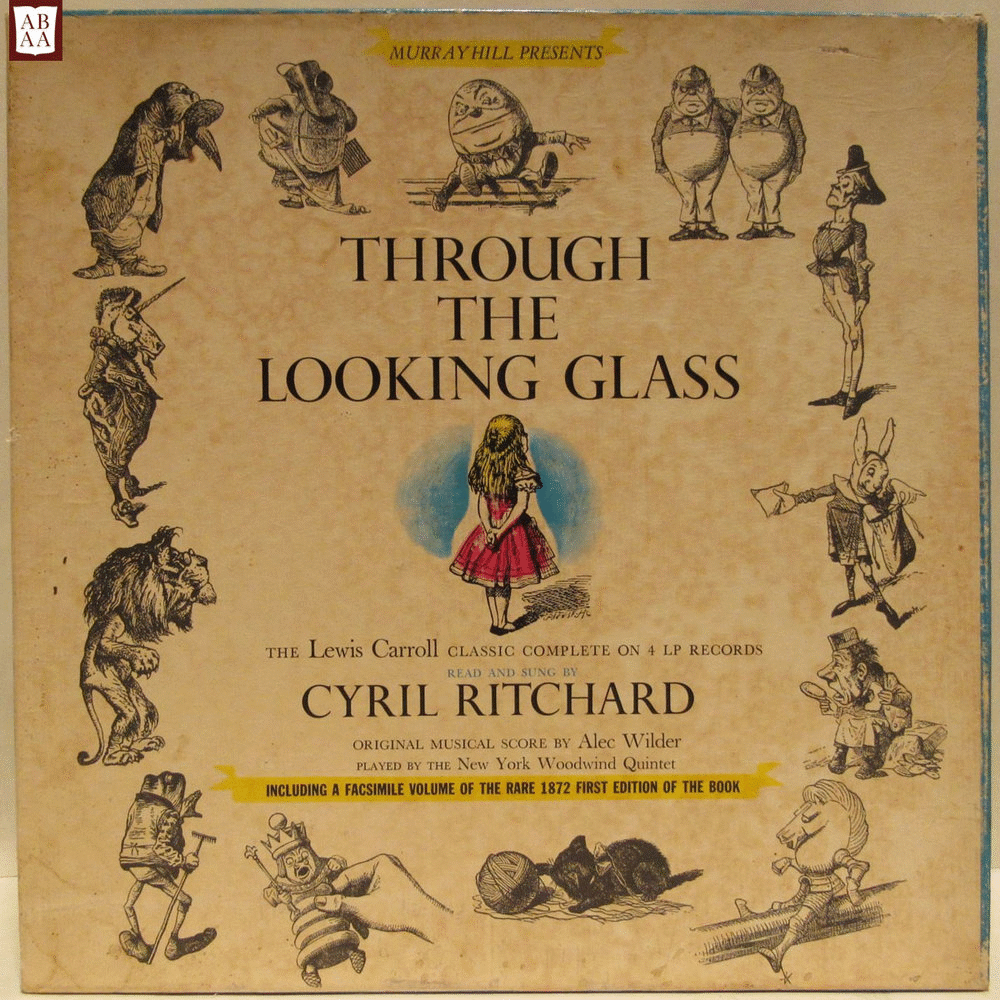 New York: Murray Hill. Very Good. 1964. Boxed set includes: four 33 1/3 rpm records & facsimile edition of the rare 1872 first edition of the book: Through the Looking-Glass, and What Alice Found There by Lewis Carroll; with fifty illustrations by John Tenniel. Participants: Read and sung by Cyril Ritchard; played by the New York Woodwind Quintet./ Recorded in New York City, July 1964. Foxing to cover otherwise a nice clean set without previous owners' names or other markings.
Offered by William Chrisant & Sons Old Florida Book Shop.
When Pea-Pickers Get Together: Tennessee Ernie Ford Sings the Green Giant's (and Everybody's) Favorite Folk Songs (Jolly Green Giant, Vinyl Record)
by GREEN GIANT CO.; TENNESSEE ERNIE FORD

[Jolly Green Giant, Vinyl Record] Green Giant Co.; Tennessee Ernie Ford. When Pea-Pickers Get Together: Tennessee Ernie Ford sings the Green Giant's (and everybody's) favorite folk songs. Le Sueur, MN: Green Giant Co., 1963. Vinyl 7-inch record, 33 1/3 rpm, in the original full-color sleeve and original mailer. The sleeve is very good with only faints signs of wear; the mailer has light edge and corner wear, uneven yellowing, and an old tape repair on the back; and the record is very good with only faint scratches and excellent sound. Side A opens with a spoken-word story that leads into Ford's renditions of "Down in the Valley," and a medley of "The More We Get Together/Dear Evalina/Keep on the Sunny Side of Life/How Many Biscuits Can We Eat/For He's a Jolly Green Giant." The B side features the story "How the Jolly Green Giant Found His Song (and almost lost his Ho! Ho! Ho!), and the song Good Things from the Garden" (the Green Giant song as heard on television. "Valley of the Jolly – Ho Ho Ho – Green Giant." A classic promotion.
Offered by Bay Leaf Books.
Lenny Bruce "I Am Not a Nut, Elect Me!" (Vinyl LP)
by Lenny Bruce, Liner Notes by Ralph Gleason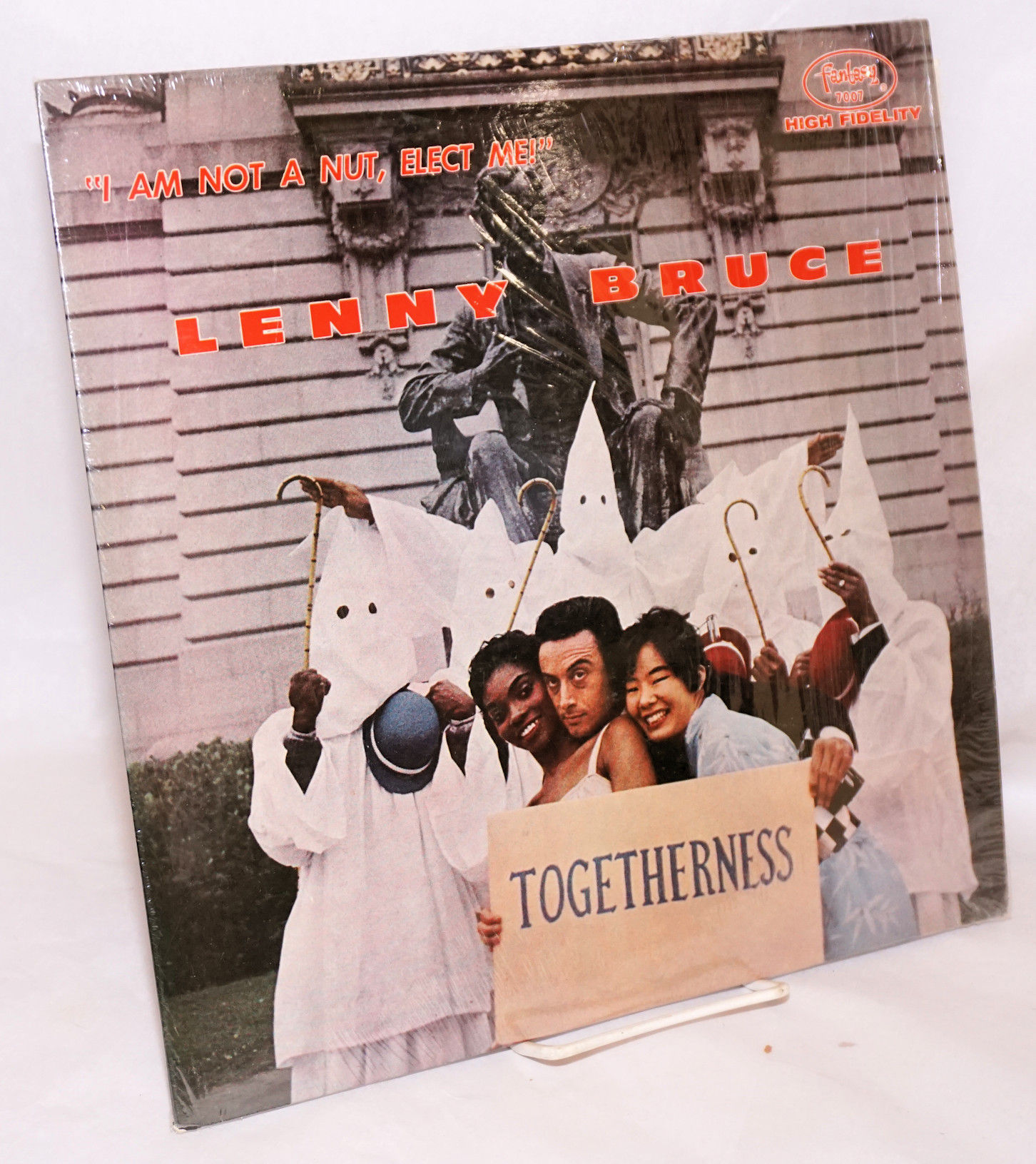 Philadelphia: Fantasy, 1960. Audio LP. Vinyl 33-1/3rd LP very good in toned inner sleeve (white) and original album cover with plastic still encasing but open.
Offered by Bolerium Books.
For the All American Boy and Girl: The Declaration of Independence, Narrated by Ronald Reagan, Governor of California (Vinyl Record)
by Ronald Reagan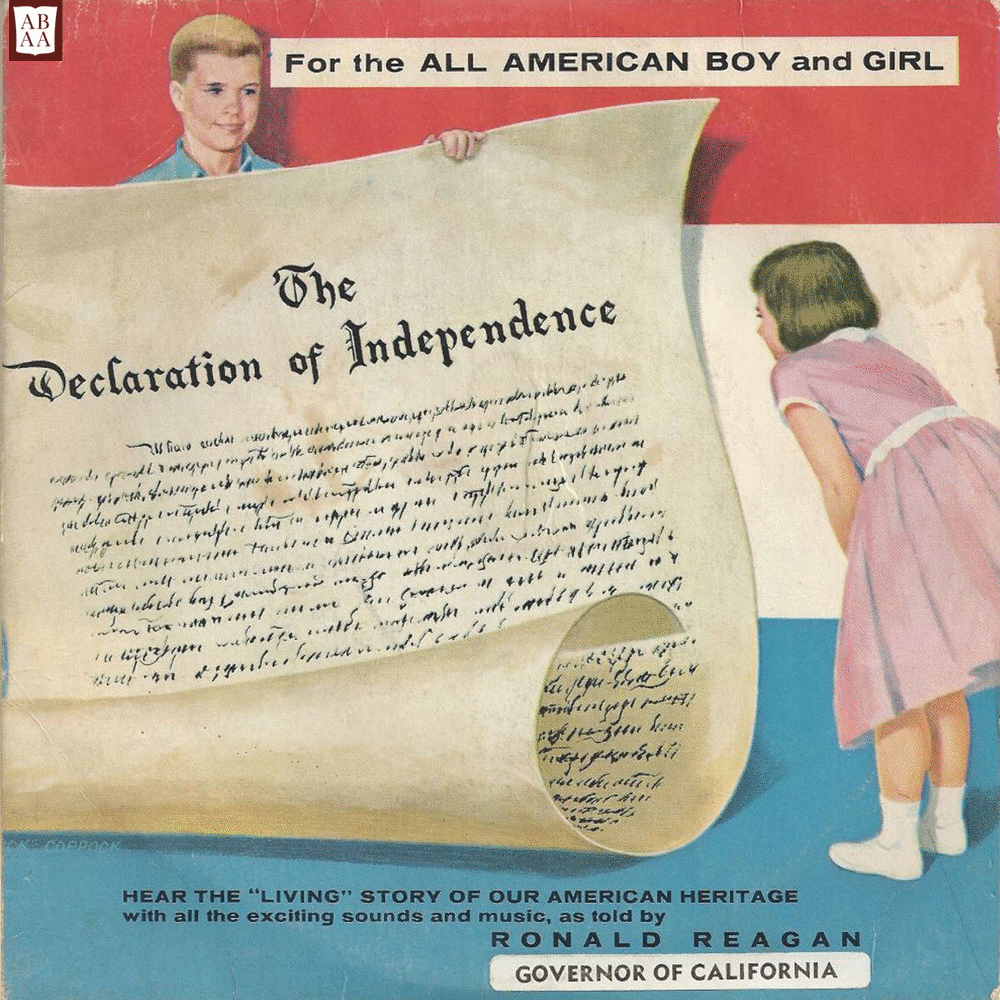 Los Angeles: The Wagner Company. Record. Very Good. Not dated (sometime between 1967 and 1975, but probably early in his first term as Governor of California). Vinyl 7-inch record, 33 1/3 rpm, in card sleeve. Record is very good with light scratches, good audio. Sleeve has light rubbing, corner wear and creases, with yellowed stains her and there. The Governor of California label under Reagan's name is intact. A short history of the founding of America, the Declaration of Independence, and America's first flag, narrated by Ronald Reagan. Part of Wagner's Living American Stories series, publishers of fascinating, three-dimensional pop-up books.
Offered by Bay Leaf Books.
The Caedmon Treasury of Modern Poets Reading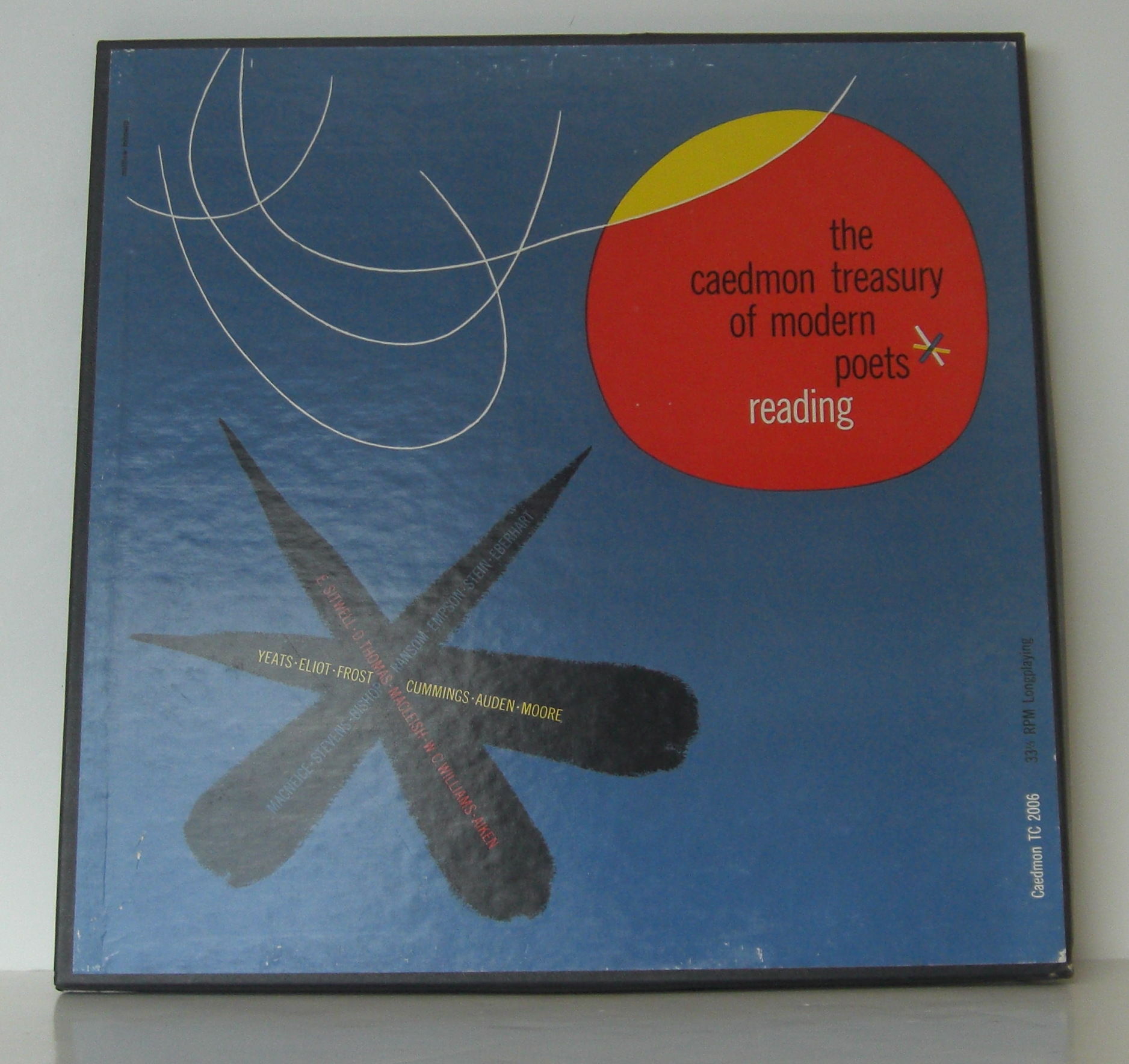 Caedmon Two 33 1/3 twelve inch long playing records in original illustrated gatefold cardboard LP box. A beautiful copy, rare in this condition. A first edition collection of the major poets of the 20th century, reading their own poetry, captured in the highest quality vinyl. Includes T S Eliot reading The Wasteland in it's entirety, which takes up one whole side of one album. Two albums in total, in fine condition. Housed in a very good case.. 1st Edition. Hardcover. Near Fine/No Jacket.
Offered by Bookbid.
Brendan Behan Sings Irish Folksongs and Ballads (LP Record)
New Rochelle, NY: Spoken Arts, Inc, 1962. Near Fine. A clean, Near Fine to Fine 33 1/3 record in a bright, VG+ example of the pictorial sleeve, with light foxing to the covers. Spoken Arts #760, c. 1962.
Offered by Appledore Books.
Tobacco and Lung Cancer / Peace 'First Principles'
by Dr. Robert J. Beveridge & A. Theodore Tuttle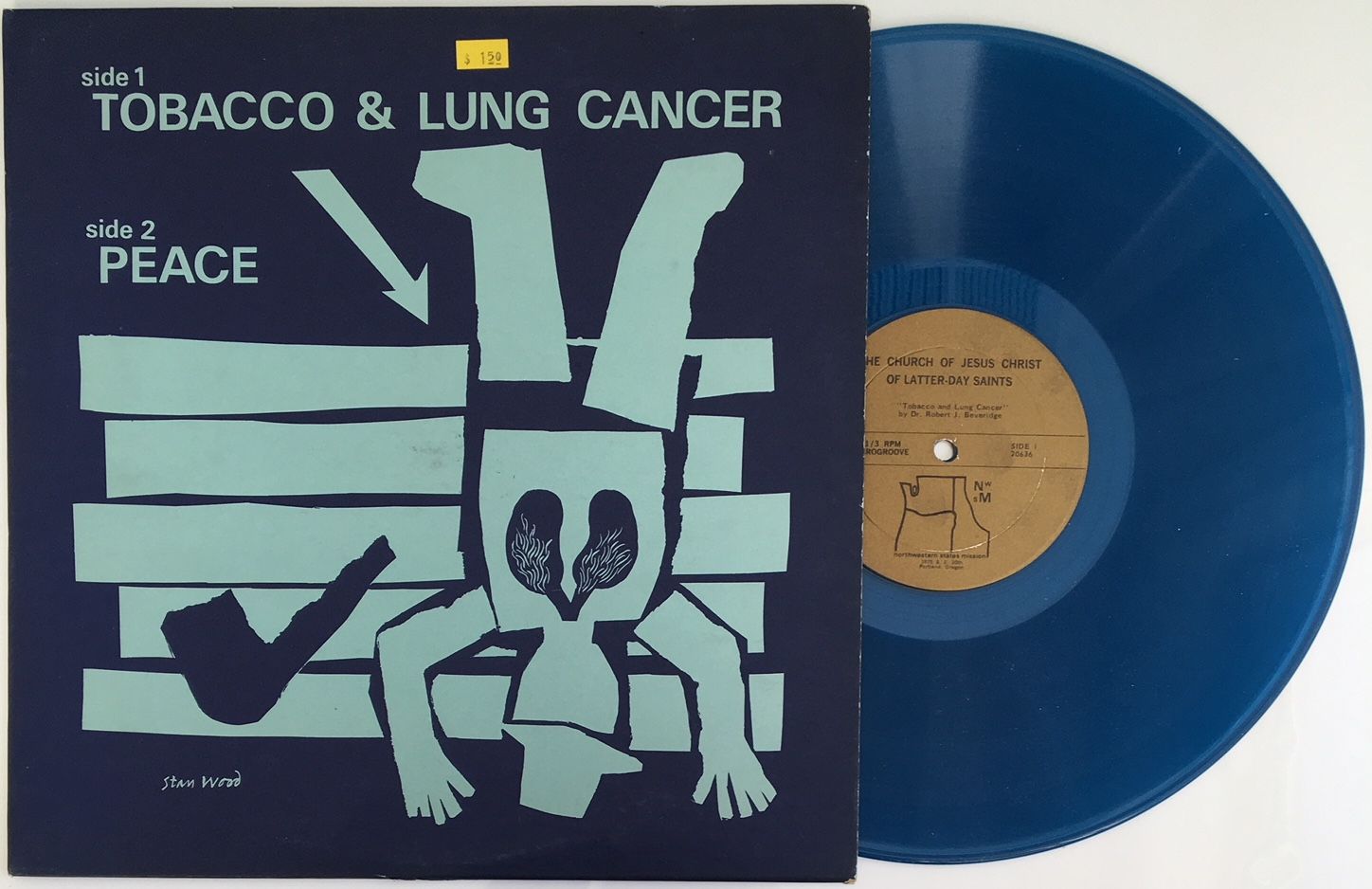 Portland, OR: Northwestern States Mission, 1975. 33 1/3 Long-playing record [30 cm] Very good. Recording of two talks, distributed the Northwestern States Mission of the LDS Church, and pressed on blue vinyl by Century Custom Recording Service of Portland. Cover art by Stan Wood.
Offered by Tschanz Rare Books.
Wants and Beliefs: Volume One 1 Part I and The Time of Judgement: Volume 2 Parts I and II (Three LP Records)
by Elijah Muhammad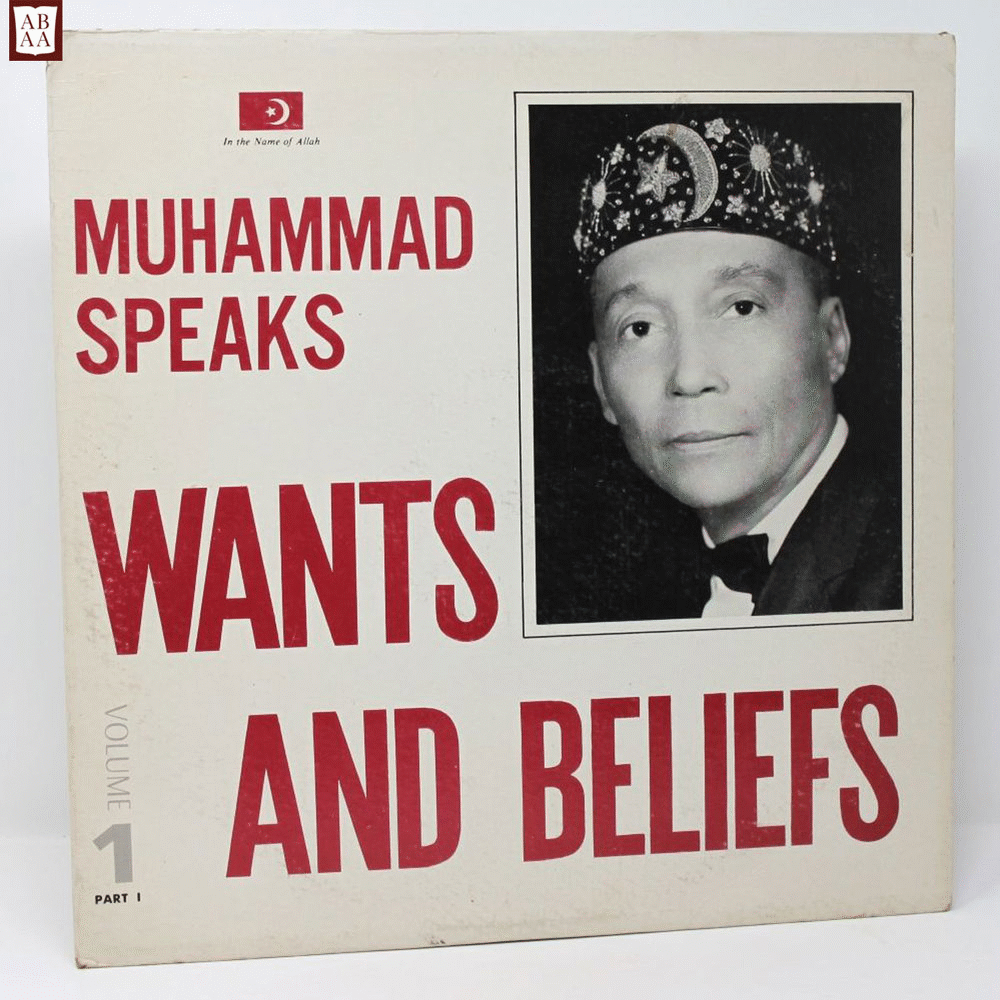 Chicago: Muhammad's Masque of Islam No. 2, nd (circa 1960). Record. Fair/very good. Three vinyl LP records in original sleeves. All three sleeves have light rubbing and corner wear, with a few light spots and scuff marks; the sleeve of Vol. 2 Part II has a 10 cm split along the top edge. The records all have scratches and scuff marks, so there are plenty of crackles and pops, but there were no skips on my player. Teachings of the Hon. Elijah Muhammad (1897-1975), leader of the Nation of Islam from 1934 until his death, and oversaw the growth of the organization to as many as 50,000 members and 130 masques. From the sleeves: Mr. Mohammedas you will learn from this recordis telling you the same thing here in this album that has been written. Mr. Mohammeds entire base of teachings and work, as God, in the Person of Master Fard Muhammed, to Whom praises are due forever, has given to him, is for separation of the so-called Negroes with a complete reform of what we were taught by our slave masters. He wants a place for his people that they can call their own (some of this earth). He seeks no violence to accomplish this aim. He believes that it is so clear and so true that neither friend nor foe should question him about his preachings of a reformation of the so-called Negroes (the lost-found members of the Ab-original people earth). These records were not only intended to help spread the word of the Nation of Islam, they were also a fund-raising tool for building a much needed educational canter for blackmen in Chacago. These audio recordings are now quite scarce. Few libraries hold copies, and most that do hold cassette copies, not the original vinyl.
Offered by Bay Leaf Books.
Truman Capote READING HIS "A CHRISTMAS MEMORY"
New York: United Artists Records, 1959. Vinyl record. 1 vols. In original pictorial folding sleeve with printed text on inside. Vinyl record. 1 vols. Inscribed to Katharine Graham. Inscribed on the front cover of the sleeve, the publisher of the Washington Post, Katharine Graham: "For Kay, with love from Truman, who wishes you a good Christmas in Dec. 1965". A year later, November of 1966, Capote hosted the legendary bal masqué, "Black & White Ball", in honor of his friend, Katharine Graham.
Offered by James Cummins Bookseller.
Vinyl record: Free Speech Movement Presents Sounds of the Demonstration!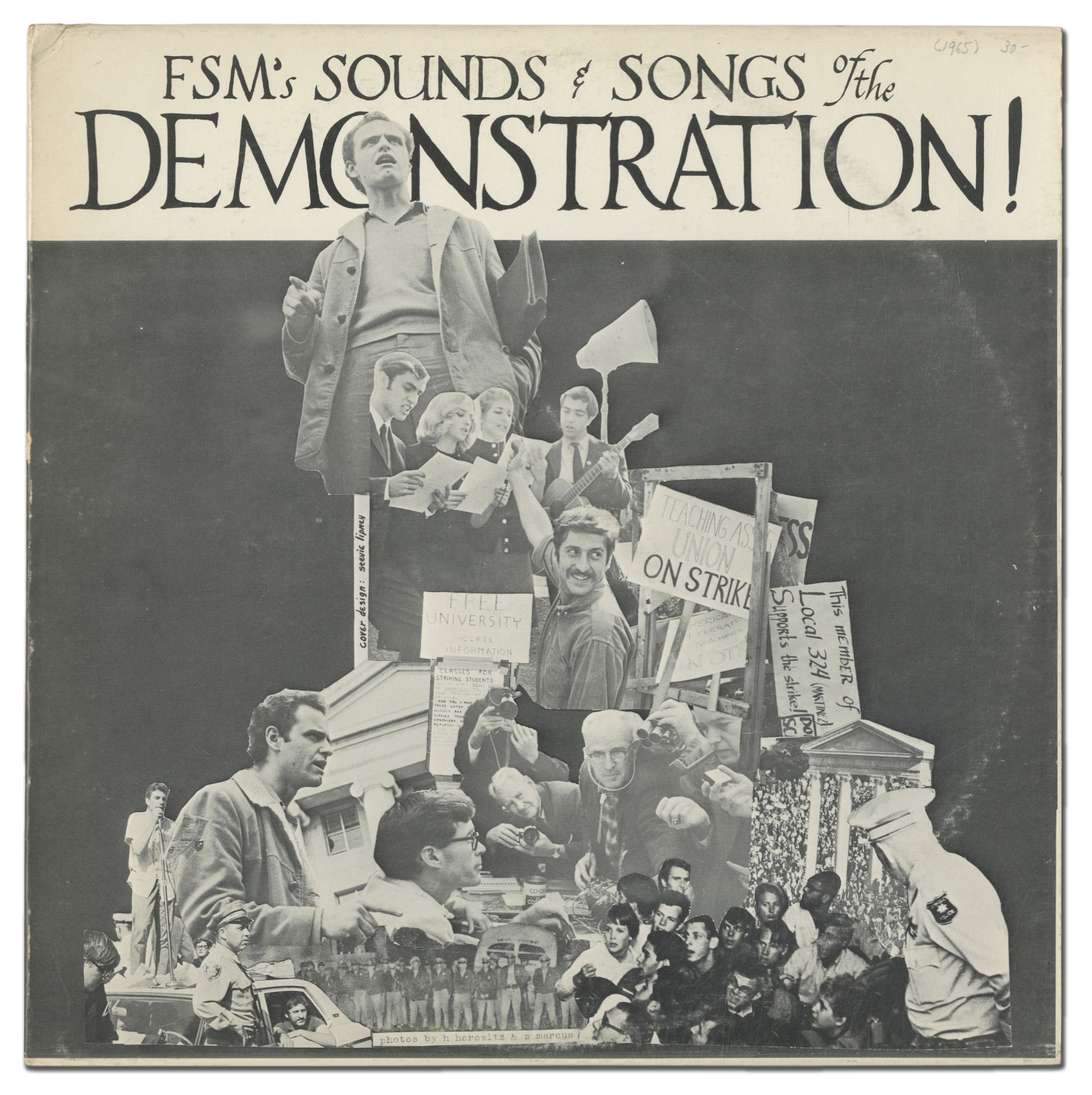 by (MANDEL, DAVE, DAN PAIK, DAVE GENESEN, LEE FELSENSTEIN, RICHARD KAMPF, RICHARD SCHMORLEITZ, AND KEVIN LANGDON)
Berkeley, California: FSM Records, 1965. Unbound. Near Fine. Original 33 1/3 rpm vinyl album. The outer pictorial sleeve lightly rubbed and small stamp on the rear cover, near fine. A recording of the sounds of the Fall 1964 free speech movement protests at The University of California, Berkeley with additional music by students inspired by the events. Performers include Dave Mandel, Dan Paik, Dave Genesen, Lee Felsenstein, Richard Kampf, Richard Schmorleitz, and Kevin Langdon. An eight-page booklet with song lyrics is laid in. *OCLC* locates nine copies.
Offered by Between the Covers Rare Books.