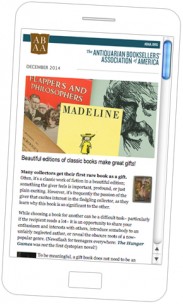 ABAA Newsletter
All the news from the rare book world delivered to your inbox!

Our monthly ABAA newsletters provide:

up-to-date info on antiquarian book fairs

the latest news about rare books and book collecting

articles on topics and books of seasonal interest

advice on caring for your rare book collection

details of special collections exhibitions

news about dealer activities

the latest rare book catalogs and list announcements

and much more...

Discover for yourself why ABAA booksellers maintain the highest standards in the rare book trade.
ABAA Newsletter Archive
December 2014 - Rare books as gifts; Collecting Madeline first editions
January 2015 - Books of Downton Abbey; CA Book Fair
February 2015 - WWI Valentines; Signed books vs. inscribed books
March 2015 - How to identify a first edition; New catalogs
April 2015 - The books every book collector should read!
May 2015 - Finding Books for Mad Men, Armed Services Editions, and Association copies.
June 2015 - The Hobbit fetches a world-record price, RIP James Salter, & the history of vellum & parchment.
July 2015 - Marginalia, fine press poetry, and the Rare Book School.
July 2015 - What else is in Harper Lee's archive?
August 2015 - Storing rare books safely & the rare book news.
September 2015 - First states, collecting Nabokov's Lolita, and living in the gutter.
October 2015 - Of goblins, skeletons, and rare books that keep you up all night...
November 2015 - Boston Book Fair, lost map of Middle Earth discovered, Andy Warhol as Book Artst, & much more.
December 2015 - Giving rare books as gifts.
Holiday Greetings 2015 -- Happy Holidays!
March 2016 -- New York Antiquarian Books Fair.
April 2016 -- Let us do the rare book searching for you!
May 2016 -- Rare Book News: An opera about feuding book collectors, and rare booksellers featured on the CBS news...
June 2016 -- Thomas Wolfe & Maxwell Perkins
July 2016 -- Collecting Frank O'Hara, Vegetarian Literature, and Dr. Seuss...