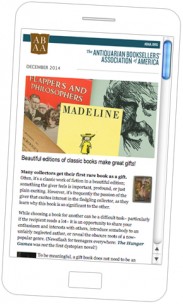 ABAA Newsletter
All the news from the rare book world delivered to your inbox!

Our monthly ABAA newsletters provide:

up-to-date info on antiquarian book fairs

the latest news about rare books and book collecting

articles on topics and books of seasonal interest

advice on caring for your rare book collection

details of special collections and exhibitions

news about dealer activities

the latest rare-book catalogs and list announcements

and much more...

Discover for yourself why ABAA booksellers maintain the highest standards in the rare book trade.