"The Grolier Club Collects II" is an exhibition of books, manuscripts and works on paper drawn from the international membership of the Grolier Club, on show at The Grolier Club in New York City from December 9 through February 6, 2016. Terry Belanger, Founding Director of the Rare Books School, gave this poetic address at the opening of the exhibition, on which occasion he was also invested as the Poet Laureate of The Grolier Club. (Note: For each item Belanger cites, the lender's name can be found to the left, including quite a few ABAA members.)
Proem

Collecting isn't shopping. Discipline

Is key: lack it and you're flying blind.

What subjects are you interested in?

Whatever they are, they need to be defined,

The titles rare, perhaps one of a kind,

Or printed skillfully, with illustrations,

Or nicely bound in calf, and gilt, or signed:

For what's the point of sprawling aggregations

Of books that could be picked up cheap by one's relations?

1

Rare books can cost the earth – unless they don't:

Taste, not cash, is crucial for cohesion.

Want it? A modest checkbook balance won't

Rule out an acquisition you believe in.

Must-have books are never out of season;

You're not required to be a millionaire.

Collecting's rationalization over reason:

Purchasing what you think's passing fair

Resulting in a book to treasure and to share.

2

Jean Grolier was a royal tax inspector,

Treasurer-General to the King of France,

Celebrated as a book collector:

A man of means, well-suited to enhance

His lib'ry through his stature in finance.

He was the sort of man who freely lends

His books to those in need, a circumstance

That made him mark his bindings to these ends:

Their covers say: "I'm owned by Grolier and his friends."

3

Skip 350 years: then a committee,

Made up of eight men led by Robert Hoe

Agrees to form a club in New York City

Named for Grolier, in order to bestow

The finest book collecting name they know

On their new social club. Its purpose? To

Advocate the love of books and show,

In times when well-constructed books were few,

An interest in fine book design, both old and new.

4

At first in rented rooms, in '84,

Then in a clubhouse custom-built they'd meet,

Their common bookish interests to explore:

To show and tell (and brag) and drink and eat

At 47 East Sixtieth Street.

Then women joined (new equity injecting)

Expanding assets on the balance sheet:

Librarians, scholars, dealers all connecting,

United by a love of books, and by collecting.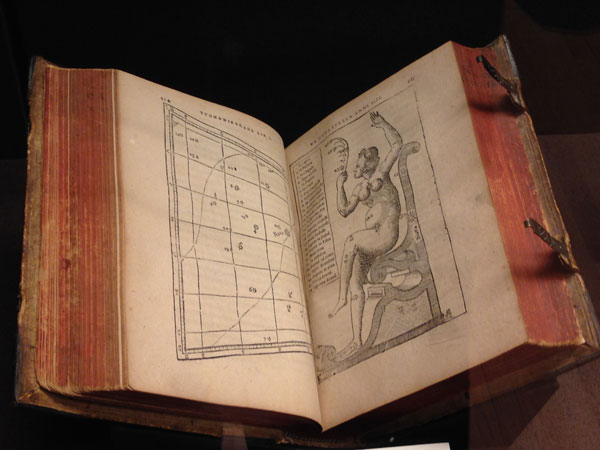 Tycho Brahe. Astronomiae instauratae progymnasmata … Et praeterea de admiranda nova stella anno 1572 exorta luculenter agit. Uraniborg & Prague, 1603.
Zachs

Pirages

Gross

Fearrington

Hoy

Shirley Rendell

Wendell

Adkins

5

The present exhibition has within

Potterings by Rowling (with a K),

A leaf on vellum Barney didn't win,

Tycho staring at the Milky Way,

Colored prints of shells (no ashtrays they),

The Passing of King Arthur (Julia's glory),

Fragments from Madame de Sévigné,

Lonely Lincoln letters (there's a story),

An alphabet for Gretchen, made by Edward Gorey.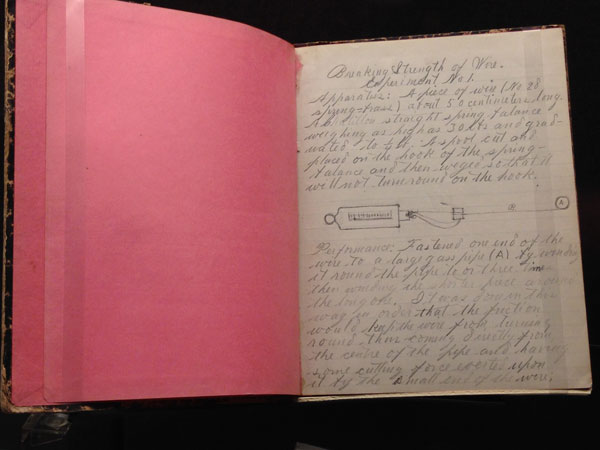 Robert Frost. High school senior year Physics notebook. Lawrence, MA, 1892. Unpublished.
Kenneth Rendell

Bury

Browne

Brynteson

Brandt

Kuhn

Bowles

Dannay

Heritage

6

Westward ho! with Washington: high noon,

A #30 London bus blown down,

Amerindians living on the moon,

Dawn's DJ, signed, disowned: a triple crown!

A Small description of Portmeirion town,

Lights of Canada and leading Boers,

Salmon fishing, best there is (hands down),

Hunter's lawyer's Gladly's cross-eyed roars,

Grumbach adds to Roger Straus' yearly chores.

Ramer

Lowenherz

Combs; de Hamel

Farren

Dunlap

Felcone

Treleaven

Chevalier

Butler

7

Southey writes a history of Brazil,

Frost as physicist (it is to laugh),

Jesus walks on water, writes a will,

A tintype crescent moon (folk photograph),

Johnson Mason Jr's holograph.

Perth Amboy prints the first New Jersey law,

Emma of Hawaii's autograph,

The evolution of an aye-aye's paw,

A Russian legal code that Catherine oversaw.

Loper

Loker; Bryson

Vander Meulen

Gitlin

Kelly

Tichenor

Rubin

Gordan

Morrison

8

A book for Henry IX (that forlorn hope),

Hieroglyphic bibles, books in parts,

Books on pretty children (think of Pope),

A book from Yale that had its fits and starts,

A book from Zapf, that dean of graphic arts.

A showing of Great Primer, nicely kerned,

Botswana paper made from elephant farts,

A book for which time in the stocks was earned,

A book for which the luckless Servetus was burned.

Raybould; Fletcher

Speeckaert

Hutner

Mode

Wynn

Raymo

9

Early books from Antwerp and from Paris,

In Grolier bindings (or maybe by Hagué),

Staghunt missed by Cantón (who knows where is),

Maps on which the sun don't set, they say,

A Harvard student's Birds of Oyster Bay.

Shattered Plath (not the girl she once was):

So many books and bindings on display

We'd like to own ourselves, but can't, because

Our money runs out long before our month does.

Rosin

Goren

Windle

Coquillette

Deutsch

10

A sailor's handmade Valentine to Annie,

A book I couldn't read that caught my eye,

My first book in a cover knit by Nanny,

A book my father was too poor to buy --

But did; a book that made Beraldi cry.

As Grolier members' contributions grew

(And as these summaries imply),

The framers of this exhibition knew,

A sentimental library was going to be on view.

Interlude

Assigned to write an introduction to this book,

I've worked my way through many a rhymeless night.

Arthur! Eric!! the Muse hath me forsook;

Spenserian stanzas are a bitch to write!

I should have gone for prose, not poesy.

No Edmund Spenser – no Lord Byron – me.

12

But, speaking of Byron: on Bad Poetry days

He ditched Master Spenser and constructed his lays

In anapest meter, each line with a twin:

"The Assyrian came down like the wolf on the fold,

And his cohorts were gleaming in purple and gold"

– And so on, in verses made faster (believe me)

Than A B A B B and C B C C.

With a clickity click, and a yakkity yaktyl

My metrical scheme do-si-do's into dactyl.

Abandoning Spenser, my worries laid low

I return to a list of the books in the show:

Duhl

Klimon

Anne Young; Leab

Davis; Crawford

Gatch

Pistner

Dwyer

Jay

13

Decameron-like stories that stop on Day Seven,

Thayer's migration from Protestant Heaven.

Anti-war labels and blacklisting snarls,

Dickens on dinners (both Catherine and Charles).

A Methodist preacher tarred in Minnesota,

Lines printed with blocks and placed in a pagoda.

Cloth bindings with dots that parade up and down,

A man without fingers from Nuremberg town.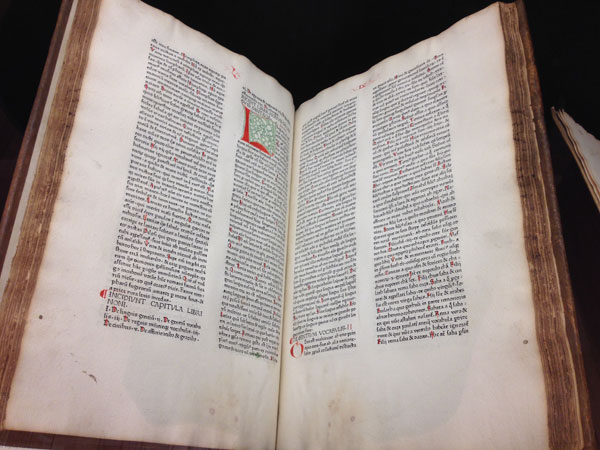 Isidore de Seville [Isidorus Hispalensis] (560-636), Etymologiae. Strasbourg: [Johannes Mentelin], [1472].
Szmuk-Tanenbaum

Chamonal

Tanselle

Bidwell

Schimmel

Flamm

Kopley

Matthew Young;

Howard

14

Szilvia's Friction with titles grotesque,

An American atlas once owned by Peiresc.

The Garden of Cyrus (introduction by Carter),

Polyglot drafts of the UN's first charter.

Feminine treks through the Cumberland Gap,

Eight Isidore woodcuts (including the map).

Hawthorne discovers a source close at home,

Andrew finds horn books and Ned writes a pome.

Hurley

Ruben

Dailey

Cartin

Rose

Reese

Daniel Albert; Schwartz

15

A Gorski book reader hangs on Cheryl's wall,

Ruben's's wild boy remains silent to all.

The City of Angels: a citrus fair's hope,

Joachim's prescription for mending the pope.

Woman-manned fortresses (feminist pleas),

Melville at Customs (no cannibal he's),

Micrographed lice – or could they be fleas?

DiLaura

Dance

Heneghan

Edwards

Tane

McElveen

Scher

Tomasko

16

Isaac on optics in Latin makes hay,

Souvenir photographs shot at Pompeii.

A sketch at the Black Cat (a Beat-era bar),

A translator tampers with Gibbon's Memoires.

A postcard from Sandburg, hot off the plane,

Lewis and Clark's continental campaign.

A medal of Louis Fourteen as a child,

A Grangerized scrapbook, where Jenny Lind's

filed.

De Simone

Koppelman; Mourek

Gray

Harrison

Herman; Clemons

Stoneman

Fern Cohen

Schwarz

17

A book on Ferrara with watermark plates,

Sketchbooks and essays by Yeats and by Yeats.

American Monuments imaged by Lee,

A library turns mollusk-like at TCD.

Darwin reads Gaskell, Scott's red letters roam,

Lefty gives Princeton a copy of OME.

A Curious Herbal springs hubby from jail,

Examples of George I's impenetrable mail.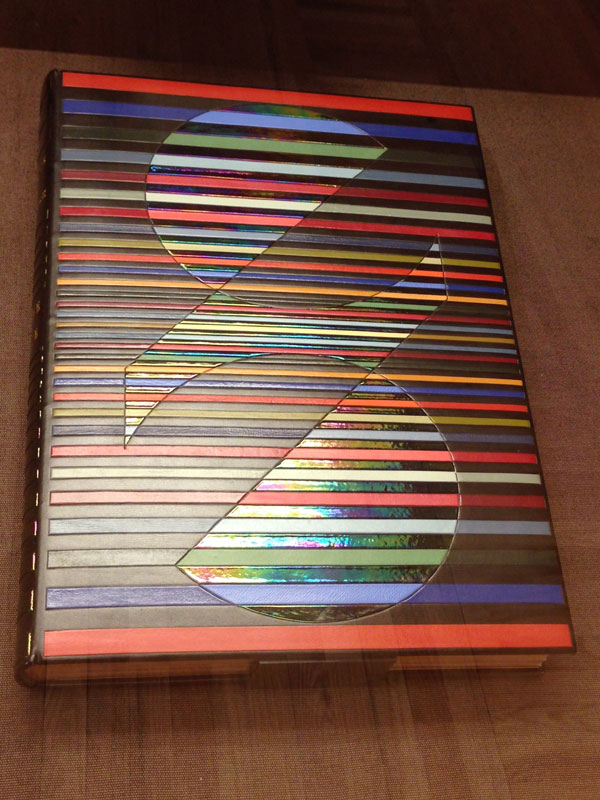 Designer binding by Pierre-Lucien Martin (1974). Maurice de Vlaminck (1876-1958). Haute folie: Lithographies originales en couleurs de l'auteur. Paris: Scripta & Pieta, 1964.
Riggs

Yellowlees

Pattison

Nadell

Pfaehler

Natalie Blaney

Havens

Ong

18

Repton on landscape (a gardener's delight),

The Ranchos de Taos, hand-plastered in light.

George slays his dragon (per Salvador Dali),

Erasmus attempts to save Christians from folly.

Amsterdam's Stadt Huis, a building renowned,

Modernist poets, especially Pound.

Bronzes of Gutenberg (more than a touch of him),

Sprinklings of Dibdin (but not very much of him).

Iselin

Redden

Zinman

Whitridge

Meredith; Korey

John Blaney; Kligfield

Berger/Cloonan

Schreiber

19

Cruikshank by George (brother Bob takes a hit),

Violet Maxse, a lady with It.

Federalist essays (a thick paper copy),

Arnoldian bust of my great great grand-poppy.

FDR's Friendship, Miss Currer at home,

Bombs over Dresden, heart failure in Rome.

Japanese paper with intro by Sid,

American comics Fred read as a kid.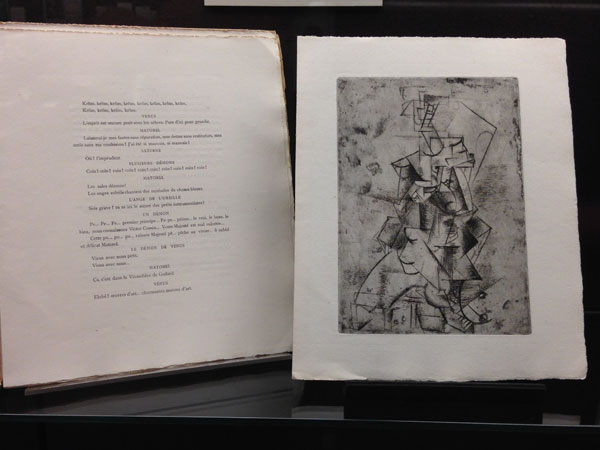 Pablo Picasso; Max Jacob (poems). Saint Matorel. Paris: Henry Kahnweiler, 1911. Edition of 106. With four Cubist etchings.
Schiller

Neale Albert

Strauss

Sypher

Vroom; Stephenson;

Baione

Storey

Kraus

Wilson

20

Justin buys Oz books, at least from age ten,

Kirkpatrick, commissioned, starts binding again.

Picasso goes cubic, saintly and strong,

It's Hotten not Moxon (John Quinn got it wrong).

Books giving orders, with Petrarch and Haeckel,

Stencils by Campbell, more Hydish than Jekyll.

Two Indian miniatures, now welcomed back,

Ricketts goes Egypt in red, green, and black.

Periconi; Oresman

Hersh Cohen; Neubauer

Thompson

Ingalls

Owen; Rose; Hill

Lindseth

21

Silkscreens by Barker, screenprints by Shahn,

Civic Insomnia, James Joyce added on.

A binding by Martin (as good as Bonet),

The nourishing page as a secret buffet.

Ashendene, doves, rampant lions, birds and bulls,

Fables in Hebrew for reading in shuls.

Dactyl and anapest: poets' delight:

TRA la la, DUM de dum, into the night....

L'envoi

Grolier Collects II thus aims to air

Two requirements needed for a book:

Th' creator and the reader: they're a pair –

Plus one – a trio: never overlook

The one who found the object and who took

An owner's interest in it, with ambition

First to hold and then to have. Go look!

For now (concluding prolix exposition)

This preface sends you off to see the exhibition.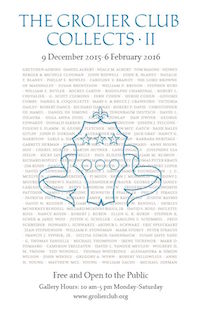 Exhibition: "The Grolier Club Collects II"
December 9, 2015-February 6, 2016.
Location: The Grolier Club, 
47 East 60th Street, 
New York, NY 10022
"Behind every great collection lies a great story. That was the premise of the first Grolier Club Collects show in 2002/2003, and a dozen years later it remains the central idea of The Grolier Club Collects II, a gathering of books, manuscripts and works on paper drawn from the international membership of the Grolier Club. Reflecting the breadth and quality of those members' varied collecting interests, the exhibition encompasses medieval manuscripts and early printed books as well as contemporary literature; rarities ranging from Old Master drawings and prints, to nineteenth- and twentieth-century posters, cartoons and ephemera to livres d'artiste, children's books, book objects, and photographs. Each object comes with a tale, written by the collector, describing how and when the book, manuscript, or print was acquired, under what circumstances, how it fits (or does NOT fit) into an overall collecting scheme and—most importantly—why it is precious to the collector."


Gallery Hours: Monday-Saturday, 10 am-5 pm. The exhibition will be closed for private events on Thursday December 17 and Friday December 18. The Club will be closed on December 24-26 for the Christmas holiday, and December 31-January 1 for the New Year holiday.