Our members list new acquisitions and recently catalogued items almost every day of the year. Below, you'll find a few highlights from these recent additions...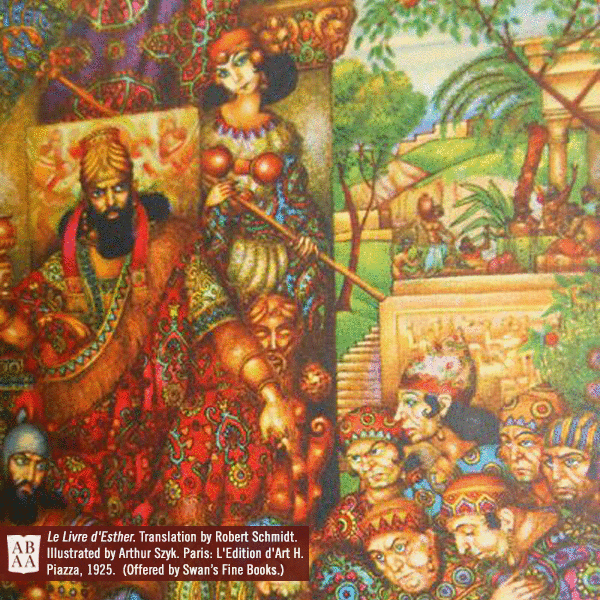 From the translation by Robert Schmidt. Illustrated by Arthur Szyk.
Paris: L'Edition d'Art H. Piazza, 1925. First and Limited Edition. Hardcover. Near fine. First edition with Arthur Szyk illustrations, no. 260 of 775, octavo size, 1134 pp., in French and Hebrew.
Polish-Jewish artist Arthur Szyk (1894-1951) was known for his book illustrations and political caricatures; he was incredibly outspoken on political issues, particularly against the Axis powers during World War II, and his art often projected his own social consciousness in a way that was and still is popular and accessible to a large audience. "Le Livre d'Esther" [The Book of Esther] is his first major work of book illustration, and his lithographs are filled with detail and colours that warrant repeated examination; he uses motifs and patterns found in Middle Eastern art to create opulant spaces for the characters to inhabit. Szyk creates an expanse of decoration where one object moves into another in this expert rendition of a significant biblical writing. Published in 1925, this gorgeous volume is the first edition of "Le Livre d'Esther" to feature illustrations by Szyk, and as is often done with French books, it is custom bound with the original wraps bound in. The text is in French reading from left to right in a new translation by Robert Schmidt, and then in Hebrew reading from right to left starting at the "back" of the book.
DESCRIPTION: Half brown leather with marbled paper, gilt ruled borders along the interior edges of the leather, gilt decorations and lettering on the spine inside ruled border, top edge gilt, fore- and bottom edges uncut, marbled endpapers, original grey wraps with gilt lettering, original ribbon marker, title page with pink and gilt decorative border and Star of David, text inside red ruled borders, twenty chromolithographs by Arthur Szyk throughout; octavo size (9.25" by 6.75"), pagination: French left-to-right: [1-10] 11-50 [51]; Hebrew right-to-left: [i-ii] iii-lxxvi [lxxvii] [6], one of 775 copies, this number 260. Please note that the text is in both French and Hebrew.
CONDITION: Near fine overall, with clean boards, straight corners, original ribbon marker still attached, a strong, square text block with solid hinges, the interior is clean and bright with the chromolithographs vibrant with colour, and entirely free of prior owner markings; minor rubbing to the bottom edges of the boards, joints and corners, some sunning to the spine, and top front corner is very gently bumped.
Offered by Swan's Fine Books.
by Jean Cocteau
Paris: Gallimard, 1948. Eleventh Edition. Very Good. Eleventh edition (onzieme edition). Signed by Jean Cocteau, inscribed to a former owner on the half-title page. Very Good, with toning, light reading creases to spine, and previous owner bookplate to verso of front cover. Revised price-over label on spine is lifted on one edge. Signed by the French writer, poet, playwright, designer and filmmaker.
Offered by Burnside Rare Books.
Lost Moon: The Perilous Voyage of Apollo 13 (SIGNED)
by Jim Lovell & Jeffrey Kluger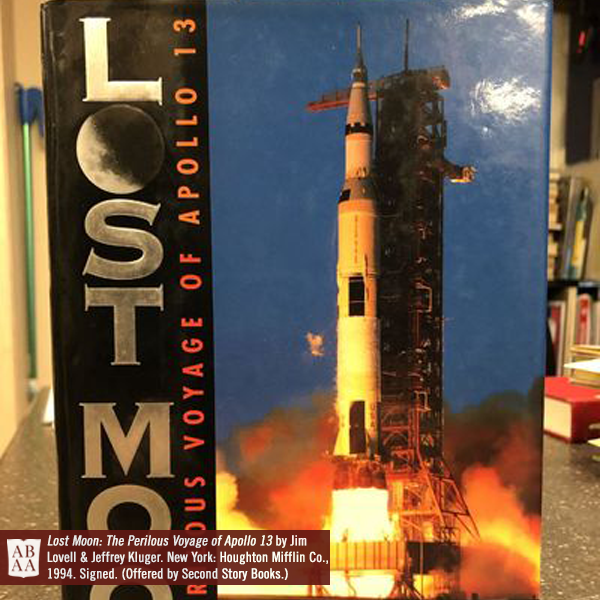 New York: Houghton Mifflin Company, 1994. First Edition, Thirteenth Printing. Hardcover. Octavo, 378 pages; VG/VG; spine is black with silver lettering; dust jacket is in a mylar covering; has price uncut '$22.95', has minor rubbing on both covers and minimal shelf wear at the top and bottom of the spine; binding and pages clear; illustrated endpapers; inscribed by Jim Lovell on the title page.
Offered by Second Story Books.
Golf: A Royal and Ancient Game (First Edition)
by Robert Clark.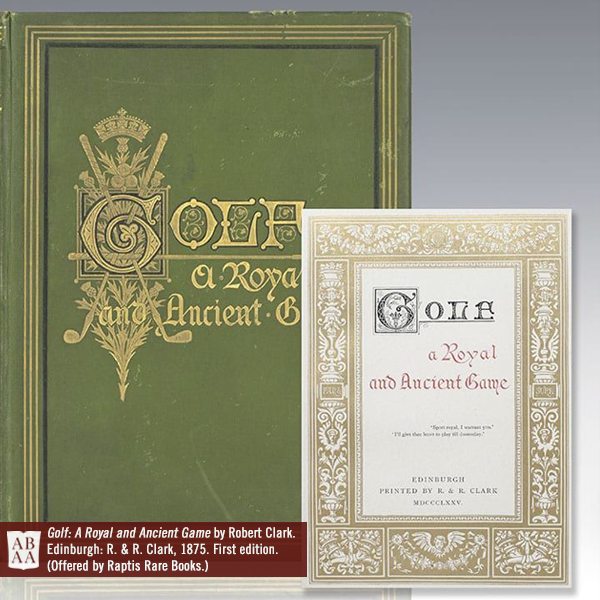 Edinburgh: R. & R. Clark, 1875. First edition of this rare and early work on golf.
Quarto, original green cloth. With 9 plates from paintings, engravings, etchings, including 2 duotone lithographs, 1 color plan of the golf course over St. Andrew's links and frontispiece, with tissue-guards; plus numerous wood engravings throughout the text; title page with decorative gilt margins; decorative initials. Illustrations by Clark Stanton, C.A. Doyle and G. Aikman. In near fine condition with light rubbing. Rare and desirable in this condition, as most examples have been rebound. "Widely regarded as one of the most significant, as well as best produced, early books on the history of golf, Clark's work is a compilation of the earliest literature on the game. In assembling the book, Clark, a well-known Edinburgh printer, collected early press reports, biographical sketches, significant acts of Parliament, municipal records, diaries, and extracts from the minutes of the earliest golf clubs" Murdoch 128; D&M 900.
Offered by Raptis Rare Books.
John Dough and the Cherub (First Edition)
by L. Frank Baum
Chicago: The Reilly & Britton Company Publishers, [1906]. Large octavo, illustrations in color and black and white by John R. Neill, publisher's pictorial gray cloth, front and spine panels stamped in red, brown and black, rear panel stamped in black, pictorial endpapers. First edition, first printing, first state with the misprint "cage" for cave", page 275, line 10. The publisher's imprint on the spine panel reads "THE REILLY & / BRITTON CO."; the detachable contest blank for "The Great John Dough Mystery" printed on yellow paper is present.
"John Dough the gingerbread man is based upon a character created by Baum in his 1903 unproduced musical 'Prince Silverwings.' While the story was serialized in several newspapers from mid-October through December 1906, the publishers sponsored a competition to determine the sex of his genderless companion Chick the Cherub; few copies of the first edition survive with the contest blank still attached." - Schiller. Baughman 65. Schiller 150.
Some rubbing and soiling to cloth, red and brown color stamping on spine rubbed, wear to cloth at spine ends, corner tips and tiny spot along lower rear cover, 70 mm closed split at bottom of inner front hinge carefully repaired, a very good copy. A very nice copy overall.
Offered by L.W. Currey
by Kate Greenaway, Edmund Evans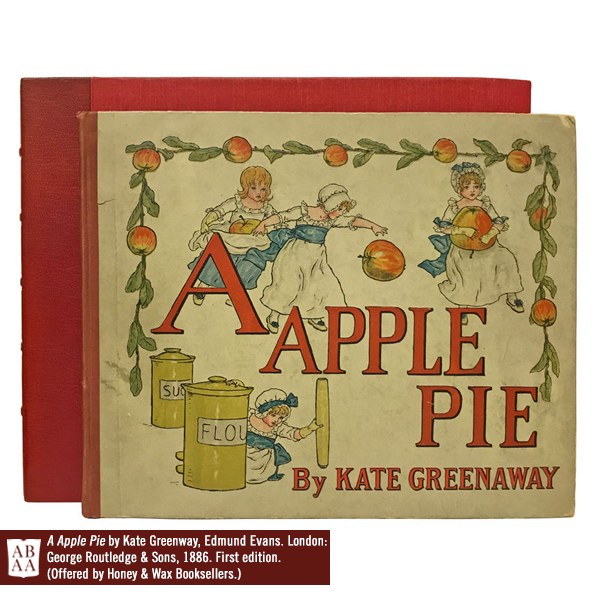 London: George Routledge & Sons, 1886. First edition, the Grolier 100 copy, inscribed by Kate Greenaway with three original sketches of young girls.
First published in the eighteenth century, the ABC rhyme "The Tragical Death of A Apple Pye" appeared in countless chapbooks before Greenaway produced this colorful large-format edition. Her vibrant illustrations depict a crowd of children in Regency dress tussling over the oversized pie of the title. Finally, in Greenaway's original closing rhyme, "U V W X Y Z / All had a large slice / and went off to bed." A Apple Pie was a resounding popular success, although the book caused some tension between Greenaway and her friend John Ruskin, who disliked the stylized feet, "literal paddles and flappers," of Greenaway's children.
Greenaway has inscribed this copy to Joan Ponsonby, born in 1887, the granddaughter of her close friends Gerald and Maria Ponsonby. The ink sketches of young girls that frame the gift inscription may be portraits of little Joan herself. Schuster & Engen, 1.1a; Grolier 100 Books Famous in Children's Literature, 50.
A near-fine presentation copy of a Victorian classic, with original artwork by Kate Greenaway. Oblong quarto, measuring 8.5 x 10 inches: [22]. Original red cloth spine, pale green color-printed pictorial boards, all edges stained red, deep blue coated endpapers. Half-title and title page printed in brown ink. Color-printed wood engravings by Edmund Evans after watercolors by Greenaway on each page, printed on rectos only. Ink presentation inscription on half-title, framed by three sketches of young girls: "Joan Ponsonby from Kate Greenaway / 1891." Lightest shelfwear and occasional smudge to binding. Housed in a custom chemise and slipcase.
Offered by Honey & Wax Booksellers.
View all new listings on abaa.org...
Browse recent catalogs of rare books and print ephemera from ABAA members...
Please note, all items are unique, so if a link takes you to a blank page, the book has been sold!