Our members list new acquisitions and recently catalogued items almost every day of the year. Below, you'll find a few highlights from these recent additions...
Paris, Notre Dame prise de L'isle Louvier
by Pugin, Augustus Charles

London: R. Ackermann, 1821. Hand-coloured aquatint engraving by Havell from J.Gendall's drawing after Pugin. Printed on wove paper. In excellent condition with the exception of a expertly mended tear on the bottom margin. Image size: 13 7/8 x 18 7/8 inches.
A highly dynamic view, emphasizing the cathedral of Notre Dame's position at the heart of the city of Paris Notre Dame, before the addition of Violett le Duc's central spire, is shown dominating the skyline in this view taken from the south side of the Ile de St. Louis, looking north west upriver to the Pont la Tournelle with the Cathedral beyond. The foreground includes a number of barges loaded with timber, probably for furl, bargees wrestle with the newly arrived vessels, positioning them using long poles, unloading of the moored barges is already underway, with workmen trudging up well-worn paths in the river bank. Much activity can be seen on the wide `beach' of the far left bank.
Pugin (1762-1832) `architect, archæologist, and architectural artist, was born in France, and claimed descent from a distinguished French family. Driven from his country either by the horrors of the revolution or by private reasons connected with a duel, he came to London about 1798, and soon found employment as a draughtsman in the office of John Nash.... To increase his powers as an artist, he entered the schools of the Royal Academy... He further revived acquaintance with Merigot, an aquatint engraver, who formerly had been a drawing-master to his father's family, and studied under him with advantage. Nash, who treated his pupils and assistants with great kindness and hospitality, discovered in Pugin a valuable subordinate...
The truthfulness of Pugin's drawings in form and colour at once attracted attention. A change was then coming over water-colour art. The old style of brown or Indian ink outline with a low-toned wash was giving way to the more modern practice of representation in full colour, and Pugin, though he limited his palette to indigo, light red, and yellow ochre, was an active supporter of the new movement, and to his influence its ultimate predominance was largely due. In 1808 Pugin was elected an associate of the Old Water-colour Society, which had been founded in 1805, and he was a frequent exhibitor at the annual exhibitions held first in Lower Brook Street and subsequently in Pall Mall... About the same time Pugin was employed on Ackermann's publications, notably the 'Microcosm,' for which he supplied the architectural portions of the illustrations, Rowlandson executing the figures. ....Meanwhile Nash and his works were not altogether neglected. Pugin in 1824 was asked to make the drawings for a volume illustrating the Brighton Pavilion, and while he was engaged upon the work George IV, who came to watch, accidentally upset the colour-box, and, mindful perhaps of illustrious parallels in the past, picked it up with an apology that greatly gratified the artist.` (DNB). The present separately issued plate led to a latter publication `Views of Paris and Environs,' (London: 1828-1831), with plates of similar subjects but published in a much smaller quarto format.
Offered by Donald A. Heald Rare Books.
Pennsylvania Railroad Trainphone Tips for Railroaders - Guide created for employees through the eyes of Penny Sylvania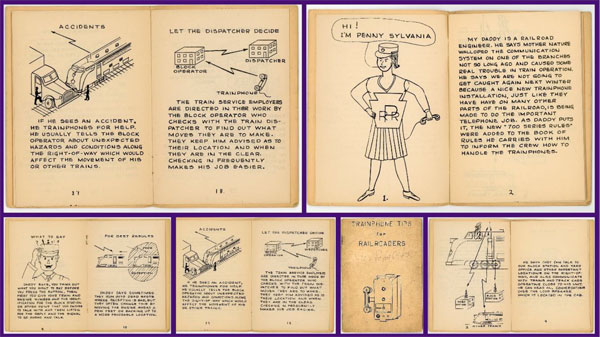 Tele-Dynamics Inc. c1943. The Pennsylvania Railroad (PRR) began using a voice communications system called 'Trainphones' on a trail basis in 1936 and had fully integrated them into their railway system by 1943. The system was meant to be used as a communication method between crews on moving trains and dispatchers. In order to educate their crews on the system, PRR created a short 23 page booklet to serve as an instruction manual.
The book was written from the perspective of 'Penny Sylvania', a young girl whose father is a railroad engineer. The book used plain words and phrases to describe the system along with simple, black and white line drawings to further the reader's understanding of the communications system. Given the relative child-like tone of the book, it is clear what PRR thought of their employee's education level. The book starts with a brief description of the system, before instructing the reader how to use it, such as "the trick to the trainphone is to hold it close to the mouth, but not to blow into it" and since "Uncle Sam is listening to their conversation they have two firm rules- no cursing and no funny business." One of the biggest issues with the trainphone system was that it was unable to work in electrified zones due to interference from the electric supply, considering that these electrified zones were some of PRR's busiest locations, this was a huge disadvantage. Several pages are dedicated to address this issue with instructions such as "Daddy says sometimes they run into dead spots where reception is bad, but they often change this by moving the engine ahead a few feet or backing up to a more favorable location."
Eventually, the whole trainphone system would be phased out in the 1960s as radio communication became the norm and was more reliable. The cover has a line drawing of the phone. There is the name of the previous owner, R. W. Schaffer, written on the cover. No OCLC. Staple binding. 6 ¼" x 4 ½"
Offered by Eclectibles, and featured in their new catalog, E-list #57 (item #13). This item is not listed on abaa.org.
The Very Hungry Caterpillar (Signed, First Edition)
by Eric Carle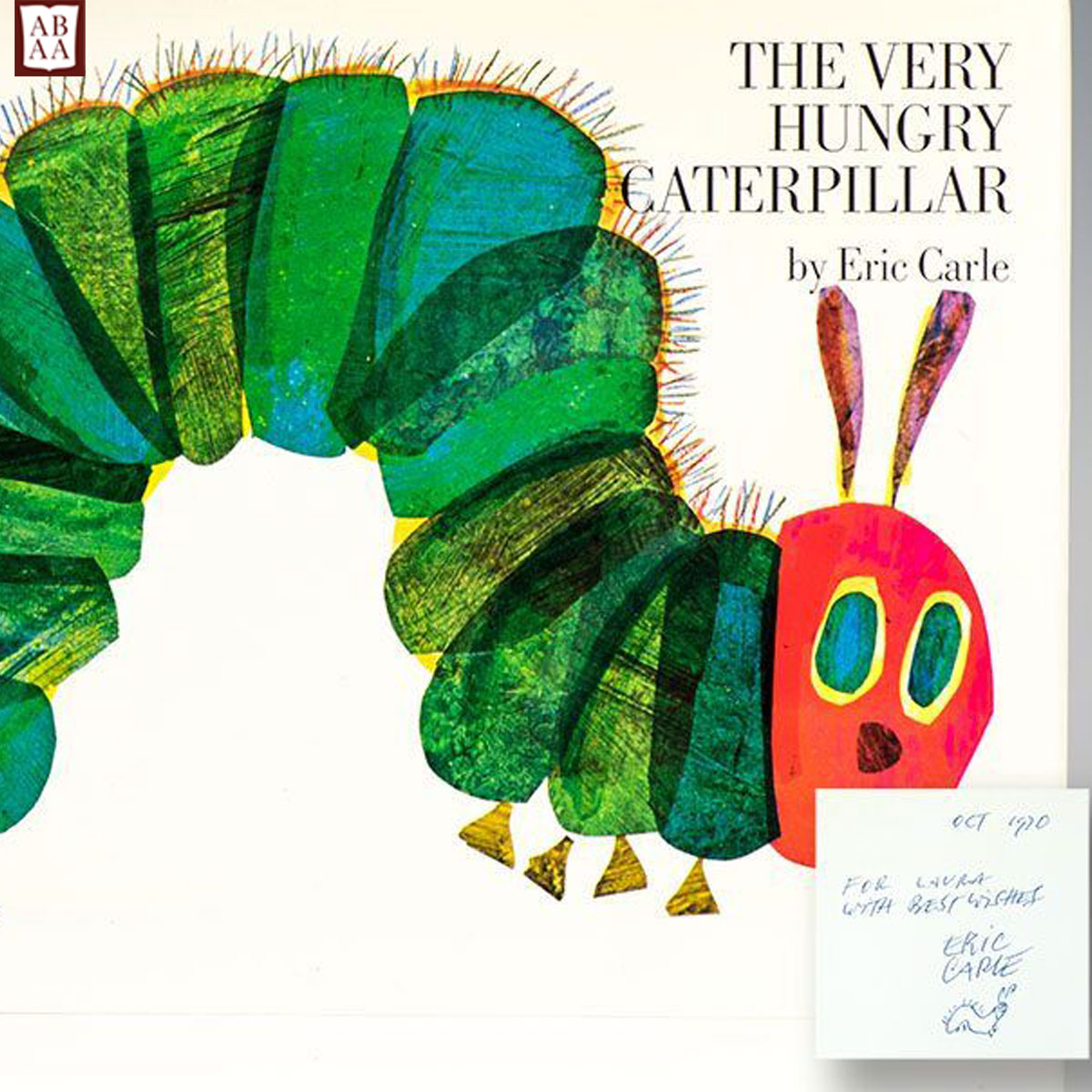 Cleveland: World Publishing, 1969. First edition with the number line 1-10 on the copyright page. Oblong quarto, original illustrated boards. Inscribed by the author opposite the title page, "For Laura With Best Wishes Eric Carle Oct 1970." Carle has added a drawing of a caterpillar below his signature. Fine in a near fine price-clipped (not an issue point) dust jacket. Housed in a custom half morocco clamshell box. Signed and inscribed first editions are extremely rare.
"Eric Carle was one of the first illustrators intrigued with the idea of introducing natural science concepts to young children. The Very Hungry Caterpillar has remained in print for [over] 25 years, attesting to its popularity" (Silvey, 120). The Very Hungry Caterpillar was originally published in 1969 and has since sold over 30 million copies and was voted the number two children's picture book in a 2012 survey of School Library Journal readers.
Offered by Raptis Rare Books.
Statut de Kaliski (The Statute of Kalisz)
by Arthur Szyk.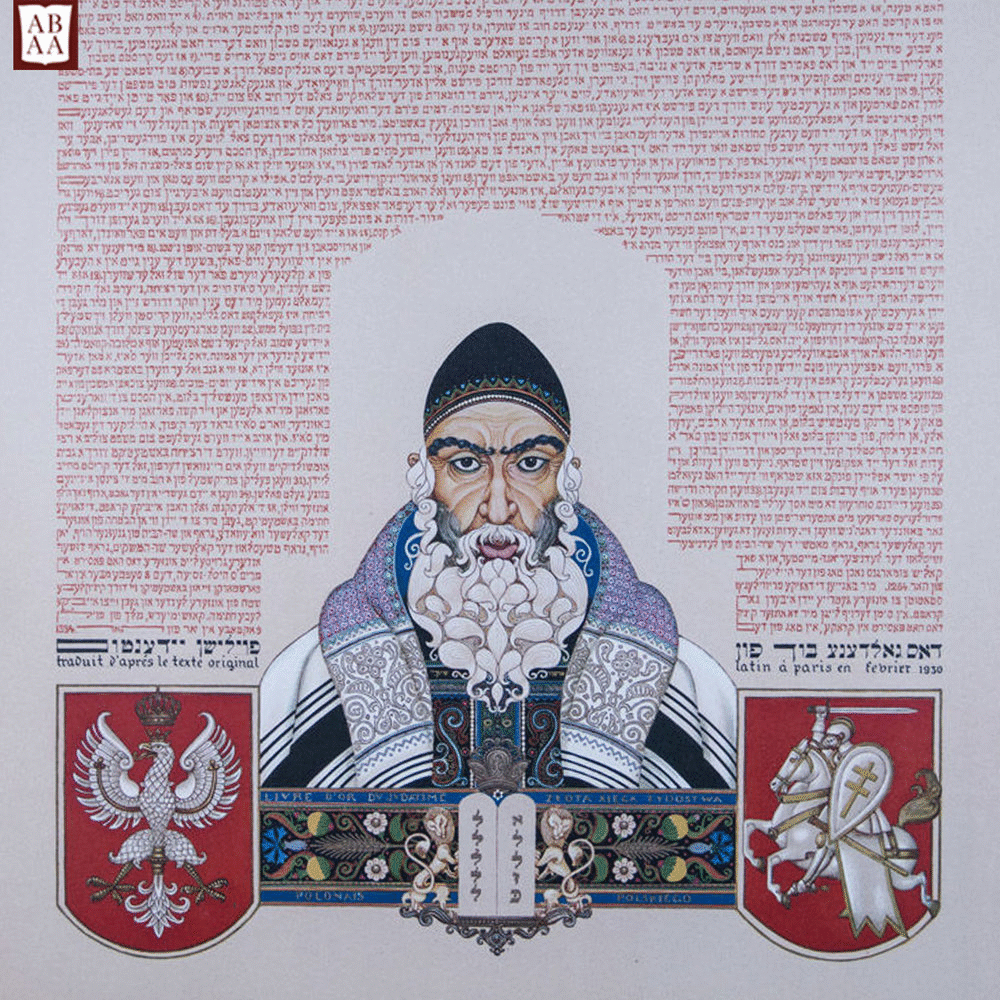 Paris: F. Bruchman for Editions de la Table Ronde, 1932. Limited edition. 1/500?. Copy 156 of 500 (in the final plan).
The full 500 copies were never printed. A large part of the printed run was destroyed in the German bombing of Warsaw (see website of the Kosciusko Foundation). Szyk himself stated that only fifty copies existed and some sources place the number as low as thirty. An informal census revealed to this writer at least fifteen library holdings. A search of the holdings of Jewish Museums and Art Museums would likely reveal additional copies. However, the number of surviving copies is certainly less than one hundred.
Folio, 48 loose leaves, 15.1" by 12.6". Forty-five full-color plates. Three additional sheets: the "Page of Certification," with the author's signature, the "Finis Libri" page and an initial blank. There is substantial dispute as to the correct ordering of the plates which were issued loose. Many copies lack the initial blank present with this set. Two of the plates were not initially planned and may be missing in some copies [One was the Yiddish translation of the Statutes. Ansell p. 57]. The copy held by the Central Judaika Database is lacking the plates with the Spanish text. Joseph Ansell in his work "Arthur Szyk: Artist, Jew, Pole," includes his own description of the contents and he includes a quote from a review of the folio from 1933 which are helpful. Ansell writes, "[full paragraph at the center of the page of Ansell p. 56.]" This copy is organized in this way with the blank at the start. P.G. Konody in his 1933 review "Artist's Great Work Worthy of Medieval Examples," Daily Mail, 30 May 1933,7, mentions "45 magnificently ornamented pages," which offers a contemporary concurrence of how the material was seen at the time of publication. [Ansell, p. 78]. The "unbound pages were contained in a red portfolio emblazoned with the Polish eagle printed in gold and silver." Ansell, p. 60. This edition is housed in a new a red linen clam-shell box with leather labels. Arthur Szyk's "Statute of Kalisz," is his first major manuscript project. His earlier illuminated work was under the influence of oriental examples. "The Statutes of Kalisz," is in the tradition of Northern European illumination. Jean Fouquet in particular is cited as a source. Fouquet's work as an illustrator of manuscripts is more of a model for Szyk's portraiture style than as an overall guide. Szyk's page design is much more sophisticated and modern than Fouquet. The degree to which each page is saturated and laden with illustrated commentary is far advanced and often more explicit than the model. The most important, personal and rarest work by Arthur Szyk celebrates the text of The General Charter of Jewish Liberties, which granted civil and religious rights to Polish Jews when issued in 1264 by Duke Bolesław the Pious in Kalisz. Elaborate lettering in nine languages, initials illuminated or historiated, geometric and floral borders plus detailed miniature paintings of historical and mythic events. Influenced by French, Italian and Flemish manuscript styles. Metallics embellish the original's gauche and watercolor, while with wit, figures include Szyk's family and two self-portraits. Begun during the May 1926 Polish coup and supported with research from Józef Piłsudski's Polska Partia Socjalistyczna government, Arthur Szyk's masterwork subtly contrasts past mistreatment and post-WWI fascism with the ideals of justice and freedom
Offered by Eric Chaim Kline Bookseller.
A Christmas Carol. The Chimes. The Cricket on the Hearth. The Battle of Life. The Haunted Man
By Charles Dickens (Root & Sons, Binders)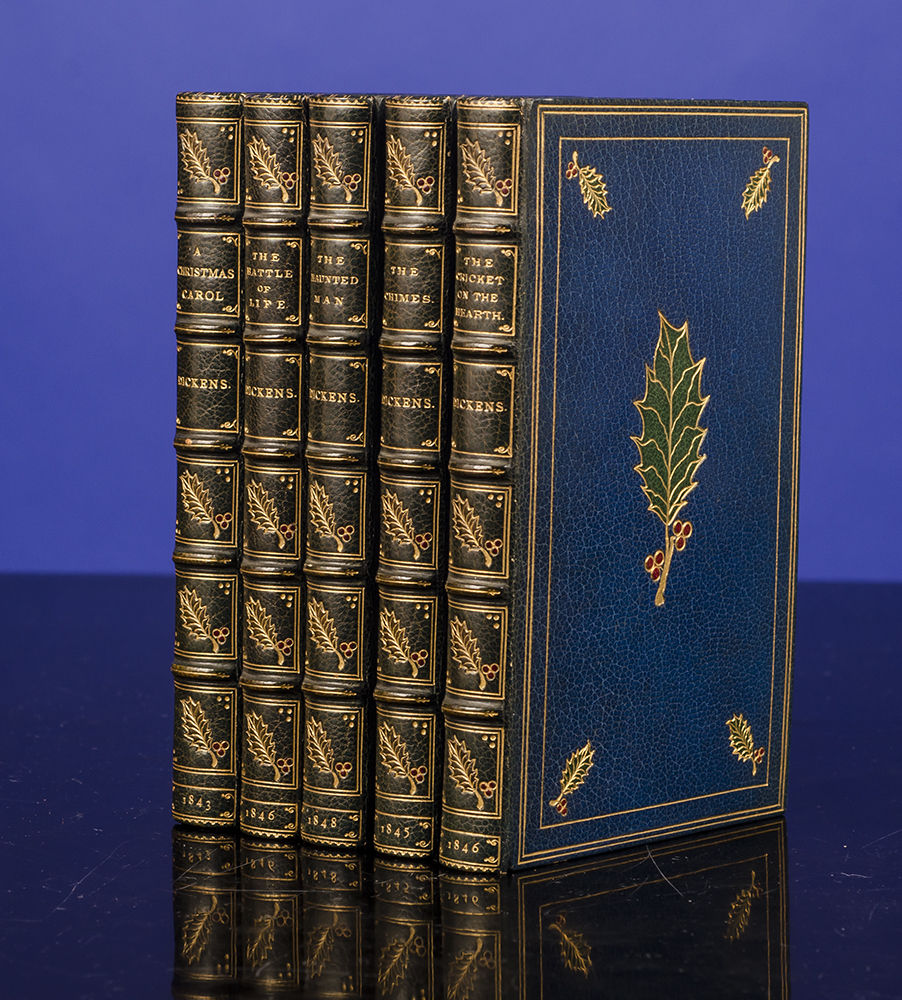 London: Chapman & Hall, 1843. A Superb First Edition Set of The Charles Dickens Christmas Books Beautifully Bound by Root & Son ca. 1920. DICKENS, Charles. ROOT & SON, Binders. The Christmas Books. London: [Various], 1843-1848. [Comprising:] A Christmas Carol. In Prose. Being A Ghost Story of Christmas... With illustrations by John Leech. London: Chapman & Hall, 1843. First edition, first issue, with "Stave I" reading. Sixteenmo (6 3/8 x 4 inches; 160 x 100 mm). [8], 166, [2, ads] pp. Complete with half-title and ads. Half-title printed in blue, title-page printed in red and blue, four hand-colored plates, and intertextual illustrations. Original endpapers bound in. [And:] The Chimes: A Goblin Story or some Bells that Rang an Old Year Out and A New Year In. London: Chapman and Hall, 1845. First edition, second state of the engraved title. Sixteenmo (6 3/8 x 4 inches; 160 x 100 mm). [8], 175, [1, colophon] pp. Complete with ad for A Christmas Carol on verso of the first leaf. Engraved frontispiece, engraved title, and intertextual illustrations. [And:] The Cricket on the Hearth. A Fairy Tale of Home. London: Printed and Published for the Author, by Bradbury and Evans, 1846. First edition. Sixteenmo (6 3/8 x 4 inches; 160 x 100 mm). [8], 174, [2, ads] pp. Complete with half-title and the Oliver Twist advertisement at end. Engraved frontispiece, engraved title, and intertextual illustrations. [And:] The Battle of Life. A Love Story. London: Bradbury & Evans, 1846. First edition, fourth issue, with Cupid added to the scroll but without publisher's imprint on engraved title. Sixteenmo (6 3/8 x 4 inches; 160 x 100 mm). [8], [1-2, sectional title], 3-175, [1, colophon], [2, ads] pp. Complete with half-title and ads. Engraved frontispiece, engraved title, and intertextual illustrations. [And:] The Haunted Man and the Ghost's Bargain. A Fancy for Christmas-Time. London: Bradbury & Evans, 1848. First edition. Sixteenmo (6 3/8 x 4 inches; 160 x 100 mm). [8], 188 pp. Complete with ads and half-title. Engraved frontispiece, engraved title, and intertextual illustrations.
Uniformly bound by Root & Son ca. 1920 (stamp-signed in gilt on front turn-ins). Full blue crushed levant morocco, covers with three-line gilt border surrounding a large holly leaf inlaid in green morocco and detailed in gilt with six inlaid red morocco berries on stem. Four similar but smaller corner-pieces also inlaid in green and red morocco. Spines with five raised bands, similarly decorated with inlaid green and red morocco holly leaves and lettered in gilt in compartments. Decorative gilt board edges and turn-ins, pale blue liners and endleaves. all edges gilt. Each volume with the original tan and brick red cloth covers and spines bound in at end. Spines very slightly and uniformly darkened. Some scattered light foxing otherwise a very fine set of arguably the most influential and important nineteenth century tales of the Christmas season.
Following the overwhelming success of A Christmas Carol in 1843, Dickens embarked upon the Christmas Books project, seeking to marshal "the Carol philosophy ... [in order to] strike a sledgehammer blow" for England's lower classes. He continued publishing the Christmas Books throughout the 40s, and the stories became mainstays of Dickens's public reading tours of the 1850s and 1860s. A Christmas Carol was an instant success, reportedly selling all 6,000 copies of the first edition on the first day of publication, and Dickens went on to write four more small festive books for each successive Christmas. The London bindery of W. Root & Son consistently turned-out excellent work, both on fine bindings as here, and on trade bindings and sets. Packer lists the firm in business in Red Lion Square in 1899-1901, and the December 1942 issue of The Rotarian notes with regret that W. Root had been bombed out (uprooted?) of their premises on Paternaster Row during the 1941 Blitz. There is a record in the June 10 1905 issue of The Academy "Esteemed Editions of various Authors, some scarce, all in new extra leather bindings... W. Root & Son, 29-30 Eagle Street, Red Lion Street, Holborn, W.C." Root & Son are also recorded at the same address in The Literary Year-Book, 1909 (thirteenth annual volume). The British Library have five examples of bindings by Root & Son.
Offered by Davis Brass Rare Books.
A collection of 33 Pindaric Odes that were separately published between 1680 and 1750 (with a few later), mainly in English, by various hands, viz: John Dryden, William Congreve, Thomas D'Urfey, Thomas Flatman, John Wilson, Anne Finch Winchilsea, and Christopher Anstey. Also in the collection are examples of the odes in Italian, German, Spanish, and Latin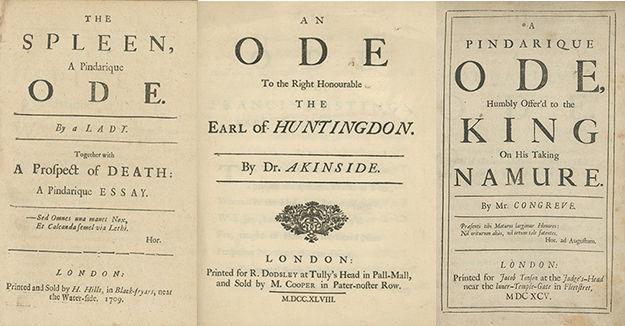 London and elsewhere: Various publishers, 1681-1800, 1681. All first or early editions. Overall condition is very good. A detailed list is available upon request or on our website (www.brickrow.com) on the catalogues page.. 33 titles, 4to and 8vo, in bound volumes, pamphlet format and disbound quartos. A fine collection of examples of the Pindaric Ode, named for Greek poet Pindar (c. 522-433 BC) who was famous for lyric poems written in celebration of momentous events and heroic achievements. The form was widely admired and imitated, most notably by Horace, but also much later by numerous English poets in the 17th and early 18th centuries.
Offered by Brick Row Bookshop.
Rose-breasted Grosbeak (Plate CXXVII) Fringilla ludoviciana
by John James Audubon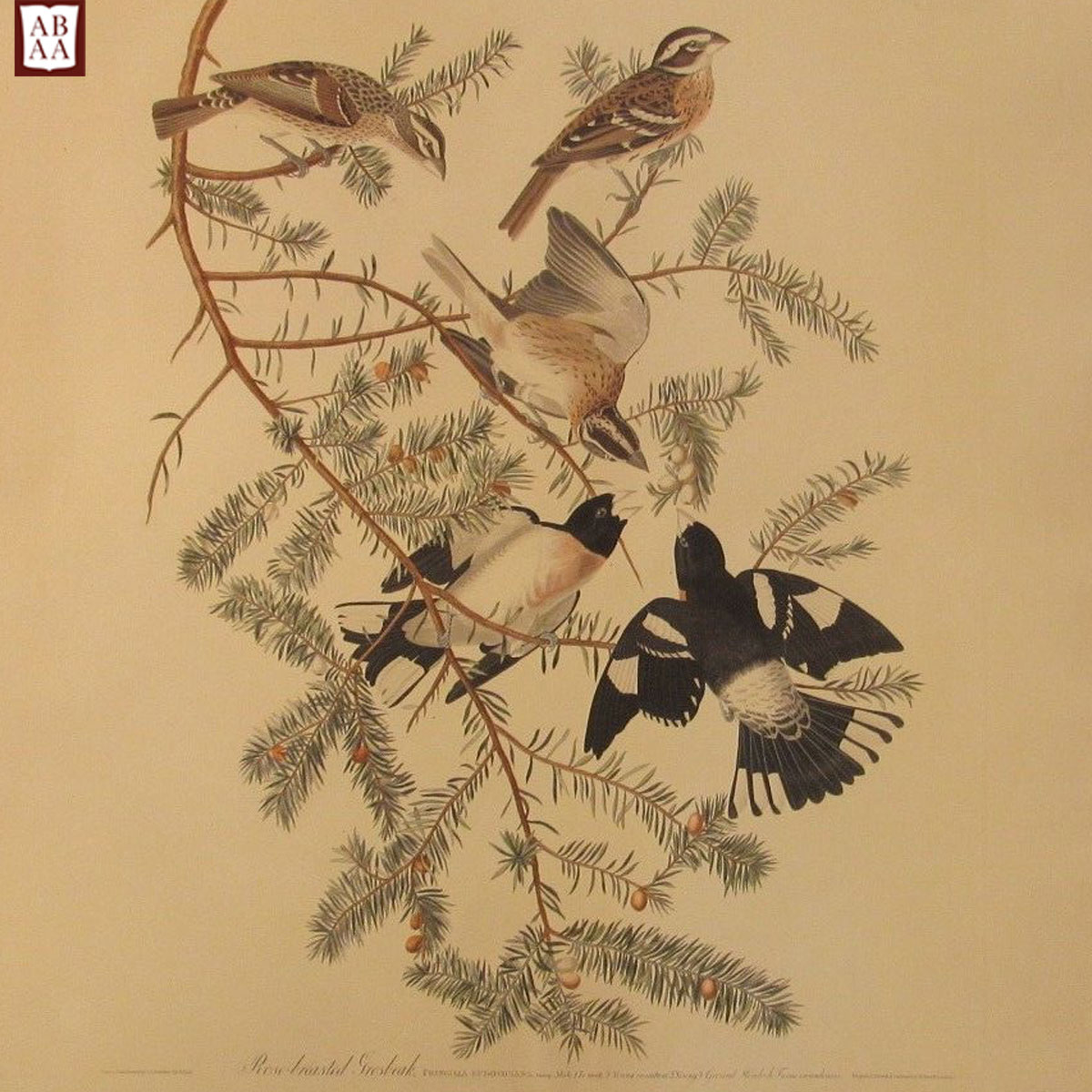 Engraving with etching, aquatint and hand-coloring on J Whatman 1836 watermarked hand-made paper. Unusually wide, untrimmed margins showing the pulls from the binder's signatures on the left margin and the gilt to the top edge. "I closed my eyes, and was passing away into the world of dreaming existence, when suddenly there burst on my soul the serenade of the Rose-breasted bird, so rich, so mellow, so loud in the stillness of the night, that sleep fled from my eyelids. Never did I enjoy music more: it thrilled through my heart, and surrounded me with an atmosphere of bliss. One might easily have imagined that even the Owl, charmed by such delightful music, remained reverently silent. Long after the sounds ceased did I enjoy them, and when all had again become still, I stretched out my wearied limbs, and gave myself up to the luxury of repose." John James Audubon.
Offered by William Chrisant & Sons.
by Henricus Kramer (Institoris)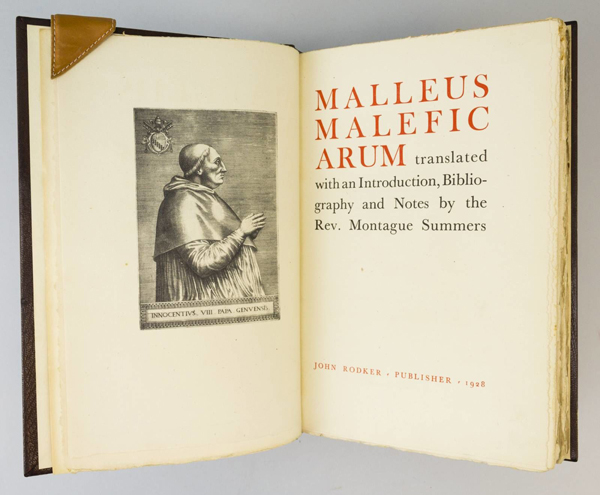 Bungay, Suffolk: Printed by R. Clay & Sons, Ltd. for John Rodker, 1928. FIRST EDITION IN ENGLISH. ONE OF 1,275 COPIES.
This is the first printing in English, translated from the 1489 edition, of one of the great classics of early witchcraft literature. Under Pope Innocent VIII, its author, Heinrich Kramer (who took the name of Institoris), was appointed (along with Jakob Sprenger, who is sometimes credited with being the co-author of this work) as general Inquisitor for the five dioceses of Germany. Although Institoris and Sprenger were assigned the task of ferreting out heterodoxy in general, they concentrated their attention on investigating reports of witchcraft and prosecuting suspected witches.
The book is divided into three sections, the first dealing with the theological ramifications of a belief in witchcraft, the second with the practices of witches and protection against them, and the third with legal procedures for dealing with witches.
306 x 200 mm. (12 x 8 7/8"). xlv, , 277, [1] pp. Translated, with introduction, bibliography, and notes by Montague Summers. Pleasing full crushed morocco in the antique style, raised bands, gilt titling in compartments, edges untrimmed. Title in red and black. A couple of very light scratches to the boards, a breath of wear to extremities, but A FINE COPY, the contents clean, bright, and the book with virtually no signs of use.
Offered by Phillip J. Pirages.
by Robert Crumb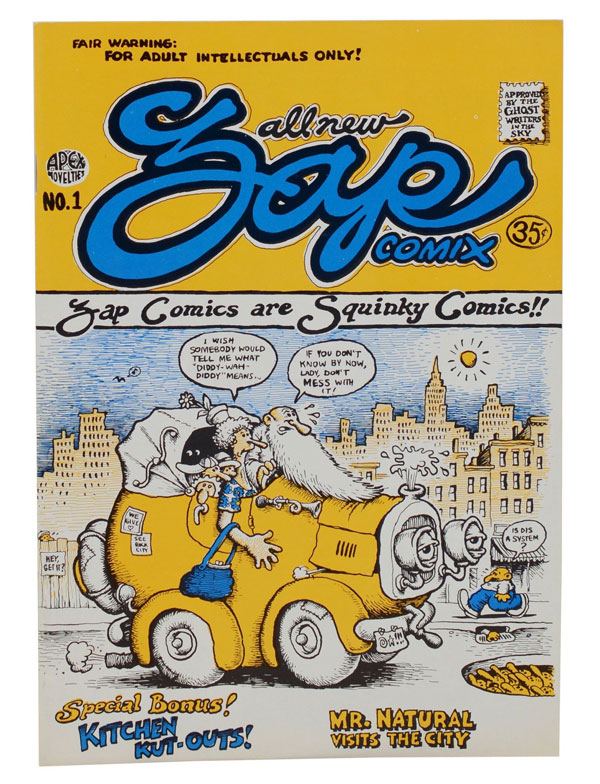 San Francisco: Apex Novelties, 1968. Third printing with 35 cent cover price, no printer statement on back cover. 28 pp. Stapled wraps. Pages toned with age, hardly any wear.
Offered by Burnside Rare Books.
Dennis Hopper Signs of the Times (Tony Shafrazi Gallery Poster)
New York: Tony Shafrazi Gallery, 2011. First edition. Loose Sheets. Very Good. Very large folded poster created on the occasion of an exhibition of the photographs of actor and artist Dennis Hopper. The gallery exhibit coincided with the publication of the 2011 Taschen monograph on Hopper entitled Dennis Hopper Photographs: 1961 - 1967. Poster is folded three times for mailing. When opened, it measures 28" wide x 24" tall. A vivid image of a man sticking his tongue out which has writing stamped on his tongue. Terrific and vivid image. Will be shipped flat (as folded). Very good condition.
Offered by Derringer Books.
by Geoffrey Chaucer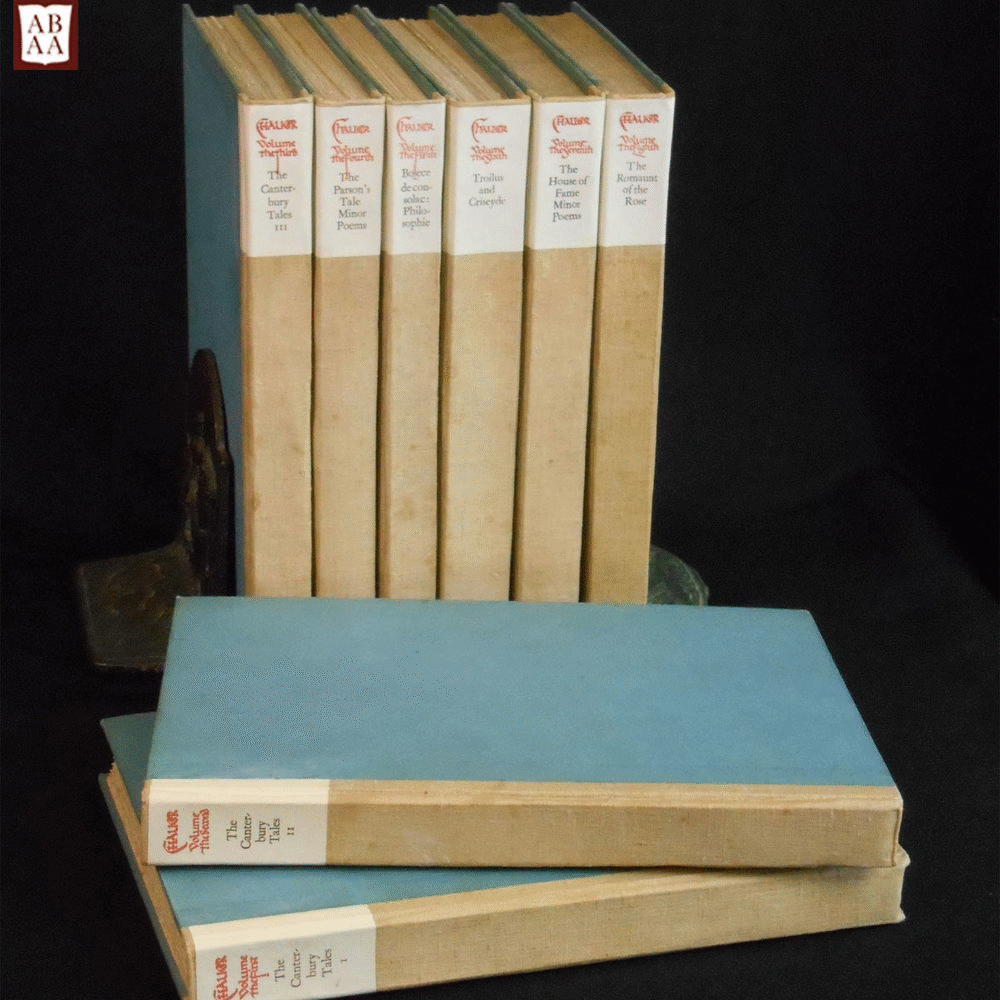 Stratford-Upon-Avon: Printed at the Shakespeare Head Press... and published for the Press by Basil Blackwell, 1929. Limited Edition. Hardcover. Near fine. Chesterman, Hugh; Gaskin, Joscelyn V.; Lamb, Lynton H.. No. 304 of 375, eight volumes (complete), quarto size, 1886 total pp.
This eight-volume set comprises much of Geoffrey Chaucer's (ca. 1343-1400) significant work, including "The Canterbury Tales", "Boecii de Consolacione Philosophie", "The Romaunt of the Rose", "Troilus and Criseyde", as well as a myriad of his minor poems. The text used was that "prepared under the editorship of Dr. A.W. Pollard for the Globe edition since revised by him". Alfred William Pollard (1859-1944) was a widely known scholar, who, in addition to Chaucer, edited Malory's "Le Morte d'Arthur" amongst many other works. The Shakespeare Head Press brings the full force of its talents to the design of these books, with titles, initials and paragraph marks in blue and red, drawn by Joscelyn V. Gaskin, in each volume. Volumes I, II, III and the beginning of Volume IV (all of the Tales of Canterbury) are also graced with hand-coloured, full-colour marginal drawings reproduced by Hugh Chesterman from the fourteenth-century Ellesmere manuscript of Chaucer's "Canterbury Tales"; Volume V, "Boece" contains chapter headpieces drawn by Lynton H. Lamb from woodcuts in a copy printed in Lyons ca. 1508-1525. Loosely inserted into Volume I is a small leaf form the Press crediting Hugh Chesterman with the illustrations of the Canterbury Pilgrims which "have been freely drawn".
Description: Quarter natural linen spine with blue paper boards, white paper spine label with red and black lettering, fore- and bottom edges uncut, title pages in red and black, initial capitals by Joscelyn V. Gaskin in red and blue throughout all volumes; Caslon Old Face type, Batchelor's Kelmscott handmade paper, quarto size (11.5" by 7.75"), pagination: Volume I: [i-vi] 1-224; Volume II: [i-vi] 1-212 [213]; Volume III: [i-vi] 1-200 [201]; Volume IV: [i-vi] 1-216 [217]; Volume V: [i-vi] 1-177; Volume VI: [i-vi] [1] 2-300 [301]; Volume VII: [i-viii] 1-250; Volume VIII: [i-vi] 1-252 [253], one of 375 copies (total edition 386), this number 304.
Condition: The set is near fine overall, the linen shelfbacks without wear, the paper boards mostly clean with occasional stray marks, strong, square text blocks with solid hinges, straight corners with just a few showing minimal rubbing, the interiors are clean and bright, and the set is entirely free of prior owner markings; note that the spine labels were supplied by a professional made to look exactly like the original labels, slight gutter cracking in Volume V, but text block is still strong, and Volume I with a prior bookseller pencil marking on the front paste-down endpaper and a prior owner pencil notation on the rear paste-down endpaper.
Offered by Swan's Fine Books.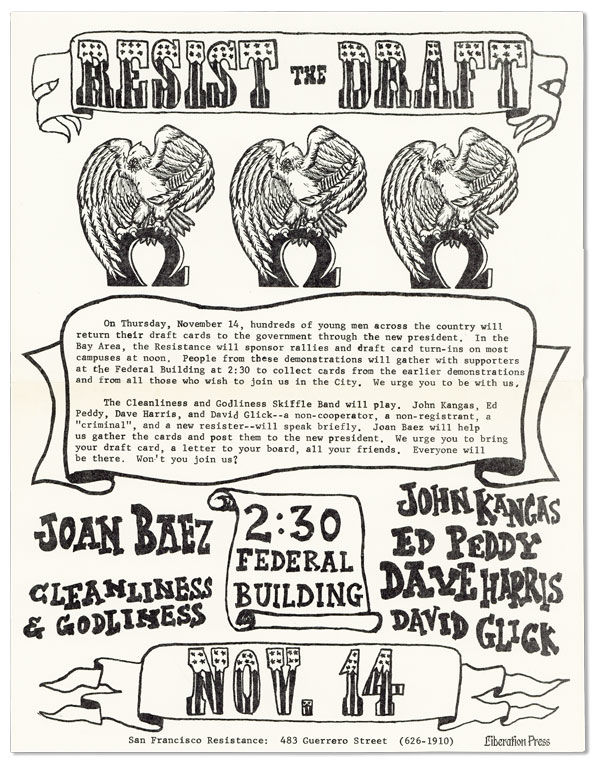 San Francisco: Resistance / Liberation Press, [1968]. First Edition. Paperback. An uncommon pair of materials heralding an event promoted by the San Francisco chapter of Resistance, to be held at the San Francisco Federal building on 14 November, 1968. "On Thursday, November 14, hundreds of young men across the country will return their draft cards to the government through the new president. In the Bay Area, the Resistance will sponsor rallies and draft card turn-ins on most campuses at noon...Joan Baez will help us gather the cards and post them to the new president." Pamphlet held by a single OCLC institution (UC Davis); flyer unlocated as of July 2018. Bifolium (21.5cm); single sheet of 8.5" x 14" white stock, folded once vertically to create a 4pp pamphlet; offset printed. A few faint creases and mild signs of handling; Very Good+. Accompanied by an 8.5" x 11" flyer from the same event, similarly printed; old horizontal fold at center, else Near Fine.
Offerd by Lorne Bair Rare Books.
by Rudyard Kipling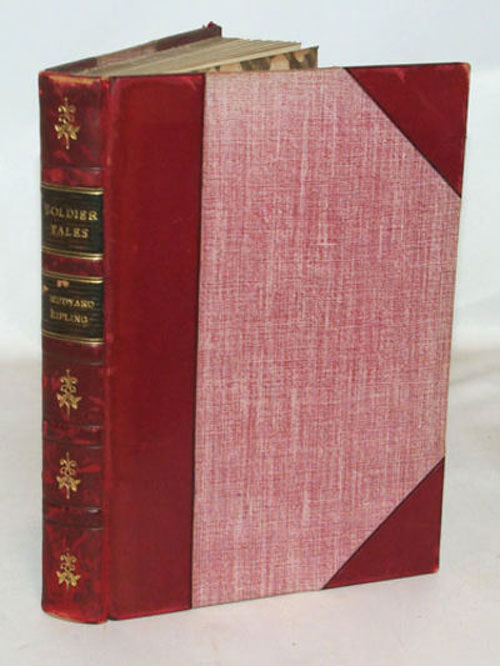 London: Macmillan And Co., Ltd., 1900. Reprint of 1900. Very good+ in 3/4 red calk and pink cloth covered boards with five raised bands on the spine with two black leather labels with gilt text and gilt decorations in the compartments. The end sheets are marbled paper and the top edge of the text block is gilt. A 12mo of 7 1/4 by 5 inches with the leather worn through over the tips of the boards and the leather is rubbed at the head and heel of the spine. 172 pages of text. Illustrated with a frontispiece and 20 plates and small engraved vignettes at the head of each story. A collection of seven short stories including: With The Main Guard, The Drums of the Fore and Aft, The Man Who Was, The Courting of Dinah Shadd, The Incarnation of Krishna Mulvaney, The Taking of Lungungpen and The Madness of Private Ortheris.
Offered by Town's End Books.
VALUE, PRICE, AND PROFIT ... ADDRESSED TO WORKING MEN
by Karl Marx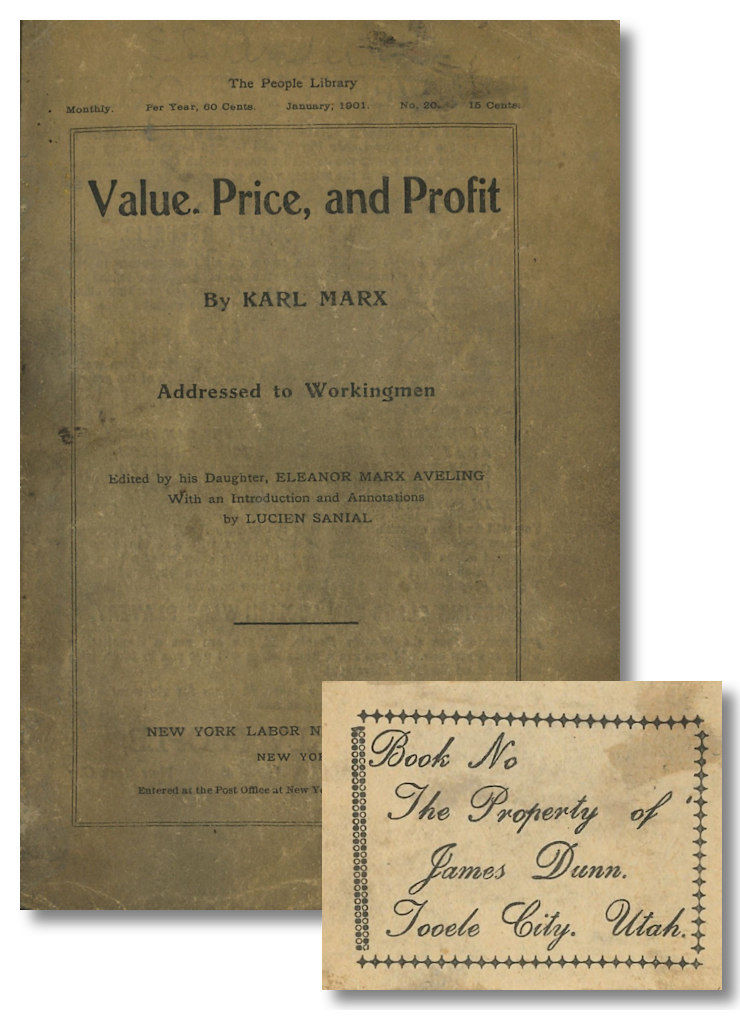 New York: New York Labor News Company, 1901. xiii,[1],74,[8]pp. Printed wrappers, crudely bound up in quarter calf and marbled boards. Wrappers soiled and worn, pencil annotations throughout, Socialist Labor Party chapter stamp on half- title, a quite used, but nonetheless interesting copy. First printing in this format, as a monthly number of "The People [sic] Library" (the issue # on the front wrapper somewhat obscured). Edited by Eleanor Marx Aveling, and with an Introduction and notes by North American socialist, Lucien Sanial. With the early printed bookplate of "James Dunn, Tooele City, Utah."
Offered by William Reese Company.
"March on Washington for Jobs and Freedom" Vintage Flyer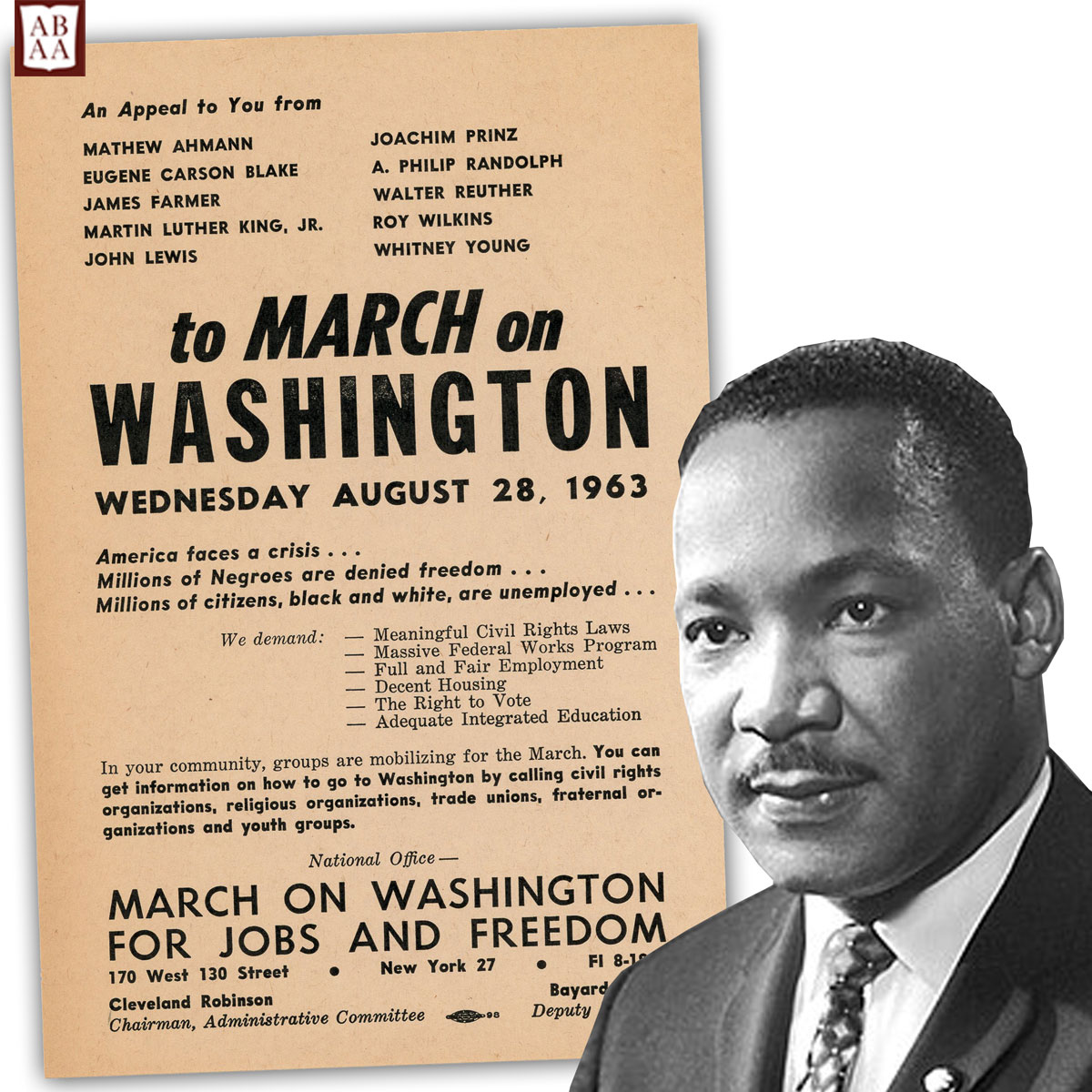 Vintage flyer from the August 28, 1963 "March on Washington for Jobs and Freedom" demonstration. Printed on cream paper. In near fine condition, with light overall toning, measures 5.5" x 8.25".
Our flyer features an appeal from 8 of the so-called "Big 10" of demonstration organizers, with each representing a significant labor, civil rights, or faith-based group. The March on Washington had a single objective: to expose the true nature of race relations and economic problems in mid-century America. Demonstrators wanted former promises--of racial equality, of the pursuit of life, liberty, and the pursuit of happiness--to finally be fulfilled.
The 1963 March on Washington marked the 100th anniversary of the Emancipation Proclamation. Its estimated 200,000-300,000 participants, of whom an estimated 75% were black, marched from the Washington Monument to the Lincoln Memorial. All of the "Big 10" delivered speeches, although Dr. Reverend Martin Luther King, Jr.'s powerful oration "I Have a Dream" is the most remembered.
The March on Washington was nationally televised and shone a light on Jim Crow laws and widespread unemployment. One of the capstone moments of the Civil Rights Movement, the March on Washington led to the passage of the Civil Rights Act of 1964 and the Voting Rights Act of 1965.
Offered by University Archives. (Spotted on their Twitter feed. This item is not currently listed on abaa.org. Contact the dealer directly if interested.)
Gratulatio ad Pium II pro foelici, ac secundo ex Mantuana peregrinatione reditu. Dialogus de optimo vitae genere deligendo. De monachis erudiendis Illuminated manuscript on parchment, in Latin.
by ALIOTTI GIROLAMO (1412-1480)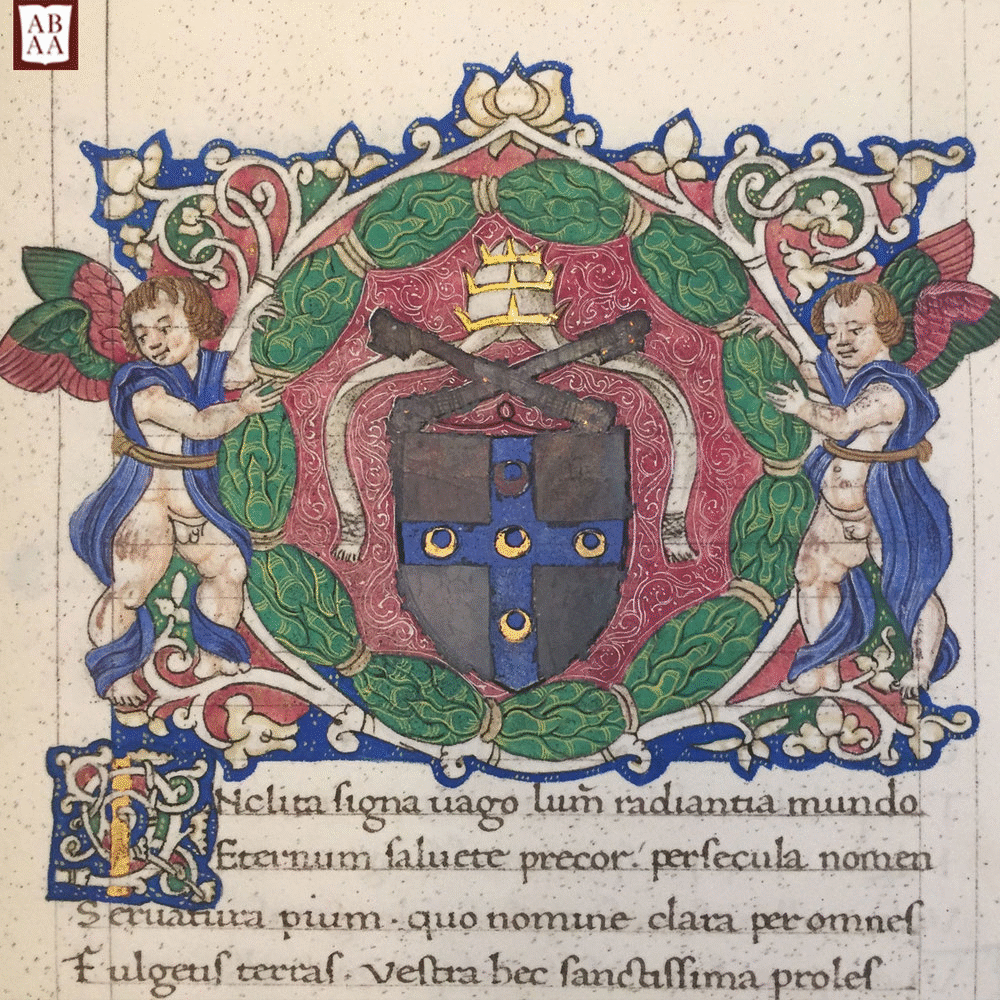 Florence, 1460. 253 x 181 mm. ii + 139 + ii leaves. Complete. 14 quires. Collation: 1-1310, 149-10 (lacking the last blank leaf). Unfoliated. Blanks: fols. 2/10r, 14/8v, and 14/9r-v. Catchwords written in the center middle of the last page of each quire except quires 2 and 4. Text block: 164 x 90 mm, one column, 28 lines. The first capital letter of each sub-chapter set out. Ruled in brown ink. Text written in brown ink by a unique hand in formal humanist script. Headings and names of interlocutors in pale red ink. Two illuminated coats of arms of Pope Pius II (see below), numerous gold and white-vine initials (see below). Five one-line blue paragraph marks on fols. 2/8v, 2/9r, 2/10v, and 4/10v. Early twentieth-century German blind-tooled pigskin over wooden boards. Spine with four raised bands, marbled flyleaves, gilt and gauffered edges. Upper joint skilfully repaired.
A well-preserved manuscript. First leaf slightly soiled, four small round wormholes in blank outer margin of the first leaves reducing to one and then disappearing. A few marginal stains; old repair to the lower blank margin of fol.
A deluxe illuminated manuscript offered as a gift by the Aretine abbot and humanist Girolamo Aliotti to Pope Pius II Piccolomini, produced in the Florentine workshop run by the 'king of the booksellers' Vespasiano da Bisticci and narrating a fascinating tale of patronage.
Offered by Govi Rare Books.
I Capture the Castle (First Edition)
by Dodie Smith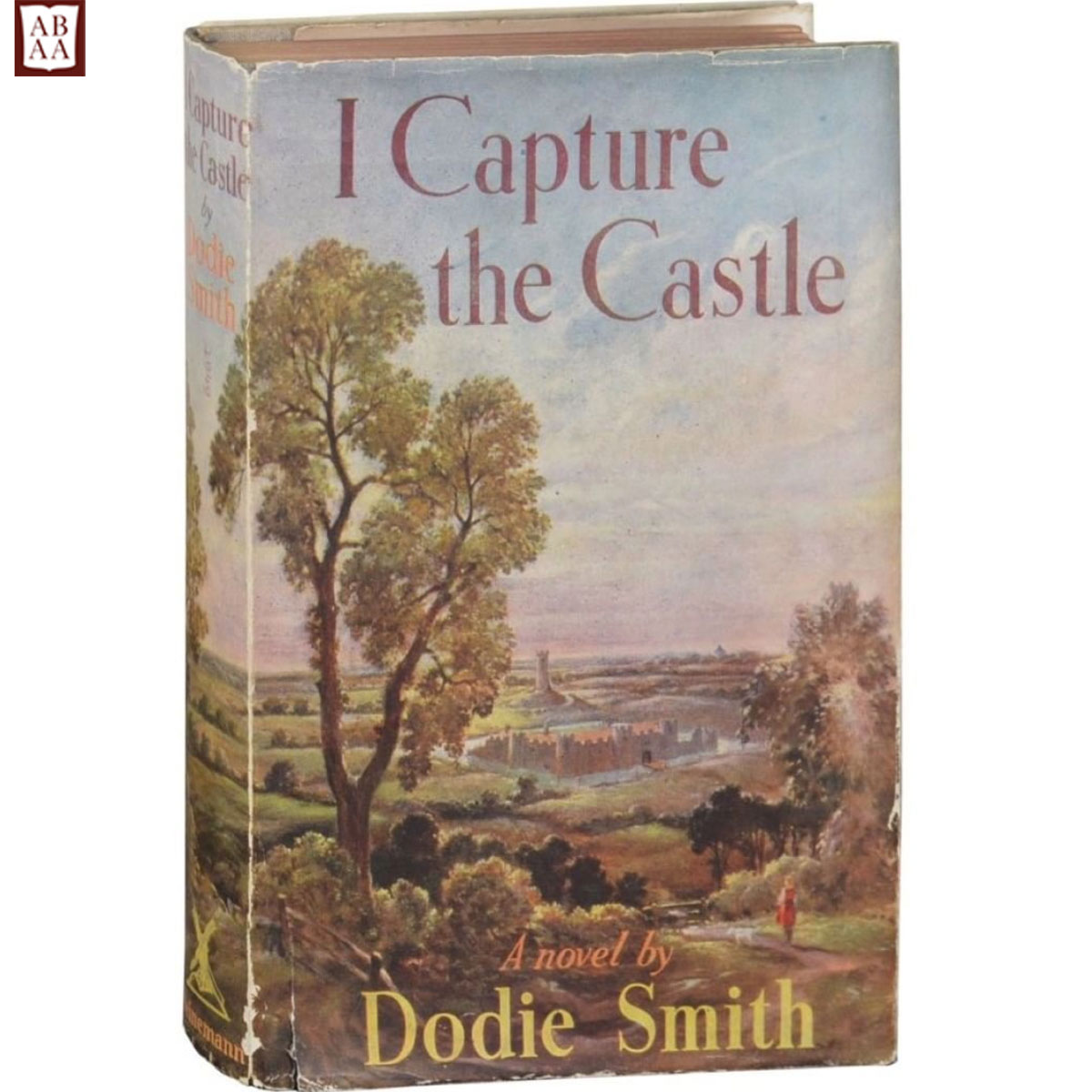 London: William Heinemann, 1949. First Edition. First Edition. The author's first book, notoriously scarce in jacket, basis for the elegant 2003 British film. Ms. Smith went on the write "The Story of the 101 Dalmations." Near Fine with a bright lavender topstain, in a Very Good plus dust jacket. Small owner name stamp and date of 1949, with a matching personal library entry stamp on the copyright page. Jacket shows no loss, with just a bit of nicking and rubbing here and there, a lightly faded spine (backstrip same), and a tiny date stamp of 1949 on the spine panel. A very pleasing copy overall.
Offered by Royal Books.

Harry Potter and the Doomspell Tournament Easel Display Card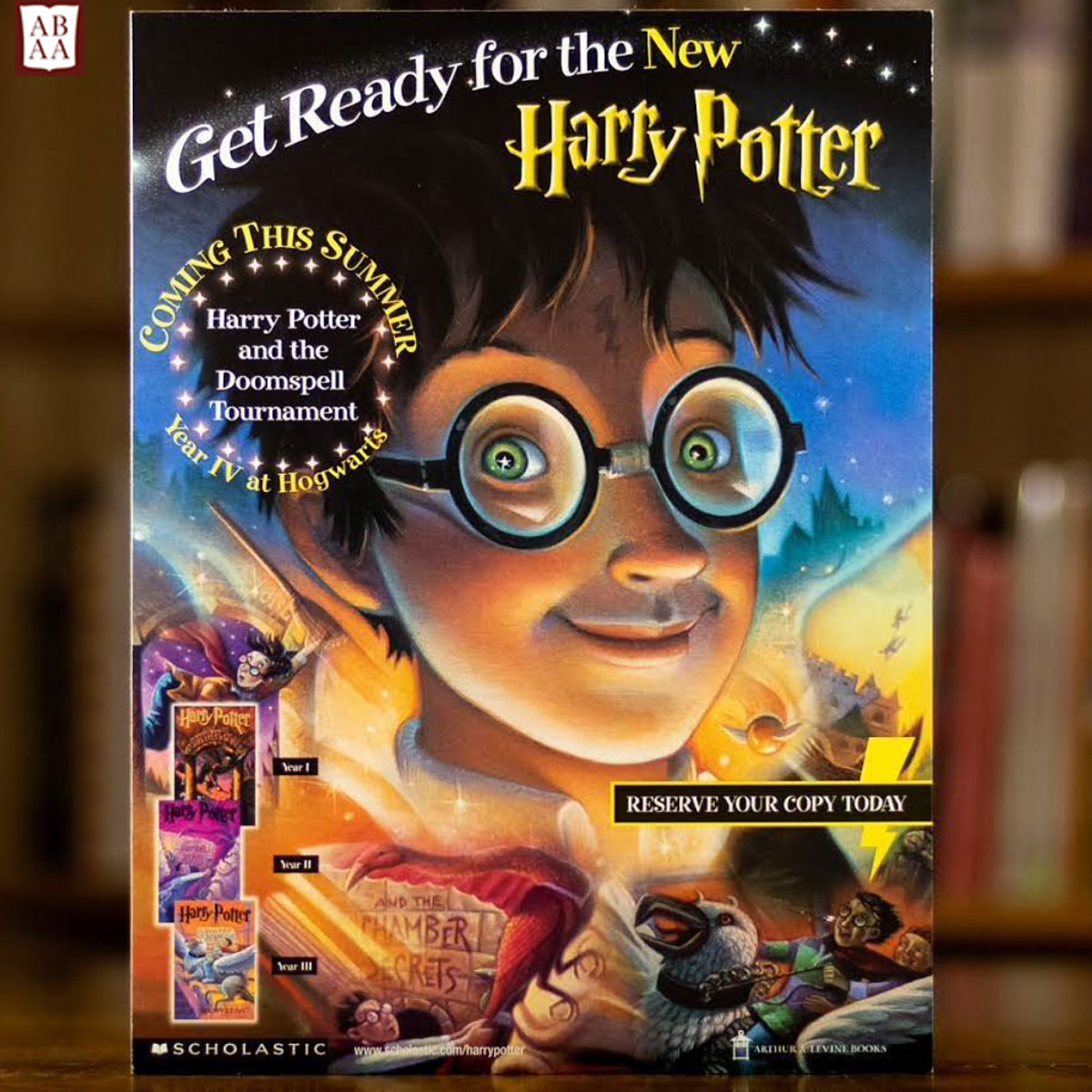 NY, Scholastic, (2000). An advance publicity item for the transformative fourth book in the Harry Potter series, featuring the short-lived name Harry Potter and the Doomspell Tournament.
Harry Potter and the Goblet of Fire was nearly twice as long as the preceding book; it was the first to be released on the same date in the U.K. and the U.S.; the first to have a Saturday release date so as not to conflict with the school day; the first to have a multi-million copy U.S. print run; and it was the first book in the series to not have an uncorrected proof or advance reading copy issued. Its title was intended to be kept a secret until publication day (July 8, 2000); a feat that was made somewhat easier as Rowling herself wavered on the title until at least March or April. The working title was simply "HP IV." However, Rowling's first intended title for the book leaked out, and offered here is a printed easel display card encouraging readers to pre-order their copies of Harry Potter and the Doomspell Tournament. Reportedly there followed a period during which the title was to be Harry Potter and the Triwizard Tournament.
Harry Potter and the Goblet of Fire won the 2001 Hugo Award, the only Harry Potter novel to do so. The Doomspell Tournament easel card is 9" x 12", apparently unused; it has one small nick in a lower corner near a small portrait of Buckbeak the Hippogriff, else fine.
Offered by Ken Lopez, Bookseller.
Spalding's Base Ball Guide and Official League Book for 1887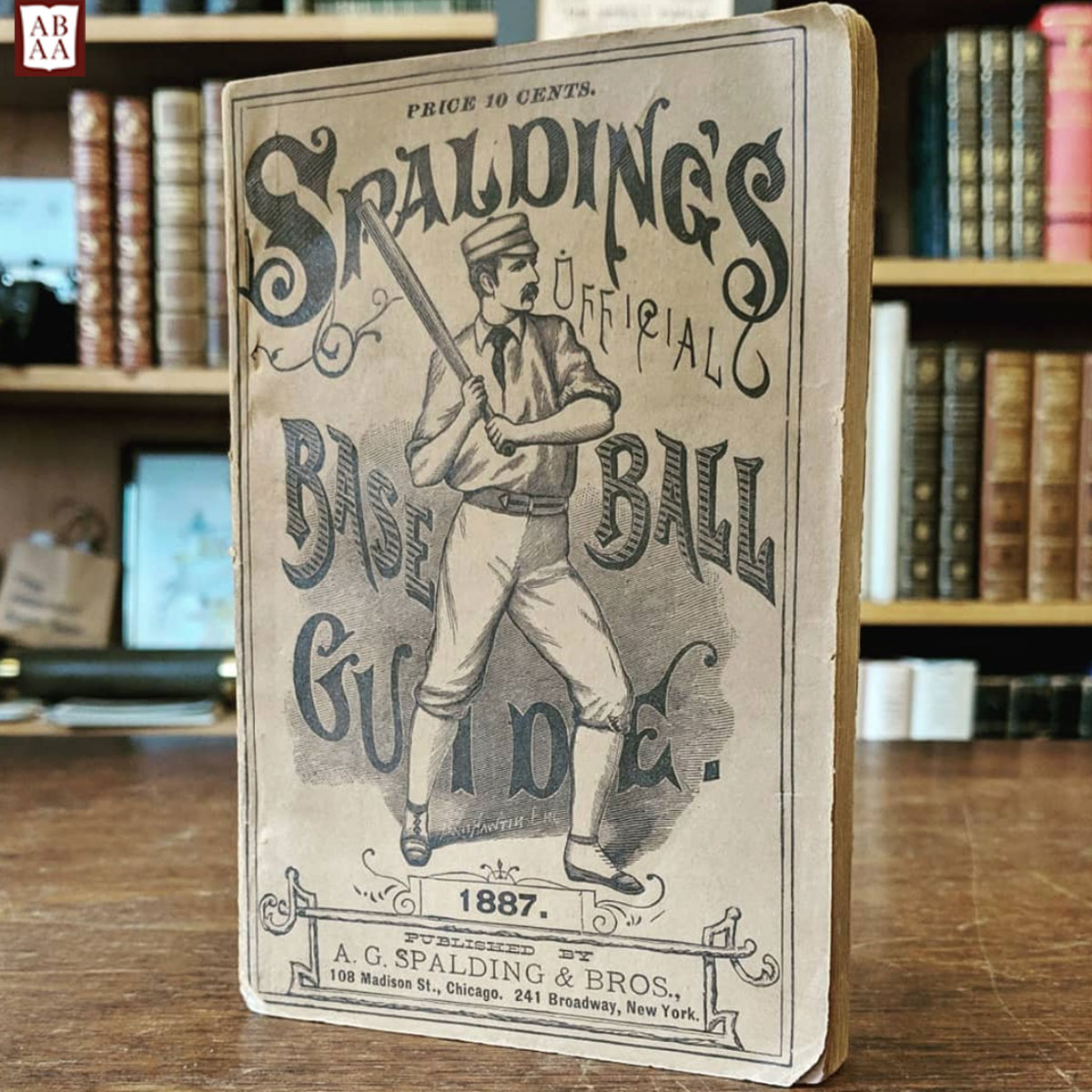 Spotted on Argonaut Book Shop's Instagram feed:
Today is the official Opening Day of Major League Baseball!
Perhaps it is the perfect time to remind ourselves of the rules of the game. What better way to do that than to peruse the Spalding's Baseball Guide from the year 1887. While this might be the the eleventh annual edition of this standard handbook, it is incredibly important "as it presents, for the first time, a new code of playing-rules which will govern every professional club in the country." Before this, each professional baseball organization was allowed to make up their own rules of the game. That doesn't seem very organized to me! SPALDING, A. G. Spalding's Base Ball Guide and Official League Book for 1887. 16mo. 6¼ x 4 inches. Pp. 142, [2], 32 (ads). One illustration, one portrait. Publisher's yellow pictorial wrappers. Spine slightly rubbed with minor wear to foot of spine, tiny chip to lower corner of front wrapper, leaves slightly toned. A fine and clean copy. Chicago and New York: A. G. Spalding & Bros., 1887.
First edition for the year but the eleventh annual edition of the standard handbook and official guide of the national game. Scarce in this condition. Presents pitchers' records in victories for the 1886 season as well as records of the veteran batsmen of the league from 1876 to 1886. This annual is important "as it presents, for the first time, a new code of playing-rules which will govern every professional club in the country." Prior to this particular guide, different playing rules governed each professional organization. With the new "code of playing-rules" the rules throughout the organization were standardized. The last 32 pages present illustrated advertisements for Spalding products.
Offered by Argonaut Book Shop, but not currently listed on abaa.org. (Contact the store directly if interested.)
by David Mosley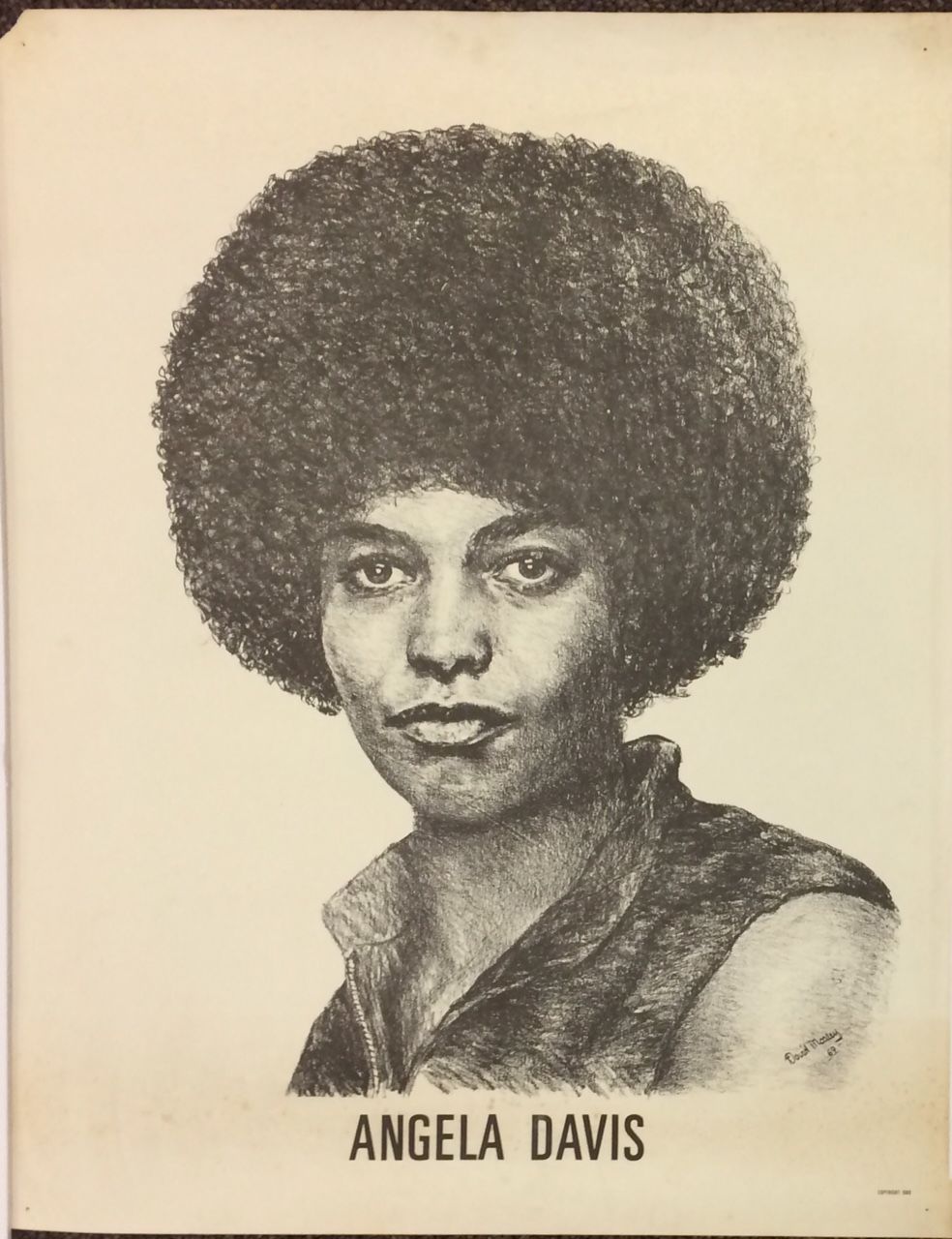 n.p., 1969. 23x29 inch poster, pinholes at corners, foxing across lower field, upper left corner torn off. David Mosley produced a number of posters of contemporary Black icons in the late 1960s and 1970s.
Offered by Bolerium Books.
---
Previous weeks:
Musices practicae erotematum [Liber I-II]... Luczensi, in Academia Tubingensi, Musices Professore ordinario
by FABER, GREGOR CA. 1520-AFTER 1554

Basileae [Basel]: [Heinrichum Petri], 1553. Hirsch I, 163. Eitner III, 370. Cortot p. 73. Gregory-Bartlett p. 86. Davidsson 32. Lowinsky: Josquin des Pres, pp. 159, 277. RISM BVI p. 301 (3 copies in the U.S.).
Faber was a noted German music theorist. "In 1545 he entered the University of Leipzig and in the following year he received the baccalaureate degree. After becoming a magister in 1547 he enrolled in 1549 at the University of Tübingen, where in 1554 he was awarded the degree of doctor of medicine. Meanwhile he had become a music teacher at the university and had published the treatise on which his fame rests, Musices practicae erotematum libri II (Basle, 1553)."
"Faber's treatise exhibits both conservative and progressive traits. It follows the format of Sebald Heyden's De arte canendi, for it also consists of two books, the first on the elements of music and the second on the intricacies of mensural notation. Faber's book 1, however, discusses at length the philosophy of music, an appropriate subject for a university textbook. He borrowed numerous music examples from Heyden, including Ockeghem's well-known Prenez sur moy and the Kyrie II from Isaac's Missa 'Quant j'ay au cueur'. He was one of the few theorists who followed Heyden's theory of a single tactus that could be applied to all mensurations. Although Faber praised Glarean's theory of 12 modes, he still adhered to the eight-mode system. His progressive thought is shown in comments on musica ficta and particularly on an outstanding example of it, Matthias Greiter's Passibus ambiguis for four voices. This extraordinary composition contains written-out accidentals and modulates by a downward circle of 5ths from F to F♭, the chord on which the composition ends." Clement A. Miller in Grove Music Online.
Offered by J. & J. Lubrano Music Antiquarians.
by MILTON, JOHN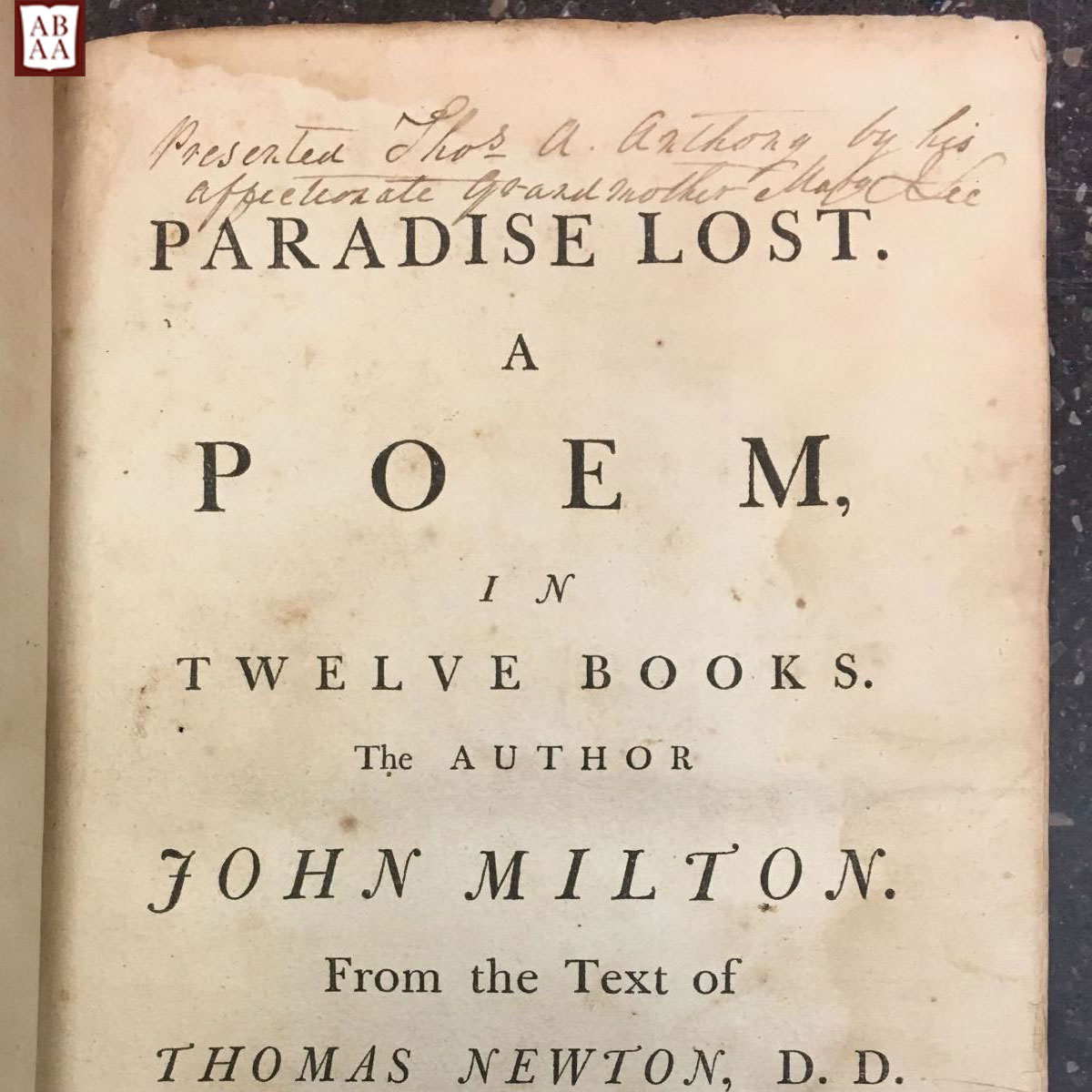 Birmingham: Printed by John Baskerville for J. and R. Tonson, 1760. Third Baskerville Edition. Hardcover. large Octavos, [xix]+lxxii+[v]+416 pages; G; in early brown calf boards, rebacked with new spine, black label and gilt lettering; some bowing to boards, moderate rubbing and scuffing; marbled endpapers; torn bookplate remnants on ffep; some water damage; gift inscription on title page; Life of Milton bound within; With scarce list of Subscribers, including Benjamin Franklin; Wickenheiser 702, Coleridge 123, Kohler 38; shelved case 0. Shelved Dupont Bookstore.
Offered by Second Story Books.
Lewis Carroll - Merrymount Press Rarity with Stunning Illustration by Bertram Grosvenor Goodhue Compiled by Emily Prime Delafield. Alice in Wonderland: A Play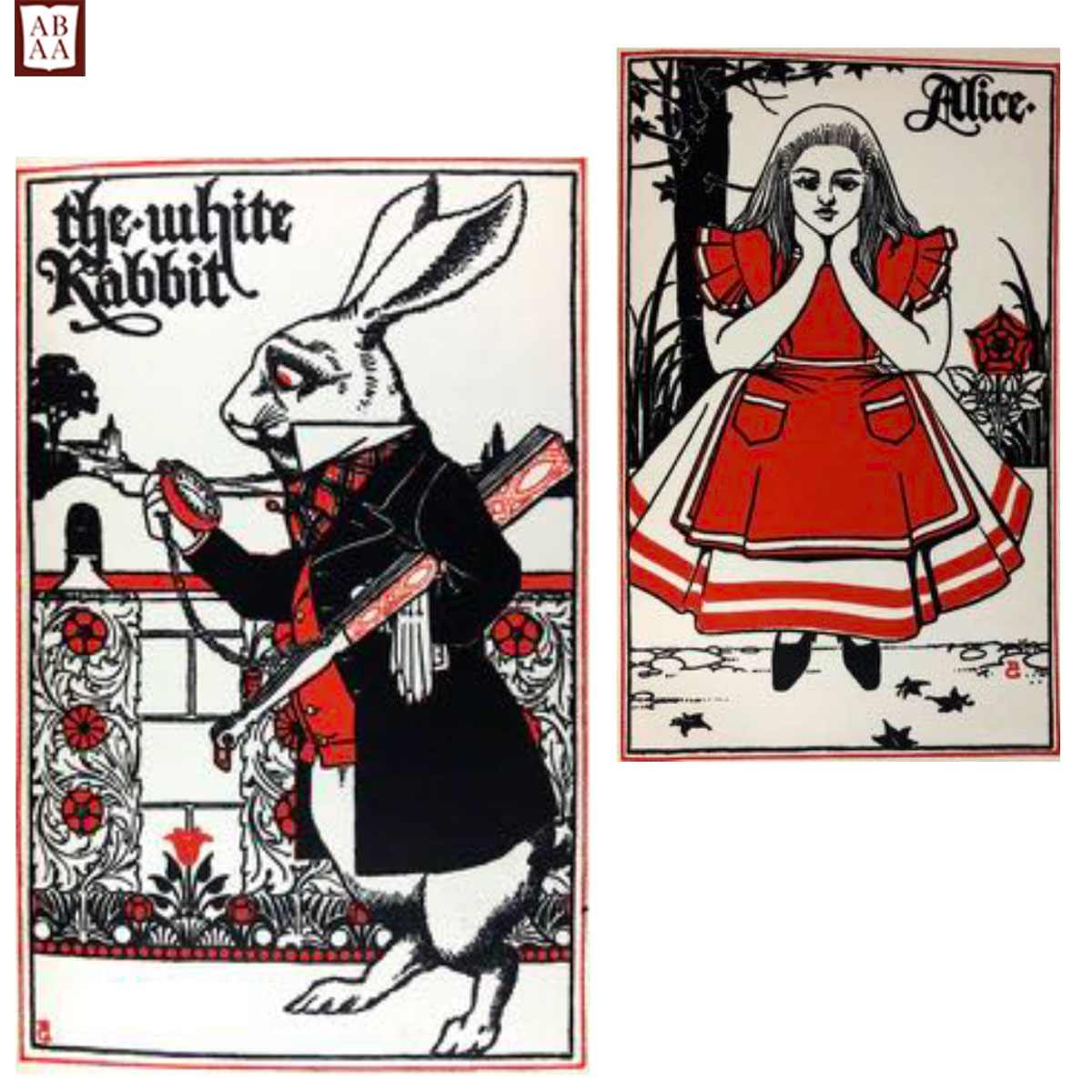 New York & Boston: Dodd, Mead and Company; Printed by D. B. Updike, The Merrymount Press, 1898. First edition thus.
A wonderfully illustrated Alice book, excessively rare, designed and printed at the Merrymount Press by D. B. Updike, with superb full color pictorial illustration on front cover, and detailed patterned floral design on rear cover on paper covered boards, and four full-page plates (in red and black), all by the renowned artist and typeface designer, Bertram Grosvenor Goodhue. Longitudinal lettering in redbrown on spine, additional lettering in black. Orange decorated endpapers. One of Goodhue's hardest to find titles, even more so in this condition, given its notoriously fragile nature. Near fine condition. An early Merrymount title. At time of writing, no copies located on internet.
Offered by Nudelman Rare Books. (Featured in their new catalog, Catalog 42 -- item #100. This item is not listed on abaa.org.)
by J.R.R. Tolkien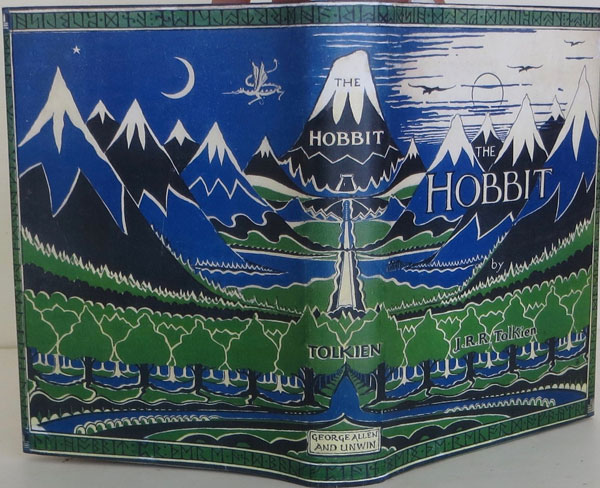 Near fine first edition with the words "First Published in 1937" printed on the copyright page. In original green cloth with very light tanning, rubbing at the spine, and edgewear. In fine facsimile dust jacket of the first issue; First Issue point with the correction of the 'e' in the 'Dodgeson' present on the rear flap. Housed in custom-made slipcase.
Offered by Bookbid Rare Books.
The Living World: A Complete Natural History of the World's Creatures, Fishes, Reptiles, Insects, Birds and Mammals. Founded upon the Theory of the Progression of Species, . . . and the Harmony of Nature.
by James W. Buel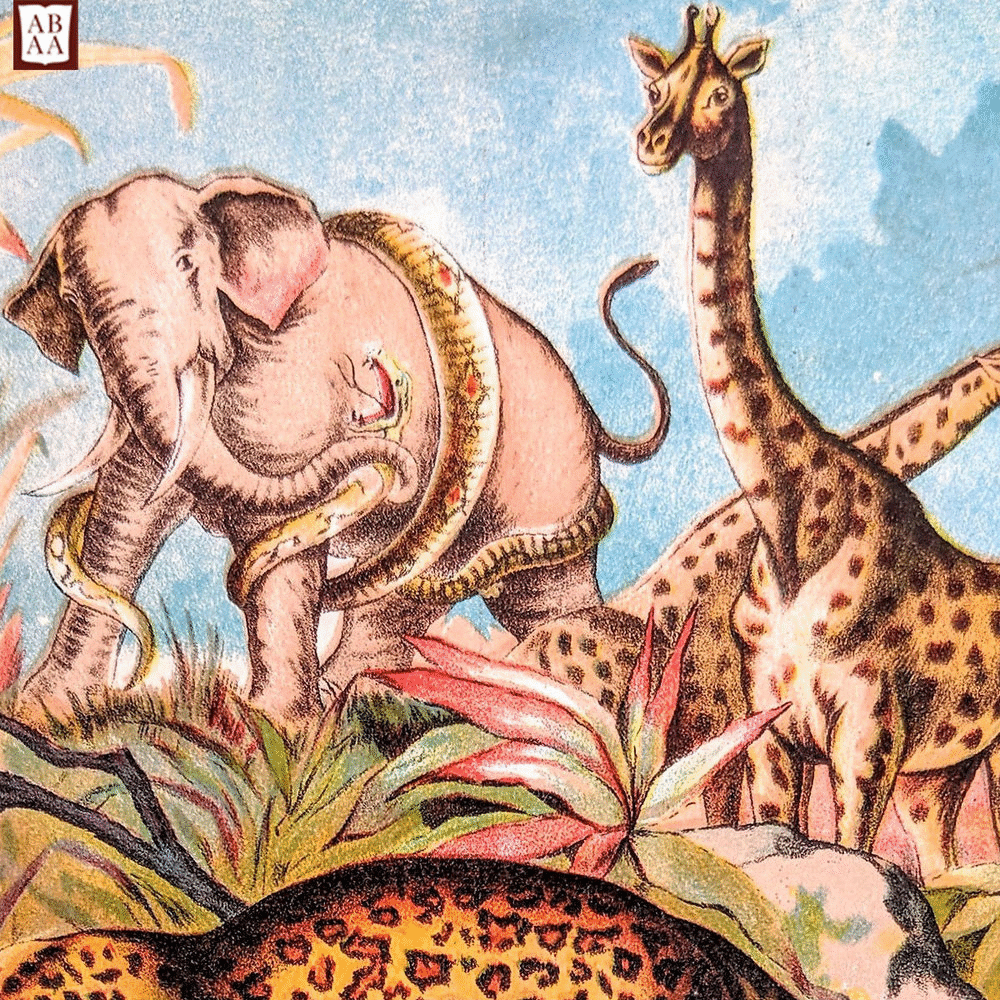 Philadelphia:: Historical Publishing, 1889., 1889. 4to. [ii], 722 pp. Chromolithographic frontis., 8 chromolithographic plates [facing pp. Frontis., 8, 56, 130, 276, 528, 648, 664], more than 1200 engravings, index; some leaves brittle along extremities. Original brown decorative black, silver- and gilt-stamped cloth; soiled, worn, cellophane tape applied to first and last leaves at gutter. Ownership signature of Ralph Manheimer, Christmass 1893. Good.
A beautifully illustrated compendium, written for young people, of writing on the animal kingdom, from mammals and birds to insects and crustaceans. FULL TITLE: The Living World: A Complete Natural History of the World's Creatures, Fishes, Reptiles, Insects, Birds and Mammals. Founded upon the Theory of the Progression of Species, and in Accordance with Genetic Revelation, Scriptural Truths, and the Harmony of Nature. With Introduction Describing the Geological Ages, Changes in the Earth's Crusts, Fossil Remains of Extinct Animals, and Monsters of the Ancient Seas. Replete with Anecdote, Incident and Adventure, Illustrative of the Habits of the Animals Described. Abounding with Thrilling Experiences, Wonderful Discovery, Exciting Episodes and Descriptions of the Marvellous Curiosities of Nature in all parts of the Globe.
Offered by Jeff Weber Rare Books.
View all new listings on abaa.org...
Browse recent catalogs of rare books and print ephemera from ABAA members...
Please note, all items are unique, so if a link takes you to a blank page, the book has been sold!