Our members list new acquisitions and recently catalogued items almost every day of the year. Below, you'll find a few highlights from these recent additions...
London: Walker, 1809. Original Wraps. Orig. illustrated wrappers. Near fine. 22.5 x 32.5 cm. Bright, fresh color engraving with caption above List of Prices reading, "Now gentlemen you had better be quick I have a few bargains to dispose of as the partnership is disolving." British army officers purchased their commissions and were expected to pay for each rank of promotion which was not abolished until 1871. Adhesion marks on verso.
Offered by Roy Young Bookseller.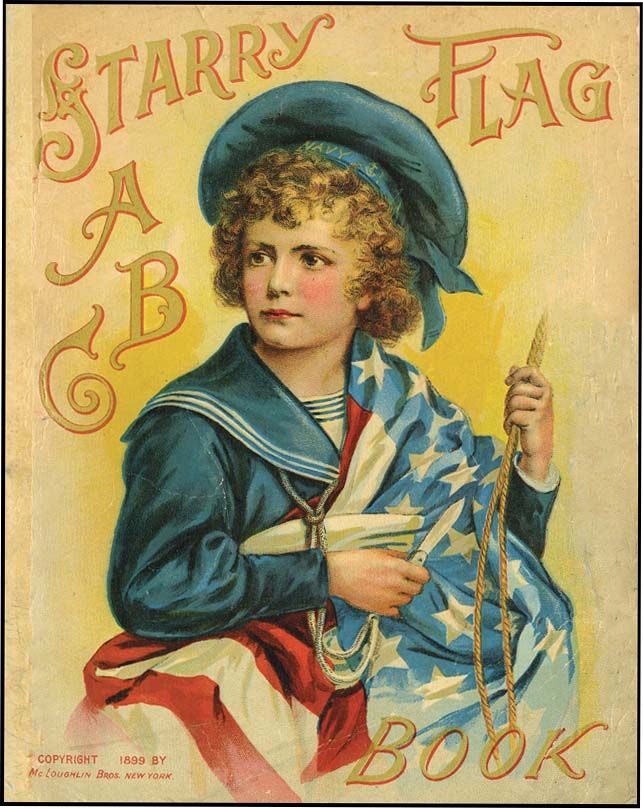 ABC. (PATRIOTIC) STARRY FLAG ABC. NY: McLoughlin Bros. 1899. 4to (8 `/2 x 10 1/2"), pictorial wraps, 16p. including covers, light cover soil and tiny hole in upper corner of cover, VG+. This is an absolutely stunning ABC book with each letter done in a stars and stripes motif with beautiful chromolithographs to accompany rhymes. Also includes an alphabet poem and a Fourth of July story. This is a perfectly lovely alphabet book, very scarce.
Offered by Aleph-Bet Books.
The Lord of the Rings: The Fellowship of the Ring; The Two Towers; The Return of the King (3 Volumes)
by J.R.R. Tolkien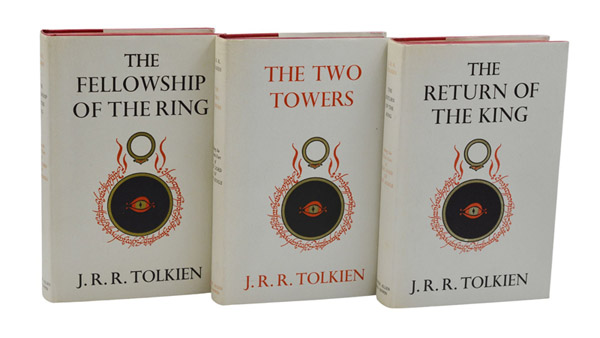 London: George Allen & Unwin. First Edition, Later Printings. Near Fine/Near Fine. 1965, 1965, 1963. Three Volumes. First Edition; 14th, 11th and 10th printings. Near Fine in Near Fine dust jackets, un-clipped and with corresponding statements of impression; maps at rear intact. Two tape ghosts and light offsetting at each endsheet. Dust jacket with light shelf wear and faint sunning to spines. Books and jackets are surprisingly fresh and well preserved. A very striking and early set of Tolkien's classic saga, rarely seen in such nice condition.
Offered by Burnside Rare Books.
Marlborough His Life and Times
by Winston S. Churchill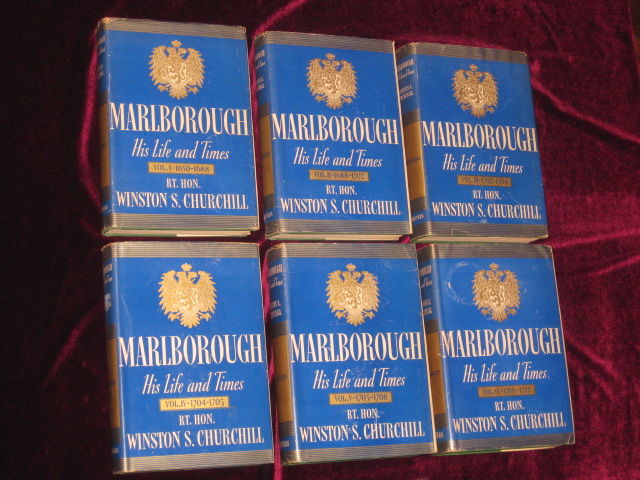 New York, 1933-38: Charles Scribner's Sons. First American Edition. Fine/Very Good+. All first printings, with the Scribner's "A" on the copyright pages; dust jackets are all unclipped, very good to near fine. "Churchill's biography of his illustrious ancestor, John Churchill, Duke of Marlborough. A lovely set, much scarcer than the British edition and in a 6 volume format. As neat and clean a set as one can expect to find on today's market; internally clean and bright, with no markings of any kind. Dust jackets show very minor wear at extremities; light circular stain on front panel of volume VI.
Offered by Charles Parkhurst Books, Inc.
Mapping the Transmississippi West, 1540-1861 [with] Mapping the Transmississippi West, 1540-1861: An Index to the Cartobibliography
by WHEAT, CARL I.; SEAVEY, CHARLES A. (INDEX)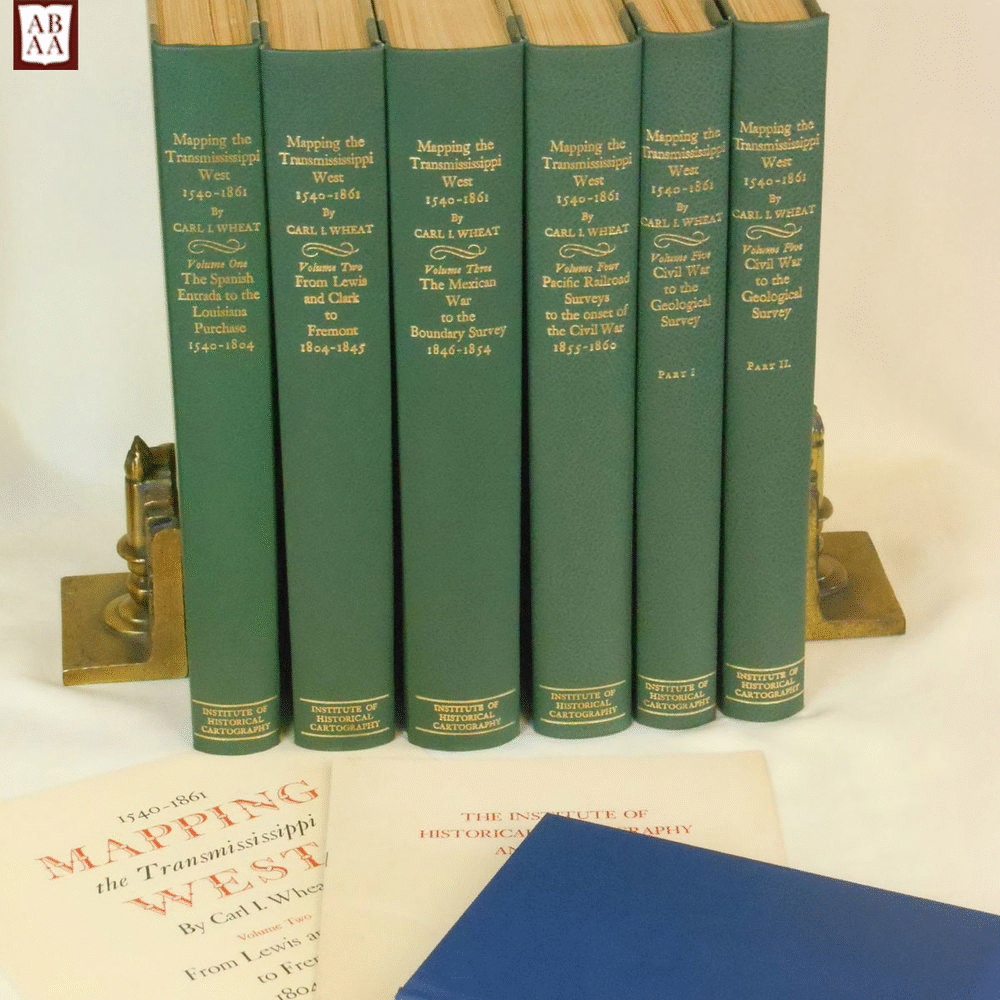 San Francisco: The Institute of Historical Cartography [Volume I printed by The Grabhorn Press], 1963. Limited Edition. Hardcover. Fine/near fine. One of 1000 copies, five volumes in six (complete), with original dust jackets, folio size, 1938 total pp., plus separate Index volume, with announcement/prospectus to Volume One and prospectus to Volume Two. Carl Irving Wheat (1892-1966), in addition to authoring an important bibliography on the works of the California Gold Rush as well as several other books, is perhaps best remembered for this set which has been called his "milestone work". Wheat's inspiration came with the rediscovery of a copy of the 1847 Fremont map with manuscript emendations by George Gibbs from an unknown source, and which showed, in pencil, the travels by western explorer Jedediah Smith; the set not only shows the significant maps of each era of exploration, but also tells the history behind their making, of the people behind the geography.
The first volume of this five-volume set, printed in six books, was printed by the inimitable Grabhorn Press, and the subsequent volumes match their design; Volumes Two through Four were printed by Taylor & Taylor, and Volume Five was printed by the James Printing Company. The set is replete with maps, some fold-out, gorgeous in their attention to detail and design, of the western United States and Mexico; each volume is in the original brown paper dust jacket. Accompanying the set is an Index volume by Charles A. Seavey, accomplishing what must have been the daunting task of organising and alphabetising the maps found throughout the volumes; included also is the announcement / prospectus for Volume One, printed by the Grabhorn Press, and the prospectus for Volume Two, both featuring reproductions of the title pages from their respective volumes and important information about the content of the books. A masterpiece of cartography, this set showcases Wheat at his best: as a lover of geography, of exploration, of history, and of the stories left in the scope of the land imprinted at each stage of its mapping.
DESCRIPTION: Quarter green pebbled cloth with tan cloth boards, gilt lettering and decoration on the spine, fore-edges rough cut, all volumes but Part Two of Volume Five with colour frontispiece of different maps, title pages in red and black, each chapter with red initial capital, all volumes illustrated throughout with copious maps, reproduced in black-and-white, some fold-out; Van Dijck type, Curtis rag paper, folio size (14.5" by 10.5"), pagination: Volume One: [i-iv] v-xiii [xiv] 1-264; Volume Two: [i-iv] v-xiii [xiv] 1-281; Volume Three: [i-iv] v-v-xiii [xiv] 1-349; Volume Four: [i-iv] v-xiii [xiv] 1-260; Volume Five, part one: [i-iv] v-xviii [xix-xx] 1-222; Volume Five, part two: [i-iv] 223-487, one of 1000 copies, unnumbered. Each volume in a brown paper dust wrapper. The Index volume with full blue cloth, gilt lettering on the spine, beige endpapers, black-and-white photograph of Carl I. Wheat following the title page; octavo size (9.25" by 6"), pagination: [2] ii-viii 1-210. With the prospectus for Volume One, softcover stapled at the spine, printed in red and black with a reproduction of the title page, and the prospectus for Volume Two, one sheet folded once to make four pages, printed in red and black.
CONDITION: All volumes are fine, with clean boards, straight corners with no rubbing, strong, square text blocks with solid hinges, the interiors are clean and bright, and entirely free of prior owner markings; faint off-setting to the free endpapers from the dust wrappers, else fine. The plain tan dust wrappers are near fine, unclipped, clean overall with a few stray marks here and there, light edge wear to the heads and tails of the spine, some shallow creases; Part One of Volume Five with a small chip to the rear edge of the spine and a small closed tear (one inch) at the tail of the spine, both wrappers of the two books of Volume Five with stamped numerals "1" and "2" at the tail of the spines by a prior owner. The Index volume is fine, with clean boards, straight corners with no rubbing, a strong, square text block with solid hinges, the interior is clean and bright, and entirely free of prior owner markings; very light rubbing to the head and tail of the spine. The prospectus for Volume One is very good, the interior pages are clean and bright, with soiling to the outer pages, with very light wear to the edges. The prospectus for Volume Two is fine, clean and without wear.
CITATION: Grabhorn Press Bibliography no. 590 (Volume One only).
Offered by Swan's Fine Books.
Bugs Bunny portrait sketch signed with note, on 6 x 8.5 fine paper
by Friz Freleng



Very Good. Bugs Bunny smiles brightly from the page in this pen and ink portrait of Bugs' familiar face. Freleng has signed "Friz Freleng" in his typical capital letters and penned below his name in similar style, "Sorry Can't Make It This Time - Maybe the Next. Wish You Well." What a charming way to send regrets. Condition: center fold slightly visible suggesting the drawing was sent to decline an invitation.

Offered by Schulson Autographs.
Early Photographs from the Collection of William S. Burroughs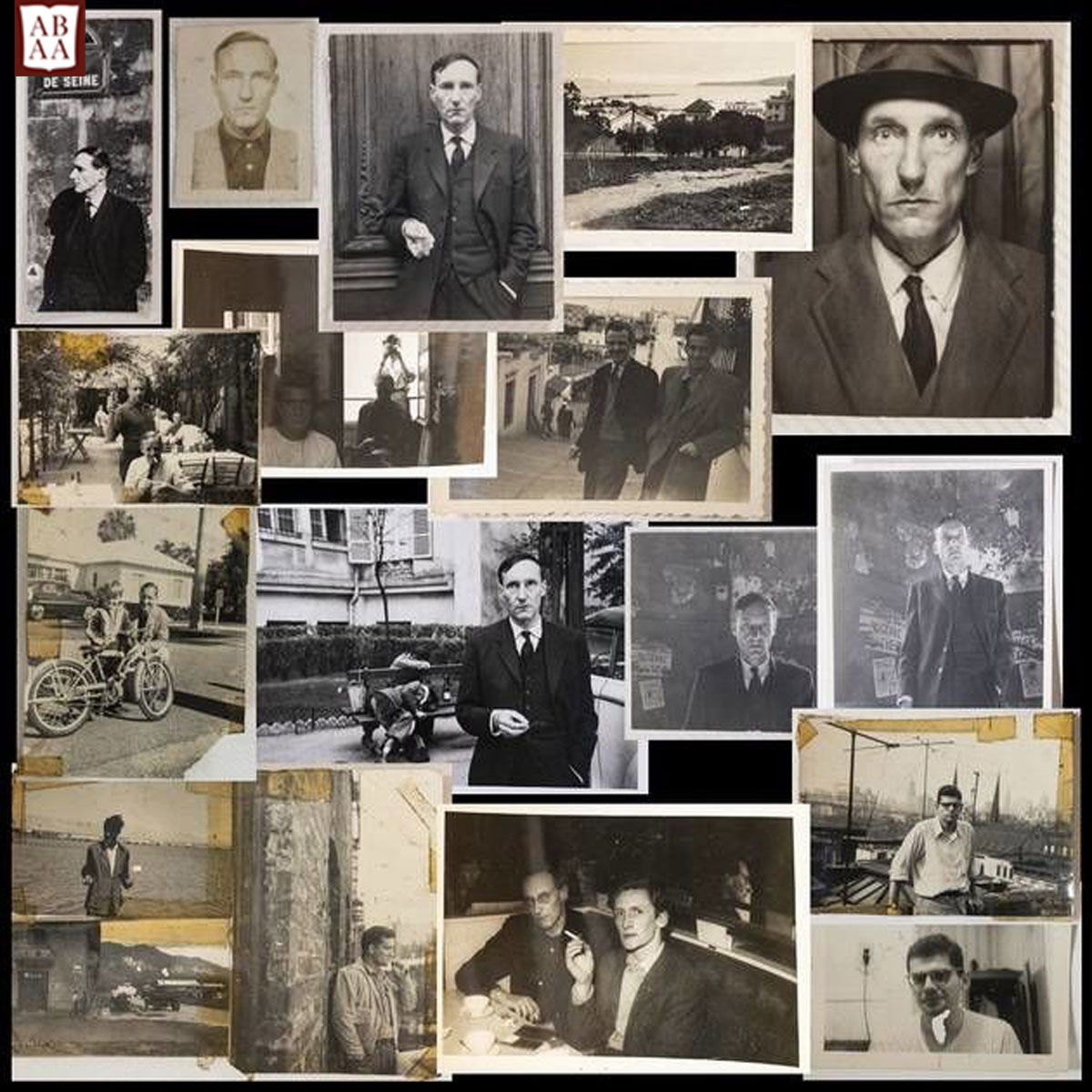 [ca 1950s]. An album containing early photographs by and of William S. Burroughs and other figures of the Beat generation, including photo collages and partial collages, with annotations by Burroughs; a photobooth portrait; a passport photo; a negative of an unpublished Brion Gysin photograph of Burroughs from 1959 (with contemporary archival print); and other images. 32 photographs in all, plus calling cards of Bruno Heinrich and Charles Henri Ford, and a copy of Driffs magazine -- "The Antiquarian and Second Hand Book Fortnightly" -- which includes Part 1 of Iain Sinclair's "Definitive Catalogue" of the Beats -- this part being devoted entirely to theworks of William Burroughs, with this album as item number 80 in the catalogue. The photographs are primarily from the early 1950s -- the ones annotated by Burroughs having dates from 1952 to 1954.
Several photographs are taped together, forming early visual collages, while a number of the individual photos have sellotape along their edges, suggesting they were at one time part of a larger collage. The collages, or collage fragments, represent some of Burroughs' earliest attempts to use visual images in the way he was using words -- to transcend time and space, and link together various aspects of his life and world, in ways that correlate to a "mindscape" -- akin to the connections between the stories he wrote during that period that were collectively known as the Interzone, which was also an early title for Naked Lunch. Brion Gysin, in his 1964 essay, 'Cut ups: A Project for Disastrous Success,' wrote that "Burroughs was more intent on Scotch-taping his photos together into one great continuum on the wall, where scenes faded and slipped into one another, than occupied with editing the monster manuscript" -- i.e., Naked Lunch, aka his Word Hoard. And Burroughs wrote in one of his Adding Machine essays: "I was back in my old garden room at the Villa Muniria [in Tangier], and it was here that I first started making photo-montages." This was March 1961.
The provenance of this group of materials is "the legendary Hardiment suitcase," belonging to poet Melville Hardiment, a friend of Burroughs during the years 1960-62, who is also known as the first person to have given Burroughs LSD, apparently without Burroughs' advance knowledge. Hardiment's wife at the time was Harriet Crowder, a photographer who is well-known for having taken the portrait of Burroughs on the LP "Call Me Burroughs." Hardiment bought a number of items from Burroughs in that time period and famously kept them in a suitcase. According to his second wife, Pat Hardiment, Melville would sell off the contents bit by bit, when he needed money. One group of materials ended up at the University of Kansas, and is known there as the Burroughs-Hardiment Collection: this group went from Hardiment to the bookseller Pat Zanelli, to bookseller Larry Wallrich, and then to the university. A second group of photographs and collages went into the collection of photographer Richard Lorenz, and were exhibited in the 1996 show at the Los Angeles County Museum of Art -- "Ports of Entry: William S. Burroughs and the Arts." By 1996, Burroughs' influence on the visual arts was sufficiently deep and widespread to justify a museum show of its own. The photos and collages in the Lorenz collection were of the same subjects, from the same time period, with the same annotations as the Kansas photos, and would appear to have also come from Hardiment's suitcase. Several of the Lorenz images remain taped together forming collages, or mini-collages; many others, though, now stand alone, although by the evidence they were once part of a larger construct.
This third group, offered here, went from Hardiment to Iain Sinclair, likely again via Pat Zanelli (Sinclair recalls buying the lot from a woman bookseller, and Zanelli is the most likely candidate). Like the photos in Kansas and those in the Lorenz collection, many of these have sellotape on the edges, and like the collages in the Lorenz collection, some are still taped together, forming collages themselves or representing collage fragments. Tape shadows on the versos of some of the images both here and at the University of Kansas hint that Burroughs may have created the collages and then, when he began experimenting with the cut-up technique in writing, have cut-up the collages with the intent of applying this same technique to visual imagery. The Lorenz items were not presently available for examination of their versos, but some evidence supports this notion, such as that some of the images in the collages were partially torn away, and that there was evidence of the collages having been part of a larger grouping previously. William S. Burroughs is known as a key figure of the literary avant garde of the 20th century, and the impact of his work on the visual arts -- both his own artwork and others' works derived from his literary writings -- was sufficient to justify a major museum show and catalog. These snapshots and snapshot collages represent some of his earliest efforts to explore the ideas he was working on in his writing using visual materials. Isaac Gewirtz, the curator of the Burroughs archive in the Berg Collection at the New York Public Library, wrote in his book on Burroughs, Beatific Soul, that the Interzone was an "imaginary city" which was "a combination of New York, Mexico City, and Tangier" in which Burroughs "construct[ed] hallucinatory, interconnected narratives for its numerous characters." These groups of photographs show Burroughs venturing even farther afield and including "Tetuan" [i.e., Tetouan], in Morocco; Huanuco, in Peru; and Paris, as part of his interzone, or mindscape. The Huanuco photographs and a Pucallpa, Peru calling card date from Burroughs' trip to South American to meet with Harvard ethno-botanist Richard Evans Schultes (aka "Dr. Schindler" in The Yage Letters) to try ayahuasca for the first time. Early, seminal material from William S. Burroughs, an icon of the Beat Generation, whom Norman Mailer, in 1962, called "the only American novelist living today who may conceivably be possessed by genius." No Binding.
Offered by Ken Lopez - Bookseller.
by William Lee (William S. Burroughs)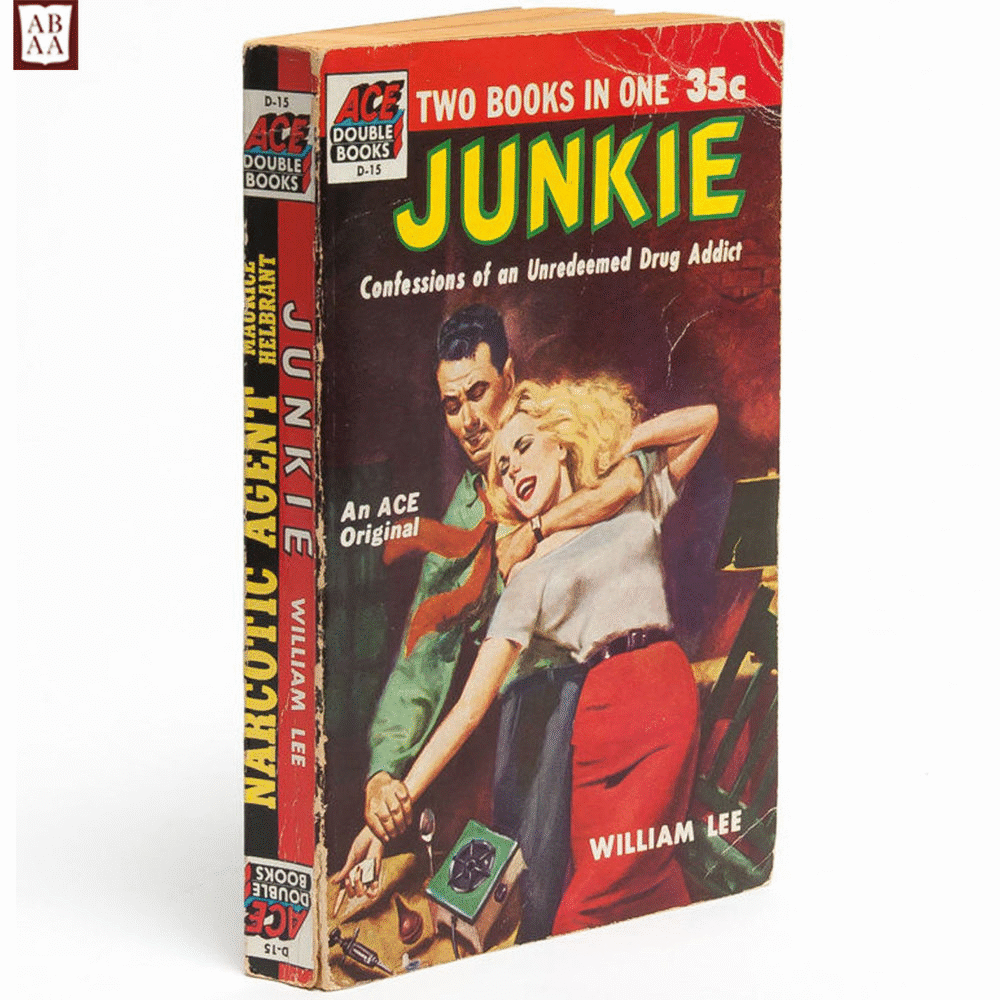 New York: Ace Books, Inc, 1953. First edition. Paperback Original. Very Good +. First printing of William S. Burroughs first book, written under a pseudonym. Considered unprintable until Allen Ginsberg championed the work to a pulp paperback publisher, A.A. Wyn. Bound as an Ace Double with Narcotic Agent by Maurice Helbrant, Burroughs first work was largely overlooked by literary critics and libraries. This copy Very Good+ to Near Fine, appearing unread. Minor creasing at the corners and lower spine with a short tear. Pages browning as usual. Considered a seminal text for the Beat generation, Junkie is a semi-autobiographical work drawn from Burroughs' own experiences using and selling heroin. Written at the urgining of Allen Ginsberg, the book also benefited from Ginsberg's editing and promoting. It was ultimately produced in paperback form, which allowed it to gain cult status among his own generation, but cause delays in it being recognized by institutions or non-Beat intellectuals. Very Good +.
Offered by Whitmore Rare Books.
Experiments and Observations on Electricity, Made at Philadelphia in America...to which are added, Letters and Papers on Philosophical Subjects. The Whole Corrected, Methodized, Improved, and now first collected into one volume, and illustrated with copper plates
by Benjamin Franklin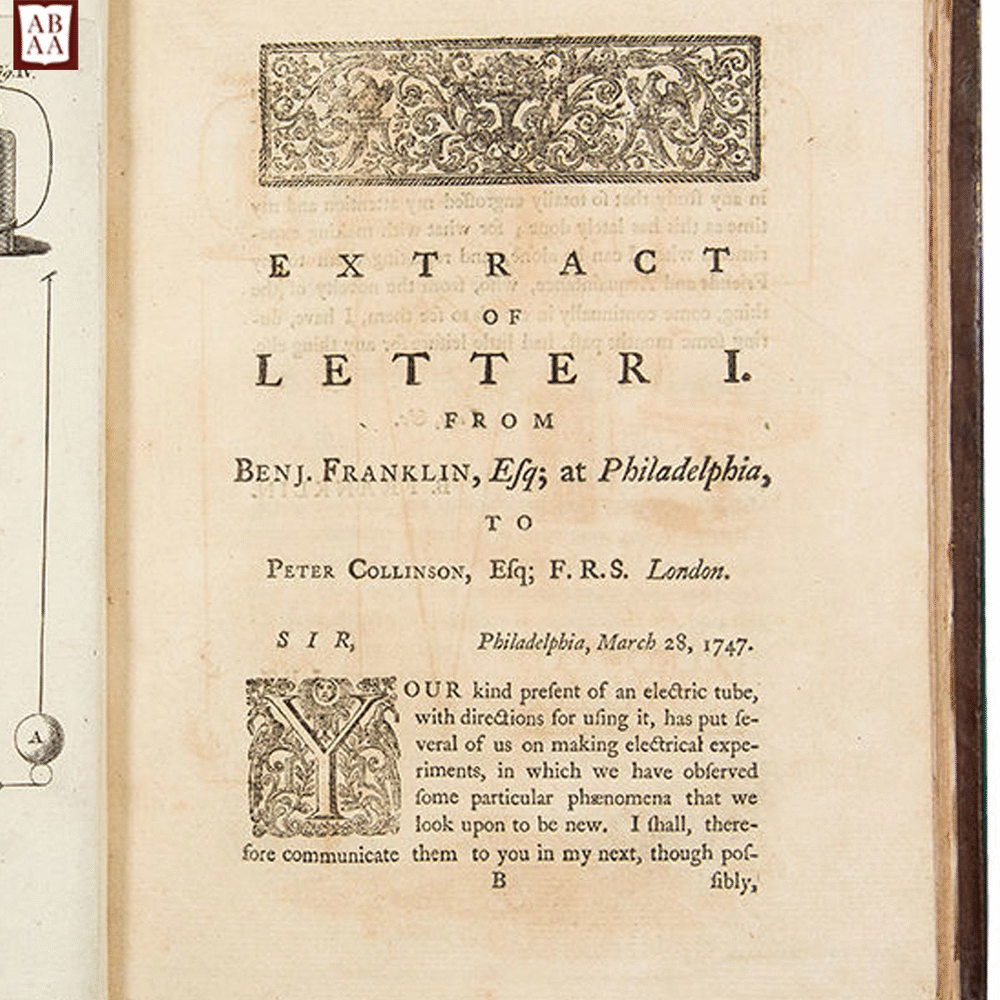 London: Printed for David Henry, 1769. Quarto. (8 1/2 x 6 7/8 inches). [2],iv,[2],496[i.e. 504],[16]pp. including leaf of errata and advertisement "concerning this fourth edition." Seven engraved plates (four folding). Half title. Contemporary speckled calf, expertly rebacked to style retaining the original red morocco lettering piece Provenance: F. G. Smyth (armorial bookplatex) The fourth, first collected, and by far the most desirable edition, containing for the first time complete notes on all the experiments, as well as the correspondence between Peter Collinson, Franklin, and other collaborators: "The most important scientific book of 18th centuryAmerica" (PMM).
Franklin began experimenting with electricity as early as 1745, demonstrating the electrical property of lightning and inventing the lightning conductor. This volume includes summaries of his work with Leyden jars, charged clouds and lightning rods, as well as his famous kite and key experiment. In addition to the electrical experiments it contains the important discovery of the course of storms over North America, and other important meteorological observations. The work caused a sensation in the scientific world when first published in 1751, and ranked in the eyes of many of Franklin's contemporaries far beyond any of his political achievements. Harvard and Yale awarded him honorary degrees in 1753; he received the highest award of the Royal Society, the Copley Medal, the same year; and he was elected to the Society in 1756, the first American to be so honored. This fourth edition is the first complete edition of the original work; the earlier editions were issued in separately-published parts. Here, Franklin edited this new one-volume edition himself, significantly revising the text, adding for the first time a number of his own philosophical letters and papers, introducing footnotes, correcting errors, and adding an index. This copy with the errata/advertisement leaf which is often lacking. "America's first great scientific contribution" (Howes).
Offered by Donald A. Heald Rare Books.
BOOK OF HOURS (Use of Rome), illuminated manuscript on parchment in Latin and French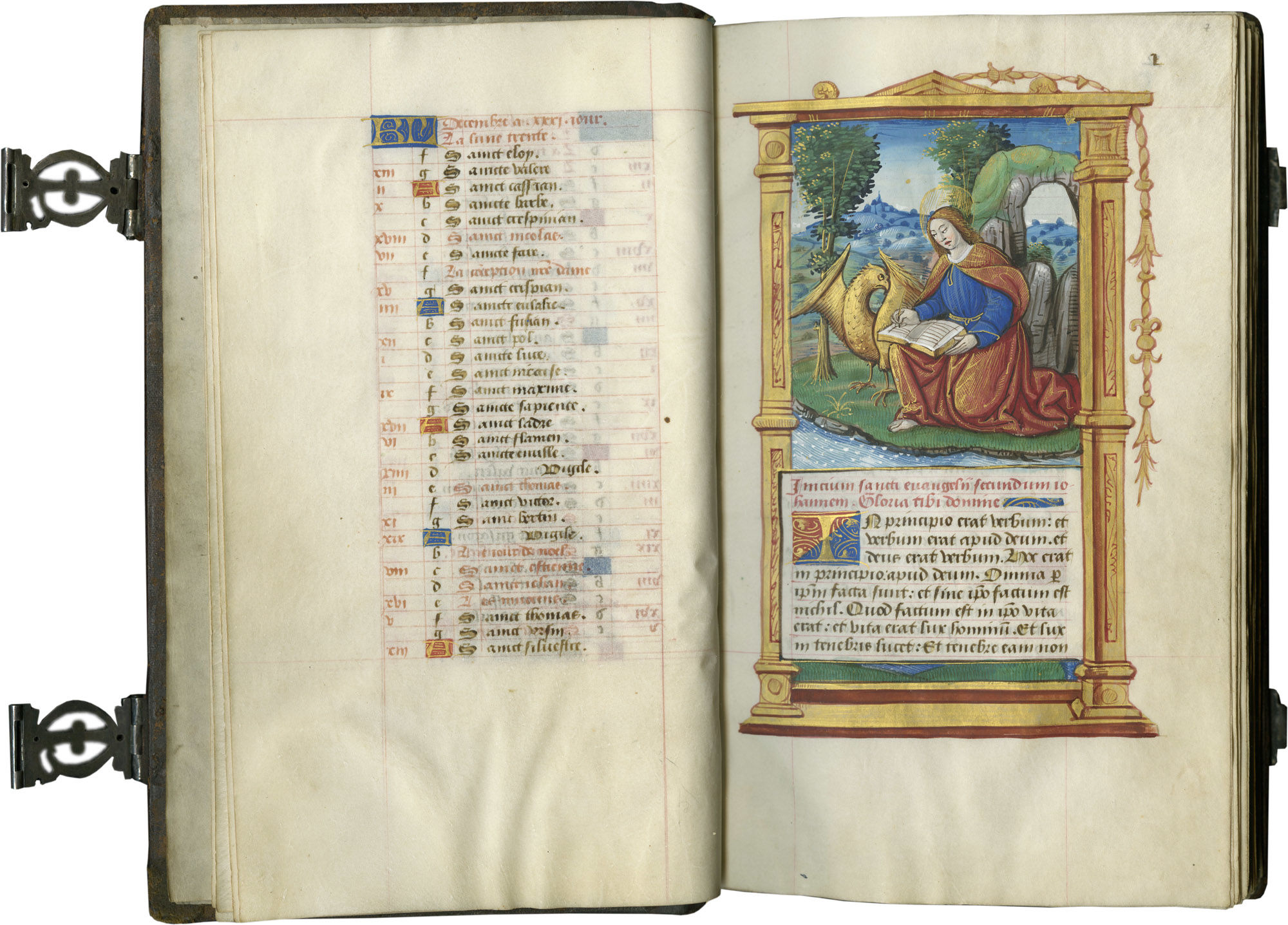 REMARKABLE EXAMPLE OF A PERFECTLY PRESERVED PARISIAN RENAISSANCE BOOK OF HOURS WITH BINDING, CLASPS, AND PICTURES ALL INTACT. Illuminated manuscript on parchment, in Latin and French, France, Paris, c. 1500. Dimensions 220 x 130 mm., 90 folios, complete, written in a single column of 30 lines in a pleasing formal bâtarde book hand, rubrics in red, one-line initials throughout, numerous two-line initials, 14 LARGE AND 23 SMALL FINELY EXECUTED MINIATURES by the workshop of JEAN COENE IV (=MASTER OF THE PARIS ENTRIES).
BINDING: Bound in ORIGINAL, unrepaired blind-stamped leather, with raised bands, two original openwork silver clasps, original catch plates and anchor plates, remnants of velvet chemise beneath, vellum pastedowns, all edges gilt. In a modern brown cloth clamshell box with leather spine label.
ILLUSTRATION: This exceptional Book of Hours was clearly a premium production, almost certainly done by the master Jean Coene IV (active c. 1490-1520) himself. The harmonious composition of each scene, the use of vibrant color combinations, and the confident line strokes clearly indicate the work of a practiced hand.
PROVENANCE: The manuscript's original owner was Jean Martin, an official in the French government, whose name and important genealogical dates are written in the back of this volume. Front pastedown contains an armorial bookplate of Monsieur le Marquis de Dollon (1769- 1856); later in a private collection.
CONDITION: few marks and a little rubbing to the leather, small stain affecting top margin of one gathering, trivial erosion to paint, light rubbing to one or two miniatures, but all imperfections are very minor. Overall in outstanding condition. Full description and images available.
Offered by Les Enluminures.
MR WILLIAM SHAKESPEAR'S COMEDIES, HISTORIES AND TRAGEDIES. PUBLISHED ACCORDING TO THE TRUE ORIGINAL COPIES. UNTO WHICH IS ADDED, SEVEN PLAYS, NEVER BEFORE PRINTED IN FOLIO
by William Shakespeare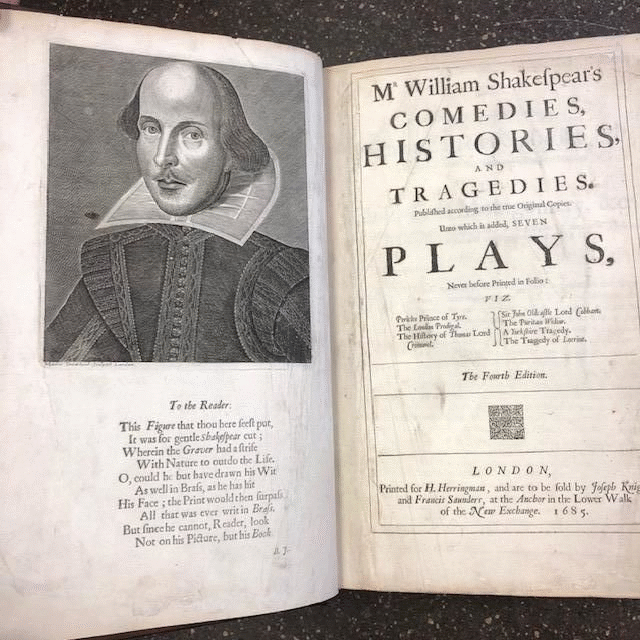 London: Printed for H. Herringman, and are to be sold by Joseph Knight and Francis Saunders, 1685. Fourth Folio. Hardcover. Folio; Fine; bound in imitation period style, with old leather used for the boards, new spine, and endpapers using old-style paper; bookplates preserved onto front pastedown; pages measure 360mm x 234mm.; The First leaf with with the portrait and verses have been restored in the margins with modern blank paper, not affecting the text and engraving. There are marginal repairs to the title page, where the top lines of the title page margin have been restored in facsimile. Two leaves, signatures 313-314, have been supplied from another copy. The portrait, title page, and first few leaves have slightly more wear than the remainder. There are minor stains, minor closed tears, slight wear, and extremely minor worming to the lower margin, almost exclusively to last few signatures.; Variant imprint, without the usual "for H. Herringman, E. Brewster, R. Chiswell, and R. Bently", but rather "Printed for H. Herringman, and are to be sold by Joseph Knight and Francis Saunders". First State, with borders on all pages; With the bookplates of both Sir John Leveson-Gower of Trentham (1675-1709) and Thomas Fowler (1760-1815).
Detailed information about the provenance available upon request. This is the only edition among the four Shakespeare Folios in which each play does not begin a fresh page. Unlike other three folios, the Fourth Folio is not a page-for-page reprint of the earlier edition. The text is clearly divided into three sections, each starting a fresh set of pagination: the Comedies (Signatures. A-Z, paged 1-272), the Histories and the Tragedies up to the end of Romeo and Juliet (Signatures. 2B-2Z, *3A-*3E, paged 1-328), and the rest of the Tragedies and the seven apocryphal plays (Signatures: 3A-4C, paged 1-303). [Meisei University] Two pages of Love's Labour's Lost (Sig. L1 and L1v) are conspicuous in that the text is set continuously and in smaller type (8-point rather than 12-point.) They were apparently reset to print the text equivalent to 3 pages into 2, after noticing that they had missed a page. 2B1, 2C1, 2C3, 2E3, 2O1 have the signatures hand-corrected (or in the case of 2E3, entirely in hand, or in 2O1, thick 'OO' covering an incorrect 'Pp'), as usual, due to the printer misprinting some signatures. [Dawson 1951] The Fourth Folio "reprints the folio of 1664 without change except in the way of modernizing the spelling, and of increasing the number of initial capitals within the sentence." [Lee, 1922] "The Fourth Folio, published in 1685, included the same 43 plays in the same sequence as the Third - and indeed exactly echoed its claim on the title page to have "added" 7 plays "Never before Published in Folio." These were in fact also reprinted from the Third Folio."
Offered by Second Story Books.
Paul Revere's Iconic Boston Massacre Print
1770 · Boston, MA.
Revere's print quickly became one of the most successful examples of political propaganda of all time. The depiction of the event, and a poem printed below, vilify the British Army and list the first casualties of the American Revolution: "Unhappy Boston! see thy Sons deplore, Thy hallow'd Walks besmear'd with guiltless Gore...The unhappy Sufferers were Mess[ieur]s Saml Gray, Saml Maverick, Jams Caldwell, Crispus Attucks & Pat[ric]K Carr Killed. Six wounded; two of them (Christr Monk & John Clark) Mortally..." Rushed into print less than a month after the event, Revere's print helped unite the colonists and, in American minds, cast the British as aggressive oppressors— making rebellion easier to justify. PAUL REVERE.
Engraving. "The Bloody Massacre perpetrated in King-Street Boston on March 5th 1770 by a party of the 29th Reg." Printed by Edes & Gill, Boston, Mass., 1770. First edition, second state (clock showing 10:20), original hand coloring. 1 p., LVG watermark, 9⅝ x 12 in.

Historical Background

By the spring of 1770, New England's metropolis had been smoldering with discontent. In 1765, Parliament had imposed the Stamp Act. Though repealed, it was soon replaced by Townshend's "Intolerable Acts," including new taxes. Then, the Crown's commissioners of customs, fearing (with good reason) for their safety, had requested military support. In 1768, several infantry regiments, accompanied by a small artillery train, were tasked with keeping order in the city. Nearly 2,000 soldiers lived amongst Boston's population of just 15,000. The quartering of the troops in private homes was seen as an additional affront to America's already injured liberty. British soldiers soon became a despised caste.

The details of the Boston Massacre are murky. Contemporary witnesses, chroniclers and the soldiers and subjects at the heart of the matter told very different stories. In any case, on March 2, 1770, a scuffle broke out between workers at a rope walk and a number of soldiers who supplemented their wages with occasional work. The incident was repeated the following day. On the night of the 5th, the riot known as the Boston Massacre began when a group of apprentices, teenagers for the most part, heckled and harassed a lone sentry at the customs house. As the crowd continued to gather, a small relief arrived at the scene, determined to extricate the soldier. Epithets, and snowballs and ice were hurled. A thrown club struck a soldier; when he rose to his feet, he fired his musket. Enraged, the crowd advanced en masse. They were met by a volley of bullets. Three men were killed outright, two more died of their wounds, and several more were severely injured.

Boston was horrified as Church bells rang throughout the city, and sermons and speeches and town meetings railed against the British atrocity. On March 26, an advertisement in the Boston Evening Post
announced that "A Print, containing a Representation of the late horrid Massacre in King-Street," was available for purchase. Edes & Gill, which printed the engraving for Revere, shows a charge on their ledger for 200 copies on March 28.)

The scene was actually drawn and engraved by Henry Pelham, but Revere somehow acquired a copy. Revere, primarily a silversmith, also had a reputation as an engraver. He advertised and rushed out his version, trumping Pelham by a crucial week, ensuring that Revere's production would dominate the market.

The Boston Massacre print is a propaganda masterpiece. Rather than picturing true riotous confusion on all sides, it depicts murderous and calculating Redcoats firing a uniform volley into a crowd of unarmed
civilians who are already tending to their fallen peers. The British officer has his sword raised, apparently ordering his men to open fire. A rifle barrel, presumably from a hidden British soldier, can be seen firing from the window of the "Butcher Shop" above the Customs House, drawing a potent connection between the butchery of the day and the hated customs officers who were being protected by the British garrison. In spite of the presence of a crescent moon above, the event appears as if in daylight rather than accurately after dark. There is no evidence of the snowballs or hurled ice or other provocations of the patriots. In addition to the evocative caption-title, Revere affixed a lurid poem beneath the image accompanied by an inaccurate list of casualties (two men listed as "mortally" injured would eventually recover). The combined effect on the colonial audience was immediate and dramatic: Boston's population was outraged, and anti-British sentiment surged throughout the colonies as news spread.

Among those killed were Crispus Attucks (1723-1770), who was variously described as African American, mulatto, and Native American, perhaps a Nantucket. He was born into slavery in Framingham, Massachusetts, and ran away in 1750 to become a sailor and dock worker. Samuel Gray was a rope maker and notorious street brawler. Samuel Maverick (1752/53-1770) was a seventeen-year-old apprentice to Isaac Greenwood, who was a carpenter in Boston. Maverick lived with Greenwood's family and responded to the street bells that night, thinking there was a fire. Shot in the stomach, he died the next morning. James Caldwell (1752/53-1770) was also seventeen and was a sailor on the brig Hawk, under the command of Capt. Thomas Morton. Between 1768 and 1770, it traveled between the West Indies and Boston. Patrick Carr (1739/40-1770) was born in Ireland and became a leather-worker in Boston. Shot in the abdomen, Carr died nine days later. He insisted that the soldiers fired in self-defense, and he bore no malice toward them. The two persons listed as mortally wounded—Christopher Monk (1752/53-1780) and John Clark (b. 1752)—did not die immediately from their wounds. Only seventeen years old when shot, Monk died ten years later, likely from complications of the wound to his groin and resulting disability. Clark, another seventeen-year-old, was a twin from Medford and was an apprentice to Capt. Samuel Howard in Boston. Wounded in the groin and expected to die, Clark recovered.

Tempers had cooled somewhat by the time the British soldiers and their commanding officer, Capt. Thomas Preston, were tried seven months after the fact. Determined to be fair, radical patriots John Adams, Robert Auchmuty, and Josiah Quincy, Jr. represented the accused, all but two of whom were acquitted. The acquittal saved the soldiers but did not protect the authority that they represented. The Boston Massacre became a rallying cry for the Sons of Liberty and other opponents of the Crown. Every anniversary became an occasion for remembrance and agitation. Revere's image popularized the event, shaping anti-British public opinion throughout the American colonies and hastening the split that followed.

Though it seemed like Revere's prints were everywhere at the time, today, they are scarce and fine copies seldom come on the market. The scarcity, when coupled with the print's status as an icon of the Revolution, ensures continued interest: "It is a corner-stone of any American collection." (Brigham, p. 52).

Condition

Hand-painted water colors, possibly by Boston artist Christian Remick. Ragged edges with some trimming, upper left corner filled, left and right reinforced at margins, ¼ in. nick in edge, tears mended, lined on archival paper. Browning. But fine overall, especially compared to many of the other known copies.

A first state of the engraving shows the clock on the church steeple reading 8 o'clock; only two first impression copies are known. The event actually occurred around 10 pm, and all of the other known copies, including this one, shows the clock at 10:20.

Publication History: cf. David McNeely Stauffer, American Engravers upon Copper and Steel (1907), p. 441, no. 2675 // cf. I. N. Phelps Stokes and Daniel C. Haskell, American Historical Prints: Early Views of American Cities (1932), p. 24 no. C-10 // It is not known whether this example is listed by Brigham.
Offered by Seth Kaller, Inc.
Principles of the Science of Colour
by William Benson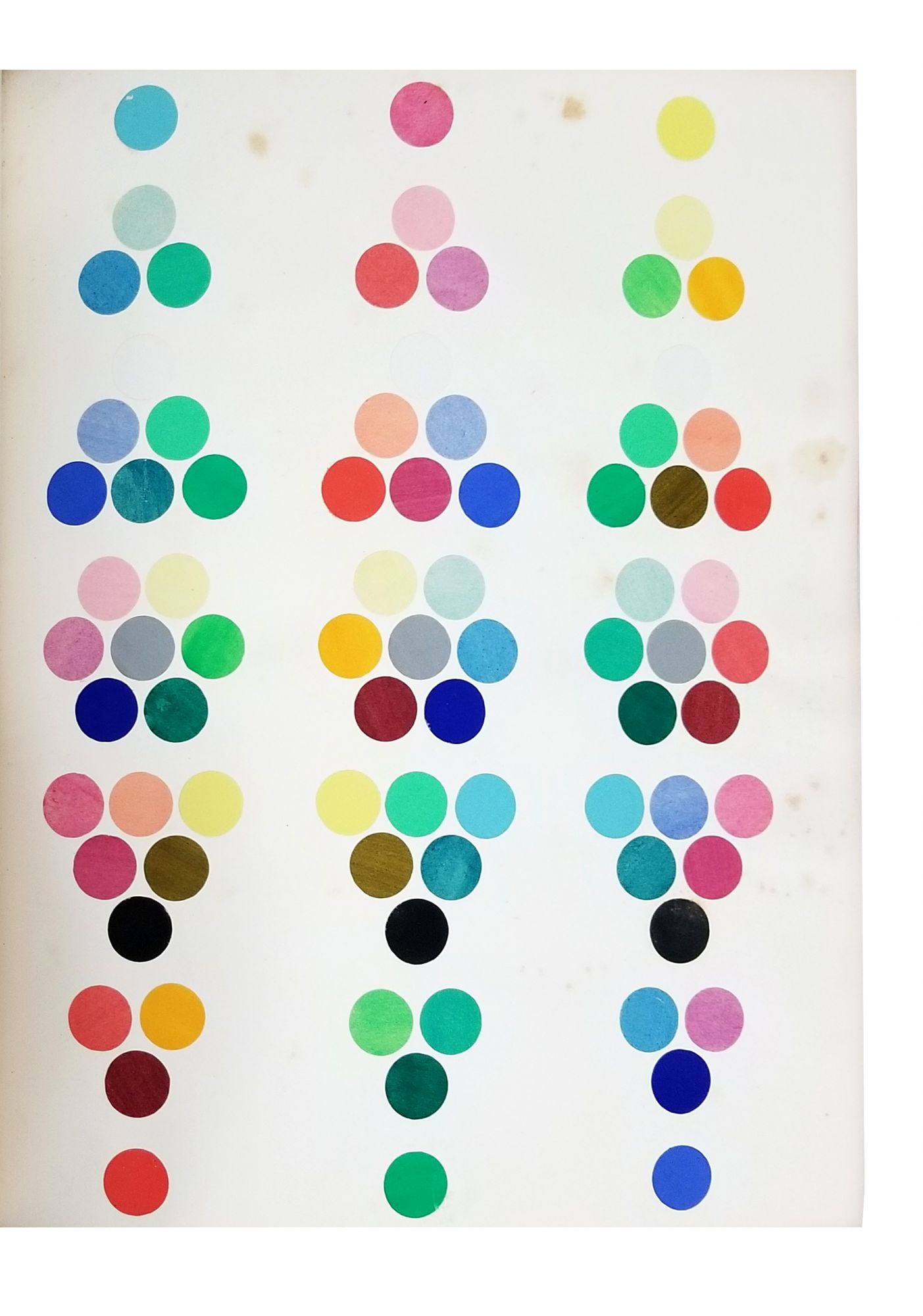 1868. BENSON, William. Principles of the Science of Colour concisely stated to aid and promote their useful Application in the Decorative Arts. x, 48 pp. Illustrated with 6 uncoloured lithographs, 4 text illustrations of which 2 are hand-coloured and 5 plates with mounted coloured circle patterns. 4to., 275 x 210 mm, bound in original pebbled cloth, with new morocco spine. London: Chapman & Hall, 1868 - [1876]. First Edition, second issue, of this elegant and unusual book. The colour plates in this issue are the same as in the first except that instead of being hand-coloured they are made of circular coloured paper samples mounted by hand. "Benson, an architect, published his unique cube-shaped color solid in 1868. Benson's cube model stands on end with a black to white vertical axis ... Benson's elegant diagrams, along with hand-colored plates, show how the cube may be sliced to reveal the colors that form the interior. He cites Mayer, Runge, and Chevreul as sources for his theories, but criticizes Field as being "too hasty." - Color Documents No. 27. Herbert also comments on the book: "Author's color standard based on a cube tipped on a point, and incorporating the then recent theories of Maxwell and Helmholtz" ("A Color Bibliography, II" in Yale Library Gazette, 1977, p. 143). Despite some foxing, which seems to be in all copies, a sound copy of a scarce book. With a prize presentation label on the front endpaper. Birren Catalogue No. 34.
Offered by Ursus Rare Books.
Illustrated letterhead with accompanying illustrated advertising cover for Gulden's Mustard, Capers, and Olives
by Charles Gulden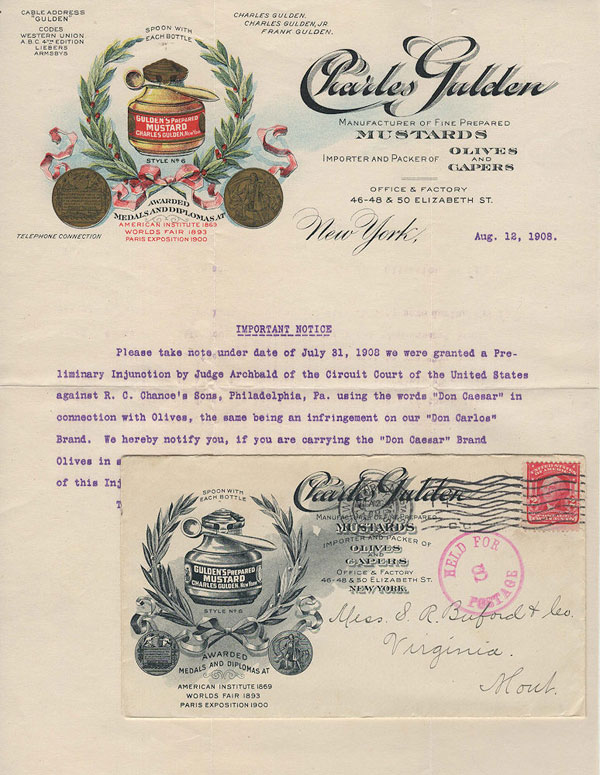 New York: Charles Gulden, 1908. Envelope or Cover. Very good. This colorful letter from Gulden's Mustard contains a mimeographed notice (signed in print by Charles Gulden) informing stores the company has obtained a temporary injunction against a rival firm to prevent the sale of Chance & Son's "Don Caesar" olives, whose name and packaging was quite similar to Gulden's "Don Carlos" brand. The multi-color letterhead features a jar of Gulden's Mustard with its famous marketing spoon and two gold medals that had been awarded to the company. The illustrated advertising envelope features the same illustration in black and white. It is franked with a 2-cent red Washington stamp (Scott #309), tied with a New York machine postmark. Apparently, the cover was first mailed without a stamp as it was applied over an earlier postmark, and an additional circular red handstamp reads, "Held for Postage S." All in nice shape. Guilden's, known for its spicy brown mustard, is the oldest continuously operating and third largest mustard brand operating in the United States. The company was founded in 1869 by Charles Gulden, and its popularity soared after he began attaching a small metal spoon to each jar. The mustard won gold medals at the Chicago and Paris world's fairs. Today, Gulden's is part of the international ConAgra Foods conglomerate and is made in Milton, Pennsylvania. The Third Circuit Court of Appeals ruled in Gulden's favor in August of 1910. A colorful record of an established food company's effort to protect its product line from infringement by competitors.
Offered by Read 'Em Again Books.
Dello spaventevole e miserabile avenimento [sic] del fuoco acceso in Monte Vergine nel Regno di Napoli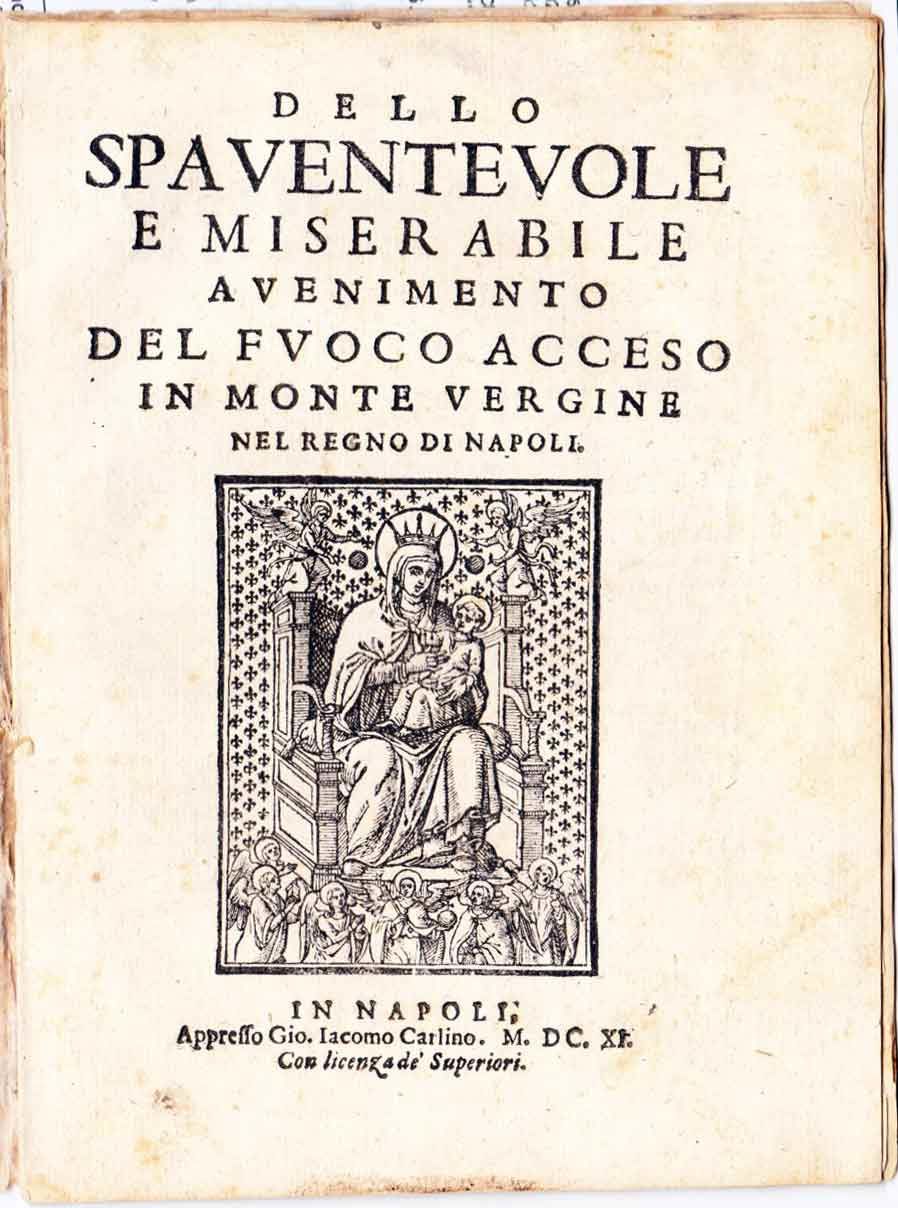 Napoli: Giovanni Iacomo Carlino, 1611. Only known edition.
An account of a fatal fire that burned the remote Abbey of Montevergine (in the mountains near Avellino) on the night of May 21, 1611, apparently hit by a fireball or other celestial source (such as lightning). The account is significant in that it blames the destruction on "young men in women's clothing, and young women dressed as men" (page 15), and characterizes the fire as a "vendetta" sent by 'an angry heaven" (page 6). Indeed, the sanctuary of Montevergine is a pilgrimage site for lesbian, gay, bisexual, transexual, and questioning Catholic worshippers who call the image of the "BlackMadonna" that is housed there "the Mother of Transformations," or "Mamma Schiavona." (This image is reproduced on the title page of the booklet.) The sanctuary was rebuilt in the 1950s, and it remains the site of an annual gathering of LGBTQ pilgrims..
Quarto (20 cm); 16 pages. Large woodcut vignette of famous "Black Madonna" of Montevergine on title page; two woodcut initials. Bound in red on white woodblock decorated paper. Somewhat worn near sewing, but otherwise a very well preserved copy of a very rare publication. No copies located in North America, or outside of Naples.
Offered by Rodger Friedman Rare Book Studio.
The LIFE And ADVENTURES Of MARTIN CHUZZLEWIT, His Relatives, Friends and Enemies; Comprising His Wills and His Ways: With an Historical Record of What He Did, and What He Didn't: Showing, Moreover, Who Inherited the Family Plate, Who Came in for the Silver Spoons, and Who for the Wooden Ladles. The Whole Forming a Complete Key to the House of Chuzzlewit.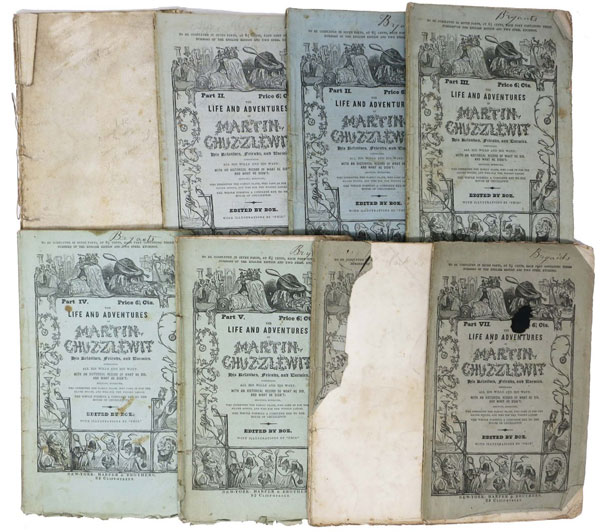 Edited by Boz. With Illustrations by "Phiz." Charles Dickens [1812 - 1870]. New York: Harper & Brothers, [1843 - 1844]. 2nd US edition, following that of Winchester (Arents PARTS, p. 30; Edgar & Vail, p. 22; Gimbel A73; Smith AMERICAN, pp. 199 - 205; Wilkins, p. 24). Not in the Calinescu Collection Catalogue, nor the McGuire Collection Catalogue. 7 parts, complete. Text double column, ~ 48 pp per part. Duplicate copy of Part II. Volume prelims in Part VII, per usual publisher practice. 14 steel engraved plates, 2 per part. 8vo. 9-1/2" x 5-7/8". Part I lacks wrappers [originally buff paper]; Parts II - VII in printed greenish blue paper wrappers [Part VI lacking most of front wrapper]. Red cloth chemise, with red morocco quarter leather slipcase with red cloth boards. General wear, chipping & staining. Part II - V & VII with same prior owner signature at top of front wrapper. Part V with significant staining to rear wrapper. Part VII with ink splot to front wrapper. In general, and with a nod to the missing wrappers, a Good set of a rare Dickensiana item. [Item Number: 33560.1]. Only the second set we've handled in 30 years.
Offered by Tavistock Books, and featured in their "Summer Catalog 2019" (item #2). (This item is also listed on abaa.org.)
The Edible Woman (First American Edition)
by Margaret Atwood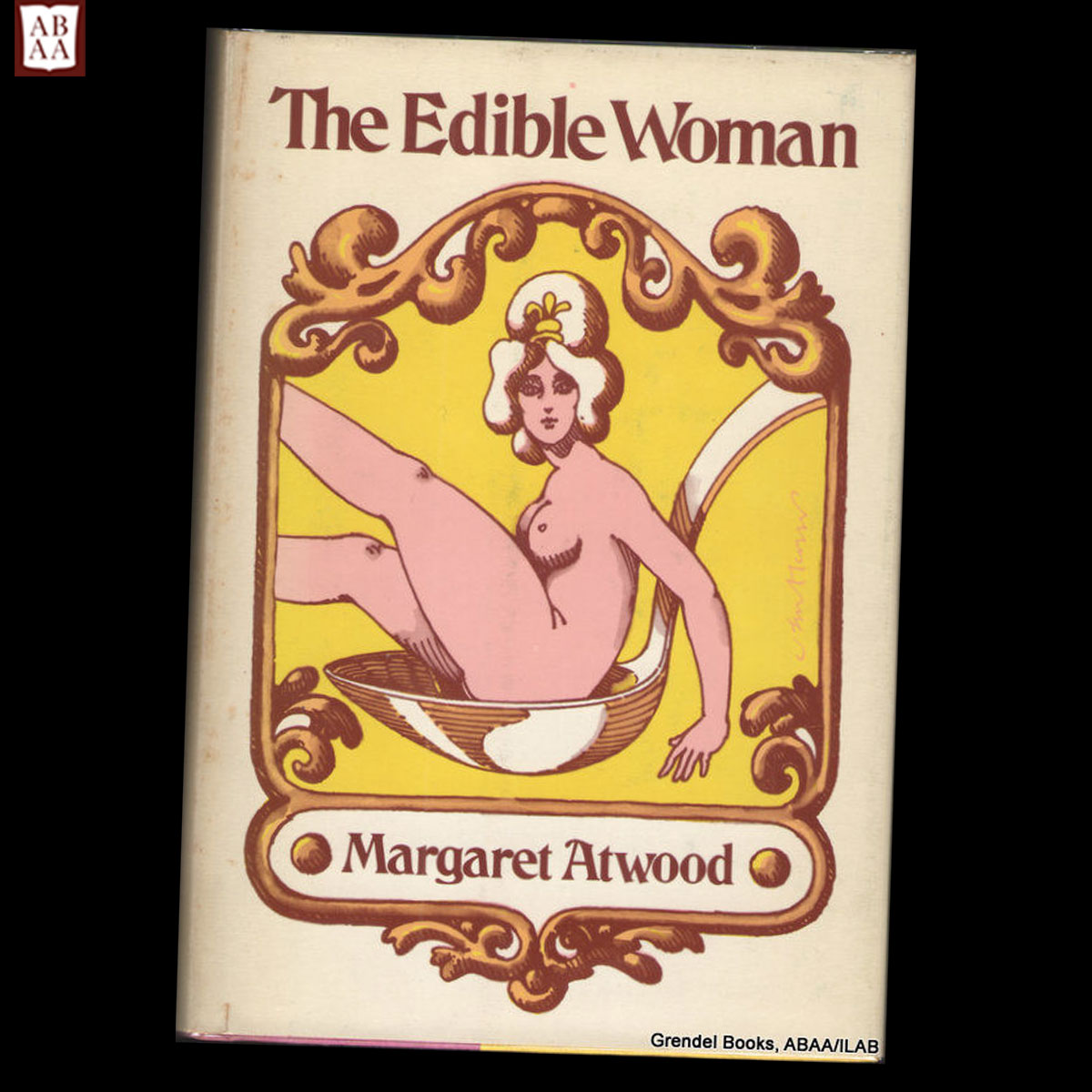 Boston: Little, Brown. Very Good in Very Good dust jacket. 1969. Hardcover. The author's first novel. Stated first American edition. Small stamp on front paste-down, else very good in a very good (age toning, foxing on verso), price clipped dust jacket; 281 pages.
Offered by Grendel Books.
Charles Rambert, Grande Semaine d'Aviation Rouen. Rouen du 19 au 26 Juin 1910
Rouen: Girieud, 1910. First edition of this iconic aviation poster. Chromolithograph mounted on boards. 37 x 51 inches, Some mild marginal stains but a bright and attractive image The Wright Brothers conquered heavier-than-air flight in 1903 and just seven years later "a rash of aviation meetings broke out in the spring of 1910 in places as diverse as Saint Petersburg, Vienna, Budapest, Bournemouth, Boston, Lanark and New York City," as well as Rouen (Villard / Allen p. 57). "Created by Charles Rambert, an artist of the Swiss school this imaginative, signed poster reveals the Slavic influence under which Renard worked. Born at Lausanne in 1867, he studied in Russia as a pupil of K. Kryshitsky, which suggested the mustachioed pilot could well be a Russian (though in fact it was Leon Moran who circled the spires of Notre Dame) The beauty, originality, and sly humor of the artist's design [make this poster] a memorable work of art. Flying past the spires of the cathedral, then under repair, the pilot of a sprightly (though improbable-looking) monoplane cheerfully salutes two ecclesiastical statues in a niche who throw up their hands in amazement at the miracle of human flight" (Looping the Loop p. 59).
"When the French Aero-Club published its list of sanctioned meetings in early 1910 one of the major ones was the one in Rouen in mid-June, with an announced prize fund of 200,000 francs. The meeting was organized by the Automobile-Club de Normandie, supported by the Ligue Nationale Aerienne and the sports daily L'Auto. The organization committee was headed by Marcel Debons, president of the Automobile-Club de Normandie, and comprised many members of the Automobile-Club and representatives from local industries and businesses. A suitable site was found, in the form of the military exercise grounds "Les Bruyeres", six kilometres southwest of the city centre, where a typical 1910 temporary airfield with all its installations and a three-kilometre course was built...The meeting attracted a quality field of twenty pilots, all except four having participated in previous meetings. It was reported that a total of 50,000 francs had been paid as guaranteed appearance money. The biggest name was the famous Hubert Latham, but several others, like Joseph Christiaens, Charles van den Born, "Geo" Chavez, Bertram Dickson and Léon Morane had won big prizes at previous meetings, and Émile Dubonnet had recently made a highly publicized flight across Paris, winning the "La Nature" cross-country flight prize. Several new airplane types would for the first time be displayed at a meeting in France, for example the Hanriot monoplane. The new Breguet biplane would also be on display, as would the new two-seat Gnome-engined Bleriot, model XI-2 bis."(The First Air Races)."
Offered by Nat DesMarais Rare Books, and featured in their catalog "Early Aviation and Automobiles" (item #7). This item is not listed on abaa.org.
A vast collection of ca. 2500 photographic postcards (ehagaki) of kabuki actors in costume, along with a large selection of kabuki-related vernacular photographs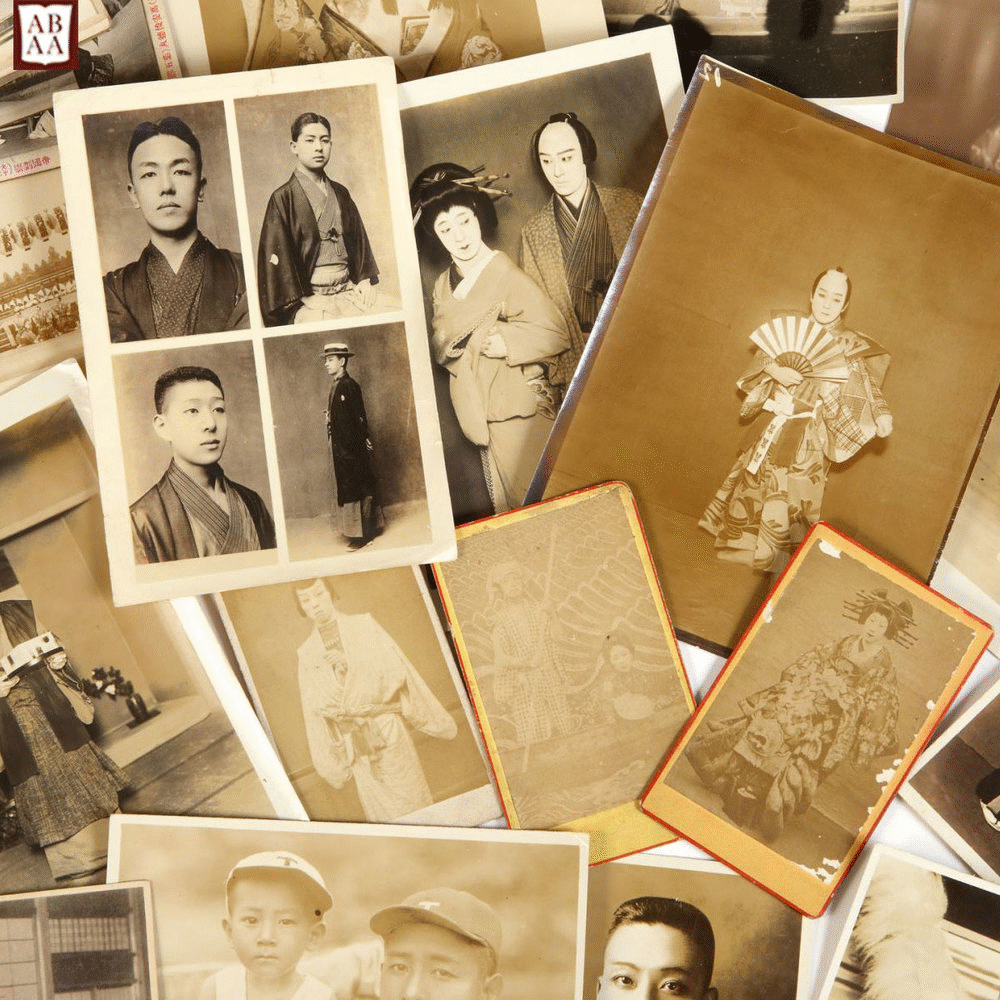 Japan: ca. 1912-80. A large and impressive ensemble of Japanese photographic postcards depicting kabuki actors. Photographic postcards effectively replaced ukiyo-e woodblock prints which were enormously popular through 1900. This collection documents the rise and fall of great actors, the evolution of costume styles, the various sets and decorations employed on stage, as well as the proliferation of photographic postcards as mementos and collectible memorabilia. Offered with this collection is a series of vernacular photographic prints of actors, many from the early 20th century. Japan's postal system was established in 1870 as part of many Meiji era reforms to modernize the country.
All postcards were produced by the government until 1900. Initially, postcards served a commemorative purpose, printed with images of famous events and holidays. Following the Russo-Japanese War in 1904-5, many thousands of postcards celebrating victories were sold and demand increased exponentially. By the 1910s, progress in photographic printing enabled the mass-production of photographic postcards, such as those represented in the present collection. Such postcards featuring legendary kabuki actors superseded the genre of woodblock prints yakusha-e (actor prints), an offshoot of ukiyo-e. This new type of memorabilia, called ehagaki (picture postcard), developed in parallel to buromaido (photographs of movie and kabuki stars).
Our comprehensive collection of postcards and photographs contains examples of both. Actors are generally depicted in costume on stage or in a photo studio; however, there are a large number depicting them away from the stage, often with their families. These mementos were either distributed in advance of a performance for promotional purposes or sold at the theater to devotees. An avid community of collectors for this material emerged within a short time. On many of the postcards there are notes or messages which note the date of the performance, the actors who performed, and the name of the play. Others have this information printed. There are also several examples of postcards printed with dialogue from iconic scenes. One series of photographs has been signed in red or black ink by the great kabuki actor depicted, Sawamura Yujiro. Another series bears the stamps provided by theaters to those attending so that they could commemorate and show off their visits. A few more depict the cast on stage during a performance for their "curtain call." Many candid photographs show the actors as they prepare for a performance, applying their makeup, rehearsing lines, and putting on their costumes.
Another highlight of our collection is its considerable number of early photographic celebrity "stills" of the kabuki actors. They were likely produced in the early 1910s and reveal costumes and makeup from the period. These earlier examples were clearly not intended as postcards since they lack an indicated location for the stamp, a message, and an address. It is possible these are precursors to mass-produced buromaido and photographic postcards which constitute the bulk of this collection. Printed on larger format paper that is rather thick, these photographs would have been far more expensive. One series, in particular, consists of photographs taken among the audience during a performance, with the heads of fellow attendees in the way.
Celebrated actors represented on the postcards in this collection include (with last names first): Nakamura Utaemon, Onoe Baiko, Nakamura Ganjiro, Ichimura Hazaemon, Ichikawa Sadanji, Onoe Kikugoro, Nakamura Kichiemon, Ichikawa Danjuro, Matsumoto Koshiro, Kataoka Nizaemon, Nakamura Senjaku, Nakamura Kanzaburo, Nakamura Kinnosuke, Yorozuya Kinnosuke, Onoe Matsusuke, Sawamura Sonnosuke, Bando Tamasaburo, Ichikawa Danshiro, Ichikawa Ennosuke, Ichikawa Ebizo, Bando Mitsugoro, Nakamura Fukusuke, Ichikawa Chusha, Nakamura Shikan, Jutsukawa Enjaku, Onoe Shoroku, Sawamura Kinjuro, Sawamura Yujiro, Nakamura Tokizo, Kawarazaki Tokizo, Kawarazaki Kunitaro, Bando Hikosaburo, etc., etc.
DATING THE POSTCARDS: We are able to date the ehagaki based on several features. Layout: Division between address and message on the verso of the postcard 1910-1918 - The dividing line leaves the bottom third of the card for the message. 1918-present - In most cases, the line divides the reverse of the card into halves. Reading: "Postcard" (or yubin ha(ka)gaki) label on verso. Pre-1945 - Japanese is printed right to left. Post-1945 - Japanese is printed left to right. Reading of hagaki: Pronunciation of middle syllable. Pre-1933 - Written hakaki without consonant mark. Post-1933 - Written hagaki with consonant mark. Thickness: Postcards on thicker stock are generally older. We know of no comparable collection of this material related to Japanese theater outside of Japan. Our ensemble of several thousand photographic postcards is in fine condition. A few of the earlier examples are slightly worn or faded but overall the postcards and photographs are in an excellent state of preservation. ❧ Kenji Sato, "Postcards in Japan: A Historical Sociology of a Forgotten Culture," in International Journal of Japanese Sociology, (2002) no. 11, accessed online.
Offered by Jonathan A. Hill, Bookseller.
View all new listings on abaa.org...
Browse rece catalogs of rare books and print ephemera from ABAA members...
Please note, all items are unique, so if a link takes you to a blank page, the book has been sold!