Our members list new acquisitions and recently cataloged items almost every day of the year. Below, you'll find a few highlights from these recent additions...
I Met a Lonesome Cowboy, Four Color No.324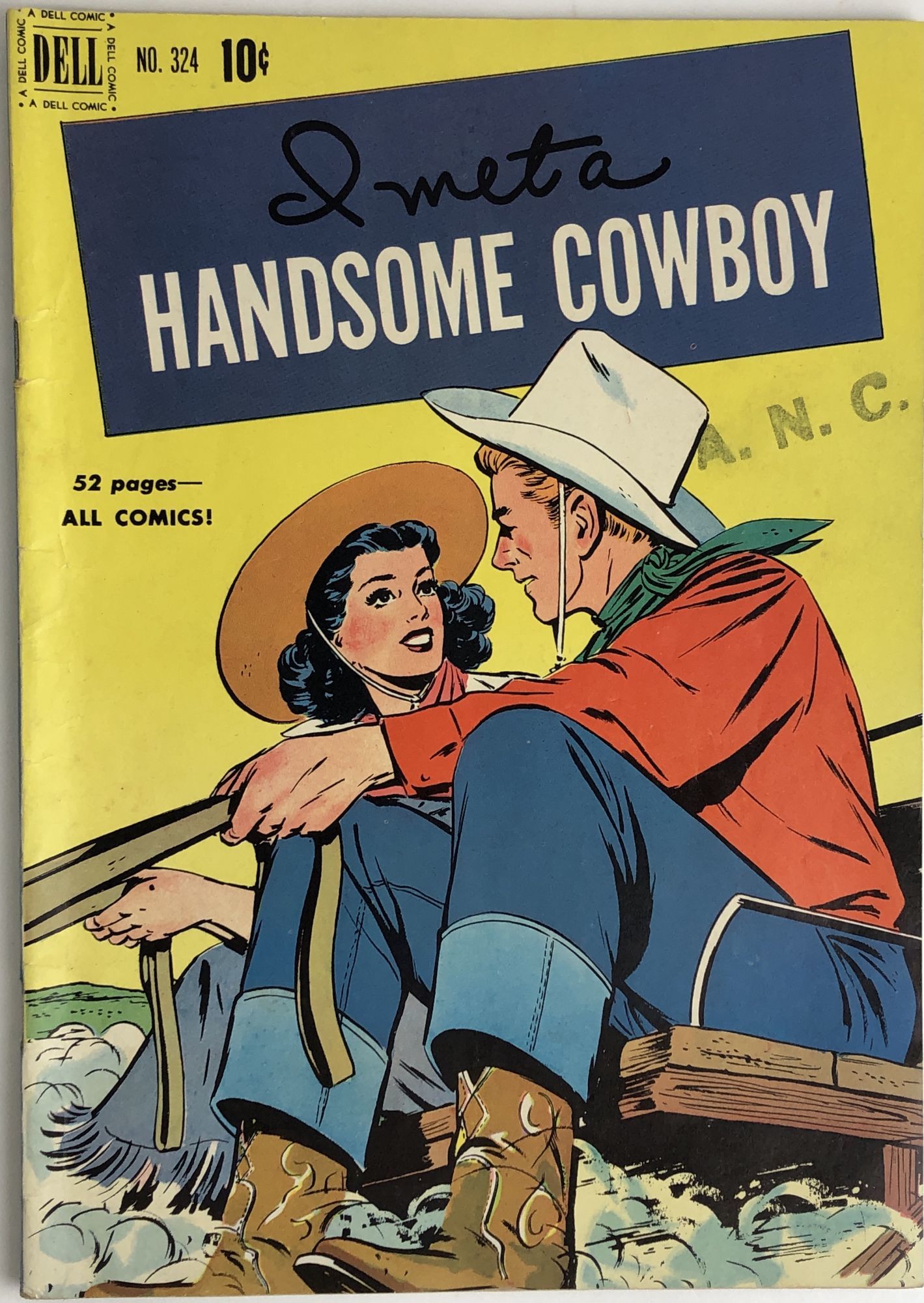 New York: Dell Publishing Company, 1951. Softcover. FN; minor creasing/wrinkling to cover; minor stress marks to spine with slight roll; stamp on front cover ("A.N.C.").
Offered by Second Story Books.
The LaSalle, A Companion Car to Cadillac
by WILSON, EDWARD ARTHUR (ILLUSTRATOR)

Detroit: Cadillac Motor Company, 1927. Softcover. Very good. 9.5" x 12" (oblong), 19 pp, bound in heavy cardstock with mounted color illustration on front cover. Light dust-soiling and a few stray marks on wrappers, contents clean; very good. Includes 6 beautiful full-page color illustrations showing the LaSalle in various environments and many smaller illustrations relating to the exploration of North America by René-Robert Cavelier, Sieur de La Salle. Wilson (1886-1970) was a prolific illustrator, lithographer, and painter known for his illustrations of children's classics and books with maritime themes, as well as advertisements, bookplates, magazine covers, postage stamps, and war posters. This book intoduces the LaSalle to the market, presenting it as a perfect everyday car -- smaller and less expensive than the Cadillac but with "that refined performance, distinguished appearance, and luxury of appointments which [customers] are accustomed to accept as indispensable factors in motoring." Most of the text discusses the car's design elements, construction quality, and performance in general terms; the last two pages contain specifications. Uncommon; nine copies located in OCLC.
Offered by Walkabout Books.
Eseje [Essays]. Samizdat edition
by ORWELL, GEORGE AND TERESA JELENSKA, TRANSLATOR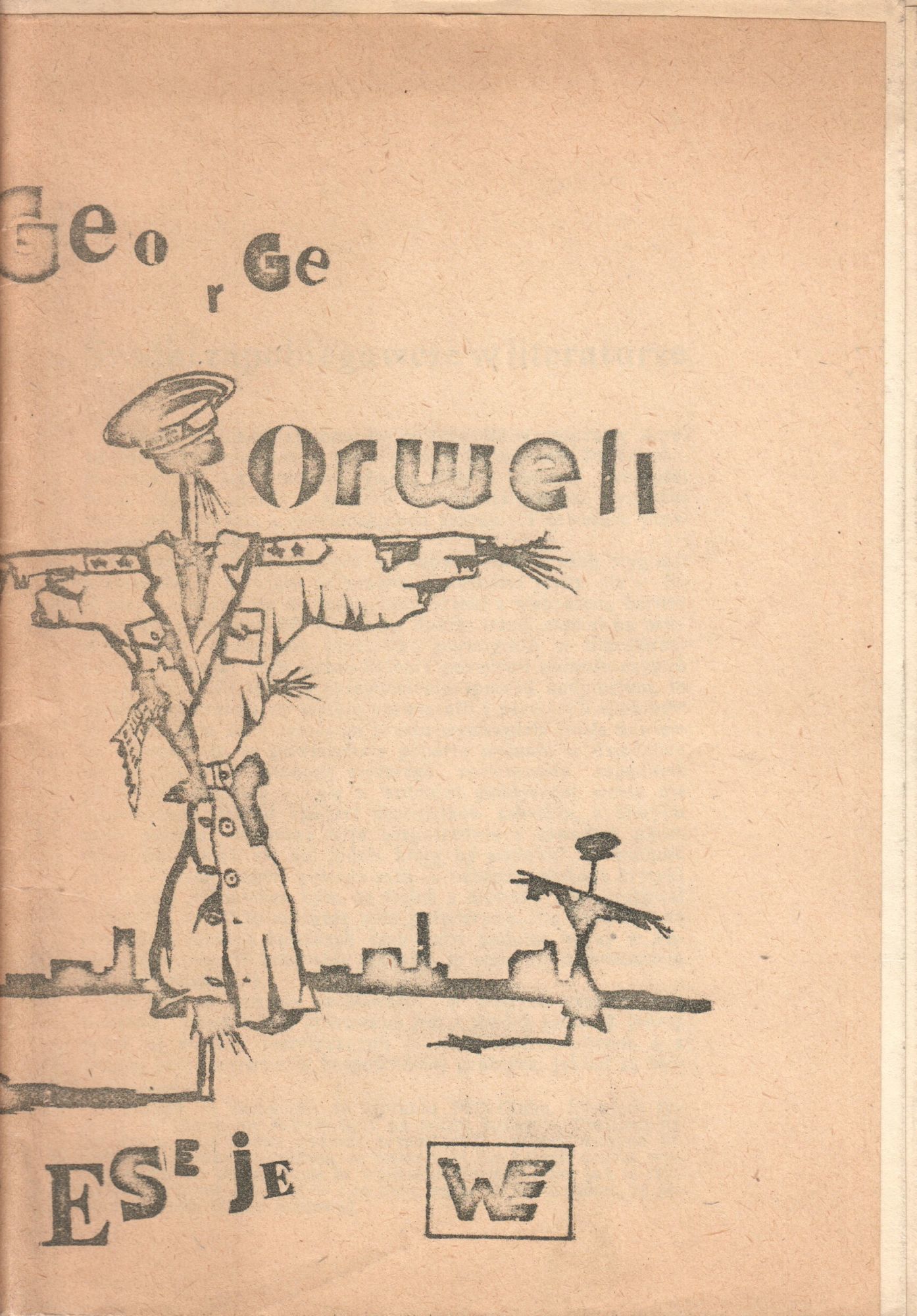 [Warsaw?]: Oficyna WE, 1983. Octavo (20.5 × 15 cm). Original xeroxed decorative staple-stitched wrappers; 48 pp. Partially unopened and uncut. Very good. A selection of three essays by George Orwell (1903-1950), translated by Teresa (Rena) Jelenska (1892-1969) the first translators of George Orwell into Polish. A writer and journalist, Jelenska met Orwell in London during WWII while writing for Dziennik Polski, the newspaper of the Polish government in exile. Her Polish translation of "The Animal Farm" was published in 1947 in London. Jelenska and Orwell continued to correspond until the end of his life, with Orwell referring to her in his letters as his "authorized translator". His letters also approve this selection of essays by Jelenska to be published in London which include "The Prevention of Literature" (1946), "The Lion and the Unicorn" (1941) and "Raffles and Miss Blandish" (1944). The essays call for a socialist revolution in England, while also warning against the Soviet-style dictatorship. The essays are especially sympathetic to the plight of Poland during and after WWII. This translation was re-printed by the semi-underground publishing house Oficyna WE (NOWA), one of the largest underground publishing houses in Poland. The haunting wrapper design alluding to post-war destruction is not credited (possibly by the famous cartoon artist Andrzej Krauze, who worked for NOWA at the time).As of February 2021, KVK and OCLC show only one copy of this edition, at Cornell.
Offered by Bernett Penka Rare Books.
Spring in New Hampshire and Other Poems (Signed, First Edition)
by MCKAY, CLAUDE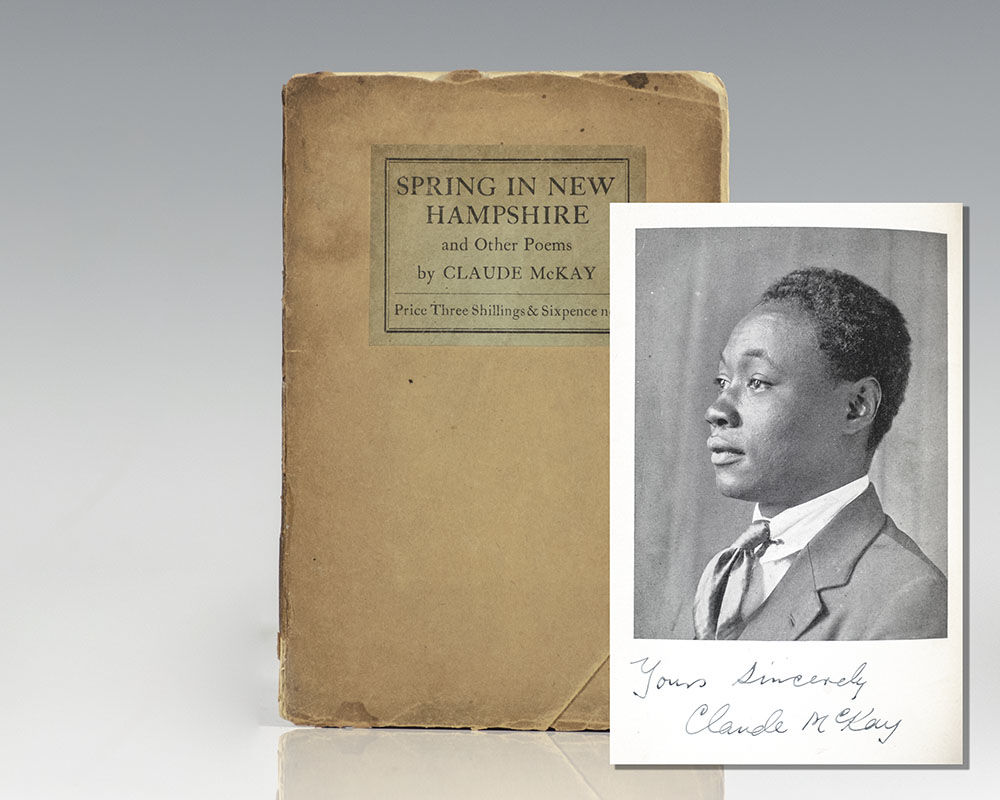 London: Grant Richards, 1920. First edition of McKay's seminal volume of 31 poems including iconic works such as Harlem Dancer and The Lynching, published in London shortly before his return to America as a leader of the Harlem Renaissance. Octavo, original wrappers, frontispiece. Boldly signed by the author underneath the frontispiece, In very good condition. Books signed by McKay are rare. Here "McKay's affection for the sonnet, the 'little song' of 14 lines his grand style favored," stands out, affirming his influential view of "the sonnet as an exceptionally transnational poetic design... In McKay's conception it ranked as a fellow vagabond equipped with centuries of worldly advice on living through the century of the color line. For him, the sonnet's thousand preceding voices whispered lessons for the emergence of black literary modernism" (Maxwell, ed., Complete Poems, xxxiv-vi). His sonnets are an elemental bridge between the "formally conventional critiques of racism offered by Phillis Wheatley, Frances E.W. Harper, James Corrothers and Paul Laurence Dunbar and the radically thematic and experimental affronts of those who came after him. Linking the past with the present, the old with the new, McKay's Harlem poetry... adds another dimension to our understanding of the complicated ways in which race, modernity and modernism intersect" (Hathaway et al., Race and Modern Artist, 64). All but five of the 31 poems here were reprinted in full in Harlem Shadows (1922), with "The Choice" (37) reprinted there as "The Wild Goat" (Hathaway, 57n). "Love Song," "Reminiscences," "Sukee River"(second version) appeared in Cambridge Magazine (Summer 1920); "Harlem Dancer" appeared in Seven Arts under an alias (1917), with other select poems appearing in Pearson's and The Liberator. Blockson 6467.
Offered by Raptis Rare Books.
Le Portrait de Dorian Gray (wood engraving, inscribed by the artist)
by [WILDE, OSCAR]; SIMÉON, FERNAND (ARTIST); [COQ, ANDRÉ]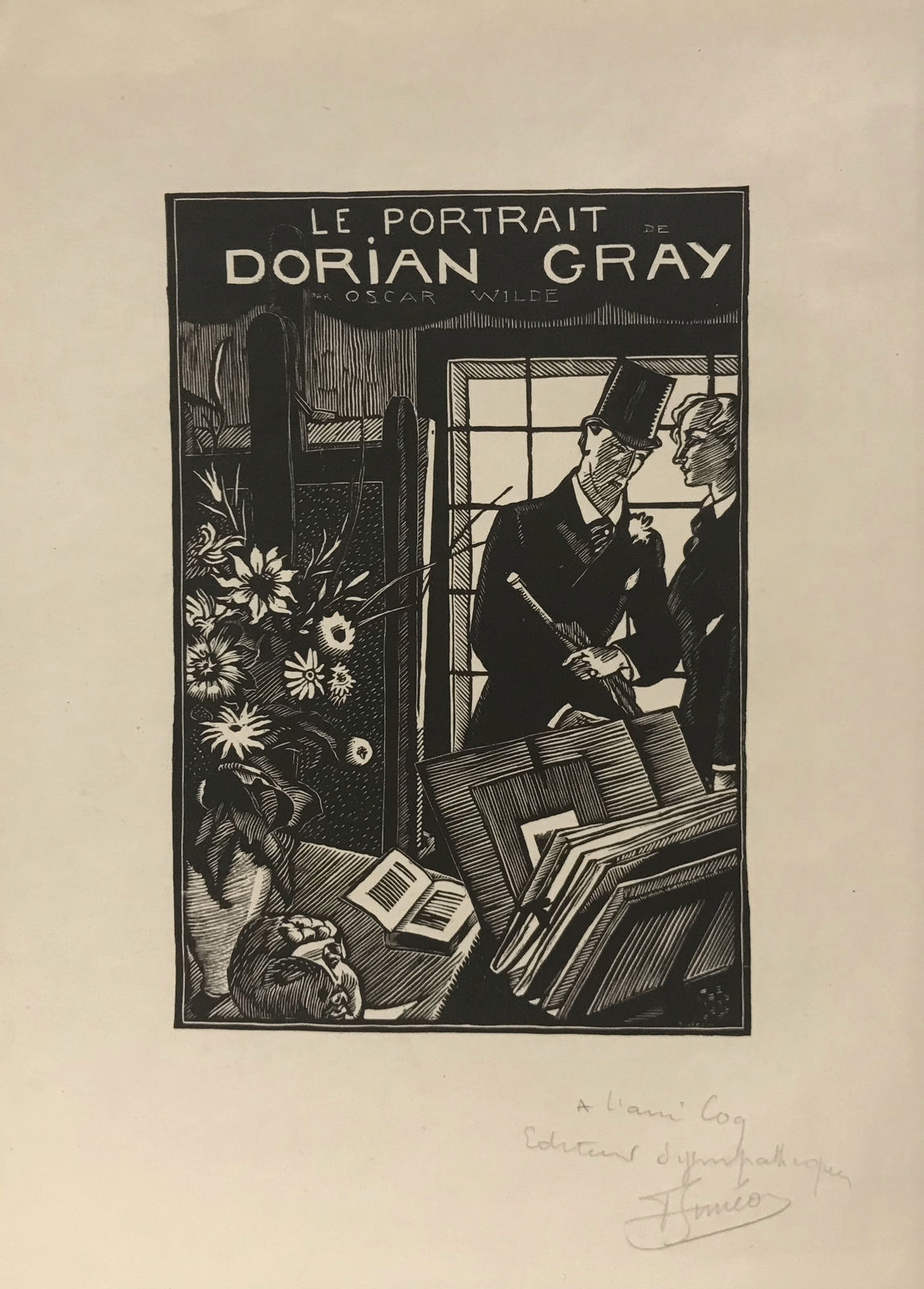 Paris: Édition Mornay, 1920. Inscribed presentation copy of this striking wood engraving by Art Deco illustrator Fernand Siméon (1884-1928), featuring Oscar Wilde's Dorian Gray. Siméon's stylized image, which captures the aesthetic sensibility and sinister undercurrent of Wilde's 1890 novel, was issued as the frontispiece to Mornay's 1920 French edition. Siméon has warmly inscribed this engraving to Paris publisher André Coq, who hired Siméon to illustrate Anatole France's Marguerite that same year. A fine signed print. Wood engraving, measuring 5 x 3.5 inches, printed in black on a sheet of ivory paper measuring 7.75 x 5.5 inches, tipped to a slightly larger backing sheet. Inscribed in pencil beneath image: "A l'ami Coq / Editeur sympathetique / F Siméon."
Offered by Honey & Wax Booksellers.
Thunderball (Signed, First Edition)
by Ian Fleming
London: Jonathan Cape, 1961. First Edition. Near Fine/Near Fine. First edition, first printing of the ninth James Bond title. Signed by Ian Fleming in ball point pen on the title page. Near Fine with light lean to binding, faint soiling to top edge of textblock. In a Near Fine, lightly worn unclipped dust jacket designed by Richard Chopping. This was the first book to feature Bond's classic nemesis, Ernst Blofeld, and is the first title in what would become known as the "Blofeld Trilogy.
Offered by Burnside Rare Books.
The Roman Hat Mystery: A Problem in Deduction [Deluxe Issue, Signed]
by QUEEN, ELLERY (PSEUD. OF FREDERIC DANNAY AND MANFRED BENNINGTON LEE)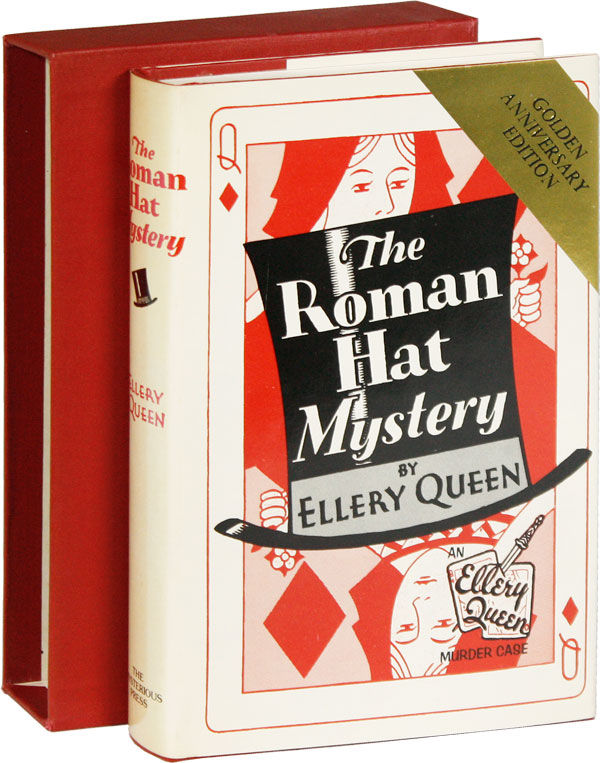 New York: Mysterious Press, 1979. Limited Edition. Hardcover. Golden Anniversary Edition" of the first Ellery Queen novel, with a new introduction by Dannay. "A landmark rather than a cornerstone, perhaps, being the first of a dozen mysteries by these authors, each titled "A Problem in Deduction." Inspector Richard Queen and his son Ellery tackle a puzzling murder with immense thoroughness and almost fatiguing pertinacity" (BARZUN & TAYLOR 1774). Uncommon in the deluxe issue, the last one appearing at auction in 1992. HUBIN, p.335. Deluxe Issue, one of 26 lettered copies specially bound and signed "Ellery Queen" (by Dannay, as Lee died in 1971), this being copy "Z." Octavo (21.5cm); red cloth, with titles stamped in gilt on spine; dustjacket; publisher's matching red cloth slipcase; xviii,325,[5]pp. Fine in a Fine, unclipped dustjacket (priced $30.00); slipcase with light wear and a few tiny scuffs, else Near Fine.
Offered by Lorne Bair Rare Books.
WAG-BY-WALL. Original Manuscript in the Author's Handwriting to her last children's story.
by Beatrix Potter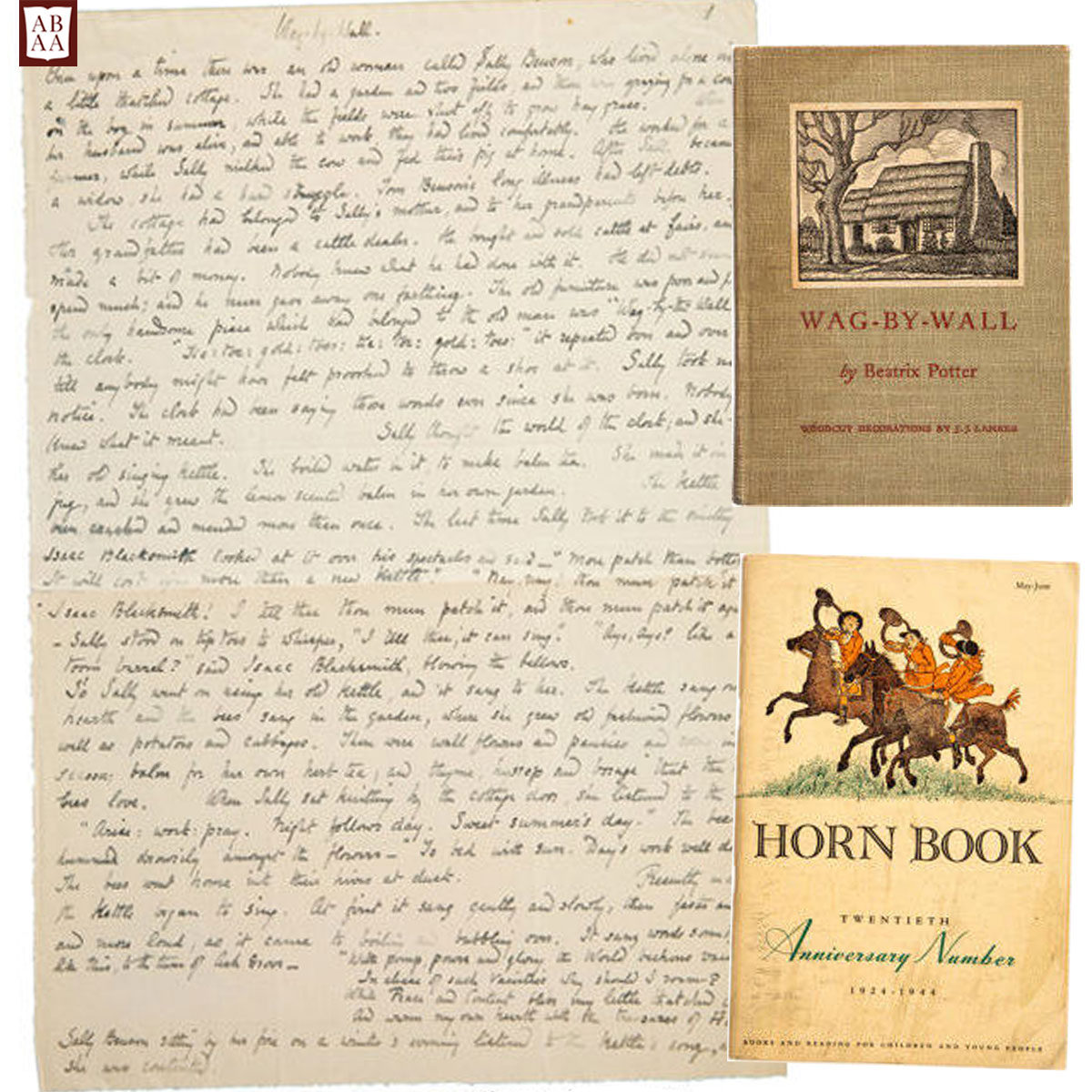 Beatrix Potter. Original Holograph Manuscript draft for Wag-by-Wall, the author's last published children's book story, comprising the complete text of Wag-by-Wall, also including a printed copy of the first American edition and in addition its first appearance in print as published in The Horn Book Magazine.
Three folio leaves on unlined paper, numbered by hand at top right corners, rectos only (10 x 14.375 inches; 254 x 365 mm), old folds show minor creases, minor toning at bottom right corner of second leaf and old crease on third leaf repaired with archival tape on verso. Generally clean and bright, ink generally strong and dark, occasionally faded in some areas.

[Together with:] Beatrix Potter. Wag-by-Wall. Boston: The Horn Book, Inc. 1944. First American edition. 12mo. (4.75 x 6.25 inches; 121 x 159 mm), half title, frontispiece, title page, copyright page, [4, introduction by "Bertha E. Mahony"], [2], [19], [1, type] pages. Printed vignette headpieces throughout; mounted frontispiece portrait of Potter. Grey linen covered boards stamped in red, J.J. Lankes woodcut inlaid onto front board. Spine and margins lightly stained but does not affect text; red floral printed endpapers. Internally clean. Very good copy overall. Linder, 32. Quinby, 104.

[And:] The Horn Book Magazine: Twentieth Anniversary Number 1924-1944. Boston: The Horn Book, Inc., 1944. Volume XX, Number 3. Octavo. (6 x 9 inches; 152 x 228 mm). Consecutively numbered from previous issues, 130-248 pages. Illustrated paper wrappers. Front and back wrappers rubbed, corners bumped, ½ inch closed tear on rear panel; interior clean. Very good. This is where Miss Potter contributed her story, but died several months prior to publication.
Offered by Battledore.
(Press Brochure): World Heavyweight Championship Fight. Joe Frazier (Champion) vs Muhammad Ali (Challenger) at Madison Square Garden March 8, 1971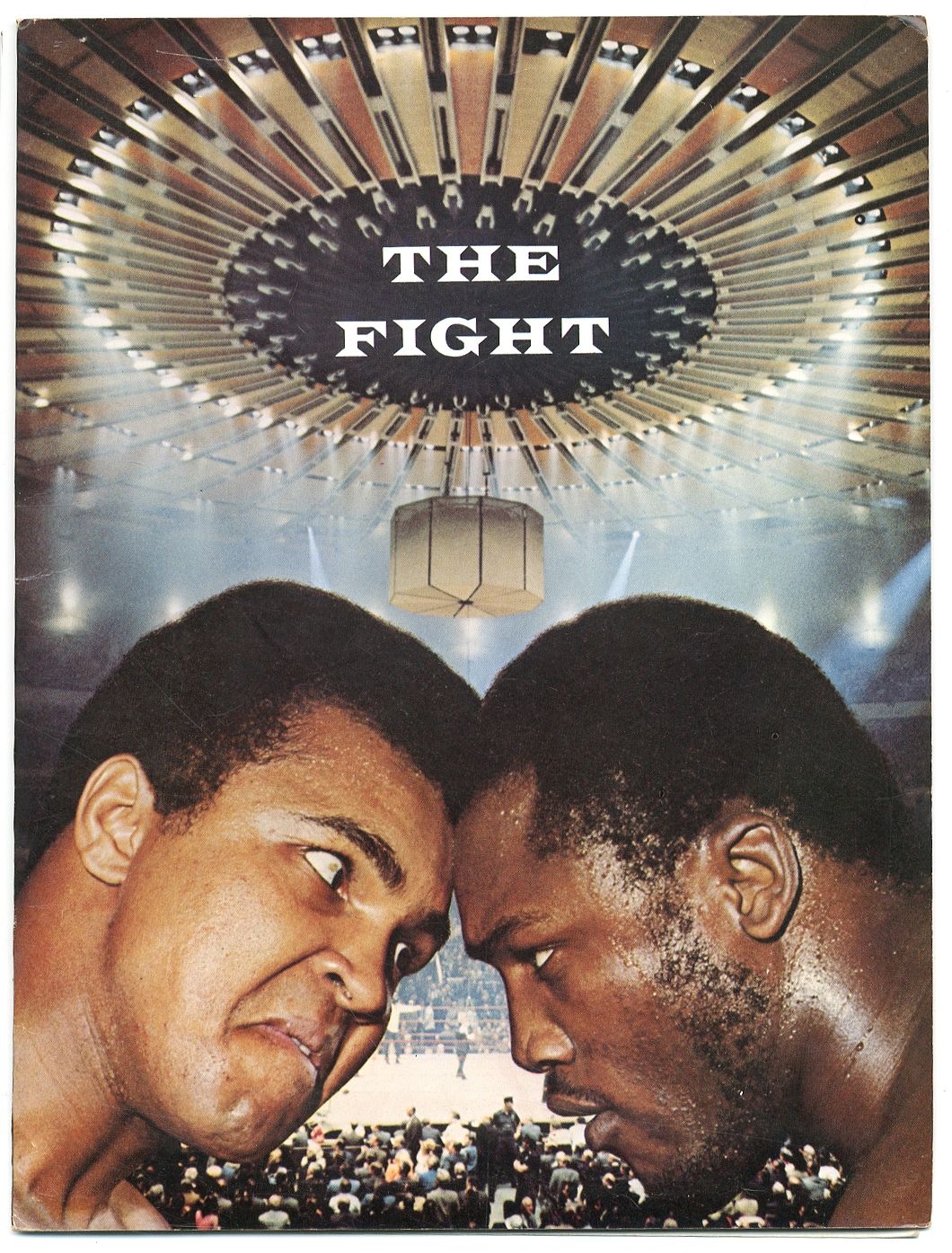 New York: Madison Square Garden Boxing, Inc. In Association with Fight of Champions / Printed by Thomas A. Koppel & Son Co, 1971. Softcover. Fine. Quarto. 25 mimeographed leaves printed rectos only, stapled into a color folder, photograph of the fighters on the front wrap, LeRoy Neiman painting on the rear. Very light wear, fine.
Includes a biographical sketch of Frazier by John F.X. Condon. An important and classic heavyweight championship fight that had repercussions beyond the ring, Ali was trying to regain the title that had been stripped from him when he was stripped of the title for refusing induction in the Army. Frazier retained his title in a fight that went the distance. Scarce.
Offered by Between the Covers Rare Books.
The Underground Railroad (Signed, First Edition)
by Colson Whitehead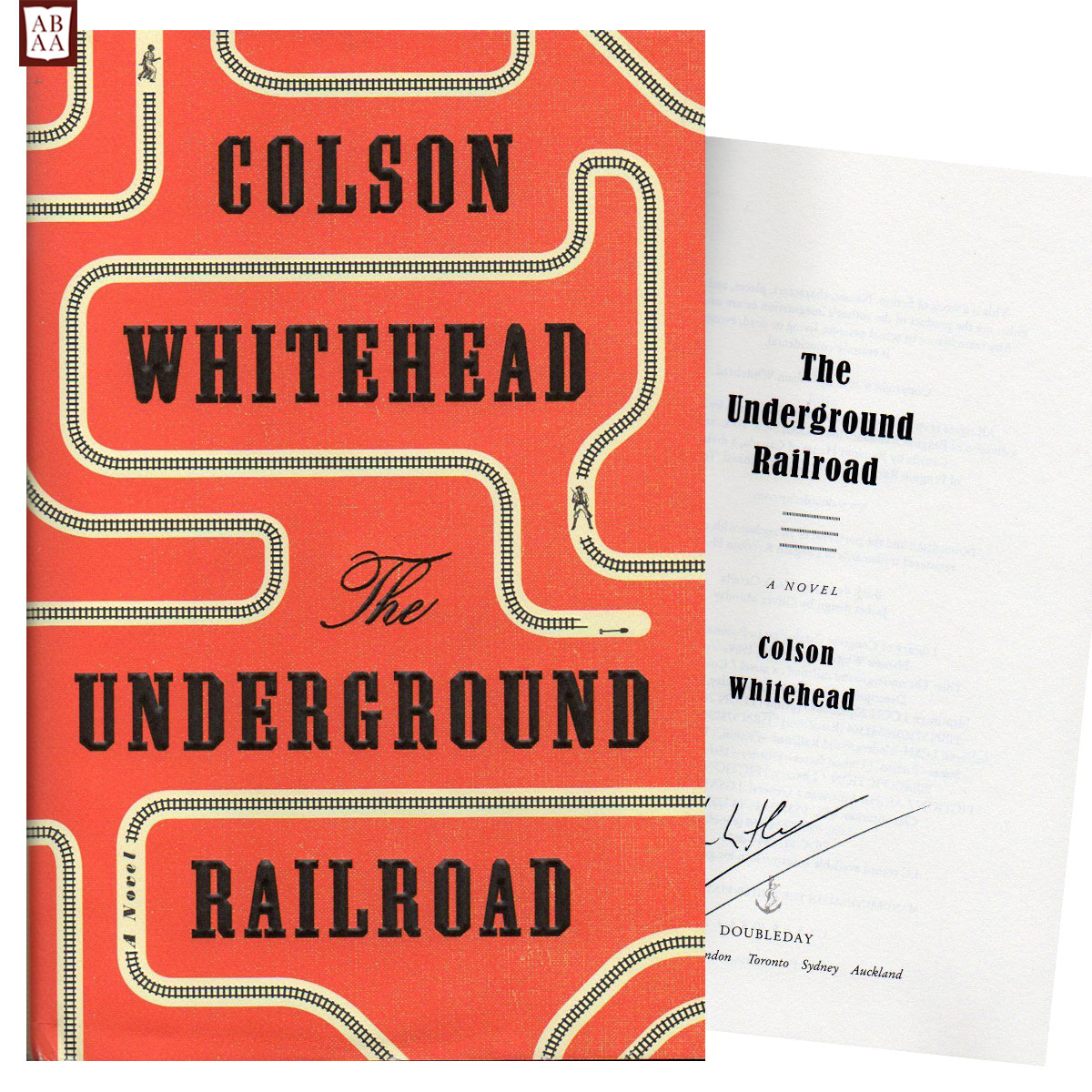 Doubleday, 2016. First Edition (first printing).
The sixth novel by the author of THE NICKEL BOYS and JOHN HENRY DAYS, the chronicle of a young slave's adventures as she makes a desperate bid for freedom in the antebellum South. Named as an Oprah Book Club selection and winner of both the Pulitzer Prize and the National Book Award. Also, longlisted for the Man Booker Prize in Britain. Fine/Fine. Signed by Whitehead on the title page. Hardcover. Fine/Fine.
Offered by Bill Leone, Bookseller.
The Pop-Up Pinocchio; Being the Life And Adventures Of A Wooden Puppet Who Finally Became A Real Boy
by LENTZ, HAROLD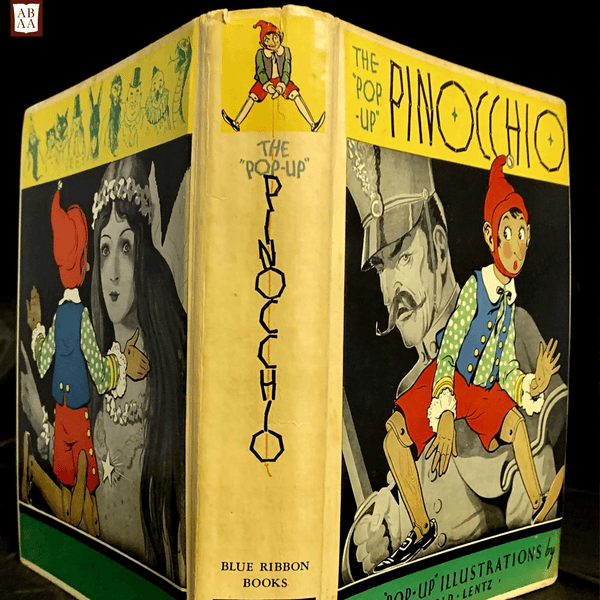 New York: Blue Ribbon Rooks, Inc, 1932. First edition. Hardcover. Orig. decorated thick boards. Very good in tattered dust wrapper. Lent, Harold. 96 pages. 22 x 16.5 cm. Illustrated with four pop-ups in a multitude of colors, and numerous black and white illustrations in the text. Carlo Collodi (Italian, 1826-1890) was responsible for the original Pinocchio writing the "Story of a Marionette, and also called "Le avventure di Pinocchio," which was published weekly in Il Giornale per i Bambini. Illustrated endpapers in color by Lentz. Two tiny nicks at backstrip head and foot, a firm, very sound binding.
Offered by Roy Young Bookseller.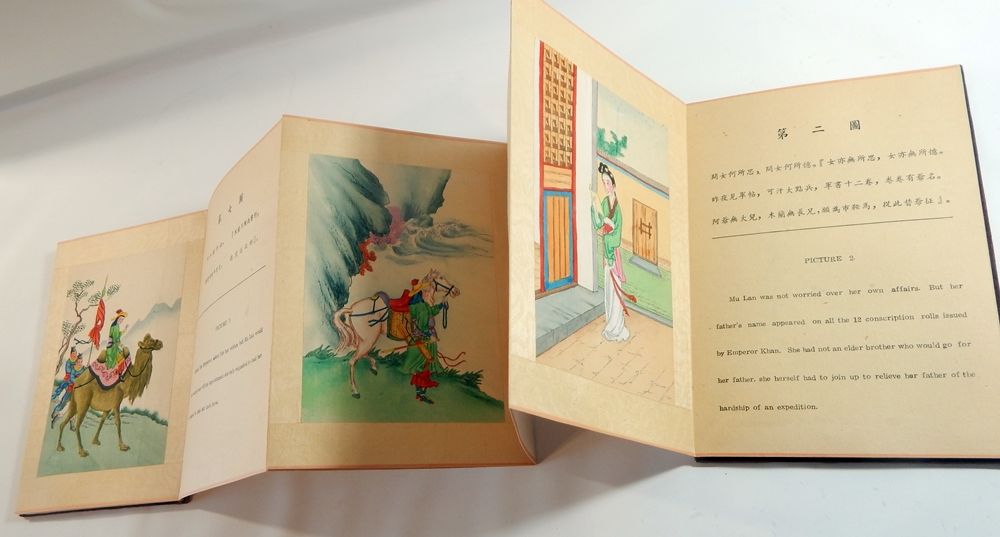 China: n.p., 1920. Near fine. Hardcover. 8vo. Accordion book bound in Asian style. Brown silk cloth boards, lettering panel on the upper board. Title page in Chinese and English. This is followed by 10 sets of two pages, the right hand page with the story of Mu Lan in Chinese and English, and the left hand with a painting on silk illustrating the story. The silk paintings are bright and unfaded, showing vibrant pigmentation, and artistically executed with lovely shading effects.
This is the story of the young woman who enlisted in the army in place of her father, keeping her sex concealed until the end, when she was rewarded for her courageous acts. Basis for the movie by Disney. The corners and edges of the boards are worn in places, but the text block is in fine condition. Scarce.
Offered by Thorn Books.
1973 PRESIDENTIAL INAUGURATION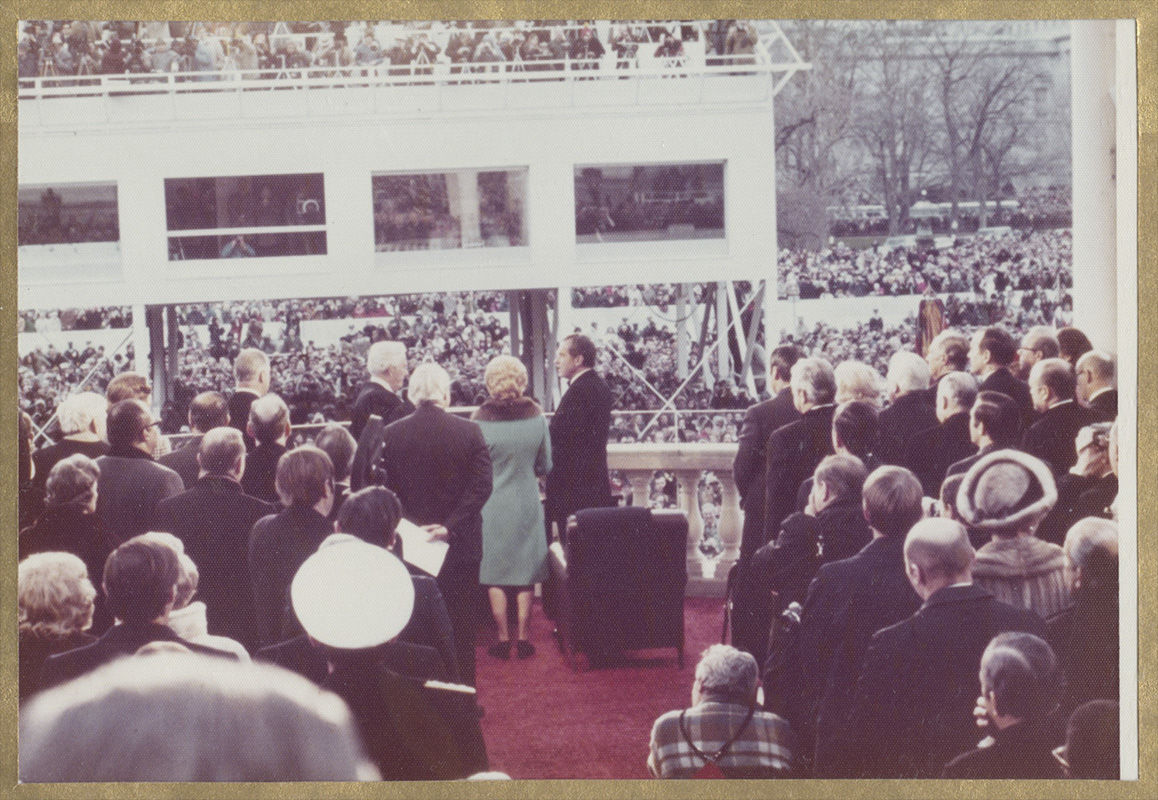 [Washington DC], [ca. 1973]. Fine. Oblong square 4to. Hinged plush leather Family-Vue Photocurio brand commercial album. 8.5 x 9.25 approx. 6 stiff plastic covered leaves with gold metal accents at corners containing twelve 5"x 7" color photographs mounted both recto and verso, eleven with typed caption sheets mounted below. Photomechanically reproduced magazine article on photographer Cecil Stoughton (see below) neatly pasted to inside rear cover. Small scratch to front cover, mild shelf wear at rear, interior contents about fine. Near fine overall.

An album of photos by an unknown attendee of President Nixon's second Inauguration (January 20, 1973) all shot from the main platform less than ten rows behind the swearing-in. Comedic typed captions throughout poke fun at the President, Vice President, First Lady, and Bob Hope, shown here (bottom left) and referred to as "The original Mr. What's His Nose."
A clipping from the March 5, 1973 issue of TIME magazine tells the unfortunate story of Cecil Stoughton, chief still cameraman for the National Park Service and former White House photographer to Presidents Kennedy and Johnson. During the Oath of Office, Nixon reportedly lined up on the opposite side of the podium from what was expected and photographers were caught out of position. In an attempt to capture the moment, Stoughton moved himself just feet behind Nixon, causing the photographer - who was wearing a garish plaid coat - to appear prominently in the background of official photos of the ceremony. This infuriated Nixon and weeks later Stoughton's NPS position was eliminated. One of the photographs here shows Stoughton (top right below) and is captioned: "The back of the man in the plaid coat." Nixon's unexpected positioning, however, makes platform views of the actual swearing-in ceremony rather more uncommon that one might expect.
Offered by Brian Cassidy Bookseller at Type Punch Matrix.
The Tarot of California. Redrawn from a nineteenth century Italian Piedmont Deck
By Fred Martin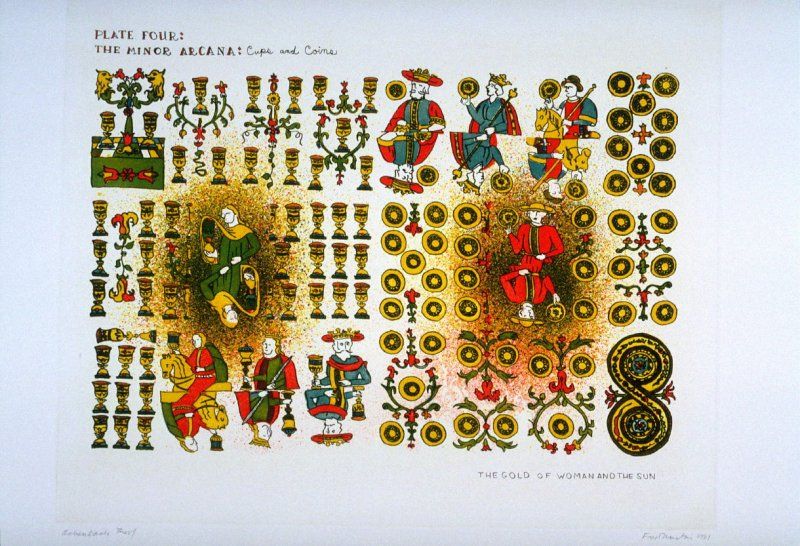 Palo Alto: 3 EP Ltd, 1981. First edition. A portfolio of six colored etchings and aquatints, drawn by the artist on copper and zinc plates, printed by Ikuru Kuwahara, signed, numbered, and dated by the artist. Overall size 22-1/2 inches x 27 inches, plate size 17-1/2 in x 22 in. Copy 19 of 20 numbered sets on Arches plus six proof sets of which 3 were on Stonehenge paper. Fine condition in publisher's folding linen case. Fred Martin's works are held by numerous institutions, including The New York Museum of Modern Art, The Fine Arts Museums of San Francisco, The National Gallery, Washington, etc. An account of the development of his Tarot images is on the artist's web site (fredmartin[dot]net).
Offered by Thomas A. Goldwasser Rare Books.
Original Pen and Ink Manuscript Collection of Tarot and Esoteric Self-instruction Notebooks
[San Francisco, 1980. Very good.. Four black binders. Approximately [130] leaves of handwritten text and pen/ink illustrations, some with ink washes. The notebooks are divided into four parts, A-D. The various parts total about 130 individual leaves of manuscript notes in blue and black ink with corresponding illustrations and various types of notebook paper. In some cases, text is written on both sides of each leaf. Each divided part describes the author's understanding of the Tarot card divination system with both the minor and major arcana hierarchy. In very good condition with each sheet in mylar and unmounted on black crepe paper. Some age wear to paper and reinforced black tape on binders, otherwise clean, bright, and legible. The collection is either a student's book of notes or a lecturer's book of teaching notes, more likely a student of self-directed Tarot and esoteric thought instruction. From the style of drawings and the description of each individual card, the creator is most likely using the Waite-Rider-Smith Tarot deck as reference. The illustrations reflect the artistic style of Pamela Colman Smith directly. While there are no name attribution's for the creator, there are references to well-known Tarot instructors and occult scholars, including Paul Foster Case and Jason Lotterhand. In 1978, Lotterhand published "The Thursday Night Tarot" book and edited by his friend and student, Arisa Victor. The book contained the "essence" of the Thursday night messages as they related to the 22 cards of the major arcana. He began his training with BOTA (Builders of the Adytum founded by Dr. Paul Foster Case) in 1933 and later served as Director of the organization. Both teachers used the Cabala and Hermetic symbolism as a framework because it was comprehensive enough without the complexity of Eastern thought systems. The method taught the elements of the tarot representing the rich symbolism associated with the 22 letters of the Hebrew alphabet and paired them with the illustrations of the Tarot. In various meditations on the "keys" of the images, those practices convey insights through the power of suggestion to the subconscious mind. This system, as influenced from Victorian era occultist Arthur Waite, utilized symbolism as the key to the Tarot. In The Key to the Tarot, Waite writes: "The true Tarot is symbolism; it speaks no other language and offers no other signs." This collection of primary source manuscripts and original art is an example of theosophical thought, outsider art, alchemical studies, and the continued idea of self-directed tarot and esoteric knowledge teaching, beginning at the turn of the century. There are also references to addresses and names of people based in San Francisco, thus alluding the creator was Bay Area, CA based. There are also a couple of drawings of the Golden Gate Bridge. The author is personally contemplative and responds to the tarot's interpretative and intuitive nature of philosophical divination echoing the alchemical motto, "Solve et Coagula," or dissolve the body and build up the spirit....
Offered by McBride Rare Books.
Carola (Original screenplay for an unproduced film, inscribed by Jean Renoir)
by RENOIR, JEAN; ROBERT GOLDSBY, ANGELA GOLDSBY (SCREENWRITERS)
N.p.: N.p., 1960. Draft script for an unproduced English adaptation of Jean Renoir's 1960 play. Presentation copy, inscribed by Renoir on the title page: "Pour Ruth et Mark / en tout amitie / Jean Renoir" ("For Ruth and Mark / in all friendship / Jean Renoir").

Based on Renoir's 1960 French play. A beautiful, troubled stage actress in Nazi-occupied Paris finds her attentions torn between a Resistance leader whom she is hiding and a handsome Nazi officer. Renoir's final film effort, one which was ultimately never completed before his death in 1979.

Set in France.

Self wrappers. Title page integral with front wrapper, undated, with credits for screenwriter Jean Renoir and translation credits to Robert Goldsby and Angela Goldsby. 146 leaves, with last page of text numbered 142. Spirit duplication, rectos only. Pages Very Good plus, bound with two gold brads.

Housed in a custom quarter-leather clamshell box.
Offered by Royal Books.
Real Sailor-Songs. Two Hundred Illustrations
by John Ashton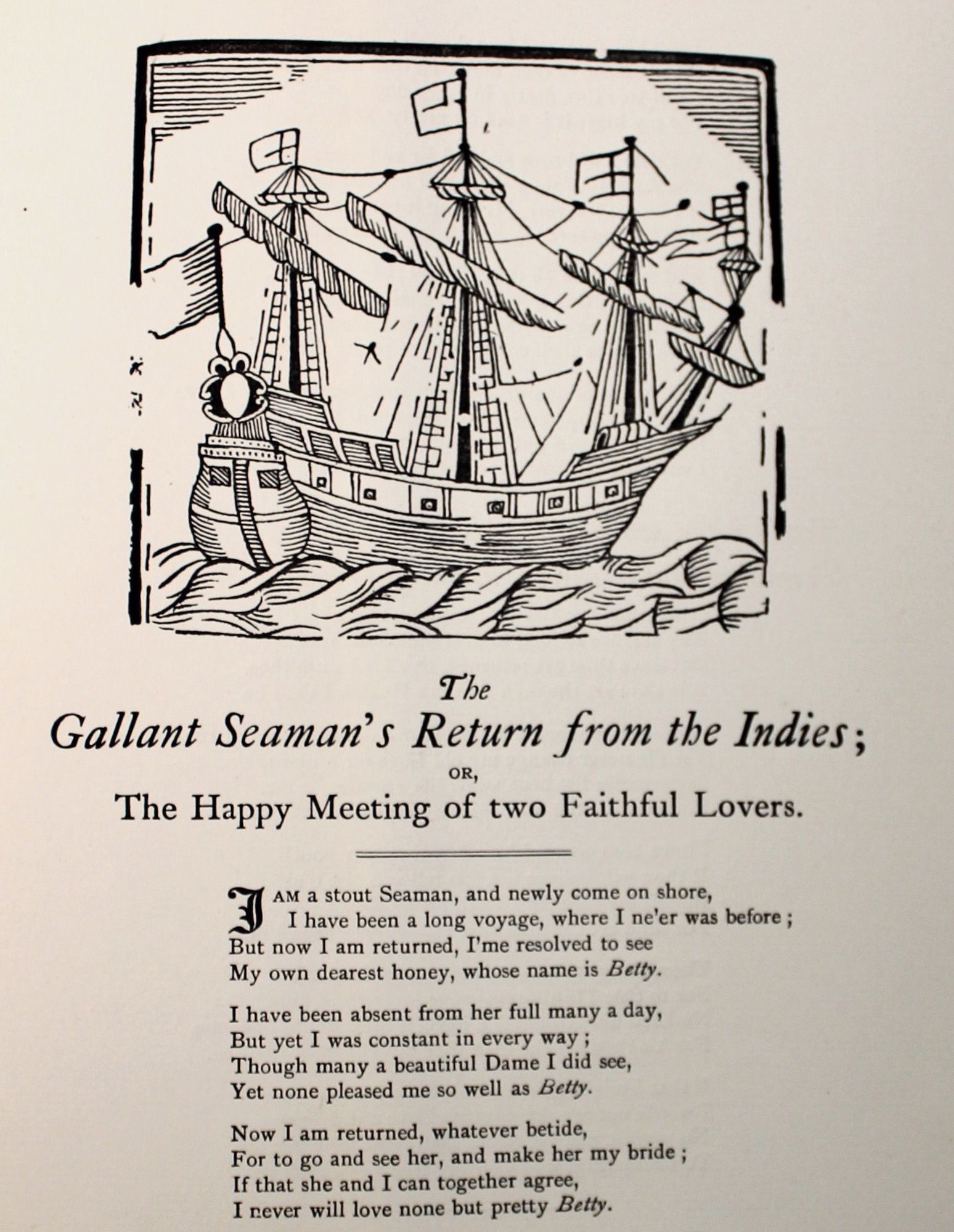 London: Leadenhall Press, 1891. First edition. Half vellum over blue paper boards, gilt spine, gilt coat-of-arms on front cover. Covers stamped in black and red. With 32 facsimiles of nautical song broadsides mounted on brown paper stubs. With a total of 200 half-page illustrations, initials, headpieces, and tailpieces (some by Joseph Crawhall). Some yellowing to vellum, as usual. Some wear to seam where vellum meets paper on front board. Front hinge somewhat tender. Some rubbing to extremities. Edges untrimmed. Some toning to endpapers and some occasional toning to leaves from brown paper stubs. Twentieth century bookplate (Ex Libris Oliver Collection) to front pastedown. Overall a very good, clean copy of this lively and ambitious Leadenhall Press production.
The present work collects almost 130 sea shanties and other songs written by sailors from the seventeenth through nineteenth centuries. The songs are organized into sections according to relevant themes in the nautical life: sea fights, press gangs, disasters, life ashore, and love. The miscellaneous section at the end of the book covers everything from "Davy Jones's Locker" and "The Downfall of Piracy" to "The Female Smuggler" to "The Sailor's Widow's Lament."
Offered by Michael R. Thompson Rare Books.
Wakyomaru. Early Japanese advertising art for patent medicine cure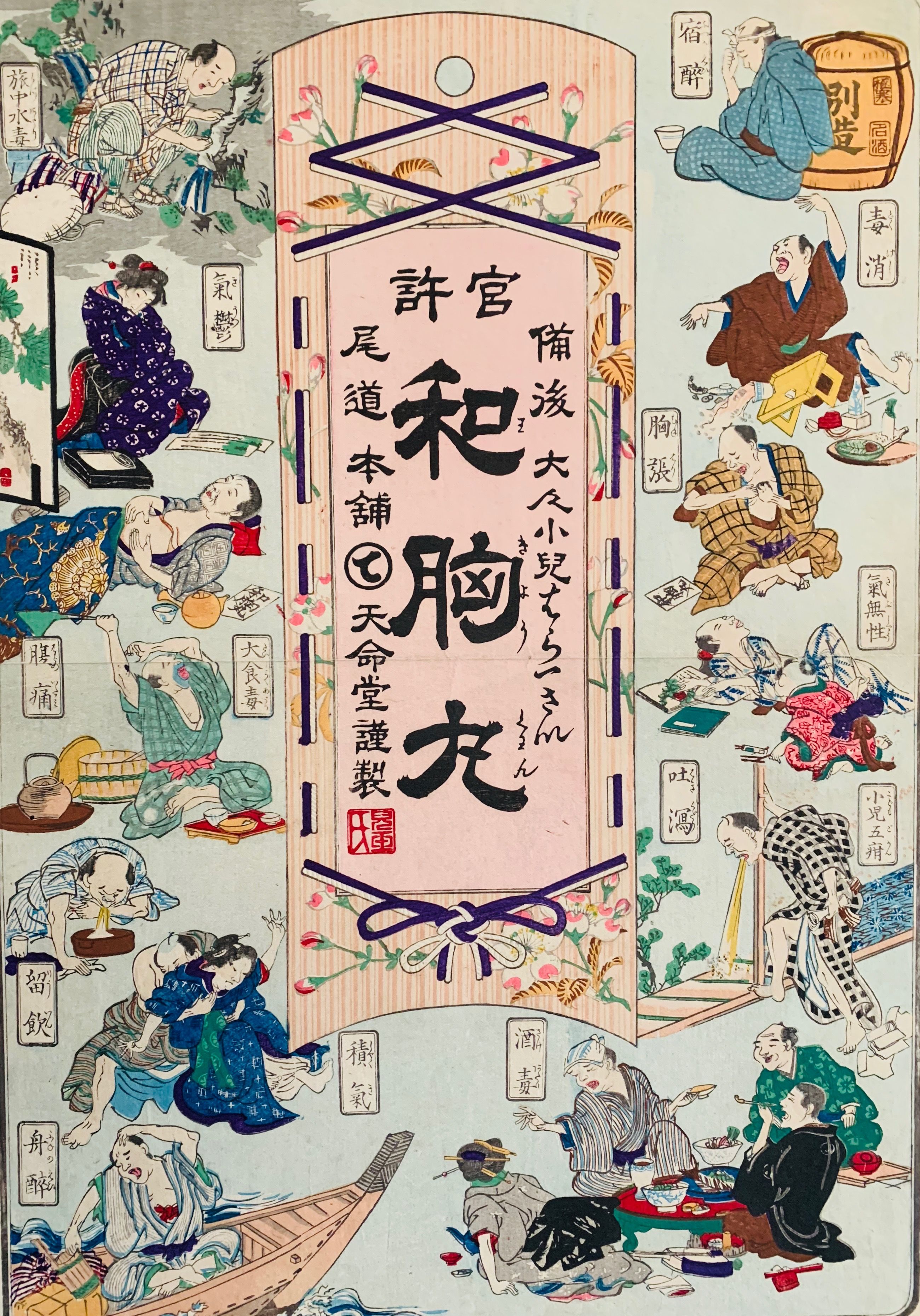 1870-1900· Hiroshima. Illustrated color-printed advertising broadside promoting Wakyomaru,a medicinal powder manufactured by Tenmai-Do. This woodblock print depicts, in no uncertain terms, the digestive-tract ailments that this powder can cure: from morning sickness, food poisoning, heartburn, low energy, vomiting and diarrhea, to colic in children, alcohol poisoning, chest and stomach pain, gastritis, overeating, and stomach troubles that can lead to depression! A viewer receives a particular graphic view of the dietary and emotional stress of life in Japan during the Meiji era.
Offered by Marc Selvaggio, Books & Ephemera.
Pete Rice Magazine A very scarce and desirable western pulp title.
by GRIDLEY, AUSTIN AKA BEN CONLON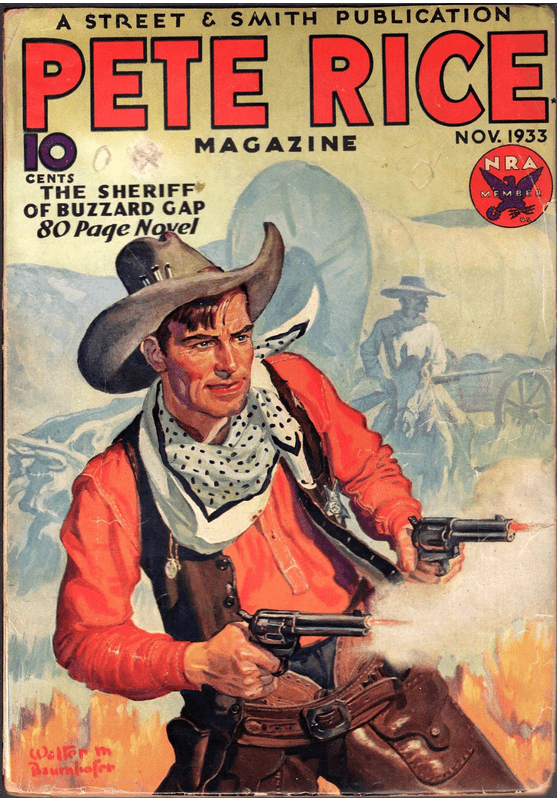 Pete Rice Magazine was one of several single character hero pulp titles published by Street & Smith. With a cover date of November 1933 for the first issue, he appeared just eight months after Doc Savage appeared on the stands and nine months after Nick Carter. The title changed to Pete Rice Western Adventures with the September 1935 issue and continued as such until the end of the run. Austin Gridley was the Street & Smith house author that the Pete Rice stories appeared under however most were written by a pulp author named of Ben Conlon.
In "Cheap Thrills", Ron Goulart describes the Pete Rice realm as "built around a cowboy with a coterie of distinctive sidekicks." In his book "The Pulp Western," John Dinan considered Pete Rice more a modern detective than your typical pulp fiction cowboy, "as the crimes and circumstances surrounding them were modern and not particularly western (e.g., counterfeiting)." Nick Carr cites Link Huller as referencing telephones and cars popping up in the stories occasionally. Pete seemed to be stuck somewhere between the old west and the early 20th century. The first 26 issues had nice striking cover art by Walter Baumhofer. Starting with the January 1936 issue, R.G. Harris took over and continued until the end of the run with the June 1936 issue.
Pete Rice has traditionally been a very difficult run to put together and to obtain all 32 issues can be quite a daunting task. Average condition is about VG/FN with many high grade. $8,500.00 Nov 1933 #1 (VG), Dec 1933 #2 (VG sm int tp), Jan 1934 #3 (VG+), Feb 1934 (FR/G), Mar 1934 (G, int tp), April 1934 (G), May 1934 (int. tp. G), June 1934 (FN/VF), July 1934 (FN), Aug 1934 (FN/VF), Sept 1934 (FN-), Oct 1934 (FN-), Nov 1934 (int. tp. G/VG), Dec 1934 (FN/VF), Jan 1935 (FN/VF), Feb 1935 (FN/VF), Mar 1935 (FN/VF), April 1935 (VG), May 1935 (G/VG), June 1935 (VG-), July 1935 (int. tp. G), Aug 1935 (VG), Sept 1935 (FN/VF), Oct 1935 (2" tear, VG), Nov 1935 (FR/G), Dec 1935 (FR/G), Jan 1936 (FN/VF), Feb 1936 (VG), Mar 1936 (FN), April 1936 (VG/FN), May 1936 (FN-), Jun 1936 (FN-)
Offered by Fantasy Illustrated.
Desert Notes Reflections in the Eye of a Raven
by Barry Lopez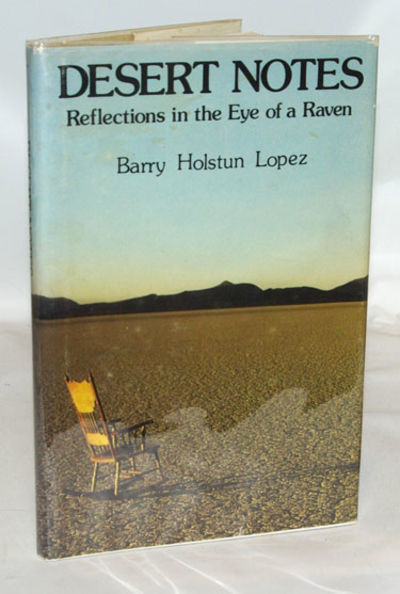 Kansas City: Sheed, Andrews & McMeel, Inc., (1976). First Edition. First Printing Fine in tan cloth covered boards with bold brown text on the spine. An octavo of 8 3/8 by 5 1/2 inches. In a very near fine, unclipped dust jacket with very slight rubbing to the front panel. Signed by the author on the title page. 89 pages of text. Illustrated with a frontispiece from a black and white photograph. A collection of eleven essays.
Offered by Town's End Books.
The Cat and the Moon and Certain Poems
by YEATS, W.B.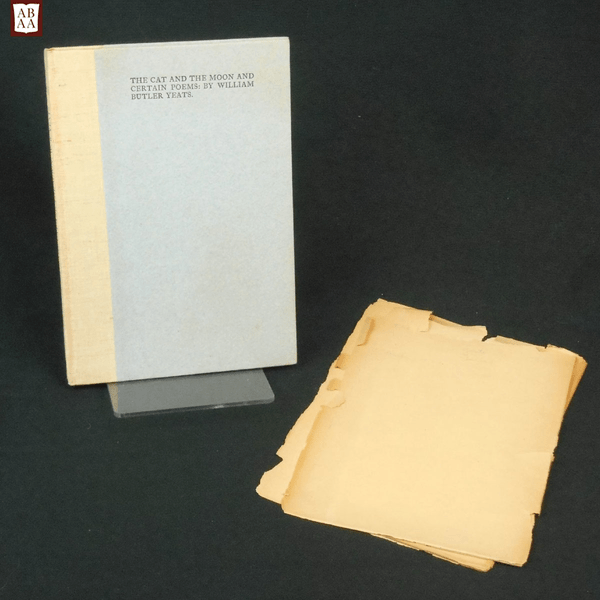 Merrion Square, Dublin, Irland: The Cuala Press [Elizabeth Corbet Yeats], 1924. First and Limited Edition. Hardcover. Near fine/poor. First printing of this collection, one of 500 copies, octavo size, 51 pp., signed by Yeats. William Butler Yeats (1865-1939) is acknowledged by many as "supreme among modern Irish poets". He was awarded the Nobel Prize in Literature in 1923 (the first Irish to be so recognized), at which time he was "one of Dublin's great established figures, both in his own right and as the representative of the cultural renaissance which...had set in motion the Irish revolution and war of independence." Throughout his life, and throughout his poetry - which is still read and loved today - Yeats is recognized as supremely Irish, with his life and poetry reflective of his Irish identity.

This book of mostly poems, as well as a short, one-act play "The Cat and the Moon", was dedicated to Lady Gregory (Isabella Augusta, Lady Gregory (1852-1932)) who, with Yeats and Edward Martyn, co-founded the Irish Literary Theatre and the Abbey Theatre. Several of the poems appeared in print previously in various publications such as "The Dial"; in the Preface, Yeats states: "[n]ow that I have just read through the poems in this little book, I renew an impression...- an odour, a breath, that suggests to me Indian or Japanese poems and legends..."

Contains the poems "Youth and Age", "Leda and the Swan", "Meditations in time of Civil War", etc. Of interest are the notes Yeats includes at the end explaining at times certain lines, at times his inspiration to write certain of the works, but always giving a glimpse into the poet's mind.
DESCRIPTION: Bound in full laid blue paper over boards with a buff linen spine, black lettering debossed on the front board, paper spine label with black lettering, all edges uncut, blue endpapers matching the binding, title page with woodcut of a unicorn in red by Robert Gregory, signature of Yeats in black ink underneath the book's title on the title page, most of the signatures are unopened, colophon in red, one of 500 copies (unnumbered); printed on paper made in Ireland, octavo size (8 1/2" by 5 5/8"), pagination: [i-viii] [1] 2-41 [1 blank] [colophon]. With the original plain paper wrapper.

CONDITION: Near fine, with clean boards, the linen spine clean and unworn, perfectly straight corners without rubbing, a strong, square text block with solid hinges, the interior is clean and bright, and entirely free of prior owner markings; some of the usual offsetting on the endpapers and a couple gutters just beginning to crack, else fine. The paper wrapper poor, most of the spine portion missing so the two panels and flaps are in separate pieces, light vintage pencilled notations on the back panel.

CITATION: Wade no. 145.
Offered by Swan's Fine Books.
American Ornithology: or, the Natural History of the Birds of the United States
by WILSON, ALEXANDER; CHARLES LUCIEN BONAPARTE; WILLIAM JARDINE.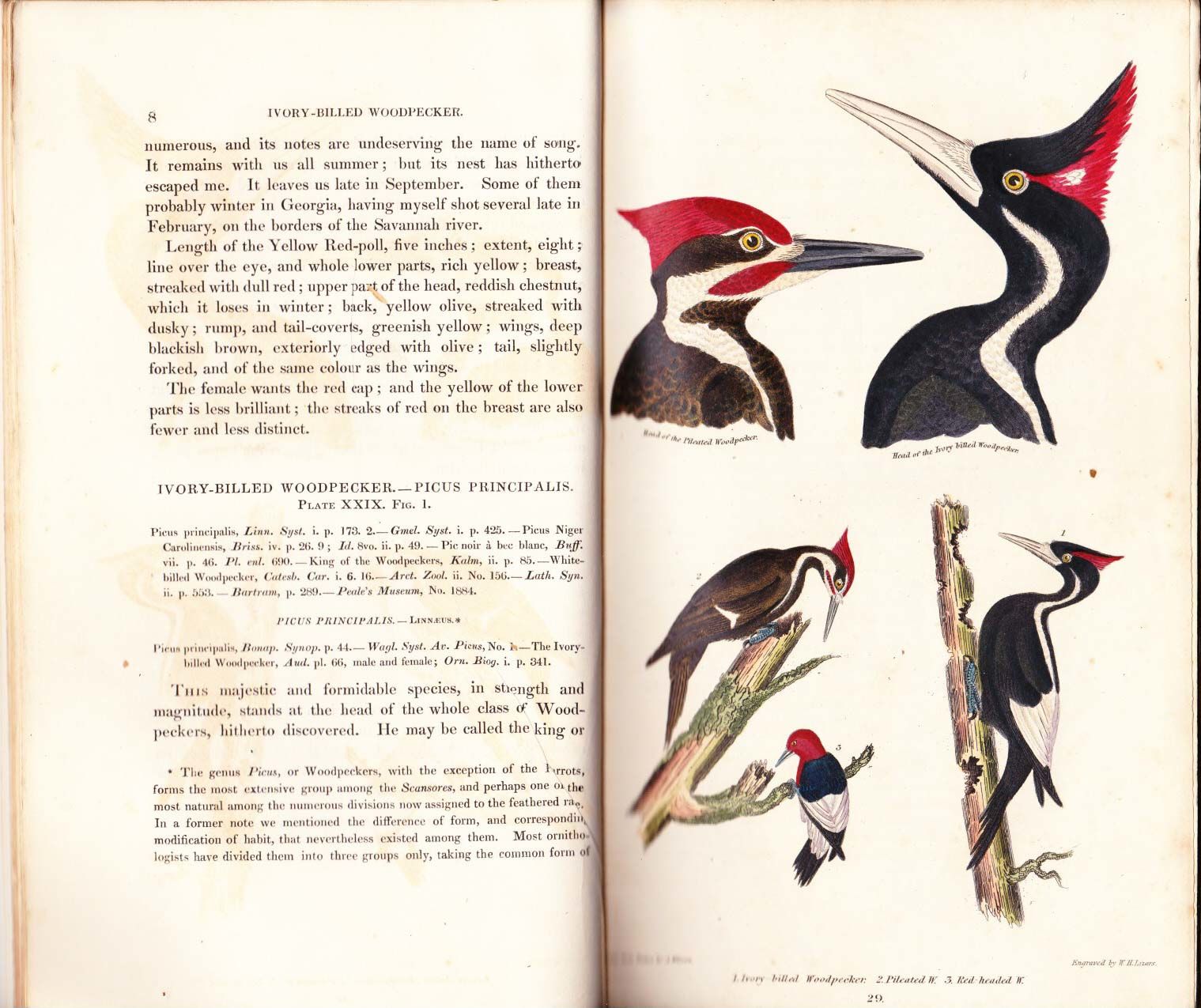 London and Edinburgh : Whittaker, Treacher, & Arnot; Stirling and Kenney, 1832. First British edition. Very Good/The main part of this work consists of a reprint of Wilson and Ord's "American Ornithology" (1808-14), plus all but the last volume of Bonaparte's "American Ornithology" (because the last volume did not appear until 1833). In addition, Jardine contributed copious notes and a life of Wilson. The plates were all engraved afresh by W. H. Lizars from the originals drawn by Wilson, TItian Peale, and A. Rider. . 3 volumes octavo (23 cm). cvii, 408, and 28 plates; vii, 399, and 33 plates; viii, 523, and 41 plates. All plates printed by Lizars and colored by hand. Bound in recent green buckram with black leather title labels stamped in gilt. Scattered light foxing, but most plates bright and clear.
Offered by Rodger Friedman Rare Book Studio.
SCRAPBOOK Of MILK & CREAM BOTTLE CAPS / TOPS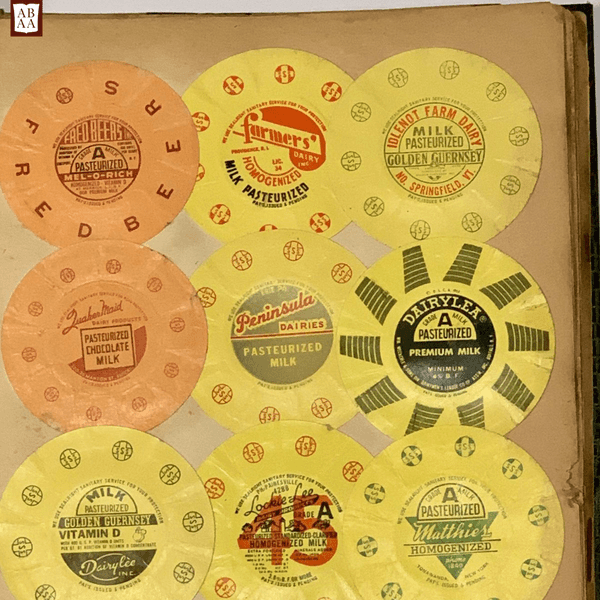 (n. p.), 1938. Album two-toned, green & white faux leather, internal string tie. Color pictorial onlay to front cover [chipped at bottom]. Album shows wear & soiling, with mounting paper age-toned & brittle, showing a bit of edge-chipping. Penciled to front cover inside: "Sept 1938". Tops used, though generally in Very Good condition.. 55 leaves of mounting paper, of which 24 have a total of 262 circular, printed paper / foil milk bottle tops, mounted 9 - 15 per page [all mounted on leaf recto]. Album: 14" x 10-5/8". Tops: various sizes & colors, 2-7/8" - 4-1/8"

A no-doubt unique collection of milk bottle tops / caps from the late 1930s, generally from the North East U.S., e.g., Sheffield Farms, Maplehurst; R. G. Miller & Sons, Hartford CT; New London & Mohegan Dairies, Inc., New London [CT]. That said, we find others from as far afield as A. R. Beavers & Sons, North Tazewell, VA & Superior Dairies Inc, St. Augustine FL.
Offered by Tavistock Books.
New Orleans, The City Unique. St. Charles Hotel, New Orleans, LA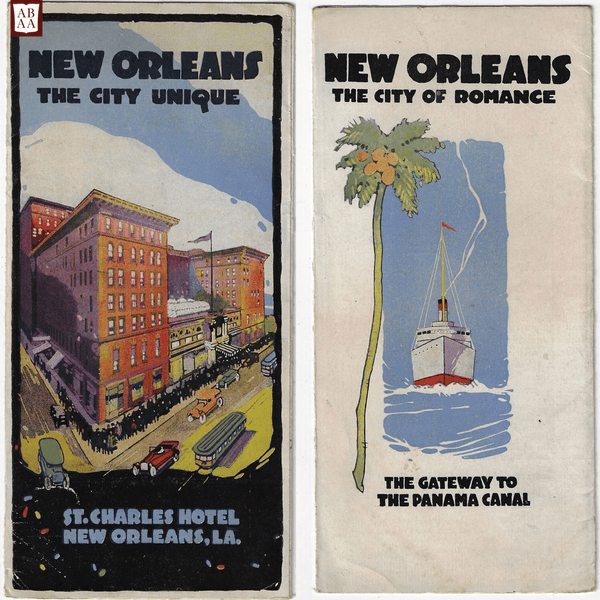 Alfred S. Amer & Co. Ltd, Proprietors. Softcover. Very good. Undated, ca. 1920. Four-panel folding brochure with very nice cover art, illustrated internally with drawings in color and b/w half-tone photographs. Some general handling wear; very good. Text promotes both the hotel and New Orleans ("the City of Romance") and includes a section on Mardi Gras. The hotel included large spaces to accomodate conventions, meetings, and receptions, and the brochure includes a list of organizations that had "taken advantage of the excellent facilities and servies afforded" -- among them the Western Fruit Jobbers's Association, Association of Dining Car Superintendants, and Cotton Conference of Southern Governors. Rooms for two with private bath began at $5.00 a night.
Offered by Walkabout Books.
The Elephant Vanishes (Signed)
by Haruki Murakami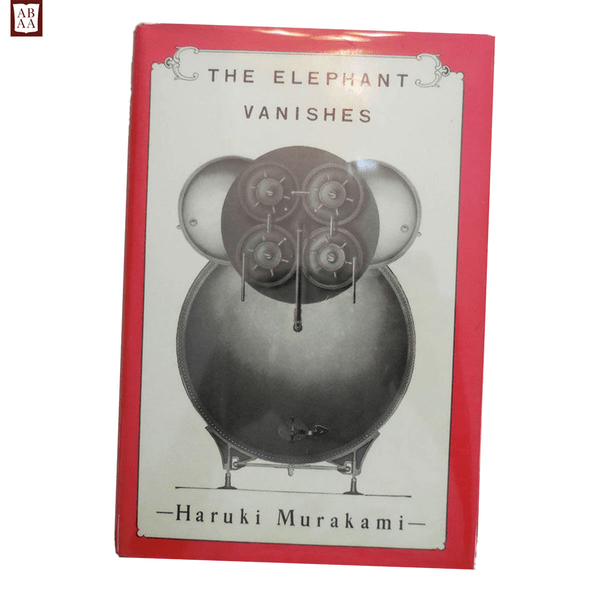 New York: Alfred Knopf, 1993. First American edition. Hardcover. Near Fine/near fine. Stated first edition. The first American printing of this novel by the author of A Wild Sheep Chase. Translated from the Japanese by Alfred Birnbaum and Jay Rubin. 327 pp. A handsome near fine copy with neat narrow remainder line to top of text block right at spine. Dustwrapper is in bright near fine or better condition. This copy has been both SIGNED and stamped by the author on the title page. A book not often found signed.
Offered by Derringer Books.
His Dark Materials (American Editions)
by Philip Pullman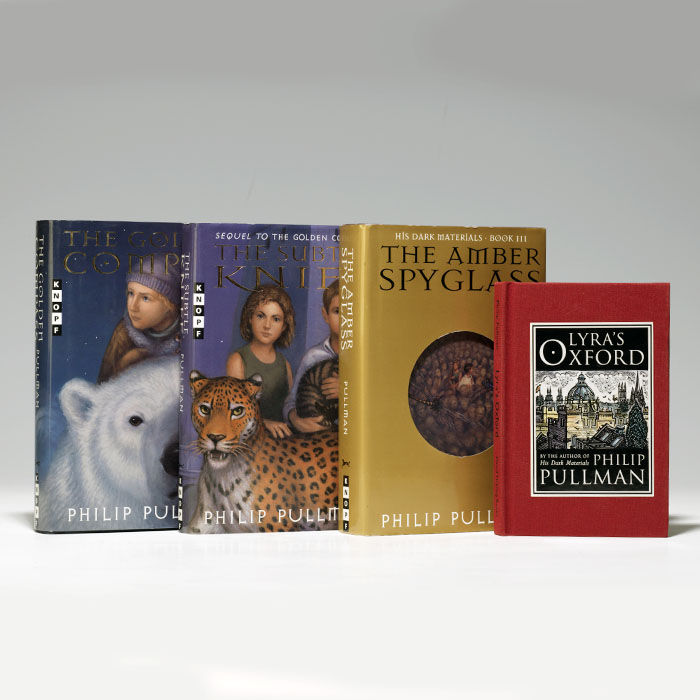 1996. Signed. PULLMAN, Philip. The Golden Compass. WITH: The Subtle Knife. WITH: The Amber Spyglass. WITH: Lyra's Oxford. New York: Alfred A. Knopf, 1996-2003. Together, four volumes. Octavo, original half navy cloth gilt (Books I, II), illustrated paper boards (Book III), original dust jackets. Lyra's Oxford: 12mo, original pictorial red cloth, mounted cover illustration.
First American editions of Pullman's celebrated trilogy—the second two books signed by Pullman on the title pages—together with the companion volume, Lyra's Oxford. A former schoolteacher and accomplished playwright, Pullman followed several historical and realistic novels with this literate, sophisticated series, "perhaps the most highly acclaimed work of fantasy for young adults published in the 1990s, The Dark Materials series is filled with moral ambiguity rather than clear-cut didacticism, and readers as well as [protagonist] Lyra must grapple with the difficult questions raised by the story" (Fantasy and Horror 7-311). "Initially [Pullman] simply planned to infuse his story with Miltonian atmosphere. Soon, however, Milton's theme, the Fall of Man, crept into the novel. [Pullman explains,] 'My story resolved itself into an account of the necessity of growing up, and a refusal to lament the loss of innocence'" (The New Yorker).
The final installment, The Amber Spyglass, became the first children's novel ever to win the Whitbread Book of the Year Award (2001). The Golden Compass first published in Britain in 1995 as Northern Lights; other volumes published in Britain in the same years, under the same titles. Text of Lyra's Oxford with slightest toning to edges. A fine and desirable set, signed in two volumes.
Offered by Bauman Rare Books.
The Art Of Maurice Sendak - 1st Edition/1st Printing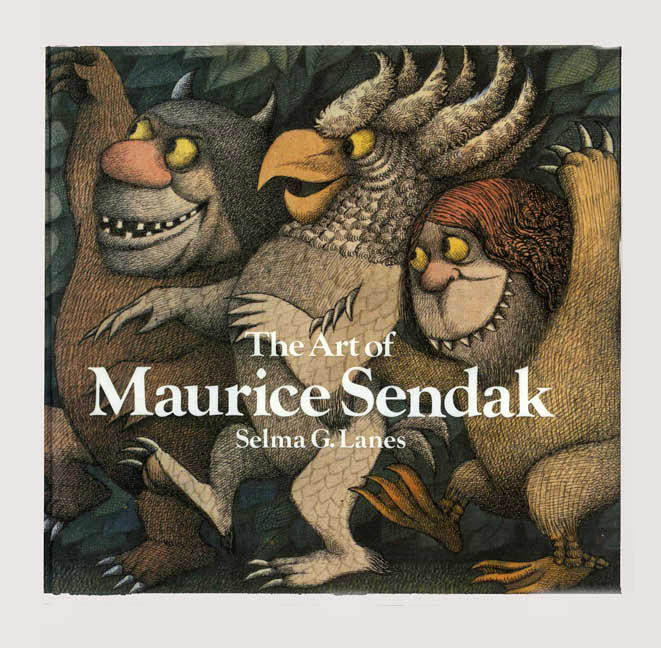 New York: Harry N. Abrams, Inc.. Fine in Fine dust jacket. 1980. First Edition; First Printing; Signed by Biographee. Cloth. 0810944480 . A Fine printing of the first edition, decorated cloth in the original printed glassine dust-jacket . Signed and dated Dec-80 by Maurice Sendak on the first flyleaf; As creator of Caldecott winningWhere the Wild Things Are, In the Night Kitchen, Higglety Pigglety Pop!, and the illustrations of countless other memorable children's books, legendary Maurice Sendak, ranked among the best known and best-loved artists in America; Color Illustrations; 278 pages.
Offered by Books Tell You Why, Inc.
Winnie the Pooh (Signed, First Edition)
by A.A. Milne (Illustrations by Ernest H. Shepard)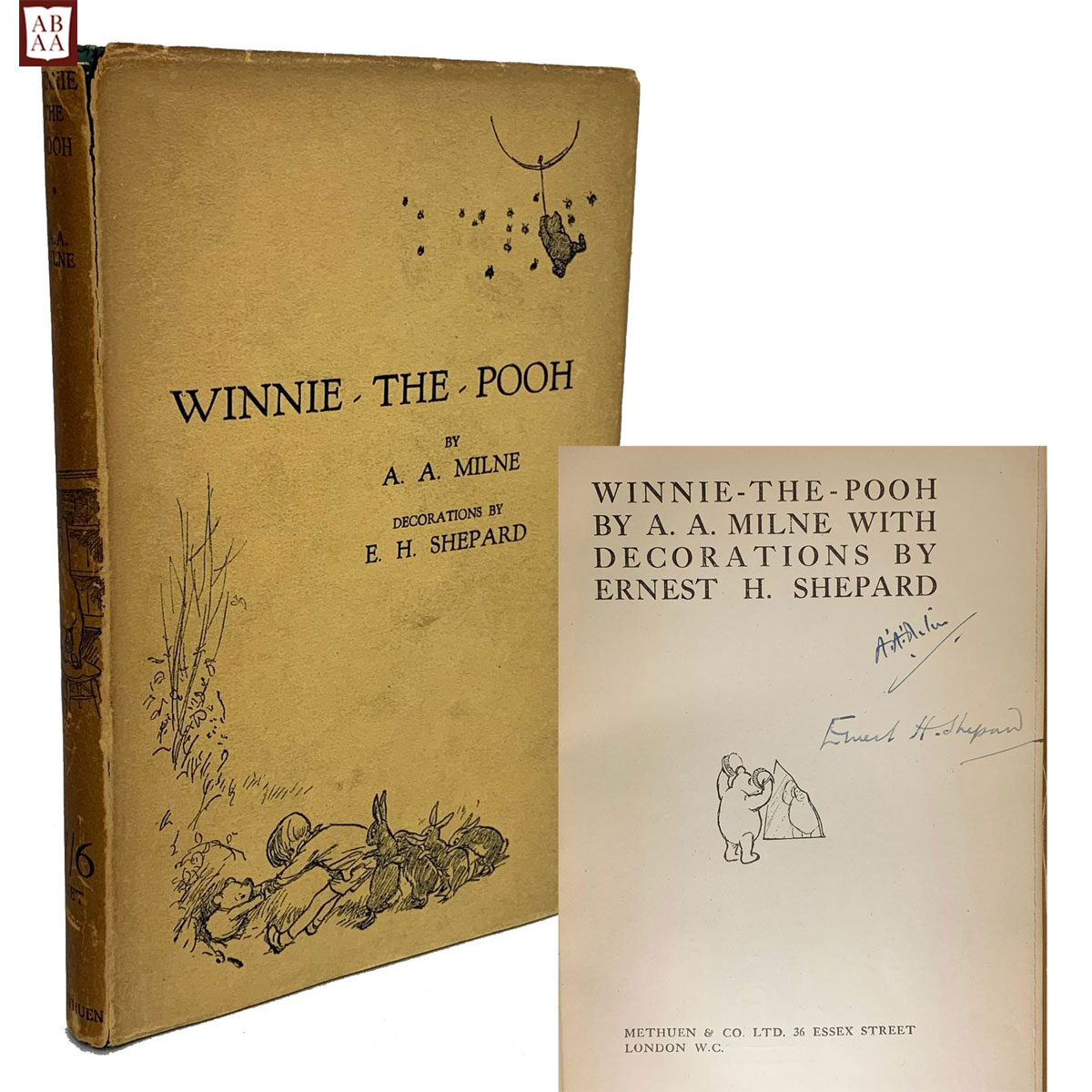 London: Methuen and Co., 1926 Illustrated by Ernest H. Shepard. First edition, first printing, first state dust jacket with "117th Thousand" to rear flap. Signed by Milne and Shepard to the title page. Publisher's dark green cloth, decorated in gilt to front board with an illustration of Christopher Robin and Pooh, lettered in gilt to spine, top edge gilt, illustrated map endpapers; in the original tan pictorial dust jacket printed with Shepard's illustrations in black. An excellent copy with only some very minor rubbing to the spine ends and slight offsetting to the endpaper; in the jacket with some toning to the spine and some chipping with minor loss to the spine ends, else very good. Overall, a very attractive copy, exceptionally scarce signed by both author and illustrator. Housed in a custom folding box with leather spine label, lettered in gilt. Winnie-the-Pooh is the second in Milne's series of children's books featuring the adventures of the teddy bear character Winnie the Pooh and his friends. Each telling an individual and complete story, the chapters of Winnie-the-Pooh can be read independently of one another. Milne created the story of Winnie the Pooh for his son Christopher Robin, who had a teddy bear named Edward Bear. In his introduction, Milne explains how Edward Bear became Winnie the Pooh, although he notes that "we can't remember whether Winnie is called after Pooh, or Pooh after Winnie." The name "Winnie" comes from a bear that the Milnes saw at the London Zoo, while the name "Pooh" is from a swan whom the fictional Christopher Robin encountered in When We Were Very Young (1924).. Signed by Author and Illustrator. First Edition.. Hard Cover. Near Fine/Dust Jacket Included.
Offered by B & B Rare Books.
All 18 Christmas Numbers from HOUSEHOLD WORDS and ALL THE YEAR ROUND
by Charles Dickens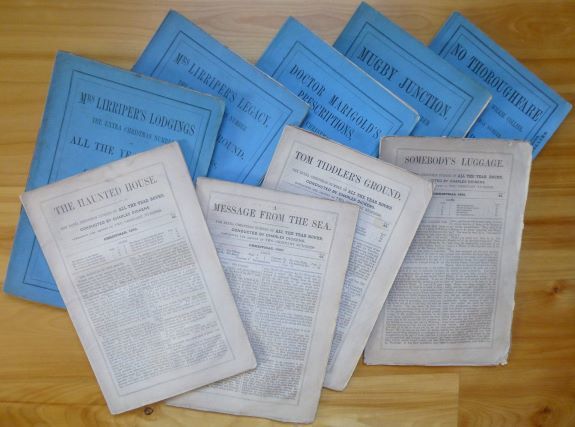 1850. This is a complete set Dickens's annual "Extra Christmas Numbers" -- all nine of HOUSEHOLD WORDS, followed by all nine of ALL THE YEAR ROUND. London: Dec. 1850 - Dec. 1858 and Dec. 1859 - Dec. 1867. Original self-wrappers (first 13 numbers) and original blue printed wrappers (last five numbers) -- as issued. First Editions of all eighteen pieces. Dickens was the editor (or "conductor") of both of these periodicals -- one rising out of the ashes of the other -- but he also wrote at least part of the Christmas story in each of these eighteen numbers.
The stories in HOUSEHOLD WORDS are: 1850 ("A Christmas Tree" is by CD) 1851 ("What Christmas is, as we Grow Older" is by CD) 1852 A ROUND OF STORIES ("The Poor Relation's Story" and "The Child's Story" are by CD) 1853 ANOTHER ROUND OF STORIES ("The Schoolboy's Story" and "Nobody's Story" are by CD) 1854 THE SEVEN POOR TRAVELLERS ("The First Poor Traveller" and "The Road" are by CD) 1855 THE HOLLY-TREE INN ("The Guest," "The Boots" and "The Bill" are by CD; the rest is by Wilkie Collins) 1856 THE WRECK OF THE GOLDEN MARY (most of "The Wreck" plus the hymn on p. 21 are by CD; the rest is by Wilkie Collins) 1857 THE PERILS OF CERTAIN ENGLISH PRISONERS (chapters I and III are by CD; chapter II is by Wilkie Collins) 1858 A HOUSE TO LET ("Going into Society" is by CD) The stories in ALL THE YEAR ROUND are: 1859 THE HAUNTED HOUSE ("The Mortals in the House," "The Ghost in Master B's Room" and "The Ghost in the Corner Room" are by CD -- as well as all but one of the other opening paragraphs) 1860 A MESSAGE FROM THE SEA (chapters I, II and V, plus passages in other chapters, are by CD; the rest is by Wilkie Collins) 1861 TOM TIDDLER'S GROUND (chapters I, VI and VII are by CD) 1862 SOMEBODY'S LUGGAGE (the first, second, part of the third, seventh and tenth chapters are by CD) 1863 MRS. LIRRIPER'S LODGINGS (chapters I and VII are by CD) 1864 MRS. LIRRIPER'S LEGACY (chapters I and VII are by CD) 1865 DOCTOR MARIGOLD'S PRESCRIPTIONS (chapters I, VI and VIII are by CD) 1866 MUGBY JUNCTION (the first four chapters are by CD -- as indicated on the front cover) 1867 NO THOROUGHFARE (the Overture, Act III, and parts of Acts I and IV are by CD; the rest is by Wilkie Collins, listed as co-author) All eighteen numbers are in very good-plus or near-fine condition, with only very minor edge-wear and soil (though the 1851 issue has a couple of closed tears on the front wrapper and an ink-mark on the rear). Five of the numbers (HhW 1854 through 1858) still have unopened leaves; a few appear that they might once have been bound up (though not trimmed or anything). They are housed in a modern cloth case with inner chemise. Though the last five numbers (the ones in blue wrappers) are not uncommon, the others have become rather scarce; it is now quite unusual to encounter a complete collection of all eighteen. Eckel pp 193-197 ("In good state they [a complete set] are hard to find" -- this in 1932!).
Offered by Sumner & Stillman.
by Oscar Wilde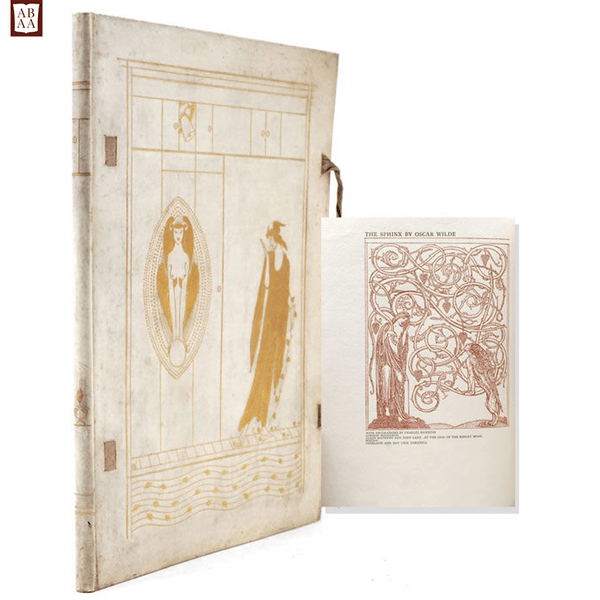 London: Elkin Mathews and John Lane. At the Sign of the Bodley Head. Boston Copeland and Day LXIX Cornhill, 1894. LARGE PAPER, one of 25 copies. Printed by the Ballantyne Press. Illustrated by Charles Ricketts with wood-engraved title page, half and full-page designs, ornamental initials. Printed in red, black and green. Unpaginated. 1 vols. Slender 8vo (10 x 7-3/8 inches.). Original full vellum gilt, with fantastic designs, including 2 weird female sphinx on both sides by Charles Ricketts, uncut The deluxe binding has "extra ornaments to the sides and inner marges of the binding and with ribbons". The binding is signed by Ricketts with monogram CR on the upper cover; the monogram of the binder, Leighton Son and Hodge, appears on the lower cover. The deluxe issue has an added lower border on the binding and ties. Fine copy, custom half morocco clamshell box. Ricketts, Charles. LARGE PAPER, one of 25 copies. Printed by the Ballantyne Press. Illustrated by Charles Ricketts with wood-engraved title page, half and full-page designs, ornamental initials. Printed in red, black and green. Unpaginated. 1 vols. Slender 8vo (10 x 7-3/8 inches.). One of 25. "The monsters of the Egyptian room at the British Museum live again in his weird, sometimes repulsive, but all the same stately and impressive lines. The vellum binding, the various symbolic designs, the quaint rubricated initials and the general arrangement of the text, all by Mr. Ricketts' sympathetic art, are most subtly infused by the spirit of the poem..." (Pall Mall Budget, June 21, 1894). This was the last book Wilde published before his imprisonment.
"the most beautiful and consummately designed trade book of the 1890s" - Nelson
With the bookplate of novelist Anthony Powell (1905-2000), about whose suite of novels, A Dance to the Music of Time, Guy Davenport observed, "The only book I know that takes Proust's habitual narrative gestures, Anglicizes them, and succeeds in the effort. In fact, Powell is the best critical study of Proust."
A CHOICE COPY OF ONE OF THE MOST BEAUTIFUL BOOKS OF THE 1890s. Mason 362; Nelson, A View from the Bodley Head, pp.45- 46 passim; Wick, THE TURN OF A CENTURY 1885-1910, Number 10; Ray, Illustrator and the Book, 262. Provenance: Anthony Powell (his bookplate).
Offered by James Cummins Bookseller.
View all new listings on abaa.org...
Browse recent catalogs of rare books and print ephemera from ABAA members...
Please note, all items are unique, so if a link takes you to a blank page, the book has been sold!