Our members list new acquisitions and recently catalogued items almost every day of the year. Below, you'll find a few highlights from these recent additions...
The Viviparous Quadrupeds of North America
by John James Audubon and Rev. John Bachman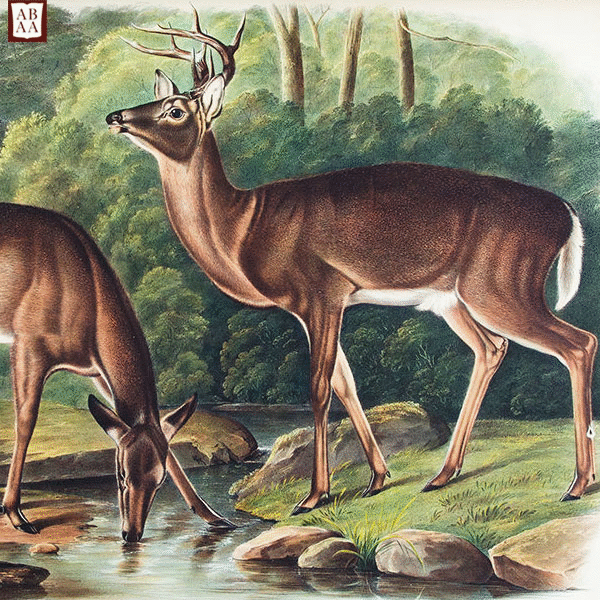 New York: J.J. Audubon (-V.G. Audubon), 1849. Three volumes, elephant folio broadsheets. (27 1/4 x 21 1/4 inches). Three lithographic titlepages, three leaves of letterpress contents. 150 handcolored lithographic plates after John James Audubon and John Woodhouse Audubon, the backgrounds after Victor Audubon, printed and colored by J.T. Bowen of Philadelphia. Expertly bound to style in half dark purple morocco over period purple cloth covered boards, spine with raised bands lettered in the second and third compartments, the others decorated in gilt, marbled edges and endpapers [With:] The Viviparous Quadrupeds of North America .
New York: J. J. Audubon, 1846-1851-1854. 3 volumes, small 4to (10 x 7 inches). Half-titles, list of subscribers. 6 hand coloured lithographed plates [i.e. plate 124 and plates 151-155]. Expertly bound to style uniform to the above in half purple morocco over period purple cloth covered boards, marbled endpapers. A beautiful set of the first elephant folio edition of Audubon's Quadrupeds, complete with the separate text volumes.
This is Audubon's final great natural history work. Unlike the double-elephant folio edition of the Birds of America, which was printed in London, the Quadrupeds was produced in the United States. It was the largest and most significant color plate book produced in America in the 19th century, and a fitting monument to Audubon's continuing genius. The work was originally published in thirty parts, each containing five plates, and priced at ten dollars per number. The first proofs were ready in 1842, but Audubon was fully employing the services of the lithographer J.T. Bowen on the octavo edition of The Birds of America, which was the greatest money-maker of any of the Audubon family ventures. Instead, Audubon and his sons busied themselves in gathering subscribers, signing up over 200 by the summer of 1844 (eventually the subscription list reached 300). The last part of the octavo Birds appeared in May, 1844, and publication of the folio Quadrupeds commenced immediately with the first number being issued in January, 1845 and the first volume completed within the year.
Audubon's health began to fail dramatically, and responsibility for new art work fell mainly on his son John Woodhouse Audubon, with some help from his brother Victor. The second volume was completed in March, 1847. But, as John Woodhouse travelled first to Texas, then to London and Europe, the pace slowed further. The final number was issued early in 1849. By this time the elder Audubon had become completely senile ("his mind is all in ruins" Bachman wrote sadly in June, 1848). He died in early 1851. In the end, about half of the plates were based on the work of John James and half on the efforts of John Woodhouse.
Audubon's collaborator on the text of the Quadrupeds was the naturalist and Lutheran clergyman, John Bachman, who was a recognized authority on the subject in the United States. The two began their association when Audubon stayed with Bachman and his family in Charleston for a month in 1831. This friendship was later cemented by the marriage of Audubon's sons, Victor and John to Bachman's daughters, Maria and Eliza. Audubon knew Bachman's contribution to the Quadrupeds would be crucial, especially because of his concerns over his own technical knowledge. By 1840, Bachman had become indispensable to the Quadrupeds project, and as Audubon showed increasing signs of vagueness, found himself writing most of the text, with some help from Victor (who was the primary business manager of the project).
The text appeared between December, 1846 and the spring of 1854. Two issues of the third volume of the text are known, the present being the preferred second issue, with the supplementary text and the six octavo sized plates issued in 1854, being images not found in the folio atlas. The elephant folio edition of Audubon's Quadrupeds will always be compared to the incomparable Birds. It should be judged in its own right, as one of the grandest American works of natural history ever produced, and one of the greatest American illustrated works ever created. Bennett, p.5; Wood, p.208; Nissen 162; Reese, Stamped with a National Character 36; Sabin 2367; Ford, Audubon's Animals , New York, 1951; Boehme, Sarah, ed.: John James Audubon in the West, New York, 2000, especially Ron Tyler's essay, "The Publication of the Viviparous Quadrupeds of North America", pp. 119-182, and Robert Peck's essay "Audubon and Bachman, a Collaboration in Science", pp. 71-115.
Offered by Donald A. Heald Rare Books.
by Marguerite Duras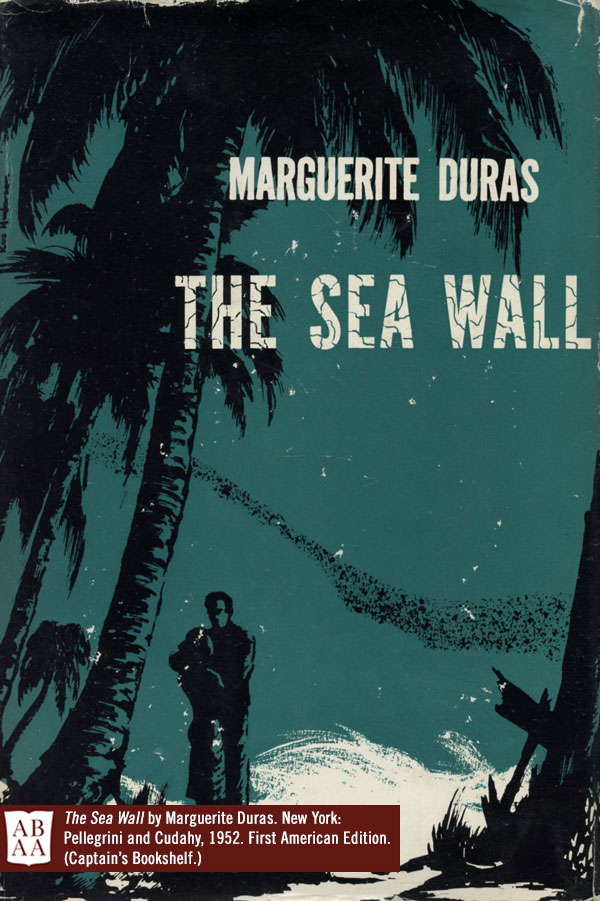 New York: Pellegrini and Cudahy, 1952. First American Edition, First Printing. Hardcover. Very good in original sea-green cloth, stamped in black on spine, and very good pictorial dust jacket, worn at extremities. Small octavo. 5.5 x 8.25 in. 288 pp. First edition in English, translated by Herma Briffault. Clean, tight copy.
Offered by The Captain's Bookshelf.
by Jack London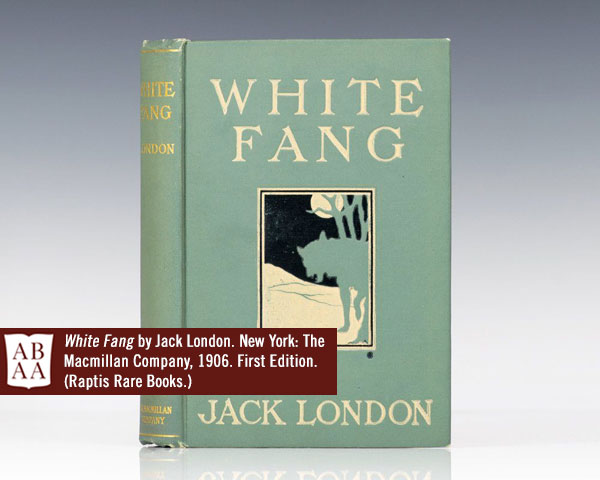 New York: The Macmillan Company, 1906. First edition of London's beloved novel. Octavo, original pictorial cloth with white and gilt lettering, pictorial endpapers. Frontispiece and 6 color plates by Charles Livingston Bull. With usual cancel title page. BAL notes that the cancel page occurs printed on either wove or on laid paper (the rest of the text sheets are all laid paper) but no priority or other significance. This copy with cancel printed on wove paper. BAL 11896. In fine condition. A superior example. White Fang takes place in Yukon Territory and the Northwest Territories, Canada, during the 1890s Klondike Gold Rush and details White Fang's journey to domestication. It is a companion novel (and a thematic mirror) to London's best-known work, The Call of the Wild, which is about a kidnapped, domesticated dog embracing his wild ancestry to survive and thrive in the wild. Upon its release, it was an immediate success worldwide, and became especially popular among younger readers. Robert Greenwood called White Fang "one of London's most interesting and ambitious works." It has been adapted for the screen numerous times, including a 1991 film starring Ethan Hawke.
Offered by Raptis Rare Books.


Henri de Toulouse-Lautrec, 1864-1901: Peintre, Dessins, Estampes, Affiches
by Maurice Joyant

Paris: H. Floury, 1926-27. First edition. 28 cm; 2 volumes. [4], 307, [4]; [4], 282, [2] pages. Six original drypoint sketches, each printed in two states, included. LACKS (as commonly) the 4 original lithographs from the second volume. Volume 1 with 9 color lithograph plates (including front cover), 17 black and white lithograph plates, and 32 black and white lithographs paired with a second striking in brownish ink. Volume 2 with 13 color lithograph plates (including front cover), 2 tinted "helogravures," and 32 lithograph plates each reproduced in black-and-white and green-tint versions. Volume 1 one of 175 copies (numbered "75" in ink over original number scratched out) and volume 2 one of 200 copies (legitimately numbered "75" in ink). Bound in early 20th-century gray buckram with leather title labels. Original color lithographed wraps bound in.
Offered by Rodger Friedman Rare Book Studio.
Group of 29 Winthrop Press Miniature Books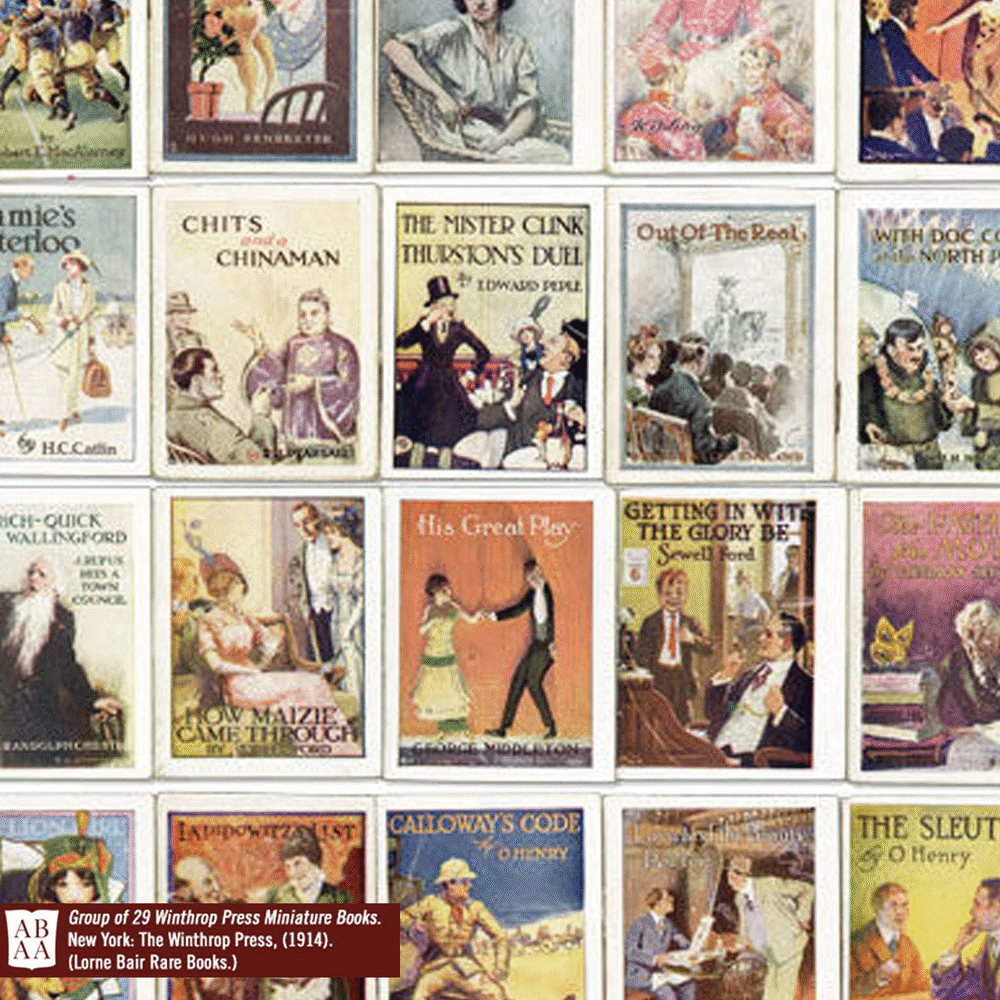 [New York]: The Winthrop Press, [1914]. Paperback. 1. Barnes, Charles R. His Pupil. 1 copy in OCLC. 2. Browne, Porter Emerson. A Delegation from "De Ate." 1 copy in OCLC. 3. Catlin, H.C. Jimmie's Waterloo. 6 copies in OCLC. 4. Chester, George Randolph. Get-Rich-Quick Wallingford: J. Rufus Bets a Town Council. 5 copies in OCLC. 5. Chester, George Randolph. Blue Pete's Escape. 6 copies found in OCLC. 6. Culver, R.K. The Range Rivals. 7 copies in OCLC. 7. England, George Allan. Out Of The Real. 8 copies in OCLC. 8. Ford, Sewell. How Maizie Came Through. Not found in OCLC. 9. Ford, Sewell. Getting In With The Glory Be. 1 copy in OCLC. 10. Ford, Sewerll. Frosting the Profess. 3 copies in OCLC. 11. Glaspel, Susan. According To His Lights. 12 copies found in OCLC. 12. Glass, Montague. Something Just As Good. 4 copies in OCLC. 13. Glass, Montague. And The Greatest Of These. 6 copies in OCLC. 14. Henry, O. Calloway's Code. 4 copies in OCLC. 15. Henry, O. The Sleuths. 2 copies in OCLC. 16. Irwin, Wallace. Love and the Beauty Doctor. 8 copies in OCLC. 17. Kipling, Rudyard. The Three Musketeers. 6 copies in OCLC. 18. Lessing, Bruno. Romeoff and Julietsky. 1 copy in OCLC. 19. Lessing, Bruno. Lapidowitz's List. 2 copies in OCLC. 20. MacAlarney, Robert E. Aaron Luckett's Gridiron Gloat. 1 copy in OCLC. 21. Middleton, George. His Great Play. 8 copies in OCLC. 22. Millard, Bailey. The Lion Girl. 7 copies in OCLC. 23. Nourse, W.J.H. With Doc Cook at the North Pole. 7 copies in OCLC. 24. Pearsall, R.J. Chit and a Chinaman. 3 copies in OCLC. 25. Pendexter, Hugh. The Mantle of Red Evans. 8 copies in OCLC. 26. Peple, Edward. The Mister Clink Thurston's Duel. 5 copies in OCLC. 27. Reed, John. El Cosmopolita. 7 copies in OCLC. 28. Scheffauer, Herman. The Path Of The Moth. 4 copies in OCLC. 29. Thompson, C.S. Gentleman Jim. 7 copies in OCLC.
Twenty-nine (29) miniature books (2.25" x 2.75"); illustrated wrappers, stapled; ca.32-48pp. Light wear to extremities, oxidation to staples, with occasional dust-soil to wrappers and a few odd creases; Very Good+. Attractive group of of titles from the Winthrop Press series of miniatures that were distributed as premiums in packets of Egyptienne "Straights" Cigarettes. "One story accompanying each package. 100 titles ready-more in preparation" (from inner rear wrappers). The Knights of Columbus - the world's largest fraternal service organization - were known to ship cartons of cigarettes and their accompanying books to American soldiers overseas during World War I. Many titles were reprinted from earlier magazine or book appearances, though some titles in the series represent the first separate appearance in book form.
Offered by Lorne Bair Rare Books.
Two Evil Isms. Pinkertonism and Anarchism (Signed)
by Charles A. Siringo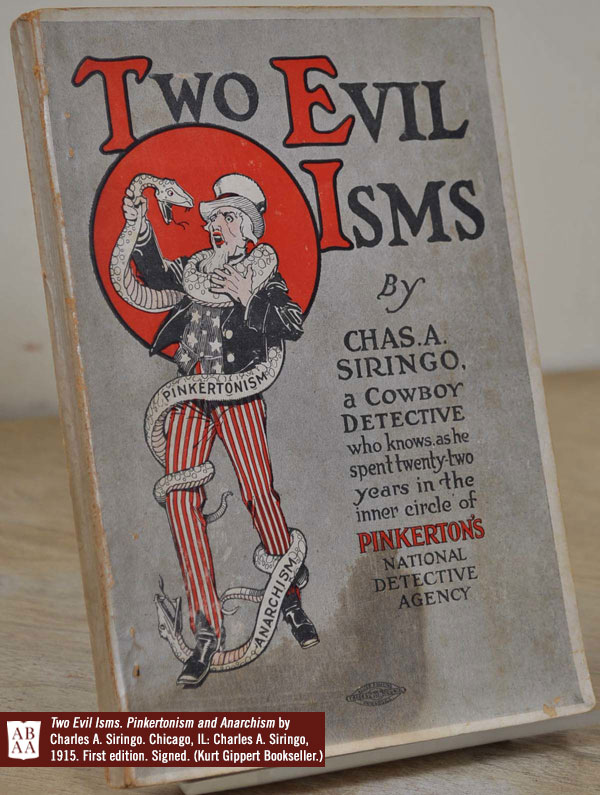 Chicago, IL: Charles A. Siringo, 1915. Book. Very good- condition. Paperback. Signed by Author(s). First Edition. 12mo - over 6¾ - 7¾" tall. 109 pages of text, followed by illustration. The original un-restored paperback binding is rubbed, soiled and stained. The frontis illustration and the rear wrapper is also stained at the bottom edge. Signed and inscribed by the author on the title page "Chas. A. Siringo Nuff Sed!" The text is clean and unmarked. First edition.
Offered by Kurt Gippert Bookseller.
The Complete Poems of Robert Frost (Signed Limited Edition)
by Robert Frost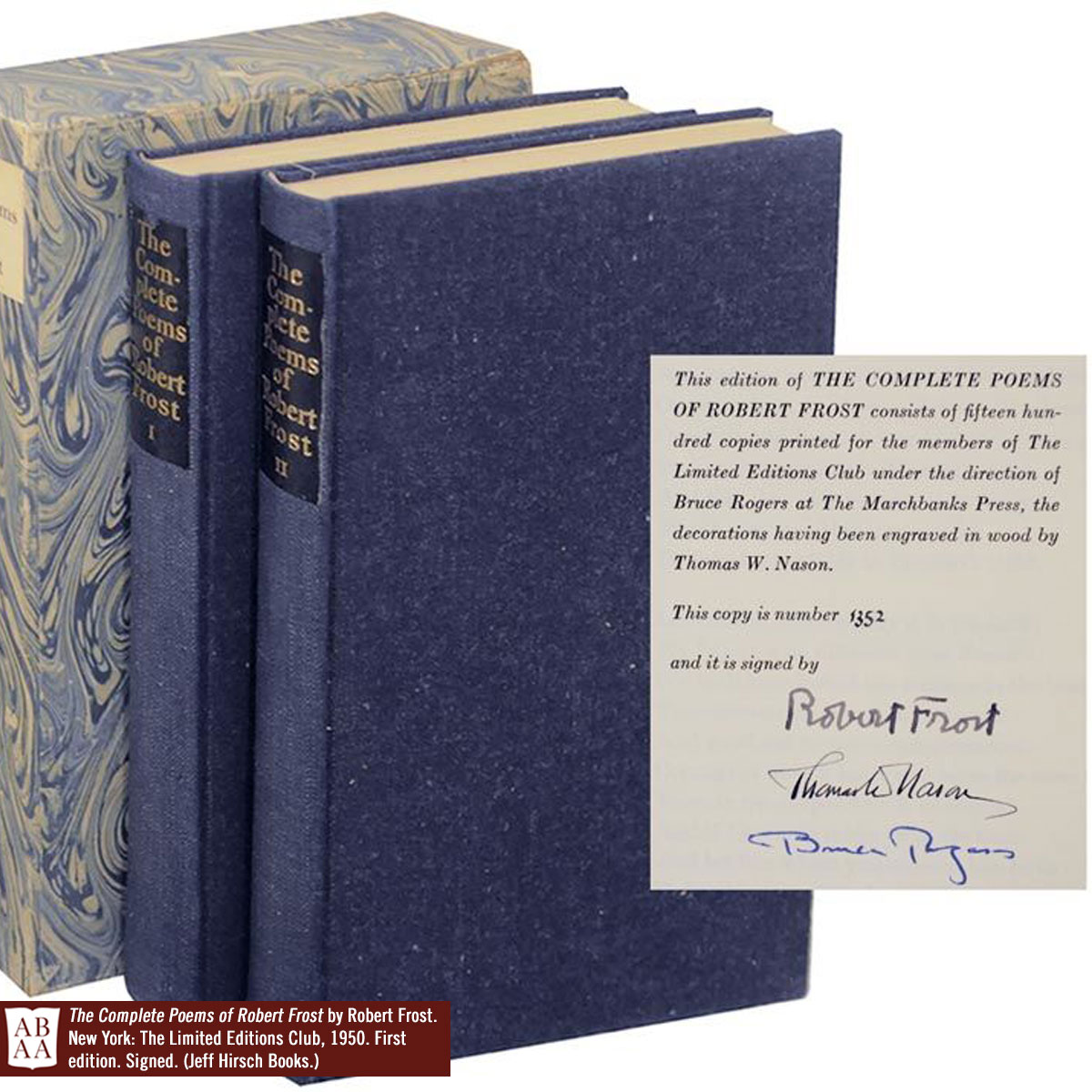 New York: The Limited Editions Club, 1950. First edition. Hardcovers. Number 1352 from an edition of 1500 copies. Printed under the direction of Bruce Rogers at The Marchbanks Press. Features a preface by Robert Frost and an appreciation by Louis Untermeyer. Includes numerous wood-engravings by Thomas W. Nason. Both volumes in very near fine condition bound in dark blue cloth with leather spine labels and with a few of foredges opened roughly. The marbled paper covered slipcase is in close to near fine condition with some some minor splitting and wear. No dust jackets. Includes the original newsletter and additional information sheet as well. Signed by Frost, Nason and Rogers on the limitation page. A very nice copy of one of the most beautiful collections of Frost's poems.
Offered by Jeff Hirsch Books.
La Faune des Dancings (Signed)
by AUSCHER, JEAN (WASH DRAWINGS BY); FRANCIS DE MIOMANDRE (PREFACE BY)

Paris: Published by the author, 1925. Limited First edition. Hardcover. g+ to vg. Folio (16 1/2 x 14 3/4"). Unpaginated. [8]pp (Title, Preface, Table of Contents, Limitation page), 10 leaves (Plates), 10 leaves (Suite of the plates). Original gilt-tooled full vellum, with gold lettering to spine. Marbled endpapers. Title page in red and black lettering. Jean Auscher's striking series of 10 wash drawings highlighted in pochoir render a vivid, joyful, pittoresque, and at times acerbic vision of people dancing at Parisian nightclubs in the 1920s. The ten drawings are followed by a suite of the same plates without the pochoir highlighting. Each illustration measures appr. 8 1/2 x 11", and is tipped in onto heavy cardstock. Text pages on Japan paper. One of the 50 Hors Commerce copies this being the only known HC copy printed on Japan Nacre from, a total edition of 1,178. Minor and sporadic rubbing along edges of binding. Covers slightly warped. Text in French. Binding in overall good+, interior in very good condition. About the artist: Jean Auscher (1896-c. 1950) was a 20th century French artist, caricaturist, and illustrator. Auscher was a pupil at l'Ecole des Arts Decoratifs in Paris. His work was exhibited at Le Salon d'Automne and Le Salon des Tuileries between 1923 and 1933. His most characteristic work recorded the life "des Années Folles" in the Paris of the 1920s, including scenes in the casinos, gambling clubs and dance halls, evoking the decadence of the demi-monde. He also recorded the theatrical community with portraits of actors, some in their famous roles, such as Louis Jouvet as "Le Trouhadec indigne" and the clown Grock. His best-known work appeared in limited edition folios published by the artist himself ("La Faune des Dancings," 1925 and "Le Baccara," circa 1926). Many copies of the lithographs contained in these were heightened with watercolor. He contributed to the satirical journal "Le Rire"; he also illustrated works by Irène Némirovsky, who was rediscovered when "Suite Française" was republished in 2004. Andre Haguenauer ("Les Amertumes," 1925) and Alfred Machard ("Printemps Sexuel") provided Auscher with subject matter that was again towards the margins of conventional attitudes to sexuality. (From Wikipedia).
Offered by Eric Chaim Kline Bookseller.
by T.S. Eliot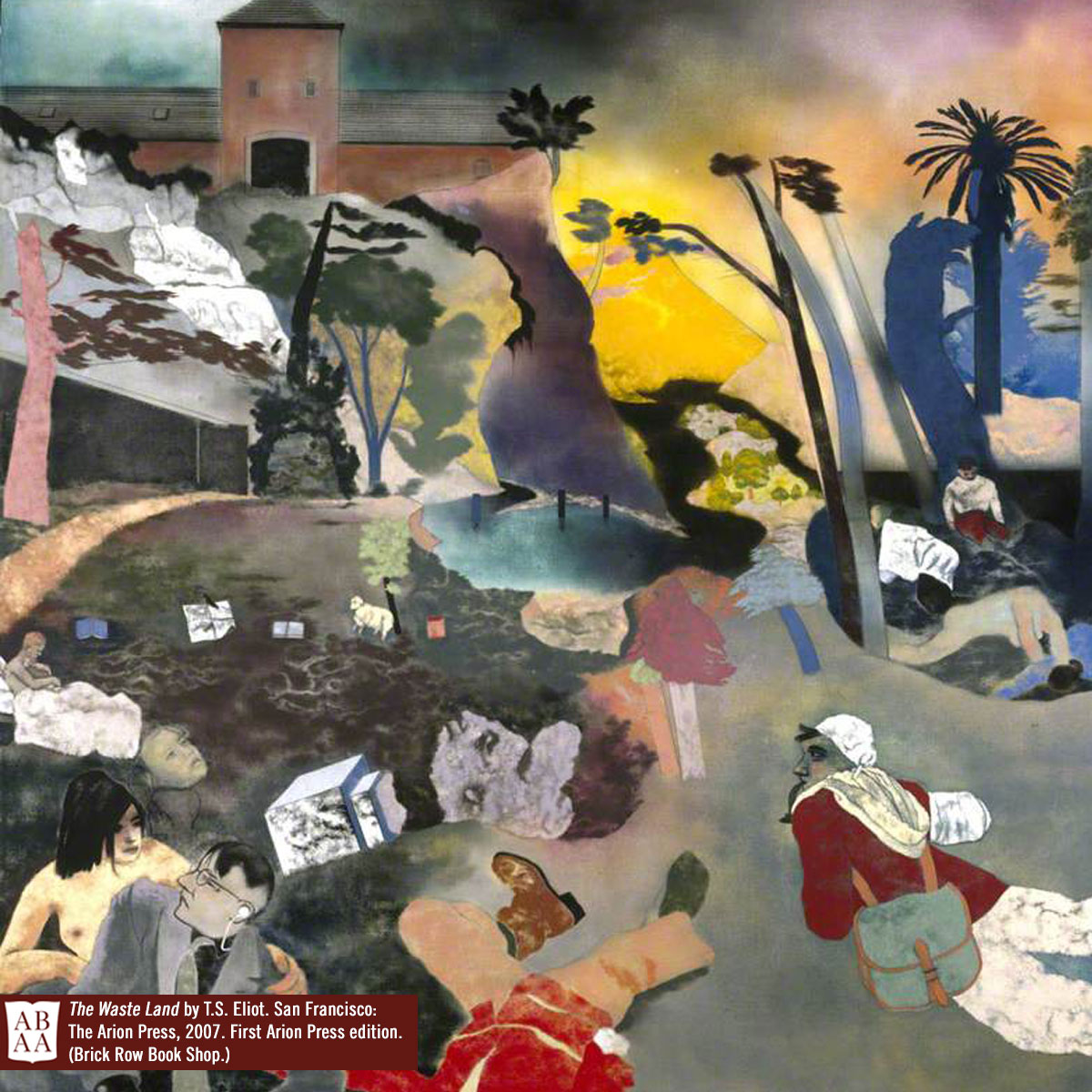 San Francisco: The Arion Press, 2007. First Arion Press edition, number 65 of 300 numbered copies. Fine copy, essentially as new. Square 4to (31 x 33 cm), tan linen boards with brown lettering on the spine and upper board. Illustrated with a reproduction of R.B. Kitaj's painting "If Not, Not." The 79th book of the Arion Press and an exemplary fine press edition of a classic American poem, with essays by Helen Vendler on the Waste Land and by Marco Livingstone on Kitaj's painting, a painting inspired by the poem.
Offered by Brick Row Book Shop.
by Christina Rossetti (Illustrations by Laurence Housman)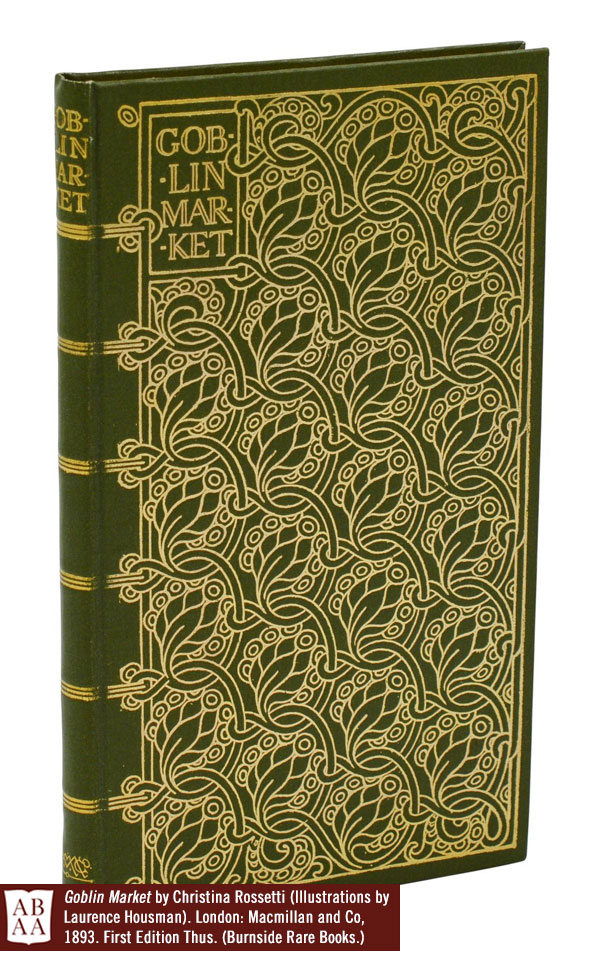 London: Macmillan and Co, 1893. First Edition Thus. Fine/Near Fine. 63 pp. First edition thus. Bound in publisher's green cloth, beautifully stamped in gilt, all edges gilt, in dust jacket repeating the design. Fine, with light bruising to cloth at spine ends, offsetting to endsheets. Dust jacket with a small chip at the head, else Fine. A beautifully illustrated edition of Rossetti's narrative poem originally published in 1862, re-imagined through Laurence Housman's Art Nouveau illustrations.
Offered by Burnside Rare Books.
The Smiths and Beyond (Limited Edition with Signed Photograph)
by Kevin Cummins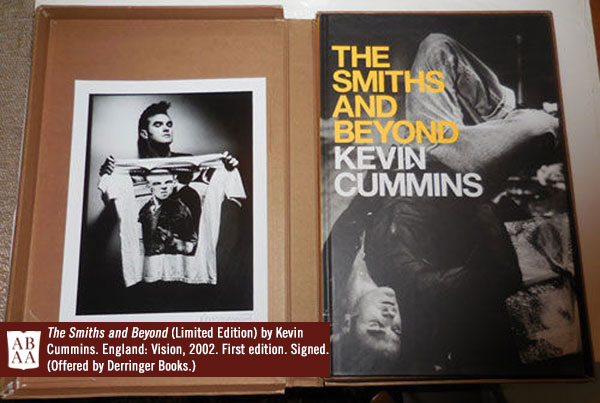 England: Vision, 2002. First edition. Hardcover. Fine. Tall hardbound quarto. An unpaginated volume of photographs of The Smiths. Both color and black and white. This is the limited hardbound edition of one thousand copies with both a SIGNED photograph and a signed tipped on sheet by Cummins on the inside front pastedown. The book, which is in fine condition sits in a hardbound clamshell printed case. The case has a bit of wear to the edges and a short bruise at the base of the spine.
Offered by Derringer Books.
KODOMO NO KUNI (Run of 6 issues from Volume Five)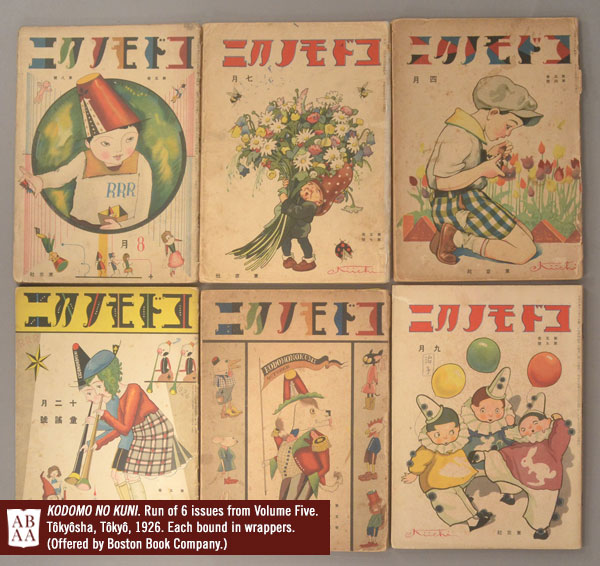 KODOMO NO KUNI Run of 6 issues from Volume Five. Numbers 4, 7, 8, 9, 10 & 12. Taishô 15 [1926] Tôkyôsha, Tôkyô. Each bound in wrappers, 25.8 x 18.8 cm. On quality paper, printed in color throughout. Kodomo no Kuni (The Land of Children) was the finest children's magazine of the prewar period in Japan. Amazingly long-lived, it was published from 1922 to 1944... There were contributions in each heavily illustrated issue by some of the finest illustrators and writers of the time, including Takei Takeo, Murayama Tomoyoshi, and Okamoto Kiichi. Any issues of the magazine have become very difficult to find, and runs practically unheard of. Many issues of the magazine had a section of printed material on flimsy paper laid in at the rear, often with song text. Most here retain them, but a few issues are missing the flimsies, though otherwise complete. The ones which may be missing the flimsy are numbers 4, 7, 10 & 12, though it is not clear that they ever had one. Overall, though a corner of volume 7's back cover is missing, all six issues are in fairly clean condition. A wonderful artifact at the intersection of high art and popular illustration.
Offered by Boston Book Company.
---
Previous books of the week...
Joey: A Loving Portrait of Alfred Perles Together With Some Bizarre Episodes Relating to the Other Sex (First Edition, Signed)
by Henry Miller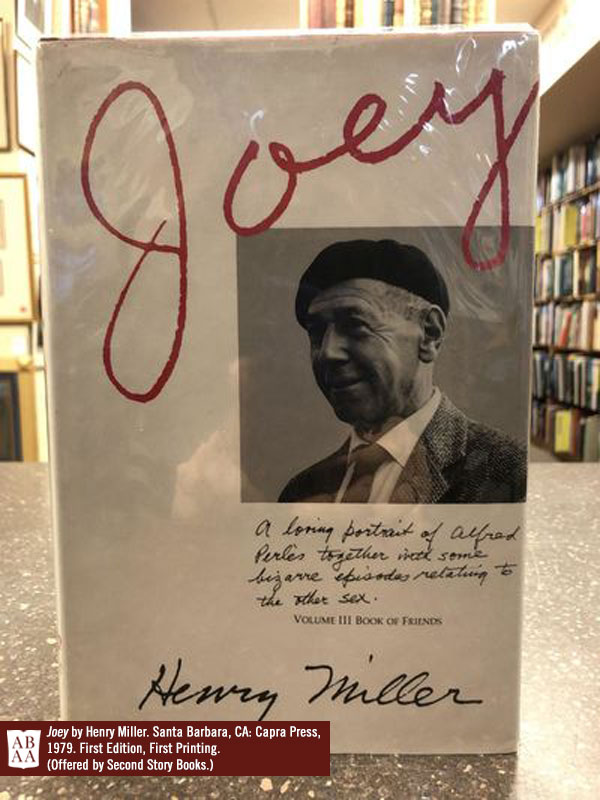 Santa Barbara, CA: Capra Press, 1979. First Edition, First Printing. Hardcover. Octavo, 126 pages; VG/VG; spine is white with black lettering; dust jacket is in a mylar covering; has price uncut '$8.95', has minor wear on the top and bottom edges; binding has minor wear at the top and bottom of the spine; pages clear; signed by the author on the limitation page; shelved Lit Bio. Dupont.
Offered by Second Story Books.
by Rock Hudson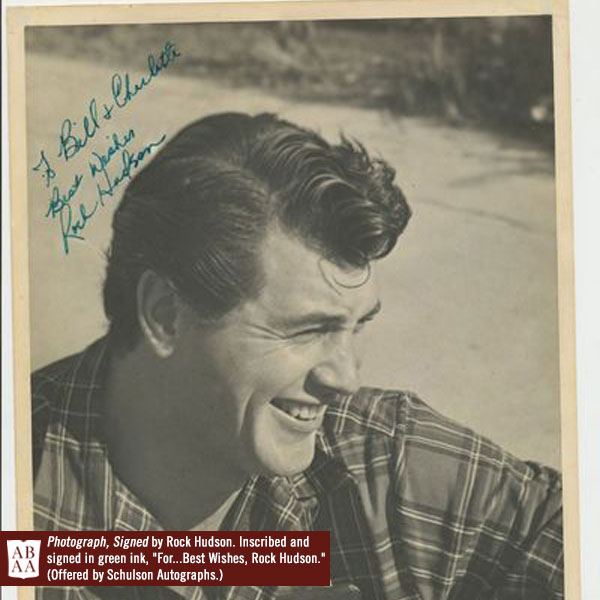 Hudson is shown in handsome bust length profile, smiling. He inscribed and signed in green ink, "For...Best Wishes, Rock Hudson."
Offered by Schulson Autographs.
The Life of Samuel Johnson, LL.D. (First Edition)
by James Boswell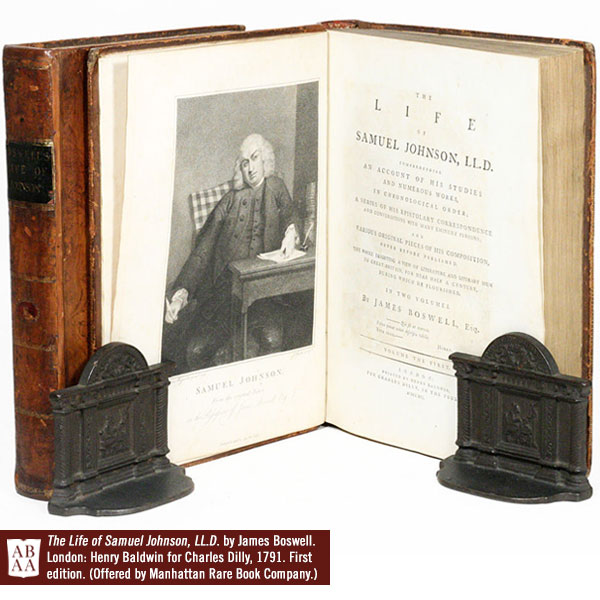 London: Henry Baldwin for Charles Dilly, 1791. First edition. Contemporary tree calf. Very Good. FIRST EDITION, FIRST STATE of the most famous and most beloved biography in the English language. One of only 1750 copies of the first edition printed (both first and second states combined). "Anyone interested in biography soon becomes interested in Boswell's Life of Johnson. It stands next to other biographies as Shakespeare stands beside other playwrights: towering above them all. For more than two centuries it has been continually in print, and in that time it has won innumerable admirers. No other biography has given so much pleasure; no other biographerhas created such a vivid central character. It has become a truism that, as a result of Boswell's extraordinary book, Samuel Johnson is better known to us than any other man in history" (Sisman, Boswell's Presumptuous Task, xv). 

 First state, with "gve" on page 135 of Volume I. London: Henry Baldwin for Charles Dilly, 1791. Folio, contemporary tree calf rebacked with most of original spines laid down. Two volumes. With engraved frontispiece portrait of Johnson by Heath after Reynolds, and two engraved plates in vol. 2. A few scuffs to boards, text very clean with only occasional light foxing. A beautiful set, rare in this condition and in such handsome bindings.
Offered by Manhattan Rare Book Company.
View all new listings on abaa.org...
Browse recent catalogs of rare books and print ephemera from ABAA members...
Please note, all items are unique, so if a link takes you to a blank page, the book has been sold!