Our members list new acquisitions and recently cataloged items almost every day of the year. Below, you'll find a few highlights from these recent additions...
by P.G. Wodehouse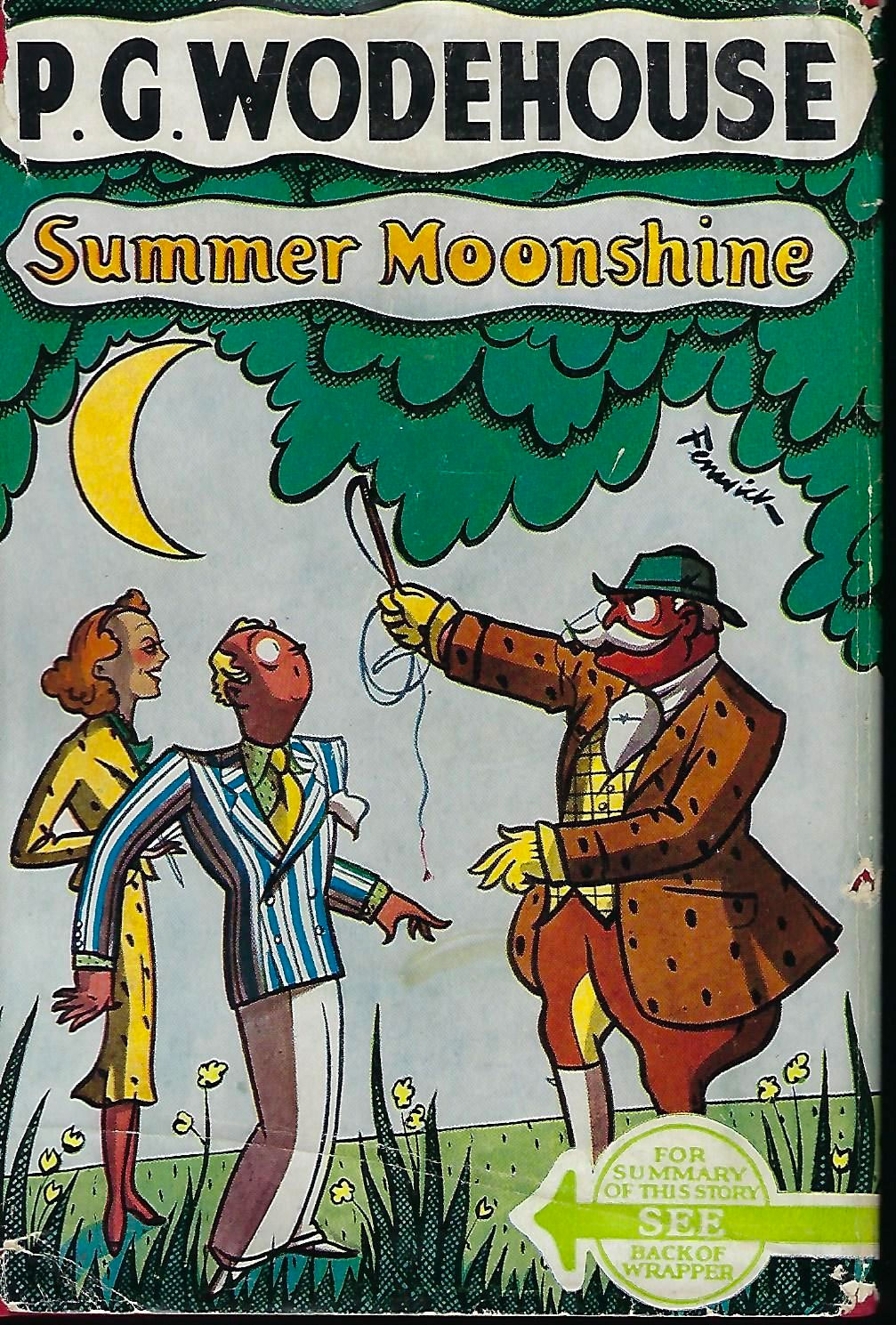 London: Herbert Jenkins Limited, 1938. First English Edition. [Jasen 58A in a later dust jacket]. Preceded by the first American Doubleday, Doran edition, published in Oct. 8, 1937. This edition was published on Feb. 11 1938. 12mo., red cloth, stamped in black, 312 pages, plus eight-page catalog; in later "2/6 net" price on spine [whereas the earliest dust jacket is priced at "7/6 net." on the spine]. Very Good (little soil covers; contents clean & tight but for a tiny spot fore-edge; neat ink name front endpaper); some edgewear (few small chips & tears- some with internal mends with archival tape) d/j.
Offered by Antic Hay Books.
by FOWLER, H. ALFRED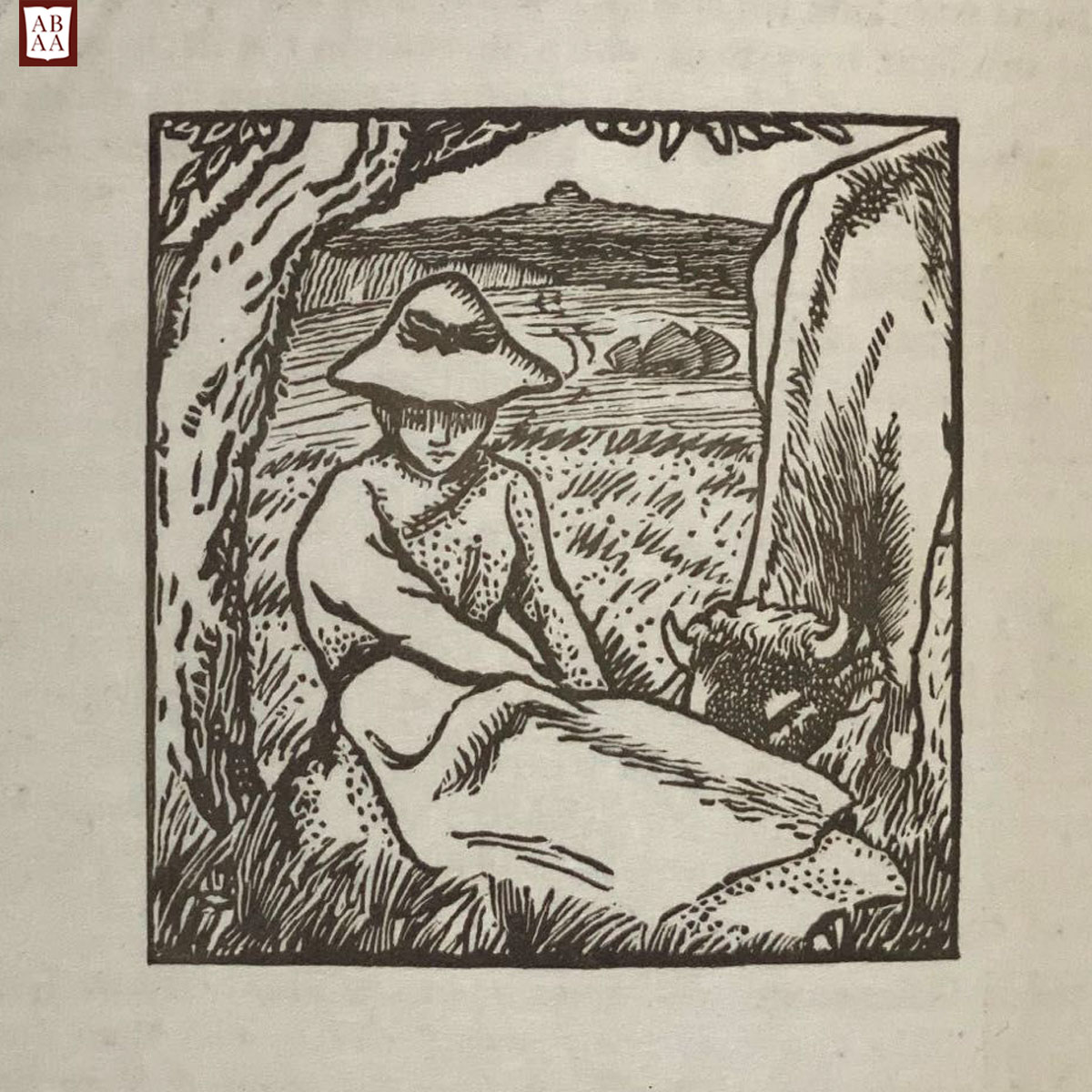 Kansas City: H. Alfred Fowler, 1912. First edition. First edition. Original decorative card paper wrappers. The rare "Eragny Press" number (Volume I, Number 3) which features notes on bookplates by Esther and Lucien Pissarro, by J. M. Andreini, including three superb color printed specimens of book plates by the Pissarros, printed in colors on china paper and tipped-in. A scarce and very attractive rendering. There are also two other features in the number. Near fine.
Offered by Nudelman Rare Books.
by CRADDOCK, HARRY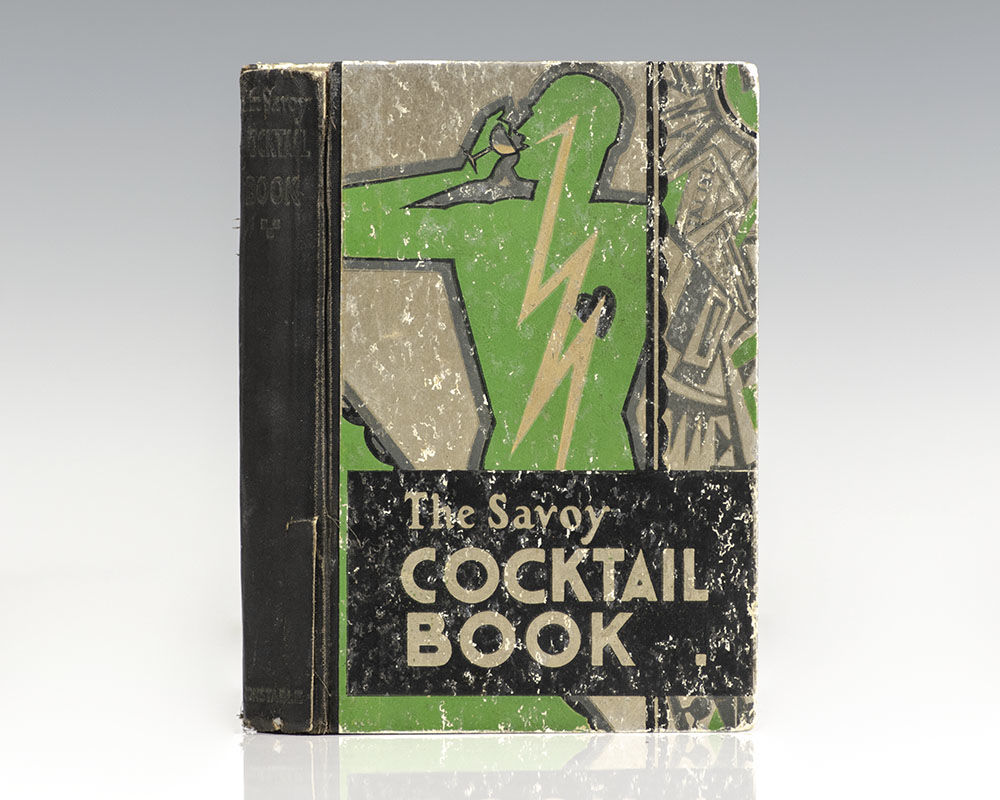 London: Constable & Company, 1930. First edition of this iconic, definitive text on cocktails. Octavo, original half black cloth, pictorial endpapers. Illustrations by Gilbert Rumbold. In near fine condition. Savoy Cocktail Book features 750 of Harry Craddock's most popular recipes. It is a fascinating record of the cocktails that set London alight at the time—and which are just as popular today. From Slings to Smashes, Fizzes to Flips, and featuring art deco illustrations, Harry Craddock was "the king of cocktail shakers," and The Savoy Cocktail Books contains humorous anecdotes on the origin of the cocktail and its purpose ("for the solace of man"), as well as "an elucidation of the Manners and Customs of people of quality in a period of some equality." "Behind every great bartender (literally) is a roughed-up, stained copy of The Savoy Cocktail Book...it's been an industry must-have since its first edition" (GQ).
Offered by Raptis Rare Books.
Mildred Pierce (First Edition)
by CAIN, JAMES M.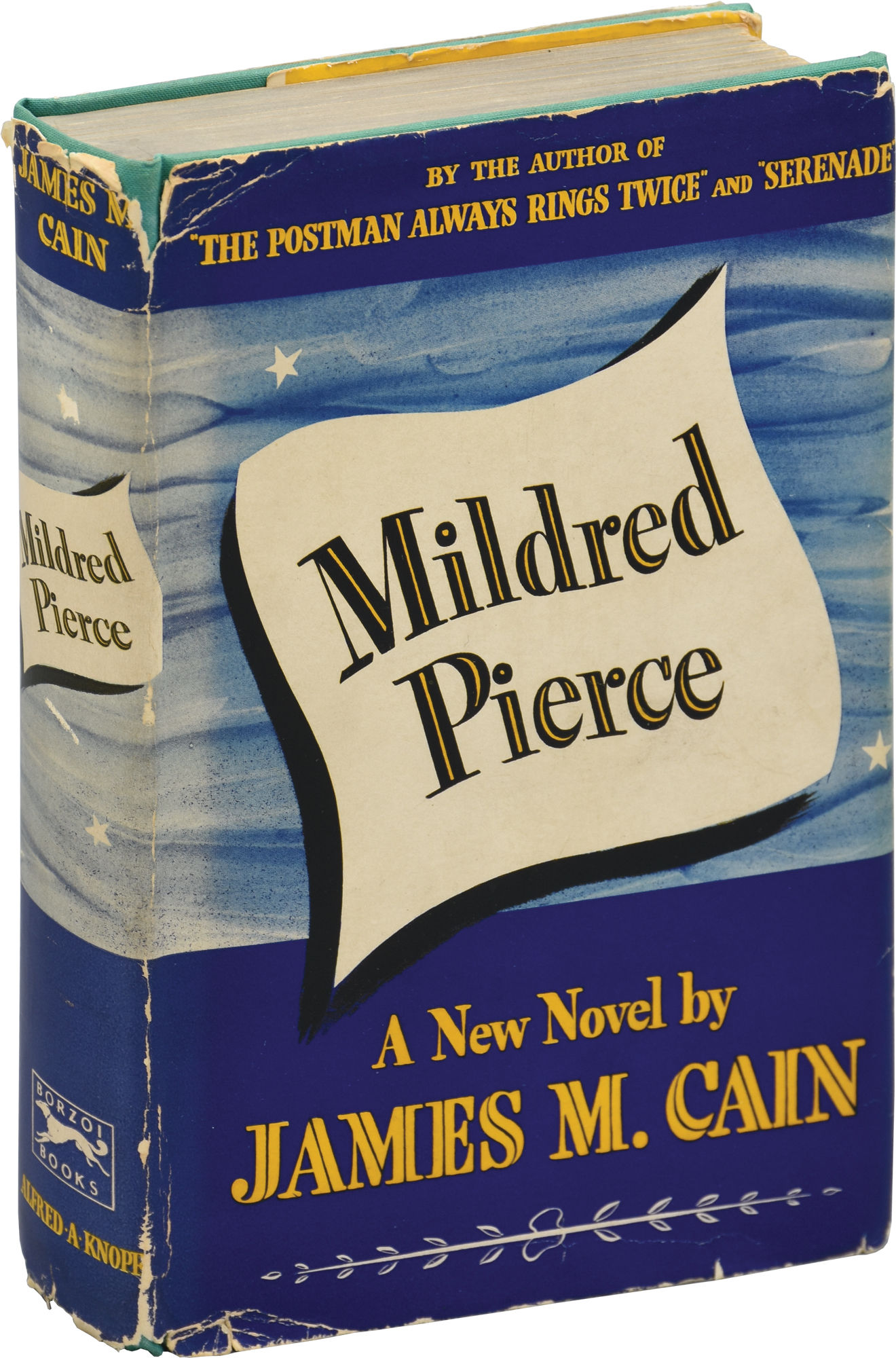 New York: Alfred A. Knopf, 1941. First Edition. First Edition. Cain's second novel, considered by many to be his finest work. Basis for the classic 1945 film noir, directed by Michael Curtiz and starring Joan Crawford and Ann Blyth as mean, mean daughter Vida. Definitively remade, with grace and intelligence, by director Todd Haynes for HBO in 2011, starring Kate Winslet, and carefully restoring the novel's third act. Very Good plus in a Very Good dust jacket. Slight lean, with a few light splashes to the rear panel. Jacket is lightly chipped and edgeworn, with light soil.
Offered by Royal Books.
(Theatrical Poster): Imaginary Friends: A Play with Music by Nora Ephron. Swoosie Kurtz as Lillian Hellman. Cherry Jones as Mary McCarthy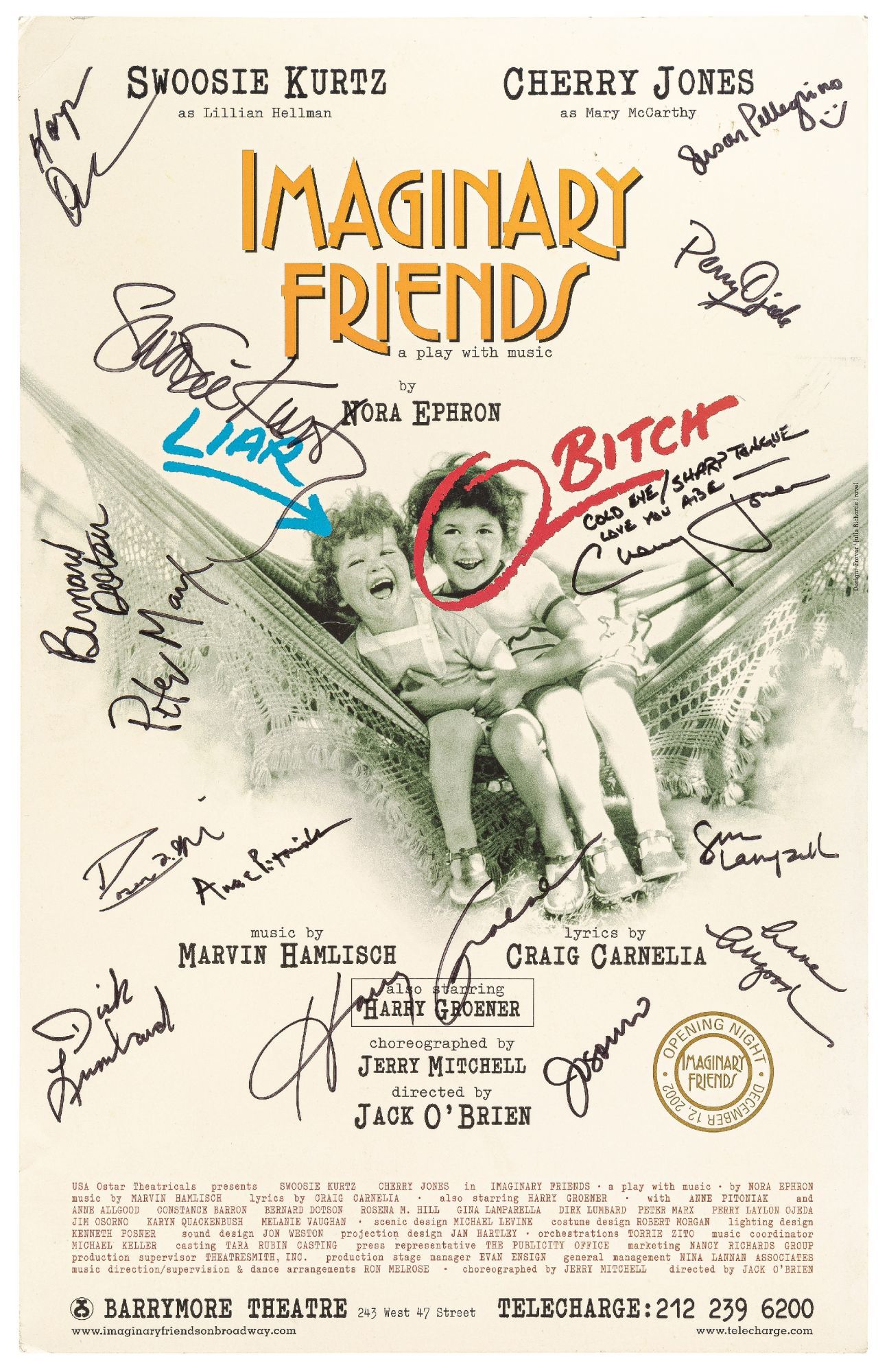 New York: Barrymore Theatre, 2002. Unbound. Fine. Color insert poster. 18" x 22". Printed on thin poster cardstock with a photographic image, with printed gold circle noting it was opening night. Top corners a little bumped, else fine. Poster for a show featuring the cantankerous relationship between Hellman and McCarthy, written by Nora Ephron, music by Marvin Hamlisch, and lyrics by Craig Carnelia. The poster is Signed by the entire opening night cast including Swoosie Kurtz, Cherry Jones (who has inscribed it: "Cold Eye/Sharp Tongue. Love you Abe"), Harry Groener, Anne Pitoniak, Anne Allgood, Bernard Dotson, Rosena M. Hill, Gina Lamparella, Dirk Lumbard, Peter Marx, Perry Ojeda, Karyn Quackenbush, and stand-in Susan Pellegrino. The show ran for about two months and 76 performances. Presumably not many of these would be found, especially signed, and particularly on opening night.
Offered by Between the Covers Rare Books.
Tratamiento de una ofrenda para pedir la lluvia : San Pablito Pahuatlan Pue
by GARCIA TELLEZ, ALFONSO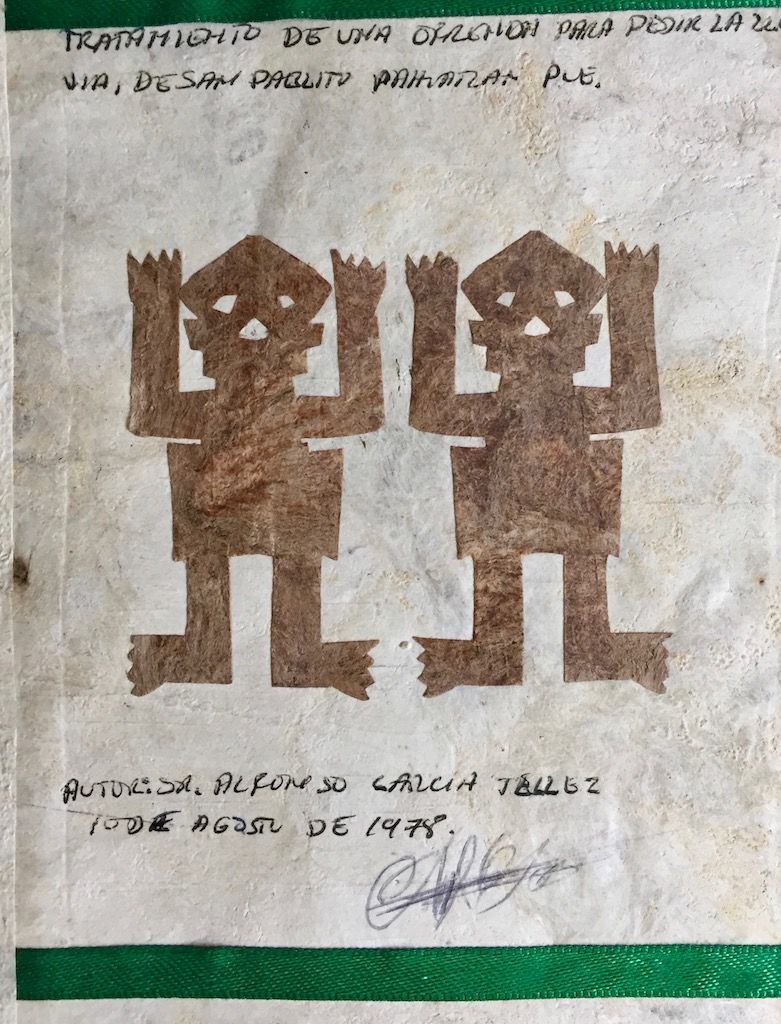 San Pablito Pahuatlan, Puebla, Mexico: Manuscript, 1978. Hand-made volume, 17 x 13cm, pp 28, accordion-fold pages, on indigenous amate paper, made from the bark of the amate and other trees, including 22 amate paper cut-outs depicting native Otomi divinities. Each page contains, at the top, a hand-lettered description of the various steps of the "tratamiento" or progression of the ritual through its various stages, lasting a total of 15 days. Below that, are the cut-outs, or "munecos" which were believed to have a magical quality. Garcia Tellez himself was from a family of curanderos. The ritual is a mixture of both Christian and Otomi divinities.Garcia Tellez, with the help of his wife and children, who did the lettering, made a total of 5 different books, numerous copies of each, however each copy was unique due to small differences of detail. (We had a previous copy of this with 19 images, e.g.) This copy has the title, the signature of Tellez, and the date and place of composition, all on the front cover. The contents are bright and clear, and the original green ribbons are present. Very good copy.
Offered by Plaza Books.
Dianetics: The Modern Science of Mental Health (Signed)
by HUBBARD, L. RON

New York: Hermitage House, 1950. Fifth Printing. Near Fine/Very Good. Fifth printing of the first edition. Signed by L. Ron Hubbard and inscribed to a former owner on the verso of the front free endpaper. Near Fine with light insect wear to textblock top edge, pages lightly toned. Browning between to textual pages from loosely laid in clipping, still present, reading "Come in and Meet L. Ron Hubbard" in an advert for the Kansas City department store Emery, Bird, Thayer. In a Very Good dust jacket with insect holes to spine and rear panel, tear to base of spine repaired from verso. The main text of Scientology, scarcely found signed by it's founder, L. Ron Hubbard.
Offered by Burnside Rare Books.
Color in the Home: Suggestions for Interior and Exterior Decorating
by W.P. FULLER & CO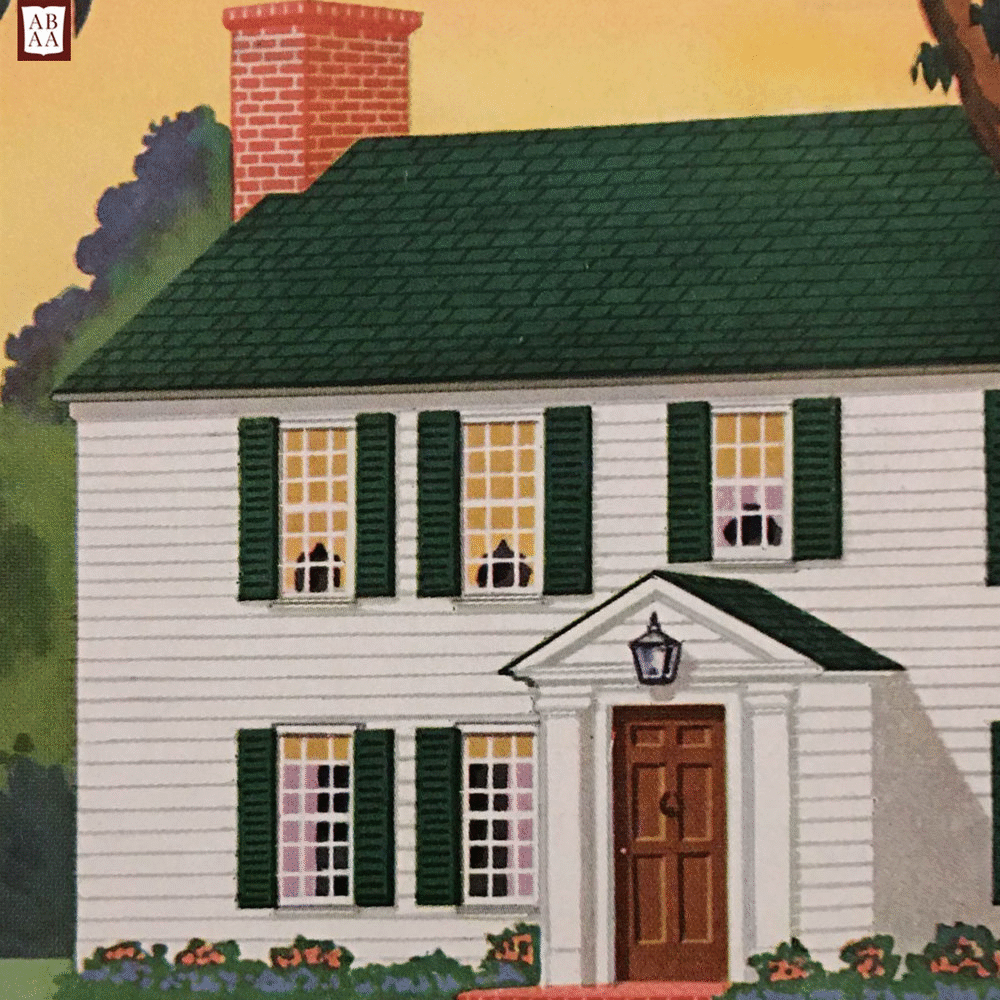 Unpaginated (75 double-sided leaves) Art Deco paint sample display catalog from the Fuller Paint Company of San Francisco, containing within a catalog of 99 paint samples, along with design recommendations for how best to use the Fuller paint colors in exterior and interior applications in various types of homes, including Colonial, Cape Cod Cottage, Southern California Spanish, and Tudor, with each design recommendation printed in glossy black text on gold card stock, facing a mounted full-color plate rendering (with a total of 59 plates) of how best to employ the suggested technique or design idea. Profusely illustrated throughout. Some scattered scuffing, abrasions scattered throughout, one paint sample page missing the sample piece for "3442 Dark Lead", tissue guard cover sheets for paint samples with some chipping and minor losses. Oblong 4to. Black cloth boards with gilt lettering to front cover and sewn black string-tied binding. Some minor wear, slight scuffing to cover, overall very good. San Francisco (W.P. Fuller & Co.) 1934. Includes an additional double-sided illustrated loose sheet with instructions for "How to Use Textone Glaze to Produce Blended Effects Over Textone." The catalog is divided into four main sections. Section I covers Exteriors; Section II comprises Living Rooms, Dining Rooms, Breakfast Rooms, and Kitchens; Section III covers Bedrooms, Bathrooms, and Occasional Furnishings; and Section IV closes out with "Directions for Applying Fuller Products". The first section is devoted to exterior styles such as "A Home in Simple Colonial Style", "An English House Adapted for America", or "A Cape Cod Cottage of Appealing Simplicity", each with a depicted color scheme and suggestions for alternate color schemes, with Fuller paint color numbers provided. The second and third sections are similarly formatted, for rooms instead of overall exterior styles, featuring descriptions such as "A Bright, Cheerful Color Scheme for a Sun Room", "Semi-Modernistic Living Room in Blue and Red", "Breakfast Room in Blue, Apricot, and Coral", "A Sunny Kitchen in Ivory, Apricot, and Venice Blue", "Bedroom in Shell Pink and Shades of Green", and "Nursery with Gay, Colorful Painted Furnishings", each accompanied by a full-color rendering, color scheme, and suggestions for alternate color schemes. The final section includes directions for such applications and techniques as antiquing, glazing, barn and roof paint, cement and stucco, painting decks, lacquering floors, painting plastered walls, treating linoleum, refinishing woodword, staining floors or shingles, and varnishing. A scarce and wonderful artifact of Art Deco design; as of May 2020, WorldCat only locates two holdings in North American institutions.
Offered by Bernett Penka Rare Books.
by JAMES, P. D.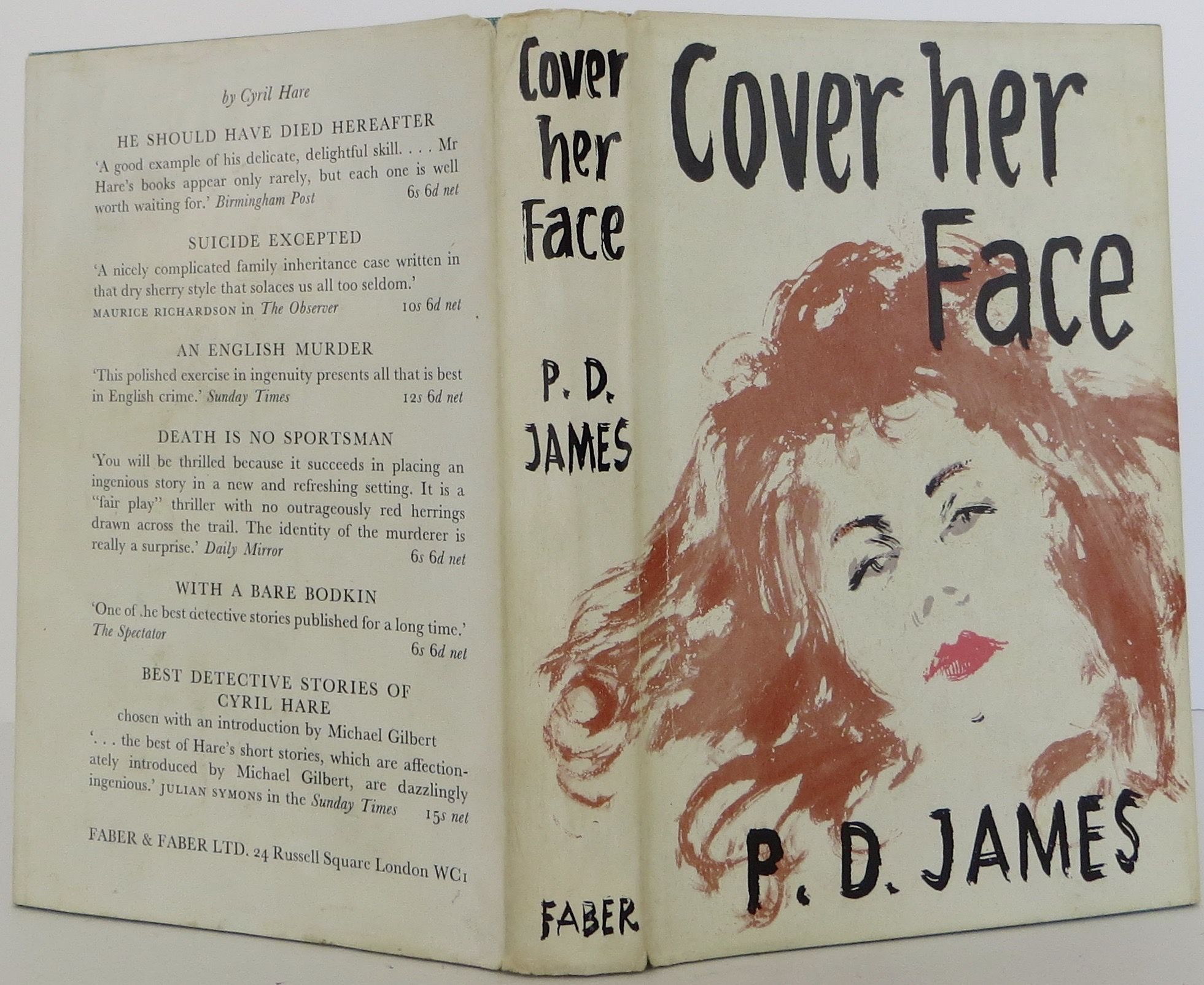 London: Faber, 1962. First. hardcover. Very good./Very good.. A very good first edition with a charming inscription by James on the front free endpaper to a close friend ("with love") and the humorous comment ("P.S. I wrote it! You bought it!!!). The author's first book. Housed in a custom-made set of slipcases.
Offered by Bookbid.
by WILDE, OSCAR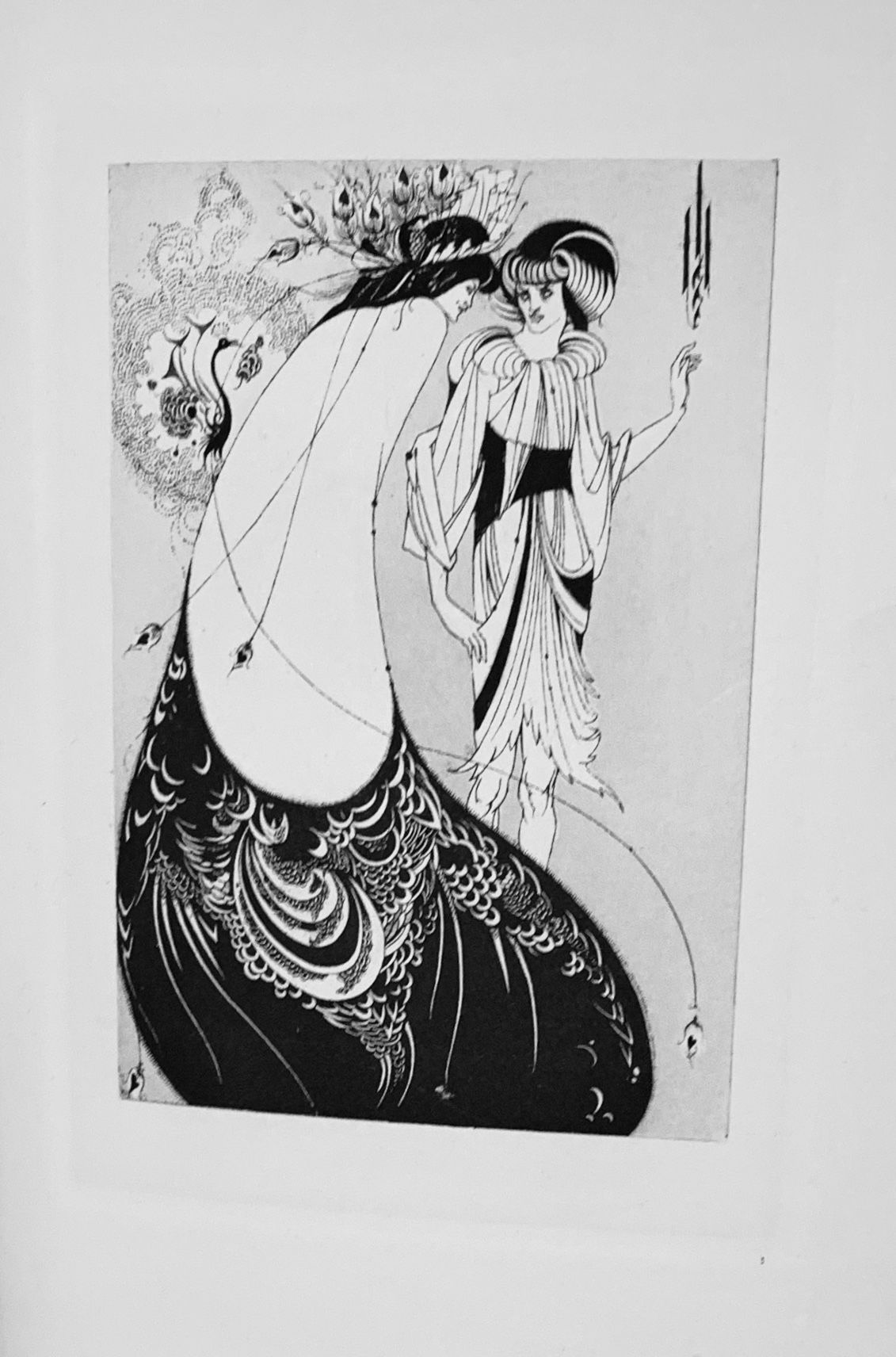 London & New York: A.R. Keller & Co, 1907. leather_bound. Orig. brown calf, backstrips lettered in gilt. Teg. 15 Vols. Near fine. 21 x 14 cm. The Oxford Uniform Edition. Limited edition, copy 103 of 250. Title pages printed in red and black. Host of illustrations with lettered tissue guards by assorted artists, 48 in total, including Aubrey Beardsley who illustrates "The Sphinx." Bright, fresh set, wide text margins, covers embossed with floral and ribbon motif bearing a central ornament on front cover -- a Nightingale from "Nightingale and the Rose." A few backstrip extremities very slightly rubbed.
Offered by Roy Young, Bookseller.
Superb Abraham Lincoln Signed Photo Authenticated, Slabbed, and Graded Mint 9!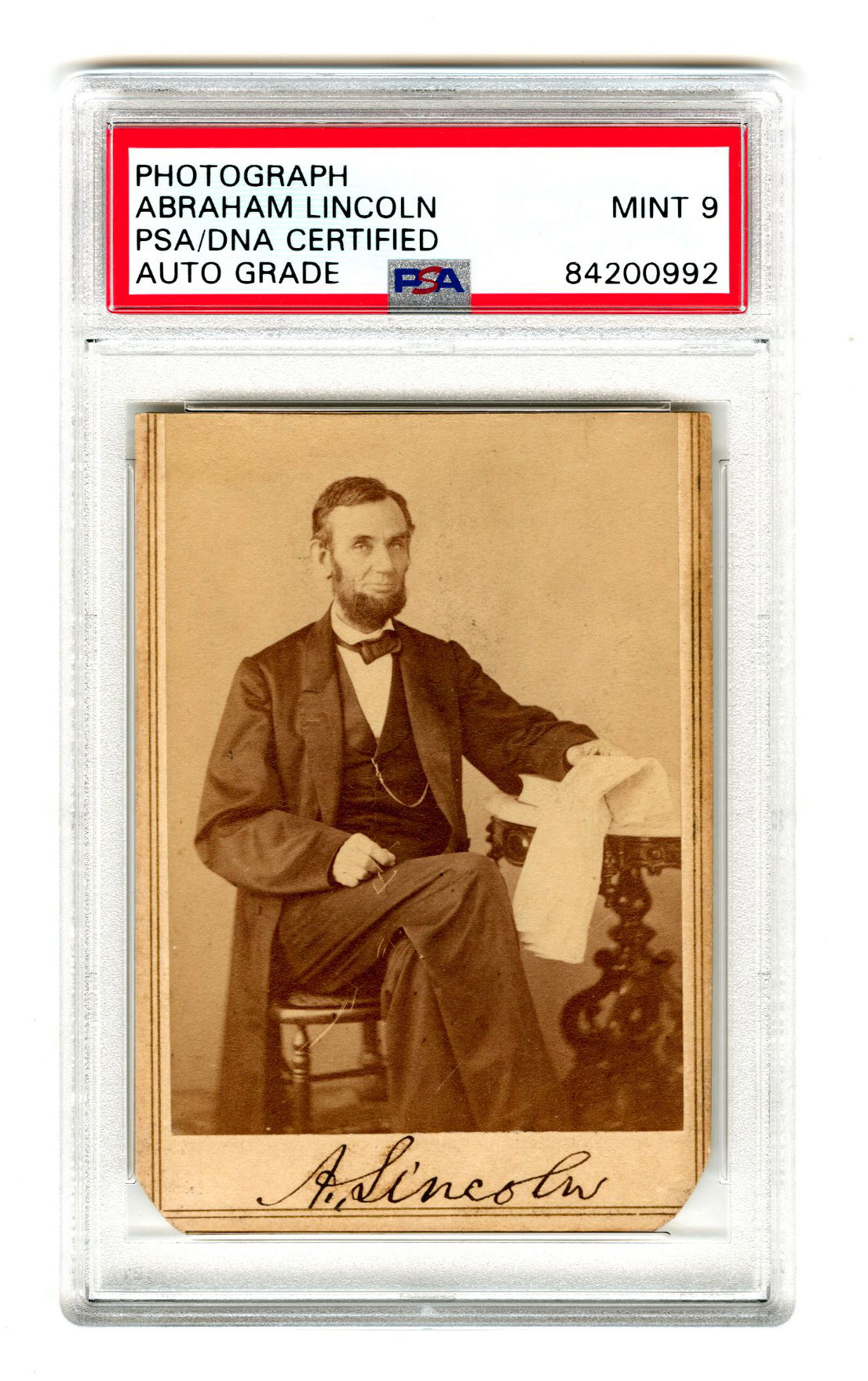 "A. Lincoln" as President, Washington, DC, August 9, 1863. Albumen photograph, 2.5" x 3.5" including card backing, lower corners rounded, top edge trimmed, Gardener's backstamp on verso. Hamilton and Ostendorf, Lincoln in Photographs: An Album of Every Known Pose, O-71B. Authenticated, slabbed, and graded Mint 9 by PSA. Sold for over $65,000 at Christie's in 2004.

On Thursday, August 6, in accordance with a proclamation issued by Lincoln, a day of thanksgiving and prayer was observed throughout the North in the wake of recent important Union military successes at Gettysburg and Vicksburg. In this well-known portrait by Gardner, Lincoln is seated at an ornate circular table, his legs crossed, holding a newspaper in his left hand, his reading glasses in his right. His expression - especially in the lines about his mouth - is resolute and determined. According to John Hay, who accompanied the President to Gardner's studio, Lincoln "was in very good spirits" that day. The images of Lincoln by Gardner that day are the first photographs taken in Gardner's new studio. Lincoln had promised Gardner to be the first to sit for a portrait, and decided on a Sunday visit, in order to avoid curiosity seekers and onlookers in the streets of the capital.

This item comes with a Certificate from John Reznikoff, a premier authenticator for both major 3rd party authentication services, PSA and JSA (James Spence Authentications), as well as numerous auction houses.
Offered by University Archives.
The Complete Writings of William Blake. With all the variant readings.
by BLAKE, WILLIAM. KEYNES, GEOFFREY, EDITOR.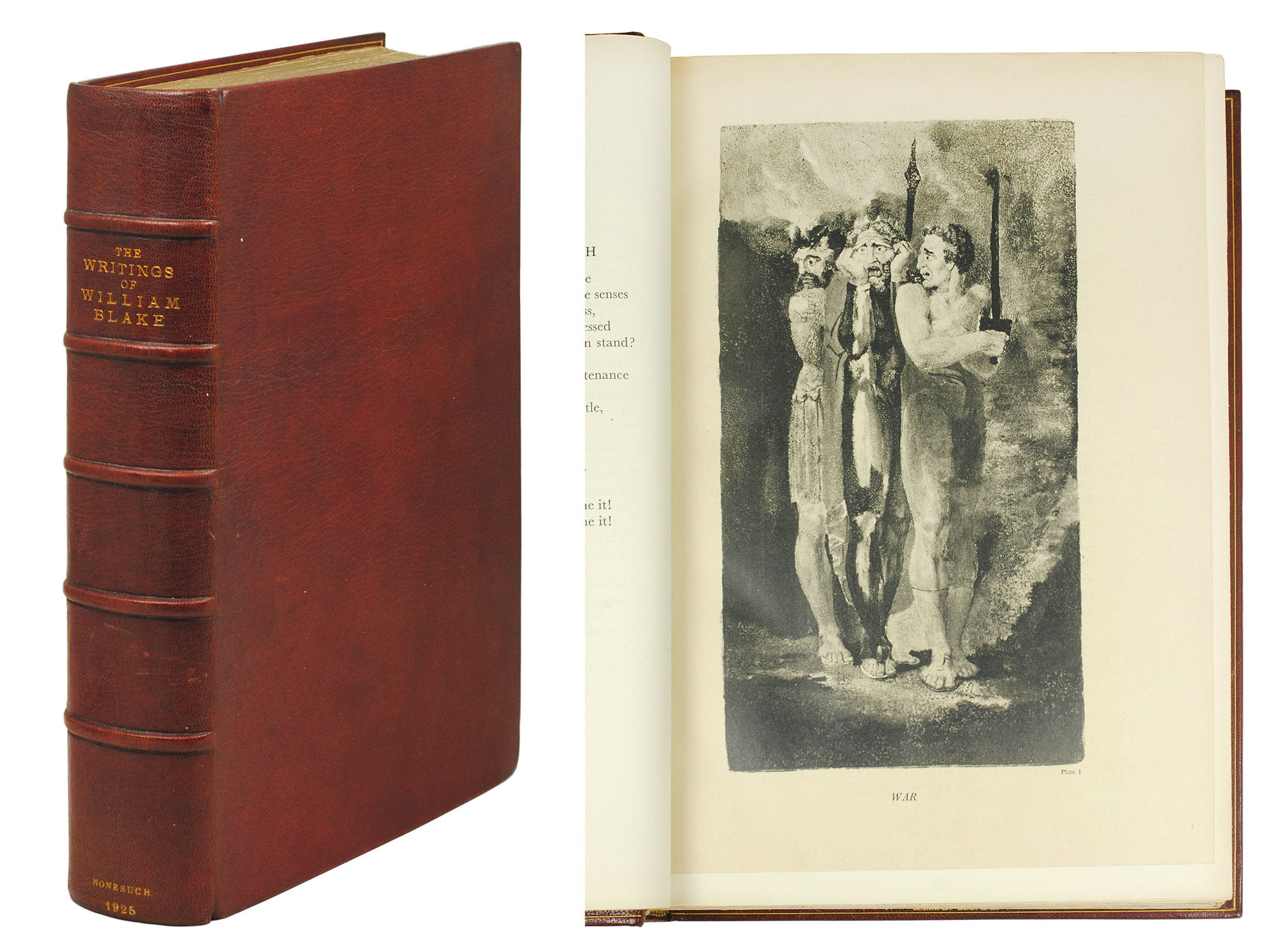 3 vols. London: The Nonesuch Press; New York: Random House, 1957. 3 vols. in one, roy. 8vo, 364, 397, and 429 pp. Illustrated with 58 plates. Original full brown morocco extra, a very good copy with the bookplate of Scott Cunningham at the front. § From a limited edition of 1500 copies on Vidalon handmade paper, this is #L of 75 copies on Oxford India paper, numbered I to LXXV. Bentley, Blake Books, 370 A.
Offered by John WIndle, Bookseller.
Hollywood: American Movie City
by RAND, AYN

Moscow & Leningrad, 1926. First edition. Very Good +. Original pictorial wraps. 48 pages. Wraps with some light soiling; spine restored, pages gently toned throughout. Else, a tight and complete copy of this rare work, which last appeared at auction over a decade ago in 2008. Rand's second published work, Hollywood appeared in Russia during her youth. "Trapped in the totalitarian dictatorship of Soviet Russia, the young Ayn Rand found a lifeline in the form of foreign movies. In her late teens, she kept a journal in which she recorded each movie she saw, along with a list of the cast, the director, the date she saw the movie and a grade rating. She also studied writing for the screen, and two of her pieces were published in Russia in 1925 and 1926" (Federer). The second was the present work. "In Hollywood, one can see the very beginnings of the development of Ayn Rand's literary style" as she set the scene of Los Angeles and introduces Russian language readers to such icons as Cecil B. DeMille (Federer). A scarce and important foundation for Rand's later work. Very Good +.
Offered by Whitmore Rare Books.
Opticks: or, a Treatise of the Reflections, Refractions, Infections and Colours of Light. The Fourth Edition, corrected.
by Sir Issac Newton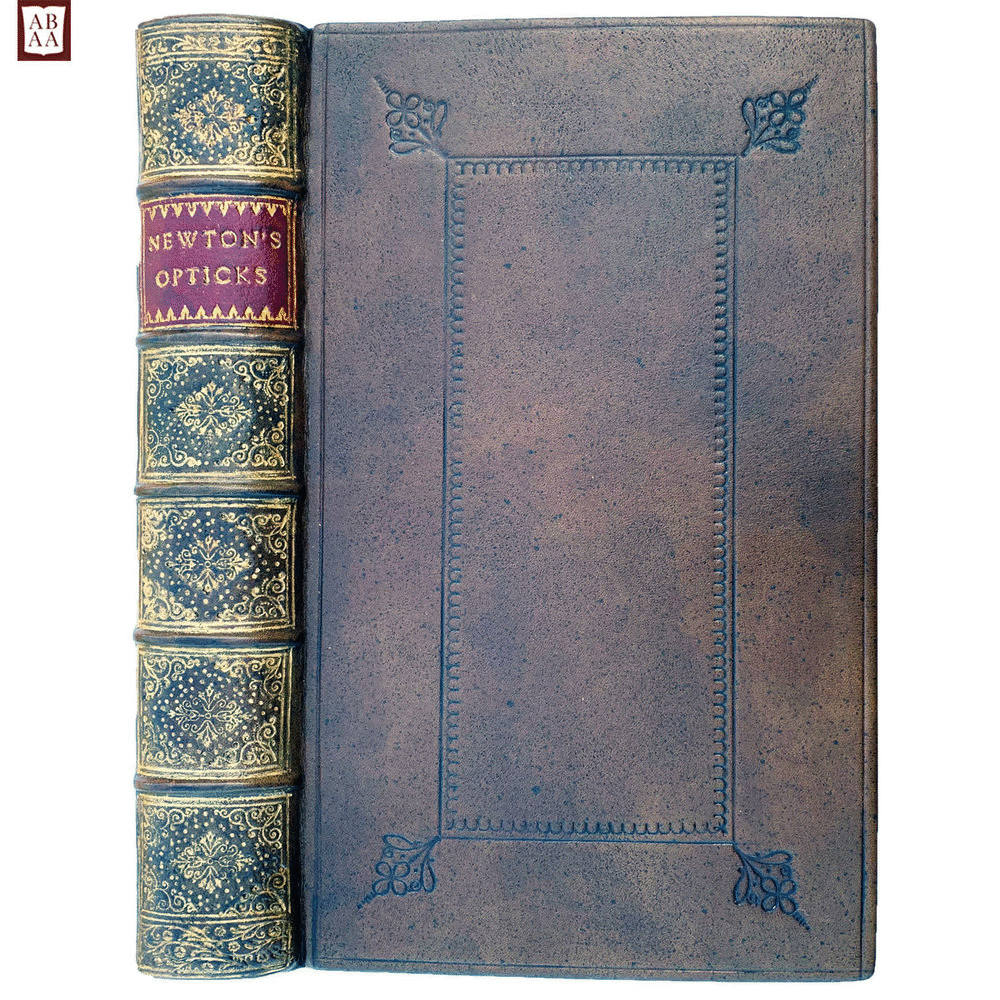 London:: Printed for William Innys, 1730., 1730. Sm. 8vo. [viii], 382, ads. [2] pp. 12 engraved folding plates [Book I: pt. 1, 5 pls.; Book II: pt. 2, 4 pls.; Second Book: Pt. I: 2 pls.; Book III: 1 pl.]; minor ms. annotation on p.1 [GT-xxx :: ownership initials?]; margins show some minor worming. Antique-styled modern blind-ruled full calf, raised bands, massed gilt stamped spine, gilt-stamped red leather label, mild foxing. Very good (in a fine binding). NEWTON'S FINAL EDITION OF THE OPTICKS: Fourth edition, corrected. "This is the final edition, revised by Newton." "This new edition is carefully printed from the Third Edition, as it was corrected by the Author's own Hand, and left before his Death with the Bookseller." – Advertisement. "Newton's contributions to the science of optics: his discovery of the unequal refractions of rays of different color, his theory of color, and his investigations of 'Newton's rings,' to mention only a few of the most noteworthy: place him among the premier contributors to that science. . . . Today we recognize that his work on optics offers unique rewards in its exciting, innovative conjunction of physical theory, experimental investigation, and mathematics, and in the revealing glimpse that it provides of a crucial period in the evolution of experimental science." – Alan E. Shapiro, The Optical Papers of Isaac Newton: Volume 1, (1984), p. xi. / This edition contains the full set of 13 Observations [Book II, Part IV], and 31 queries or questions [Book III, see p. 350]. As written by the respected Newton scholar, Richard S. Westfall, "From the perspective of natural philosophy, the 'Quaestiones' were the first of the series of speculations that form the warp on which he wove the fabric of his scientific career. Throughout his life, his speculations turned on a limited set of crucial phenomena which seem to have functioned in his eyes as keys to the understanding of nature. Nearly all of them appear in the 'Quaestiones.'" – Westfall, p. 96. / "Whereas the Principia is a mathematical work involving intricate geometrical relationships and only a handful of major experiments, the Opticks overflows with detailed accounts of reflection and refraction, the separation of white light into the colors of the spectrum, the manner of the eye's operation, the formation of images by lenses, the colors of the rainbow, the construction of the reflecting telescope, and much more. Unable to contain himself, the author introduces many subjects that have little or nothing to do with the behaviour and analysis of light: metabolism and digestion, the circulation of the blood, the creation of the world and the Great Flood of Noah, the scientific method, even the images that haunt the dreams of madmen. Moreover, Newton wrote the Opticks in English, making its contents accessible to a far wider audience than the Principia, whose classical Latin had stymied many potential readers. His friend John Locke, who had only months to live, was baffled by the earlier work, but read the Opticks 'with pleasure, acquainting myself with everything in them.'" :: Gale E. Christianson, Isaac Newton, Oxford University Press, 1996. REFERENCES: Babson, 136 (v. I, pp. 68-9); Gray, Newton, p. 37. See: Richard S. Westfall, Never at Rest, p. 96.
Offered by Jeff Weber Rare Books.
Belgium. Holiday Tours and Travel Notes via Dover-Ostend. Royal Mail Route Between England and the Continent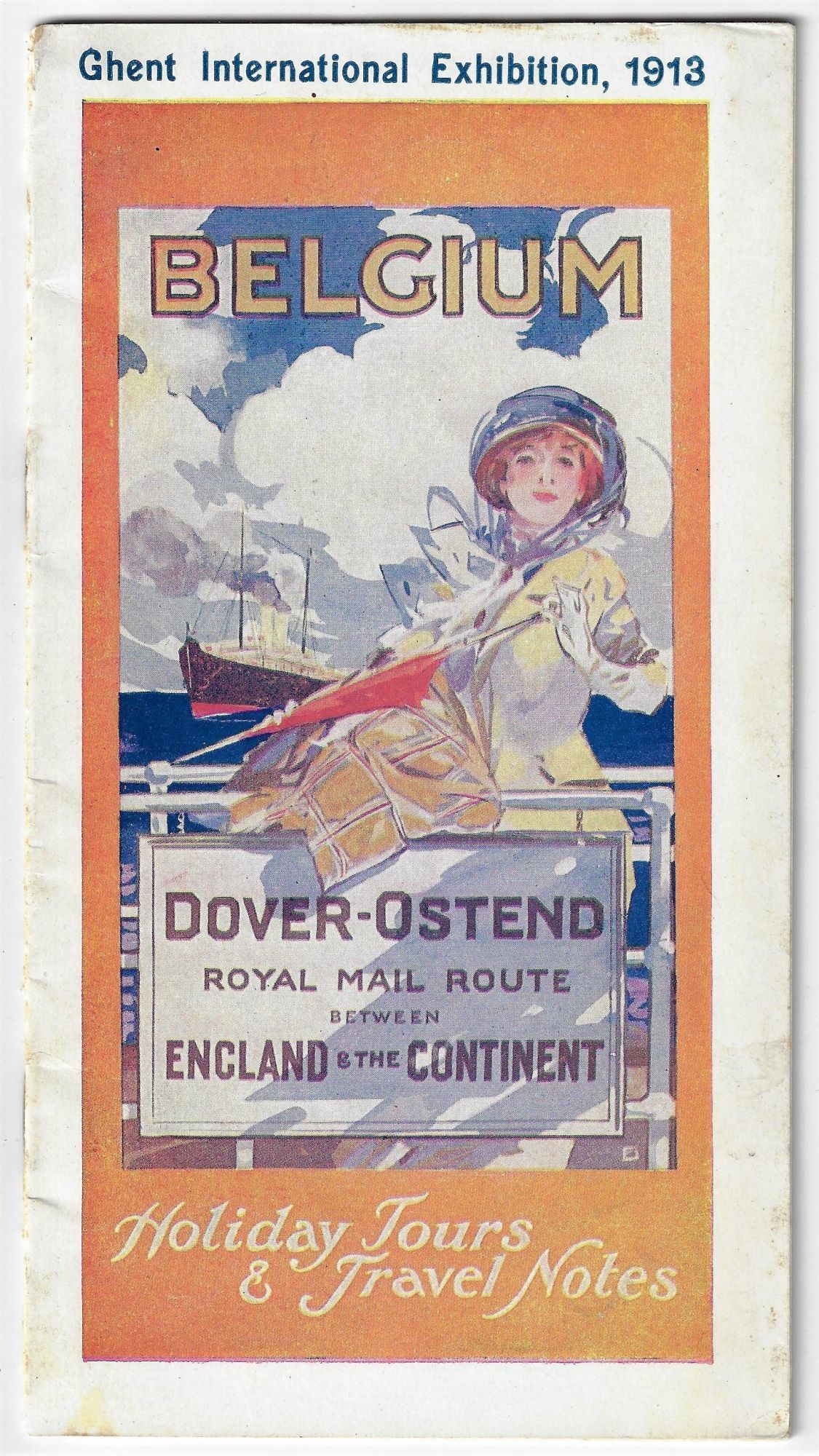 Bournemouth and London: W. Mate & Sons, 1913. Softcover. Very good. Travel brochure/booklet. 8.25 x 4.5 inches, 23 pp, illustrated with b/w photos, double-page route map at center. Light cover wear; very good. Includes sections on Belgian seaside resorts; towns to visit from the coast (Bruges, Ypres, Furnes, Ghent); Brussels and Antwerp; Liege, Namur, and the Ardennes; Tournai, Mons, Charleroi. At the end are various tours and itineraries, an invitation to seek further information from your local Thos. Cook office, and a page describing features of the upcoming Universal and International Exhibition in Ghent.
Offered by Walkabout Books.
Anne with an E (Anne of Green Gables)
by KRAUSE, DOROTHY SIMPSON. L. M. MONTGOMERY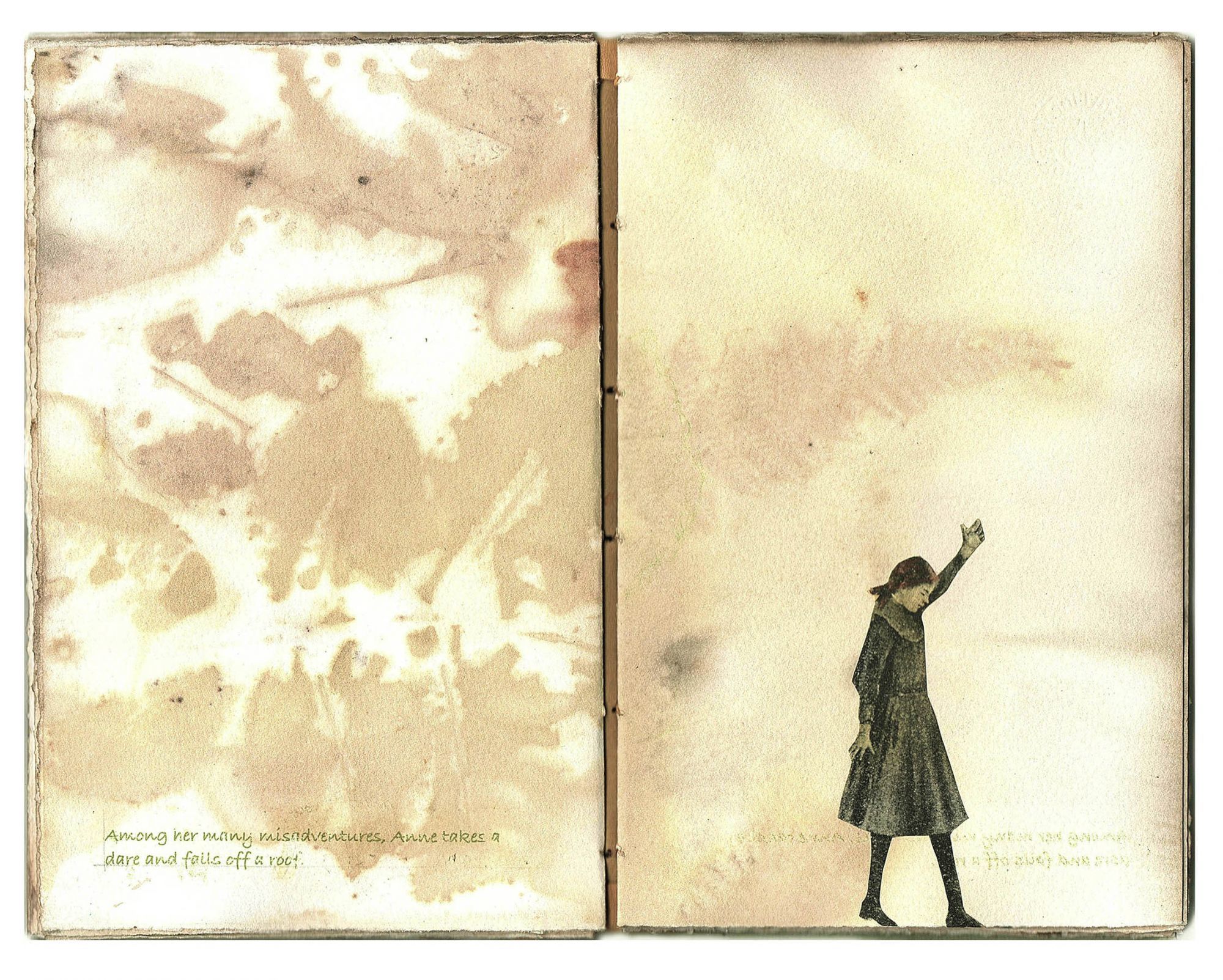 Ft. Lauderdale, FL, 2019. Artist's book, unique, an altered book, signed by the artist on the rear pastedown, "DKrause." Page size: 5 x 8 inches; 20pp. Bound by the artist: in the original boards of a used copy of the 100th anniversary edition of this children's classic. The artist removed the covers, spine, and eight illustrations and inserted a strip of ochre leather which became the new spine. Details from the original black and white illustrations were then watercolored and placed on botanically-printed pages. The whole was then bound using original boards of anniversary edition and a slipcase made using the original spine of the book. The artist's title, ANNE with an e, is written in pencil by the artist below the cover portrait of "Anne." taken from a postcard. This altered book was occasioned by the artist's visit to Charlottetown, PEI, the setting for Montgomery's story.
Offered by Priscilla Juvelis.
Madame de Pompadour (Cosway-Style Jeweled Binding; Sangorski & Sutcliffe Binders)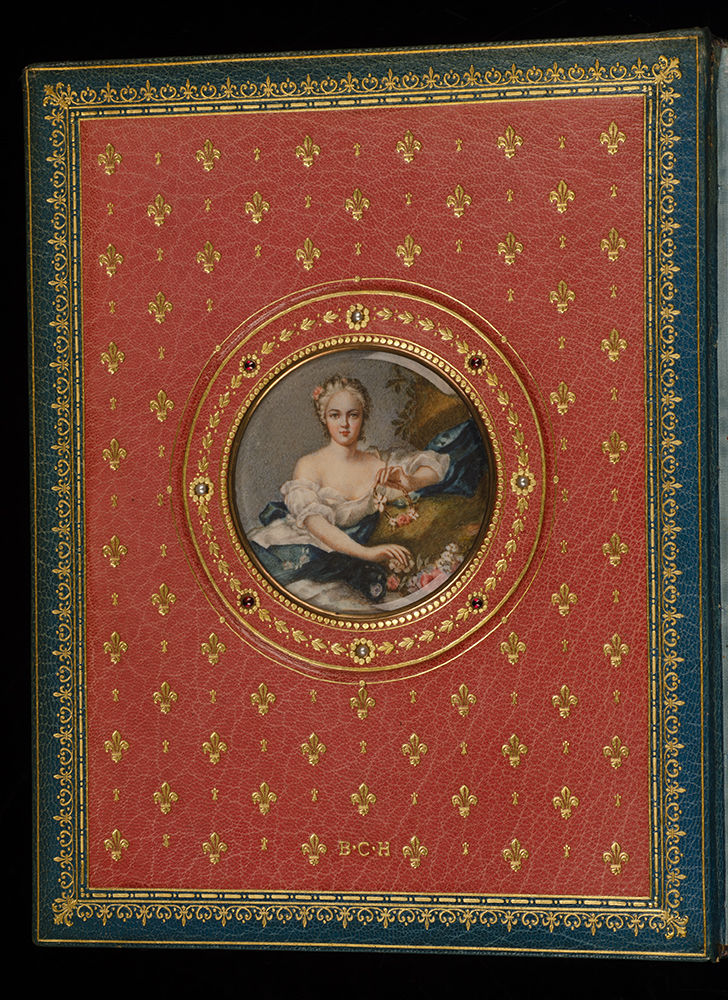 London and New York: Harper and Brothers, 1902. Madame de Pompadour - Mistress of Louis XV A Superb Early Cosway-Style Jeweled Binding by Sangorski & Sutcliffe [COSWAY-STYLE JEWELED BINDING]. SANGORSKI & SUTCLIFFE, binders. WILLIAMS, H. Noel. Madame de Pompadour. With sixteen photogravures. London and New York: Harper & Brothers, 1902. Quarto ( 9 3/8 x 7 3/8 inches; 238 x 188 mm.). xiv, 430, [431], [1, blank] pp. Sixteen photogravure plates with lettered tissue-guards. Handsomely bound by Sangorski & Sutcliffe ca. 1912 in full royal blue crushed levant morocco over beveled boards.
The inside front cover elaborately decorated in gilt surrounding a fine doublure of rose morocco with the arms of Madame de Pompadour in a geometric design and the letters B.C.H at the lower center. In the center is a recessed and quite magnificent, hand painted circular, gilt framed portrait miniature (2 7/8 inches diameter) on ivory, set under beveled glass, surrounded by a circular gilt design set with four garnets and four pearls. Watered light blue silk endleaf. The inside rear cover has the same elaborately gilt border surrounding a light blue watered silk doublure and matching endleaf. Covers with triple gilt rule borders enclosing an elaborate fleur-de-lys design in gilt with ten onlaid red morocco flowers. In the center of the front cover is an oval dark blue morocco onlay with the arms of Louis XV stamped in gilt. In the center of the rear cover is an oval dark blue morocco onlay with the arms of Madame de Pompadour stamped in gilt. Spine with five raised bands, elaborately decorated and lettered in gilt in compartments, four of which have onlaid red morocco flowers. Double-ruled gilt board edges, all edges gilt. Housed in the original blue velvet lined, blue cloth clamshell case, spine lettered in gilt. Top of front and rear joints expertly and almost invisibly restored.
A wonderful early Sangorski & Sutcliffe Cosway-style jeweled binding. The miniature is of exceptional quality and is quite possibly the work of Miss C.B. Currie. Jeanne Antoinette Poisson, Marquise of Pompadour (29 December 1721 - 15 April 1764), commonly known as Madame de Pompadour, was a member of the French court. She was the official chief mistress of Louis XV from 1745 to 1751, and remained influential as court favorite until her death. Pompadour took charge of the king's schedule and was a valued aide and advisor, despite her frail health and many political enemies. She secured titles of nobility for herself and her relatives, and built a network of clients and supporters. She was particularly careful not to alienate the Queen, Marie Leszczy ska. On 8 February 1756, the Marquise de Pompadour was named as the thirteenth lady in waiting to the queen, a position considered the most prestigious at the court, which accorded her with honors. Pompadour was a major patroness of architecture and decorative arts, especially porcelain. She was a patroness of the philosophes of the Enlightenment, including Voltaire. Hostile critics at the time generally tarred her as a malevolent political influence, but historians are more favorable, emphasizing her successes as a patroness of the arts and a champion of French pride. Art historian Melissa Hyde argues that the critiques of Pompadour were driven by fears over the overturning of social and gender hierarchies that Pompadour's power and influence, as a woman who was not born into the aristocracy, represented.
Offered by David Brass Rare Books.
American Anhinga Snake Bird [Plate 420]
by John James Audubon
Philadelphia: J.T. Bowen. unbound. very good. Octavo bird print. Lithograph with original hand coloring. Page measures 6.25" x 10". Sometimes called snakebird, darter, American darter, or water turkey. It is a water bird of the warmer parts of the Americas. The word anhinga comes from the Brazilian Tupi language and means devil bird or snake bird. The origin of the name snakebird is apparent when swimming : only the colored neck appears above water so the bird looks like a snake ready to strike. First Royal Octavo edition, circa 1842. John James Audubon (1785-1851) was an American naturalist, painter and ornithologist who did extensive field work studying birds before painting them. Please visit our gallery for more Audubon prints.
Offered by Argosy Book Store.
Harper's Weekly: September 28, 1861 Hand Colored Cartoons (1 page only)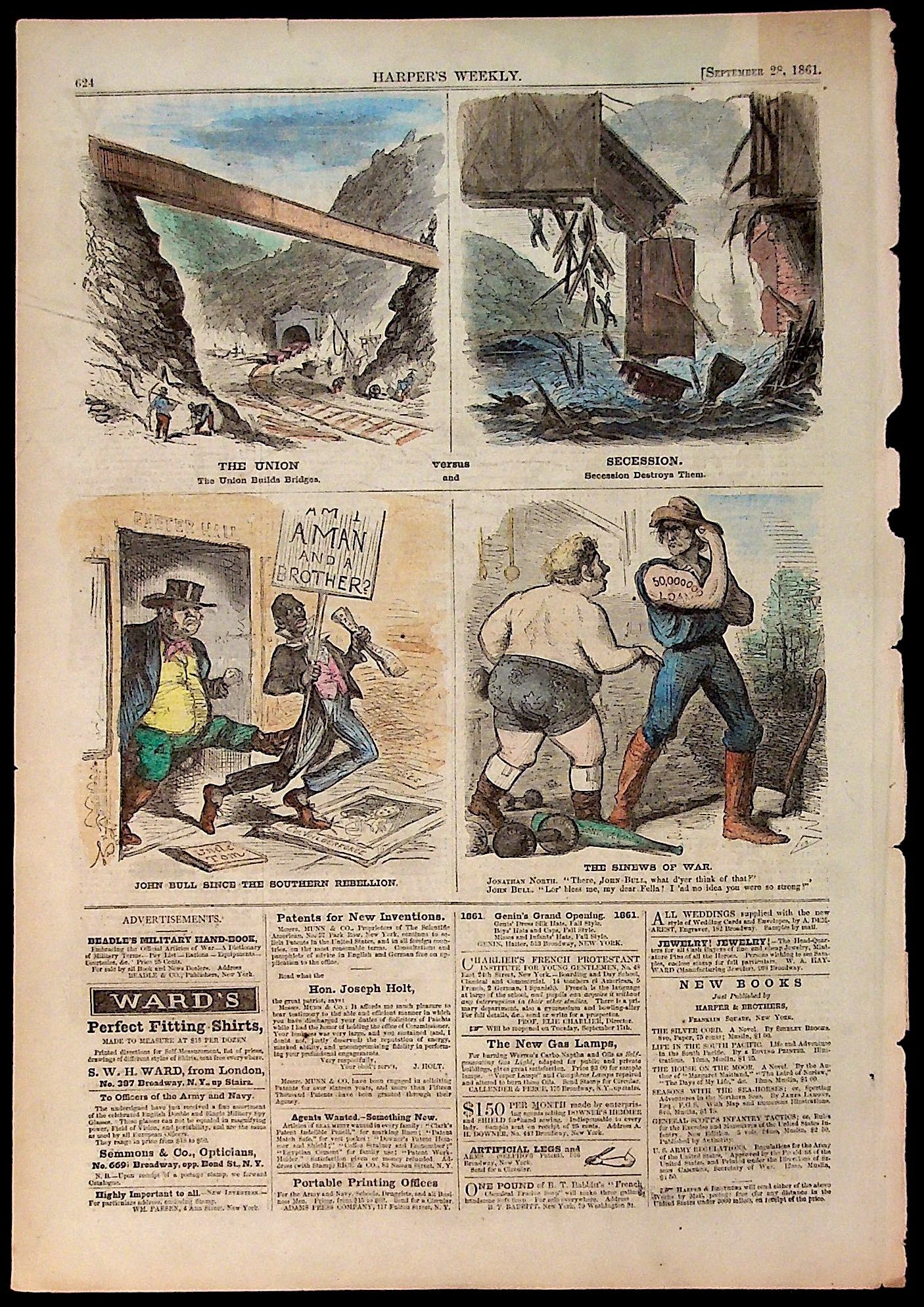 Harper's Weekly, 1861. Paperback. Paperback. Includes 4 hand colored ads about the Union and Sucession, Chipping to edges. Size: 16 x 11 inches. Frameable. PRINTS/041620.
Offered by Kelmscott Bookshop.
The Lord of the Rings, 3 volumes, The Fellowship of the Ring, The Two Towers and the Return of the King 1st editions
by J. R. R. TOLKIEN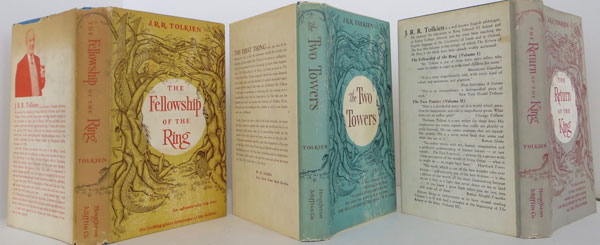 Boston: Houghton Mifflin, 1956. First US editions. hardcover. Near fine./Near fine.. All three first printings of the US edition, with all first edition points in the bibliography, including the correct dates on the title pages (matching the copyright dates) and the correct information on the jacket flaps. Near fine in near fine jackets. Housed in a custom-made collector's clamshell case with a leather spine and lettered in gold.
Offered by Bookbid.
The Antikamnia calendar 1899 [-1900]
by ANTIKAMNIA CHEMICAL COMPANY; LOUIS CRUSIUS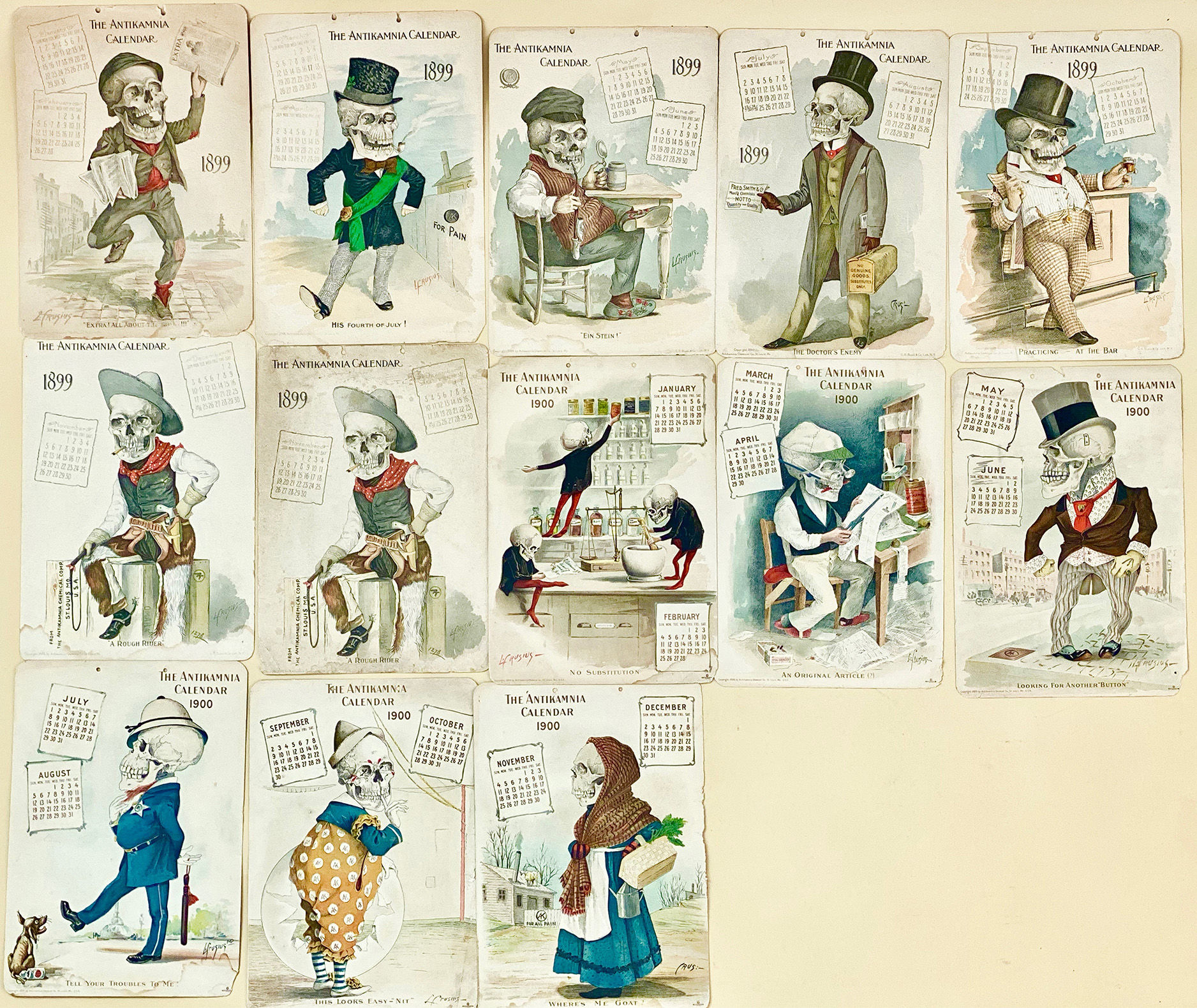 St. Louis: Antikamnia Chemical Co, 1898. Antikamnia Chemical Company. (1) The Antikamnia calendar 1899. 6 sheets (plus duplicate of November-December sheet). Chromolithograph illustrations after watercolors by Louis Crusius (1862-98). St. Louis: Antikamnia Chemical Company, 1898. (2) The Antikamnia calendar 1900. 6 sheets. Chromolithograph illustrations after watercolors by Louis Crusius (1862-98). St. Louis: Antikamnia Chemical Company, 1899. Together 2 items. 254 x 177 mm. Edges a bit frayed, marginal dampstains, but good to very good. First Editions of the 1899 and 1900 promotional calendars issued by the Antikamnia Chemical Company, featuring the comically macabre "skeleton sketches" of Louis Crusius, a physician and amateur artist. The St. Louis-based company produced these calendars in limited editions between 1897 and 1901, sending them to "members of the Medical Profession" in the United States and Europe to advertise the patent medicine "Antikamnia," a pain reliever based on the coal tar derivative acetanilide. Although the Antikamnia Chemical Company aggressively promoted its product as a certain remedy for everything from headaches to tuberculosis, the main ingredient, acetanilide, was known to be toxic in high doses or to sensitive individuals. After passage of the Pure Food and Drug Act of 1906, which mandated that products containing dangerous drugs be clearly labeled as such, the makers of Antikamnia attempted to skirt this requirement by replacing acetanilide with its less toxic derivative, acetphenitidin. In 1910 U.S. marshals seized a shipment of Antikamnia for violating the Pure Food and Drug Act, and in 1914 the Supreme Court ruled against the company for failing to state that its product contained an acetanilide derivative. The Antikamnia Chemical Company went out of business a few years later, although not before making the fortune of one of its founders, Frank A. Ruf, who died a millionaire in 1923. B. Lovejoy, "The Deadly Pain Medicine Sold by Skeletons." Mental Floss, 7 May 2016 (web).
Offered by Jeremy Norman & Co.
Americans All! : Victory Liberty Roll : Du Bois, Smith ... Et Al. (Poster)
by Howard Chandler Christy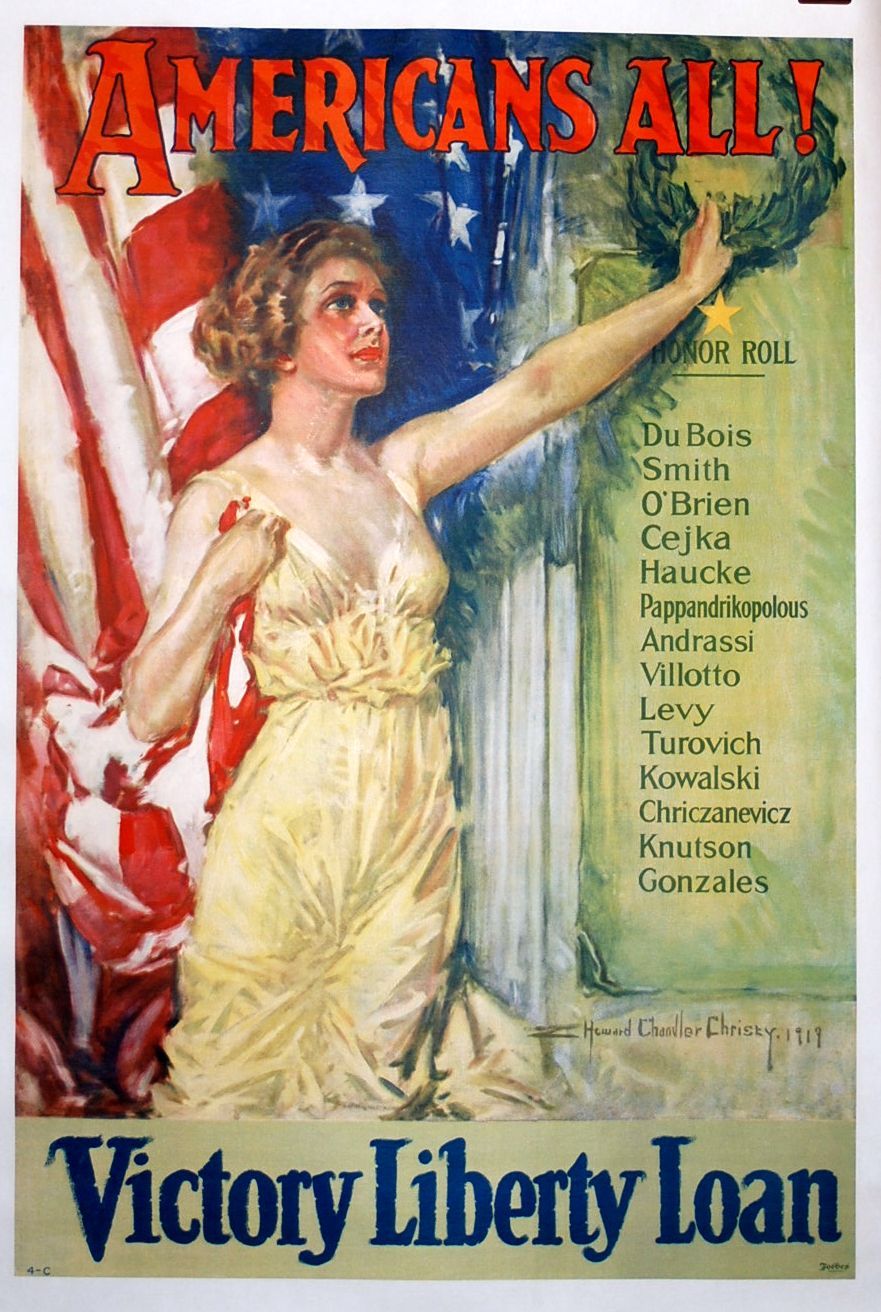 Boston: Forbes, 1919. poster. Near fine condition. World War I bond poster conservation mounted on paper and linen. Columbia hangs a wreath above a list of ethnic European surnames united in generous sacrifice. Printed in full color. Poster measures 40 x 27 inches
Offered by James & Mary Laurie, Booksellers.
The Victory Binding of the American Woman's Cook Book: Wartime Edition, with Victory Substitutes and Economical Recipes for Delicious Wartime Meals
by Ruth Berolzheimer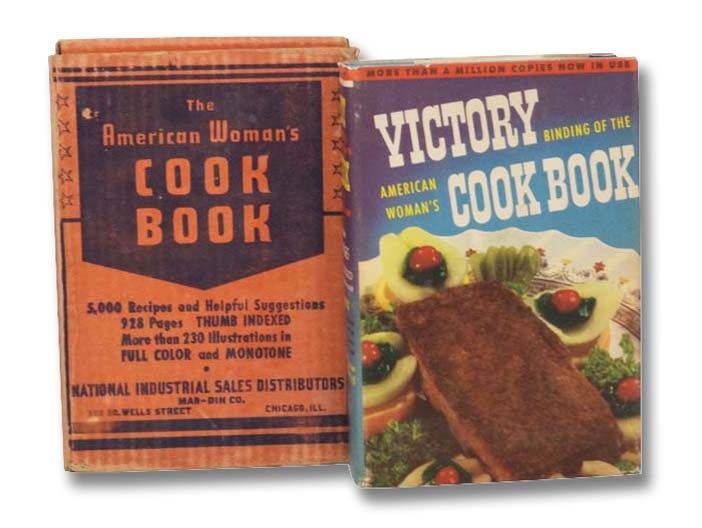 The Culinary Arts Institute / Consolidated Book Publishers, Inc, 1943. Reissue. Hard Cover. Near Fine/Very Good. Includes scarce publisher's box, with original publisher's list price of $3.75 (which is equivalent to over $50 today). Near fine book in very good jacket. Box rubbed with a few light spots, jacket edges lightly rubbed with 1 inch closed tear on front corner. 1943 Hard Cover. viii, 816, A-H, 1-64 pp. 8vo. Delightful American cookbook with a wartime theme, printed during World War II. Extensive index follows text. Appended to original text are the following sections: Wartime Cookery; How to Feed a Family of Five on $15.00 Per Week (includes a menu with a full month of recipes). Many color photos and memorable recipes. Thumb-indexed. Frontispiece portrait of Douglas MacArthur.
Offered by Yesterday's Muse.
1992 Postcard from Paul Bowles to Gregory Corso (With Accompanying Envelope from Tangier)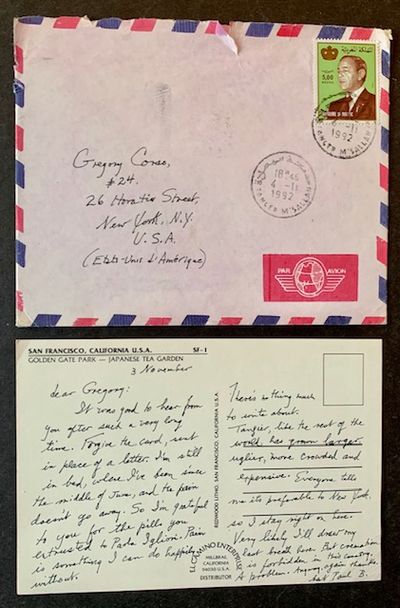 1992. Original wraps. Near Fine. A wonderful piece of post-War literary ephemera, a dense, neatly-written postcard from Paul Bowles (at his Tangier residence) to Gregory Corso (in New York). Clean and Near Fine, dated November 3rd, 1992. "dear Gregory: It was good to hear from you after such a very long time. Forgive the card, sent in place of a letter. I'm still in bed, where I've been since the middle of June, and the pain doesn't go away. So I'm grateful to you for the pills you entrusted to Paola Iglioni. Pain is something I can do happily without. There's nothing much to write about. Tangier, like the rest of the world, has grown larger, uglier, more crowded and expensive. Everyone tells me it's preferable to New York, so I stay right on here. Very likely I'll draw my last breath here. But cremation is forbidden in this country. A problem. Anyway, again thanks. best, Paul B." The card is crisp and very sharp, as is the original light-pink, hand-addressed envelope which houses it and which shows 2 clear postmarks from Tangier. And the postcard's image is of the Japanese Tea Garden in Golden Gate Park, San Francisco.
Offered by Appledore Books.
Autograph Letter Signed, to "Dear Mrs [Richard] Darcy", with accompanying photograph
by Rudyard Kipling

1898. Both sides of a card, which bears the heading "The Elms | Rottingdean, | nr Brighton." Dated Dec 12, 1898. In its original envelope, which provides the recipent's address "The Cottage, Clifton," with both Rottingdean and Brighton postmarks. With accompanying sepia photographic portrait of Kipling standing on a sailing vessel (mounted on gilt-edged card). This is a very intriguing, if not tantalizing, letter from Rudyard Kipling to a Mrs Darcy. It reads: That is indeed a beautiful photograph. Of course _we_ know what it means; but to the average spectator it looks very much as if your sailing-master had "shanghaied" one of the inhabitants of Adrigole and the unhappy native was slowly reviving on the decks of the _Margharita_. And the worst of it is, I can't explain to anyone that they are your husband's clothes I'm wearing! I feel I never thanked you properly for the good times you gave me on the yacht that wonderful day ... [+ final long sentence hard to decipher] ... With best regards to your husband, Very sincerely yours [signed] Rudyard Kipling. Accompanying the letter is a photo of Kipling standing on a sailing vessel, presumably the Margharita; Mrs Darcy must have sent it to Kipling, and with this letter he was returning it to her. We have not been able to learn who Mr & Mrs Richard Darcy were, in connection with Kipling. But we DO know (a) that Adrigole is a harbor village on the southwest corner of Ireland; (b) that the Darcys' hometown of Clifton is right by Bristol, on the southwest shore of England -- not all that far from Adrigole; and (c) that Kipling spent some time in Autumn 1898, including time in Adrigole's Bantry Bay, observing naval manoeuvres on board the Pelorus (the guest of Captain Bayly). At that time, Kipling must have spent a day on board the (Darcys'?) yacht, and subsequently (after each was back in England) she sent him a letter enclosing this photograph of Kipling. It is tempting to jump to the conclusion that this was some sort of illicit rendezvous -- and in fact, whatever dealer previously wrote a description for this letter (several decades ago) did just that. However, the jocular tone of Kipling's letter, combined with the formality of both the greeting and the signature, leads us to suggest that they simply had "good times on the yacht that wonderful day" -- perhaps (for all we know) with numerous other people. The puzzle that Kipling is wearing her husband's clothes is most easily solved by the idea that his clothes got soaked, as often happens on a sailboat. The letter/card is in very good condition (one corner has a few creases, with a couple of short pieces of tape, one of which encroaches on RK's signature; both the envelope and the photo are fine.
Offered by Sumner & Stillman.
Book 171: A Kinetic Book Collage
by Keith A. Smith

24 hand-cut pages with intricate geometric designs. 8vo (200 x 160 mm.), hand-sewn to a pleat by the artist, saw-tooth spine, marbled endpapers. [Rochester]: Keith A. Smith, October 1994. One of Smith's most splendid creations, one of only three copies produced. Here, for the first time, the artist employed a new method of spine sewing. In personal correspondence Smith writes that he was inspired by Eikoh Hosoe's famous Kamaitachi in the conception of this book. From the printed explanatory text laid-in: "The geometric forms were drawn with the program Aldus Freehand™ on a Power Macintosh 7100/66. The drawings were proofed onto typing paper using a Laserwriter II NT. These were cut and bound as a prototype as a means of a sketch of the book. The designs of several pages were then altered and proofed. The end result was printed onto various laid and etching papers. The sections are pamphlet sewn to a pleat, which is decorated by cutting and folding. The spine sewing is devised by Keith Smith, and this is the first use of this new sewing." A superb example of Smith's ingenuity with the book form. Smith gave the other copies to his partner and a friend. His books are hardly ever available on the market. ❧ K.A. Smith, 200 Books, p. 281-"Book 171 is hand cut and hand bound. The title means that no single page is the collage, but it is a layer of pages, ever-changing as pages are turned."
Offered by Jonathan A. Hill, Bookseller.
Jonas Salk typed signed letter with envelope
Pittsburgh, Pennsylvania: [ University of Pittsburgh ], 1955. First Edition. Near Fine. First Edition. Single 8 1/2 x 11 inch sheet. A TLS (typed letter signed) from Jonas Salk dated August 25, 1955 on University of Pittsburgh School of Medicine letterhead thanking a Mr. Arthur Wilson for his good wishes. 'It was very kind of you to express your good wishes; we appreciate having them.' SIGNED boldly in ink 'Jonas E. Salk'. Creasing as expected for a mailed letter. Includes the matching mailing envelope with Virus Research Laboratory return address.
Dr. Jonas E. Salk is best known for his discovery of a safe and effective polio vaccine. His development of the vaccine was completed during a very intense period of several years (even though other scientists had been pursuing different research paths since the late 1930s). The new vaccine was officially announced on April 12, 1955. A competing 'live-virus' vaccine by Dr. Sabin was eventually discontinued in favor of Salks 'dead-virus' vaccine because of the greater efficacy of Salk's vaccine.
Offered by Kuenzig Books.
New-York: Printed and Sold by S. Wood, 1813. Second Wood edition. A trifle foxed; some light rubbing; a handsome copy in very good condition. 32mo (2.06 x 1.31 inches), original green morocco, spine stamped in gilt, boards ruled in gilt, 254 pages. Frontis, illus. A handsome little Thumb Bible. Welch 856.3; Adomeit, Three Centuries of Thumb Bibles, A26: "Illustrations as in A17 [Wood, 1811], but type reset.
Offered by Garrett Scott, Bookseller.
All the Pretty Horses; The Crossing (signed); Cities of the Plain; 3 Volume Set, All First Editions
by Cormac McCarthy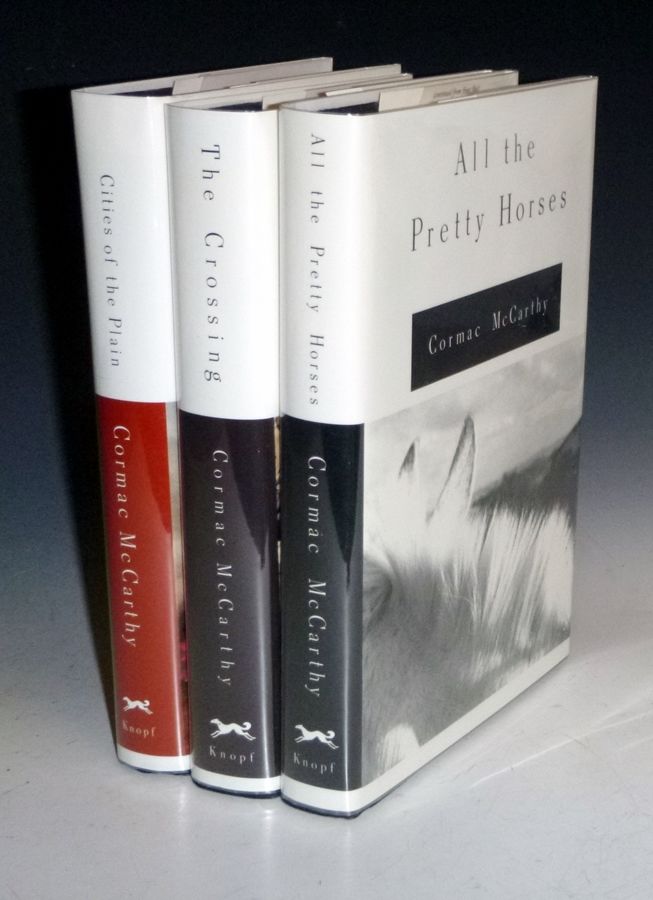 New York; 1992, 1994, 1998: Alfred a Knopf. First Editions. Octavo. The Trilogy: The Crossing (signed on the flyleaf--integral not one of the tipped-in examples). This trilogy represents his great vision of the Southwest where boundaries are incidental (Texas, Mexico, and New Mexico are all part of a landscape of beauty, desolation, love, violence and survival. A fine set bound in 1/4 black cloth over black paper covered boards stamped in gilt, spine lettering gilt, in fine unclipped pictorial dust jacket.
Offered by Alcuin Autographs.
FLICKA, RICKA, DICKA AND THEIR NEW FRIEND
by Maj Lindman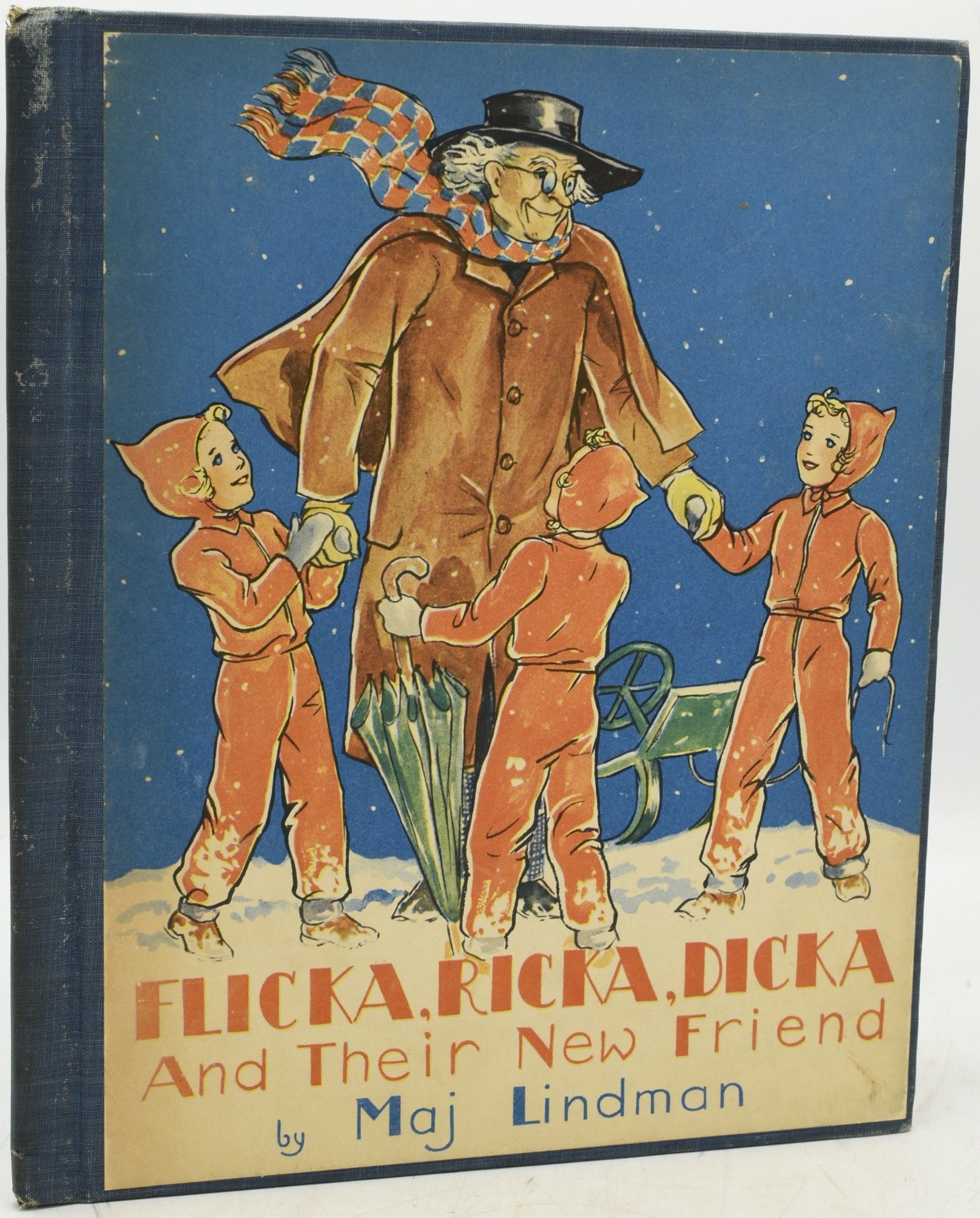 Chicago, Illinois: Albert Whitman & Company, 1942. First Edition. Hard Cover. Very Good binding. Color text illustrations on the recto, and text on the verso of the pages. Slight silverfishing to the spine of the binding, and spot of soiling to the rear board. Blue cloth with a illustrated paper pastedown on the front board. Very Good binding.
Offered by Black Swan Books.
Make Good the Promise; Second War Fund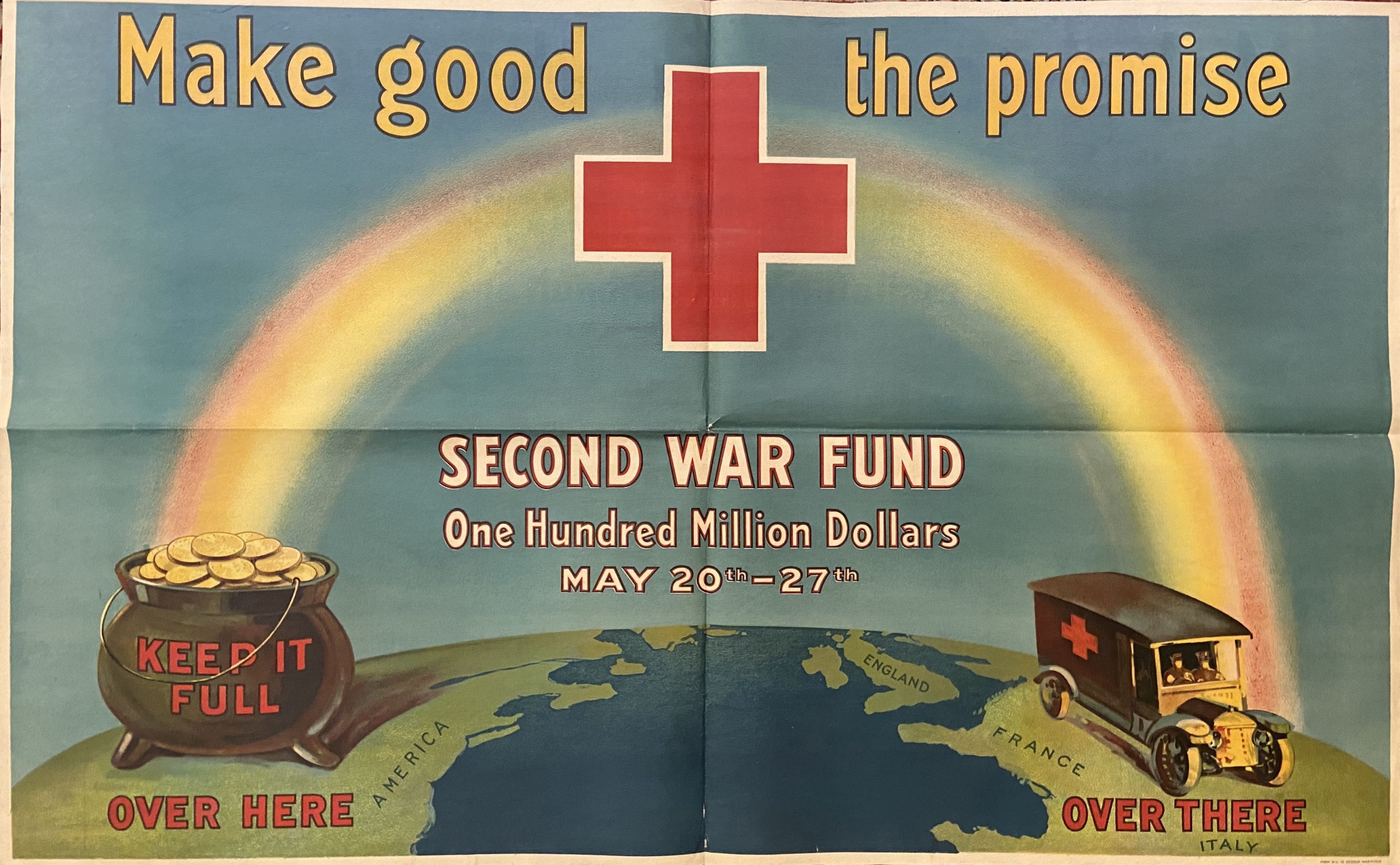 New York: American Red Cross, 1918. Original poster mounted on linen. Color lithograph. 34 3/4" x 55 3/4" This vibrant WWI poster was part of the American Red Cross' fundraising campaign for the 'Second War Fund', with the goal of raising $100 million in a single week in May. Beautiful colors, good condition with repair to center and repairs around margins. Poster features an outline map of North America and Europe, with a pot of gold in America that reads 'Keep It Full', and a rainbow stretching from the pot to a Red Cross aid truck in Europe.
Offered by Argosy Book Store.
ALICE IN WONDERLAND (Superb Copy of the 1933 English Film Photoplay Version in Original Dust Jacket)
by Lewis Carroll

London & Glasgow: Collins, 1933. Carroll, Lewis (Charles L[utwidge] Dodgson). ALICE IN WONDERLAND. London & Glasgow: Collins, (n. d. but 1933). First U. K. Photoplay edition (9" by 7") issued in tandem with the 1933 Paramount film adaptation starring Charlotte Henry as Alice and co-starring Cary Grant, W. C. Fields, and Gary Cooper among others. This is a Very Good example, designed with wonderful Art Deco elements to it, with hardly any wear to the fragile oatmeal-buckram cloth covers as well as the spine, small previous owner's signature in ink, there are eight b&w full-page still photos from the film along with numerous charming line drawings oof the Alice characters by Irene Mountfort. The Very Good ORIGINAL DUST JACKET partially incorporates photographic images from the film including that of Charlotte Henry with the Dodo. The DJ is flap-clipped but not price-clipped. Perhaps best of all, the dust jacket is 100% complete although there is some soil and a long closed tear to the white back panel, and overall edge-wear in general. Despite faults, the exceedingly rare DJ shows very well indeed. . First Thus. Decorative Cloth. Very Good/Very Good. Illus. by Irene Mountfort.
Offered by Lakin & Marley Rare Books.
Argonauts of the South; Being the Narrative of Voyagings and Polar Seas and Adventure in the Antarctic with Sir Douglas Mawson and Sir Ernest Shackleton
by Frank Hurley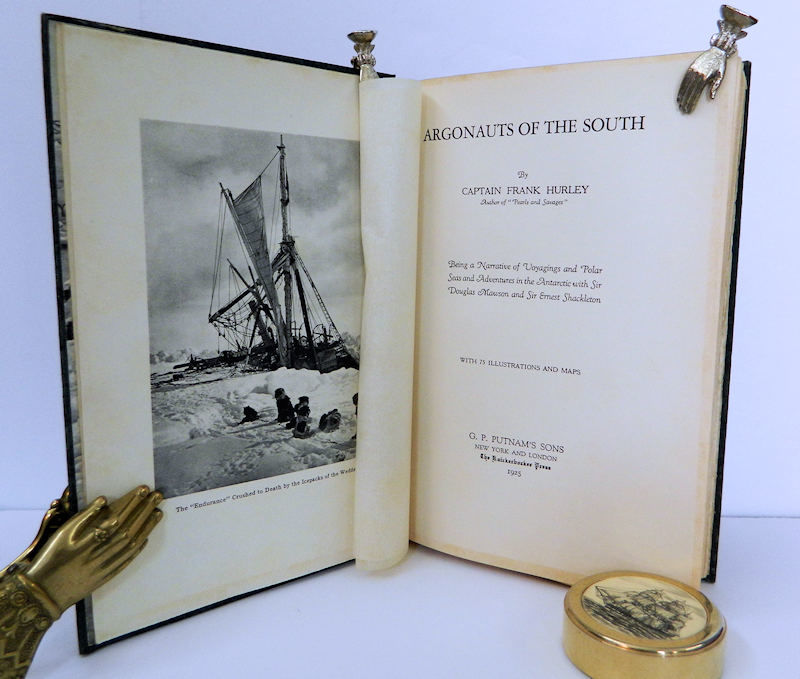 New York: G.P. Putnam's Sons, 1925. First Edition. Near Fine. 8vo [9.5x6.5in]; [2], xv, [1], 290 pp., [2], frontispiece of Endurance crushed in the ice, 46 plates of 71 images and 5 illustrations, 2 folding maps; Dark green cloth covers with gilt lettering on front and spine, blind stamped borders on front, image of seals and penguins on ice flow in Commonwealth Bay on front end papers and rugged landscape of So. Georgia Is. from high ridge line above Stromness Harbor and Bay, top edge gilt and foredge untrimmed; Minor shelf wear, covers, spine and gilt lettering darken with age and soling, minor rubbing to back cover with some wrinkling of cloth, old stain along edges of back end papers. [Rosove 178.A1, Conrad p.205].
James Francis (Frank) Hurley (1885-1962) ), adventurer, photographer and film maker, in 1911 was asked to by the photographer on Sir Douglas Mawson's Australasian Antarctic Expedition 1911-1913 (Aurora). This expedition was to explore to the west of the Scott and Shackleton expeditions in the McMurdo Sound. The main base was established at Cape Denison 142 and the western base 600 kilometers further west. Hurley worked in difficult conditions of unrelenting cold and katabatic winds to take still images and movie film. After the expedition, Hurley created exhibitions of his images and films in major cities of the world. In London, Shackleton was impressed with the exhibition and asked Hurley to join him on the Imperial Trans-Antarctic Expedition 1914-1917, the Weddell Sea Party (Endurance) and he accepted. The expedition did not achieve the objectives as the Endurance was beset and crushed in the ice covered Weddell Sea before reaching land. All but 150 plates of Hurley's still images and some pocket camera images survived the 9 month trek across the ice dragging overloaded lifeboats to reach open water and sail for desolate Elephant Is. to await an uncertain rescue. Hurley and all the other men survived the ordeal when rescued by Shackleton after his miraculous 800 mile sea voyage to the nearest whaling station on South Georgia Is. Hurley's images from the Mawson and Shackleton expeditions have become iconic images in telling the stories of the expeditions.
Offered by David Spilman Fine Books.
Description of the educational exhibit of cocoa and chocolate... (Together with:) Educational exhibit. Cocoa and chocolate prepared by Walter Baker & Co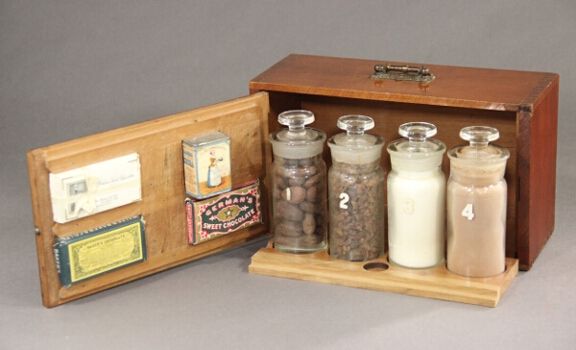 Dorchester, MA: Walter Baker & Co., Ltd, 1913. Oblong 8vo, pp. 39, [1], followed by 6 high-quality chromolithograph plates of Walter Baker products; 5 other full-page illustrations; fine in original maroon cloth, gilt-lettered on upper cover. The educational exhibit consists of what presumably is a salesman's wooden lacquered case (approx. 9½" x 5½" x 3½"), with a hinged lid on top, and a brass plaque and pull; mounted inside the lid are 4 Baker products, and inside the box itself are four apothecary viles, each still containing Baker products! Uncommon salesman's sample case and companion handbook which were released to promote the Walter Baker "health-giving breakfast cocoa and chocolate." The text explains the transformation of the cocoa seeds from the raw material, describes the early uses of cocoa and chocolate, a description and analysis of the cocoa seeds, the cocoa tree and the gathering of the crop. The four vials represent the various stages of cocoa production, and the cocoa tin mounted 1nside the lid preserves the trademarked chocolate server logo, La Belle Chocolatiere, adopted by the company in 1883 after a painting by the Swiss artists Jean-Etienne Liotard. Founded in 1780 the Walter Baker Company grew throughout the 19th century and into the 20th becoming one of the largest in the United States. Purchased by the Forbes syndicate in 1896, the brand was eventually absorbed in 1979 by Kraft Foods.
Offered by Rulon-Miller Books.
View all new listings on abaa.org...
Browse recent catalogs of rare books and print ephemera from ABAA members...
Please note, all items are unique, so if a link takes you to a blank page, the book has been sold!