Browse the latest catalogs, newsletters, and e-lists of rare books, fine bindings, incunabula, print ephemera, and much more from the members of the ABAA below. (Also includes podcasts, blogs posts, and other digital formats.)
*New* indicates any catalogs added this week.
AARDVARK BOOKS/EZRA THE BOOKFINDER
Spring Miscellany -- Early Baseball, Travel, Botany, Signed Books, Hand-colored Plates, etc.
ANTIPODEAN BOOKS, MAPS, PRINTS
Featured item:
Boston Museum, Fourth Night of Mr. J. Wilkes Booth! as Richard III (Playbill for May 15, 1862)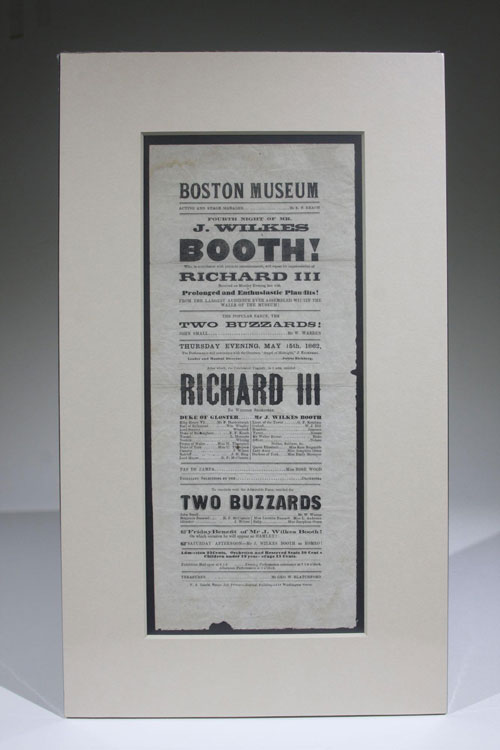 [Boston]: (S.n.), 1862. Broadside. 6 1/8" x 14 5/8" Fine. Very faint dampstains at a couple of corners. Evidence of a few horizontal folds, and along with a couple of edge chips up to .25" depth. Remarkably well-preserved example of an important Booth playbill.

John Wilkes Booth, following in his father's and siblings' footsteps, tried his hand at acting and found some success in stock companies in Philadelphia, Richmond, and other provincial theaters. Still, he performed under the name "J. Wilkes" because he lacked the confidence to adopt the famous family name on stage, and was also not certain he wanted a career in acting. By early 1862 he decided he did, and made his national debut in New York in March. He selected the role of Richard III to showcase the revolutionary and all-consuming physical acting style destined to make him famous apart from his father's name. The buzz he created in New York produced great curiosity for his debut in Boston a few weeks later. This original playbill, one of the earliest to use his famous surname, is from the fourth night of his first Boston engagement. Within three years he was killed after assassinating President Abraham Lincoln.
Offers by Back Creek Books, and featured in their new "Short List."
Featured item:
Zora Neale Hurston, Their Eyes Were Watching God: A Novel.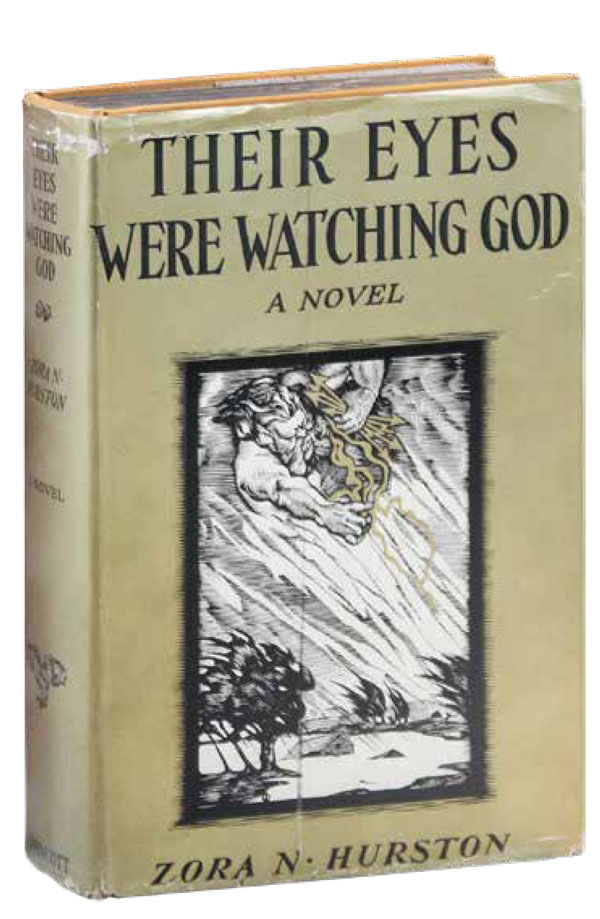 Philadelphia: J.B. Lippincott Company, 1937. First Edition. First Printing. Octavo (21cm); orange cloth, with titling and decorative elements stamped in black on spine and front cover; black topstain; dustjacket; [8],9-286,[2]pp. Faint spotting to topstain, base of spine gently nudged, with a thin, subtle strip of offsetting along lower edge of endpapers; a fresh, Near Fine copy. Dustjacket is unclipped (priced $2.00), showing scattered rubbing to extremities, a faint scratch to front panel, a few tiny tears, and some wear along base of spine; residue from old-style jacket mylar professionally removed along upper and lower edges on verso (.5cm); Very Good+. Housed in a custom slipcase.
Hurston's second novel and most enduring work, written during a harried seven week period while conducting ethnographic fieldwork in Haiti as a Guggenheim Fellow. Hurston wrote Their Eyes in the aftermath of a failed romance with a much younger man; in her autobiography Dust Tracks on a Road, she reflected that she "tried to embalm all the tenderness of my passion for him" in her book. The novel, set in central and southern Florida during the early 20th century, is narrated by Janie Crawford, an African American woman in her forties, who recounts her life story in three major periods – a loveless marriage to a much older man, an abusive marriage to a wealthy shopkeeper, and a passionate marriage to a vagrant who treats her as an equal. Crawford's journey towards self-discovery, romantic, and spiritual fulfillment, viewed by Hurston as a celebration of life and womanhood, was poorly received by many of her contemporaries, especially by such prominent male Harlem Renaissance figures as Richard Wright, Alain Locke, and Ralph Ellison (who called the book "a blight of calculated burlesque." Today, of course, Their Eyes Were Watching God is regarded as Hurston's masterpiece and a highlight not only of Twentieth Century fiction; a cornerstone work of feminist literature, and one of the two or three finest novels ever written about the state of Florida. Its return to print in the 1970's was a clear inspiration to the work a generation of Black feminist authors including Maya Angelou, Toni Cade Bambara, Terry McMillan, Toni Morrison, Gloria Naylor, and Alice Walker – a noted devotee, who declared "there is no book more important to me than this one."
Legendarily scarce in dustjacket, with the few copies we have traced in the trade being severly compromised, and the only example to sell at auction being in pieces (Swann, 2005). PERRY (The Harlem Renaissance: An Annotated Bibliography and Commentary) 320; FAIRBANKS, p.166.
Offered by Lorne Bair Rare Books, and featured in their latest, "Catalog 31" (item #14).
W. C. BAKER RARE BOOKS & EPHEMERA
BETWEEN THE COVERS, RARE BOOKS
[Photo Album]: Syrian Actress and Dancer in Hollywood Los Angeles: 1930-1970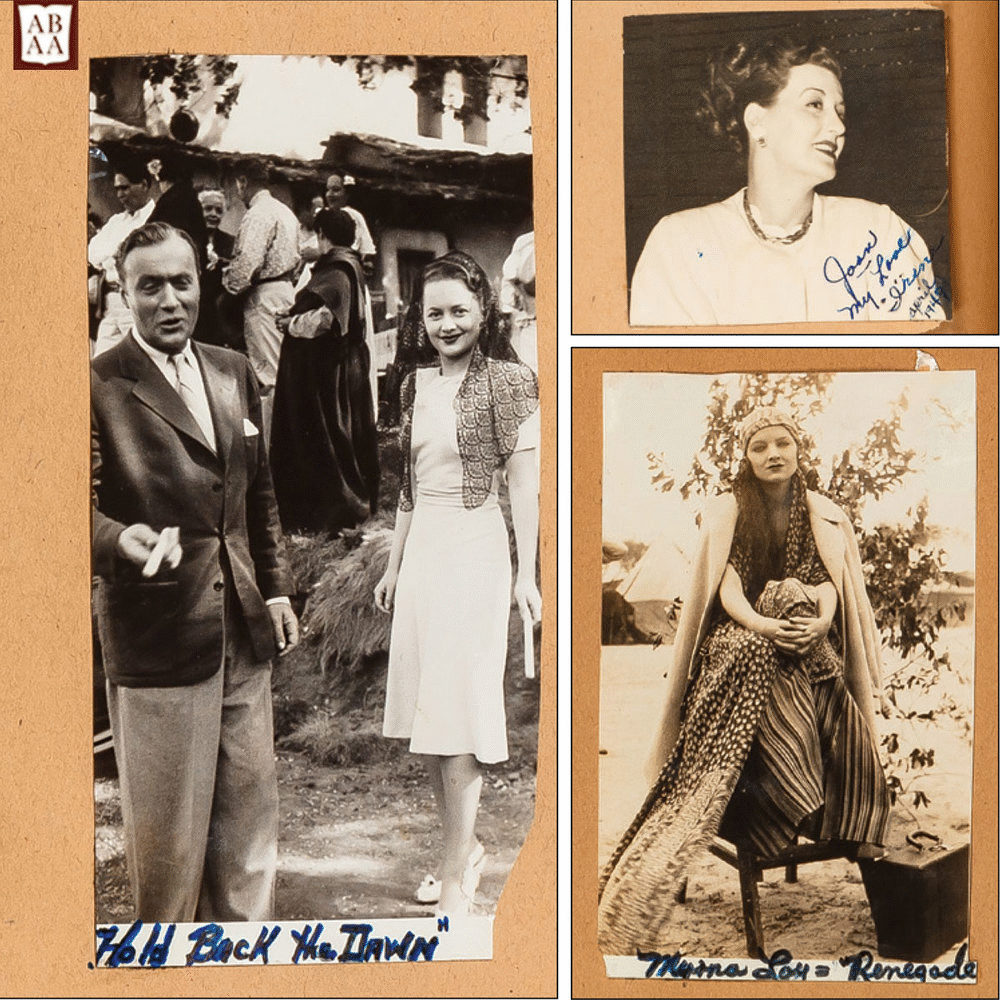 Oblong folio measuring 14" x 11". Screw bound album. Contains 347 sepia-toned, color, or black and white silver gelatin photographs measuring between ½" x ½" and 7" x 8" with captions. Good only album lacking the front cover with detached and chipped and torn pages with near fine photographs. An extensive scrapbook and photo album compiled by an actress documenting her work in Hollywood between 1930 and 1970. Born in Syria, her family immigrated to the United States and settled in Virginia. Eventually she pursued a career in Hollywood where she was a dancer, actress, and double. The album details her work with images of her on set with other actors and in costumes, sometimes with the prints cut in shapes and occasionally with accompanying newspaper articles. She was usually cast as an "exotic" character and was featured in films such as Garden of Allah with Marlene Dietrich, and is seen in candids here from Tropical Holiday and The Robe, among others. Many of the photos feature her in midriff bearing costumes. Other films include Hold Back the Dawn with Olivia De Havilland and Charles Boyer, Gamble, The Fisherman, and Suicide Fleet, and more.
In a series of photos from the 1931 film Renegade, there is a behind the scenes image of Myrna Loy, who similarly started her career portraying "exotics." Although she obviously appeared in numerous films with top tier actors, she was rarely credited. Included are photos of Victor Mature, Irene Dunne, and Robert Vaughn. Off screen, photos show her posed with friends and family around the Los Angeles area, usually in fashionable clothing and hats, as well as visiting family in Virginia. Many of the photos show her with Hollywood friends at nightclubs and bars having drinks between filming. Towards the end of the album there are photos of her in costume on the set of the 1969 adaptation of Hello Dolly starring Barbara Streisand. A wonderful collection of photographs detailing the career of a working Hollywood extra and dancer over 40 years.
Offered by Between the Covers Rare Books, and featured in "Catalog 233: Women" (item #25).
Catalog 57 -- Sustained Ambitions or, The Eccentricities of Endurance
ANDREW CAHAN, BOOKSELLER, LTD.
Catalog #88, Medical Books from the Fifteenth to the Twentieth Centuries -- This catalog is print-only. To request a copy, contact MedBks@aol.com...
Featured item:
Exceptional Metamorphosis Overlays of a Man and Women with 97 Overlays - Clothes Make the Man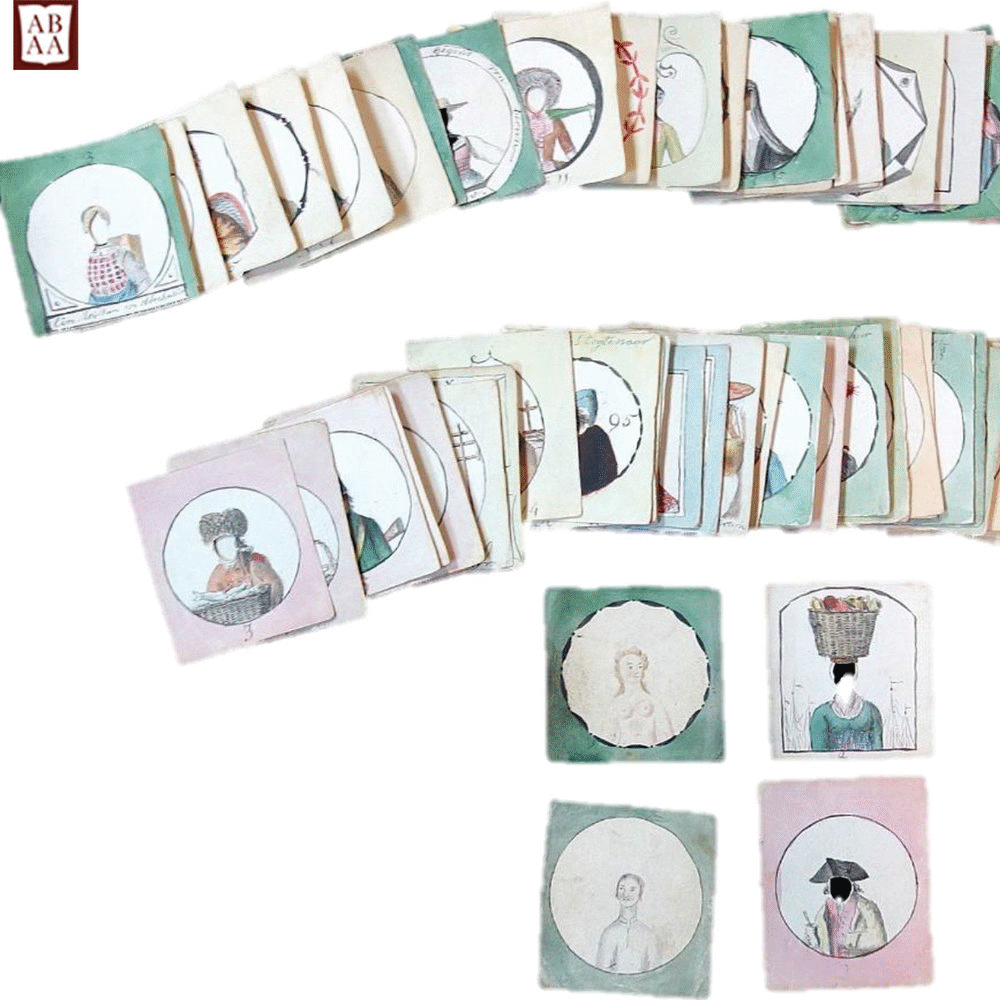 Netherlands. 1808. The entire content is original art. Comprised of 3" x 2 ¼" portrait cards of a nude woman and man in an undershirt. The women has forty-six (46) cut-paper watercolor overlays and the man has fifty-one (51) cut-paper watercolor overlays. In all ninety-seven (97) different possible portraits, spanning professions, fashions and extraordinary hairstyle One of the female overlays (no.10) is dated 1808. Each with a half-length or head and shoulder drawings with cut-outs to expose the face of the portrait. Some with more intricate cuts to provide accessories for the costume or change the character of the face. Somewhat unusual is the fact that the set represents both female and male faces in two separate base portraits. Housed in a paper covered pressed board box with a separation at center. The box most likely is not contemporary to the piece and added at some time in the 19th century. Each is numbered. Exceptional.
Offered by Eclectibles, and featured in their new catalog "RBMS (Part 2)" (item #3).
RODGER FRIEDMAN RARE BOOK STUDIO
OCCASIONAL LIST 22: A Miscellany: Original Art Work; Small Archive of Major English Watercolourist; Interesting Theatrical Pieces; Manuscript Material, Etc., Etc. -- available on request from fgrare@fgrarebooks.com...
THOMAS A. GOLDWASSER RARE BOOKS
DAVID A. HAMILTON AMERICANA BOOKS
Featured item:
Staten Island and the Narrows: from Fort Hamilton. Frances F. Palmer.

New York: Currier and Ives, 152 Nassau Street, 1861. Hand-coloured lithograph. Very good condition. Image size (including text): 15 3/4 x 20 1/8 inches. Sheet size: 19 1/4 x 23 3/4 inches. A wonderful view of New York, with Staten Island seen in the distance.
Offered by Donald A. Heald Rare Books, and featured in their new catalog, "City Views" (item #5420).
JONATHAN A. HILL, BOOKSELLER, INC.
Featured item: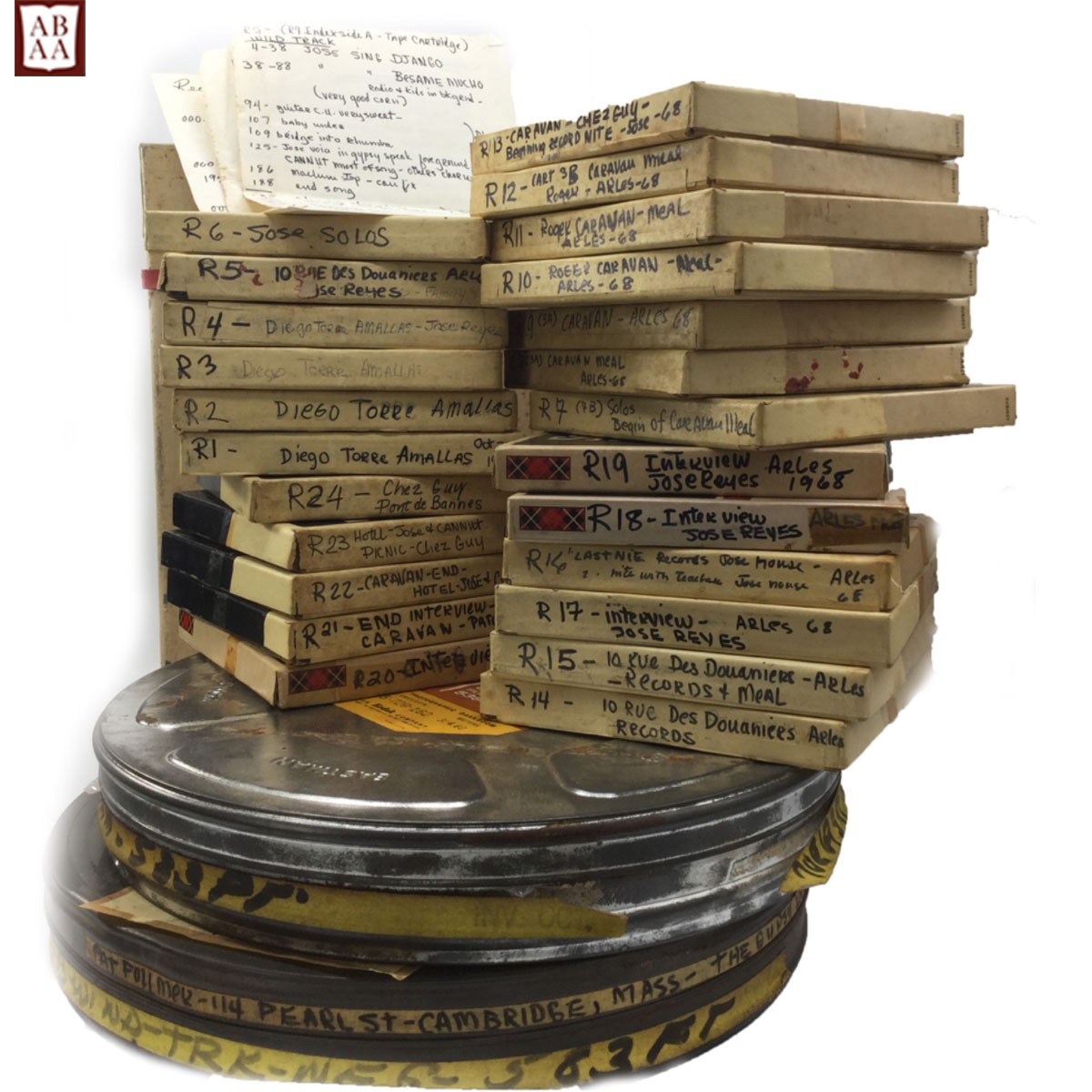 An archive of heretofore unknown audio and film recordings of the Gipsy Kings, a family of Romani gypsies based in Spain and France who rose to fame in the 1980s and are credited with bringing the sounds of progressive pop-oriented flamenco to a worldwide audience. Their lives and music were documented in 1968 by Patricia Follmer, a Hollywood film editor and producer.
Little is known about Follmer, who wrote an article about her life with the gypsies that appeared in the July 1974 issue of Harper's Magazine. It is very likely Patricia Follmer is Pat Follmer, a Hollywood editor and producer who edited the cult classic Teenage Gang Debs (1966). Follmer made several films with Joe Sarno, a pioneer of the sexploitation genre of the 1950s and '60s. Research uncovered a few Patricia Follmer references in relation to her travels. For example, "Stolen by Gypsies", Sam Hudson's reporting on Pat Follmer's story about her life with the Gypsies, was broadcast in 1970 on a popular Seattle public radio television station.
This archive, salvaged from the flood waters of Hurricane Katrina in New Orleans in 2005, includes 24 reel-to-reel audio recordings and three 16 mm films, all of which are presumably the same print of a single film. Four of the reel-to-reel recordings have been digitized and are provided with this archive. The other audio recordings are in need of some cleaning and light conservation before they can be played or digitized.
Offered by Johnson Rare Books & Archives, and featured in their new catalog "
RBMS List
" (page 7).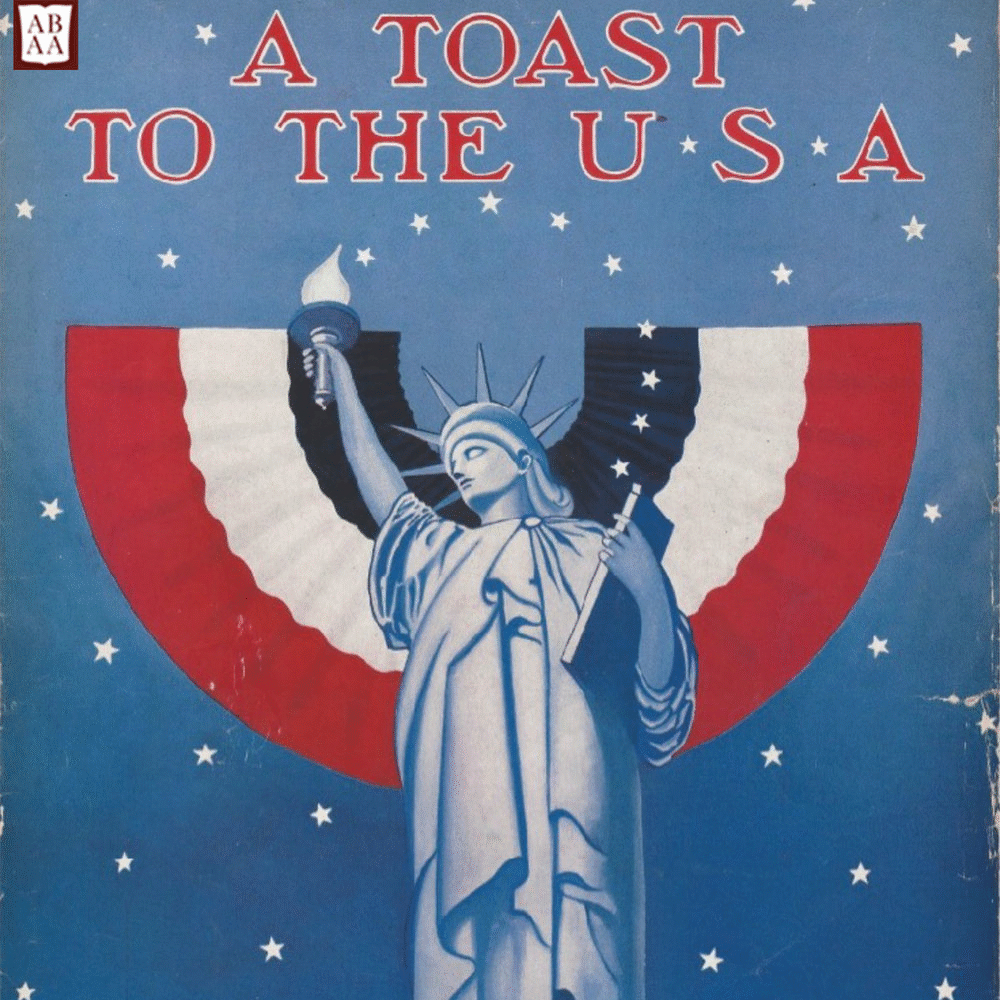 Featured item:
Sibyl Rubottom and Jim Machacek, Spice Market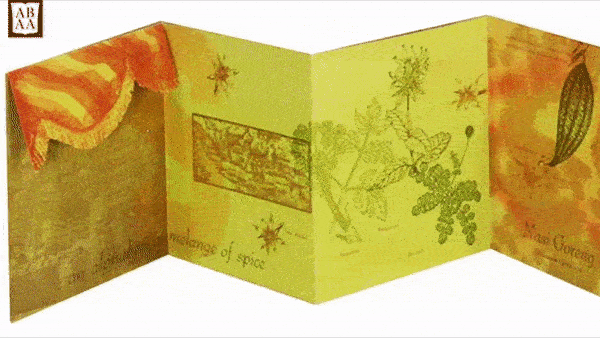 San Diego: Bay Park Press, 2004. Number 23 of 40 copies. Signed and numbered by the book artists. This engaging accordion book is an alphabetical melange of spice. Various spices are described by definition, quotes, or history, and accompanied by lovely images on tan color pages that were hand-tinted with spice dyes. Some of the pages had an "intoxicating 14 runs through the press." The accordion text pages are encased in stiff paper covers, with the top flap cut out in the shape of leaves. Comes in a burlap drawstring bag with title and press name printed on a label attached by string. In fine condition. 4.5 x5 inches.
Founded by Sibyl Rubottom and Jim Machacek in 2000, their press produces artists' books, offers classes, and holds book arts' exhibitions. Their books address a wide range of subjects from the universe to gardening to opera to Yiddish and more. Most are letterpress printed, many have moveable pieces, and all are illustrated. Visiting artists including Carolyn LaFrance and others regularly print books at the press.
Offered by Kelmscott Books, and featured in their new catalog "Alphabet Books."
RBMS list of Gastronomy Books and Manuscripts,1502-1875 -- available on request from bkinmont@gmail.com

*New*
JOHN W. KNOTT, JR., BOOKSELLER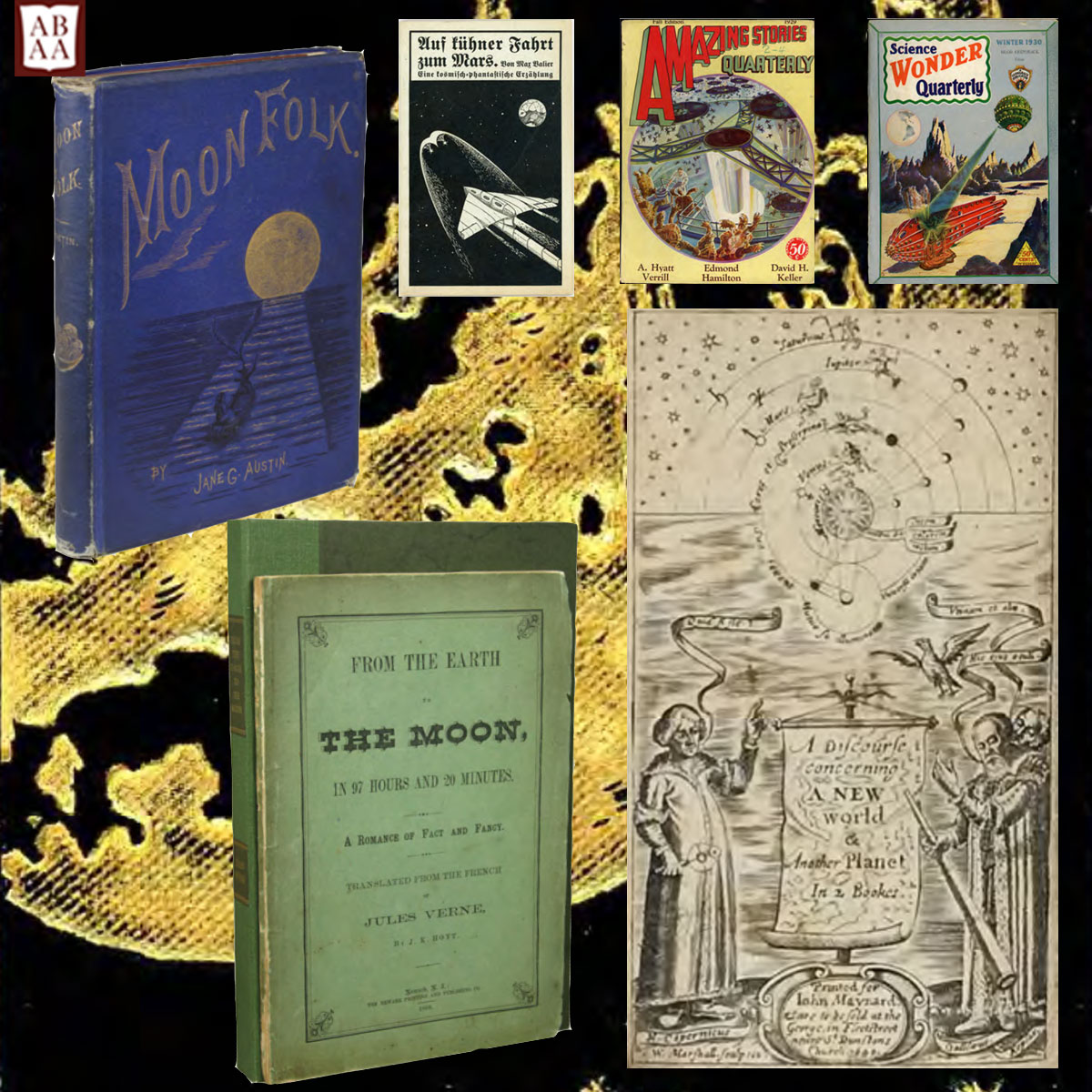 Catalog #74: 100 Rare Books -- with an emphasis on history and military affairs. Please request from mail@kubikbooks.com...
MICHAEL LAIRD RARE BOOK & MANUSCRIPTS
Featured item:

Banks, Spencer T., Original Artwork for a Weekly All African American Comic Strip, "Pokenia."
(St. Louis, Missouri: 1939). Sixteen pen and ink multi-panel comic strips on artist's board measuring from 63⁄4" x 141⁄4" to 71⁄4" x 17". Generally good plus to very good, all with moderate to heavy edge wear, occasional chip, stain or crease; artwork is crisp and fresh.
This is a collection of original art for a comic strip entitled, "Pokenia." The artist, Spencer T. Banks served in the Navy during World War II and ultimately made a living in St. Louis as a commercial artist. His works were displayed at the City Art Museum in exhibits of African American artists sponsored by the St. Louis Urban League in both 1939 and 1941. A 1946 article in the St. Louis Post-Dispatch described Banks' works that were exhibited at the People's Art Center. It stated he trained at that facility and that he was going to attend the Art Institute in Chicago, though we have been unable to determine if he ever enrolled.
Pokenia was apparently meant to be a soap opera continuity strip à la Mary Worth, a genre which started gaining popularity in the 1940s. Alice Ormes' "Torchy Brown in Dixie To Harlem" began running at the Pittsburgh Courier in 1937 and was one of the first strips centered on a black female character. The strips we have are sequentially numbered in pencil: 3-7, 9-18 and 30. Strip number 3 shows Pokenia receiving a sales job at a department store. Her looks caused the other women at the store to fear they would lose their husbands or boyfriends to Pokenia. She worked at the flowers counter in a store where all the employees and patrons appear to be African American. We see men fawning over her, her rejection of the advances of her floor supervisor, Jammey B. Fullasoot, and her slowly developing romantic relationship with the store's bookkeeper, Eddie. She also showed her integrity when she found her boss' wallet and returned it whole. The last strip showed Eddie awakening a recently passed-out Pokenia, but without the preceding or subsequent installments, we don't know the background or what happened next.
According to the good folks at the St. Louis County Library, Banks published two strips in the St. Louis Argus starting around September, 1939: Pokenia and another called "Pookie." We are unable to determine if he successfully syndicated them. Comic strips featuring a mostly black cast done by African American artists are infrequent entrants in the historical record. In "Black Comics: Politics of Race and Representation" (London: Bloomsbury, 2013), Dr. Sheena R. Howard documented several early comic strips featuring African American characters created by black artists. These include "Bungleton Green" at the Chicago Defender which began in 1920, "Sunny Boy Sam" at the Pittsburgh Courier which started in 1928 and Ollie Harrington's "Dark Laughter" in 1935. These are therefore early examples of a comic strip by a black artist featuring African
American characters as well as one of the earliest to have a woman as its central character. Unique and worthy of further research.
Offered by Langdon Manor Books, and featured in "Catalog 8: African Americana" (item #15).
DAVID M. LESSER, FINE ANTIQUARIAN BOOKS
LIBER ANTIQUUS, EARLY PRINTED BOOKS & MANUSCRIPTS
J. & J. LUBRANO MUSIC ANTIQUARIANS
Featured item: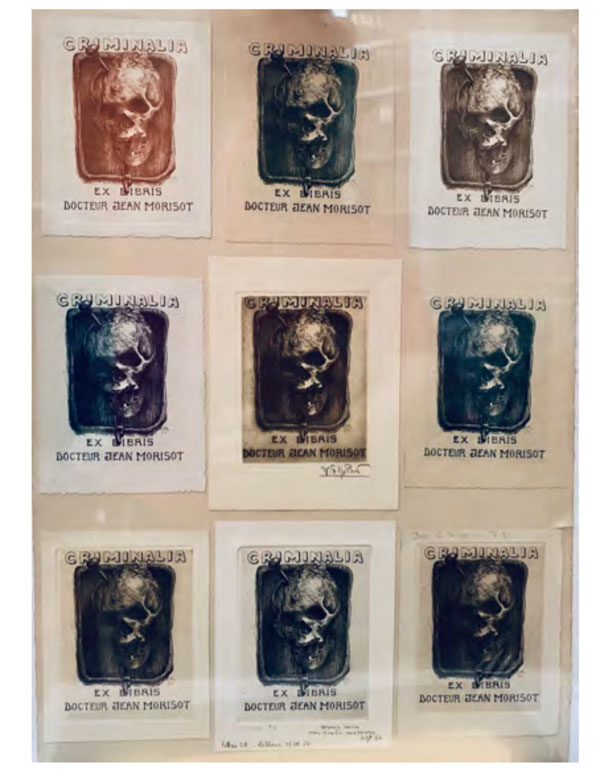 Jean Morisot, nd. Discrete pencil notations, else bright and clean. Nine bookplates on various papers and ink colors. Near Fine. (#9041) $750.00 A set of bookplates designed by Morisot for his crime library featuring a human skull. Morisot was best known for his erotic engravings.
Offered by Lux Mentis Booksellers, and featured in their new catalog "It's a Crime to Miss RBMS" (item #17).
MAIN STREET FINE BOOKS & MANUSCRIPTS
E-List #8: New Arrivals -- 34 recent acquisitions include a meaty Vietnam War archive of letters, a nice selection of autograph material, medallions, plus an eclectic selection of books.
Illustrated Catalog on Carlos Merida (1891–1984) -- Mexican painter, sculptor, writer and graphic designer -- available by request from mmbooks@comcast.net
BRUCE MCKITTRICK RARE BOOKS, INC.
R & A PETRILLA, ANTIQUARIAN BOOKSELLERS
Featured item:
ALADDIN HOMES, "BUILT IN A DAY" -- Catalog No. 29, 1917.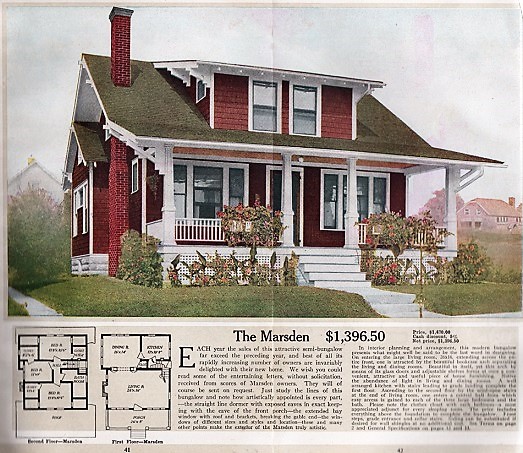 Bay City, Michigan: Aladdin Company, 1917. First Edition. Hardcover. pp: 120, (4)order form & ads; illustrations throughout, many in color, some folding. Bound in black grained cloth, gilt cover title, spine roughened. 8.75" x 5.5" Good.
Early pages explain The Aladdin Plan; their Board of Seven designers, builders and manufacturers; conservation of materials; etc. Most of the book presents a wide variety of residential styles with explanatory text, architectural renderings (many in color), floor plans, and prices.
Offered R&A Petrilla, Antiquarian Booksellers, and featured in their new catalog, "Trade Catalogs."
PHILADELPHIA RARE BOOKS & MANUSCRIPTS
PHILLIP J. PIRAGES FINE BOOKS & MEDIEVAL MANUSCRIPTS
RABELAIS BOOKS ON FOOD & DRINK
RICHARD C. RAMER, OLD & RARE BOOKS
B&L ROOTENBERG RARE BOOKS & MANUSCRIPTS
BARRY LAWRENCE RUDERMAN ANTIQUE MAPS, INC.
California Book Fair 2019: 130 Items on Science and Medicine is now available on request from scientiabk@gmail.com...
MARC SELVAGGIO, BOOKS & EPHEMERA
Catalog 148: Our Material Culture - A Selection of American and European trade catalogues for retail & wholesale markets, 1870-1965, with a particular emphasis on catalogues from France.
MICHAEL R. THOMPSON RARE BOOKS
JOHN WINDLE ANTIQUARIAN BOOKSELLER
Featured item:
Michael Hague, original watercolor of the Wicked Witch of the East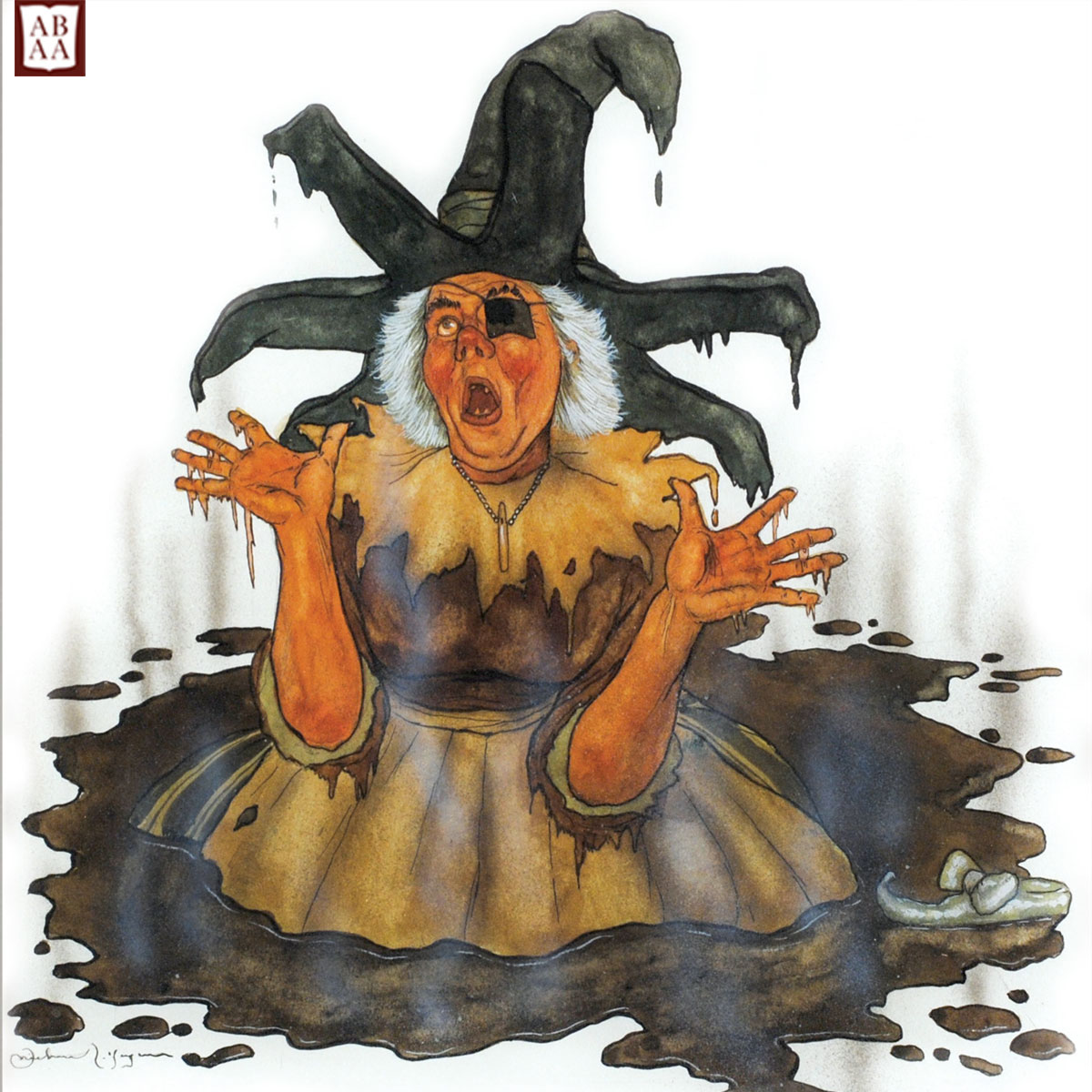 N.d. [before 1982]. Original watercolor painting on board, 9 5/8 x 11", signed by the artist with publisher's production marks and pencil notes in the margins and on a label affixed to verso, mounted; very good. § Original watercolor illustration by Michael Hague for L. Frank Baum's The Wizard of Oz, a new edition published by Holt in 1982. This illustration appeared on page 134 and depicts the Wicked Witch of the East melting after Dorothy has doused her in water, one of her silver slippers is strewn to the side of the puddle she is becoming. Hague is an American illustrator of mainly children's classics such as The Wind in the Willows, The Wizard of Oz, The Hobbit and the stories of Hans Christian Andersen. As can be seen in this painting, Hague is renowned for his rich color palette, and his fantastic eye for intricate detail.
Offered by John Windle Antiquarian Bookseller, and featured in their catalog "12 Works of Original Illustration" (item #4).
--
Remember, you can always browse and download the latest catalogs published by ABAA members on ABAA.org by visiting the following link: https://www.abaa.org/catalog/... (You can also access this page by selecting 'Booksellers' from the top menu, scroll to the bottom of the page to 'Member Catalogs', and click on 'View All'.)
---
Get to know the members of the ABAA...