Browse the latest catalogs, newsletters, and e-lists of rare books, fine bindings, incunabula, print ephemera, and much more from the members of the ABAA below. (Also includes podcasts, blog posts, and other digital formats.)
*New* indicates any catalogs brought to our attention since the end of November 2021.
AARDVARK BOOKS/EZRA TISHMAN BOOK APPRAISALS
ANTIPODEAN BOOKS, MAPS, PRINTS
W. C. BAKER RARE BOOKS & EPHEMERA
"A Short list of auction and bookseller catalogues on historic and designer bindings." A .pdf is available upon request from robin.bledsoe1@verizon.net...
Featured item:
BAYNTUN, binder. !e Rubáiyát of Omar Khayyám. With Twelve Hand-colored Plates after Drawings by Gilbert James.
London: George Routledge and Sons, Limited, [ca. 1904-1908]. Deluxe edition of 250? copies with the photogravure plates hand colored. Small quarto. Twelve !ne hand-colored photogravure plates including frontispiece, all with original tissue-guards. Bound by Bayntun of Bath ca. 1910. Full turquoise crushed levant morocco, front cover double-ruled in gilt surrounding two elaborate wide borders of grapevines inlaid in purple, brown and dark green morocco's within a border of elaborate gilt pointille. "e large center panel with an inlaid multi-colored morocco and gilt decorated !gure based on the hand-colored frontispiece. Above and below the inlaid !gure are two panels enclosing the the title in decorative gilt. Lower cover bordered in gilt and black. Spine with !ve raised bands, decoratively inlaid with leaves and bunches of grapes in dark green and purple morocco's. Five of the panels with elaborate gilt pointille, the remaining one lettered in gilt. Gilt ruled board-edges, and turn-ins, cream watered silk liners and end-leaves, all edges gilt. A spectacular example of an early 'Bayntun Rubaiyat'. Housed in a later? #eece-lined blue cloth slipcase.
Gilbert Penrose JAMES (1865-1941) was one of the earliest and most proli!c of the artists to take up the challenge of providing illustrations for FitzGerald's verses and his work was reprinted many times in dierent forms during the twentieth century. "e photogravure edition gives us some measure of James's commercial success at this time, for it ran to several editions involving at least 18,000 copies by 1912. Born in West Derby, Liverpool, he worked as a clerk in a corn merchant's oce, and became a close friend of the artist Sidney H. Sime, who is best known today for his extraordinary fantasy illustrations. Whether or not the two things are connected is unclear, but James did turn from oce work to art.
Offered by David Brass Rare Books and found in "Holiday Gift Catalogue."
Featured item:
Angelus. 300 Distinctive Homes. 4th Volume [cover title].
Los Angeles: Angelus House-Plan Service Company, 1928. Oblong 4to. 108 lithographed pages presenting samples of plans and exterior photographs for 300 homes, interspersed with full-page advertisements for building materials (i.e., Hawthorne roofing tiles), designed and printed by Los Angeles Lithograph Co, Inc. Color illustrated wrappers; light shelfwear, a few corners creased. Catalogue for the Angelus House-Plan Service Company, presenting 300 plans for single-family homes, encompassing a range of aesthetics — Spanish mission and Spanish colonial revival, Craftsman and Tudor. Stock plans are priced, based on square footage, from $18 to $65, with several custom options regarding exterior wall and basement construction, garage size and lot orientation available. In addition, the company offers custom home plans drawn up from answers to a short list of questions provided by the client. This copy of the catalogue includes the unused stock and custom home plan order sheets.
A useful sourcebook for the medley of styles prevalent in the residential neighborhoods of southern California and the Southwest developed in the 1920s and '30s.
Offered by Bull's Head Rare Books and found in "Catalogue Two."
ANDREW CAHAN, BOOKSELLER, LTD.
Featured item:
The Story of the Malakand Field Force. Lord Curzon's copy of Churchill's first published book, signed by Curzon and inscribed and dated by Churchill in India on 13 March 1899 during Curzon's first months as Viceroy of India Longmans, Green, & Co., London, 1899
This is a signed copy of Winston S. Churchill's first published book, rendered remarkably compelling by association, time, place, and the nature of the signature itself. This first printing of the second, Silver Library edition of The Story of the Malakand Field Force belonged to the last Victorian Viceroy of India, Lord George Nathaniel Curzon, bears Curzon's signature, and was signed and dated by Winston S. Churchill, in India, on 13 March 1899.
The inscription and signature
Curzon's characteristically bold and simple signature "Curzon" is in blue on the front free endpaper recto. Churchill signed and dated the upper half title in two lines in black "Winston Spencer Churchill | March. 13. 1899". The use of the full, formal "Spencer" rather than simply "S." is quite unusual, typically found only in Churchill's earliest signatures and scarce even among these. It seems plausible to speculate that the formality reflected the moment, the young cavalry subaltern being at the time the guest of the newly appointed Viceroy and evidently much impressed by his host.
The moment
Fortunately, we know much about the time and circumstances that prompted this signed presentation copy. In December 1898, Lord Curzon, not yet 40, left England to assume his duties as the newly-appointed Viceroy of India. That same December, 24-yearold Winston Churchill, newly returned to England from the battlefield at Omdurman in the Sudan, also left for India. Churchill's purpose - less exalted than that of Curzon – was to take part in the Inter-Regimental Polo Tournament.
Their two arcs would converge a few months later in Calcutta, when the newly-minted Viceroy of India hosted the itinerant war correspondent, cavalry officer, budding author, and aspiring politician. Churchill's Official Biography informs us that "On his way back from the Inter-Regimental Polo Tournament, Churchill stayed for a week with the Viceroy of Calcutta." This stay occurred in early March 1899. (R. Churchill, Vol. I, p.436)
Two years earlier, in a 25 February 1897 letter to his mother, Churchill had cited – with youthful vehemence and certainty – his detestation of Curzon, whom he called "blown with conceit – insolent from undeserved success – the typification of the superior Oxford prig." Worth noting, all but the "Oxford" epithet might have been applied to Churchill by others.
During his stay with Curzon and his wife in India, Churchill's opinion clearly changed and "All of his previous hostility evaporated under the impact of the Curzon charm". (R. Churchill, Vol. I, p.436) Now fondly impressed, Churchill wrote to his mother from Calcutta on 2 March 1899: "I have found him very delightful to talk to. His manners are wonderful. All the aggressiveness wh irritated me at home is gone… I fear he works too hard – nearly eleven hours every single day…" To his grandmother Churchill wrote on 26 March "I spent a pleasant week at Calcutta & had several long and delightful talks with Lord Curzon. I understand the success he has obtained. He is a remarkable man…"
Indications are that the favorable impression was mutual. It also appears that The Story of the Malakand Field Force had been well received. Lady Curzon wrote to Churchill's mother on 14 March 1899 "People in India have an immense opinion of Winston & his book." (R. Churchill, Vol. I, p.436)
Offered by Churchill Book Collector and found in "Inhabited by Winston."
DE SIMONE COMPANY, BOOKSELLERS
Catalog #88, Medical Books from the Fifteenth to the Twentieth Centuries -- This catalog is print-only. To request a copy, contact MedBks@aol.com...
Featured item:
[Record of a Japanese in America] Aru zaibei nihonjin no kiroku [2 volumes, complete]
Koide, Jo "Joseph"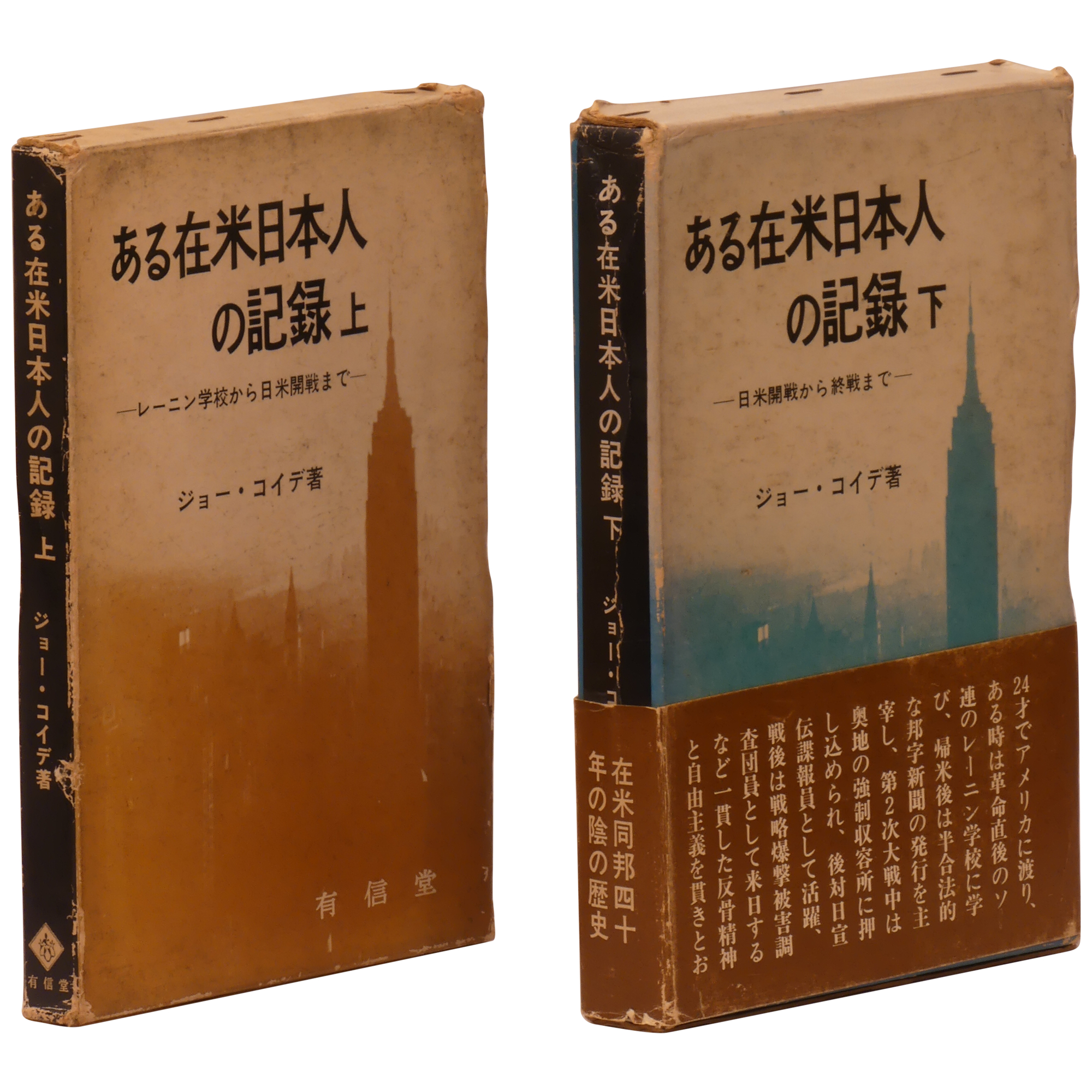 Notes: "An autobiography of an Issei leftist, a native of Tokyo and a graduate of Aoyama Gakuin. The first volume covers the period prior to World War II and includes his years in the Soviet Union; the second treats his wartime internment experience and his service to the American government from 1944." —A Buried Past, 808.

Koide (1902–ca. 1976) trained at the Lenin International School in Moscow in the 1930s, yet in spite of his strong Communist ties, he joined the Office of Strategic Services (OSS) during the Second World War. He is profiled in Asian American Spies: How Asian Americans Helped Win the Allied Victory by Brian Masaru Hayashi (Oxford University Press, 2021). According to Hideo Hoshide, another Japanese American who worked for the OSS, Koide (a pseudonym) was the leader of the Japanese section of the OSS during the Second World War. See Densho Digital Archive.

A unique perspective on the Japanese American experience. Your cataloguer could not determine what happened to Koide after these memoirs were published.
Edition + Condition: First editions of both volumes. Near fine copies of both volumes in very good slipcases. Volume two has the original obi (bellyband).
Publication: Tokyo: Yushindo, 1967–1970.
Offered by Downtown Brown Books and foundd in "Catalog 61: Japanese Americana."
Featured item:
A Christmas Stocking Full of Good Things. Harriet E. Manchester (selector) Peter Paul & Bro.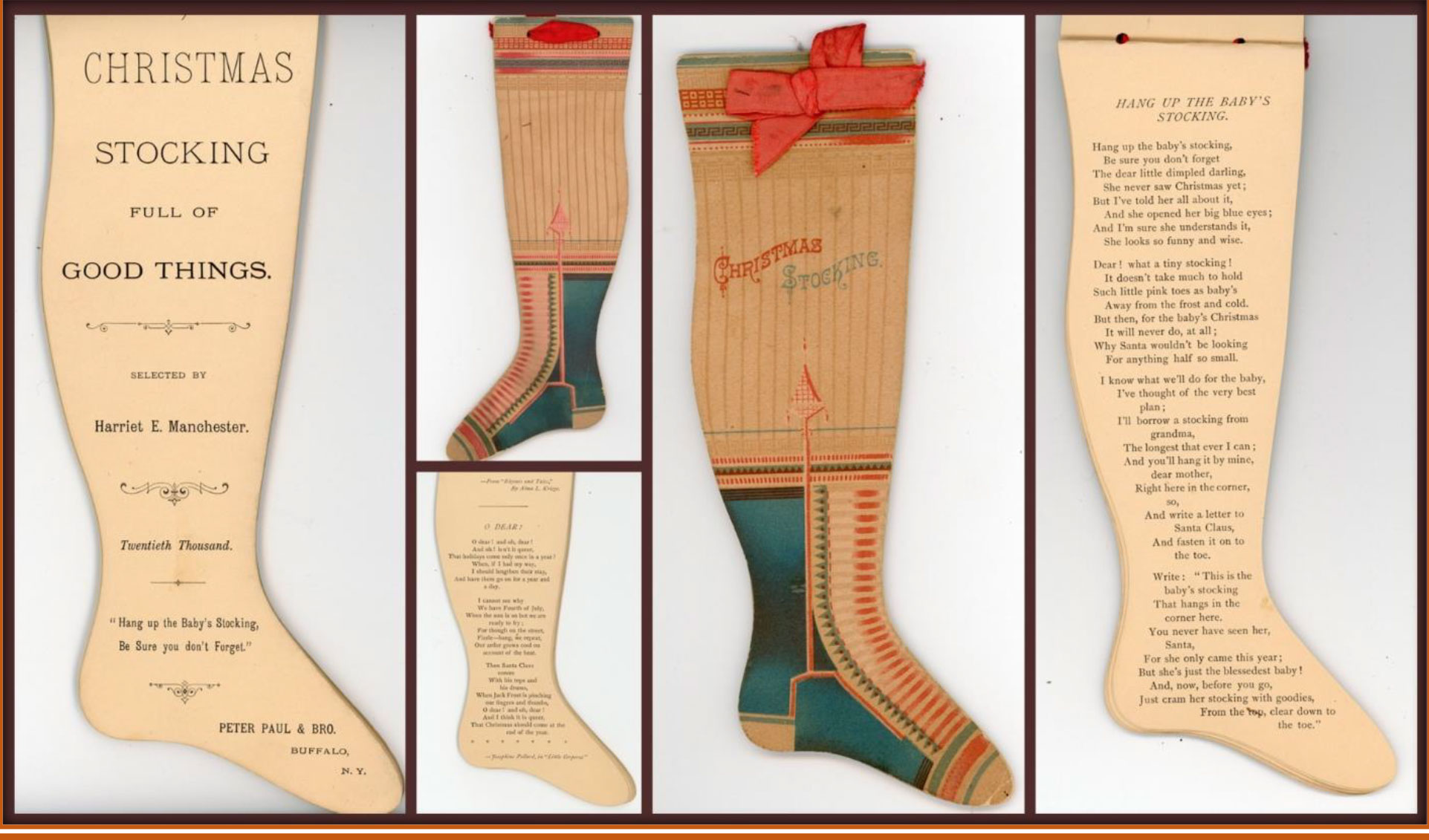 Buffalo, NY. 1880. Twentieth Thousand. 20 pp. Press of the Courier Company. 9 ½" x 4 ½". Illustrated wraps, die-cut in the shape of a stocking with ribbon tie binding. Selections include Christmas Eve, Old Santa Claus, Katie's Wants, Christmas night in the Quarter and many more. All are attributed; many from contemporary periodicals.
Offered by Eclectibles and found in "E-list 84."
Comic collection of William "Gatz" Hjortsberg -- Details available upon request from info@elkriverbooks.com...
RODGER FRIEDMAN RARE BOOK STUDIO
Featured item:
Four OCE Ammonia Printer advertising brochures [Sexist Advertising in Computing & Printing].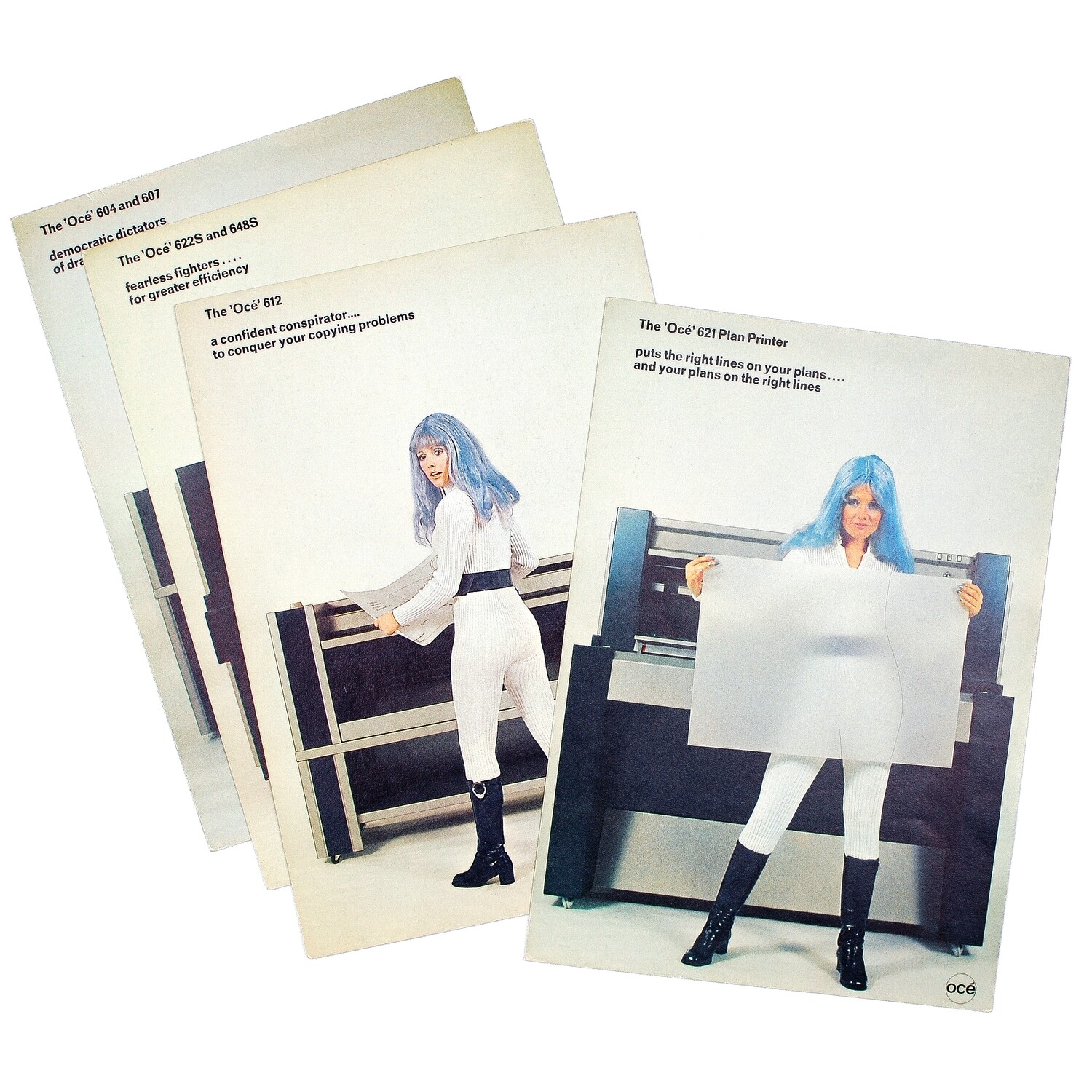 Venlo, Netherlands: Van Der Grinten N.V., [1973]. 300 by 210mm (11¾ by 8¼ inches). Four advertising brochures, each 4 pp. (1 folded piece of cardboard).
1) Oce 622S and 648S;
2) Oce 621 Plan Printer;
3) Oce 604 and 607;
4) Oce 612.
In English. Each brochure depicts a "Bond-girl" in a white unitard, high black boots and blue hair posing prominently in front of the newest ammonia printer.
Very good with light wear.
Classic "Mad-Men" sexist advertising to sell printers and copiers.
Oce printers comprise an important part of computing and printing history. The company started in 1877 experimenting with various dyes. That knowledge was then applied to blueprint technology as early as 1920. During the 1960's and 1970's the company produced massive copying and printing machines. The machines subject of all these advertising brochures are based on an ammonia combination printing process and were sold by the company between 1973 and 1975. In 2009 Canon Production Printing took over the company.
In addition to the "sex sells" angle, there is some fairly unique advertising copy. For example for the Oce 604 & 607:
"Democratic dictators of drawing office efficiency.
The Oce 604 or 607 Plan Printer, like some politicians, starts off as a democrat and ends up a benevolent dictator. You don't have to elect to use it - there are plenty of other plan printers - but once you do - the democrat become a dictator!"
Clearly playing off a James Bond theme, the advert for the Oce 612 states:
"A confident conspirator... to conquer your copying problems.
At the mention of the word 'conspirator' most of us get a mental picture of silent men with black beards, secret codes, time bombs in attaché cases, revenge and revolution.
But there are more acceptable conspirators... If it's a copying problem in the drawing office more and more managements are conquering these problems by introducing one of those confident conspirators, the Oce 612 Plan Printer, into their conspirational circle."
A nice addition for those interested in the history of computing and printers or the history of advertising.
Offered by Mark Funke, Bookseller and found in "January Fresh Sheet."
OCCASIONAL LIST 22: A Miscellany: Original Art Work; Small Archive of Major English Watercolourist; Interesting Theatrical Pieces; Manuscript Material, Etc., Etc. -- available on request from fgrare@fgrarebooks.com...
Has the following lists available: California, Texas, Kansas, Missouri, Minnesota, Iowa, Nebraska, Oregon, Louisiana, Colorado, Ohio and New York. Will email to interested parties. Contact info@ginsbook.com to request...
THOMAS A. GOLDWASSER RARE BOOKS
DAVID A. HAMILTON AMERICANA BOOKS
Featured item:
[THOMAS AQUINAS]. Summa theologicae pars tertia.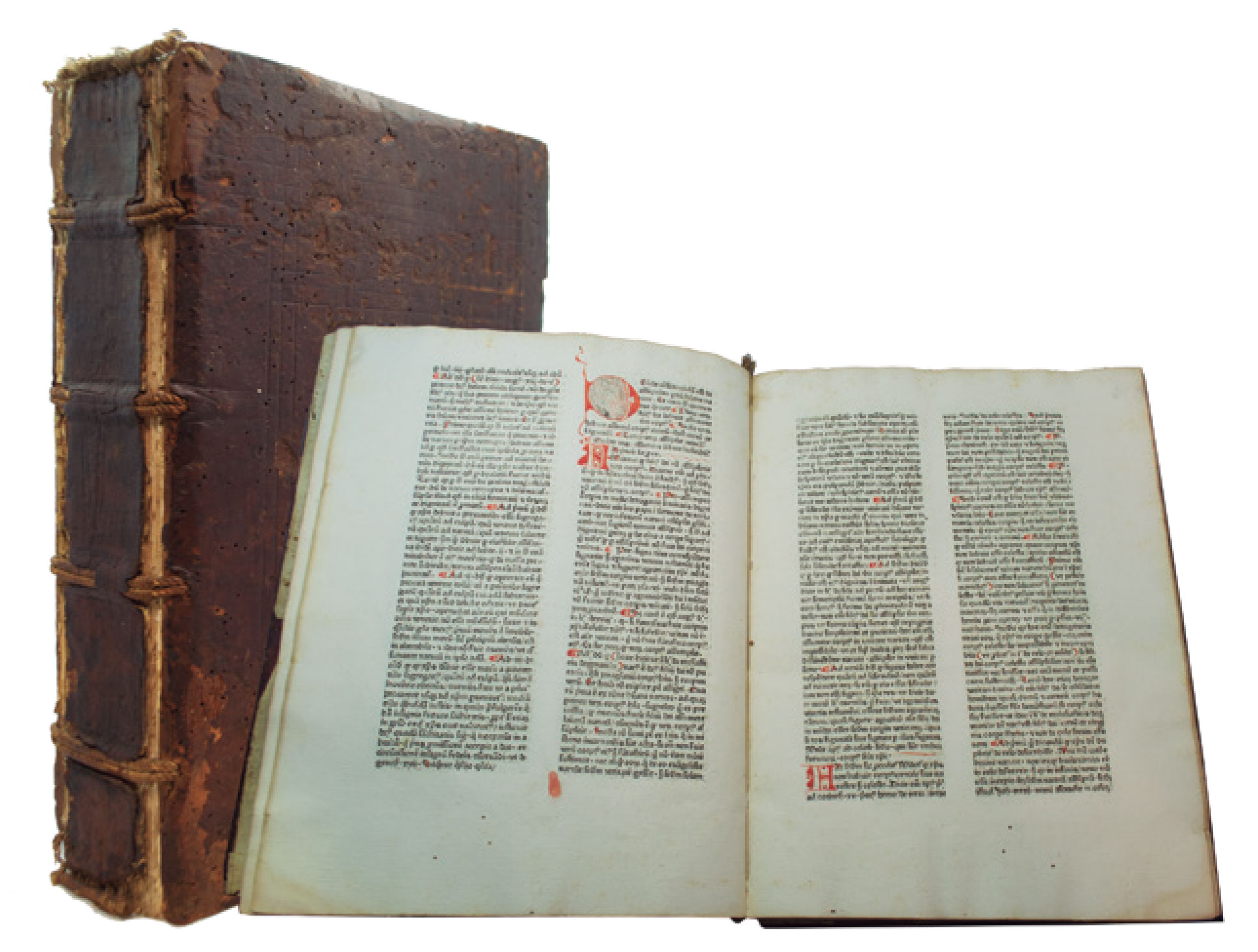 [Basel: Michael Wenssler, not after 1474]. First edition of the third part of Aquinas's great unfinished work. Each part of the Summa has its own separate printing history and bibliography; this third part addresses Christology. Royal folio (15 3/8 x 11 1/4 inches; 390 x 285 mm.). [2, blank], [270], [2, blank] leaves. With numerous rubricated initials, several with infill designs. The initial on the first page is ten lines with elaborate infill. Numerous other 6 and 7-line initials with infill. And several 3-line rubricated initials throughout. Text in two columns.
This third part of the Summa theologicae is very rare. Other than this present copy, the Rutman (sold twice) and Schoyen copies are the only copies on Rare Book Hub and ABPC in the past 100 years. Contemporary calf over wooden boards. Boards ruled in blind. Boards with chipping and loss of calf. An old sewn repair to calf on front board. Hinges are cracked and loose, but holding. With remnants of brass clasps. Leaves with some occasional toning. Some minor dampstaining along some inner margins and outer corners, not affecting text with the exception of a few letters at the top in the index. Approximately ten leaves with some repairs with some loss of a few letters of text. Some pinhole worming to covers and leaves. Leaf 191 with a corner tear, not affecting text. Previous owner's old ink inscription on top margin of first leaf of text. Fragments of a 12th-century lectionary for the mass used as pastedowns.
Offered by Heritage Bookshop and found in "Holiday 2021."
JONATHAN A. HILL, BOOKSELLER, INC.
Featured item:
Ezra Jack Keats; Sister Mary Corita Kent. The Snowy Day.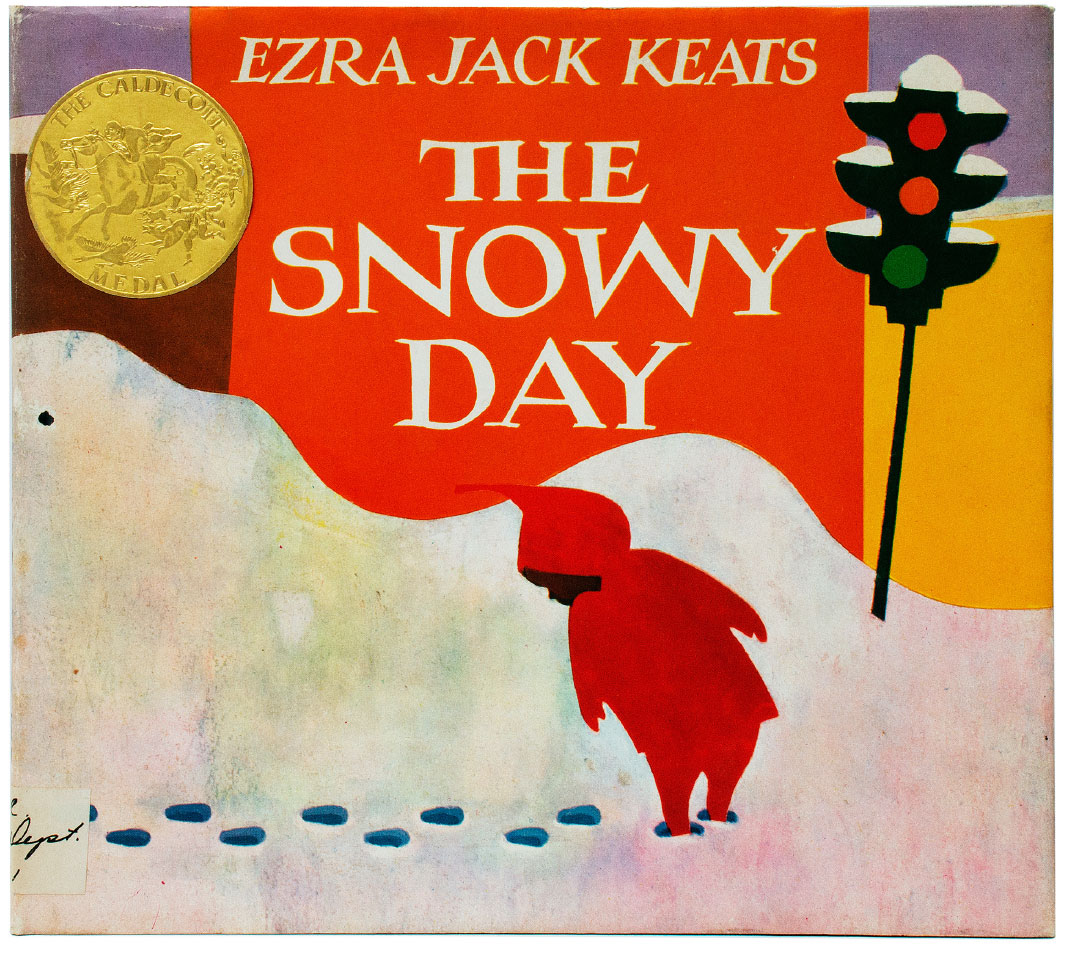 New York: The Viking Press, (1965). Early printing of Ezra Jack Keats's Caldecott-winning picture book, warmly inscribed to fellow artist Sister Corita Kent, then head of the art department at Immaculate Heart College. The joyful story of a city boy's snow day, The Snowy Day was one of the first American children's books to center the experience of a Black child without foregrounding race or racism: "After breakfast he called to his friend from across the hall, and they went out together into the deep, deep snow."
The activist nun known as "Sister Mary Corita" became widely known in the 1960s for her vibrant pop serigraphs on social justice themes, and for the progressive art department she chaired, which attracted guest instructors like John Cage, Charles Eames, and Buckminster Fuller. Forced to leave her position at Immaculate Heart in 1968, Kent moved to Boston, where she continued to create art, including the 1971 "Rainbow Swash" painted on a Boston gas tank (still the largest copyrighted piece of art in the world), and the 1985 LOVE stamp for the United States Postal Service.
This is the sixth printing of The Snowy Day, issued in May 1965, three years after the first printing. A remarkable association copy, bringing together two groundbreaking American graphic artists. Single volume, measuring 8 x 9 inches: 32. Original pale blue pictorial cloth printed in red and white, snowflake-printed endpapers, original unclipped color pictorial dust jacket priced at $3.00, Caldecott medal affixed to front panel. Color illustrations throughout text. Ink presentation inscription on dedication page: "For Sister Mary Corita -- / Best wishes / Ezra Jack Keats." Shelf label of Immaculate Heart College Art Department affixed to jacket spine. Lightest edgewear, tiny circular hole to front jacket panel.
Offered by Honey & Wax Booksellers and found in "January 2022 New Acquisitions."
Jonathan Williams / The Jargon Society: a comprehensive selection of their publications -- The 233-page illustrated catalogue offers over 550 items, including books, manuscripts, letters, photographs and ephemera.
The catalogue is available upon request from james@jamesjaffe.com

*New*

-- There is no digital version of this catalogue.
JOHN W. KNOTT, JR., BOOKSELLER
Catalog #74: 100 Rare Books -- with an emphasis on history and military affairs. Please request from mail@kubikbooks.com...
MICHAEL LAIRD RARE BOOKS & MANUSCRIPTS
DAVID M. LESSER, FINE ANTIQUARIAN BOOKS
LIBER ANTIQUUS, EARLY PRINTED BOOKS & MANUSCRIPTS
J. & J. LUBRANO MUSIC ANTIQUARIANS
STUART LUTZ HISTORIC DOCUMENTS
MAIN STREET FINE BOOKS & MANUSCRIPTS
Featured item:
March on Washington For Jobs and Freedom Pin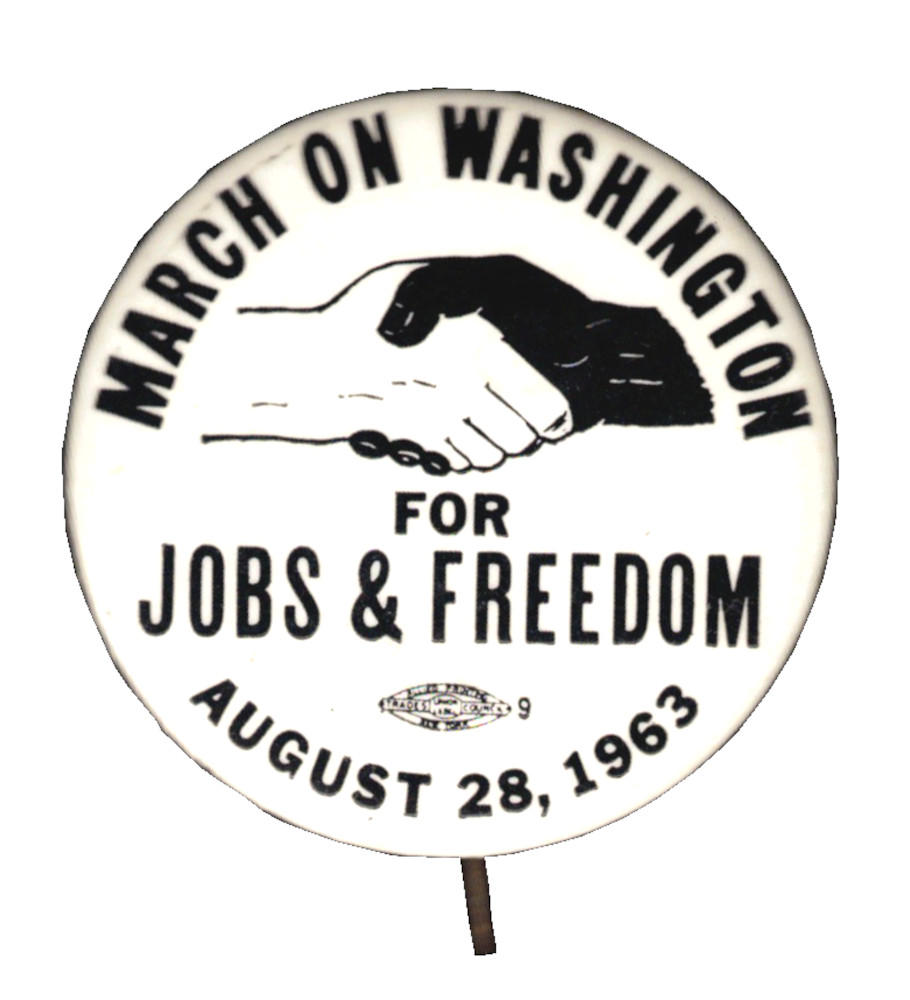 NY: Allied Printing, 1963. 2.5 inches [5.5 cm] diameter. Some light rubbing to the front, tiny spots of rust to the rear, else a nice example, one of two varieties we know of produced.
Original pin produced on the occasion of the August, 1963 March on Washington with the stated goals of the protest being "a comprehensive civil rights bill" that would do away with segregated public accommodations; "protection of the right to vote"; mechanisms for seeking redress of violations of constitutional rights; "desegregation of all public schools in 1963"; a massive federal works program "to train and place unemployed workers"; and "a Federal Fair Employment Practices Act barring discrimination in all employment"
The event was attended by numerous high profile speakers and performers including Joan Baez, Bob Dylan, John Lewis and others, with the high point being the delivery by Martin Luther King Jr. of his "I Have a Dream" speech.
Offered by Kenneth Mallory, Bookseller and found in "New Arrivals Black History."
Illustrated Catalog on Carlos Merida (1891–1984) -- Mexican painter, sculptor, writer and graphic designer -- available by request from mmbooks@comcast.net
MARTAYAN LAN RARE BOOKS & MAPS
BRUCE MCKITTRICK RARE BOOKS, INC.
Featured item:
CARTAGLORIA. A letterpress and engraved portable folding altar card or Cartagloria. [France, ca. 1630]
A folding triptych consisting of three large engraved broadsides with letterpress text, containing 30 scenes and portraits, engraved by Isaac Briot and published by Nicolas de Mathonière, the engravings finely colored by a contemporary hand and illuminated in gold, surrounding letterpress text printed in red and black with 11 illuminated initials; the central panel measuring 538 x 295 mm. (sheet size), the side panels a bit narrower (538 x 273 mm). Illuminated coat of arms of the family Richard de la Barollière added within bottom scene of central panel. The broadsides mounted on three hinged boards, covered in olive goatskin, each broadside Musinsky Rare Books framed in a gold-tooled roll, covers paneled with triple gilt fillets, fleurons at corners and central La Barollière arms, the middle cover lettered in gold capitals "Canon pour la Chappelle du Chasteau de la Barrolliere. Dediée à la Sacrée Vierge du Sainct Rozaire MDCXXXIII." A few tiny chips to broadsides, the paper slightly darkened, a few small splashes of silvery white ink in upper central panel, binding with some minor scrapes and gouges, two covers with dampstain in a lower corner, rubbing to backstrips and extremities. Provenance: Nicolas Richard de la Barollière (d. 1634 or 1635), painted arms & supra-libros.
Offered by Musinsky Rare Books and found in "E-catalogue 23."
Louis M. Jason's book Literary (and Other) Celebrity Doodles II is now available. Contact the store at info@mysterypierbooks.com to order...
R & A PETRILLA, ANTIQUARIAN BOOKSELLERS
PHILADELPHIA RARE BOOKS & MANUSCRIPTS
PHILLIP J. PIRAGES FINE BOOKS & MEDIEVAL MANUSCRIPTS
RABELAIS BOOKS ON FOOD & DRINK
RICHARD C. RAMER, OLD & RARE BOOKS
Featured item:
Jaws (1973) Scfreenplay by Peter Benchley.
Universal City, CA: Universal Studios, 1973. Vintage original Revised Second draft lm script, 11 x 8 1⁄2" (28 x 21 cm.), pictorial wrappers, brad bound, mimeograph, [1], 121 pp., minor creasing and slight stains to wrappers, near fine in very good+ wrappers.
A very early draft of the script for Jaws, two years prior to its release in 1975, with an unusual artwork design on the front cover which was not present on subsequent scripts for this classic film. Jaws was the second feature lm directed by the 27-year-old Stephen Spielberg and became one of the highest grossing movies ever made, the prototype of the summer blockbuster, outgrossing even The Godfather.
The movie went through a complicated pre-production process involving several directors prior to Spielberg, and numerous screenwriters, most of whom were uncredited. This is the Second Draft screenplay by Peter Benchley based on his novel, an eventual bestseller, which producers Zanuck and Brown had urchased the rights to some months prior to its publication. Although Benchley's Second Draft screenplay
has the same fundamental structure as the completed lm, most of the same incidents, and the same principal characters, it was substantially revised before reaching the screen. The character who was most altered between the Second Draft screenplay and Spielberg's completed lm was Hooper, the young shark expert. In Benchley's screenplay, he is described as "handsome but disheveled". Whereas the Hooper in Benchley's screenplay was a daredevil type, someone who climbed mountains and chased lions before he became interested in sharks, the Hooper in Spielberg's movie, as played by Richard Dreyfuss, is more of a science nerd, an ichthyologist fascinated by fish. Where the Hooper in Benchley's screenplay is killed before the end of the story, the Hooper in Spielberg's movie makes it out alive.
Finally, where in both Benchley's screenplay and the film Brody is the one who ends up killing the shark, the way he kills it was changed. In the screenplay, Brody kills it with a harpoon through the creature's eye; in the film, more ingeniously, he kills it by shooting and exploding a canister of compressed air lodged in the shark's mouth.
Offered by Walter Reuben, Inc. and found in "Catalog 49."
ROOTENBERG RARE BOOKS & MANUSCRIPTS
BARRY LAWRENCE RUDERMAN ANTIQUE MAPS, INC.
Featured item:
Snoopy Original Sketch Signed with Zonker Harris Original Sketch Signed.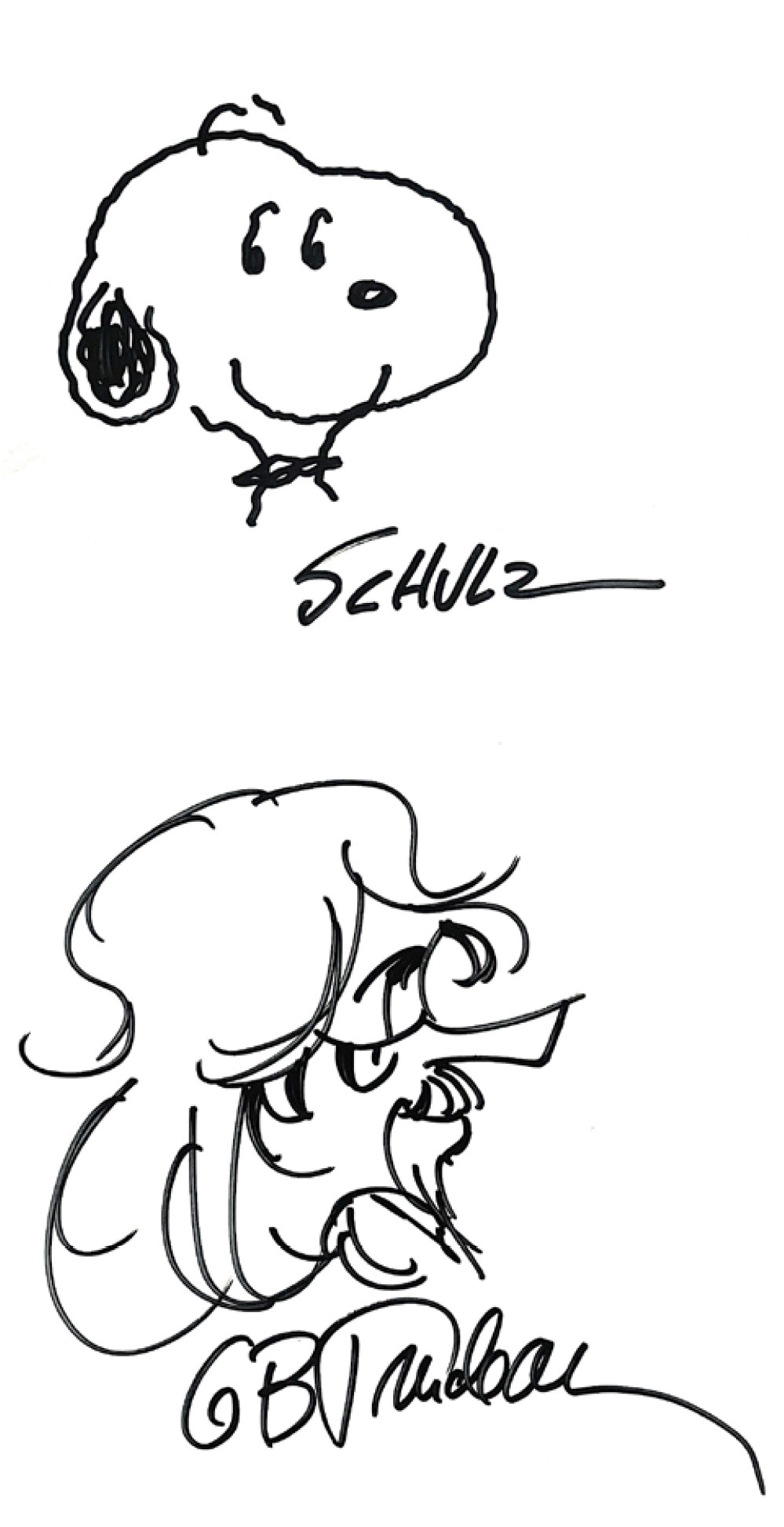 Each cartoonist has drawn his lovable character on a 6.75 x 11 tall inch card. The Snoopy and Zonker Harris sketches are signed by their creators, "Schulz" and "G. B. Trudeau."
Schulz (1922-2000) American cartoonist best known worldwide for his Peanuts comic strip. Trudeau (b.1948) American cartoonist, best known for the Doonesbury comic strip.
Offered by Schulson Autographs and found in "Catalog 188, Fall 2021."
California Book Fair 2019: 130 Items on Science and Medicine is now available on request from scientiabk@gmail.com...
MARC SELVAGGIO, BOOKS & EPHEMERA
MICHAEL R. THOMPSON RARE BOOKS
2022: Catalog 1

*New*

-- print copies available at the upcoming California Book Fair!
Featured item:
Bourcher, John, Lord Berners THE HISTORY OF THE VALIANT KNIGHT ARTHUR OF LITTLE BRITAIN. A ROMANCE OF CHIVALRY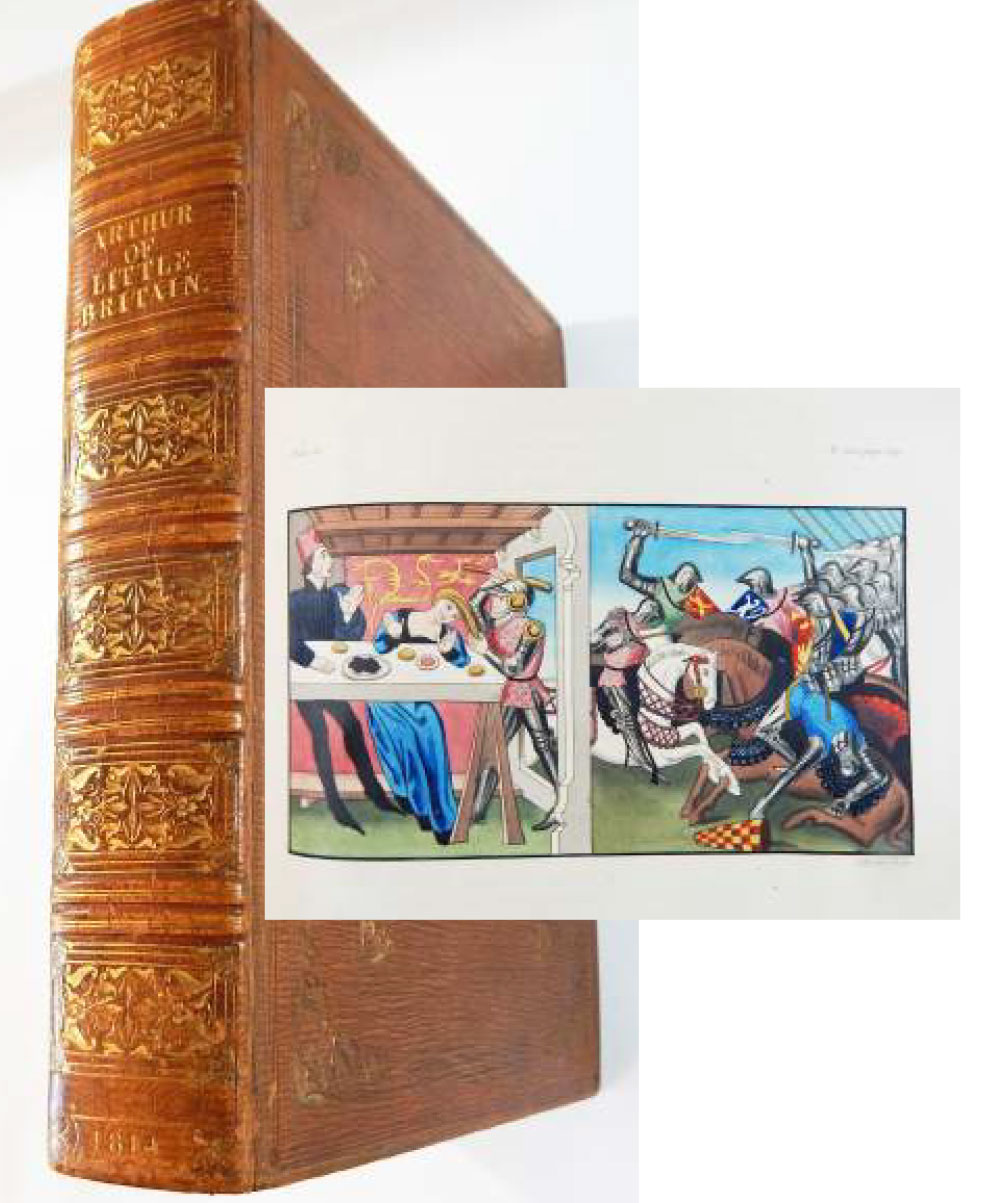 London, Printed for White, Cochrane, and Co., 1814. Limited edition 4to. (16), xxvii, (1), 544pp. Illustrated with plates based on drawings in a manuscript of the original romance. Edition limited to 175 regular copies and 25 large paper copies. Even though this copy has very generous margins, we believe it is one of the 175 copies. Translated from the original French by Lord Berners (ca. 1467- 1533), this is the third (or possibly the fourth) edition, and the first with illustrations. Previous editions are unobtainable; there are two recorded, one in 1555 or 1560, printed by Redbourne, and another in 1582 printed by East. Another edition is reported but not seen.
This edition is edited by Edward Vernor Utterson, who has provided a 16 page preface from which the above information is taken. Contemporary tan straight-grain morocco, spine in six compartments, gilt. Boards tooled with gilt rules and upper and lower boards tooled with gilt armorial central devices. All textblock edges gilt; board edges ruled in gilt. Endpapers of brown coated paper. Occasional light foxing, corners worn, but a very good copy. This is the version with the contemporary colored illustrations. All illustrations are expertly colored in the manner of medieval miniatures. The coloring is clear, expert and glowing.
Offered by Thorn Books and found in "2022: Catalog 1."
JOHN WINDLE ANTIQUARIAN BOOKSELLER
Featured item:
Grahame, Kenneth; Rackham, Arthur (illustrator). The Wind in the Willows.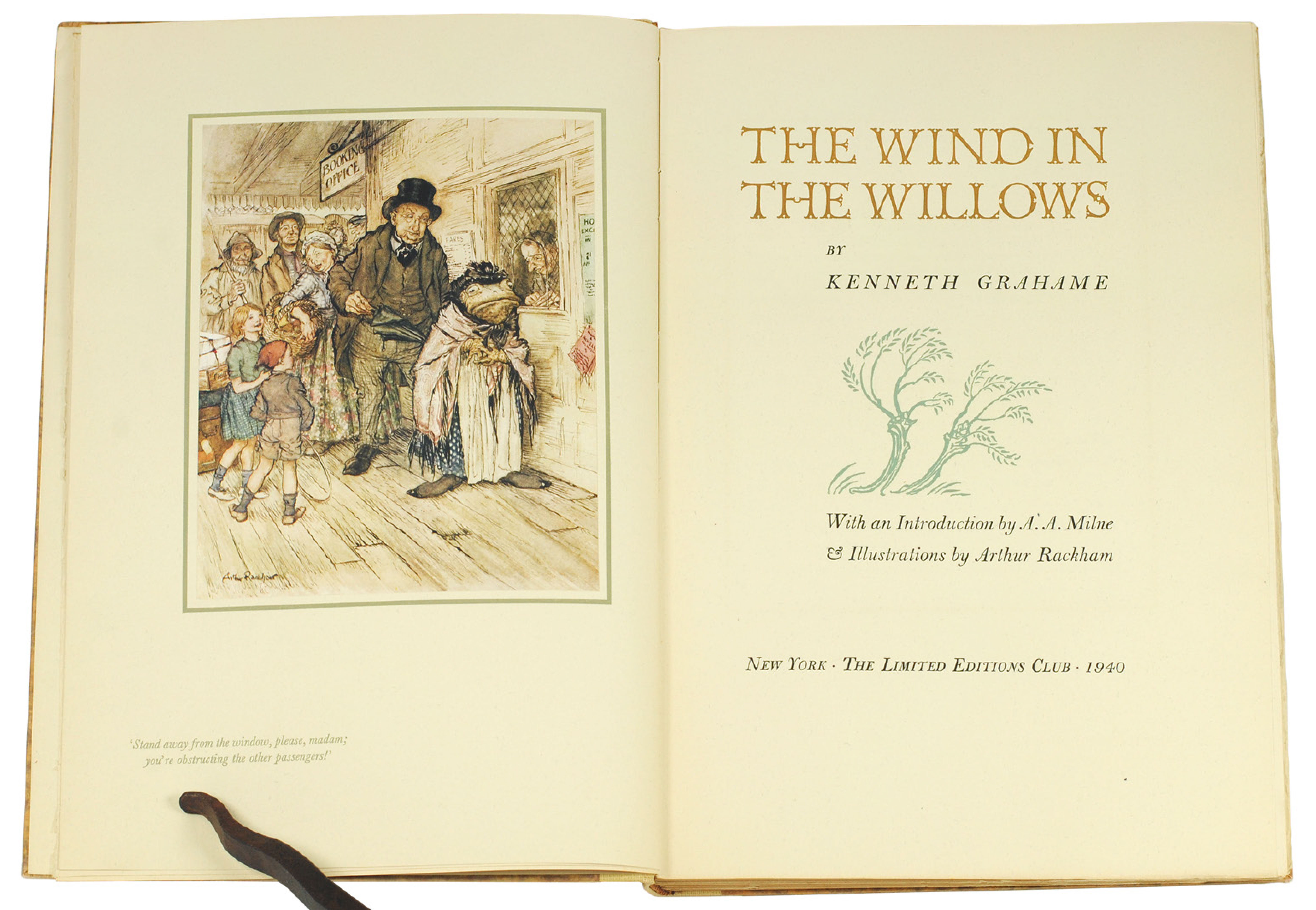 New York: Limited Editions Club, 1940. Sm. folio, 245, [246, colophon] pp. Sixteen color plates mounted within dark green borders, with captions, on heavy paper. Original patterned boards backed in gilt lettered beige buckram, top edge gilt others uncut; one corner bumped otherwise a fine, clean, unopened copy in the original, slightly worn slipcase. § Limited to 2020 copies beautifully designed and signed by Bruce Rogers; this is copy is 845. This was Arthur Rackham's final project, and he died before the book's publication.
Offered by John Windle Antiquarian Bookseller and found in "40 Books for the Holidays."
--
Remember, you can always browse and download the latest catalogs published by ABAA members on ABAA.org by visiting the following link: https://www.abaa.org/catalog/... (You can also access this page by selecting 'Booksellers' from the top menu, scroll to the bottom of the page to 'Member Catalogs', and click on 'View All'.)
---
Get to know the members of the ABAA...