Browse the latest catalogs, newsletters, and e-lists of rare books, fine bindings, incunabula, print ephemera, and much more from the members of the ABAA below. (Also includes podcasts, blog posts, and other digital formats.)
*New* indicates any catalogs added in the last month.
AARDVARK BOOKS/EZRA THE BOOKFINDER
ANTIPODEAN BOOKS, MAPS, PRINTS
Featured item:
Fancies and Goodnights by John Collier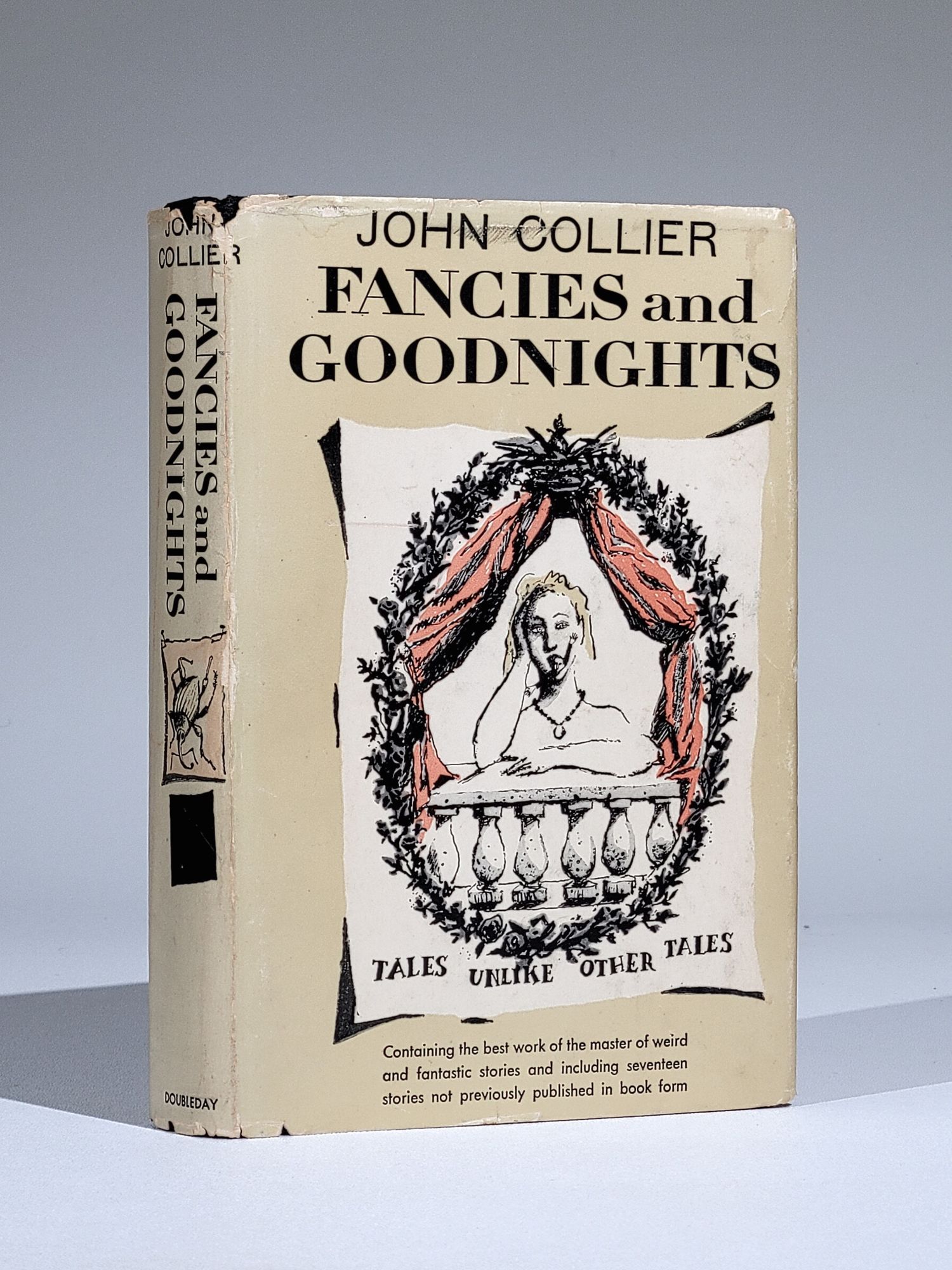 Garden City: Doubleday & Company, Inc., 1951. First edition. Hardcover. Octavo. [xii], 364 pages. Very good in a very good dust jacket. Bound in black cloth over boards with spine titles stamped in pink, pink endpapers, pink topstain. Shallow bumps to spine ends and fore corners. Jacket has some edge chips at spine ends, some rubs along joint and fore edge folds, and a diagonal vertical crease along spine.

John Collier was an English writer and master of weird and fantastic stories. His stories appeared in The New Yorker in the 1930s to 1950s and he spent much time in Hollywood writing for film and television.

Collier's stories are so well crafted that he is considered by many to be "a writer's writer," particularly admired by the likes of Ray Bradbury, Roald Dahl, Neil Gaiman, Anthony Burgess, and Michael Chabon.

Collier's stories are broadly fantasies but are really of their own kind. Some of them were written for or adapted as episodes of Alfred Hitchcock Presents and The Twilight Zone. This collection won both the both Edgar Award and the International Fantasy Award in 1952.
Offered by Back Creek Books.
W. C. BAKER RARE BOOKS & EPHEMERA
Feature item:
Smith, Adam. AN INQUIRY INTO THE NATURE AND CAUSES OF THE WEALTH OF NATIONS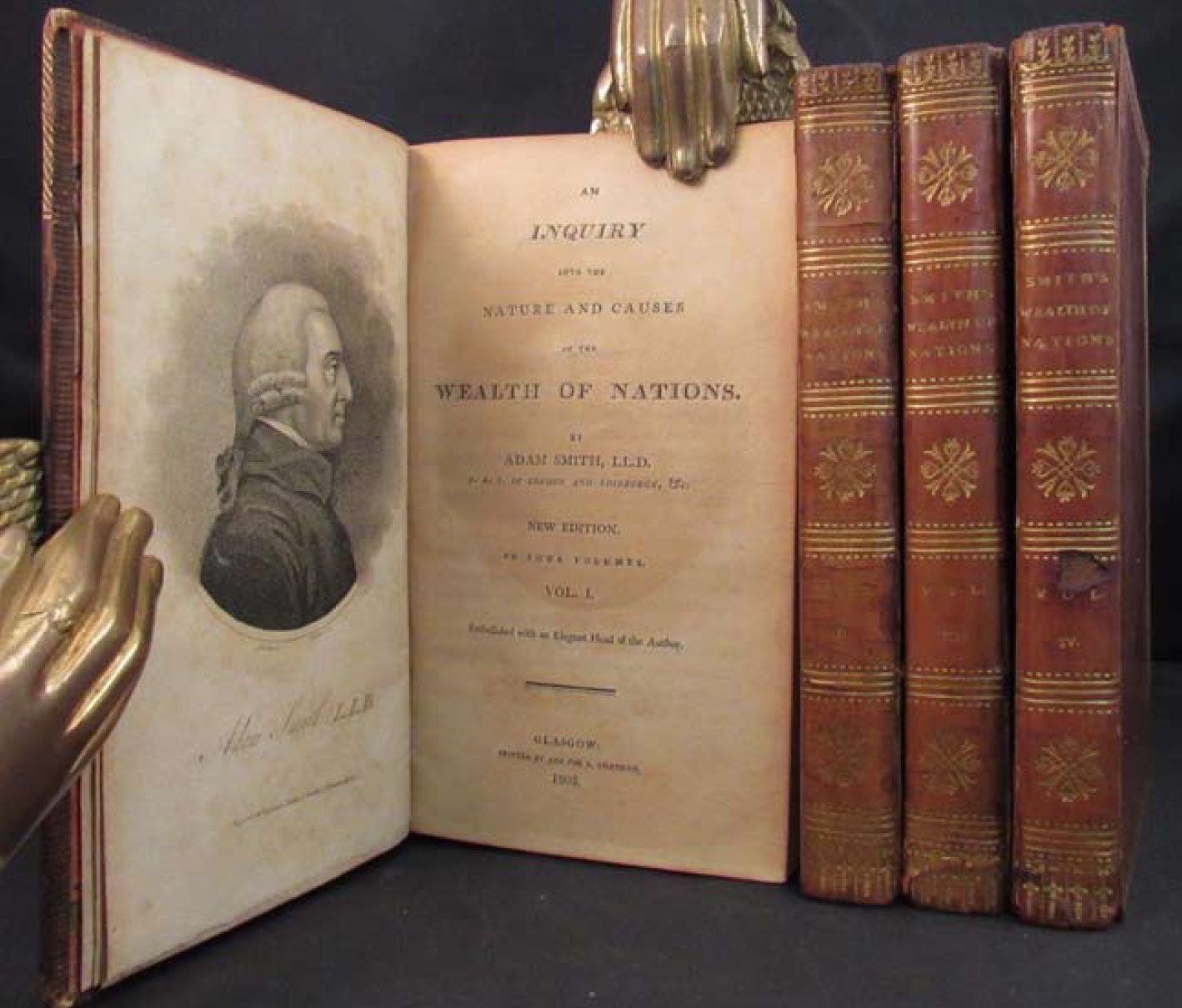 (Glasgow: Printed by and for Chapman, 1805) 4 volumes. The First Glasgow Edition, the First Printing of the Wealth of Nations in Scotland and the First to Contain a Portrait of the Author.
Provenance: William Morris; Charles MacGarvey. 12mo (175 x 105 mm.; 6 7/8 x 4 1/8 inches), a completely unrestored set handsomely bound in contemporary polished calf, the original backs fully gilt with the compartments separated by triple gilt filleted and stippled lines, the compartments gilt decorated with fine central ornaments tooled in gilt, the covers with double gilt ruled lins at the borders enclosing a rolled border tooled in blindedges and endleaves marbled. viii, 304; iv, 286; iv, 284, [4]; [ii], 280 pp.
A handsome set in original period polished calf unrestored, the bindings with a bit of wear at the edges and to the outer joints and hinges, some rubbing to the tails of the spines, one head-cap with a small chip, the inner hinges strong and unbroken, the text-blocks tight and clean, some mellowing to the paper as is normal, a pleasing survival of a scarce book. HIGHLY IMPORTANT AND RARE FIRST AMERICAN EDITION IN ORIGINAL PERIOD BINDING GILT WITH FINE PROVENANCE. PERHAPS THE GREATEST BOOK EVER WRITTEN IN THE HISTORY OF ECONOMIC THOUGHT.
Offered by Buddenbrooks, Inc. and found in "Recent Acquisitions (May 2021)."
ANDREW CAHAN, BOOKSELLER, LTD.
DE SIMONE COMPANY, BOOKSELLERS
Featured item:
ZACHARY TAYLOR, People's Candidate for Twelfth President of the United States.
New York: Lith. & Pub. By N. Currier, 1848. $ 250.00 Folio. 355 x 255 mm., [14 x 10 inches]; image size 300 x 210 mm., 11 ¾ x 8 ¼ inches]. Lithographic portrait, printed in tones of black and highlighted with red, blue and yellow wash. Margins soiled with age, two creases at lower right affecting the arm of the sitter. Good strong color. Matted.
Taylor rode his popularity as a military leader during the Mexican War to become the 12th President of the United States. He was a strong unionist, did not support the extension of slavery into the western states, and urged Southerners to forsake succession and work for a political settlement on the issue of slavery. He died sixteen months after his election and was succeeded by Millard Filmore. A powerful lithographic portrait published by Nathaniel Currier showing General Taylor sitting near a window surrounded by bright red drapery. His uniform is blue with gold (yellow) epaulettes, and his hand is symbolically placed on a map of Mexico.
Appleton's Cyclopaedia of American Biography, VI, p., 51-56. Jane Cooper Bland, Currier & Ives, A Manual for Collectors, No. 476.
Offered by De Simone Company, Booksellers and found in "List 39: American Lithographic Portraits."
Catalog #88, Medical Books from the Fifteenth to the Twentieth Centuries -- This catalog is print-only. To request a copy, contact MedBks@aol.com...
Comic collection of William "Gatz" Hjortsberg -- Details available upon request from info@elkriverbooks.com...
RODGER FRIEDMAN RARE BOOK STUDIO
OCCASIONAL LIST 22: A Miscellany: Original Art Work; Small Archive of Major English Watercolourist; Interesting Theatrical Pieces; Manuscript Material, Etc., Etc. -- available on request from fgrare@fgrarebooks.com...
Has the following lists available: California, Texas, Kansas, Missouri, Minnesota, Iowa, Nebraska, Oregon, Louisiana, Colorado, Ohio and New York. Will email to interested parties. Contact info@ginsbook.com to request...
THOMAS A. GOLDWASSER RARE BOOKS
DAVID A. HAMILTON AMERICANA BOOKS
JONATHAN A. HILL, BOOKSELLER, INC.
Featured item:
"M[ada]me B[ertin], née de V[erceil];" Jean Démosthène Dugourc (illustrator). Les Spectacles Instructifs, ou Les Serins Hollandais, Les Moineaux Francs du Palais-Royal, La Chasse au Faucon, Le Cormoran Pêcheur de la Chine, Le Lièvre Intrépide, Les Singes Militaires, Les Serpens Indiens, etc.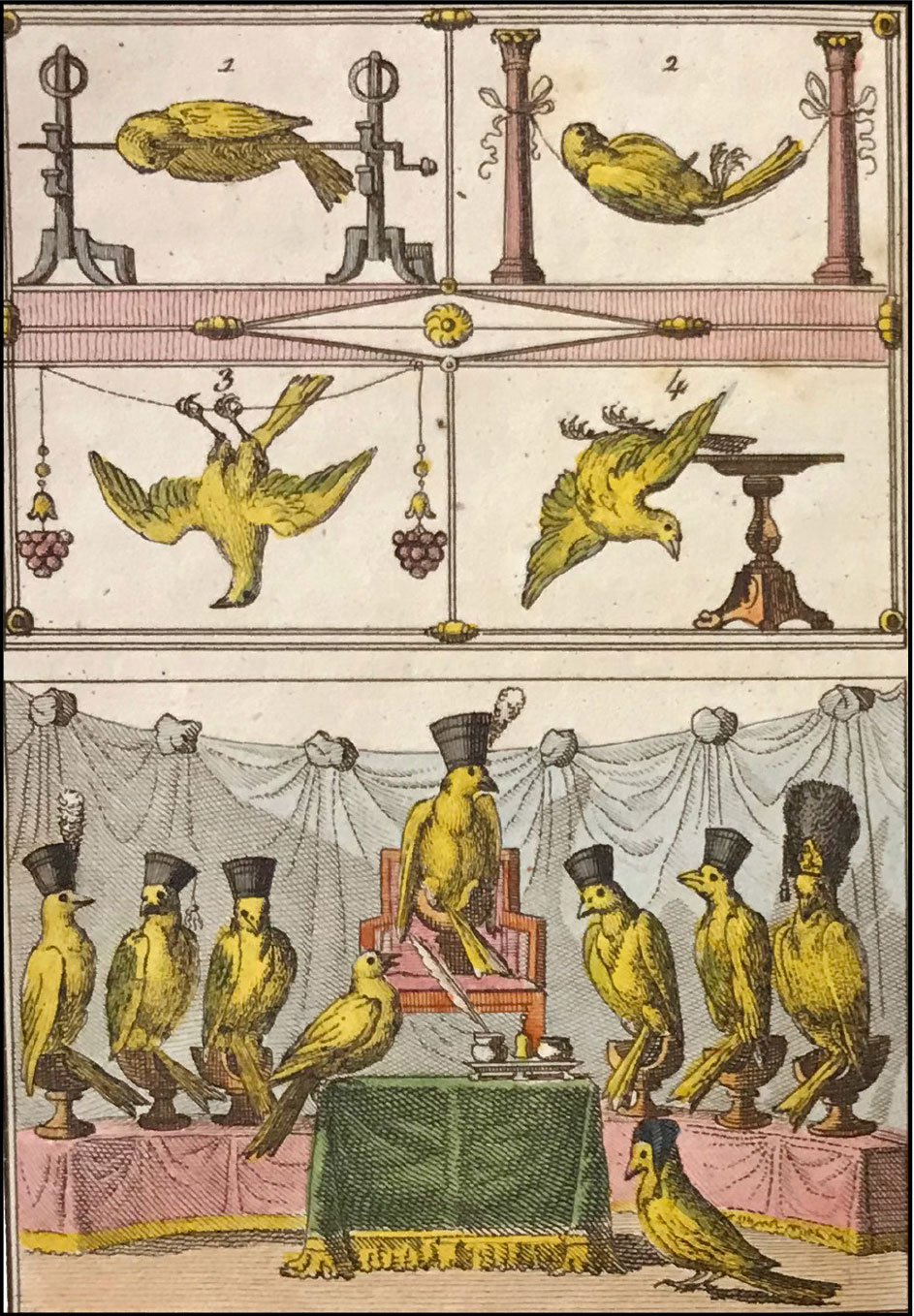 Paris: A. Nepveu, 1817. First edition of this curious French pocket guide to trained animals, with a decidedly military bent. The stated purpose of the book is to encourage children to improve their skills through practice, by showing how mere animals, "dressés à des exercices difficiles et pour lesquels ils n'étaient point nés," can perform as soldiers, musicians, and acrobats if they are rigorously trained. The primary appeal of the book, however, lies less in its didactic aim than in Dugourc's remarkable engravings. Some are realistic: tame sparrows playing with children at the Palais-Royal, a falcon released for the hunt, a dancing marmot of Savoy. Others are surreal: a musical hare who plays the drums, monkeys in military costume with bayonets, a warlike group of Dutch canaries who execute a deserter with a miniature cannon.
Much of the text is drawn from Les Animaux Savants, a larger volume (in both format and content) issued the previous year by Didot; the pocket format of Les Spectacles Instructifs required a new series of illustrations from Dugourc, published here for the first time. OCLC locates five institutional holdings (BNF, Harvard, Princeton, UC-Santa Barbara, Yale.) A fine copy of a scarce and intriguing book. Eighteenmo, measuring 5 x 3 inches: viii, 191, [1]. Nineteenth-century polished calf, boards and spine decoratively tooled in blind and gilt, deep blue marbled endpapers, gilt dentelles, all edges gilt, green silk ribbon marker. Eight hand-colored engraved plates after designs by Dugourc.
Offered by Honey & Wax Booksellers and found in "20 Before 1820."
JOHN W. KNOTT, JR., BOOKSELLER
Catalog #74: 100 Rare Books -- with an emphasis on history and military affairs. Please request from mail@kubikbooks.com...
MICHAEL LAIRD RARE BOOK & MANUSCRIPTS
DAVID M. LESSER, FINE ANTIQUARIAN BOOKS
LIBER ANTIQUUS, EARLY PRINTED BOOKS & MANUSCRIPTS
J. & J. LUBRANO MUSIC ANTIQUARIANS
STUART LUTZ HISTORIC DOCUMENTS
MAIN STREET FINE BOOKS & MANUSCRIPTS
Illustrated Catalog on Carlos Merida (1891–1984) -- Mexican painter, sculptor, writer and graphic designer -- available by request from mmbooks@comcast.net
MARTAYAN LAN RARE BOOKS & MAPS
Featured item:
[Japanese Americana]. [Directories]. Nichibei Jiji Jusho Roku.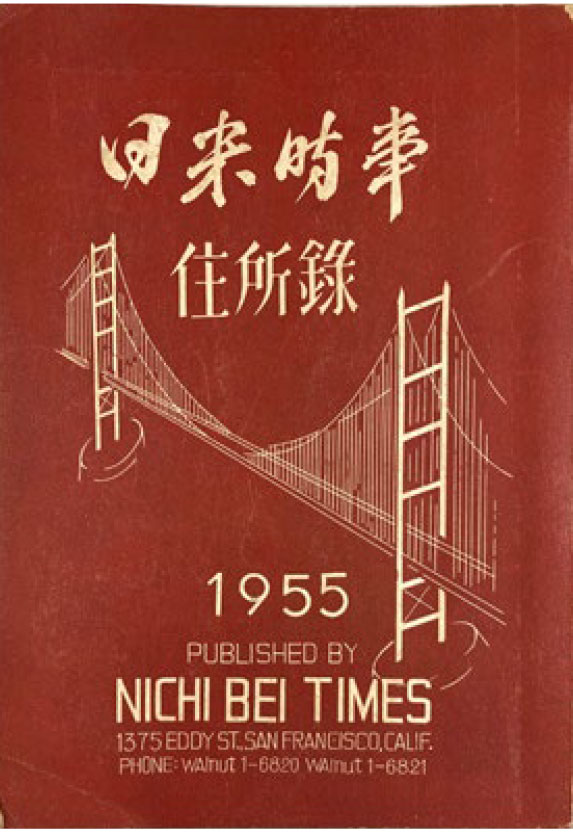 San Francisco: Nichi Bei Times, 1955. [22],611,[1]pp. plus one leaf of plates. Original red printed wrappers. Light wear, upper corner of rear cover torn away. Internally clean, minor wear. Very good. A scarce Japanese American directory published annually in San Francisco, covering much of the Japanese population across the country. Nichibei Shinbun -- the Japanese American News -- was founded in 1899, and in 1925 the paper pioneered the inclusion of an English-language section.
The present directory is printed primarily in Japanese, listing names and addresses in both Japanese characters and English. Starting with various cities in California, the directory also covers Oregon, Washington, Utah, Idaho, Colorado, and nearly every other state in the country, along with listings in Cuba, Argentina, Brazil, Mexico, Canada, and Japan. It is interspersed with ads for Japanese American businesses. These later directories are interested because they record the diaspora of the population following internment during World War II, when so many people's lives were uprooted and relocated.
Offered by McBride Rare Books and found in "List #28: Recent Americana Acquisitions."
BRUCE MCKITTRICK RARE BOOKS, INC.
Featured item:
HORAE B.M.V., use of Rome. Hore christifere virginis marie.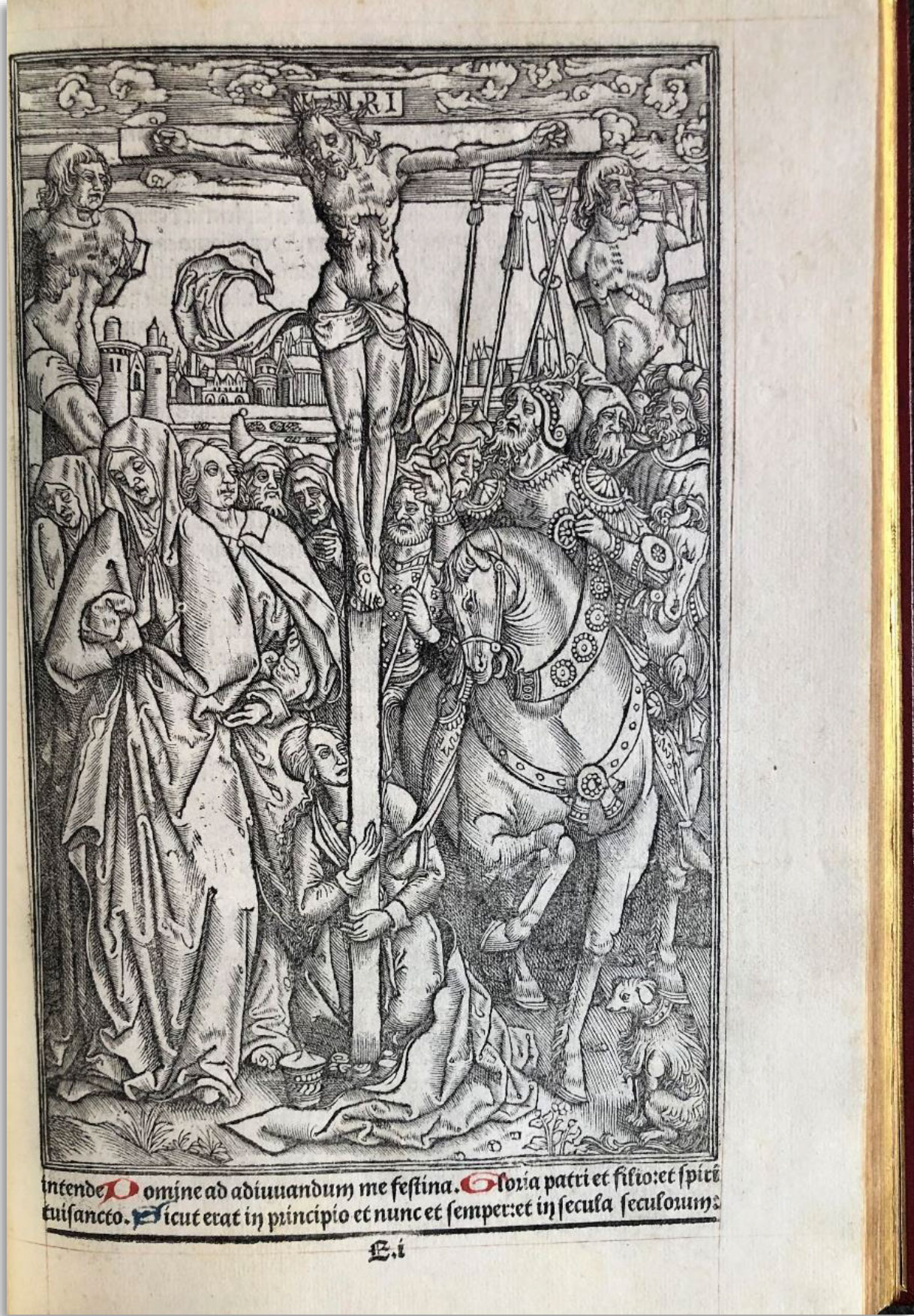 Paris: Simon Vostre. A FINE, LARGE, RED-RULED COPY of the most lavishly illustrated of Simon Vostre's quarto editions, called the "grandes heures" as much for the richness of their illustrative material as for their format. Vostre's complete new series of fourteen very large full-page metalcuts, attributed to the workshop of Jean Pichore, first appeared in this edition; only three had appeared previously. This copy is bound with six pages of contemporary manuscript prayers and devout meditations by a woman, preserved by the binder Capé when the copy was luxuriously rebound in the 19th century in a retrospective style. 4to. 14 full-page and many smaller metalcuts, including page borders assembled from individual cuts. 19th -century red goatskin with a strapwork décor, by Capé. The Robert Hoe - Cortland Bishop - Mary S. Collins copy.
Offered by Musinsky Rare Books and found in "Sixteenth-Century Illustration Catalog."
R & A PETRILLA, ANTIQUARIAN BOOKSELLERS
PHILADELPHIA RARE BOOKS & MANUSCRIPTS
PHILLIP J. PIRAGES FINE BOOKS & MEDIEVAL MANUSCRIPTS
RABELAIS BOOKS ON FOOD & DRINK
RICHARD C. RAMER, OLD & RARE BOOKS
B&L ROOTENBERG RARE BOOKS & MANUSCRIPTS
BARRY LAWRENCE RUDERMAN ANTIQUE MAPS, INC.
California Book Fair 2019: 130 Items on Science and Medicine is now available on request from scientiabk@gmail.com...
MARC SELVAGGIO, BOOKS & EPHEMERA
MICHAEL R. THOMPSON RARE BOOKS
Featured item:
An archive of Myra Friedman's biography of Janis Joplin, Buried Alive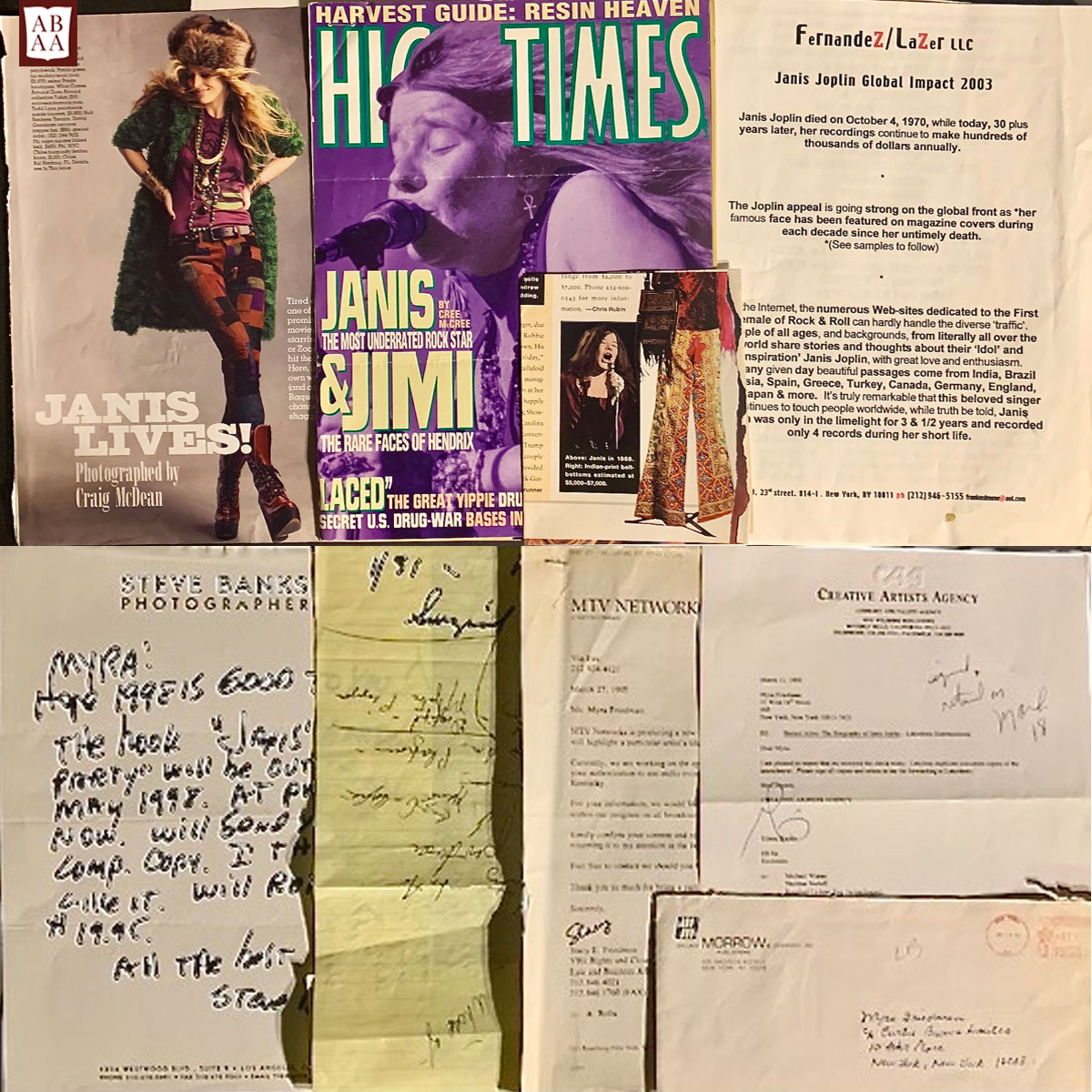 Included: 15 files of primary source documents
-Review Clippings & Printouts (2 Files)
*Approximately 80 newspaper and magazine clippings, printouts, recording book reviews of Friedman's, Echols' and Laura Joplin biographies
-Special Letters (2 Files)
-Movie Content Related
-Emails and Correspondence
* Fan letters: 1973-1990s, + duplicates. The photocopies are mostly letters that were sent to Morrow, then copied by Friedman's editor and sent to her
* 33 pages; 10 photocopies, 19 pages + duplicates
-Communication with Peter Hoffman - Financier & Producer
*Friedman's suit against Peter Hoffman regarding movie rights, Joplin retrospectives etc. 1970-2007
Ebay Material:
Printouts of eBay sales of original Joplin MS and tambourine, 6 pages 2000-2001
Burning Alive Script Draft & Other related Material
Incomplete draft for a film version of Buried Alive, 16 pages with some missing (effect continuity of narrative
Fair Use Legal Issues & Copyright Law
Additional film material, contributor release form for a 2007 VH1 interview
Janis: Land Interview
Contributor Release: Scavello, Janis Garden Party, Letter of Authenticity
-Letters from the American Society of Composers, Artists and Publishers
-Agencies & Lawyers for Biopic
-Contemporary Authors Bio Form
-Random Ephemera

The files in this collection contain Friedman's Correspondences clipping collection, documenting Joplin's continuing influence on popular culture, extensive correspondence (a large file of printed-out emails), and documents. Slides of record covers, incomplete letters and emails are also present.
-Hand written letters with original envelopes

Myra Friedman (1932 -2010) was born and raised in St. Louis. After majoring in music at Northwestern University she worked for Decca Records and then Columbia. In 1968 Friedman went to work for Albert Grossman, Janis Joplin's manager, where she worked as Joplin's publicist until Janis's death in 1970.

Her now-standard biography of Joplin, Buried Alive, (New York, Morrow, 1973) was nominated for a National Book Award for biography and won the ASCAP-Deems Taylor Award for music writing.

This archive deals with with the reception of Buried Alive, as well as Friedman's continuing interest in other Joplin-related projects.
Offered by Tomberg Rare Books and found in "E-list #1 of 2021."
JOHN WINDLE ANTIQUARIAN BOOKSELLER
Featured item:
(Villard et Weill) Le Toton Equilibriste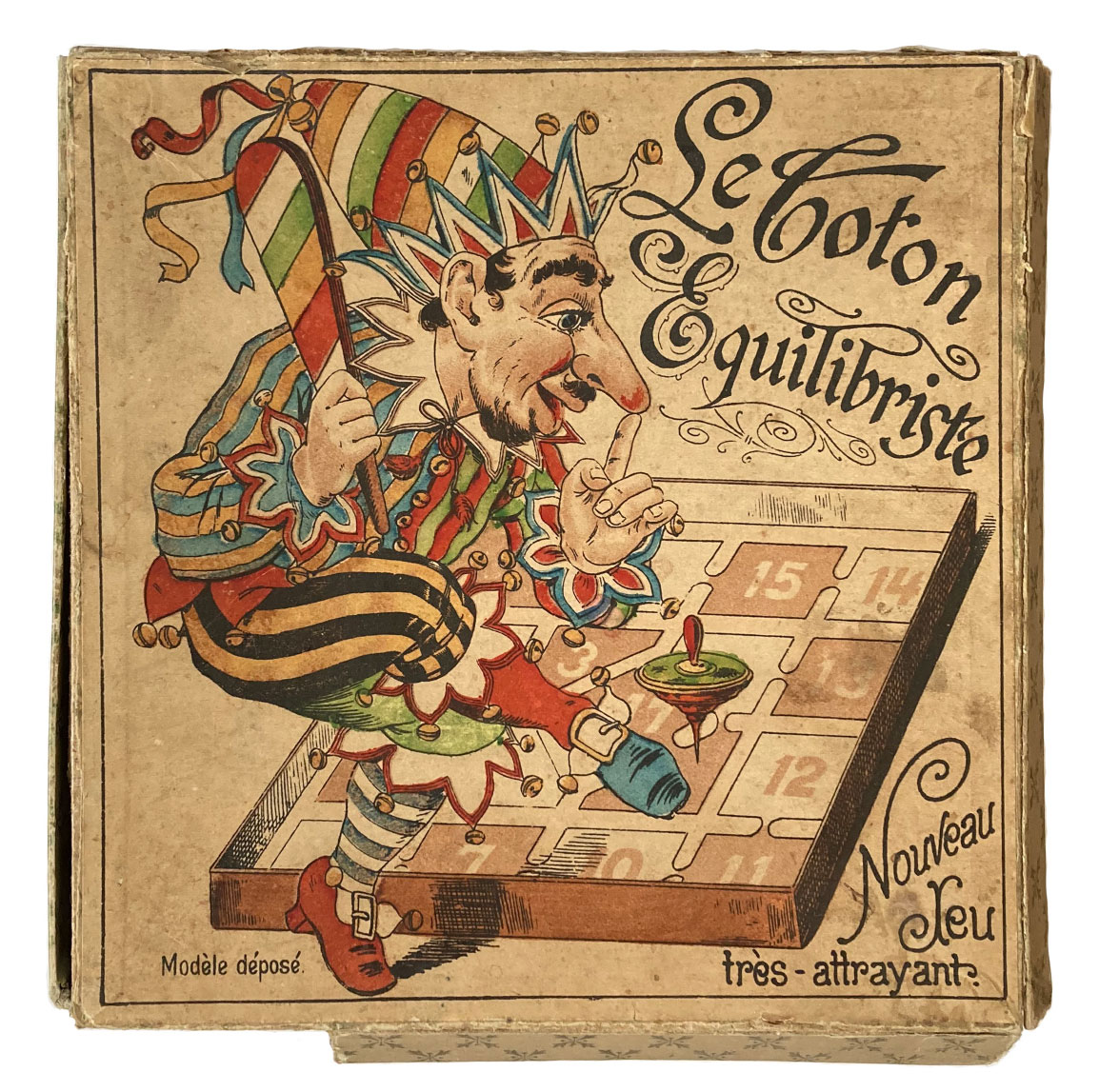 Paris: L. & A. Cresson Freres, n. d. (ca 1890). Dexterity game; square, card stock box with a chromolithographed lid, 6 ½" x 6 ½"; game board set in the box; a small wooden toton (spinning top); game instructions to lid verso; box with inconspicuous repairs to two of the edges and a bit of age-toning and dust-dulling to margins of board; lid with some loss of paper to aprons; in good or better condition.
The amusing and quite-challenging dexterity game was created by the Villard et Weill game manufacturers in the late 19th century. Established by brothers-inlaw Henri Villard and Jules Weill in 1834 in Strasbourg, the company was active for over 130 years, surviving and thriving, despite two major fires in 1904 and 1916 and all through the Second World War. It would ultimately close down in 1968.
The game itself consisted of 16 numbered squares and a rhombus in the middle (#17), separated by raised ridges, except for small gaps between neighboring spaces. According to the instructions, a player was required to hold the box in his/her left hand, place the toton in square 1 in the upper left corner with his/her right hand, spin it, and then guide the spinning top through the gaps, by tilting the box, to rhombus 17. The rules also stipulated that there were three possible victory outcomes - the winner could be the player to reach the highest number with a single spin, the player, who could accumulate the highest total from three spins, or the first player to reach the #17 space.
Offered by ZH Books and found in "Games & Gaming."
--
Remember, you can always browse and download the latest catalogs published by ABAA members on ABAA.org by visiting the following link: https://www.abaa.org/catalog/... (You can also access this page by selecting 'Booksellers' from the top menu, scroll to the bottom of the page to 'Member Catalogs', and click on 'View All'.)
---
Get to know the members of the ABAA...