Browse the latest catalogs, newsletters, and e-lists of rare books, fine bindings, incunabula, print ephemera, and much more from the members of the ABAA below. (Also includes podcasts, blog posts, and other digital formats.)
*New* indicates any catalogs added this month.
AARDVARK BOOKS/EZRA THE BOOKFINDER
ANTIPODEAN BOOKS, MAPS, PRINTS
Featured item:
GRAY, Thomas J. (words); WALKER, Raymond (music) "Your Mother's Gone Away To Join The Army"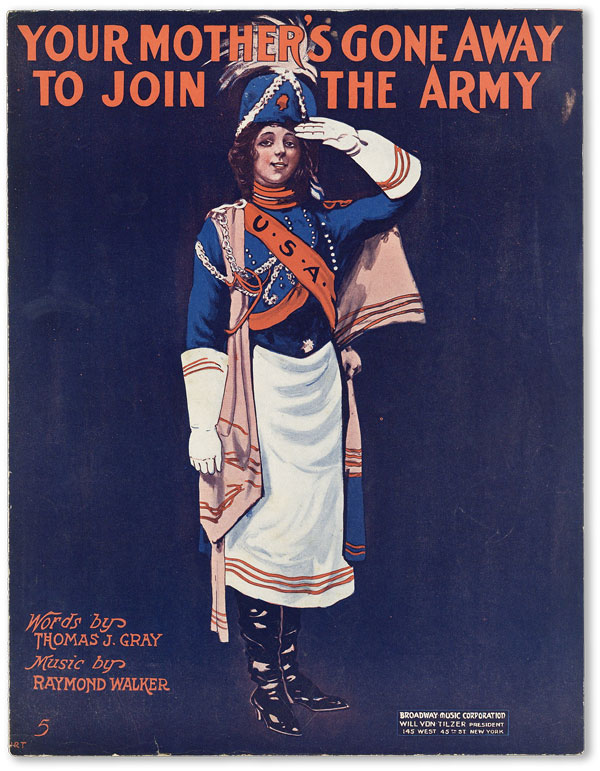 New York: Broadway Music Corporation, 1913. First Edition. Quarto (35cm); illustrated wrappers; 6pp. Some trivial wear to extremities, a few tiny tears, and a few faint foxed spots to rear wrapper; Near Fine.
Suffrage-themed sheet music, with lyrics told from the perspective of a father and his little boy, whose mother was absent due to her involvement in the women's rights movement. "A little lad with curly hair stood by his father's knee / Could see that he was crying he was sad as he could be / He sobbed and said "I feel so blue," as tears ran down his cheeks / "Oh father where is mother she has not been home for weeks" / His Pa said "Lad the tale is sad, She's down at Suffrage Hall / She's gone to fight for women's rights, why there's their bugle call." In comparison to the denigrating tone of other suffrage songs from the period, the chorus here conveys familial pride: "Hear the tramp of their feet - as they come down the street / Gee those girlies look sweet, They're all dressed up so neat / Your dear old ma just took a fighter's place / She likes the smell of powder 'cause it's always on her face / There's no rats in her hair - you can see she don't care / Holds her head in the air, Gee your mother's a bear / Tramp, Tramp, Tramp the girls are marching, Your Mother's gone away to join the army." OCLC notes 3 holdings (LC, Baylor, British Library). CREW S-1913-18.
Offered by Lorne Bair Rare Books and found in "From Suffrage to Second Wave."
W. C. BAKER RARE BOOKS & EPHEMERA
ANDREW CAHAN, BOOKSELLER, LTD.
DE SIMONE COMPANY, BOOKSELLERS
Catalog #88, Medical Books from the Fifteenth to the Twentieth Centuries -- This catalog is print-only. To request a copy, contact MedBks@aol.com...
DOWNTON BROWN BOOKS, LLC (Previously: Eureka Books)
Featured item:
Not So Deep as a Well: The Collected Poems (Signed, Limited)
by Dorothy Parker.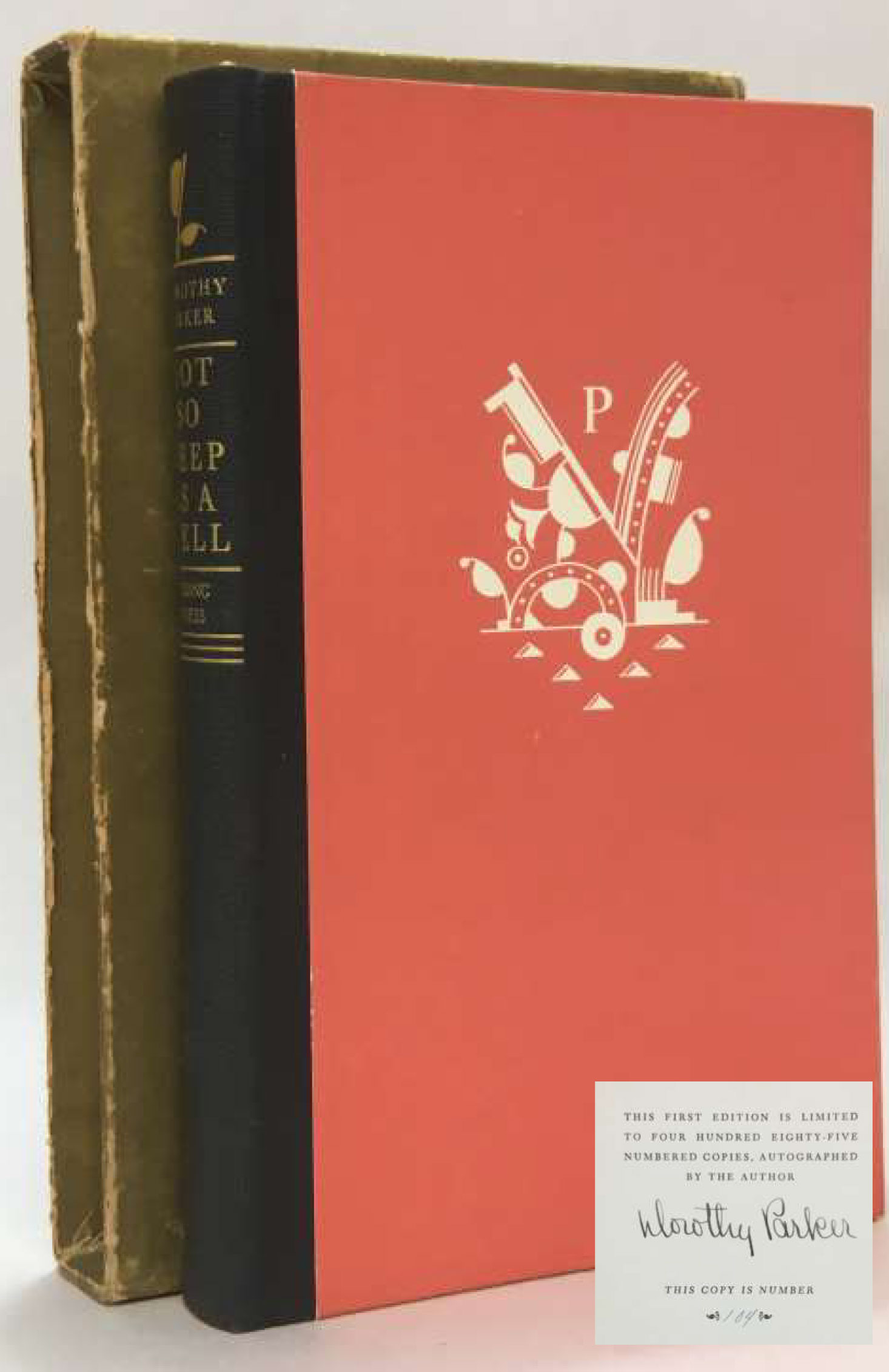 New York: The Viking Press, 1936 First Edition 210 pages. "This volume contains all of Dorothy Parker's poems excepting a few which she did not wish to retain..."— copyright page. This volume has all of Parker's bestknown verse. Decorations by Valenti Angelo. This is one of 485 numbered copies signed by Parker on a tipped-in page. First edition (first printing). Some spotting to fore-edge of book; a bit of discoloration along the gutter of the limitation page, due to the glue used to attach it. No dust jacket, as issued, but with the goldpaper slipcase showing some shelfwear at the edge. An attractive copy.
Offered by Downton Brown Books, found in "List 16: Modern First Editions" (item #15).
Featured item:
Stephenson, Neal. Cryptonomicon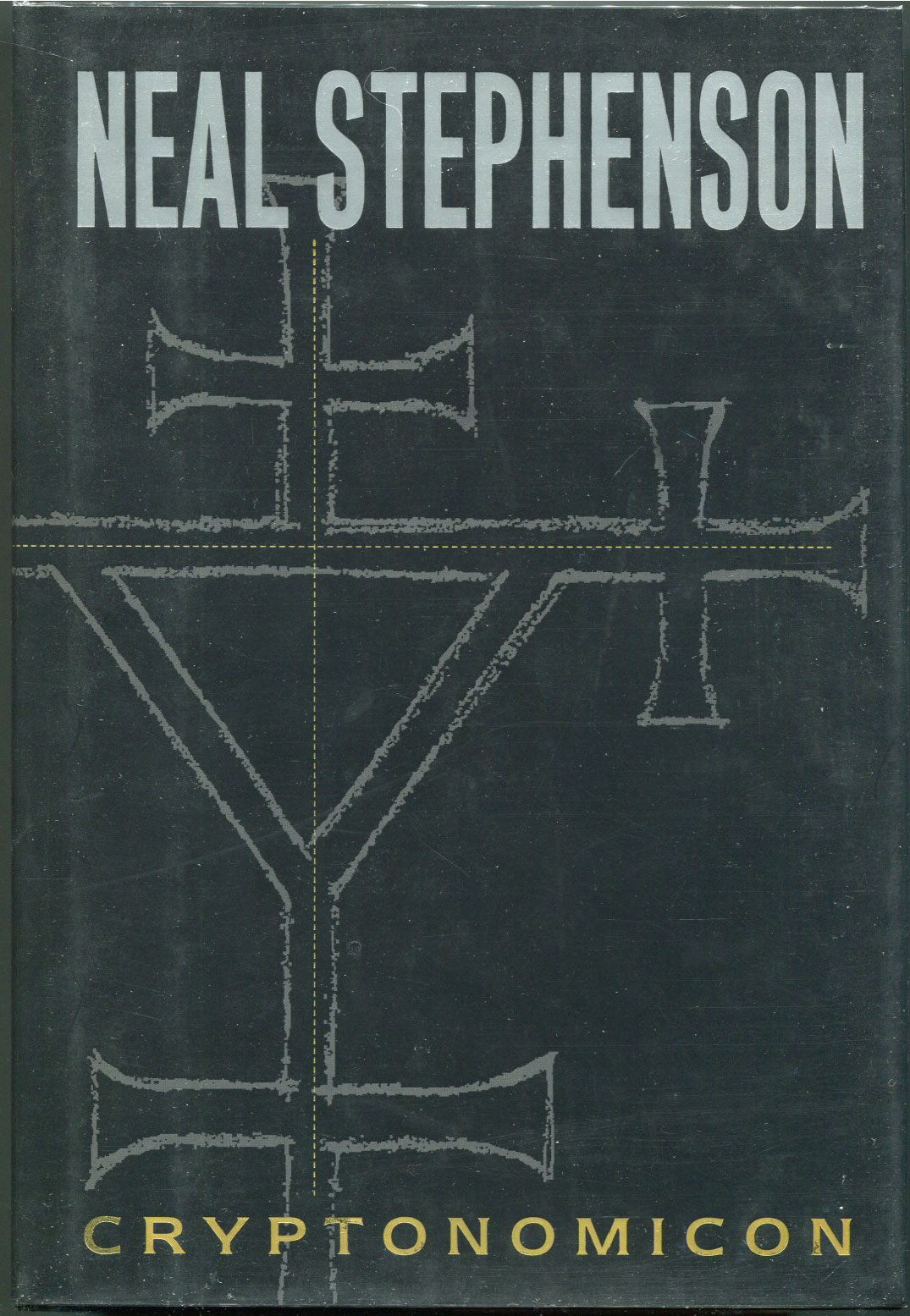 New York: Avon Books (1999). First edition. Large 8vo. [11], 2-918 pp. Black paper boards with gold lettering on the spine. Price of $27.50 on front flap of dust jacket. Very slight concavity to top of spine, else Fine in a Fine dust jacket. Signed by the author on the title page. A very attractive copy of Stephenson's tour de force combining cryptography and fast-paced adventure during the Second World War and the late 1990s.
Offered by Evening Star Books and found in "May 2020 New Arrivals."
Featured item:
Prince. Club Octagon. Saturday Eve., October 1
New York: Hotel Amazon, ca. 1988. First Edition. Offset printed postcard, photograph of Prince on recto and text on verso. 10 x 15.5 cm. Near fine. Loose as issued. Announcement for the private party hosted by Marcelo Casanova to welcome Prince to New York City for the 1988 Lovesexy Tour.
Offered by Arthur Fournier Fine & Rare and found in "Hip-Hop & Underground Dance Music."
RODGER FRIEDMAN RARE BOOK STUDIO
OCCASIONAL LIST 22: A Miscellany: Original Art Work; Small Archive of Major English Watercolourist; Interesting Theatrical Pieces; Manuscript Material, Etc., Etc. -- available on request from fgrare@fgrarebooks.com...
Has the following lists available: California, Texas, Kansas, Missouri, Minnesota, Iowa, Nebraska, Oregon, Louisiana, Colorado, Ohio and New York. Will email to interested parties. Contact info@ginsbook.com to request...

*New*
THOMAS A. GOLDWASSER RARE BOOKS
DAVID A. HAMILTON AMERICANA BOOKS
JONATHAN A. HILL, BOOKSELLER, INC.
At Home with Books -- in collaboration with Honey & Wax Booksellers, Simon Beattie, & Justin Croft.
JOHN W. KNOTT, JR., BOOKSELLER
Catalog #74: 100 Rare Books -- with an emphasis on history and military affairs. Please request from mail@kubikbooks.com...
MICHAEL LAIRD RARE BOOK & MANUSCRIPTS
DAVID M. LESSER, FINE ANTIQUARIAN BOOKS
LIBER ANTIQUUS, EARLY PRINTED BOOKS & MANUSCRIPTS
J. & J. LUBRANO MUSIC ANTIQUARIANS
STUART LUTZ HISTORIC DIOCUMENTS
MAIN STREET FINE BOOKS & MANUSCRIPTS
Featured item:
by Forrest Carter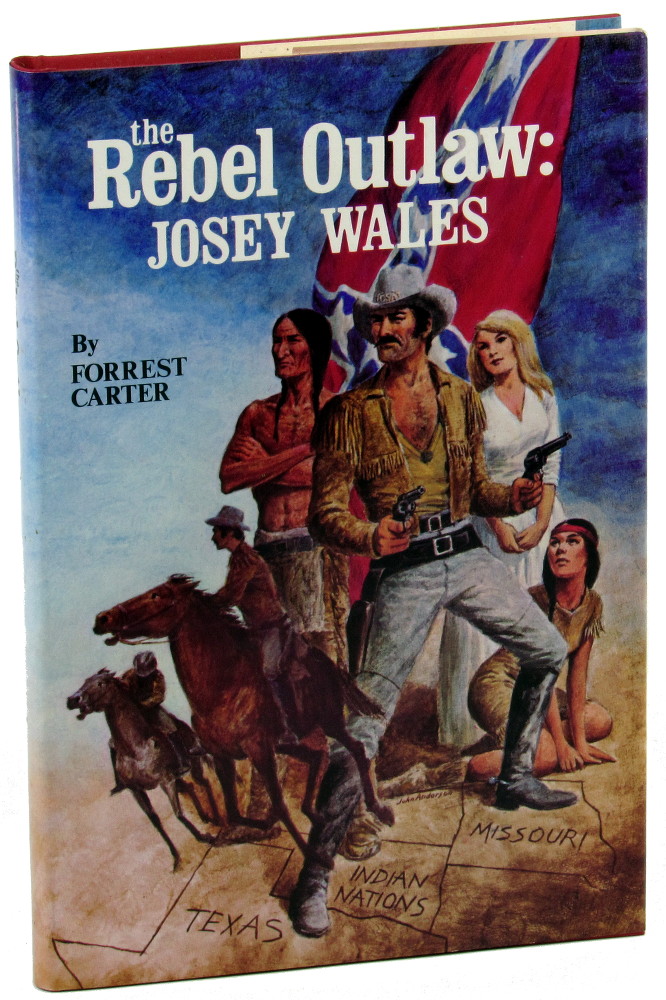 Gantt: Whipporwhill Press, 1973. First Edition. Tiny bit of foxing to top edge of textblock, endpapers show just some light offsetting, else a fine, likely unread copy in a fine jacket that has a small vertical rubbed spot near the head of the spine.
One of a supposed print run of 75 copies, the majority of which were allegedly pulped by agreement with Clint Eastwood when he bought the rights to produce the film The Outlaw Josey Wales. While no one has been able to prove one way or another the truth behind this bit of lore, the book is truly scarce with truly nice copies thin on the ground.
Offered by Kenneth Mallory, Bookseller and found in "Spring New Arrivals."
Illustrated Catalog on Carlos Merida (1891–1984) -- Mexican painter, sculptor, writer and graphic designer -- available by request from mmbooks@comcast.net
MARTAYAN LAN RARE BOOKS & MAPS
BRUCE MCKITTRICK RARE BOOKS, INC.
R & A PETRILLA, ANTIQUARIAN BOOKSELLERS
PHILADELPHIA RARE BOOKS & MANUSCRIPTS
PHILLIP J. PIRAGES FINE BOOKS & MEDIEVAL MANUSCRIPTS
Featured item:
JESSE, J. HENEAGE. LONDON: ITS CELEBRATED CHARACTERS AND REMARKABLE PLACES

(London: Richard Bentley, 1871) 200 x 130 mm. (7 3/4 x 5"). Three volumes expanded to six. "SPECIAL COPY, extra illustrated in six volumes." CHARMING OLIVE GREEN CRUSHED MOROCCO, GILT AND WITH PICTORIAL INLAY, BY BAYNTUN (stamp-signed on front turn-in), upper covers with leafy strapwork gilt frame, central inlay in multiple colors of morocco depicting one of the characters from the book, with gilt lettering beneath it, lower covers with gilt-rule frame, raised bands, spines gilt in compartments with strapwork and leaf ornament, gilt lettering, gilt-ruled turn-ins, marbled endpapers, all edges gilt. Housed together in a green cloth slipcase. WITH 537 PLATES, consisting of 27 folding plates (nine hand-colored), 124 hand-colored plates (19 of them from the Rowlandson "Dr. Syntax" series), and 386 black & white engravings, all but one of the plates with original tissue guard. Spines evenly sunned to a pleasing hazel brown, one leaf with neat repair to upper corner (away from text), occasional mild foxing to plates (usually marginal, never offensive), other trivial imperfections, but A VERY FINE SET, clean and fresh, with none of the offsetting that usually plagues extra-illustrated works, IN SPARKLING BINDINGS.
This is perhaps the ultimate copy of Jesse's entertaining and informative tour of his beloved city and the characters who have inhabited it over the centuries: it was professionally "grangerized" with fine specimens of 96 relevant prints, all with tissue guards; it was beautifully bound by a leading firm in a style that perfectly complements the contents; and, despite these obvious benefits, it has seen very little use. John Heneage Jesse (1809-74) wrote a number of popular historical works, including royal biographies and court memoirs, that drew praise for their conscientious attention to fact and detail, if not for their originality or wit. Described by DNB as "a dedicated Londoner, [who] seldom ventured away from the metropolitan area," Jesses leads us here through the districts of his home city, relating anecdotes, noting the locations of momentous events, and pointing out architectural treasures. The added portraits, scenes, and views help to bring his account to life, and the diligent use of tissue guards has prevented these illustrations from affecting the adjacent leaves in a detrimental way. Rowlandson's famous caricatures from "Dr. Syntax," portraying the amusing adventures of a country parson in the metropolis, comprise just one example of the half a thousand inserted plates here. The bindings from Bayntun of Bath depict some of the humble characters whose presence gives the capital so much of its flavor: those who sell their wares on the streets and do everyday jobs that keep the city running. The Bayntun firm, founded in Bath in 1894, is now the last of the great Victorian trade binderies still in family ownership. Our binding probably dates from the first quarter of the 20th century, when the workshop was known for imaginative designs that involved the augmenting of gilt decoration with inlaid pictorial designs.
Offered by Phillip J. Pirages Fine Books and found in "Catalogue 76" (item #100).
RABELAIS BOOKS ON FOOD & DRINK
RICHARD C. RAMER, OLD & RARE BOOKS
LIST 325: VIRGINIA — Books, Pamphlets, & Ephemera, primarily from a multi-generational, single-family collection
B&L ROOTENBERG RARE BOOKS & MANUSCRIPTS
BARRY LAWRENCE RUDERMAN ANTIQUE MAPS, INC.
Featured item:
Warren, John. The Conchologist.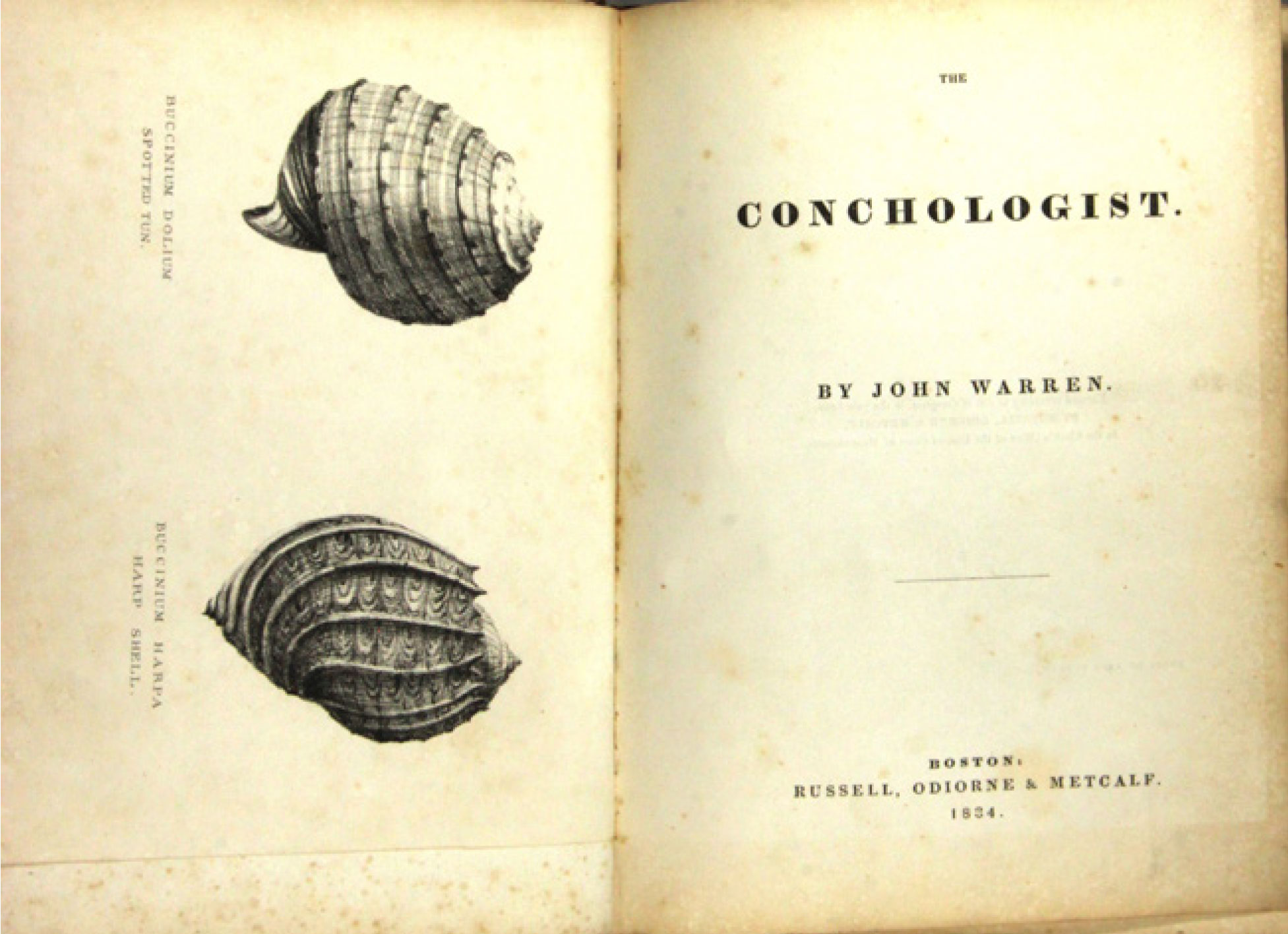 Boston: Russell, Odiorne & Metcalf, 1834. First edition, small 4to, pp. [4], 204; lithograph frontispiece and 16 composite lithograph plates; contemporary and likely original red roan-backed marbled boards, gilt lettered direct on gilt-paneled spine; spine worn, and chipped at the bottom, joints cracked, occasional light spotting, leaf [16-4] with two tiny holes affecting a half-dozen letters (sense remains clear); good, sound, and quite clean. This copy inscribed by the author to "Miss Mugford from Mr. Warren, Boston Oct. 9, 1835." Misss Mugford is likely Sarah S. Mugford of Salem, an invalid poet, dress-maker, and needlepoint artist. (See Worcester, Samuel M., Triumph in Trial. A Memorial of Sarah S. Mugford, of Salem, Mass., Boston, 1862.)
This is the first American manual of conchology. Includes a "Glossary of terms used in conchology" on pp. 120-22.
Offered by Rulon-Miller Books and found in "Recently Catalogued (May 12, 2020)" (item #33).
Featured item:
FIELD, Thomas Warren. Pear Culture. A Manual for the Propagation, Planting, Cultivation, and Management of the Pear Tree.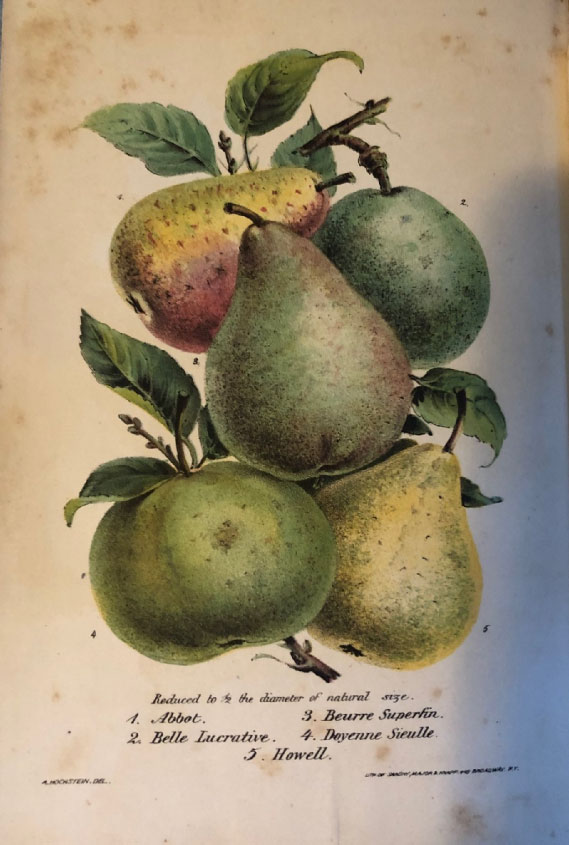 New York: A. O. Moore, 1859. 8vo, orig. brown stamped cloth, gilt. Pp. viii, [13]-286. Color litho frontis.; 3 plates; illus in text. Some foxing to frontis.; moderate rubbing, an excellent copy. $125.00 First edition, by the Brooklyn nurseryman and bibliographer of American Indian history.
An attractive copy of a standard authority, issued at the height of the pear's popularity. Hedrick considered it "about the best book of the times devoted to a single fruit." - p. 494. Mass Hort Cat, p. 97; Oak Springs Pomona 84.
Offered by Savoy Books and found in "Pomology."
California Book Fair 2019: 130 Items on Science and Medicine is now available on request from scientiabk@gmail.com...
MARC SELVAGGIO, BOOKS & EPHEMERA
Featured item: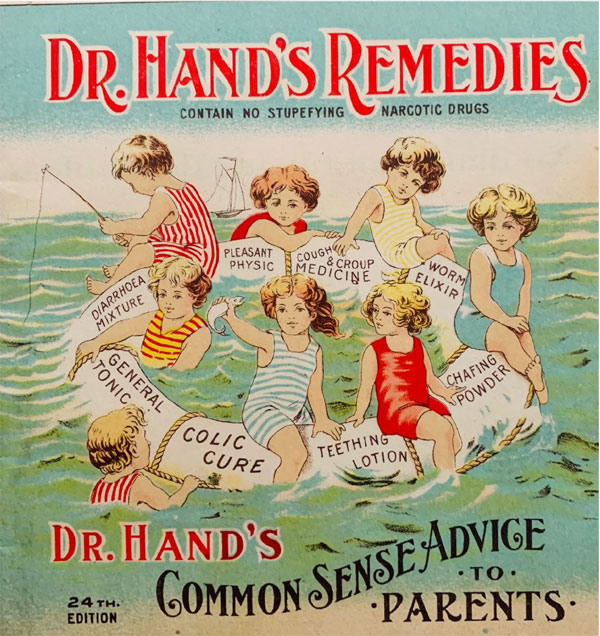 Hand, Dr. D[avid] B. Dr. Hand's Remedies contain no stupefying narcotic drugs. Dr. Hand's Common Sense Advice to Parents. 24th ed. [Philadelphia: Hand Medicine Co., ca. 1912.] 14 cm. [32]pp + pictorial chromo wrappers (of children hanging onto a life preserver made of Dr. Hand medications). Fuzzy half-tones of kids throughout. Replete with dated testimonials from happy parents. OCLC cites on two locations for a 29th edition (1916), at the Winterthur and Rochester.
Offered by Marc Selvaggio, Books & Ephemera and found in "Health & Medicine Ephemera, Part 2."
MICHAEL R. THOMPSON RARE BOOKS
Featured item:
INTERNATIONAL LADIES' GARMENT WORKERS' UNION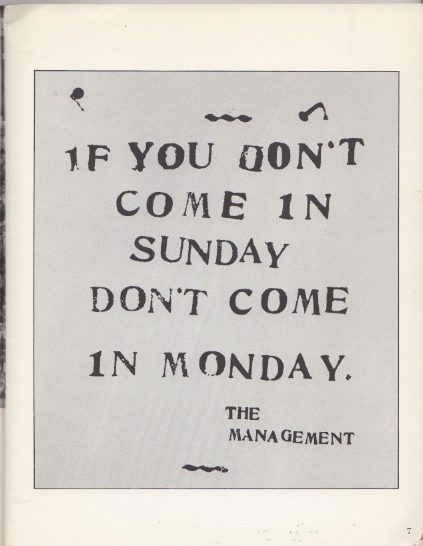 Signature of 450,000: This publication is a presentation of the 65th Anniversary Convention of the International Ladies' Garment Workers' Union, Miami Beach, Florida, May 1965.

New York: ILGWU, 1965. 64 pages. Compilation of photographs that tell the history of the ILGWU to commemorate the union's 65th anniversary. Original union receipt, showing purchase of this book, tipped in. Side-stapled with tanning to edges of back cover. Mild wear to front cover with a minute crease to the edge of the right upper corner; lower right corned and pages slightly creased as well, not effecting text. Circular stain on the letter "u" of title, not effecting readability, else very good.
Offered by Tomberg Rare Books and found in "E-list #27."
JOHN WINDLE ANTIQUARIAN BOOKSELLER
--
Remember, you can always browse and download the latest catalogs published by ABAA members on ABAA.org by visiting the following link: https://www.abaa.org/catalog/... (You can also access this page by selecting 'Booksellers' from the top menu, scroll to the bottom of the page to 'Member Catalogs', and click on 'View All'.)
---
Get to know the members of the ABAA...