For decades, rare-book dealers have used printed catalogs to inform collectors of their available items. In the internet age, these print catalogs persist -- in fact, have often become things of beauty -- but can also take the form of electronic lists, .pdfs, Google docs, electronic magazines, email newsletters, videos, blog posts, even Instagram and Facebook posts! In order to keep up with the rapidly evolving trade, we try to include all such lists here, in whatever form our members choose to release them.
Browse the latest catalogs, newsletters, e-lists, etc., of rare books, fine bindings, incunabula, print ephemera, and much more from the members of the ABAA below...
Please note, this list is updated weekly, usually on Wednesdays. *New* indicates any catalogs added this week.
AARDVARK BOOKS/EZRA THE BOOKFINDER
W. C. BAKER RARE BOOKS & EPHEMERA
BETWEEN THE COVERS, RARE BOOKS
Catalog 57 -- Sustained Ambitions or, The Eccentricities of Endurance
American Notes & Queries, 1946-1950 and 1962-1976. 18 volumes, lacking 3 issues. -- contact books@bledsoebooks.com for more information...
Small Collection of Publishing Histories, Memoirs, and Methods -- contact books@bledsoebooks.com for more information...
ANDREW CAHAN, BOOKSELLER, LTD.
FEATURED ITEM:
Collection of Photographs Concord NH Winter Parade 1880's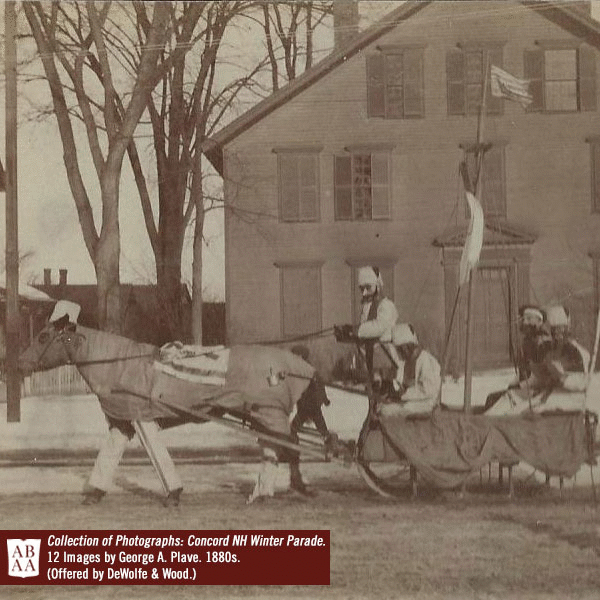 12 Images taken by George A. Plave Photographer of Concord, NH, showing sleights in what appear to be a Winter Parade Images 3 3/4 by 4 1/2. Circa 1880's slight bowing. Very nice images in good cond.
Offered by DeWolfe & Wood and included in their current list of New Arrivals (item #8).
Catalog #88, Medical Books from the Fifteenth to the Twentieth Centuries -- This catalog is print-only. To request a copy, contact MedBks@aol.com
RODGER FRIEDMAN RARE BOOK STUDIO
OCCASIONAL LIST 22: A Miscellany: Original Art Work; Small Archive of Major English Watercolourist; Interesting Theatrical Pieces; Manuscript Material, Etc., Etc. -- available on request from fgrare@fgrarebooks.com
THOMAS A. GOLDWASSER RARE BOOKS
JONATHAN A. HILL, BOOKSELLER, INC.
JOHN W. KNOTT, JR., BOOKSELLER
Catalog #74: 100 Rare Books -- with an emphasis on history and military affairs. Please request from mail@kubikbooks.com...
MICHAEL LAIRD RARE BOOK & MANUSCRIPTS
DAVID M. LESSER, FINE ANTIQUARIAN BOOKS
LIBER ANTIQUUS, EARLY PRINTED BOOKS & MANUSCRIPTS
J. & J. LUBRANO MUSIC ANTIQUARIANS
MAIN STREET FINE BOOKS & MANUSCRIPTS
BRUCE MCKITTRICK RARE BOOKS, INC.
Sanskrit and Other Studies *New*
R & A PETRILLA, ANTIQUARIAN BOOKSELLERS
PHILADELPHIA RARE BOOKS & MANUSCRIPTS
PHILLIP J. PIRAGES FINE BOOKS & MEDIEVAL MANUSCRIPTS
RABELAIS BOOKS ON FOOD & DRINK
RICHARD C. RAMER, OLD & RARE BOOKS
B&L ROOTENBERG RARE BOOKS & MANUSCRIPTS
MARC SELVAGGIO, BOOKS & EPHEMERA
Catalog 148: Our Material Culture - A Selection of American and European trade catalogues for retail & wholesale markets, 1870-1965, with a particular emphasis on catalogues from France.
MICHAEL R. THOMPSON RARE BOOKS
JOHN WINDLE ANTIQUARIAN BOOKSELLER
--
Remember, you can always browse and download the latest catalogs published by ABAA members on ABAA.org by visiting the following link: https://www.abaa.org/catalog/... (You can also access this page by selecting 'Booksellers' from the top menu, scroll to the bottom of the page to 'Member Catalogs', and click on 'View All'.)