Browse the latest catalogs, newsletters, and e-lists of rare books, fine bindings, incunabula, print ephemera, and much more from the members of the ABAA below. (Also includes podcasts, blog posts, and other digital formats.)
*New* indicates any catalogs added this week.
AARDVARK BOOKS/EZRA THE BOOKFINDER
Featured item:
IL FILOCOPO, DI NUOVO RIVEDUTO, CORRETTO, ET ALLA SUA VERA LETTIONE RIDOTTO D M. FRANCESCO SANSOVINO. CON LA TAVOLA DI TUTTE LE MATERIE CHE NELL'OEFRA SI CONTENGONO
by Giovani Boccacio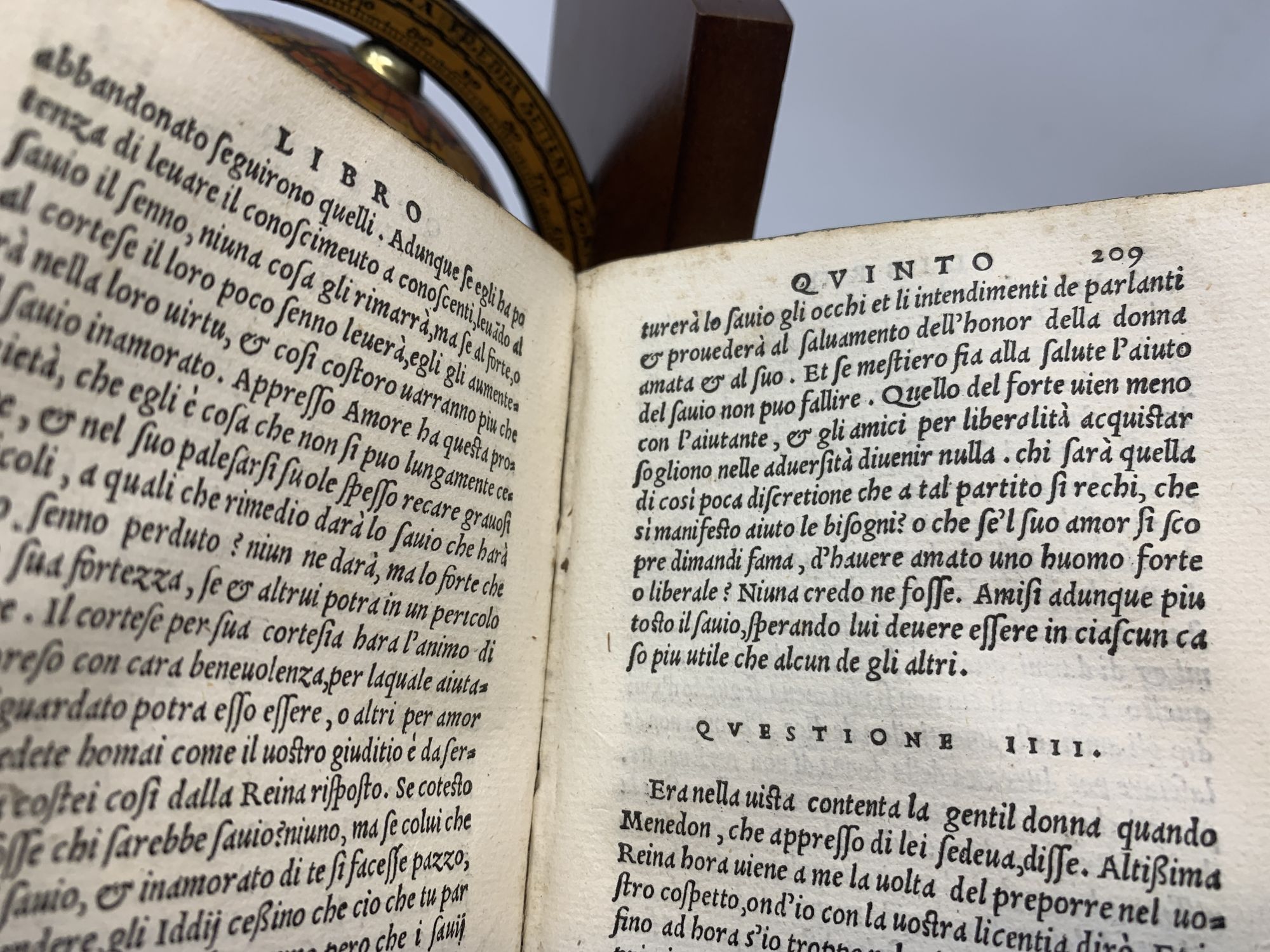 Venice: Repario and Cesano, 1551. vellum. 393 pages. Engraved title page. Full vellum binding with red leather spine label. Thick 12mo [4.5x6.5cm]. Vellum shows soiling, edgewear and some stains. Front hinge cracked but binding sound. Spine label dulled and chipped. Most of the inside paste down pulled out leaving residue and border. Some rippling to rear pastedown. Title page foxed, otherwise clean with mild toning. Good. Item #76851

Boccacio's first major work, preceding the DeCameron. A retelling of the 12th Century French romance. In Italian.
Offered by Aardvark Books and found in "Recent Acquisitions."
ANTIPODEAN BOOKS, MAPS, PRINTS
Featured item:
Chidester, Ann. Young Pandora.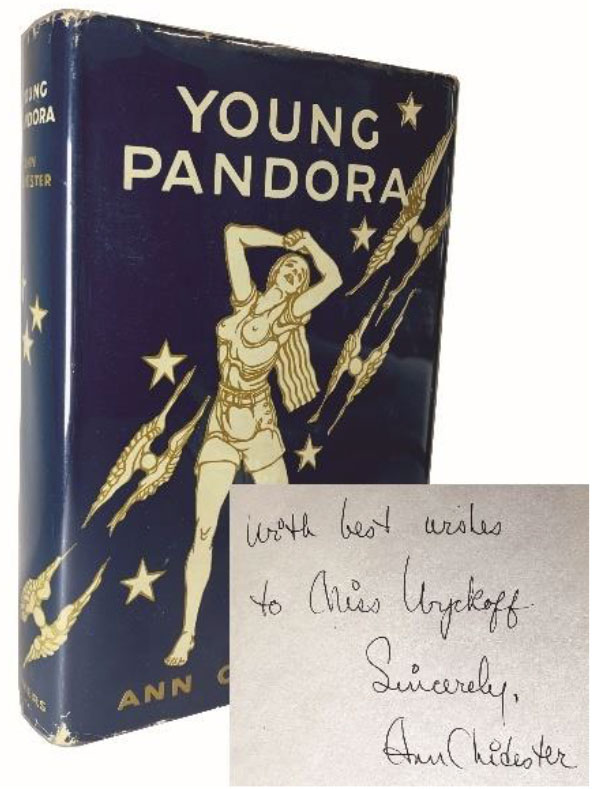 New York: Scribner's, 1942. First edition, first printing. Inscribed by Chidester to Irma Wyckoff, secretary to Maxwell Perkins: "With best wishes to Miss Wyckoff, Sincerely, Ann Chidester". Additionally laid in to this copy are a typed letter signed and typed postcard signed, also to Irma Wyckoff. Publisher's pale blue-green cloth; in original blue dust jacket with an illustration by Cleon. Near fine book; in very good unclipped dust jacket with some wear and shallow nicks to corners, a few small closed tears to head of spine, 1" closed tear to top edge of rear panel near the spine, a few small tears to bottom of rear panel, front panel bright and fresh. Overall, a pleasant copy, with an interesting association. Young Pandora is Ann Chidester's first novel. It is autobiographical in nature, featuring a young girl from the Midwest who falls in love, travels, and begins a writing career. Chidester wrote five novels and many short stories, focusing on women's issues and the plight of the poor. She was close friends with her publisher at Scribner's, Maxwell Perkins, who famously published F. Scott Fitzgerald, Ernest Hemingway, and Thomas Wolfe. This copy of Young Pandora was inscribed by Chidester to Irma Wykoff, Perkins' devoted secretary. Also included are a typed letter and postcard. In them, she discusses their mutual acquaintance Marian, an editor at Mademoiselle, and Chidester's recent move to Taos, NM. She also talks about the new book she is writing, Mable Dodge Luhan's literary colony, and refers to Perkins as "my friend, Mr. God."
Offered by B&B Rare Books and found in "ABAA Virtual Book Fair List."
W. C. BAKER RARE BOOKS & EPHEMERA
Short E-List of Mostly Interwar Bookseller and Auction Catalogues -- contact books@bledsoebooks.com for more information...
ANDREW CAHAN, BOOKSELLER, LTD.
DE SIMONE COMPANY, BOOKSELLERS
Catalog #88, Medical Books from the Fifteenth to the Twentieth Centuries -- This catalog is print-only. To request a copy, contact MedBks@aol.com...
RODGER FRIEDMAN RARE BOOK STUDIO
OCCASIONAL LIST 22: A Miscellany: Original Art Work; Small Archive of Major English Watercolourist; Interesting Theatrical Pieces; Manuscript Material, Etc., Etc. -- available on request from fgrare@fgrarebooks.com...
Has the following lists available: California, Texas, Kansas, Missouri, Minnesota, Iowa, Nebraska, Oregon, Louisiana, Colorado, Ohio and New York. Will email to interested parties. Contact info@ginsbook.com to request...
Featured item:
(Anonymous) Immense Succés La Caméléonnia. Affiches Américaines: Ch. Levy. Paris:10 rue Martel. (Ca 1895). Colored lithographic poster on paper. Mounted on silk. 22 ½" x 31" folds, chips to margins. Colors bright. The poster advertises a cabaret dancer who wore and waved colored silks in front on electric lights to create a diaphanous effect of movement in colors. This type of performance was pioneered by Loie Fuller but copied in cabarets at the time. The dancer is lost to time. Her name suggests the color changes of a chamaeleon and also evokes the theme of the Dumas story made into a play La Dame aux Camélias (1852). Rare. Only location is at Musée Carnavalet. A
Offered by Golden Legend and found in "Images of Bellet and Danse."
THOMAS A. GOLDWASSER RARE BOOKS
DAVID A. HAMILTON AMERICANA BOOKS
Featured item:
Charles Barney Cory, The Birds of Haiti and San Domingo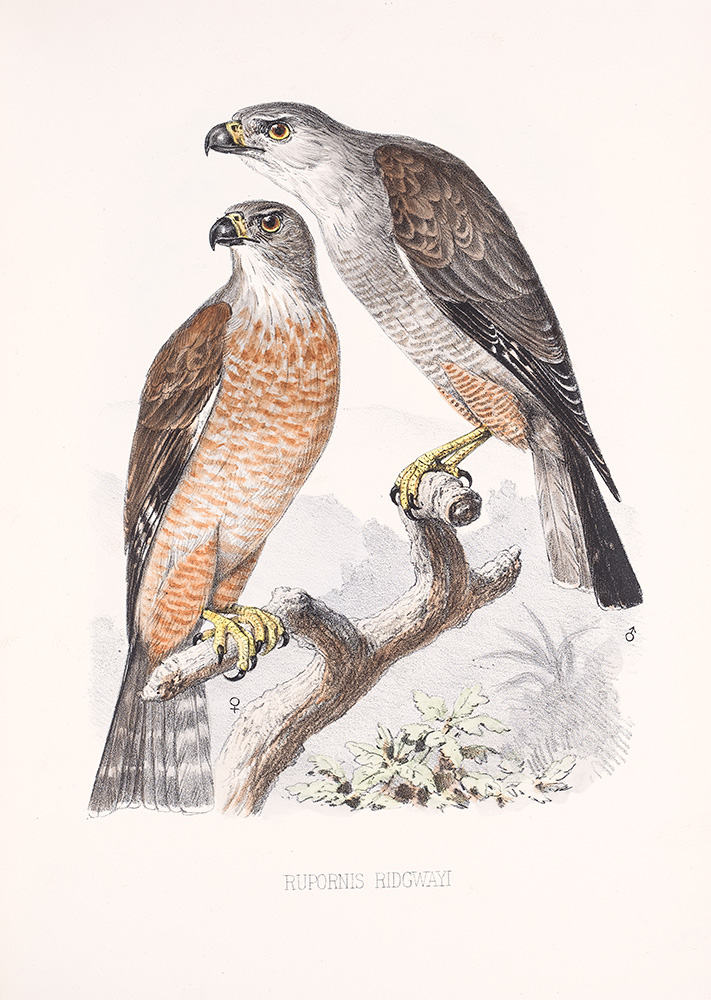 Boston: published for the Author by Estes & Lauriat, [1884-] 1885. Quarto. (11 3/4 x 8 7/8 inches). Uncoloured lithographic map, 22 hand-coloured lithographic plates (18 of birds, 1 of a nest and eggs, 3 of details of heads of birds).
Contemporary half morocco and marbled paper covered boards, spine gilt with raised bands, marbled endpapers. Provenance: W. L. Foster (booklabel).

A fine monograph on the birds of Haiti and San Domingo, from an edition limited to 300 copies.

An exhaustive account of all the birds of Haiti and St. Domingo known in the late 19th century. The advertisement for the work notes that the "edition will be absolutely limited to three hundred copies, and will be sold only to subscribers for the complete work. Price $5.00 per part." Included are representatives of 87 genus from 42 different families. Each entry includes the synonymy and description of the individual species, together with interesting more personalised notes by the author about where he encountered the birds, how many specimens he collected, etc. The fine plates are by various artists including eight by Joseph Smit. They include 18 plates of individual or pairs of birds (these are of a total of 17 different species as there are two plates of adults and a juvenile of the same species), 1 plate of a nest with eggs in it, and three plates with multiple images of bird's heads showing a total of 23 species.
Offered by Donald A. Heald Rare Books and found in "New Acquisitions (July 2020)."
JONATHAN A. HILL, BOOKSELLER, INC.
At Home with Books -- in collaboration with Honey & Wax Booksellers, Simon Beattie, & Justin Croft.
Featured item:
ALBUM des titres d'alimentation. Septembre 1941. 3eme Bureau.

1941. 31.5cm x 21cm. One typed sheet tipped in followed by 21 ll, [1 - blank] leaf (of which five of the leaves have manuscript and documents recto and verso; the other sixteen recto only). Contemporary plain paper wrappers, title in manuscript on the upper wrapper, light wear to the edges of the wrappers and some sunning. $1500.00 An incredible document from the German occupation of Paris during the Second World War. The Germans took control of Paris on June 14th, 1940. Already, food was scarce in France due to much of the work force having already left for war and the supply chains from France's colonies greatly disrupted. This was made far worse when Germany occupied France. Immediately, the remaining French products were sent to Germany to support the German cause, and only what was left over, was made available to the French through a strict rationing system.
The current album relates to the rations available in Paris during the month of September, 1941. On the upper wrapper is written "3eme Bureau;" this likely refers to the rationing office of the 3rd arrondissement in Paris. The first leaf is a typescript index for the album (all leaves are present). The sheets are numbered 1-21 (with a few versos numbered with a "bis" number) and contain the original ration sheets that were being issued by the German occupation government during the war. The sheets are pasted in, and in most cases, small ration tags are cut out and mounted alongside. On each sheet, there is also manuscript information that explains the quantity of the given foodstuff that the ration is good for and how it is to be administered. For example, one ration tag is good for 325 grams of butter, another for 60 grams of cheese, and so on. The foods included are bread; meat and cold cuts; and matières grasses (i.e. oil; butter; cheese; beef fat; margarine; and lard). There is also a special coupon for workers which entitles them to greater amounts of food. On the verso of that coupon, it states "L'hiver qui s'aproche sera rude. Les effectifs des cuisines d'entr'aide vont croître. Vous aiderez le SECOURS NATIONAL à « tenir ». Et la misere reculera !" (The coming winter will be harsh. The number of service kitchens [i.e. soup kitchens] will increase. You will help SECOURS NATIONAL to "hold on." And misery will recede!) Also laid in is a contemporary newspaper clip entitled "Le ravitaillement. Les rations alimentaires du mois de juillet" and an unused contemporary German postcard (printed in Berlin) that is a picture of German ration coupons.3 A remarkable glimpse into the conditions under which the Parisians had to live during the Second World War. In good condition and preserved in an archival folder.
Offered by Ben Kinmont, Bookseller and found in "Gastronomy & Economic Precarity."
JOHN W. KNOTT, JR., BOOKSELLER
Catalog #74: 100 Rare Books -- with an emphasis on history and military affairs. Please request from mail@kubikbooks.com...
MICHAEL LAIRD RARE BOOK & MANUSCRIPTS
DAVID M. LESSER, FINE ANTIQUARIAN BOOKS
LIBER ANTIQUUS, EARLY PRINTED BOOKS & MANUSCRIPTS
Featured item:
Ascham, Roger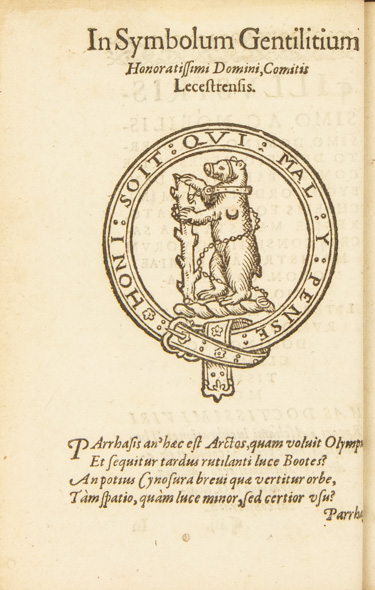 19th c. calf, single gilt filet framing the boards, hinges discreetly repaired, gilt spine, label chipped, edges worn. Fine copy with the initial leaf with signature mark and blank ¶8 both present. Marginal worm-trail to blank lower margin in middle signatures, not affecting text. Title with decorative border, woodcut of Robert Dudley, Earl Leicester's emblem (the muzzled bear) inscribed with the Garter motto on leaf ¶3. Woodcut initials, diagram of divisions of the Mass, some passages in Greek. Rare. 7 institutional holdings in North America. Provenance: bookplates of George Stokes, Cardiff Castle, and Robert Pirie.
One of the greatest of the Tudor humanists, Ascham was favored by Henry VIII, to whom he dedicated his "Toxophilus", tutor to the princess Elizabeth, and author of a masterpiece of English pedagogy, "The Scholemaster". Ascham also tutored the boy king Edward VI in the art of elegant handwriting, and Edward thought of him fondly, and so it is of interest that Ascham wrote this "reformed" work while Edward was being groomed by his close advisors to be a thoroughly Protestant monarch.
Roger Ascham (1515/16-1568) penned his 'Apologia pro Caena Dominica contra Missam & eius Praestigias' ('A Defense of the Lord's Supper against the Mass and its Magic') at Cambridge in 1547/8 during the first year of Edward VI's reign. It was published in Ascham's name some thirty years later (and about ten years after Ascham's death) in 1577/8, together with his dedicatory preface to Robert Dudley and his other theological pieces, which are also in Latin...
Offered by Liber Antiquus and found in "Rare Books & Manuscripts 13th-18th c."
J. & J. LUBRANO MUSIC ANTIQUARIANS
STUART LUTZ HISTORIC DIOCUMENTS
Featured item:
Jaws 3D Poster (with Glasses Still Attached) "Guess Who's Coming to Dinner" Version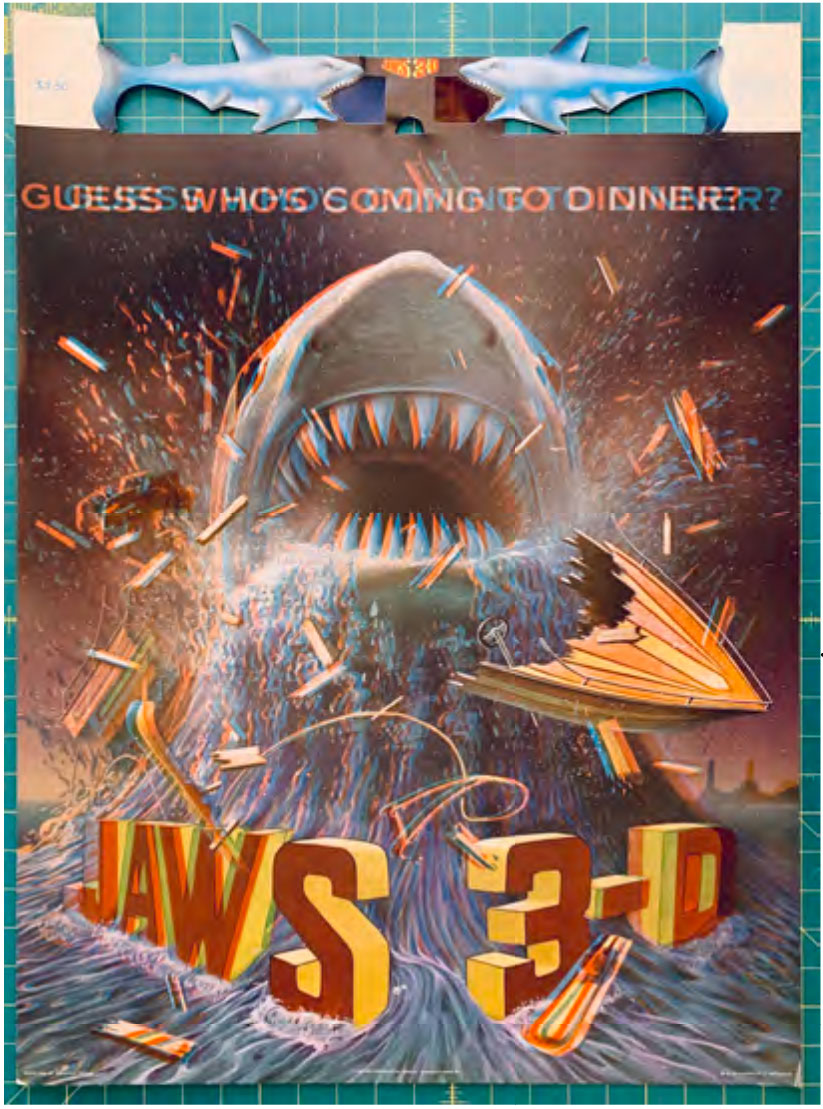 Hallmark, 1983. Minor shelf/edge wear, else bright and clean. Approx. 20x28" Very Good+. There were at least two versions of this poster, one with "I Love Everybody) at the top and this one with "Guess Who's Coming to Dinner." This is clearly the preferred version. A scarce poster to find in good condition, especially in as find condition as seen here.
Offered by Lux Mentis Booksellers and found in "Poster Print Art."
MAIN STREET FINE BOOKS & MANUSCRIPTS
Illustrated Catalog on Carlos Merida (1891–1984) -- Mexican painter, sculptor, writer and graphic designer -- available by request from mmbooks@comcast.net
MARTAYAN LAN RARE BOOKS & MAPS
BRUCE MCKITTRICK RARE BOOKS, INC.
R & A PETRILLA, ANTIQUARIAN BOOKSELLERS
PHILADELPHIA RARE BOOKS & MANUSCRIPTS
PHILLIP J. PIRAGES FINE BOOKS & MEDIEVAL MANUSCRIPTS
Featured item:
JESSE, J. HENEAGE. LONDON: ITS CELEBRATED CHARACTERS AND REMARKABLE PLACES

(London: Richard Bentley, 1871) 200 x 130 mm. (7 3/4 x 5"). Three volumes expanded to six. "SPECIAL COPY, extra illustrated in six volumes." CHARMING OLIVE GREEN CRUSHED MOROCCO, GILT AND WITH PICTORIAL INLAY, BY BAYNTUN (stamp-signed on front turn-in), upper covers with leafy strapwork gilt frame, central inlay in multiple colors of morocco depicting one of the characters from the book, with gilt lettering beneath it, lower covers with gilt-rule frame, raised bands, spines gilt in compartments with strapwork and leaf ornament, gilt lettering, gilt-ruled turn-ins, marbled endpapers, all edges gilt. Housed together in a green cloth slipcase. WITH 537 PLATES, consisting of 27 folding plates (nine hand-colored), 124 hand-colored plates (19 of them from the Rowlandson "Dr. Syntax" series), and 386 black & white engravings, all but one of the plates with original tissue guard. Spines evenly sunned to a pleasing hazel brown, one leaf with neat repair to upper corner (away from text), occasional mild foxing to plates (usually marginal, never offensive), other trivial imperfections, but A VERY FINE SET, clean and fresh, with none of the offsetting that usually plagues extra-illustrated works, IN SPARKLING BINDINGS.
This is perhaps the ultimate copy of Jesse's entertaining and informative tour of his beloved city and the characters who have inhabited it over the centuries: it was professionally "grangerized" with fine specimens of 96 relevant prints, all with tissue guards; it was beautifully bound by a leading firm in a style that perfectly complements the contents; and, despite these obvious benefits, it has seen very little use. John Heneage Jesse (1809-74) wrote a number of popular historical works, including royal biographies and court memoirs, that drew praise for their conscientious attention to fact and detail, if not for their originality or wit. Described by DNB as "a dedicated Londoner, [who] seldom ventured away from the metropolitan area," Jesses leads us here through the districts of his home city, relating anecdotes, noting the locations of momentous events, and pointing out architectural treasures. The added portraits, scenes, and views help to bring his account to life, and the diligent use of tissue guards has prevented these illustrations from affecting the adjacent leaves in a detrimental way. Rowlandson's famous caricatures from "Dr. Syntax," portraying the amusing adventures of a country parson in the metropolis, comprise just one example of the half a thousand inserted plates here. The bindings from Bayntun of Bath depict some of the humble characters whose presence gives the capital so much of its flavor: those who sell their wares on the streets and do everyday jobs that keep the city running. The Bayntun firm, founded in Bath in 1894, is now the last of the great Victorian trade binderies still in family ownership. Our binding probably dates from the first quarter of the 20th century, when the workshop was known for imaginative designs that involved the augmenting of gilt decoration with inlaid pictorial designs.
Offered by Phillip J. Pirages Fine Books and found in "Catalogue 76" (item #100).
RABELAIS BOOKS ON FOOD & DRINK
RICHARD C. RAMER, OLD & RARE BOOKS
LIST 325: VIRGINIA — Books, Pamphlets, & Ephemera, primarily from a multi-generational, single-family collection
B&L ROOTENBERG RARE BOOKS & MANUSCRIPTS
BARRY LAWRENCE RUDERMAN ANTIQUE MAPS, INC.
California Book Fair 2019: 130 Items on Science and Medicine is now available on request from scientiabk@gmail.com...
MARC SELVAGGIO, BOOKS & EPHEMERA
MICHAEL R. THOMPSON RARE BOOKS
Featured item:
Pool, Bill W. (Editor). Compton Police Annual.
Compton, CA: Compton Police Officers Association, 1964. 8.5 x 11 inches, 72 pp, with illustrations and ads. Three-hole punched, police department stamp on front cover, one gathering loose front staples; very good. Fourth annual edition of this periodical, which was used to raise funds for the Officers Relief Fund and to inform the public of "some of our problems and functions."
Within a year, there would be riots--founded in a long history of friction between African-American residents and the police--in neighboring Watts, and by 1970, Compton would have the highest crime rate in California. This publication starts with a positive story showcasing of a newly completed police building, and includes articles about successful police operations and public safety tips. But hints of the policecommunity tension to come are also present. An article titled "'Defenders of the Peace' in Community and Human Relations" asks citizens to support the efforts of the police, complaining that "unjust charges are sometimes made against the police. Charges made or rumored by persons who do not have all the facts. When this happens, police morale is jeopardized and the development of an esprit de corps is made difficult." Another, titled "Take the Handcuffs Off Our Police," argues that by overzealous interpretation of constitutional rights "we are increasingly throttling our law enforcement officers with judge-made rulings that stagger common sense." And an editorial proclaims that "now, more than ever before in our history, one is either for law enforcement or he's against it. He's either for mob rule--or he's for the law. He's either for America--or he's against America. Let's begin to make our laws say what they mean and mean what they say--and let everybody know it." No holdings (of any issue) located in OCLC.
Offered by Walkabout Books and found in "List 16: Police & Community in the United States" (item #27).
Featured item:
de Beauvoir, Simone. Le Deuxieme Sexe (in 2 vols.).
Paris: Gallimard, 1949\. First edition. Original publisher's cloth bindings with titles to spine and pictorial illustrations of Mario Prassinos to boards. Pegasus motif endpapers. Gentle rubbing to extremities of spines; gentle bumps to corners. Front board of volume II mildly bowed. In all, a pleasing pair of this important philosophical work, which was released in a limited edition of 2,105 copies, including the present set which is one of 2,000 numbered copies on Alfama Marais paper. One of the preeminent French existentialist philosophers, working alongside other intellectual greats such as Jean-Paul Sartre and Albert Camus, Simone de Beauvoir made her greatest contributions in the fields of ethics, feminism, and politics. She is perhaps best known for the present work, The Second Sex, which argues that women have been historically relegated to a second class as men's 'Other,' and that this has led to systemic oppression. "Her revolutionary magnum opus, it was published in two volumes and immediately found both an eager audience and harsh critics. The Second Sex was so controversial that the Vatican put it on the Index of Prohibited Books...Striking for its breadth of research and the profundity of its central insights, it remains to this day one of the foundational texts in philosophy, feminism, and women's studies" (Encyclopedia of Philosophy). Near Fine.
Offered by Whitmore Rare Books and found in "RBMS Virtual Showcase."
JOHN WINDLE ANTIQUARIAN BOOKSELLER
--
Remember, you can always browse and download the latest catalogs published by ABAA members on ABAA.org by visiting the following link: https://www.abaa.org/catalog/... (You can also access this page by selecting 'Booksellers' from the top menu, scroll to the bottom of the page to 'Member Catalogs', and click on 'View All'.)
---
Get to know the members of the ABAA...