Explore the most-recent catalogs of rare books and print ephemera from the members of the ABAA.
Please note, this list is updated weekly, usually on Wednesdays. *New* indicates any catalogs added this week. We aim to include the most-recent catalog (or catalogs if appropriate) from members, because not every member issues new catalogs every week -- and not every collector can browse this list weekly.
Recent Acquisitions -- list only available to mailing list subscribers. Sign up here...
English Libertine LIterature 1652-1843 -- Catalog available by request stuart@sbrarebooks.com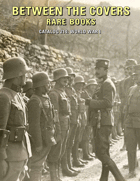 BETWEEN THE COVERS, RARE BOOKS
Americana: Books, Periodicals, Maps & Views -- November, 2016
Catalog 57 -- Sustained Ambitions or, The Eccentricities of Endurance
Catalog 58: Carriage Books from the Collection of Deirdre H. Pirie
A Catalog of Fine Press: The 19th Century and Beyond
ANDREW CAHAN, BOOKSELLER, LTD.
David Rajchel Arkham House Archive -- Offered jointly with John W. Knott, Jr., Bookseller
OCCASIONAL LIST 22: A Miscellany: Original Art Work; Small Archive of Major English Watercolourist; Interesting Theatrical Pieces; Manuscript Material, Etc., Etc. -- available on request from fgrare@fgrarebooks.com
THOMAS A. GOLDWASSER RARE BOOKS
JONATHAN A. HILL, BOOKSELLER, INC.
JOHN W. KNOTT, JR., BOOKSELLER
David Rajchel Arkham House Archive -- Offered jointly with L.W. Currey, Inc.
Catalog #74: 100 Rare Books -- with an emphasis on history and military affairs. Please request from mail@kubikbooks.com...
MICHAEL LAIRD RARE BOOK & MANUSCRIPTS
DAVID M. LESSER, FINE ANTIQUARIAN BOOKS
LIBER ANTIQUUS, EARLY PRINTED BOOKS & MANUSCRIPTS
J. & J. LUBRANO MUSIC ANTIQUARIANS
BRUCE MCKITTRICK RARE BOOKS, INC.
December 2016: Western Americana -- by subscription only. Contact oldwestbooks@earthlink.net for details about obtaining a copy.
Catalog #2: Fantasy, Horror, Science Fiction
R & A PETRILLA, ANTIQUARIAN BOOKSELLERS
PHILADELPHIA RARE BOOKS & MANUSCRIPTS
PHILLIP J. PIRAGES FINE BOOKS & MEDIEVAL MANUSCRIPTS
RABELAIS BOOKS ON FOOD & DRINK
RICHARD C. RAMER, OLD & RARE BOOKS
B&L ROOTENBERG RARE BOOKS & MANUSCRIPTS
Mini-Catalog: Helena Bochořáková-Dittrichová
SHORTHAND: A collection of books, pamphlets, broadsides and manuscripts from the 17th to the 19th centuries
Collection of 40 limited edition books, 1975-85, largely LEC -- interested parties should contact abby@abbyschoolman.com directly.
MARC SELVAGGIO, BOOKS & EPHEMERA
Fresh Meat -- 44 brand new items of bibliophilic "fresh meat" for your delectation and enjoyment.
MICHAEL R. THOMPSON RARE BOOKS
Catalog 86: Books Arts & Fine Printing
"Occasional List" -- please request a copy directly from jwrb@comcast.net...
Twenty Rare Tracts -- Instagram Catalog #1
JOHN WINDLE ANTIQUARIAN BOOKSELLER
--
Remember, you can always browse and download the latest catalogs published by ABAA members on ABAA.org by visiting the following link: https://www.abaa.org/catalog/... (You can also access this page by selecting 'Booksellers' from the top menu, scroll to the bottom of the page to 'Member Catalogs', and click on 'View All'.)