Contact the Seller
David D.R. Lilburne
29 Garrisons Landing
Garrison, NY 10524

.(JavaScript must be enabled to view this email address)

(845) 424-3867, cell: (914) 456-9698

(845) 424-3617
http://www.antipodean.com
Associates
Cathy Lilburne
Browse this Seller's Inventory
Recently Listed Items
Recent Catalogs

Cook's Last Voyage ~ the Artistic Vision in John Webber's Prints
The Artistic Vision in John Webber's Prints ~ Unpublished Aquatints; Lifetime Issues; Boydell Issues.
A series of Webber views of Cook's third voyage to the South Pacific including New Zealand, Fiji, Tonga, Tahiti, Krakatoa, French Polynesia, Vietnam, Russian Kamchatka and Macao in China, published from 1787 to 1820.
Recent Catalogs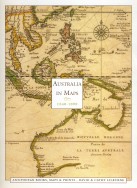 Australia in Maps: 1540-1898
The collecting of maps has long illustrated the history of discovery of the continents of the world. Amongst the continents, the Australian has had a particular attraction in the imagination of explorers and map makers, from Terra Australis Incognita to Beach to the Great South Land to New Holland to Ulimaroa and finally to Australia. Many explorers have skirted her coastlines and explored her interior; Marco Polo, Linschoten, Vlamingh, Tasman, Cook, Vancouver, Bougainville, Freycinet, Baudin, Flinders, Stokes, Oxley, Hume, Cunningham, Burke and Wills, Sturt, Mitchell, Bourke, Tyers, Strzelecki, Grey, Gregory, Stuart, Forrest, Giles and Warburton.
This collection of Australian maps and world hemispheres has been 50 years in the making. It is based in part on the map collection of Dick Johnson, whose interest in the history of the discovery of Australia led him to collect early maps by the Dutch, Italian and English cartographers. It has been augmented by our interest in maps, which we have pursued since 1976, our first year in business. We believe it is the largest collection of maps including the real and imagined continent of Australia to be offered for sale since R.V. Tooley sold his collection to the Australian nation. It numbers over 250 maps and spans the years 1540 to 1898.