Elist 43 ~ Antipodean Books at the Brooklyn Virtual Book Fair
A sample of items we will exhibit ~
Pamphlets related to the events in 1887 leading to the Hawaiian "Bayonet Constitution"; an archive of WWI American ambulance driver with captured German photographs & ephemera; a manuscript Royal pardon signed by King George IV, 1828 for a convict transported to Tasmania; eleven 19th c. Peruvian watercolors of "La Tapada Limeña"; Soochow city guides, with manuscript additions and vernacular albumen photographs, 1888; New York Views; the 1st attempt at recording day to day life in the city, 1831; a gift binding of Stephen Fosters' Nelly was a Lady, 1895, unrecorded on OCLC; Calli e Canali in Venezia, 100 heliogravure plates of Venice, 1892; Brooklyn items.
Inquiries or orders are welcome by calling (+1) 845-424-3867, 914-456-9698 & info@antipodean.com & our website. We are happy to accommodate the needs of our institutional customers.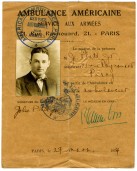 Elist 44 ~ W.W.I., Americana, Australia, Photographs, Maps, Ephemera
67 items including a bound collection of Apollo 11 NASA photographs with Neil Armstrong's cut signature; an archive of a W.W.I American ambulance driver, John Platt, of Westfield, NJ, 47 items; Baron Von Mueller's "The Vegetation of the Chatham-Islands", inscribed to Governor La Trobe; Diary of George Washington, NY 1860 with a presentation inscription locating Washington's 13th diary, listed as "Missing or not kept" in the LOC census; The Goat and the Kangaroos in a scarce edition of Aesop's Fables, 1829; 27 American newspaper accounts of Napoleon & the Napoleonic Wars, 1798 to 1857; Vandermaelen maps of Exmouth & Broome, W.A., 1827; silk embroidered landscapes, likely from the Connecticut River Valley, 1800-40; large format images, Calli e Canali in Venezia, 1892; 27 images of Beato's Egypt, 1870; The Voice of the I Am, Depression-era California cult periodicals, 1936-46.
Books, Maps, Print, Ephemera, Photographs, etc.

Cook's Last Voyage ~ the Artistic Vision in John Webber's Prints
The Artistic Vision in John Webber's Prints ~ Unpublished Aquatints; Lifetime Issues; Boydell Issues.
A series of Webber views of Cook's third voyage to the South Pacific including New Zealand, Fiji, Tonga, Tahiti, Krakatoa, French Polynesia, Vietnam, Russian Kamchatka and Macao in China, published from 1787 to 1820.
Contact the Seller
29 Garrisons Landing
Garrison, NY 10524

.(JavaScript must be enabled to view this email address)

(845) 424-3617
http://www.antipodean.com
Share this Profile