Lin-Manuel Miranda's Hamilton is a phenomenon, even by the standards of hit Broadway musicals; people who have no hope of getting their paws on a ticket until sometime next year are obsessively listening to the cast recording and watching videos compulsively on YouTube. If the subject matter was anthropomorphic felines or an alternative take on a classic children's book we wouldn't blink an eye, but Miranda's remarkable success is built on the comparatively dry history of the founding fathers that most people day-dreamed their way through in high school. Looking through the items listed by ABAA members, we find many rare books and documents signed or written by the actual people dramatized in the musical.
While you're waiting for more tickets to be made available, check out some of these amazing first editions, fine-press reprints, and even some original documents signed or written by or about Alexander Hamilton, Lafayette, James Madison, Aaron Burr, Thomas Jefferson, and George Washington.
---
The Federalist: A Collection of Essays
BURR:
"Alexander joins forces with James Madison and John Jay to write a series of essays defending the new United States Constitution, entitled
The Federalist Papers.
The plan was to write a total of twenty-five essays.
In the end, they wrote eighty-five essays, in the span of six months.
John Jay got sick after writing five.
James Madison wrote twenty-nine.
Hamilton wrote the other fifty-one!"
--
lyrics from "Non-Stop" (Lin-Manuel Miranda, Hamilton: The Musical
)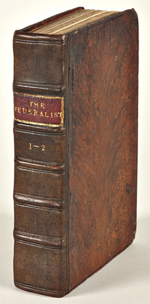 THE FEDERALIST: A COLLECTION OF ESSAYS WRITTEN IN FAVOR OF THE NEW CONSTITUTION, AS AGREED UPON BY THE FEDERAL CONVENTION, SEPTEMBER 17, 1787
New York: Printed and sold by John and Andrew M'Lean, 1788. 12mo. Contemporary tree calf, rebacked in matching style, spine with raised bands and gilt morocco label. Calf a bit worn around the edges. Light foxing and tanning. Very good. In a cloth chemise and brown half morocco and cloth slipcase, spine gilt. The rare first edition of the most important work of American political thought ever written and, according to Thomas Jefferson, "the best commentary on the principles of government." The first edition of THE FEDERALIST comprises the first collected printing of the eighty-five seminal essays written in defense of the newly drafted Constitution. The essays were first issued individually by Alexander Hamilton, James Madison, and John Jay in New York newspapers under the pseudonym "Publius" to garner support for the ratification of the Constitution.
This copy bears the contemporary ownership signature on the titlepage: "John H. Lothrop 1803." Just below it is further marked: "William K. Lothrop, Aug. 1831." In a few instances a contemporary hand (likely that of John Lothrop) has identified the author of a particular essay in the text. The rear free endpaper contains a manuscript note in the same hand further assigning authorship of the essays to Hamilton, Madison, or Jay. (Offered by William Reese Company)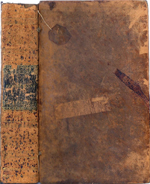 THE FEDERALIST, ON THE NEW CONSTITUTION, WRITTEN IN THE YEAR 1788, BY MR. HAMILTON, MR. MADISON, AND MR. JAY WITH AN APPENDIX, CONTAINING THE LETTERS OF PACIFICUS AND HELVIDIUS, ON THE PROCLAMATION OF NEUTRALITY OF 1793; ALSO, THE ORIGINAL ARTICLES OF CONFEDERATION, AND THE CONSTITUTION OF THE UNITED STATES, WITH THE AMENDMENTS MADE THERETO
Washington DC: Jacob Gideon, 1818. First Edition. Hardcover. Complete and entirely unsophisticated. Very clean within, the boards and especially the spine are rubbed with the spine label hard to read and a few skim marks to the boards. Both joints split but the boards are firmly held by the cords. Rare in this original, untouched condition. Bound in contemporary sheep leather with a gilt-lettered morocco spine label; 671 pages. The First Edition of this classic in which the authors of each essay were identified by name. Comprises 85 political essays, most written by Hamilton, all but the last 8 of which were first published in newspapers in New York in an effort to convince New York to approve the ratification of the Federalist Constitution. Also contains much additional material including the preface by Jacob Gideon as well as anonymous Hamilton letters written as "Pacificus" and the responses and corrections prepared by Madison to the McLean edition of 1810. (Offered by Charles Agvent)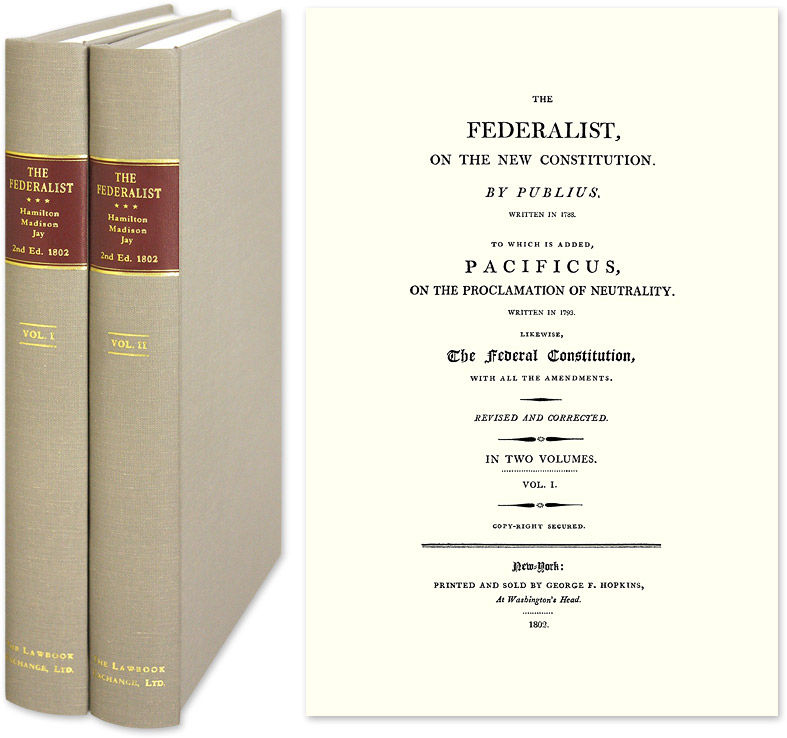 The Federalist, On the New Constitution:... 2d ed. 2 vols. 1802...
2008. Reprint of Uncommon Second Edition Hamilton, Alexander, [James Madison and John Jay]. The Federalist, On the New Constitution: By Publius. Written in 1788. To Which is added, Pacificus, On the Proclamation of Neutrality. Written in 1793. Likewise, The Federal Constitution, With All the Amendments. Revised and Corrected. Originally published: New-York: George F. Hopkins, 1802. 2 vols. viii, 317; iv, 351 pp. Reprinted 2008 by The Lawbook Exchange, Ltd. (Offered by The Lawbook Exchange, Ltd.)
---
Documents & Letters
The only extant fair copy of Alexander Hamilton's most historic 1792 letter to George Washington accusing Thomas Jefferson of subverting the administration: " …I know that I have been an object of uniform opposition from Mr. Jefferson, from the first moment of his coming to the City of New York…" while insisting that he defended Jefferson when "…the Vice-President, by his indiscreet and light letter to the Printer, transmitting Paine's pamphlet…" The letter is beautifully and painstakingly reproduced and signed by Hamilton's son a mere 3 years after Jefferson's death.
[Mount Vernon?], December 22, 1829. 8" x 9.75". "Fair Copy of an Autograph Letter Signed, ""A Hamilton,"" in the hand of his son, James Alexander Hamilton (1788-1878), 5 pages, 8"" x 9.75"", Philadelphia, September 9, 1792 to George Washington, docketed on verso as ""A true copy compared with the original Decr. 22d 1829 JAH."" Pages stitched together at the top left, expected folds with a few minor partial separations, final page toned, else very good. An early transcription of one of the most important letters written by Alexander Hamilton, likely undertaken at Mount Vernon where the majority of Washington's papers remained before Congress voted to acquire them (a process that commenced in 1834 and finally completed in 1849).
On the docket, John A. Hamilton takes pains to copy Washington's own docket: ""From Alexr Hamilton Esq 9th Septr. 1792 Private"" and matches exactly (in terms of line structure and abbreviations) the original letter from his father that is today housed at The Library of Congress. (Offered by University Archives)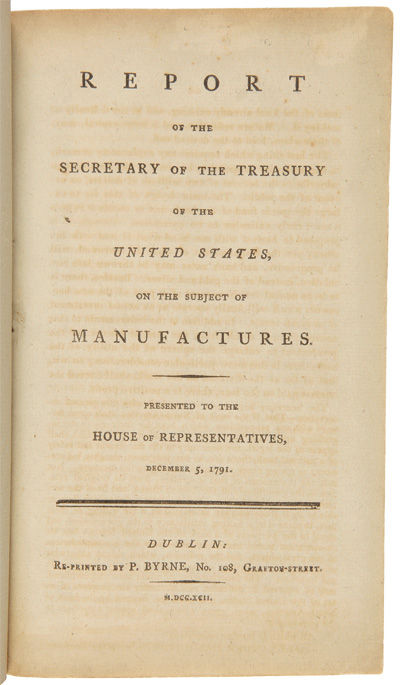 REPORT OF THE SECRETARY OF THE TREASURY OF THE UNITED STATES, ON THE SUBJECT OF MANUFACTURES. PRESENTED TO THE HOUSE OF REPRESENTATIVES, DECEMBER 5, 1791
Dublin: Re-Printed by P. Byrne, 1792. 88pp. Modern three-quarter calf and marbled boards, spine gilt, leather label. Slight age toning and soiling. Final leaf with some soiling and wear, minutely affecting text. Overall, very good. The scarce Dublin edition, and second edition overall, which preceded the London edition by one year, of "one of the great American state papers, 'the Magna Carta of industrial America'" (Howes). In this report Hamilton first set down in a formal way the economic principles by which he expected to see the new nation expand its manufacturing base. He compiled his report with the objective of encouraging American industry to compete with European imports and free the country from its dependence on foreign goods. "As the successive reports of the Secretary were studied, the scale of his ideas gradually became evident. He was not merely planning a fiscal system, but doing it in such a way as to strengthen the central government and develop the resources of the country, to stimulate trade and capitalistic enterprises, and to bring about a more symmetrical balance between agriculture and industry" - DAB. Hamilton's report can now be seen as the genesis of American manufacturing might. At the time, it was the only one of his major reports which failed to get a favorable reception from the House of Representatives, to whom it was submitted. (Offered by William Reese Company)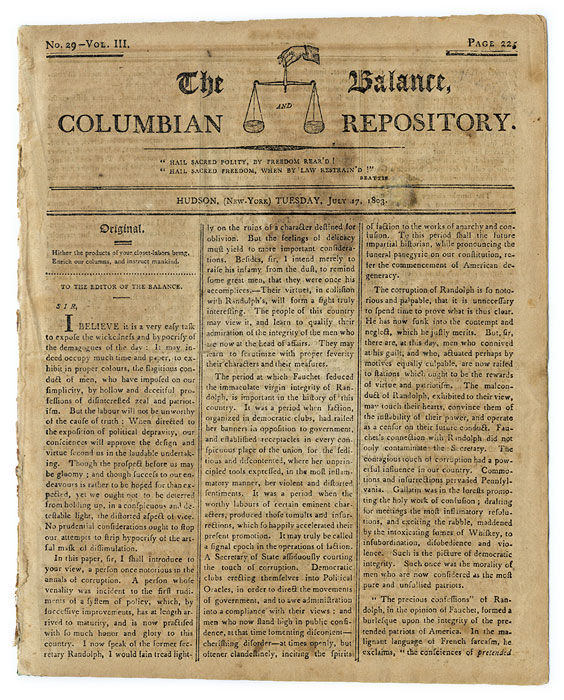 The Knell," The Balance and Columbian Repository, Hudson, NY, (1804).
1804. The Lawyers of Columbia County, New York, React to the Death of Alexander Hamilton [Hamilton, Alexander (1755/57-1804)]. "The Knell" in The Balance and Columbian Repository, No. 29, Vol. III, Hudson, NY, Tuesday, July 17, 1803 [i.e. 1804]. [8] pp. 10-3/4" x 8-1/2" disbound periodical, three-column text to rectos and versos, small text woodcuts. Light edgewear, light browning and foxing, few leaves loose. * This issue has a 4-1/2" x 3-1/2" notice titled "The Knell." It is enclosed by black borders and features a woodcut of a grave site (and an allegorical setting sun). The text reads (in part): "At New-York, on Thursday last, of a wound received the morning previous, in a duel with Col. Burr, Gen. ALEXANDER HAMILTON. We are not enabled to add particulars, nor are we disposed to offer any reflections on this melancholy event, at present. (...) The gentlemen of the bar, who were attending the Circuit at Claverack, on hearing the confirmation of the above intelligence, unanimously agreed to wear a crape [sic] on the left arm for one month, as a token of their regard for General Hamilton." (Offered by The Lawbook Exchange)
---
George Washington
BURR:
Ladies and gentlemen!
The moment you've been waiting for!
The pride of Mount Vernon!
George Washington!
WASHINGTON:
We are outgunned, outmanned
outnumbered, outplanned.
We gotta make an all out stand.
Ayo, I'm gonna need a right-hand man.
-- lyrics from "Right Hand Man" (Lin-Manuel Miranda, Hamilton: The Musical)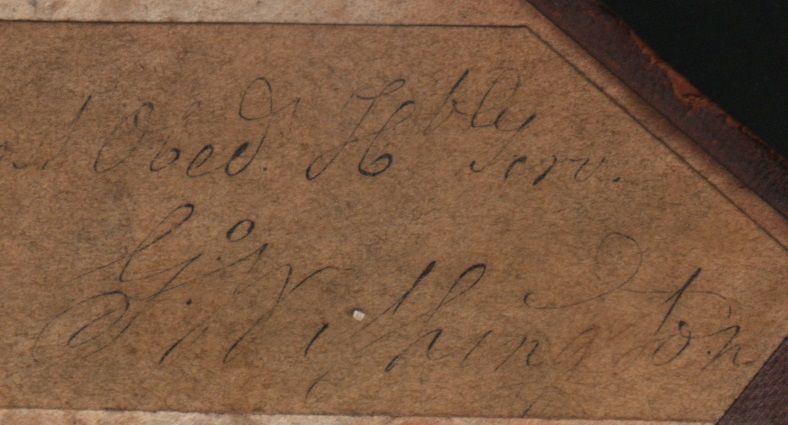 [Bill of Rights] Acts passed at the Second Congress of the United States of America: begun and held in the city of Philadelphia, in the state of Pennsylvania, on Monday, the twenty-fourth of October, one thousand seven hundred and ninety-one: and of the United States the sixteenth. Published by authority. To which is affixed: "I am Sir, Yr Most Obed. Hble Serv./ Fort Loudoun/10th Sept 175[7]/ Go. Washington"
Philadelphia: Francis Childs & John Swaine. Very Good. [1793]. First. Full calf. Washington's 34 x 120 mm faded clipped closing & signature from a letter to Anthony Bacon & Company affixed diagonally to fore edge corner of front paste-down. See the University of Virginia's Papers of George Washington, Volume 4 (November 1756- October 1757) for the orphaned letter. Overall heavy wear: rubbing to corners; chipping to spine; hinges loose. Please do not hesitate to request details and/or further images. Sabin 15499 (though pagination given as 289). Marriage of a genuinely rare book with Washington's signature. (Offered by Old Florida Book Shop)
And in case you haven't had a chance to listen to the phenomenal Hamilton: An American Musical, here's a taste with Chris Jackson playing George Washington and Lin-Manuel Miranda as Alexander Hamilton performing "One Last Time" at the White House in 2016:
---
Lafayette
BURR:
"How does a ragtag volunteer army in need of a shower
Somehow defeat a global superpower?
How do we emerge victorious from the quagmire?
Leave the battlefield waving Betsy Ross' flag higher?
Yo. Turns out we have a secret weapon!
An immigrant you know and love who's unafraid to step in!
He's constantly confusin', confoundin' the British henchmen
Ev'ryone give it up for America's favorite fighting Frenchman!"

COMPANY: "Lafayette!"
-- lyrics from "Guns and Ships" (Lin-Manuel Miranda, Hamilton: The Musical)
Autograph Letter Signed to "mon cher colonel, Monticello, November 12, 1824
No Binding. Fine. small quarto, one page, formerly folded, now flattened, in fine, clean and legible condition. Written at Monticello: mentioning Jefferson. Lafayette, while on his tour of America in 1824-1825, writes from Monticello where he had been staying with his "vieux et venerable ami Jefferson," providing news of various friends and announces that his arrival in Washington will be on the first of December. (Offered by Michael Brown Rare Books)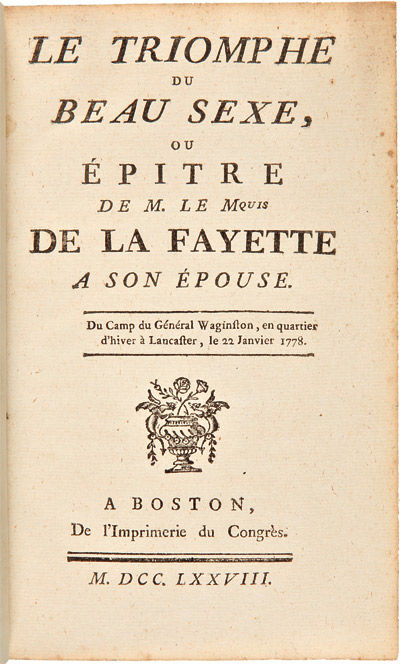 LE TRIOMPHE DU BEAU SEXE, OU EPITRE DE M. LE MQUIS DE LA FAYETTE A SON EPOUSE. DU CAMP DU GENERAL WAGINSTON [sic], EN QUARTIER D'HIVER A LANCASTER, LE 22 JANVIER 1778
Boston [i.e. Paris]: De l'Imprimerie du Congres, 1778. 37,[9]pp. 19th-century half calf and green paper boards, corners tipped in vellum, spine richly gilt. Very clean internally. Near fine. A rare and interesting poem, carrying a false Boston imprint, and supposedly penned by the Marquis de Lafayette while wintering with George Washington and the Continental Army in January 1778. The poem, a sort of farewell from Lafayette to his wife, contains allegorical references to the struggle of the colonies for liberty, while the notes mention this struggle specifically. Although the imprint is "Boston," the piece was almost certainly printed in Paris, and the types and ornaments used seem distinctively French. Other evidence leading us to believe that it was not printed in America: George Washington's name is badly misspelled on the titlepage; he was quartered at Valley Forge, not at Lancaster, in January 1778; and the title says it was printed in Boston, "by the press of the Continental Congress," though the Congress was actually sitting at York, Pennsylvania (not far from Lancaster) at the time. "In a pamphlet published in Paris, 1790, by Jean-Baptiste Poupart de Beaubourg, entitled 'Mes onze ducats d'Amsterdam,' etc., etc., the author states that he is also the author of Lafayette's touching adieux to his wife..." (Letter from Louis Gottschalk to Lawrence C. Wroth, in the John Carter Brown Library's bibliographical file, as quoted on OCLC) The catalogue of the Roderick Terry sale in 1934 calls this "an excessively rare pamphlet." We are able to locate only six copies, at the New-York Historical Society, Yale, Cornell, Lafayette College, the John Carter Brown Library (which has the Terry copy, as well as an issue with forty-three pages), and the Library of Congress (located there by Echeverria & Wilkie). Rare and quite interesting. (Offered by William Reese Company)
---
Aaron Burr
HAMILTON:
Is there anything you wouldn't do?
BURR:
No. I'm chasing what I want. And you know what?
I learned that from you.
--lyrics from "The Election of 1800" (Lin-Manuel Miranda, Hamilton: The Musical)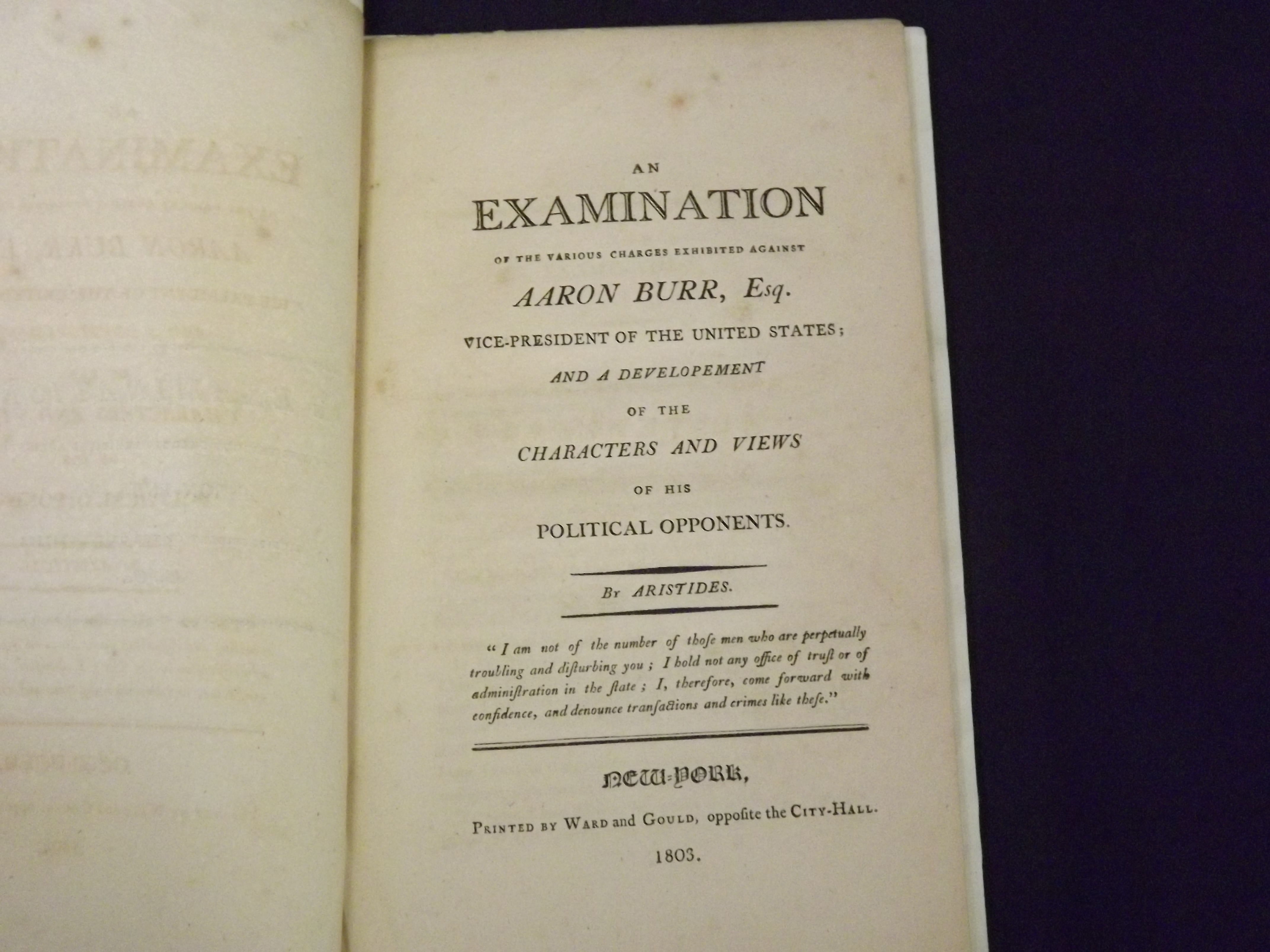 An Examination of the Various Charges Exhibited against Aaron Burr, esq., Vice President of the United States, and a Development of the Characters and Views of his Political Opponents, By Aristides.
8vo, pamphlet, half title, errata leaf, modern marbled paper, cardboard folding case, 118 pp. Contents unopened (uncut), slight corner fold to marbled cover, half title slightly soiled, slight toning or darkening to paper; otherwise very good. Aaron Burr (1756-1836 was one of the more colorful characters in American history. Born in New Jersey, served in the Revolutionary War, a very respected lawyer and Vice President of the United Sates. His well know duel, where he shot and killed Alexander Hamilton didn't help his reputation in America, he was charged with treason for his involvement with a possible war with Spain, but was eventually acquitted in 1807. He even managed to get himself thrown out of England after trying to instigate a possible Mexican revolution. The actual author of this work was William Peter Van Ness, a friend of Aaron Burr. He actually served as second for Burr in his duel with Hamilton. (Offered by Nicholas D. Riccio Rare Books & Prints)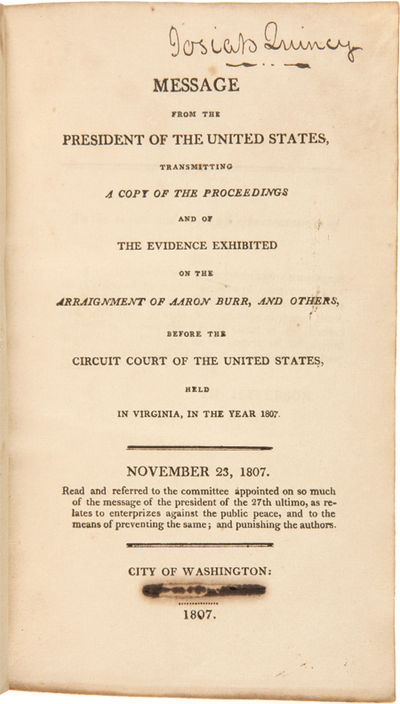 MESSAGE FROM THE PRESIDENT OF THE UNITED STATES, TRANSMITTING A COPY OF THE PROCEEDINGS AND OF THE EVIDENCE EXHIBITED ON THE ARRAIGNMENT OF AARON BURR, AND OTHERS, BEFORE THE CIRCUIT COURT OF THE UNITED STATES, HELD IN VIRGINIA, IN THE YEAR 1807
Washington, 1807. Two volumes bound in one. [4],332,222pp. Contemporary calf, rebacked, with original gilt leather spine label laid down. Edges worn. Contemporary ink ownership signatures, imprint on titlepage effaced with ink burn, also affecting the next leaf, some contemporary ink underlining and marginal bracketing, minor foxing. Still very good.
A nice association copy of this important government report concerning the "Burr conspiracy," with the signature of Congressman, mayor of Boston, and Harvard president Josiah Quincy at the top of the titlepage. In the Burr conspiracy, Thomas Jefferson accused former Vice President Aaron Burr and a host of co-conspirators of treason. Specifically, Burr and his cohorts were indicted for plotting to detach portions of the American West and South, as well as Spanish Texas, from the United States, in order to create their own empire. Burr claimed that he was simply trying to take possession of 40,000 acres in the Texas territory that had been leased to him by the Spanish Crown, in order to farm the land. In the end, Burr was acquitted of treason, but the entire affair effectively ended his already faltering political career.
In the present work, President Jefferson collects and transmits documents and testimony pertaining to Burr and his co-conspirators. The second part of the text also collects various motions of the court during Burr's trial. "This is the first published report of the trial at Richmond in 1807 of Aaron Burr for treason, and on his trial immediately afterward for a misdemeanor in preparing for a military expedition against Mexico. He was acquitted in each case" - Streeter. Rare in the marketplace. (Offered by William Reese Company)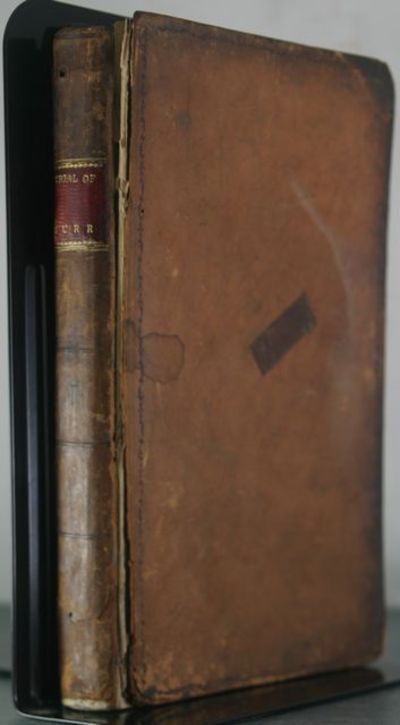 The Trial of Col. Aaron Burr on an Indictment for Treason. Volume 1.
Westcott & Co.. Hardcover. Washington, 1807. Volume 1 of three, bound with the first 106 pages of Vol. II. [2], 147, 11, [1], 106- pp. Contemporary calf with morocco label on spine. Front board detached, rear board nearly detached, contents generally sound with some pencil marks on endpapers and rear pastedown, contemporary ownership marks from 1820 on top of title page. No title page present for second volume. Contents generally very good with normal tanning and some brittleness. An exceedingly scarce title on Burr. No complete set has appeared at auction over the last thirty years. (Offered by Auger Down Books)
21-year-old Major Aaron Burr, Aide-de-Camp to General Israel Putnam, details how a captured officer is to be returned "properly guarded by the Way he came ... must be carefully watched" and his wife "has Liberty to pass to the Enemies Lines with her Family and Furniture..."
Princeton, New Jersey, February 21, 1777. 6.5" X 8.25". "Scarce War-dated Autograph Letter Signed "A Burr ADC" with postscript on verso signed "AB," one page, 6.5"" x 8.25". Integral leaf addressed by Burr to "Colonel Nielson / Cranbury" and docketed "Genl Putnams Letter/21 Febry 1777." On laid paper. Irregular edges, small tears. Fine condition. (Offered by University Archives)
---
Thomas Jefferson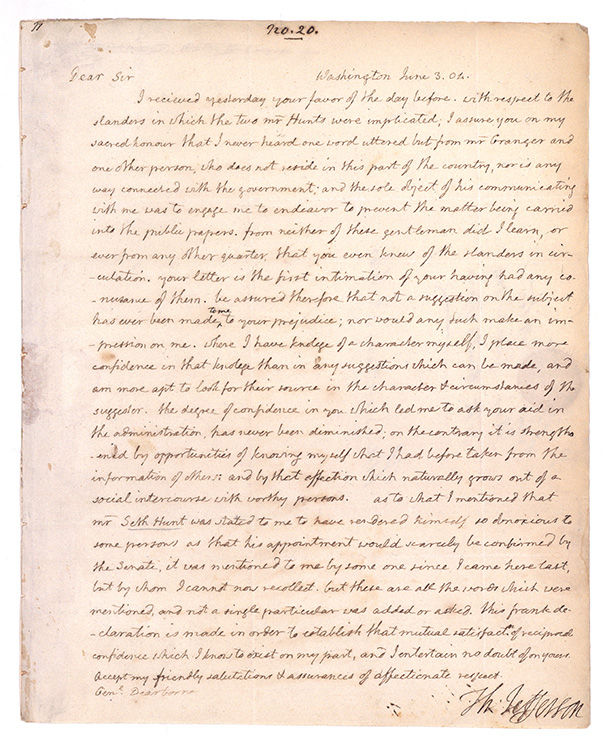 Autograph Letter, signed, from Thomas Jefferson to Secretary of War Henry Dearborn
Washington, D.C., 1804. 1 page plus integral address leaf. 4to, on a folded folio sheet. Old fold lines. Minor wear and soiling. Strip of later paper on left edge verso, where letter had been tipped into an album. Very good. In a red half morocco clamshell box, spine gilt. 1 page plus integral address leaf. 4to, on a folded folio sheet.
A remarkable letter written by President Thomas Jefferson to his Secretary of War, Henry Dearborn, in which Jefferson swears "on my sacred honour" that he gives no credence to slanderous gossip circulating about Dearborn. Dearborn (1751-1829), a soldier and politician, was appointed by Jefferson to the post of Secretary of War in 1801, a position he held throughout Jefferson's terms in office. He was moderately successful in most of his life's endeavors, excepting his command during the War of 1812, in which he lost Detroit to the British. Jefferson acknowledges receipt of Dearborn's recent letter regarding the slanders being spread about him by Seth Hunt, who was seeking a government appointment. The President admits that he had learned of the defamation from Gideon Granger, his Postmaster General, but his response makes clear that his support of Dearborn is unwavering: "with respect to the slanders which the two Mr. Hunts were implicated, I assure you on my sacred honour that I never heard one word uttered but from Mr. Granger and one other person who does not reside in this part of the country... The degree of confidence in you which led me to ask your aid in the administration, has never been diminished."
A striking letter from Jefferson as President. His use of the phrase "on my sacred honour" has particular meaning, underscoring his unwavering support for Dearborn. It was with their "sacred honour" - together with their lives and fortunes - that Jefferson and the other fifty-five Signers pledged to support the Declaration of Independence. (Offered by James Cummins Bookseller Inc.)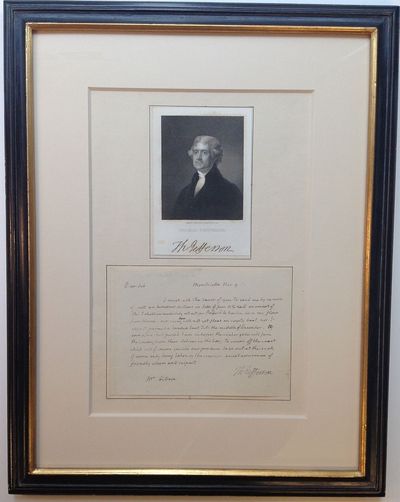 Framed Autographed Letter Signed during the War of 1812
Monticello, VA, 1813. unbound. Outstanding and historically important letter, 1 page, 5.5 x 7.75 inches, Monticello, Virginia, November 9, 1813. Written to William Gibson, friend and business colleague of Charles Carroll of Carrollton, expressing his concern about staying at Monticello and the difficulties that will be incurred when attempting to ship produce from the plantation through the British blockade.
Attractively float mounted on an original folio decorative page, together with a period engraving by J. B. Forrest from a painting by Gilbert Stuart. Set in a black and gold frame measuring 21 x 16.5 inches, protected by UF-5 plexiglass. Fine condition. The University of Virginia possesses several letters written by Jefferson during this period in which he is concerned with the high cost of maintaining and running Monticello. William Gibson, to whom the above letter is addressed, became a partner of Thomas Jefferson for the crop-year of 1813 through their mutual friend and fellow signer Charles Carroll. This pact was necessitated due to Jefferson's previous heavy loses attempting to break the British blockade. Additional correspondence published in "The Letters of Thomas Jefferson" indicates that the former President had serious concerns of a British land invasion and would often flee Monticello upon receiving such rumors. In this case he fled Monticello on November 9, 1813 upon receipt of the $100 loan in small bills and, as is evident by a letter he sent to John Adams, returned home on November 16th when the fear of an invasion subsided. (Offered by Argosy Book Store)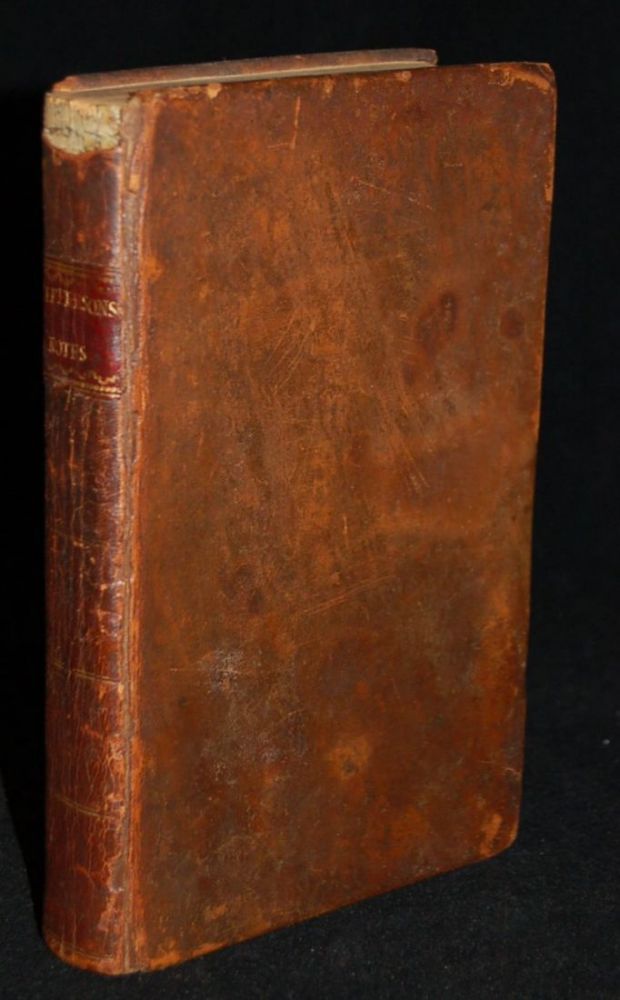 Notes on the State of Virginia
London: John Stockdale, 1787. First English Edition. Full Leather. Very Good binding. 382pp. Full bound in early 19th/late 18th century calf with red morocco title label on the spine; bit of loss to the head of the spine; front board has been tastefully reattached; two early previous owner names on the title page, one dated 1797 and scratched out in a contemporary pen; general toning and foxing throughout; folding table is present and in good condition but for just a bit of wear to the fore-edge where it extends beyond the textblock; this copy lacks the folding map of Virginia as usual; a very nice though slightly reduced facsimile of the 1787 map is inserted in its place. The only book by Jefferson published in his lifetime. This is edition is preceded by the 1st Edition privately printed in Paris in an edition of 200 copies—as one might imagine it is extraordinarily scarce—as well as a French translation by Abbe Morellet printed in 1786. (Offered by Black Swan Books)
---