The American Antiquarian Society was recently awarded the National Humanities Medal. We caught up with the Society's director, Ellen S. Dunlap, to hear all about it.
Founded in 1812, the Society houses American books, broadsides, newspapers, graphics, and ephemera from first contact through 1876, and more selectively in manuscript collections. The award was given "for safeguarding the American story. Through more than two centuries, the Society has amassed an unparalleled collection of historic American documents, served as a research center to scholars and students alike, and connected generations of Americans to their cultural heritage."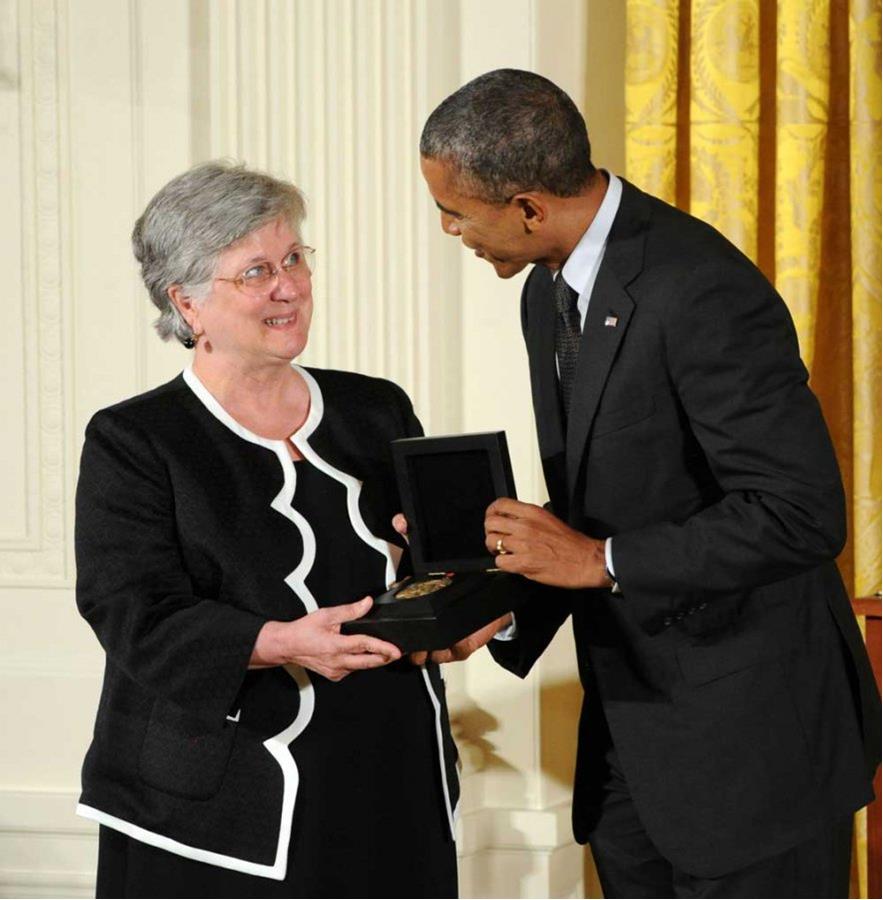 Ellen and her colleague Matthew Shakespeare were returning from a business trip when she received a call from the NEH's acting director offering the award. The nomination process is somewhat secret, but usually is a collaboration between the NEH and the White House. Though Ellen was unaware that AAS was on the short-list, the organization has received NEH grants on numerous occasions and more than forty previous medal recipients were or are currently elected members of AAS.
Ellen accepted on behalf of the Society and two weeks later was en route to the ceremony in Washington, DC with Bill Reese and Sid Lapidus in tow. They rubbed elbows with noteworthy folks like actor Morgan Freeman,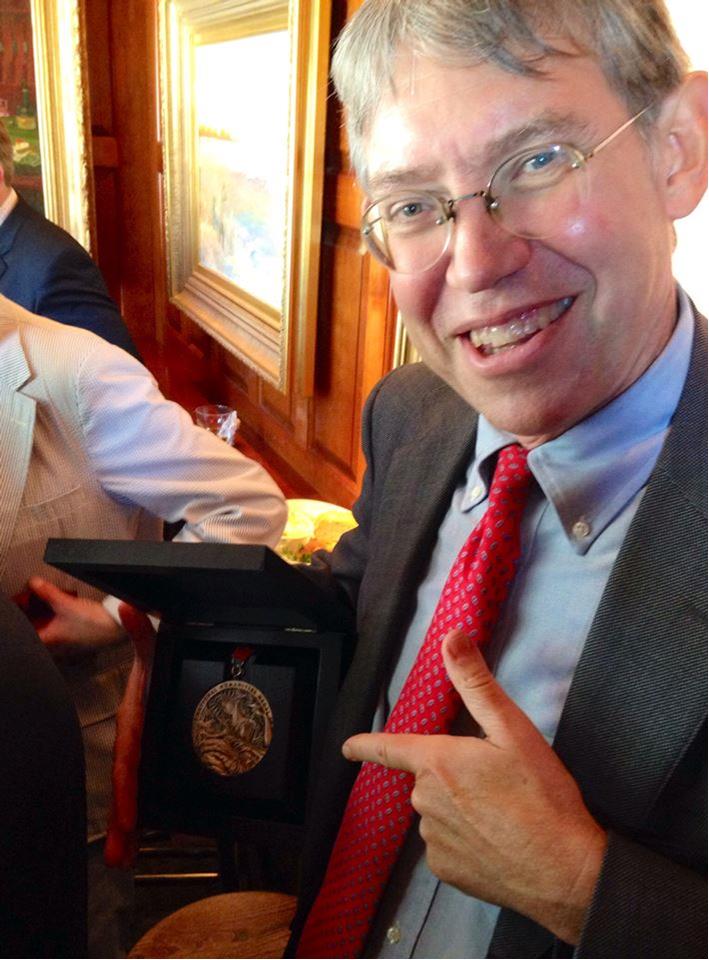 singer Linda Ronstadt, literary critic M.H. Abrams, writer Julia Alvarez, and talk-radio host Diane Rehm. A full list of winners is here. She even got to sit next to Mrs. Obama during the ceremony.
Always charming, Ellen was able to make the President laugh after she mentioned she had seen him give a hug to most all the students in the 2014 graduating class of Worcester Technical High School (where he was the commencement speaker in June) and that her daughter had accused her of rallying for trumping up the whole national medal thing so she could get a hug, too. (And she did!)
The award further raises the profile of the Society as Ellen notes that those in special collections operate in "a certain degree of obscurity" and appreciate public recognition for their work. It also makes it more likely that new material will become part of the collection. Though AAS doesn't have a "Most Wanted" list of materials, it actively seeks to acquire matter collection materials printed in what is now the United States prior to 1877. Most things fall into two categories: "H" for "have it" or "W" for "want it". Ellen suggested that some of the most desirable material is that which they don't know exists. A recent acquisition is an unrecorded third printing of a Boston broadside which identifies the poet, previously known only by initials, as a "Miss." Such revelations pave new paths to areas of study for scholars. For more insights into the collecting interests of AAS curators, follow them on Facebook, Twitter, and Instagram, and check out their always interesting blog at pastispresent.org.
Congrats to Ellen and all of her colleagues at AAS!
Photo credits: images of Ellen & President Obama courtesy of National Endowment for the Humanities, Jocelyn Augustino photographer; William Reese & medal courtesy of Mark Dimunation.