Chris Bohjalian is the author of 17 books, including three historical novels, Skeletons at the Feast, The Light in the Ruins, and The Sandcastle Girls. He has received numerous awards for his fiction, as well as the ANCA Freedom Award for educating Americans about the Armenian Genocide.
Rich Rennicks spoke with Chris Bohjalian about book collecting, his much-loved first edition of To Kill a Mockingbird, how his mother's passion for literature helped shape his later career as an author, the research behind his books, and how an unpublished WWII diary informed his first historical novel.
ABAA: Do you think of yourself as a book collector?
Chris Bohjalian: I love old books, but I wouldn't say I'm an old book collector. There are certain books that have been in my family since I was a boy and that matter to me greatly. To Kill a Mockingbird is one of those books, Night of Camp David by Fletcher Knebel is another and The Old Man and the Sea is another. Those are books that were my mother's.
The sort of old books that I collect tend to be books by Scott Fitzgerald, I have at least nine different editions of The Great Gatsby, at least four different editions of The Beautiful and the Damned. My favorite editions of The Great Gatsby are the pulp paperback editions from the 1950s -- not especially valuable, but great fun. I have one particular edition, a Bantam paperback, and Gatsby looks just like George Clooney.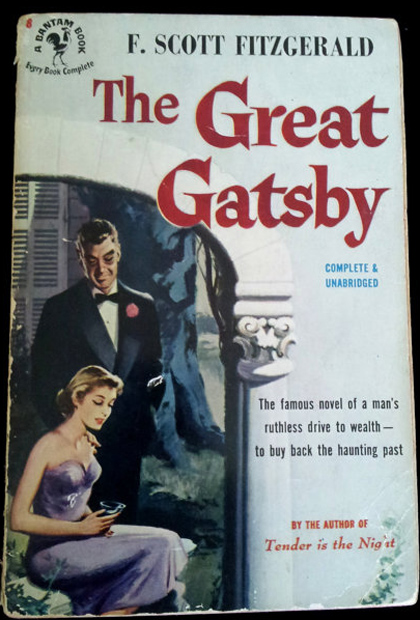 Jay Gatsby as a George Clooney lookalike? You be the judge.
I'm an Armenian-American, and so I take great joy in owning a first edition of Michael Arlen's May Fair and a first edition of Franz Werfel's The Forty Days of Musa Dagh. Both were gifts. The first was a gift from the Armenian community at Columbia University; the second was a gift from my wife.
My mother was an avid reader -- I'm sure that's a reason I'm a novelist -- and so my first edition of To Kill a Mockingbird is in the family because my mother bought it when it was first published, same with The Old Man and the Sea. She was the sort of women who read book reviews very thoughtfully, very carefully.
ABAA: She sounds like a great mother for a future novelist!
CB: She was, she was a great mother! And an indication of how great she was is that I don't recall her being that mad at me when I took my crayons and colored in all of the leaves on the first edition jacket of To Kill a Mockingbird or I drew sharks in the sea near the shore on the dust jacket for the The Old Man and the Sea -- I even drew a Starship Enterprise somewhere on that dust jacket.
But, my mom was OK, she was fine with it.
ABAA: <Laughs> Some collectors are going to cringe when they read that. Now that you make your living as a writer, do you have more respect for books or do you still write and doodle in them?
CB: I take very good care of my books, I don't write in them. I either use page points or post-it notes to mark those passages that I want to remember. I do however review books from galleys, and I will write all over the galleys. And, because so many of the books I'm assigned for the Washington Post are such doorstops and really complicated, I sometimes have to write Cliff's Notes to myself in those books. I did that for Eleanor Catton's The Luminaries, and I must have have written 1000 words throughout that book just to remember what's going on.
More recently, I reviewed a galley of Sandra Newman's The Country of Ice Cream Star, and I literally had to write notes to remind myself what words meant, because Sandra Newman has created this interesting language for her narrator.
ABAA: Your books all appear to require a great deal of research into different subjects: rural midwifery for Midwives, the final years of WWII for Skeletons at the Feast, and the Armenian Genocide for The Sandcastle Girls, to name but three. Is research something you particularly enjoy?
CB: I rarely have writer's block, but when I do it's usually because I haven't done my homework, I haven't done sufficient research to flesh out the scene. A lot of my research is first-person interviews with experts in the field or people who know the subject matter, or people who were there. And, the rest of the time it's reading -- reading the secondary accounts or reading memoirs.
The origins of Skeletons at the Feast began with an unpublished diary. A great friend of mind, Gerd Krahn, asked if I would be willing to take a look at his grandmother's diary, which his mother had just finished translating into English. Normally, when somebody asks a novelist if he'd like to read their grandmother's diary, the novelist cringes -- anything but that! -- but Gerd and I are friends, and it was fascinating, I was riveted. I shared the diary with my editor and an editor at a scholarly press, but they felt there was too much about beet farming in it to be a publishable memoir.
Several years later, I read Max Hastings' Armageddon, and I saw so many parallels between his history and what I'd read in this diary. So, I looked at the diary again and wanted to see if there was a novel.
Now, Skeletons at the Feast is not a novelization of that diary, but Skeletons would probably not have been written if I had not read that remarkable unpublished diary.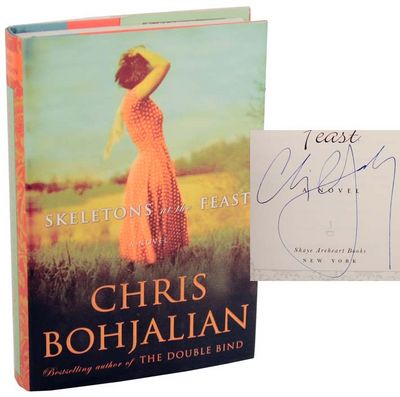 Skeletons at the Feast, first edition, signed. Offered by Jeff HIrsh Books
The historical authenticity of The Sandcastle Girls stems from the historical records, the memoirs, the eyewitness testimonials from westerners who happened to be in the Ottoman Empire when it was occurring, by Armenians themselves, and in some cases interviews with Turkish soldiers and gendarmes conducted by the Red Cross.
While Turkey still does not acknowledge the Armenian Genocide, there are records in Ottoman archives. I do not read Turkish, so I was either reading memoirs that had been translated into English, or I was depending on a great friend of mine, Khatchig Mouradian, who does read Turkish -- as well as French, Armenian, and English -- and who happened to be writing his dissertation on the Armenian Genocide, who found me some incredible sources and who translated some important documents for me.
ABAA: At what point do you feel you've done enough research?
CB: A little research goes a long way -- it's possible to kill a novel through research. I know way more about my characters than the reader ever needs. I don't ever stop researching until the book is done, but research plays less and less of a prominent role the further I am into a book and the more I have learned about my characters.
ABAA: There's debate among book collectors about whether a book that signed is more desirable than one the author has personalized in some way. As an author, do you have any feelings about that?
CB: What I think is funny is when I personalize a book to somebody, and then I come across it on eBay. It's happened a number of times that I remember the person to whom I personalized the book, and there they are selling it.
But, I'm honored to sign books, and I'm honored to personalize books. I'm just thrilled that people are interested in my work. It's not all that long ago that my books sold briskly, but only among people with my last name. I try never to forget that.
-----
Chris Bohjalian's latest novel is Close Your Eyes, Hold Hands.
---
PREVIOUSLY ON THE NEW ANTIQUARIAN: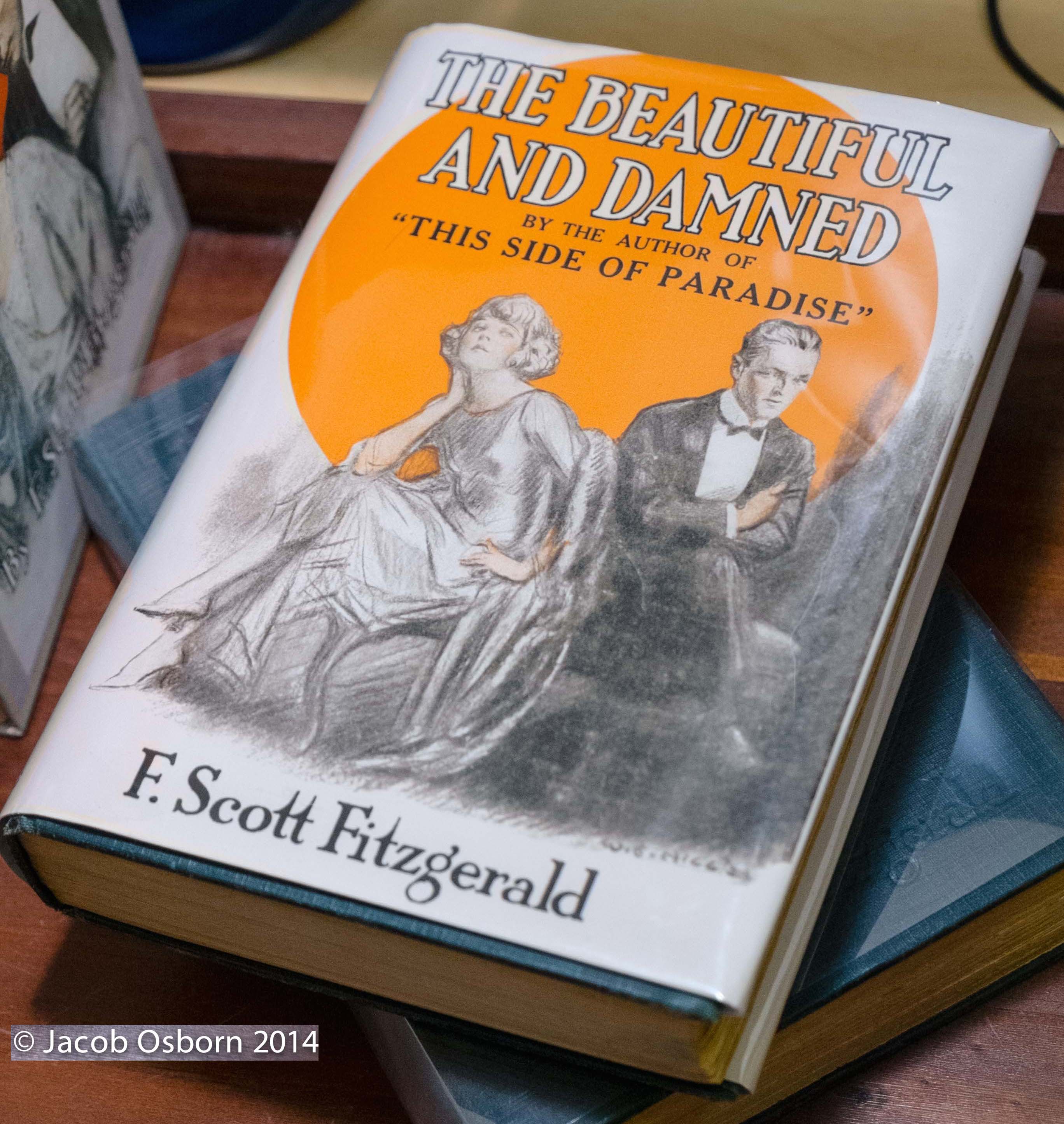 Sunday Steinkirchner writes about the artists responsible for the dustjackets of F. Scott Fitzgerald's early books, including The Beautiful and the Damned...