Which books and pieces of ephemera caught the eye among this week's crop of new listings? First editions of The Lord of the Rings, a medieval manuscript in a 15th-Century binding complete with library chain, and a contemporary fine-art binding of Sinclair Lewis' classic, It Can't Happen Here, among others...
by TOLKIEN, J. R. R.
"One Ring to rule them all, One Ring to find them, One Ring to bring them all And in the darkness bind them"THE LORD OF THE RINGS comprising THE FELLOWSHIP OF THE RING, THE TWO TOWERS & THE RETURN OF THE KING, Allen & Unwin, 1954, 1954 & 1955 respectively, each in first edition, (first printing), all 3 volumes vg+ or better in vg dust-wrappers save for some light fading and wear and tear to the dust-wrapper spine extremities. INTERNATIONAL FANTASY AWARD winner and an enduring classic of literature. The quintessential fantasy quest saga from which all others are derived !!! A set of books which in fine condition, first printing & first edition has increased its value 100 fold over the last forty years.
Offered by Fine Books Company.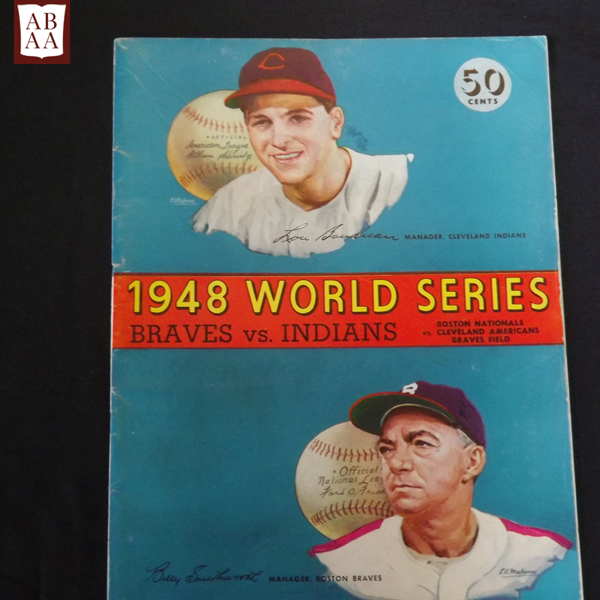 Program, 4to, pictorial covers, illustrated, 40 pp. Slight edgewear, one signature (4 pages) loose, one inch margin tear through loose signature, otherwise bright and clean; very good overall. This program is the Braves edition, featuring pictures of both managers on the cover. Cleveland would win the series in six games; making it their first series win since 1920. There was plenty of talent on both teams, including Frank McCormick, Warren Spahn, and Eddie Stankey for the Braves, and Bob Feller, Bob Lemon, and Satchell Paige for the Indians. Program includes many photos and some nice ads. baseball-almanac website.
Offered by Nicholas D. Riccio, Rare Books.
by SERMONES DE SANCTIS ET DE COMMUNE SANCTORUM [SERMONS FOR THE SANCTORALE AND FOR THE COMMON OF SAINTS]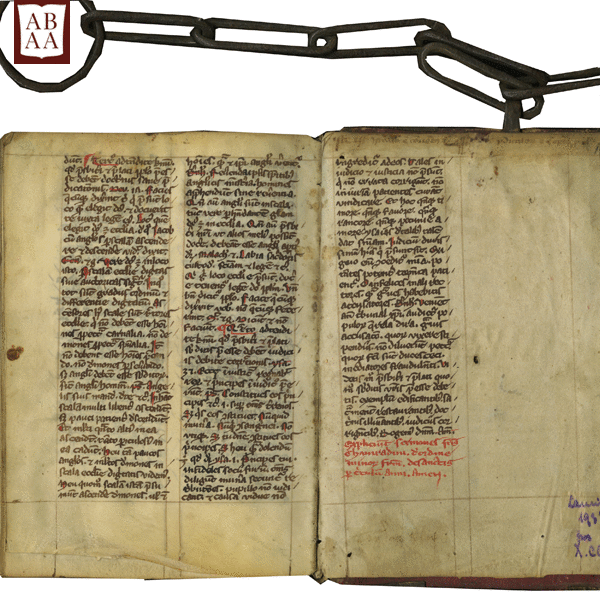 MEDIEVAL SERMON MANUSCRIPT IN A FIFTEENTH-CENTURY CHAINED BINDING, CHAIN INTACT, decorated manuscript on parchment, in Latin, Austria (Vienna?) or Southern Germany, c. 1275-1300. 182 x 127 mm. 190 folios, complete, written in a rapid Gothic hand with cursive influence in two columns of thirty-two to thirty-seven lines (justification, 141-143 x 96-100 mm.), parchment ruled in brown ink, quire signatures, guide notes for rubrication, red rubrics, capitals and names of cited authorities stroked in red, rhymed phrases underlined in red, red paraphs, two- to three-line plain red initials, two-line red initial with pen flourishing in red (f. 131v), occasional scribal corrections and marginalia.
BINDING: Fifteenth-century blind-tooled and -stamped red calf with eight engraved and bossed cornerpieces, intact fore-edge clasp, and chain hasp with intact chain, with two manuscript fragments serving as front flyleaf and lower pastedown. Chained libraries were a late medieval solution to the problem of providing access to needed books in an institution, while at the same time preventing theft, and we can assume many late medieval volumes were once chained. Most, however, have been rebound, or survive without the chain and other metalwork, and intact chained bindings such as this one are uncommon.
TEXT: This extensive collection includes more than one hundred sermons from the Sermones de sanctis et de communi sanctorum of the early Franciscan writer, Conrad of Saxony (d. 1279), together with his very popular text, the Speculum beatae Mariae virginis, all copied not long after their composition. This is, however, not simply a copy of Conrad's sermon cycle, since some of his sermons are omitted, and six sermons by contemporary Dominican authors (Martinus Polonus, Aldobrandinus de Calvacantibus, and Antonius Azaro de Parma), as well as eight sermons by unidentified authors were also included. It seems likely this is an example of a re-working of Conrad's texts for a Dominican audience, who would have prized it as a preaching aid and for its pronounced Marian focus. Marginal annotations attest to the early use of these sermons, most likely by preachers.
PROVENANCE: Written in Southern Germany or Austria at the end of the thirteenth century, as suggested by evidence of spelling, script, and decoration. Belonged to the Dominican house attached to the Church of St. Maria Rotunda in Vienna, as indicated by two fifteenth-century inscriptions; here it was probably part of the house's chained library. Belonged to a Dominican convent at Kosiče, in present-day Slovakia, as indicated by a sixteenth-century(?) inscription. Belonged to Maurice Burrus (1882-1959), Alsatian philatelist; his ex libris on the front pastedown.
CONDITION: Slight rust stains and corrosion in the outer margins of ff. 184-188, margins trimmed away, overall in good condition. Full description and photographs available (TM 767).
Offered by Les Enluminures.
by [MINSKY, RICHARD] LEWIS, SINCLAIR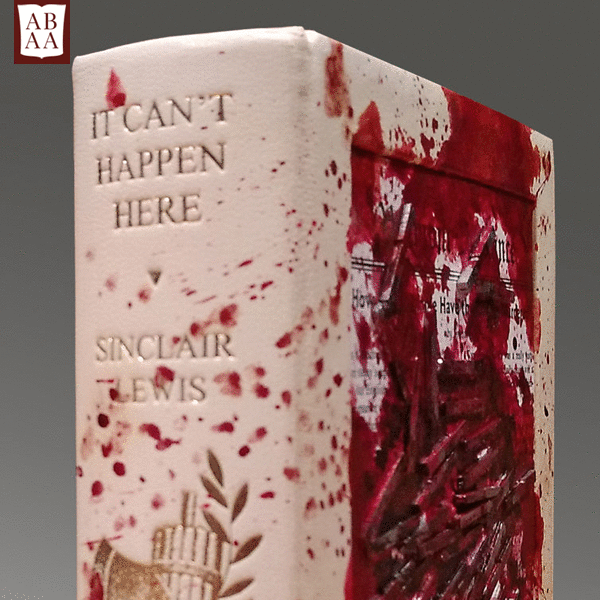 New York: Doubleday, Doran & Co, 1935. First Edition. Fine art binding. Fine. The third in a series of unique bindings of the same title by book artist Richard Minsky. Lewis' novel It Can't Happen Here is about a newly elected populist president of the United States, who won by playing on the fears of the electorate and promising a return to prosperity and "traditional" values. He quickly takes over all branches of the government and establishes totalitarian rule with the help of a paramilitary force. The similarity to Adolf Hitler and the SS, on the rise at the time in Europe, is not accidental. The protagonist in the novel is a journalist opposed to the new reign of terror. His efforts to undermine it include secretly printing on a hand press and surreptitiously circulating a 4 page pamphlet titled Vermont Vigilance. Secret, pseudonymous pamphleteering, publicizing and protesting the crimes of the government, is evocative of the period of the American Revolution before the establishment of the United States and The Bill of Rights, including the freedom of the press.Vermont Vigilance, the fictional publication from Sinclair Lewis' novel, was reified and printed by Richard Minsky on the Kelmscott-Goudy Albion handpress at Rochester Institute of Technology's Cary Collection in April, 2017 from a photopolymer plate (the first use of photopolymer on that press), with type composed digitally using InDesign, in typefaces that were in use at the time the story takes place (1930s): 8 pt Times New Roman with Goudy Sans headlines and Old English masthead.Richard Minsky (b. 1947) founded the Center for Book Arts (NY) in 1974, upon which many other centers for book arts around the world are based. In 1978-1979, Minsky lived in London teaching, studying, and making art as the National Endowment for the Arts and British Council's US/UK Bicentennial Fellow, culminating with his participation in the exhibition The Open and Closed Book (1979) at the Victoria and Albert Museum. Adding to many honors during a long career, Richard Minsky received the 2017 Guild of Book Workers Lifetime Achievement Award and the American Printing History Association 2018 Laureate Award. The Richard Minsky Archive is at the Yale University Arts Library, which mounted a 50-year retrospective in 2010.Split board binding; original 1935 Smythe sewing. Alum tawed goatskin, 22K gold stamped spine, inset front board panel includes pied (scattered) 8-point type, the artist's blood, and acrylic paint over a copy of Vermont Vigilance printed by the artist. Canson Mi-teintes sepia endpapers. Another copy of Vermont Vigilance, printed on newsprint, one of the very few Minsky printed on such paper, intentionally under-inked and not signed or numbered, is laid in at the front endpaper (in the novel one way of distributing the pamphlet is by inserting it into other publications). Housed in a custom dropback box by the artist, covered in red book cloth, 22K gold stamped black leather spine label. Bound by Richard Minsky in 2018. 14.6cm x 20.7cm x 4.8cm.
Offered by Abby Schoolman Books.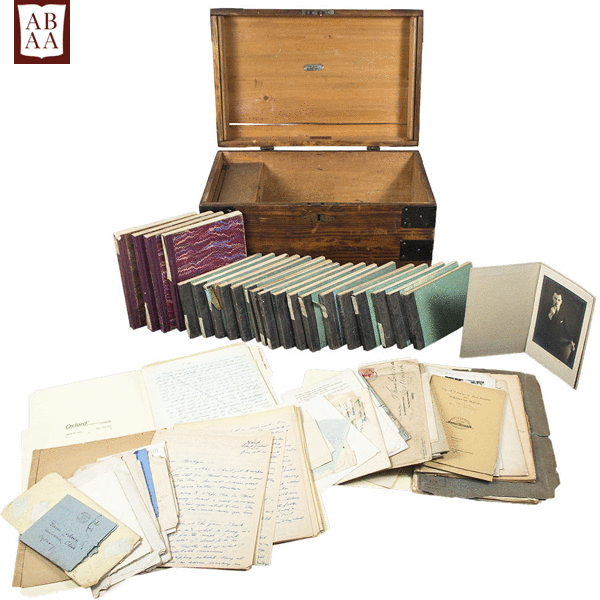 by LEDOUX, LOUIS PIERRE (1912-2001)
Papua New Guinea, 1936. Over 1400pp. in manuscript, written in pen and pencil in 21 small quarto or octavo journals. With a 29-page autograph manuscript by Ledoux concerning the trade of the Murik, a 50+ page autograph letter signed by Ledoux written in New Guinea on his experiences and giving advice to an incoming anthropologist, a group of approximately ten personal letters written to Ledoux, as well as some printed and other ephemera. All housed in a contemporary 11 1/2 x 20 x 12 1/2 inch wooden box, made by Brooks Brothers, with metal bound edges and with Ledoux's name stencilled on the top. An incredible archive of an American anthropologist in Papua New Guinea, including his field journals, in the year just following Margaret Mead's groundbreaking work on gender consciousness among natives of the same region.
During her studies for her groundbreaking work Sex Temperament in Three Primitive Societies , anthropologist Margaret Mead recognized the opportunity and need to research the trade dominant Murik tribes of the Sepik River region of Papua New Guinea. To this task, she recommended a young anthropologist named Pierre Ledoux, who had just completed his studies at Harvard and was looking for field research opportunities. Ledoux was sponsored on his expedition by the American Museum of Natural History, though seems to have financed the journey himself. Ledoux arrived in Australia in December 1935. Included in this archive is a 24 December 1935 autograph letter signed written to Ledoux from Australian anthropologist Ernest Chinnery, advising him on what village in Papua New Guinea to study: "Margaret [Mead] will probably have advised you by this personally. I think you should leave the choice to her. She knows what she is doing. There are several good places but she knows these all and any suggestion from me at this stage would probably only confuse you." He arrives at the village Kaup, Papua New Guinea on February 13. His journals comprise over 700 pages in 6 volumes with daily entries beginning on that day, through the beginning of July. His diaries record everything in great detail but focus especially on the people encountered and their customs, habits, trade, ceremonies, health and food, with careful attention paid to gender. In addition, present are 15 additional diaries with approx. 700pp. of subject specific field notes, in volumes comprised as follows:legends/sing sings (dos-a-dos); medicine/magic (dos-a-dos); puberty ceremonies/searification and tatooing (dos-a-dos); ceremonial house building/outrigger canoes (dos-a-dos); language; reading notes; sex; collection (i.e. artifacts collected); Karau; Murik; Mendam #1 and #2; Sandap; questions to be asked; Das Kirchebuch (listing names of tribe members with birth, marriage and death dates). Included in the archive is a more than 50pp. autograph letter signed by Ledoux, written to another anthropologist, nicknamed "Michigan" -- i.e. Bernard Mishkin. Written from Kaup on 5 June at the request of Mead, Ledoux tells Mishkin, whom he has never met, everything he has learned about living in the village; i.e. what supplies, food, medicine, etc. should be brought, how to hire and pay servants, how to interact with natives, etc. His advice ranges from what brands of specific ointments work best, to how to store film, to how to best obtain data from subject: "Be sure to divorce yourself from other whites as much as possible, though never in loss of dignity. The natives are proud to have you there and quick to resent any loss of dignity on your part ... If they have this feeling that you belong to no group of whites they know, yet that you are white, you will not have to help them settle squabbles by giving them notes to the District Officer ... You are there to study how the natives do things by themselves, not how the whites govern them." Also included is a 27-page contemporary typed transcript of the letter and a covering letter by Ledoux. The archive also includes a 29-page original manuscript by Ledoux on the trade of the tribes of the Murik language group of the Sepik River region; approximately 10 personal letters from friends in the U.S. sent to Ledoux during his time in Papua New Guinea; many shipping-related receipts for the sending of artifacts; and a few printed maps and other ephemera, including two offprints of articles by Mead.
Offered by Donald A. Heald Rare Books.