Books "catch the eye" for many reasons: a colorful cover, a pithy title, or that rare moment of synchronicity that seems to conjure the perfect book at the perfect time. This week, a 1926 biography of Walt Whitman caught our eye for its magnificent title and a rare cut-out book celebrating Walt Disney's Snow White invoked childhood very strongly. Browse these and other items that leaped off the virtual shelves at us below...
The Magnificent Idler: The Story of Walt Whitman
by Cameron Rogers; illustrated by Edward A. Wilson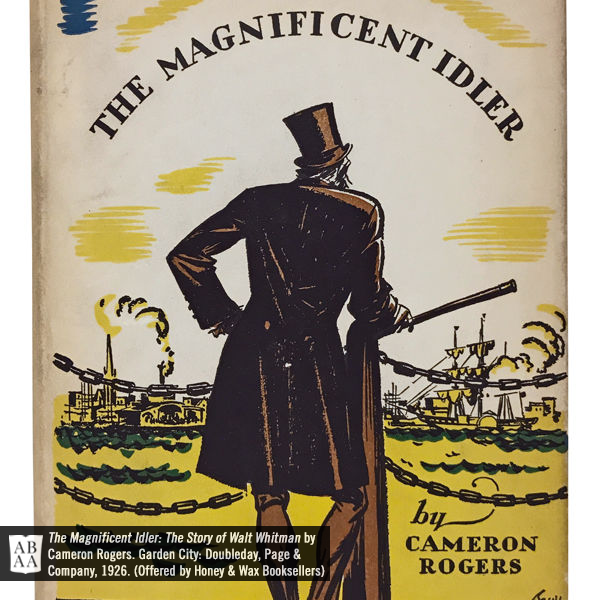 Garden City: Doubleday, Page & Company, 1926. First edition of this earnestly humanizing popular biography of Walt Whitman, which "seeks neither to whitewash its subject nor exhume old scandals." The double-page landscapes by illustrator Edward Wilson, which depict Whitman communing with nature throughout his life, match the contemplative, gently comic prose of Cameron Rogers. Characteristic is the dialogue between the printers at work on the first edition of Leaves of Grass: "'Andy, this is crazy stuff.' 'Mebby.' 'Is this poetry, Andy, do you figure?' 'Mebby.' 'Anybody going to buy this stuff, Andy, do you figure?' 'Mebby.'" A near-fine copy, evidence of a mainstream readership grappling with Whitman's uncategorizable legacy in the decades after his death. Single volume, measuring 8 x 5.5 inches: [12], 312. Original full green cloth, yellow pictorial pastedowns to front board and spine, yellow pictorial endpapers, original unclipped color pictorial dust jacket. Illustrated title page printed in green and black. Black and white frontispiece and three double-page landscape spreads. Jacket spine toned, closed half-inch tear to rear panel, light edgewear.
Offered by Honey & Wax Booksellers.
SNOW WHITE AND THE SEVEN DWARFS [CUT-OUT BOOK]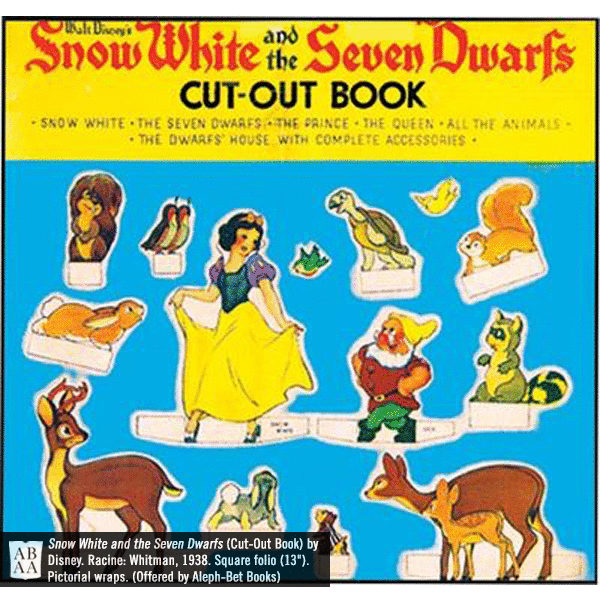 Racine: Whitman, 1938. Square folio (13") pictorial wraps, 2 small cover mends else fine and unused. Consisting of Snow White, the 7 Dwarfs, the Prince, the Queen, all of the animals and the Dwarfs' House with all of the accessories. Both covers have figures designed to be cut-out and the 4 interior pages have the figures die-cut ready to be punched out. A beautiful copy, rarely found in unused condition.
Offered by Aleph-Bet Books.
Livre d'heures ou Offices de l'Eglise illustrés d'apres les Manuscrits de la Bibliothèque du Roi..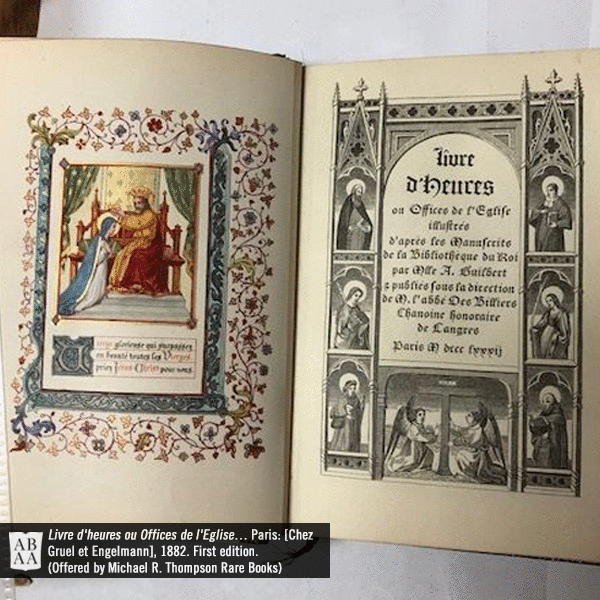 Paris: [Chez Gruel et Engelmann], 1882 First edition, printed by Engelmann, who is credited with bringing lithography to France and, later, commercializing chromolithography. Nineteenth-century brown morocco with metal clasps, spine in six compartments with raised bands, all edges gilt and gauffered, gilt turn-ins. Brown silk doublures, central gilt design on front flyleaf. Quarto. Eight chromolithographic plates of text heightened in gold, including frontispiece. Each page contains historiated initials and text within engraved borders, many inhabited with fantastical creatures, insects, flowers, fruit, etc. Binding extremities very lightly worn. Contemporary ink inscription on recto of preliminary blank. A near fine copy Godefroy Engelmann (1788-1839) was a Franco-German lithographer and chromolithographer. He trained in Switzerland and France at La Rochelle and Bordeaux, and he studied painting and sketching in Jean-Baptiste Regnault's atelier in Paris. In 1814, he traveled to Munich to study lithography. After founding La Société Lithotypique de Mulhouse, he opened a workshop in Paris in June of 1816. In 1837, he was granted an English patent for a process of chromolithography that provided consistently high-quality results. Over the course of his life, he produced large numbers of prints, including numerous plates for Baron Isidore Justin Séverin Taylor's collection of lithographs Voyages pittoresques et romantiques dans l'ancienne France.
Offered by Michael R. Thompson Rare Books.
The Chimpanzee; The Living Link Between 'Man' and 'Beast' (Signed)
by Jane Goodall
Edinburgh: Edinburgh University Press. Fine in Fine dust jacket. 1992. First Edition; First Printing; Signed by Author. Softcover. 0748603549 . A Fine first printing of the first edition in equally Fine dust-jacket, signed by author and scientist Jane Goodall directly on the title page. A scarce title to find signed; The illustrated lecture of Jane Goodall from The Third Edinburgh Medal Address, describing her pioneering work in the Gombe Stream Game Reserve, showing how chimpanzees have unique personalities and develop complex psychological, social and political relationships with one another.
Offered by Books Tell You Why, Inc.
Archive of original midcentury porcelain designs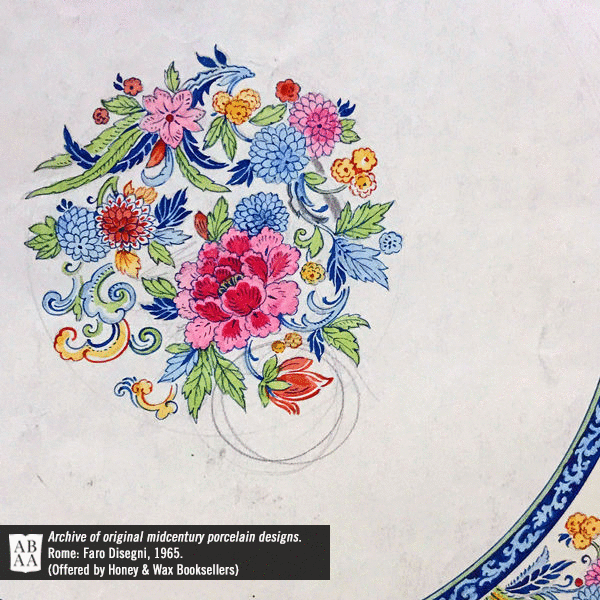 Rome: Faro Disegni, 1965. Beautiful archive of midcentury porcelain designs, each an original hand-colored work of art, spanning a wide variety of botanical, geometric, and figural styles. Some feature realistic portraits of flowers and birds, while others are much more stylized: traditional folk motifs, linear Art Nouveau florals, bright mod blossoms. This is a working archive: many of the images are annotated and corrected in pencil, and themes (like the firebird) are developed over multiple sheets. Of the 168 designs that survive, eight are unnumbered, and the others are numbered as follows: 1-47, 49-67, 69-138, 140-144, 146-155, 157-165. Roman firm Faro Disegni is best known for their textile designs; this archive testifies to their participation in other aspects of the decorative arts. A remarkable survival. Collection of 168 original hand-colored designs for porcelain plates, each on a separate sheet, of various sizes: a group of 111 designs executed in pencil, ink, and watercolor on heavy paper, most measuring 14.5 x 13 inches, and a smaller group of 57 sketches, executed primarily in pencil and crayon on onionskin, measuring less than 12 inches square. Most designs labeled "Faro Disegni" and numbered in ink; a few designs mounted, many marked in pencil with annotations in French and English. Housed in two chemises within a custom clamshell box.
Offered by Honey & Wax Booksellers.
THE LIFE AND OPINIONS OF TRISTRAM SHANDY, GENTLEMAN
by Laurence Sterne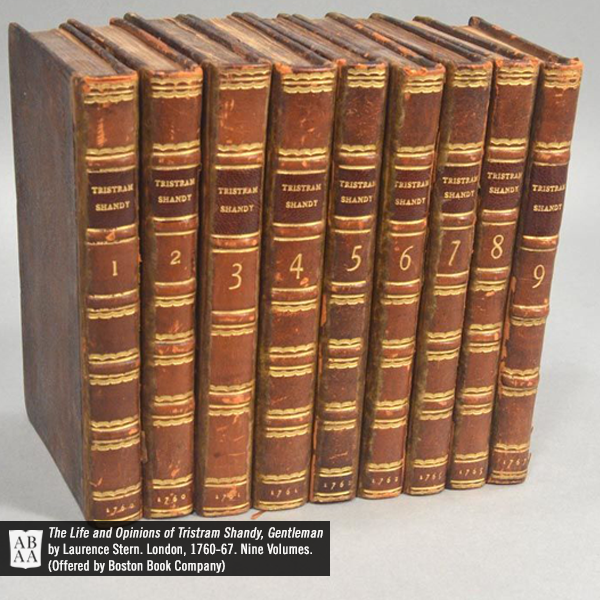 1760. STERNE, Laurence. THE LIFE AND OPINIONS OF TRISTRAM SHANDY, GENTLEMAN. . London, R. and J. Dodsley, 1760-61 (Volumes I-IV). London: T. Becket and P.A. Dehondt, 1762-67 (Volumes V-IX). Nine octavo volumes. Volumes III-IX first editions; I and II are second editions. Volumes V, VII and IX are signed by Sterne on the first text page of each. Volume I has a frontispiece after William Hogarth. Volume III has the marbled plate, as called for, but lacks its frontispiece. Half-titles in volumes IV, VI, IX. Errata for volumes VII and VIII printed on verso of title-page in volume VII. Bound in early full calf, nicely rebacked with period numbering. The joints of volume I are a bit tender now, but all the others are sound. The final text leaves in volume III are loose. There is occasional, light foxing to some endpapers and/or fly-leaves; otherwise the text leaves are clean. Volume IX has two lines of (non authorial) writing in a contemporary hand (from Robert Burns' "A Man's a Man for a' That") at the bottom of page [vi]. Engraved armorial bookplate in volume I.
Offered by The Boston Book Company.
Soma: Divine Mushroom of Immortality
by Gordon Wasson
New York: Harvest Special / Harcourt Brace Jovanovich, Inc, 1972. First Paperback Edition, First Printing. Good in original pictorial wrappers, creasing to spine, general soiling and foxing, previous ownership signature.. 6.75 x 9.75 in. xiii; 380 pp. With 22 plates, 17 in color. Ethno-Mycological Studies No. 1.
Offered by The Captain's Bookshelf.