[From the producers:] One of the oldest and most respected antiquarian book shows in the country, the 43rd Boston International Antiquarian Book Fair will be held November 15-17, 2019 at the Hynes Convention Center in Boston. Featuring the fascinating collections and rare treasures of more than 130 American and international booksellers, the event gives visitors the opportunity to see, learn about, and purchase the finest in rare and valuable books, illuminated manuscripts, autographs, political and historic documents, maps, atlases, photographs, fine and decorative prints, and much more.
An alluring treasure trove awaits seasoned collectors as well as new visitors at an event that offers the top selection of items available on today's international literary market. Attendees have the unique chance to get a close look at rare and historic museum-quality items, offered by some of the most prestigious participants in the trade. Whether just browsing or buying, the Fair offers something for every taste and budget—books on art, politics, travel, gastronomy, and science to sport, natural history, literature, fashion, music, and children's books—all appealing to a range of bibliophiles and browsers. From the historic and academic, to the religious and spiritual, from the exotic to the everyday–the Fair has offerings in every conceivable genre and subject.
In recent years, novice and younger collectors have been increasingly captivated with unique offerings at accessible price points. For attendees wanting to start a collection without breaking the bank, there will be dealers offering "Discovery" items priced at $100 or less, including a selection of children's books and decorative cloth bindings. The Fair is an opportunity to learn tips on how to start a collection and talk to dealers who are experts in their specialties.
Tickets for Friday night's exclusive Opening Night event are $25, an opportunity for the public to get a first look at items for sale at the Fair; admission is free on Saturday and Sunday.
Special events at this year's fair, including a roster of illustrious speakers, the Ticknor Roundtable, and Free Appraisals, will be announced in early fall.
Where:
Hynes Convention Center
900 Boylston Street. Boston, MA
When:
Friday, November 15 4:00-8:00pm Tickets: $25.00
Saturday, November 16 12:00-7:00pm Free Admission
Sunday, November 17 12:00-5:00pm Free Admission
The Boston International Antiquarian Book Fair is sponsored by the New England Chapter of the Antiquarian Booksellers' Association of America. A portion of the ticket sales will benefit the Boston Public Library and the American Antiquarian Society. Tickets are for sale at www.bostonbookfair.com and at the show's box office during Friday evening show hours. For more information, please visit www.bostonbookfair.com
---
SPECIAL EVENTS AT THE 2019 BOSTON BOOK FAIR

FRIDAY, NOVEMBER 15

Opening Night | 4:00pm-8:00pm

Get a first look at items for sale at the 2019 fair! The opening night of the Boston Book Fair is a special event that benefits the Antiquarian Booksellers' Benevolent Fund. It provides an opportunity to browse the collections of U.S. and international dealers (before everyone else!) and to mingle with other bibliophiles, collectors, museum curators, and curious special collections librarians. Tickets are $25 and can be purchased at the event or online at https://www.eventbrite.com/e/43rd-boston-book-fair-opening-night-tickets-67582961457


SATURDAY, NOVEMBER 16

Getting Started in Family History
Alice Kane, American Ancestors and New England Historic Genealogical Society | 12:30pm Exhibit Hall Theater

Genealogy is one of the most valuable pursuits in which you can participate. Learning about who you are and uncovering the stories of your ancestors can be a rewarding and even life-changing experience. But, how do you get started? You may have inherited family papers or research from a relative, have dabbled on genealogical websites, or have already found a few records of interest. What's next? Learn to navigate the first steps in tracing your genealogy and understand what records and sources can shed light on your family's story.

Established in 1845, American Ancestors and New England Historic Genealogical Society is the nation's founding genealogical organization and the largest Society of its kind in the world. Educating, inspiring, and connecting people to their family history across America and beyond, through their scholarship, collections, and expertise; the organization's eight-story library and archive (99-101 Newbury Street, Boston) offers the largest collection of original family history papers in the country, including 28 million diaries, letters, photographs, and other manuscripts spanning the fourteenth century to the present.

NOTE: The Genealogical Society will be distributing free one-day passes to the American Ancestors Research Center to Fair attendees at the talk.


Enduring Enchantment: The Illustration Art of Kay Nielsen (1886-1957)
Meghan Melvin, Curator of the Museum of Fine Arts, Boston | 2:30 pm | Exhibit Hall Theater

Meghan Melvin, curator of Boston's MFA exhibition Kay Nielsen's Enchanted Vision: The Kendra and Allan Daniel Collection, reexamines the celebrated artist's original illustration art through an extensive private collection of Nielsen's masterful drawings and watercolors. Her recent research on Nielsen seeks to broaden the understanding of this influential artist's working methods and his diverse sources of inspiration. On exhibit at the Museum of Fine Arts, Boston through January 20, 2020.


Ticknor Society Collectors' Roundtable | 4:00 pm Exhibit Hall Theater

The Ticknor Society's Collectors Roundtable has been a regular feature at the Boston International Antiquarian Book Fair for over a decade. This year's panelists include authors discussing their personal collections.
Paul Di Filippo, science fiction writer, "Fifteen Thousand Volumes of Fantastika"
Todd Hearon, poet, "The Poet's Hand: A Collection of Signed and Rare Volumes from Pope to the Present"
Christopher F. Minty, historian, "Paper Trail Curiosities"

SUNDAY, NOVEMBER 17

Free Appraisals
Expert Book Appraisers | 1:00-3:00 pm Main Entrance

Attendees can bring their own books, manuscripts, and ephemera for free expert appraisals. Located just outside the main entrance to the exhibit hall.


Beyond Words: The Wordless Novel in the first half of the 20th Century: Frans Masereel, Lynd Ward, Otto Nuckel, Milt Gross, Helena Bochorakova-Dittrichova and Lawrence Hyde
Ken Sanders, Ken Sanders Rare Books | 1:00 pm Exhibit Hall Theater

Proprietor of Ken Sanders Rare Books and Dream Garden Press, Ken Sanders has been involved in the antiquarian book trade for fifty years. He purchased his first copy of Gods' Man by Lynd Ward in 1965 at the age of 14. His press commissioned underground cartoonist Robert Crumb to illustrate Edward Abbey's The Monkey Wrench Gang, in 1985.


The Graphic Revolution: Exploring the Comics Culture
Panel discussion moderated by Hillary L. Chute, with Tim Flynn, Liz Prince & Nick Thorkelson | 2:00 pm Exhibit Hall Theater

Hillary Chute, Distinguished Professor of English and Art + Design at Northeastern University is author of Why Comics? From Underground to Everywhere (HarperCollins), Disaster Drawn: Visual Witness, Comics, and Documentary Form (Harvard UP), Outside the Box: Interviews with Contemporary Cartoonists (U of Chicago P), and Graphic Women: Life Narrative and Contemporary Comics (Columbia UP); Associate Editor of Art Spiegelman's MetaMaus (Pantheon); and a comics and graphic novels columnist for the New York Times Book Review.

Tim Finn owns and operates the brick and mortar Hub Comics in Somerville's Union Square, and is a professor of animation, animation history, and comics at Lesley Art + Design in Cambridge. Tim is also 200+ interviews and 18 chapters into writing the definitive history of G.I. Joe, a coffee table art book for both hardcore fans and casual pop culture aficionados

Liz Prince is the award-winning author of the graphic memoir Tomboy, the creator of the comics series Coady and the Creepies, and is a contributor to many comic anthologies. She lives in Maine with her 2 cats, 2 toads, and 1 husband. Liz's first graphic novel, Tomboy: A Graphic Memoir, was released in 2014 by Zest Books, to critical acclaim, and has since been published in French, Spanish, Korean, and was adapted as an audiobook.

Nick Thorkelson is a Boston-area cartoonist, graphic designer, animator, musician, and painter. He was a political cartoonist for the Boston Globe and has contributed stories to a number of comics anthologies including The Beats and Studs Terkel's Working (with Harvey Pekar), Fortune Cookies (editor/cartoonist), as well as Bohemians, Radical Jesus, and Yiddishkeit. His book-length comics biography, Herbert Marcuse, Philosopher of Utopia, appeared in April 2019 and he is working on two more GNs, a memoir about the end of the 'sixties and a graphic bio of the 19th Century British designer, poet, and socialist William Morris.
---
Preview items: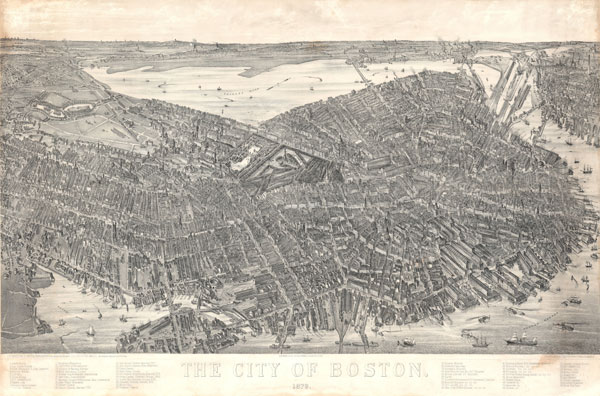 The City of Boston. 1879. Boston: O. H. Bailey & J. C. Hazen, 1879. Armstrong & Co., lithographers, Riverside Press, Cambridge. Lithograph, 28.625" x 44.125" plus margins.
One of the most spectacular bird's eye views of Boston ever published, with the built environment of the city rendered in meticulous detail.

Offered by Geographicus Rare Antique Maps (booth #113) and James Arsenault & Company (booth #317).
The Murders in the Rue Morgue and other Tales of Horror (Photoplay Edition) by Edgar Allan Poe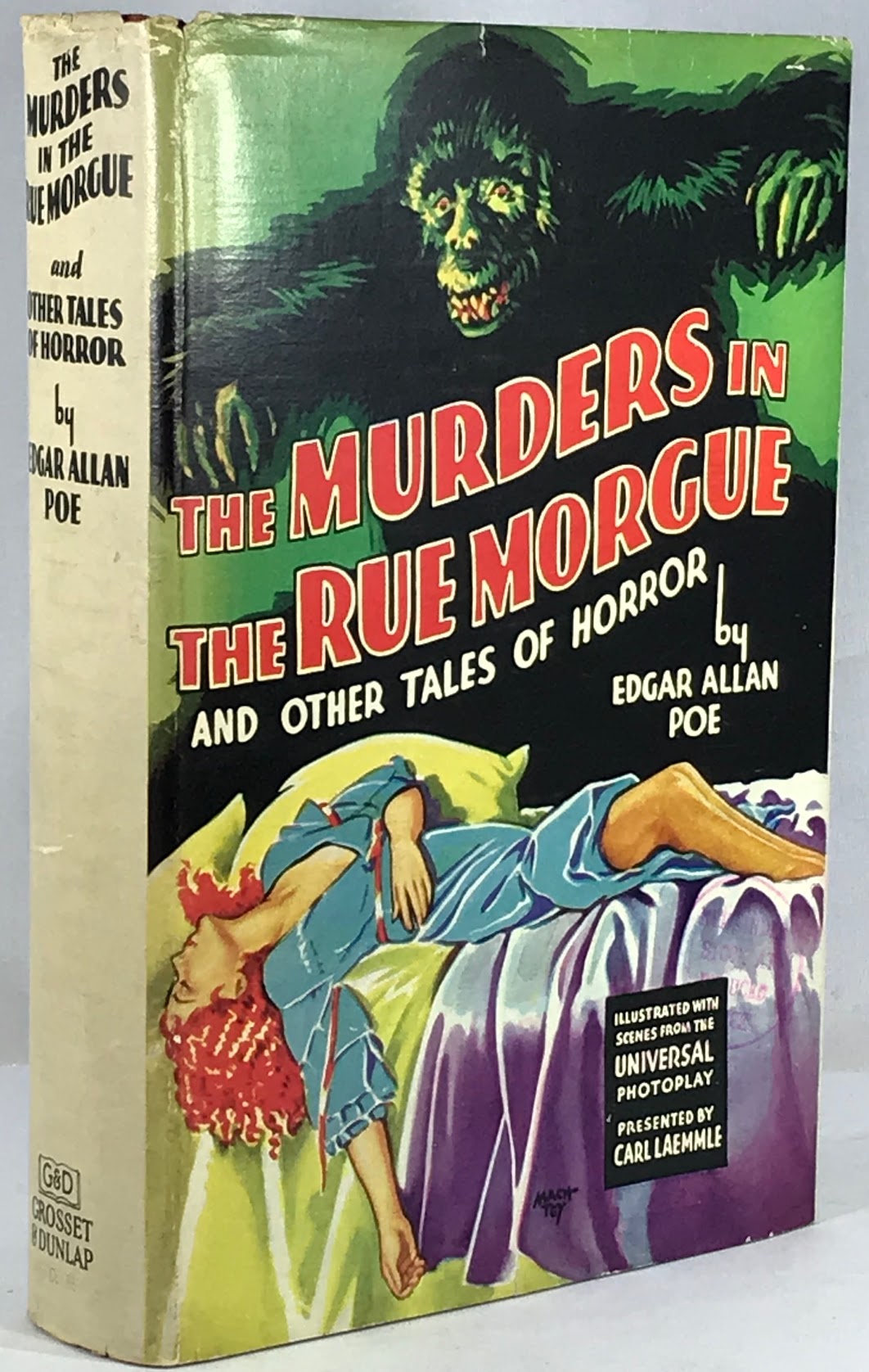 New York City: Grosset & Dunlap. Photoplay Edition. Fine/Near Fine. 1932. 8vo., 315(1)pp. Stunning First Edition of Photoplay Edition, no date on CP but 1932. With stills from the Universal film starring Bela Lugosi, including photographed endpapers and paste-downs. Square, tight and clean throughout without any toning. A touch of wear to the crown but really quite minor. A remarkably well-preserved copy. Beautiful unclipped though unpriced wrapper has a bit of wear along the top edge and crown with a couple of tiny, almost unnoticeable closed tears. But this is a fresh bright copy with colors as vibrant as the day it came off the shelf. A simply gorgeous, scarce copy and there is unlikely one better in the market.
Offered by Brenner's Books Rare & Collectible, booth #523.
Explore more preview items here...
(Bookshelf photo credit: Brattle Book Shop)