The Boston Book Fair is the annual fall gathering for book lovers and collectors of rare books, featuring the top selection of items available on the international literary market. The 43rd annual gathering of U.S. and international dealers, sanctioned by the Antiquarian Booksellers' Association of America and the International League of Antiquarian Booksellers, takes place in Boston, Massachusetts over the weekend of November 15-17, 2019. Here are a few preview items to tempt you, including copies of some of the most-famous rare books of all time!
Allen Ginsberg, Original Carbon Typescript for Part I of "Howl", (ca. early 1956)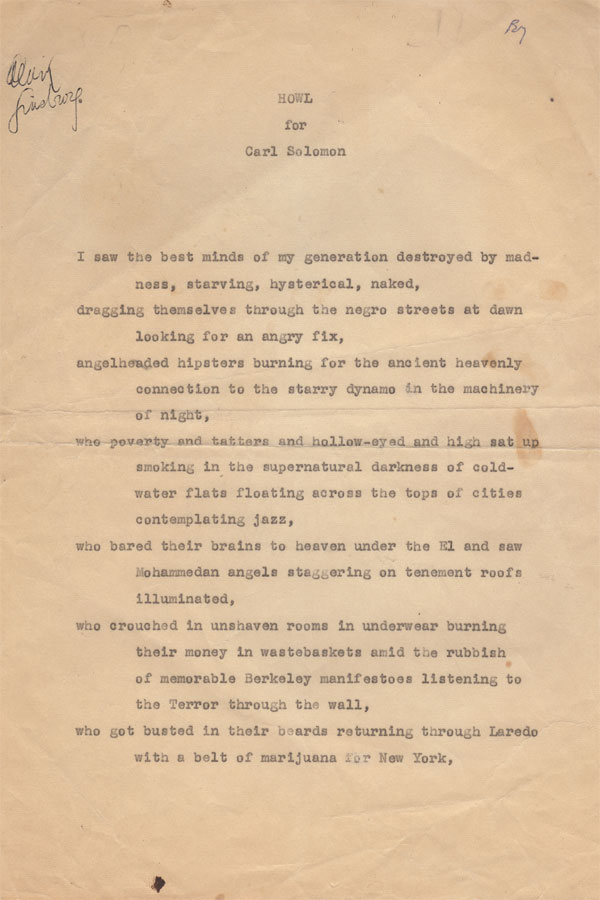 Previously unknown original carbon typescript of the most important postwar American poem: Allen Ginsberg's "Howl." Almost certainly the only surviving draft version of this iconic poem remaining in private hands, and the only one to ever be separately offered for sale, this copy was struck from what has become known as the fifth draft (so identified in HOWL: Original Draft Facsimiles and Variant Versions [etc.]. Barry Miles, Editor. New York: Harper & Row, 1986) and most likely dates from early 1956. It is this draft that Ginsberg read in what is the earliest known recording of the poem at Oregon's Reed College from February 1956 (indeed you can hear him turning the pages at precisely the right time on the recording), performed just three months after the legendary Six Gallery reading where the poem debuted.
Provenance: this copy of "Howl" was discovered among the papers of bohemian and arts benefactor Annie Ruff.
Offered by Brian Cassidy, Bookeller, booth #316.
VESALIUS, Andreas. De humani corporis fabrica.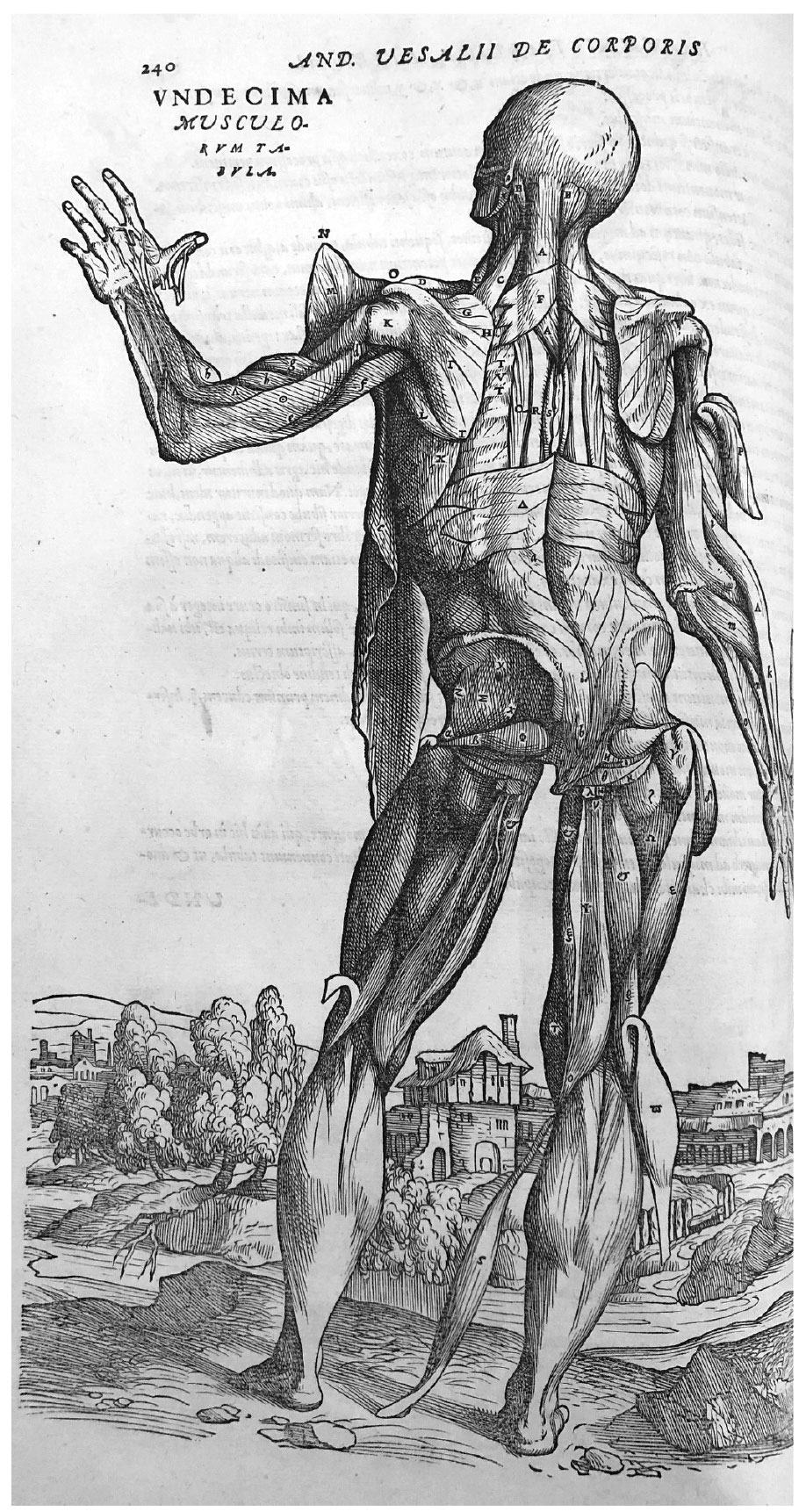 Basel: Joannem Oporinum, 1555. Folio. With the famous woodcut title, portrait of Vesalius, 23 full-page and approximately 180 cuts in the text. Complete with the 2 folding plates. Modern full calf in a contemporary style. This second edition contains Vesalius's final revision of the text, along with significant typographical improvements, corrections and additions. This epoch-making work is the first modern treatise on anatomy based upon dissections of the human body.
Offered by Rootenberg Rare Books & Manuscripts, booth #323.
POPE, Alexander, Jr. (1849-1924). Celebrated Dogs of America.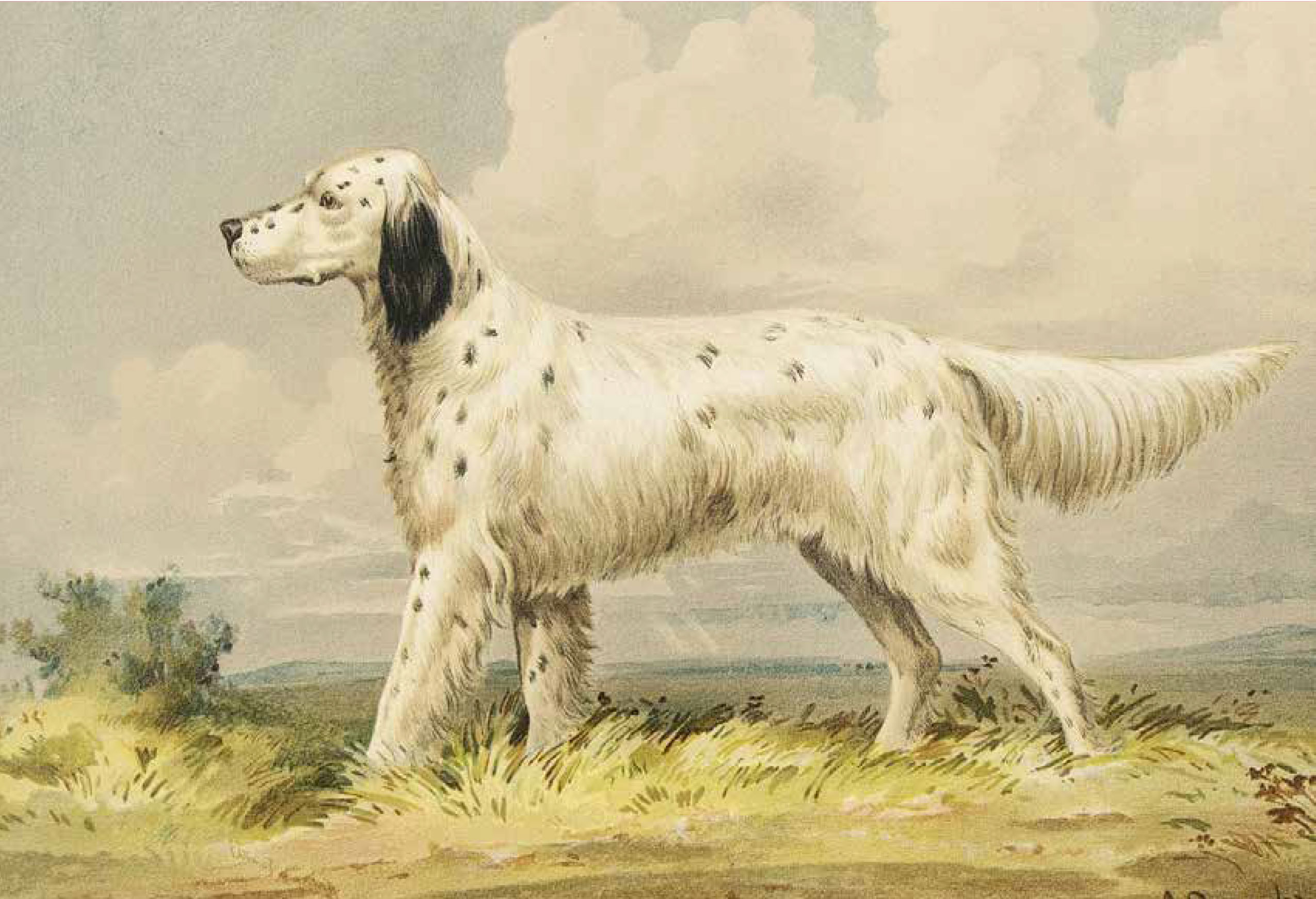 Boston: S.E. Cassino, 1879. 10 parts in one [complete], oblong folio (14 x 19 inches). 20 mounted chromolithographed plates, each accompanied by a leaf of explanatory text. Contemporary half purple morocco and purple cloth covered boards, marbled endpapers.
Very rare American work on dogs, with chromolithographed images after Alexander Pope, Jr. "The style of the present work is entirely original ... The pictures are painted from life by Alex. Pope, Jr., whose Upland Game Birds and Water Fowl of the United States, and wood carvings of Game Birds, have made him familiar to the sportsmen art lovers of this country ... The Celebrated Dogs of America will be issued monthly, in parts composed of two plates, 16 1/2 by 20, and accompanying letter-press. The series will be completed in ten parts, at $2 per part. The plates will be exact reproductions of the water-color paintings, and will be superior to anything heretofore produced of this nature ... The work will be sold only by subscription..." (prospectus).
Bennett p.90; H.M. Chapin The Peter Chapin Collection of Books on Dogs (Williamsburg, Virginia: 1938) 1426; McGrath, p. 212.
Offered by Donald A. Heald Rare Books, Prints, & Maps, booth #414.
KING KONG IN RARE ORIGINAL DUST JACKET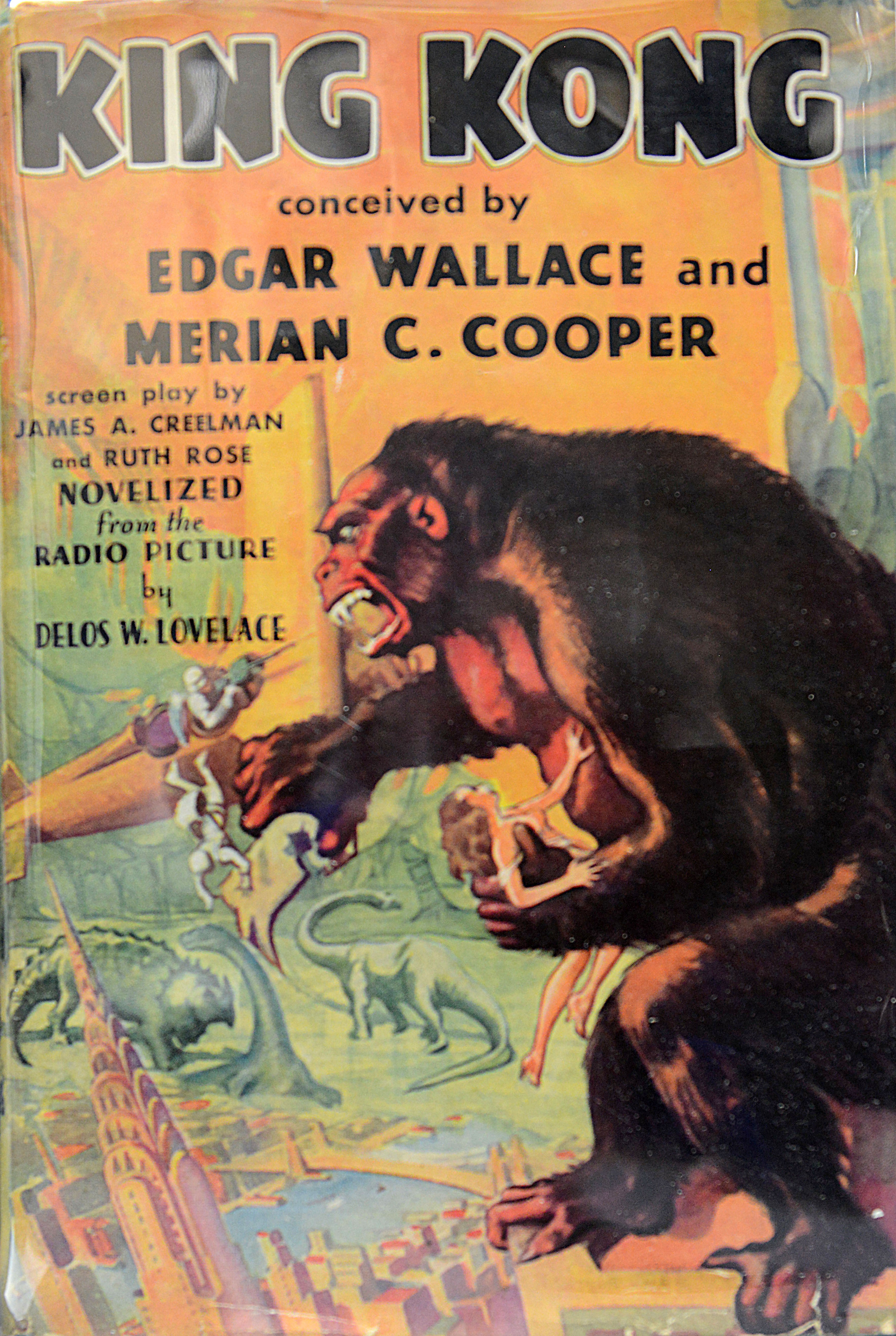 Edgar Wallace & Merian C. Cooper (1932). Photoplay Edition.
Offered by Brattle Book Store, booth #416.
T.S. Eliot, Graham Greene, James Joyce, J. R. R. Tolkien, and many others. THE J. M. DENT AND SONS RIGHTS AND PERMISSIONS ARCHIVE: A SAMPLER OF LETTERS FROM TWENTIETH CENTURY BRITISH LITERARY AND POPULAR FICTION WRITERS.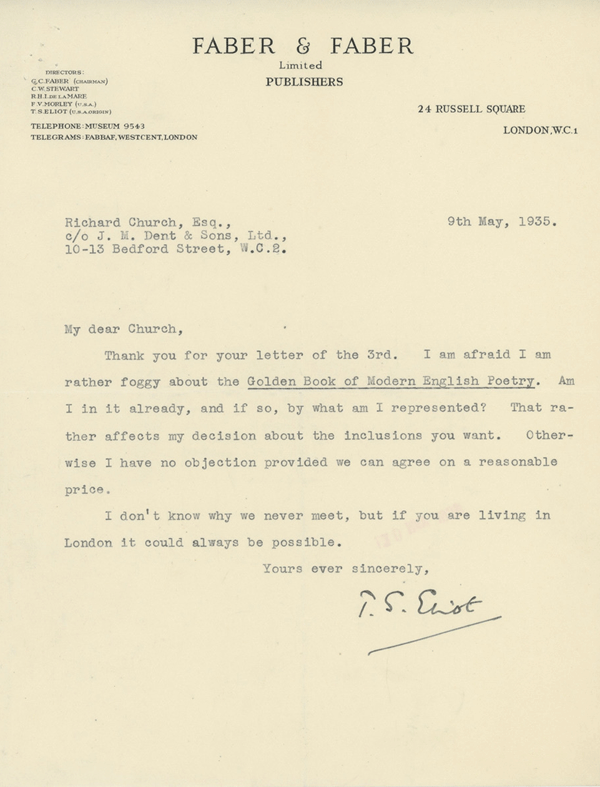 An archive of correspondence from the files of London publisher J. M. Dent and Sons. The letters mostly relate to permission to reprint items in various anthologies of poetry and prose published by Dent in the 1920 and 1930s, with a scattering of later letters. The archive includes correspondence from (among others):

Richard Aldington, Max Beerbohm, Vanessa Bell, Hilaire Belloc, Arnold Bennett, E. F. Benson, Ernest Bramah, Robert Bridges, Robert Byron, Arthur Conan Doyle, Joseph Conrad, Lord Dunsany, T. S. Eliot, Ford Madox Ford, E. M. Forster, Kenneth Grahame, Graham Greene, Thomas Hardy, A. E. Houseman, Ted Hughes, James Joyce, Arthur Machen, John Masefield, A. A. Milne, Sylvia Owen (mother of Wilfred Owen), Ezra Pound, Arthur Rackham, Siegfried Sassoon, George Bernard Shaw, Edith, Osbert and Sacheverell Sitwell, J. R. R. Tolkien, H. G. Wells, Virginia Woolf (typed signature), W. B. Yeats.
Offered by John W. Knott, Bookseller, booth #301.
Dashiell Hammett, The Maltese Falcon (First Edition)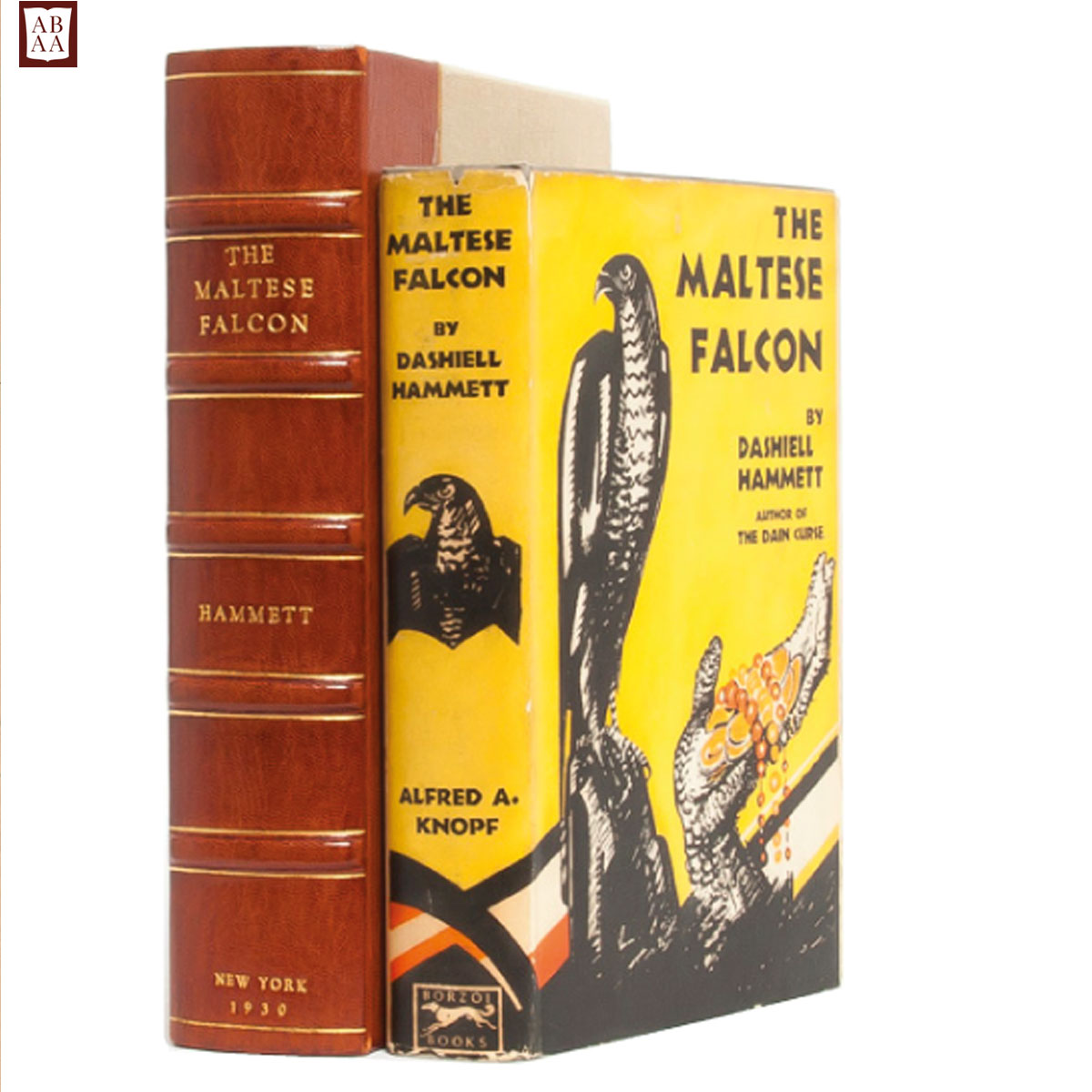 New York: Alfred A. Knopf, 1930. First edition. A Fine copy of the book in a nearly Fine dust jacket. Minor wear to the jacket at the spine ends, faint dampstain on the flap folds (with corresponding very faint dampstain on the cloth boards). Small tear at the top of the front panel, no loss. Jacket entirely unrestored. An exceptional copy of Hammett's masterpiece, housed in a custom clamshell case.

Hammett's classic hard-boiled detective tale, which would go on to influence countless others in the genre. The story features the first appearance of Sam Spade – a character Hammett referred to as a man with "no original" – and was initially serialized in the classic pulp magazine Black Mask before it was published in book form. Hammett was inspired by his own work as a detective, which is thought have contributed to Hammett's lauded realism. Famed mystery author, Raymond Chandler, said of the work: "If you can show me 20 books written approximately 20 years back that have as much guts and life now, I'll eat them between slices of Edmund Wilson's head."

The Maltese Falcon also inspired numerous films, including the 1941 noir classic of the same name, (which Variety called "one of the best examples of actionful and suspenseful melodramatic story telling in cinematic form") written and directed by John Huston and starring Humphrey Bogart, Mary Astor, and Sydney Greenstreet. The film would be nominated for three Academy Awards – including Best Picture – and was chosen for preservation by the Library of Congress' National Film Registry. The novel appears on Modern Library's list of the 100 best English Language Novels of the 20th century. Fine in Near Fine dust jacket.
Offered by Whitmore Rare Books, booth #518.
Report on the Flying Bomb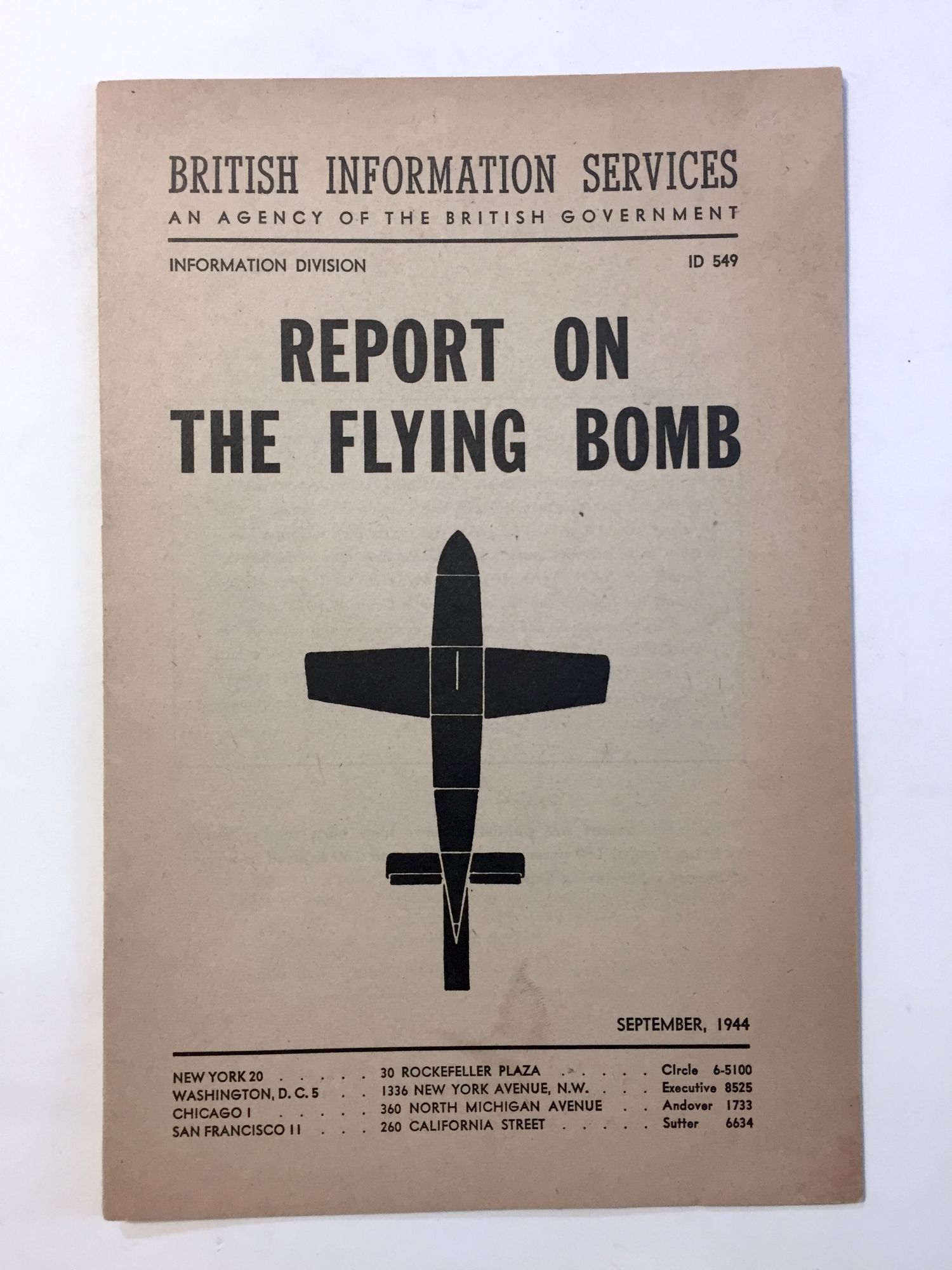 Sept. 1944. 8vo. 14pp., original wrappers, stapled as issued. Illustrated with diagrams of German aircraft and bombs. Browned and very brittle on account of the wartime quality paper production. Good.
An alarming, extremely urgent report on the German "Flying Bomb" or V-1 Flying Bomb, issued the Ministry of Information on Sept. 7, 1944. The significance of the V-1 Flying Bomb cannot be overestimated. Known to the Allies as the buzz bomb or doodlebug, the V-1 was the first of the so called "Vengeance" weapons that targeted London. The Report details the extent of the damage on London up to that time. Also included is information concerning the discovery of the manufacture of the flying bomb; preparations and measures undertaken by the British government to negate their effects. Following the report is a chronological summary of flying bomb-related events, as well as the number of casualties, Allied air losses, and buildings damaged from the bombings. An additional two-page illustration is included at the end of the report: the first is a graph of Flying Bombs dispatched (ca. 8,000), destroyed (5,739) and "got through" (2,300); the second shows three different views of the flying bomb. This report was issued about a month before Allied forces overran the last V-1 deployment site in range of Britain.
Offered by Michael Laird Rare Books, booth #528.
Camus, Albert. The Outsider.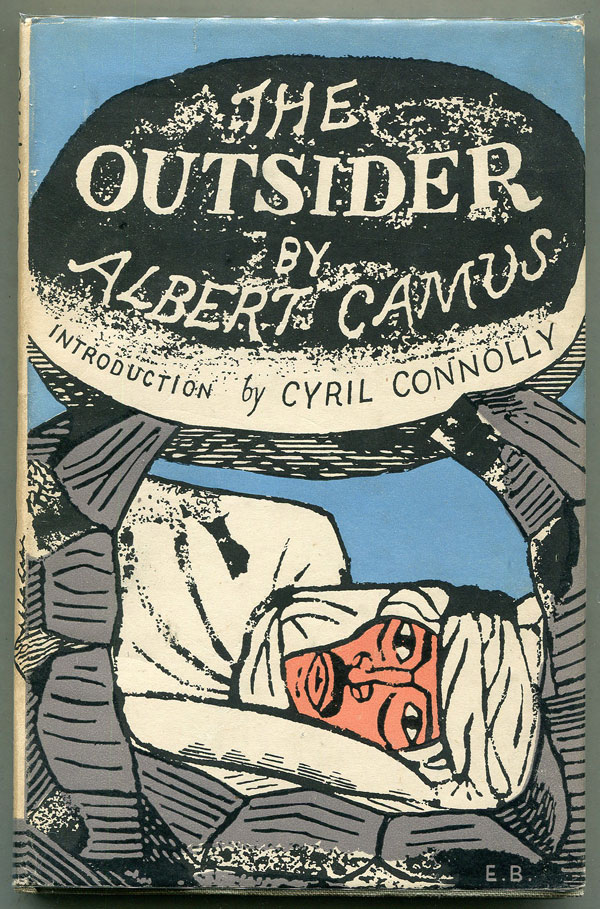 London: Hamish Hamilton (1946). First English language edition. Widely regarded as a classic of twentieth-century literature, Camus' novel is the first of several novels he wrote that explore the notion of the absurd within a fictional context, in contrast to the more direct and thorough examination of this notion in his philosophical essays. A beautiful copy of this important book, Camus' best-known and most acclaimed novel.
Offered by Evening Star Books, booth #403.
Ned's Amazing Space Voyages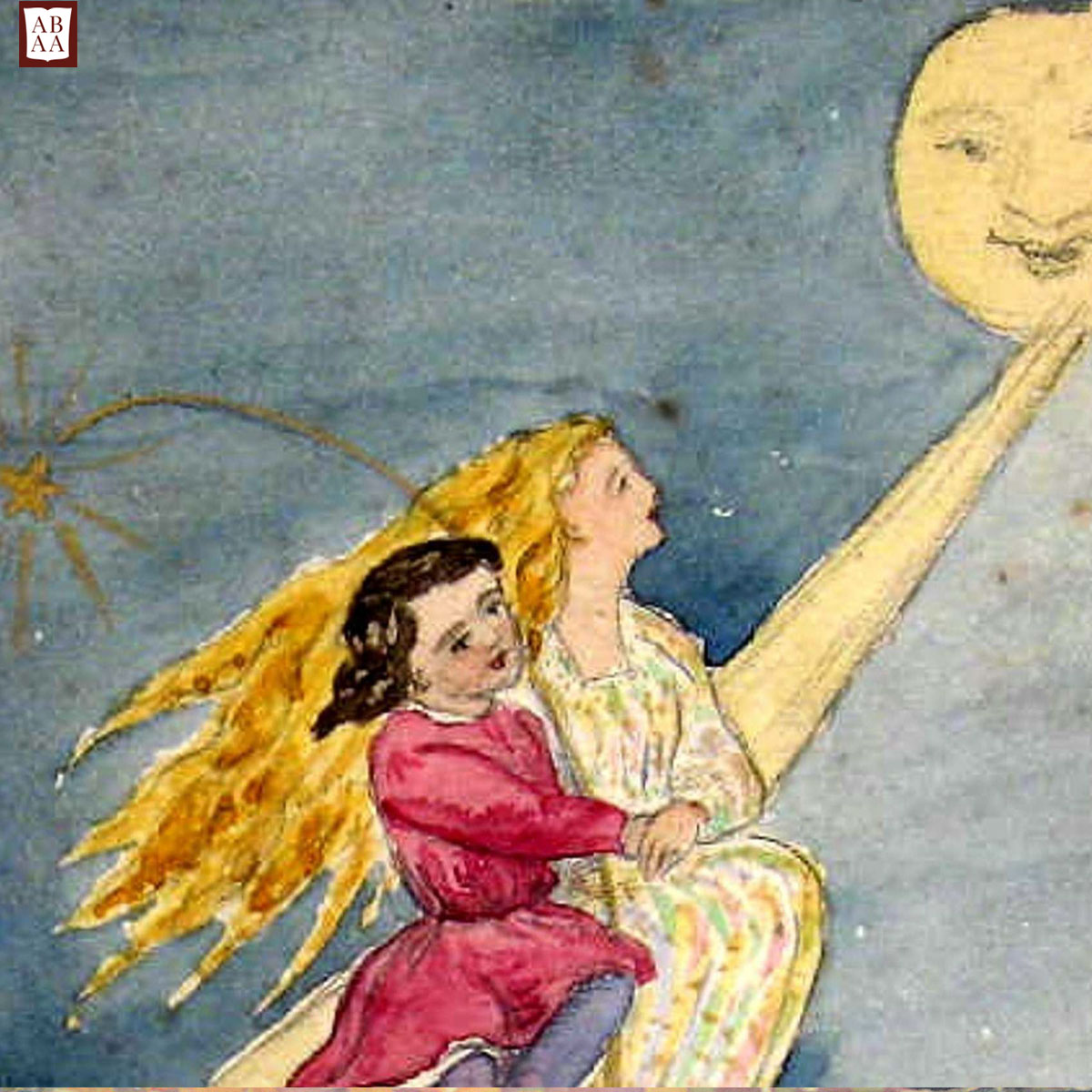 Written and illustrated by an anonymous artist & storyteller in the 1870s. Predates other children's outer space stories in the 20th century.
Offered by Carlson & Stevenson, booth #333.
Grant Advertising Inc. Original Dr Pepper Advertising Art.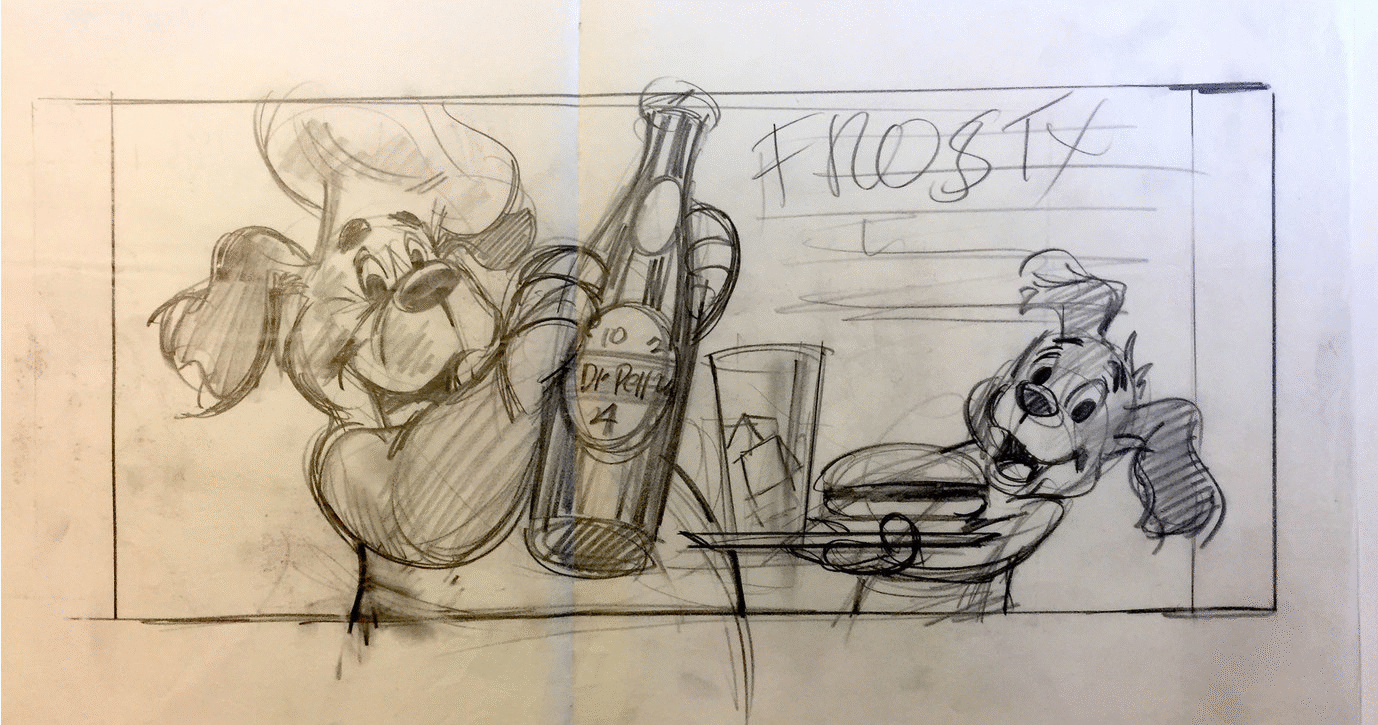 Early 1960s. Important archive of original artwork for Dr Pepper soft drink advertising, most likely generated by artists and marketing staff of Grant Advertising Inc. Collection consists of 59 total items, 15 large and 44 small pieces, including 40 original drawings. Material includes a Dr. Pepper trademark specification sheet, original, illustrated commercial storyboard drawings, and proof sheets in both a positive and negative format of Frosty Dog and Pup. Each item is protected by a Mylar sleeve, the entire archive preserved in a large fitted cloth case. Very Good to Near Fine Condition.

An extraordinary survival. This is a fascinating, visual archive of a marketing campaign from the Mad Men era, containing many original drawings and story board artwork, all relating to Dr Pepper's oldest mascot Frosty Dog, and his sidekick Pup, whose slogan, "Frosty man, frosty!" were ubiquitous throughout America in a wide variety of advertisement media such as magazines and billboards. The illustrations have a striking similarity to some of Jeff Koons' explorations of American comic art.

Dr Pepper, America's oldest manufacturer of soft drink concentrates and syrups, began in Waco, Texas in 1885. Over their long history, the company went through a series of different advertising campaigns, including the "10, 2 and 4" campaign, which was designed to encourage folks to get a little sugar in their systems to up their energy level at those times in the day. The "Frosty man, frosty" campaign began in 1956 and lasted into the early 1960s. The campaign featured the cartoon figures of Frosty Dog, a St. Bernard, and his companion Pup to sell" the soft drink as the "face" of Dr Pepper.

The storyboards in this collection bear the name of Grant Advertising Inc., founded in 1935 by Will C. Grant in Chicago. His company quickly grew into a world-wide network of agencies. Grant was convinced of the importance of radio and television marketing to advertisers. During the company's heyday, major clients included China Airlines, Chrysler Corp., General Foods, Mars, Inc. candy company, Mobil Oil, Wm. Wrigley Jr. Co., J.A. Folger, Old Dutch Cleanser, Ryder, and, around 1961, Dr Pepper. The storyboards all appear to be designed for TV advertising. Grant Advertising closed their operations in 1976.
Offered by Michael Laird Rare Books, booth #528.
Ex Libris: "Biblioteka P.V. Gubar".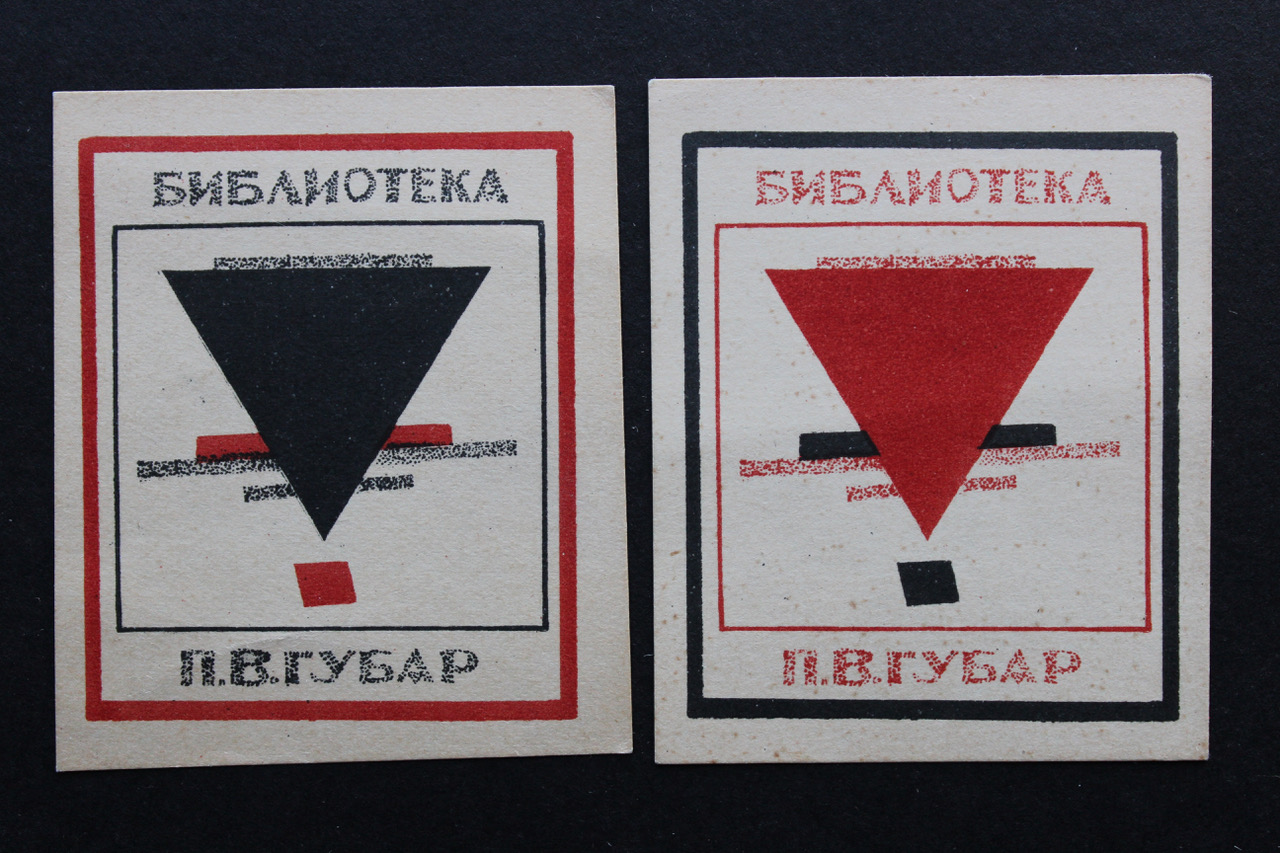 Suprematist bookplates. Printed paper. Design attributed to Ilya Chasnik. Circa 1925. 2-1/16" x 2-3/8".
Offered by Productive Arts, booth #118.
JOURNAL OF THE HOUSE OF DELEGATES OF VIRGINIA. ANNO DOMINI, 1776.
Virginia General Assembly, House of Delegates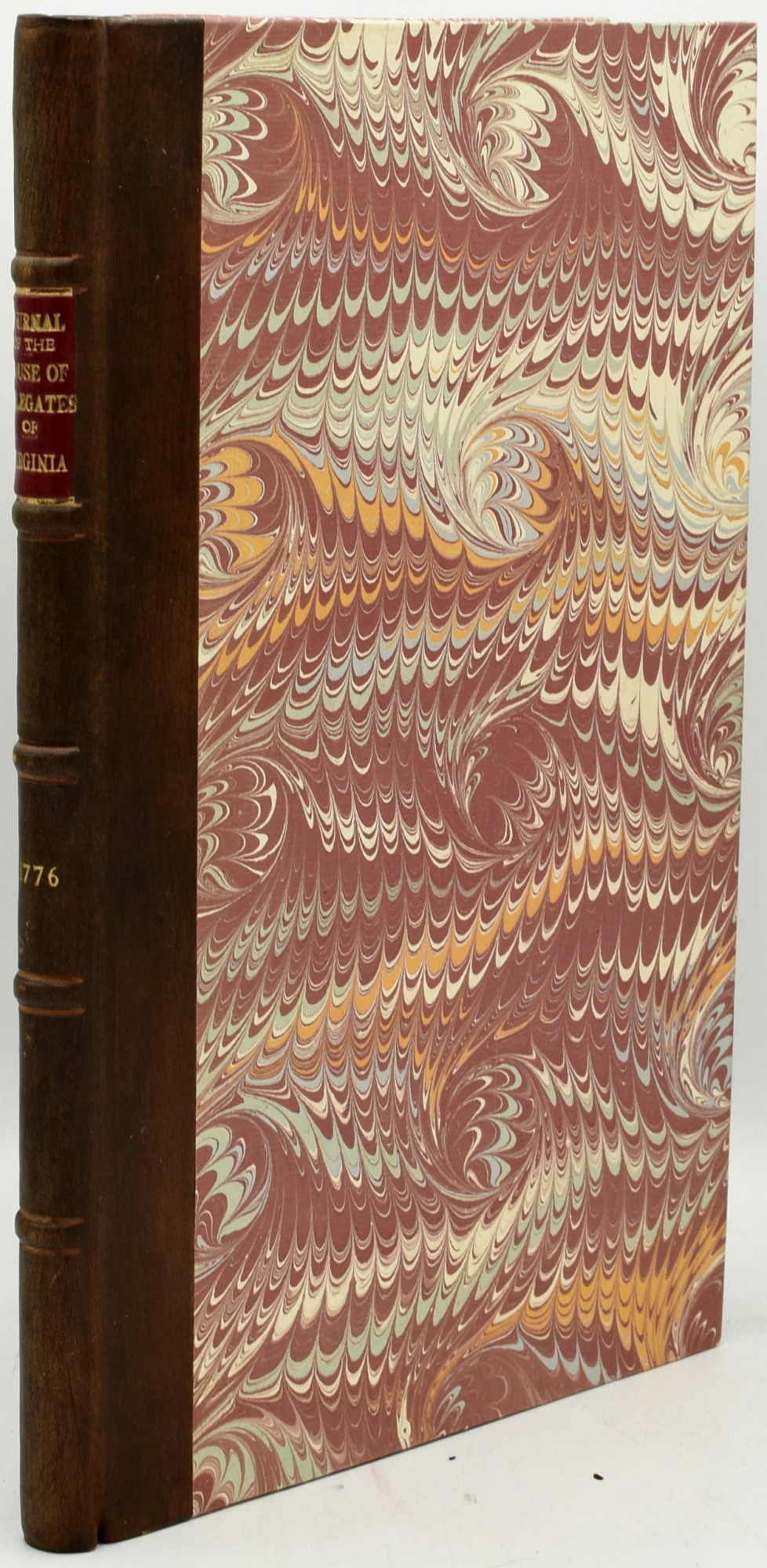 Williamsburg: Printed by Alexander Purdie, Printer to the Commonwealth, [1776].

Quarter Leather. First Edition. First Edition of the Journal of the House of Delegates of Virginia. Anno Domini, 1776. The first session of the Virginia House of Delegates after the Declaration of Independence, in the midst of the American Revolution. An important document which includes, among others, an act guaranteeing religious liberty to citizens of Prince Edwards County, the raising of Continental regiments, and the confiscation of Lord Dunmore's property. John Murray, 4th Earl of Dunmore was the last royal governor of Virginia, who famously offered freedom to any slave to defect from the Patriots. Thomas Jefferson features heavily in the journal, as do the other prominent Virginia statesmen of their day. Previous owner's name on the title page, of Abraham Hite, an important Virginia landowner and representative, who served as a member of the Virginia House of Burgesses from 1769 to 1774, in the State Convention of 1776, and a listed member of the Virginia boycott of British manufactures, 1774. Three leaves are lacking [R2; T1; Mm1], and facsimile pages are bound in. Else collates complete; 145, [1] pp. The title page is original, though has been "silked" for reinforcement. Modern rebinding. Quarter leather over marbled paper covered boards. Red leather label with gilt lettering on the spine. Ten institutional holdings listed on OCLC. (ESTC W23645. Evans, 15204. Bellet, Some Prominent Virginia Families, pp. 343-344 ).
Offered by Black Swan Books, booth #527.
THE MAN FROM THE MOON
by Carmichael, Philip.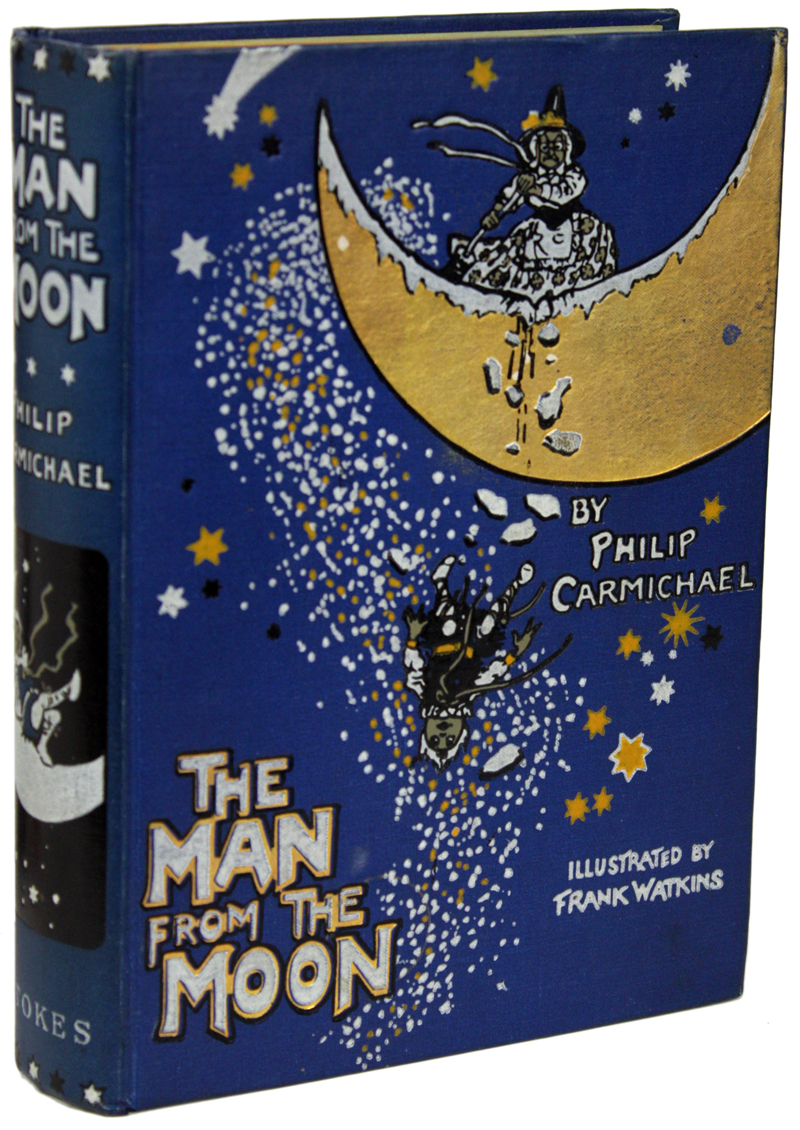 New York: Frederick A. Stokes Company Publishers, [1909]. Octavo, pp. [1-6] 7-11 [12-14] 15-296, eight inserted plates with color illustrations by Frank Watkins plus 30 black and white illustrations by Watkins throughout the text, original pictorial blue cloth, front panel stamped in black, white, gray, yellow and gold, spine panel stamped in black, white and gray, all edges stained yellow, pictorial endpapers. First edition, U.S. issue. "Children's fairy tale fantasy of the adventures of the man in the moon upon earth; an expanded and very much embellished version of the anonymous 'The Queer Adventure of the Man in the Moon,' of 1901." - Locke, A Spectrum of Fantasy, p. 48. "The pictures are pretty, in the vein, to some extent, of Arthur Rackham ... a very handsome volume." - Locke, Voyages in Space 45. Bleiler (1978), p. 39. Eaton catalogue I, p. 226. A bright, fine copy. A lovely copy of a lovely book.
Offered by John W. Knott, Jr., Bookseller, booth #301.
The Murders in the Rue Morgue and other Tales of Horror (Photoplay Edition) by Edgar Allan Poe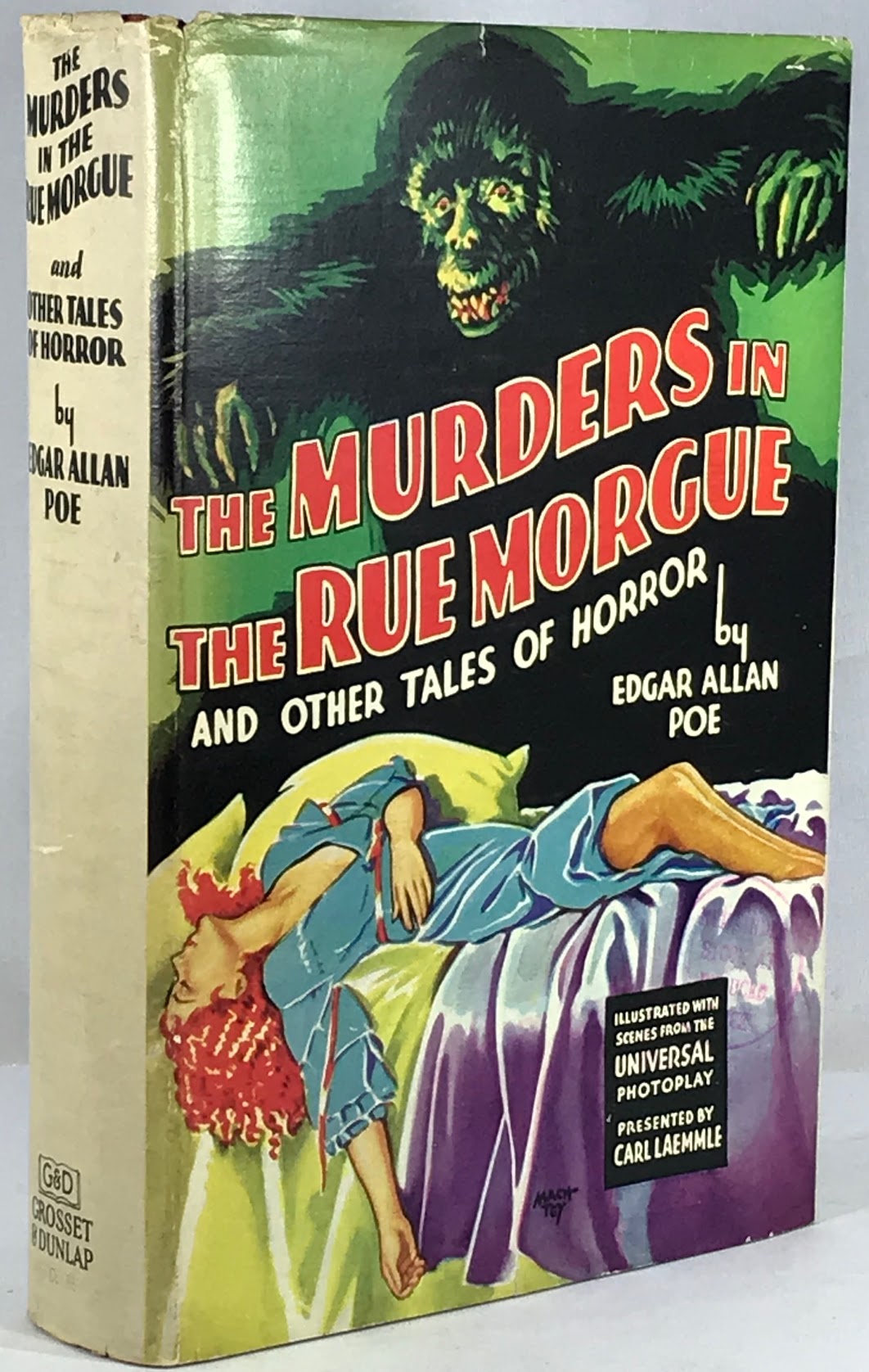 New York City: Grosset & Dunlap. Photoplay Edition. Fine/Near Fine. 1932. 8vo., 315(1)pp. Stunning First Edition of Photoplay Edition, no date on CP but 1932. With stills from the Universal film starring Bela Lugosi, including photographed endpapers and paste-downs. Square, tight and clean throughout without any toning. A touch of wear to the crown but really quite minor. A remarkably well-preserved copy. Beautiful unclipped though unpriced wrapper has a bit of wear along the top edge and crown with a couple of tiny, almost unnoticeable closed tears. But this is a fresh bright copy with colors as vibrant as the day it came off the shelf. A simply gorgeous, scarce copy and there is unlikely one better in the market.
Offered by Brenner's Books Rare & Collectible, booth #523.
Furuya Kôrin, designer. SHASEI SÔKA MOYÔ.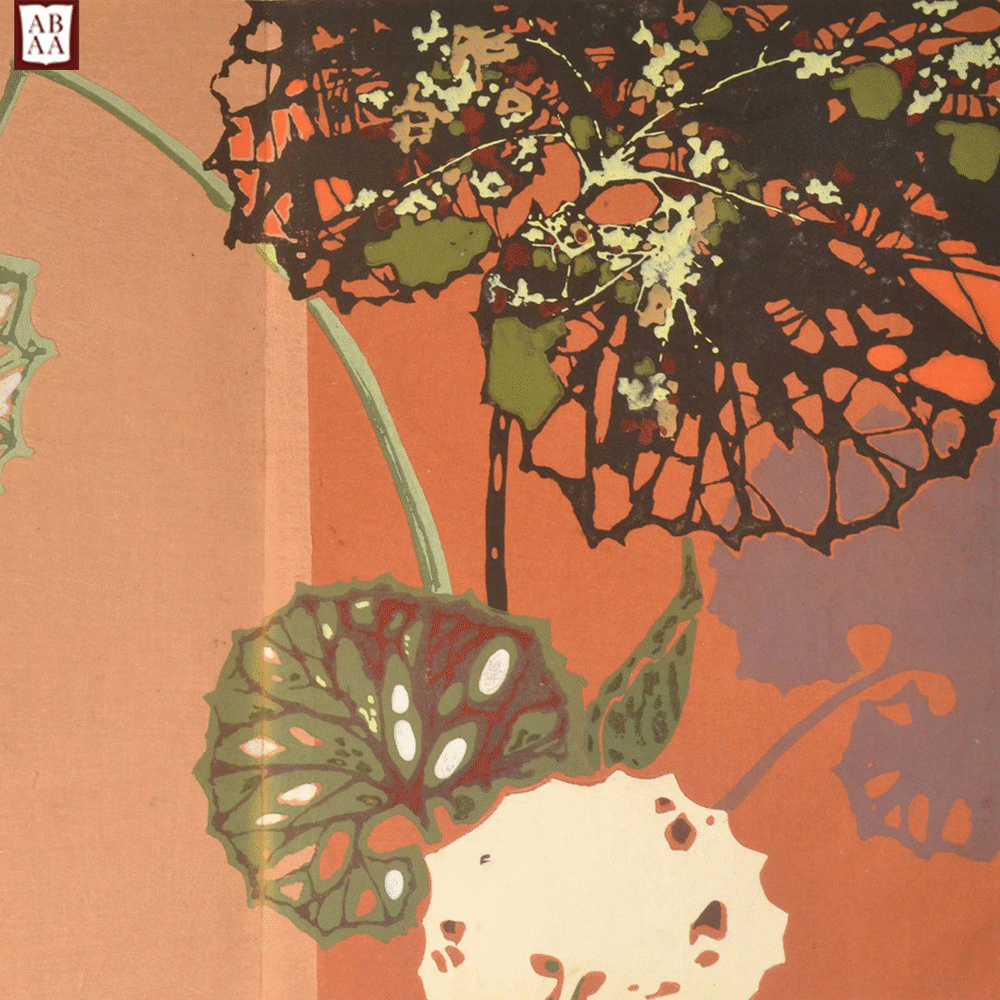 Kyoto: Unsôdô, Meiji 40 [1907]. Two folding albums, 24.9 x 18 cm., each volume with 25 double-page color woodblock prints of vegetal and flower designs by the important designer Furuya Kôrin, a protégé of the great Kamisaka Sekka. Lavishly printed and overprinted in metallic inks and mineral pigments to create a remarkably ornate surface.
Offered by Boston Book Company, booth #123.
The 1611 King James "The Great He Bible."
Fewer than 200 original printings of the 1611 are known to exist (and out of that number, fewer than 50 are complete "He" variants.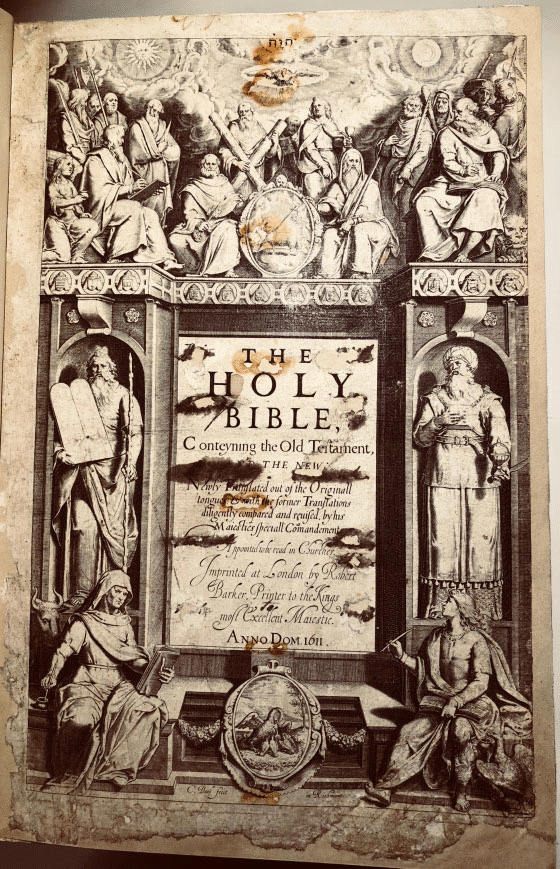 FIRST EDITION OF THE AUTHORIZED VERSION. Arguably the most important book ever published in English. KNOWN AS THE GREAT "HE" BIBLE, with the reading in Ruth III:15: "he [referring to Boaz] measured sixe measures of barley and laide it on her; and he went into the citie."
The second pronoun "he" actually refers to Ruth, so it should read "and she went into the citie." Because of this error, this first edition is often referred to as "The Great He Bible." (after the Hebrew text), rather than "and she went" (after the Latin Vulgate) in the second edition. Also with all other first edition readings.
The Holy Bible, : conteyning the Old Testament, and the New: newly translated out of the originall tongues: & with the former translations diligently compared and reuised, by His Maiesties speciall com[m]andement. Appointed to be read in churches. Imprinted at London : By Robert Barker, printer to the Kings most Excellent Maiestie. 1611. Large Folio, 15 1/4 x 10 1/2 inches : 732 leaves.
The General title mounted and with c. 18 small holes, mostly from old attempts to ink out a prior ownership inscription; the next several leaves have rust-like marks resulting from the damage to the title just mentioned; A2 has a closed tear; the double page map is a facsimile; the blank outer corner is torn from B1 (Mt 10) & there is a closed tear to B2; a strip is torn from the blank outer margin of X6 (Hebrews 12/3); a small piece is torn from the top of Aa5, removing most of a word of text and a word of the headline, recto & verso; Aa6 (the final leaf) was missing and is replaced in facsimile; the final leaves of the NT are increasingly worn and lack the crisp, clean nature of the bulk of the text. Generally the text is crisp and clean, BUT at both front and rear the top margin is shaved, especially in Exodus & Numbers & to the beginning of Deuteronomy (and again at the end of the NT) touching the rule and occasionally the top of the headlines (elsewhere the top margins are small); there is a dampstain at the top from mid-I Kings, retreating to the inner corner in the Prophets, but persisting there to the Gospels: there is a bit more general staining at the end of the NT; the bottom outer corner is a bit creased and dog-eared pretty much throughout, evidencing the use such a Bible received in its early days as a lectern Bible; the outer edge of the leaves is slightly abraded at a few points.
Binding: This copy is bound in full modern calf in an appropriate style,
Offered by James Gray Bookseller, booth 220.
FIRST COMPLETE BIBLE IN IRISH PRINTED BY THE BRITISH AND FOREIGN BIBLE SOCIETY, 1827.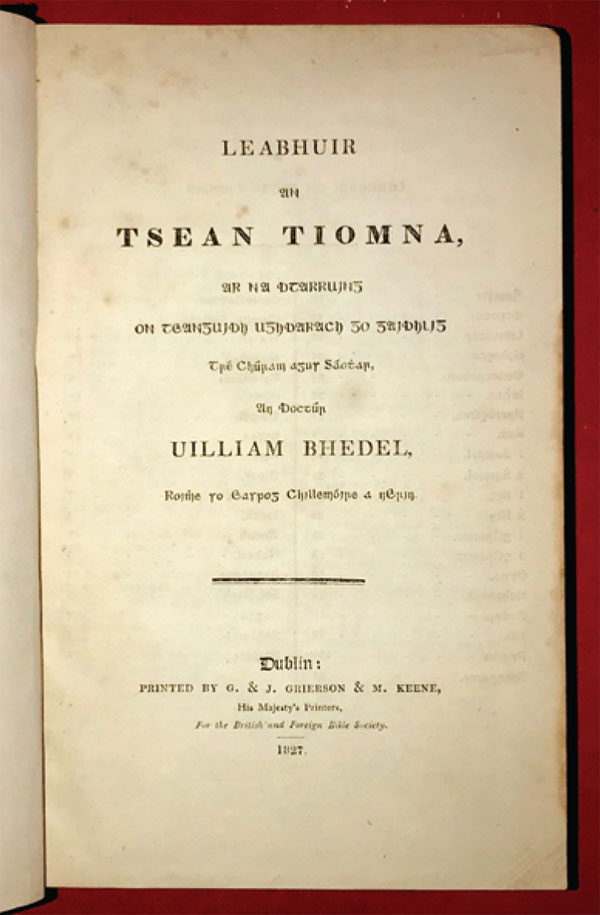 [Bible in Irish.] Beddell, William, and Daniel, William, translators. Leabhuir an Tsean Tiomna, bound together with An Tiomna Nuadh ar dTíghearna agus ar Slánuightheora Iosa Criost. Dublin: Printed by G. & J. Grierson and M. Keene for the British and Foreign Bible Society, 1827. Large octavo; 1305 pp. Cloth with gilt-stamped spine. Photos and scans of various copies of this Bible accessible on the internet show two binding variants for this printing. The first is an inexpensive full leather binding with minimal decoration, presumably the binding that the BFBS originally issued in 1827. The second is the clearly later pressed cloth binding with gilt spine lettering as in this copy. The fact that several copies with this binding can be found in a brief search of the internet suggests that someone, presumably the BFBS, bound a later issue from original sheets. The soiling of the first and last leaves of several signatures support this conjecture. However, I can find no reference to a later issue in various works on the BFBS.
Darlow and Moule 5555, "an edition of 5,000 copies," with no description of binding. Old Testament translated by William Bedell (1571–1642), Church of Ireland Bishop of Kilmore; New Testament translated by Uilliam O'Domhnuill (William Daniel, d. 1628), Church of Ireland Archbishop of Tuam.
Offered by Archway Books, booth #314.
Johann Friedrich Netto. Zeichen- Mahler- und Stickerbuch zur Selbstbelehrung für Dame.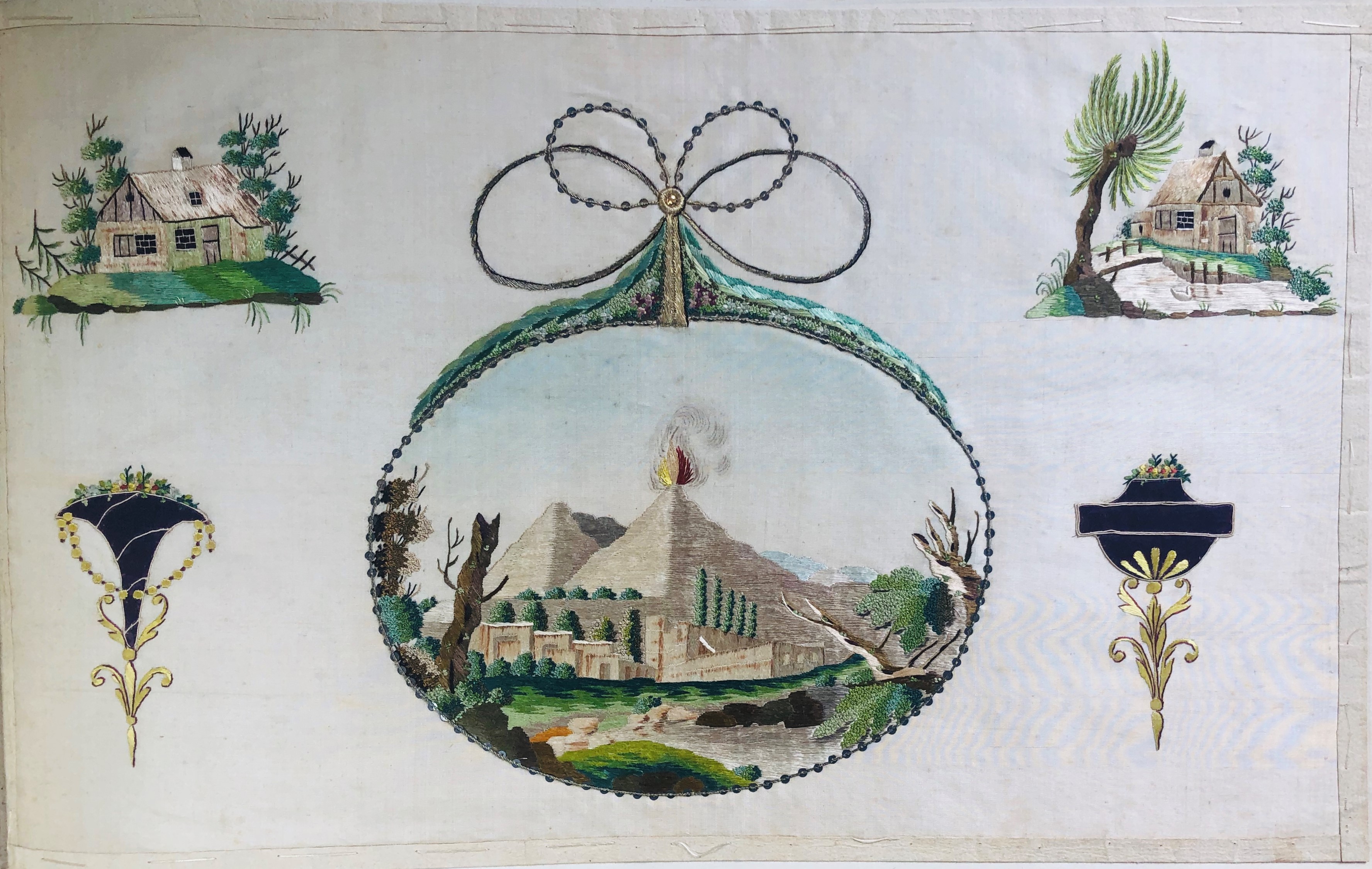 Leipzig, 1795-1798. 2 volumes, oblong folio, containing 46 engraved pattern plates, each in two states, colored and uncolored, and two silk embroidered samplers, one showing Vesuvius erupting. An exceptionally fine copy of Netto's first two path-breaking embroidery pattern books for women, complete with the rare embroidered samplers. Netto, a Leipzig drawing master, came up with the ingenious if expensive idea of including a genuine sampler in luxury copies of his needlework pattern books, to help his female readers interpret the engraved patterns. Few copies with the samplers survive.
Offered by Musinsky Rare Books, booth 305.
Alberti, Giuseppe Antonio. I giochi numerici fatti arcani, palesati.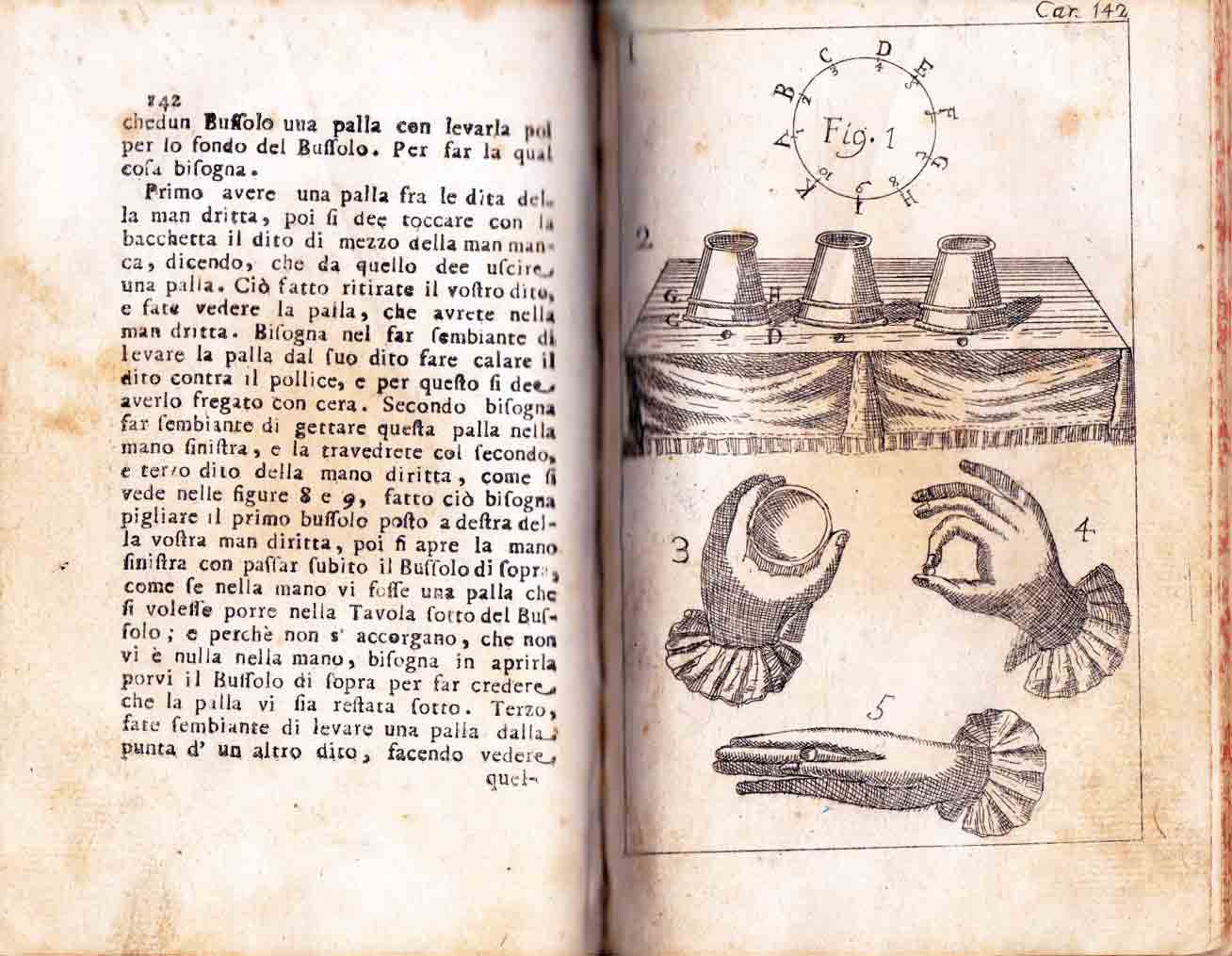 Bologna: Bartolomeo Borghi, 1747. First edition. XVI full page engraved plates. In 18th-century two-tone woodblock decorated paper over boards. References: Honeyman 47 ("Contains arithmetical puzzles, tricks with cards and dice, problems relating to the theory of numbers, sleight of hand, etc."); Riccardi I, 15 ("oltre i giuochi numerici contiene ancora dilettevoli giuochi di prestidigio").
The text is a handbook of dice and card games, mathematical riddles, sleight-of-hand, and magic, illustrated by 16 engraved plates and several tables. Among much else, the text includes recipes for invisible ink, exploding powder, and ink that can only be read in the dark.
Offered by Rodger Friedman Rare Book Studio, booth #200.
A Series of Five Photographs taken by Prentice Polk, c. 1930s.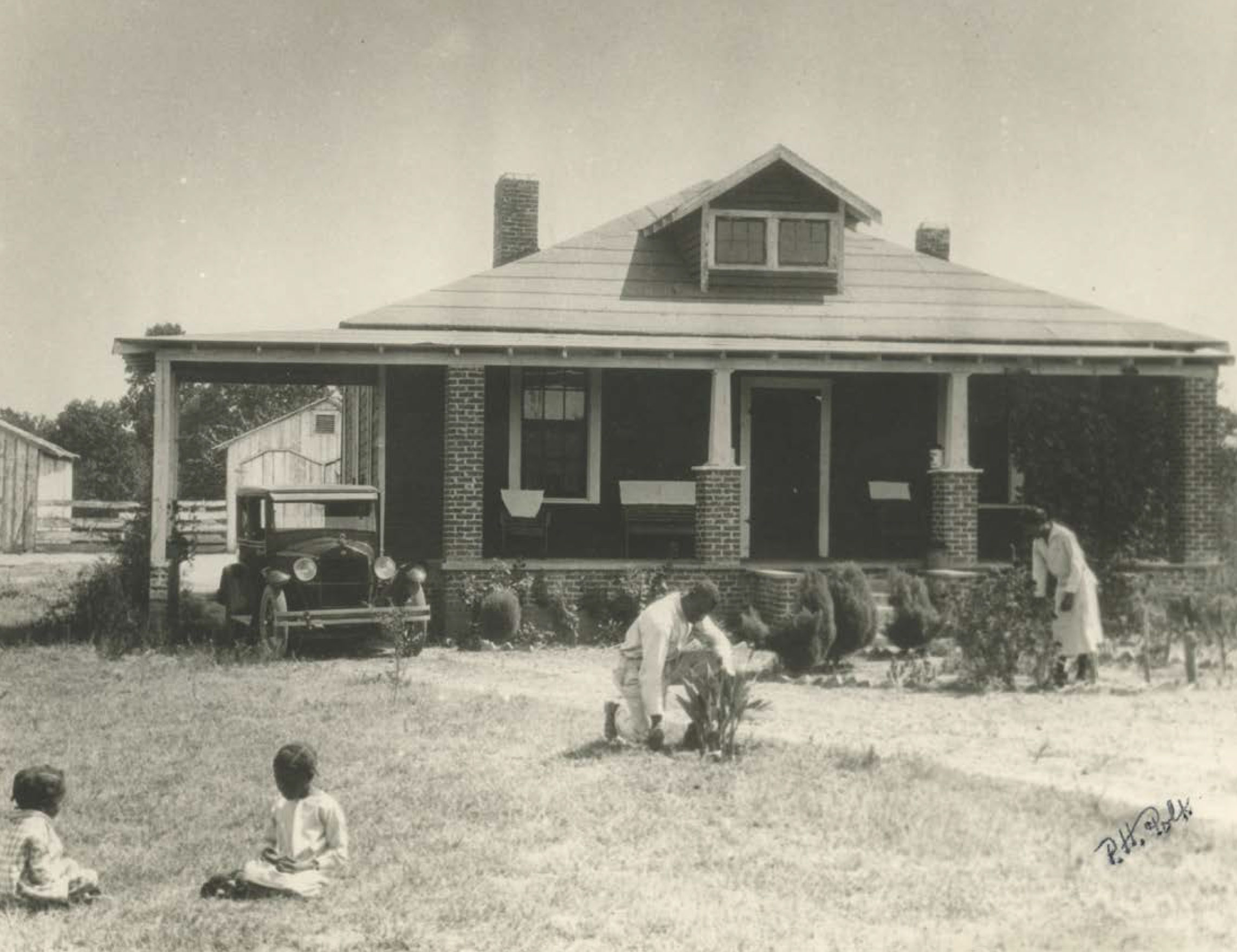 Silver gelatin prints, measuring 8 x 10 inches.
When Prentice Polk enrolled at Tuskegee Institute at the age of eighteen, he had every intention of becoming a painter. The staff at Tuskegee decided that his goals were impractical, and at the advice of the Institute's official photographer, C.M. Battey, Polk instead decided to pursue a career in photography. He studied with Battey for three years before dropping out of school to pursue the craft on his own. Polk moved to Chickasaw, Alabama, where he got married and worked on the shipyards. As no photography school would accept an African-American at this time, Polk learned the craft through a correspondence course. In 1924 Polk and his wife Margaret Blanche Thomson moved to Chicago, where Polk studied with the photographer Fred Jensen. He returned to Tuskegee in 1927, opening his own studio and working in the Institute's photography department, assuming the role as head of the depart-ment. After a year's stint in Atlanta in 1938, he returned to Tuskegee and served as the Institute's official photographer for the next forty-five years.
These photographs date from the 1930s, during the second of Polk's three periods in Tuskegee. Polk rejected Battey's approach of softly focused idealized portraits, instead preferring a more realistic style. His work from this period included studio portraits, a series entitled "Old Characters" which depicts ex-slaves from Macon County, Georgia, and pictures of rural African-Americans, some of which were commissioned. He described one of his images, "The Boss" as follows: "To be portrayed in her own matter-of-fact-ness: confident, hard working, adventuresome, assertive and stern. The pose, at an angle, and her expression, authoritative and firm, are not the result of my usual tactics to encourage a response. She wears her own clothes. She is not cloaked in victimization. She is not pitiful; therefore, she is not portrayed in pitiful surroundings. She is not helpless, and she is not cute. Instead she projects notions of independence, and is powerful in appearance, and is, by title, the boss."
A wonderful group of images, indicative of Polk's work as a whole during this period. Generally very good condition, with the portrait of the cotton pickers showing some creasing to the corners. All images except "Cotton Pickers" signed by Polk, all except "Mr. George Moore" with Polk's stamp to versos. Polk's images are quite uncommon on the market.
Offerd by Auger Down Books, booth #303.
THE HOLY BIBLE CONTAINING THE OLD AND NEW TESTAMENTS [this Old Testament only] TRANSLATED OUT OF THE ORIGINAL TONGUES: BEING THE VERSION SET FORTH A.D. 1611 COMPARED WITH THE MOST
ANCIENT AUTHORITIES AND REVISED.
Oxford: Oxford University Press. (Henry Froude, Oxford Warehouse; C. J. Clay and Sons, Cambridge Warehouse), 1885. Revised Version. Presentation copy. Royal 8vo. Four volumes. xx, 628p; [viii],520p; [viii], 364p; [viii], 534p.
Bound in full pebbled black morocco over beveled boards with black endpapers, a.e.g., the spines with gilt titles, the upper covers with panels in blind and titled "Presentation Copy Form The American Committee of Revision A.D. 1885 Flyleaves foxed, the remainder fine and bright inside and out. With this volume was completed the revision of the Old and New Testaments, begun in 1870. The revised Apocrypha did not appear till 1895. Darlow and Moule 1286.
Offered by First Folio, booth #315.
The City of Boston (Map)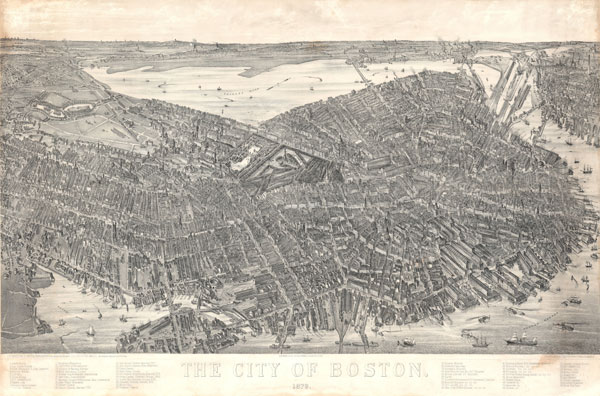 The City of Boston. 1879. Boston: O. H. Bailey & J. C. Hazen, 1879. Armstrong & Co., lithographers, Riverside Press, Cambridge. Lithograph, 28.625" x 44.125" plus margins.
One of the most spectacular bird's eye views of Boston ever published, with the built environment of the city rendered in meticulous detail.

Offered by Geographicus Rare Antique Maps (Booth #113) and James Arsenault & Company (Booth #317).
Learn more about the 2019 Boston International Antiquarian Book Fair...