Many ABAA members will be exhibiting at the Boston International Antiquarian Book Fair November 10-12, 2017. Here are some of the published catalogs of items our members will be taking to the fair...
F.A. Bernett Booth 201
James Cummins Bookseller Booth 120
Eclectibles Booth 303
Les Enluminures Booth 114
Donald A. Heald Booth 213
Lux Mentis Booksellers Booth 518
Oak Knoll Books Booth 505
B & L Rootenberg Rare Books Booth 409
Abby Schoolman Books Booth 225
John Windle, Bookseller Booth 413
This list will be updated as new catalogs are announced.
For more information about the 2017 Boston Book Fair visit http://bostonbookfair.com/
---
SEELEY BROTHERS. MANUFACTURERS OF AVERILL PAINT, READY FOR USE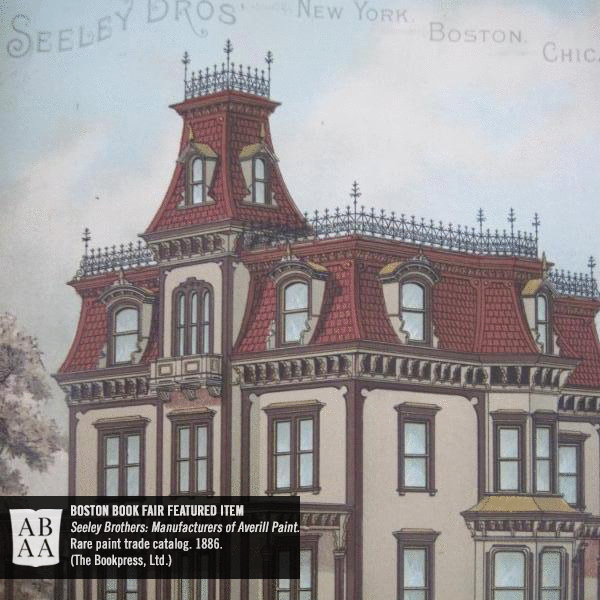 New York: Seeley Brothers, 1886. Folio. Publishers blind-stamped cloth. Lithographic title leaf, (8) pages, 20 chromolithographic plates, each with descriptive text facing, (3) folios of advertisements, one with paint samples, which includes 2 chromolithographic plates with 1 incorporating 12 flat pastel paint samples. First edition. [McKinstry, 1456; Romaine, p. 260].

Rare paint trade catalogue with only one copy of the 1886 edition and two copies of the 1889 edition listed on OCLC. "In 1875, the architect Elisha Charles Hussey boarded a transcontinental train to survey the state of American architecture. The resulting book, Home Building...from New York to San Francisco, (N.Y., 1876), contained 42 plates. A decade later Seeley Bros. Paint Co. recycled several of Hussey's designs as full-color lithographs. These plates are among the most informative to survive for details of late Victorian exterior decoration... Picking out in bright color was relatively rare in the third quarter of the nineteenth century...The Seeley Brothers Company seems consistently to have advocated gayer treatments than Sherwin-Williams, Devoe, or Lucas." (Roger Moss, Century of Color. Exterior Decoration for American Buildings 1820-1920,page 49). Of considerable value as architectural documents, house paint catalogues such as this by Seeley are also among the most interesting American color plate books. The introductory text contains testimonials, advertisements, and comments of the manufacturers, and one folio leaf of forty glossy paint samples with folio descriptive text facing with four and a half chips missing - not uncommon with paint catalogues. Generally in very good condition.
Offered by The Bookpress, Ltd. Booth 223.
Sumptuous Tudor-Style Binding by Coleen Curry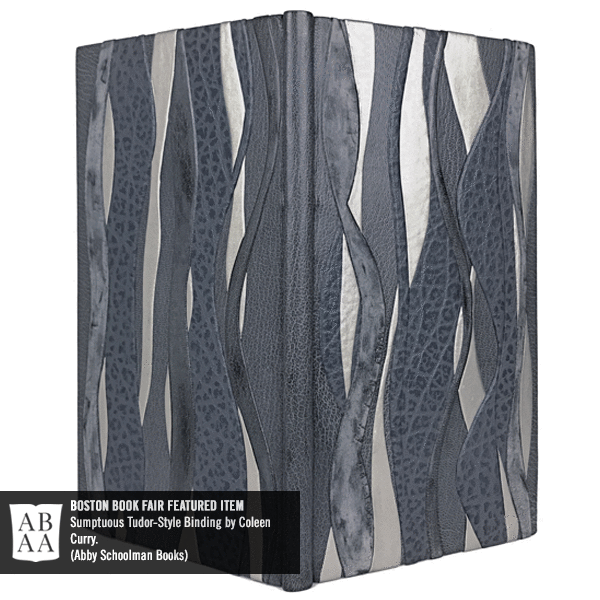 Stroud, Joseph, et al. Poetry at the Edge: Five Contemporary California Poets. San Francisco: Book Club of California, 2014. Signed Limited Edition.

A beautifully printed collection of works by five major California poets: Joseph Stroud, Kay Ryan, Gary Young, Martha Ronk, and Michael Hannon. Signed by all five poets. 300 numbered copies were printed and bound. A certain number of copies were issued in unbound sheets, which were lettered, not numbered. This copy, letter 'C,' is in a gorgeous, unique, Tudor-style binding by Coleen Curry.

Traditional laced-in full leather Tudor-style binding in goatskin and water buffalo in hues of grey. Silver goatskin onlays intertwined with sanded, polished, carbon tooled grey goatskin. Polished, foil-decorated Lotka paper edge-to-edge doublures and blue-grey suede fly-leaves. Title in silver foil topped with carbon. Housed in a custom clamshell box by the binder. Bound by Coleen Curry in 2017. 15cm x 27cm x 1cm.
Offered by Abby Schoolman Books, Booth 225.