The Boston International Antiquarian Book Fair returns to the Hynes Convention Center in Boston's Back Bay for an in-person book fair November 11-13, 2022. Here are some highlights from among the rare books and related ephemera you'll find when you visit!
Aldus Chapin Higgins Photo Album, 1923. A Ten Weeks Vacation Trip to Europe. February 23rd to May 12th 1923
by Mary Sprague and Aldus Chapin Higgins ending with a Motor Trip in France with Elizabeth and W. Irving Clark
Large format hand-made book, unpaginated [95 pages], colored ink manuscript calligraphy on cover, bound in leather parchment over stiff boards, 306 large and medium format professional black and white photographs mounted on laid paper with deckled edges, each photo titled in manuscript, 3-page typed itinerary bound in at end of book, one small landscape oil painting "Taormina" bound in, 2-page color map with itinerary hand drawn on map, separate set of 7 small format B&W photographs of the architecture of the Higgins home, newly completed, Worcester, Massachusetts, and one engraved calling card of Mr. and Mrs. Aldus Chapin Higgins 1 John Wing Road [Worcester, Massachusetts].
Dimensions: 15 1/8" x 11 1/4" x 3"
Condition: book as found good condition, covers some wear, contents, including laid paper pages, oil painting, manuscript, professional photographs excellent condition.
Description:
There are two works of art in this description: the hand made parchment bound, decorated book that became the Higgins photograph album; and the large archive of photography itself. The presumed photographer of all but one photograph is Aldus Higgins, a highly skilled and published "amateur" photographer.1/ The large format, black and white photographs are either gelatin silver prints, or may be platinum prints. A large format camera and related equipment could have been handled by Higgins' staff en tour. Aldus Higgins belonged to a Worcester, Massachusetts family 2/ accomplished in industrial steel manufacture and other business, and long recognized for its charitable work. An architectural landmark in Worcester created by Aldus' brother John Woodman Higgins, who owned Worcester Pressed Steel Company, was the steel art museum building housing the Higgins Armory collection whose antique armor and other metalwork may now be found in part at the Worcester Art Museum.
Turning the pages of the Higgins Tour album reveals and architectural study of antique North African and European landscape and architecture. Many of the photographs are detail shots of window patterns, and entryways, roof design, building profiles and how a building is sited in the landscape. The photographs from this 1923 tour help explain the design decisions of the Aldus C. and Mary S. Higgins Tudor Revival style Worcester home, a National Registered Historic Landmark that Mrs. Higgins occupied until her death when it was willed in 1971 to Worcester Polytech Institute. WPI now uses it for the alumni house. Aldus Higgins is an alumnus of WPI.3/ A small envelope of photographs was tucked into the back of the album and these show the house completed. Stylistically they resemble the album photographs. Architect Grovenor Atterbury's archive is at Cornell University. 4/
One of the Higgins Album's unusual if not startling photographs in its subject matter is a group portrait of the gathering at the American Consul to Rome's house to honor Benito Mussolini. Also on that page of the Higgins Album is a photograph portrait of Mussolini that appears to have been taken by Mussolini's official photographer. Prime Minister Mussolini's National Fascist Party was in control of Italy by 1922. The social entré enjoyed by Aldus Higgins and his traveling party that made possible this visit to the American Consul was certainly for a social event. Whether other business transpired is not known.
The photographs are all annotated by the same elegant hand who wrote the title page of the Album. These notes include remarks about typical tourist interests and concerns, hotels, restaurant service and food, theatre and other cultural events. There are family oriented visits to Americans, and portraits of these close friends. The affection expressed in the notes suggest these are long personal relationships among the adults and even the children.
While many 19th c. and early 20th c. "grand tour" albums of Europe were created, this Higgins Album is a unique hand made book, itself an unusual 20th c. work of art and the photography stands on its own as an aesthetic endeavor that expresses the photographer's fascination with antique European and North African architecture set in its native landscape, a curiosity about local culture and the joys of travel and exploring with friends.
Offered by Original Antique Maps by Carol J. Spack.

Tegrimi, Niccolò.
Castrvccii Antelminelli Castracani Lvcensis Dvcis Vita.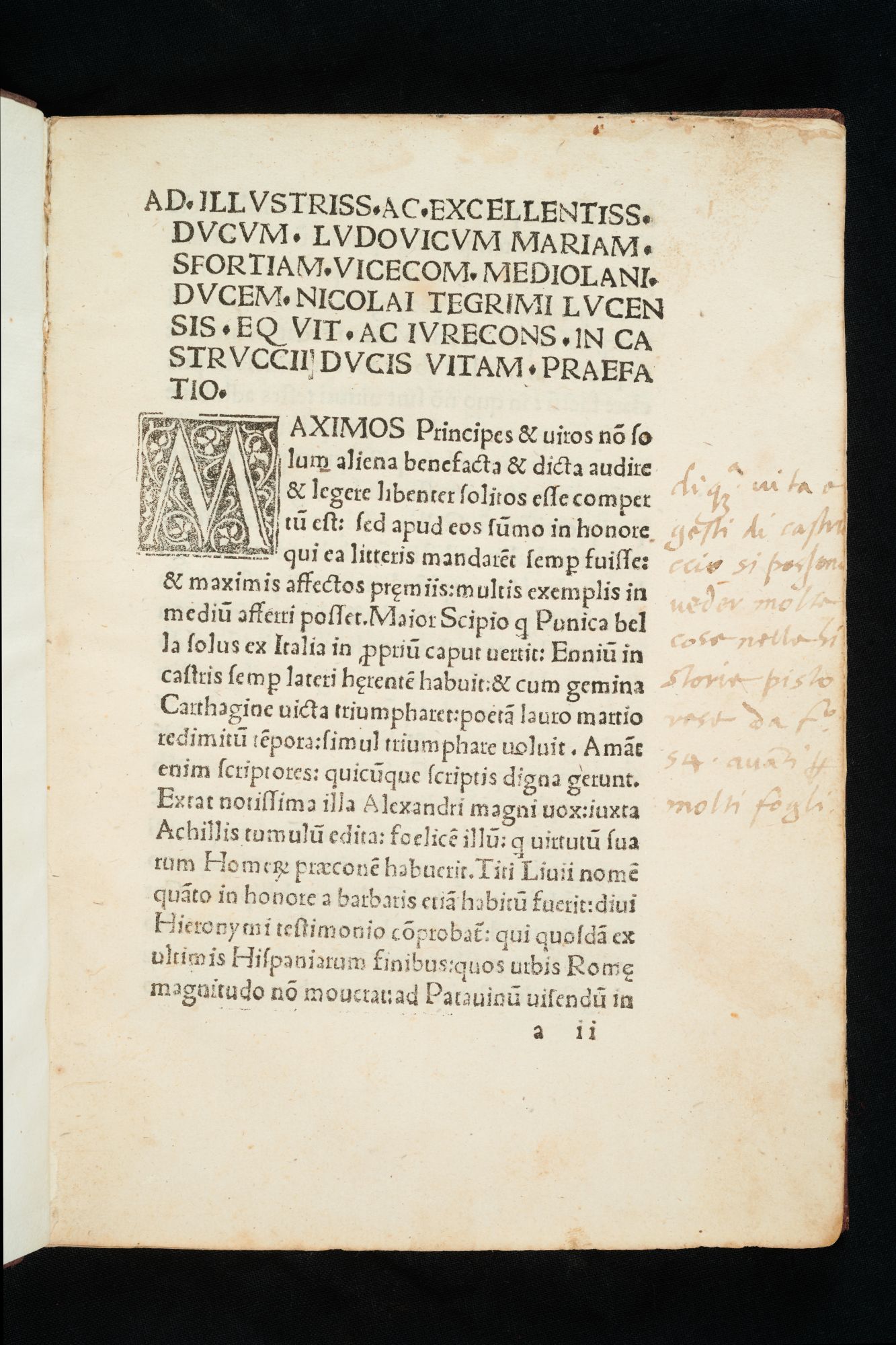 Modena, Dominico Rocociolo 1496.
4to (210 x 149 mm.). Contemporary manuscript foliation: 41 leaves. Roman type, white-line woodcut initials.
19th-century half-sheep and marbled boards, spine gilt.
First Edition: THE BIOGRAPHY THAT INSPIRED MACHIAVELLI'S POLITICAL THEORY. "THE MAXIM 'THE END JUSTIFIES THE MEANS' HAD LONG INFORMED CASTRUCCIO'S ACTIONS" (Simonetti, tr.). MACHIAVELLI PRESENTED HIM AS THE ARCHETYPE OF THE PERFECT RULER.
From a family of Lucca bankers and merchants, Castruccio Castracani (1281-1328) turned soldier, consolidated territory in Tuscany and formed international alliances through military ability, political shrewdness, deceit, treachery and corruption. High imperial favor sanctioned his control of Lucca, Pisa, Pistoia, Volterra and more than three hundred castles.
"Written in impeccably humanist prose" (Cochrane), this, the first life of Castracani, alters facts and chronology and inserts fiction to match the condottiere's actions to ancient models. Machiavelli carried this much farther in his own biography of Castracani, published in 1532 in the first edition of The Prince.
In 1590, Aldo Manuzio the Younger's laudatory life of Castruccio relied on Tegrimi, while Mary Shelley's novel, Valperga: or, the Life…of Castruccio, Prince of Lucca (1823), condemned the title character as a despot.
THE CONTEMPORARY ANNOTATOR FOCUSED ON CASTRUCCIO'S VIEW OF GOVERNMENT, noting parallels with Giannozzo Manetti's Historia Pistoriensis (first printed 1731). In good condition (two pages soiled, some minor spots and light stains), bookplate of General Sigismond du Pouget, marquis de Nadaillac (1787-1837).
Offered by Bruce McKittrick Rare Books.
Elizabeth Blackwell's copy of Henry George's Progress and Poverty (1882 printing), with her signature, bookplate, and extensive pencil annotations in the margins of many pages.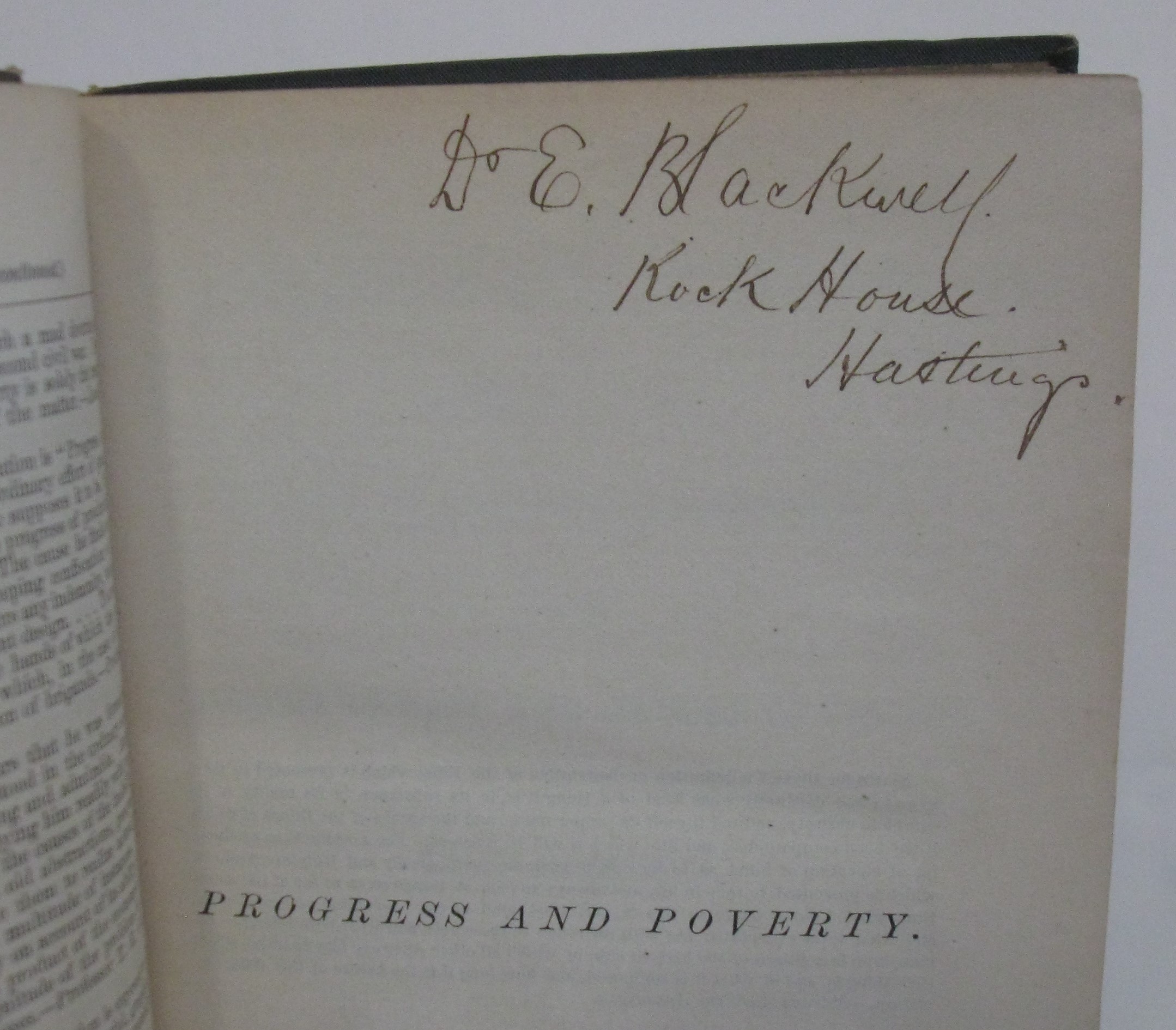 Offered by Scientia Books.
Comical History of the States and Empires of the Moon and the Sun by Cyrano de Bergerac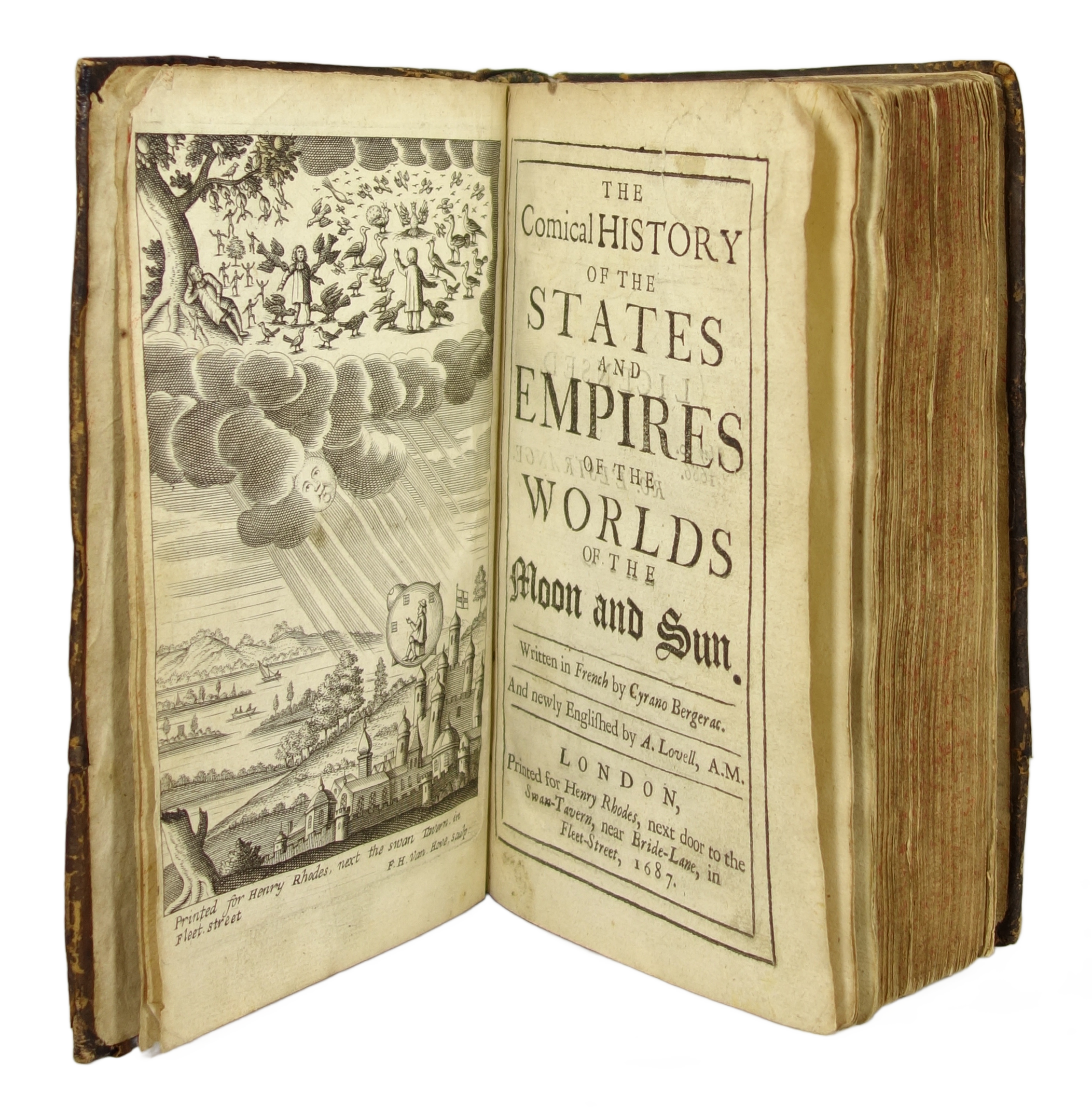 This first edition copy of the "Comical History of the States and Empires of the Moon and the Sun" by Cyrano de Bergerac is one of the most rare and important works to the genre of science fiction (and some others mentioned below as well). This duology are founding texts or precursors to science fiction as we know it today, these formative novels, are considered pioneering, proto-science fiction. Cyrano de Bergerac, the author, first wrote these works in the 17th century, he published the original novels or part 1 and 2 in his native tongue of french, but then the subsequently published editions after the first two works were translated by the same translator and then were later combined into a first edition, translated English language copy combined in a semi-complete duology (despite a lack of a full or complete edition due to censorship) or omnibus edition pictured here. The "Comical History of the States and Empires of the Moon and the Sun' by Cyrano de Bergerac" combines the original titles of Cyrano's "Histoire Comique des Etats at Empires de la Lune,"(1657) and the "Histoire Comique des Etats at Empires du Soleil" (1662), which were both translated by Archibald Lovell. Bergerac wrote one of the most important works that influenced such genres and disciplines of study as: science fiction, utopian theory. Utopian fiction, religious theory and satire, and the scientific theory of evolution, physics, and the creation of the universe Several of the fantastic societies Bergerac wrote about in these works influenced some of the most historic writers such as Johnathan Swift and Jules Verne. It was said that Bergerac's long-time friend, the cleric Henri le Bret (1618-1710), who might have caused the world to censure or destroy Bergerac's original complete works, only was able to partially publish the redacted posthumous works in Bergerac's name. Today, the original manuscript of the Sun part of his work seems permanently lost. It is possible that the remainder of the second part and a third part ("The History of the Stars") were written but subsequently lost or destroyed purposefully or not.
Cyrano's work itself posits and predicts modern inventions that we know today from the Ipod to rockets. Bergerac works were actually hypothetical inventions that became modern science, technology, and fact. Bergerac's works questioned the canon of automatic Catholic religiosity in the 17th century, a hundred years before the French Revolution. Part one of Cyrano's work is emblematic of these revolutionary themes and ideals. For instance, SF encyclopedia states: "the protagonist, whose name is Cyrano though he also calls himself Dyrcona, attempts Space Flight to the Moon first by an absurd method (involving bottles of dew), but later by a Rocket (which drops away after getting him free of Earth); this is generally accepted as the first use of a rocket, certainly in European interplanetary fiction." (SF Encyclopedia). Furthermore, a part in his trailblazing work of human philosophic thought and ingenuity has an example of Bergerac being ahead of his time centers on his satirical commentary on G-d and creation: SF encyclopedia states, "His arrival at the Garden of Eden on the Moon gives him the chance to Satirize the Bible so severely that one of his jokes – linking the serpent to the human penis – causes the Prophet Elijah to exile him…(SF encyclopedia), which can easily categorize Bergerac as a heretical thinker. Furthermore, in part two, Cyrano (the protagonist in the series) is even commenting in a meta fashion before many works utilized meta as a satirical narrative device. Bergerac's pioneering novels that engineered a new kind of science fiction was accurately deemed controversial and radical at the time, but almost mirrors progressive modern day ideals). His modern arguments and philosophies is explored particularly when, Tommaso Campanella and Cyrano, (the protagonist) "talk about Sex in Utopia, at which point the story (as published) ends abruptly," (SF Encyclopedia). which almost certainly due to le Bret's influence and limitations, who could or would not finish the illicit, racy, or controversial work, which comments and sustains and explores such progressive topics as gender theory, women's autonomy, as well as homoeroticism, gay or non-binary identities. Regardless of his controversial nature of his writing and beliefs at the time, there is no doubt this first edition copy from 1687, is a rare and treasured piece of intellectual, and cultural human history as well as a touchstone for modern SF genre, utopian thought, and religious and political-based satire.
Offered by Heartwood Books & Art.
Earle, Alice Morse, Sun-Dials and Roses of Yesterday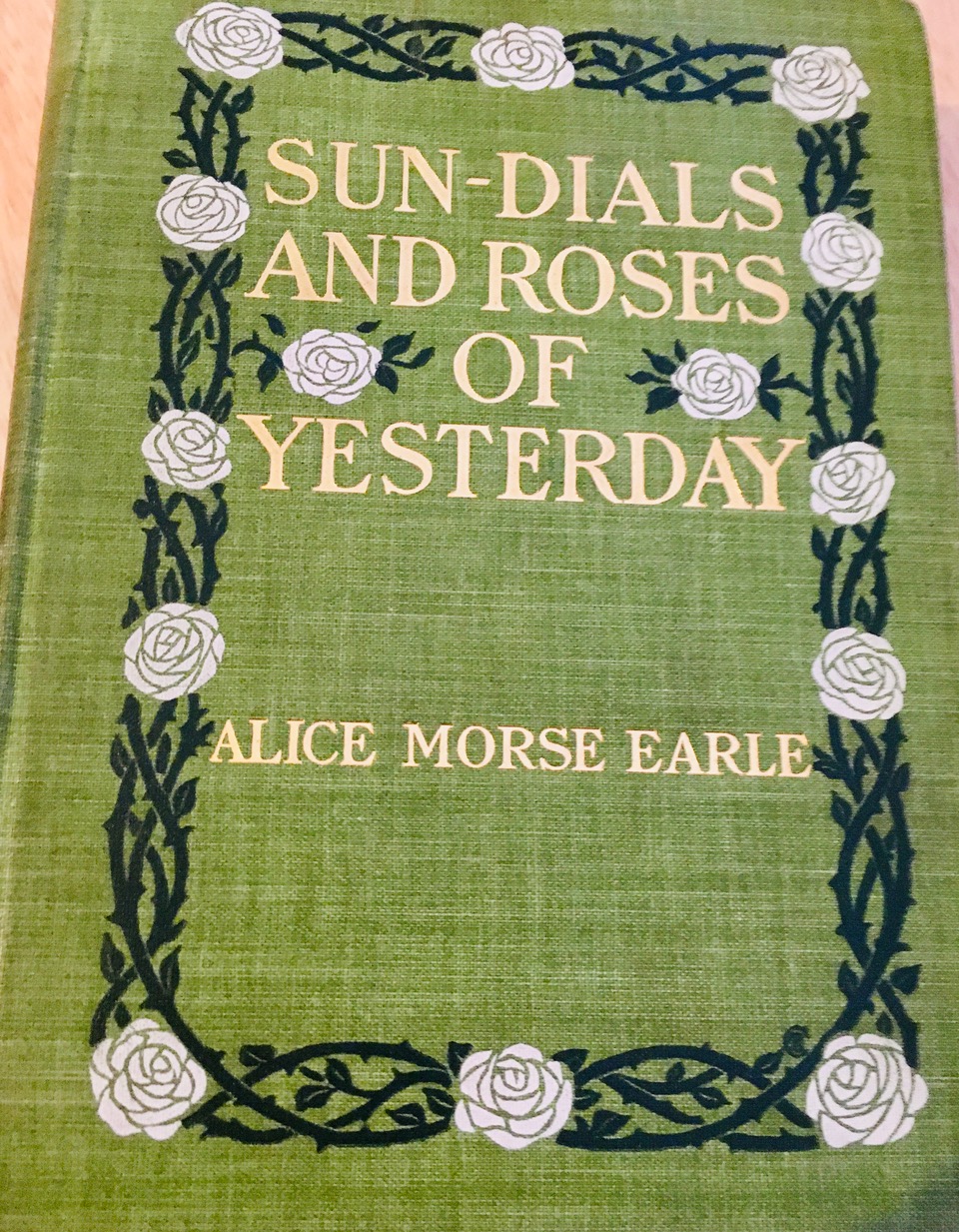 Numerous B & W Photos, Drawings, One Of Her most Important Books In The Attractive Decorated Binding; A Gardening Memoir Written from the point of View Of A Sociologist, Hardcover, Sm Octavo, Gilt And Decorated Cover, Teg, Ribbon Page Marker, Pp. 460, Very Good, Clean, Macmillan Co. pub., copyright 1902.
Offered by Terrace Horticultural Books.
The Works of Charles Dickens. 32 Volumes.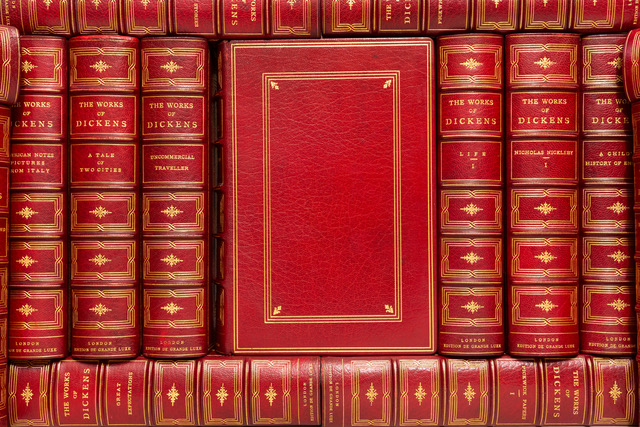 Charles Dickens. Works. Bound in full red Morocco.
Offered by Imperial Fine Books.
The Federalist, second edition of 1802.
Offered by Town's End Books.
A NEW METHOD OF MACARONY MAKING AS PRACTICED AT BOSTON. FOR THE CUSTOM OFFICER'S LANDING THE TEA / THEY TARR'D HIM AND FEATHER'D HIM JUST AS YOU SEE / AND THEY DRENCH'D HIM SO WELL, BOTH BEHIND AND BEFORE, / THAT HE BEGGED FOR GOD'S SAKE THEY WOULD DRENCH HIM NO MORE.
Boston: Copied on stone by D.C. Johnston from a print published in London in 1774. Lith. of Pendleton, [1830]. Hand-colored lithograph, 13-3/4" x 10." Repaired 4-inch closed tear, laid down on stiff paper, tipped to mat board along top edge. Except as noted, Very Good.
An American re-engraving, and the first American printing, of Francis Edward Adams's 1774 satirical print. Boston customs officer John Malcolm is tarred and feathered, threatened with hanging, and forced to drink tea. Various dictionaries of slang describe a "Macaroni" or "Macarony" pejoratively as a mid-18th-century Englishman whose principal ambition in life is to be fashionable.
Christie's 2021 auction of the 1774 print has a thorough description, depicting "two Bostonians forcing a tarred and feathered customs official, with a noose around his neck, to drink from a teapot. The subject is John Malcom (d. 1788), the notorious loyalist Boston customs official. In January 1774, soon after the Boston Tea Party, shoemaker George Twelves Hughes confronted Malcom as the customs official was threatening to strike a young boy with his cane. After insisting that Hughes had no business interfering in the affairs of a gentleman, Malcom struck the shoemaker rendering him unconscious. Street justice was swift for Malcom, and by that evening he found himself at the mercy of mob who, despite the pleadings from Whig leaders, and even George Hewes who had since recovered from his assault, stripped the customs officer to the waist and covered him with tar and feathers. The crowd paraded the disgraced Malcom around Boston for hours until they demanded he offer a public apology in exchange for his release. When Malcom refused, the crowd placed a noose around his neck and threatened to hang him, but to no avail. Only the threat of having his ears cut persuaded Malcom to relent. Malcom returned soon to London, and while awaiting word on a petition to George III for relief, stood for Parliament opposing John Wilkes. In an effort to gain further sympathy for his ultimately unsuccessful campaign against Wilkes, it appears that Malcom himself may have charged Francis Edward Adams to engrave the present image as it was issued only a week before the election ... [O]ne of Malcolm's tormentors wears a hat bearing the number "45," an allusion to John Wilkes's incendiary 1763 essay in the 45th issue of his periodical, The North Briton."
Offered by David M. Lesser Fine Antiquarian Books.
Jane Eyre (in 3 vols.)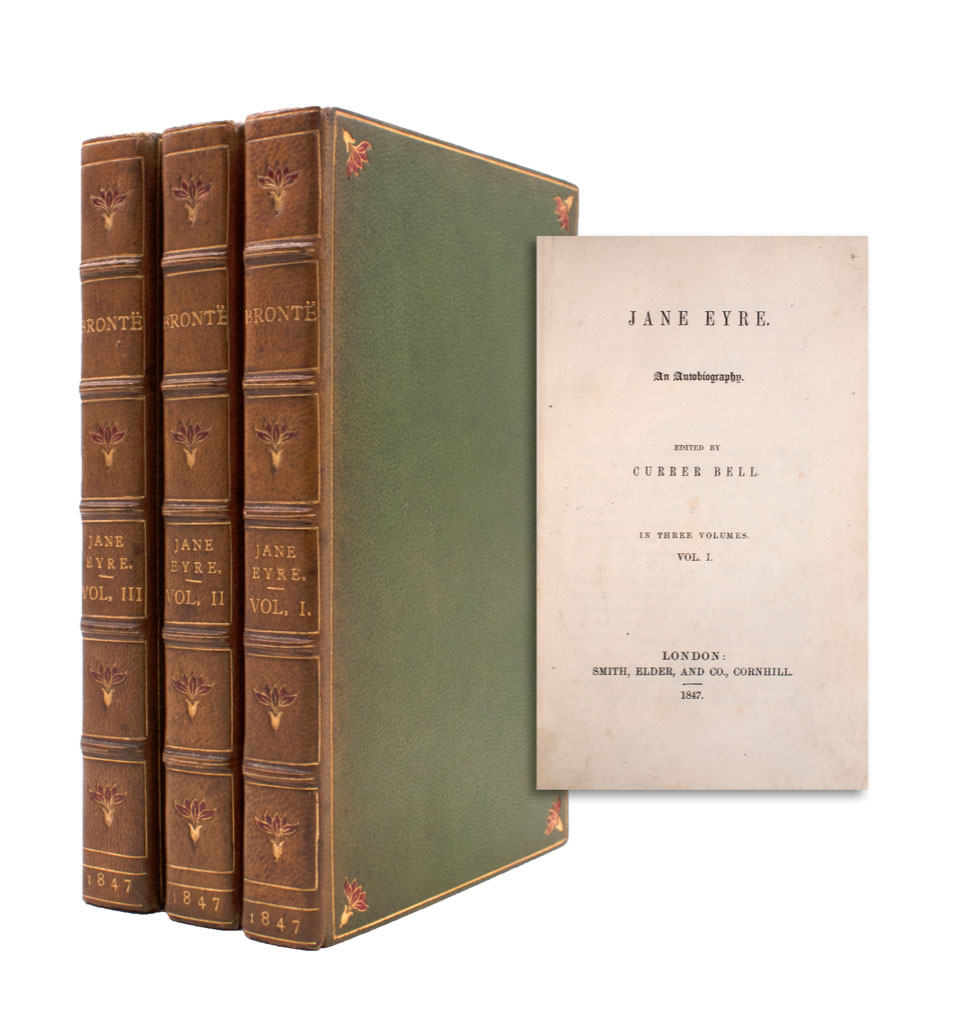 London: Smith, Elder & Co., 1847. First edition. Bound in full green pebbled morocco by Wood, cover with red floral devices and single gilt rule, spines similarly decorated in compartments with raised bands(uniformly faded to brown), t.e.g.; foxing to endpapers and contents, chiefly confined to front and end sections, with repairs to the gutter of the title page of vol. 3 With half-titles; [iv] 304; [iv] 304; [iv], 311, [1] pp. 3 vols. 8vo (7-1/2 x 4-3/4 inches; 190 x 120 mm.) First edition, without publisher's adverts or notice for the Calcutta Review found in some copies.
The first published novel by the Brontë sisters, in a small edition of about 500 copies. It was immensely popular and enthusiastically received. Readers and critics reacted to it passionately and dividedly, and it was speculated that the author was a woman. It was republished the following year, dedicated to Thackeray, with a new preface, and a third edition quickly followed. "Jane Eyre's impassioned individualism and personal acts of rebellion against authority and social convention were seen as vigorous and powerfully original, but also as alarmingly analogous to political ferment of the time" (ODNB). One of the first novels to master the first-person voice of its heroine in its full expression, it opened the door to the interiority of the novels of Joyce, Proust, and Woolf, who wrote about the novel in The Common Reader: "As we open Jane Eyre once more we cannot stifle the suspicion that we shall find her world of imagination as antiquated, mid-Victorian, and out of date as the parsonage on the moor, a place only to be visited by the curious, only preserved by the pious. So we open Jane Eyre; and in two pages every doubt is swept clean from our minds. .The writer has us by the hand, forces us along her road, makes us see what she sees, never leaves us for a moment or allows us to forget her. At the end we are steeped through and through with the genius, the vehemence, the indignation of Charlotte Brontë."
Offered by Whitmore Rare Books.
[Benjamin Harrison; Levi Morton]. Handmade 1880s Harrison Presidential Campaign Skirt.
circa 1888. Unique. Minor soiling, small repaired tear, else bright and unmarred. 33" long with a 26" button closure waist; framed and matted on a linen matt [55"x36.5"]. Very Good+.
Created using a Benjamin Harrison campaign bandanna and related bunting. That banner features portraits of both Harrison and running mate Levi Morton. The use of "Protection" reminds voters that Harrison promised "protection" for U.S. industries through high tariffs.
An example of this bandanna is documented in the Threads of History [585; private collection]. The image of Morton was based on an engraving by the Atlantic Publishing Company. Considered one of the best late nineteenth century campaign textiles, it includes both textile printing and overprinting. "Campaign bandannas were initially produced beginning in the first quarter of the nineteenth century, and became a particularly popular campaign tool in the time period between 1850 and 1920. Campaign bandannas were worn, presented in store fronts, waved in parades, flown at political rallies, and hung from buggy whips."
Victorious in the election (having lost the popular vote, but won the electoral college vote), he served as the 23rd President of the United States from 1889 to 1893. A unique and extraordinary blend of print history, presidential memorabilia, and folk art.
Offered by Lux Mentis Bookseller.
Rare illustrated subscriber's copy of The Pacific Voyage of Otto Von Kotzebue with important descriptions and brightly-colored images of Alaska, California, Hawaii, and Micronesia, 1821.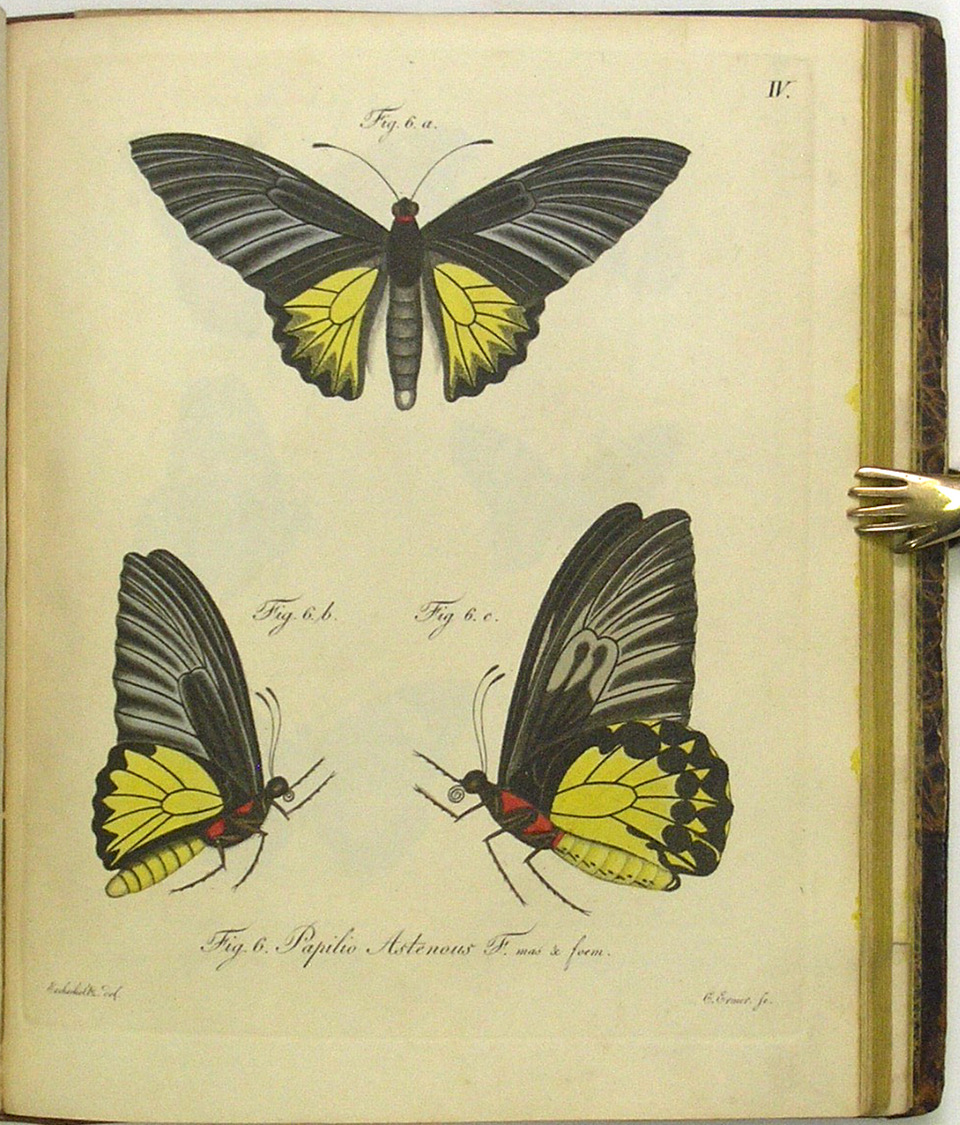 • Kotzebue, Otto von. ENTDECKUNGS-REISE IN DIE SÜD-SEE UND NACH DER BERINGS-STRASSE ZUR ERFORSCHUNG EINER NORDÖSTLICHEN DURCHFAHRT: UNTERNOMMEN IN DEN JAHREN 1815, 1816, 1817 UND 1818 AUF KOSTEN SR. ERLAUCHT DES HERRN REICHS-KANZLERS GRAFEN RUMANZOFF AUF DEM SCHIFFE RURICK UNTER DEM BEFEHLE DES LIEUTENANTS DER RUSSISCH-KAISERLICHEN MARINE, OTTO VON KOTZEBUE [THREE VOLUMES IN ONE]. Weimar: Verlegt von dem Gebr. Hoffmann, 1821. [6], xviii, [4], 91, [6], 96-168; 176; 240, [1] pp. Illus. with 20 copper-engraved, aquatint plates (19 boldly colored on thick wove paper, 4 are double-page, one with tissue guard), 6 copper-engraved maps (5 folding), and 2 folding tables. 4to. Contemporary three quarter calf over marbled boards, titled in gilt. First edition. The Von Schrickell copy, listed on the subscriber's list as one of 88 copies of Examplare 3. Most likely a variant as page thickness measures 5.25 cm rather than 7 cm as called for by Forbes. All but one image highly and brightly colored. Subscriber list inserted after the preliminaries in Vol. 1 as in the Peabody-Essex copy.
"This second Russian expedition into the Pacific for scientific exploration, sponsored by Count Romanzoff, was commanded by Lieutenant Kotzebue, and also included the famous artist Ludovik Choris. Kotzebue, second son of the famous German dramatist August von Kotzebue, had earlier sailed with Captain Kruzenshtern in the first Russian circumnavigation, 1803-06. Leaving Kronstadt in 1815, the Rurlk rounded Cape Horn and visited Chile, Easter Island, and the Marshall Islands. Kotzebue explored the North American coast and Hawaii and searched unsuccessfully for a passage to the Arctic Ocean. The description of the northwest coast of America is a most important contribution. The second volume contains a description of California and the earliest scientific account of the Golden Poppy, California's state flower. In California Kotzebue also picked up Vassili Petrovich Tarakanov, a Russian hunter who had been captured by the Californians. Kotzebue's account of his ship's visit to San Francisco Bay in October of 1816 Is accompanied by six plates. The abridged narrative of the naturalist Adelbert von Chamisso in the third volume is important for his descriptions and remarks on the climate, flora, fauna, and peoples of California and the northwest coast of America." Hill p. 333.
"A celebrated narrative important for its descriptions of Alaska, California, Hawaii, and Micronesia.... The narrative is one of the significant early accounts of California.... The Rurik made two important visits to Hawaii, and the Hawaiian portion of the text is extensive with important observations on life and customs during the reign of Kamehameha I, whose famous 'red vest' portrait by Choris is one of the illustrations," Forbes: Hawaiian National Bibliography, v.1 p 359).
Lada-Mocarski notes in her Bibliography: 'This edition—all 3 variants—is in many ways superior to the subsequent editions, including the English translation (London, 1821). The three volumes are rich in early original source material on Alaska. The third volume is very important as it has considerable scientific data, comparative vocabulary of native languages...The colored plates of butterflies were not included in the Russian or English translations." (Bibliography of Books on Alaska published before 1868, pp. 288-9).
Eighty-eight copies were produced on fine "Velinpapier" with the plates finely handcolored; another issue with the plates colored, but mostly in sepia; and an issue on regular handmade paper, of which a limited number of copies have colored plates.
Provenance: On the front pastedown, leather bookplate of Christian Friedrich von Schrickell (1762-1835) of Görlitz, former owner of Rothenburg which burnt down in 1798. Frau von Schrickel is listed as a subscriber from Görlitz for one copy of Examplare 3. A very good copy, rebacked to style, boards worn, small dimple at fore edge,minor foxing, one inner margin offset, Sabin 38284. Cowan 1933, page 334. Hill 943. Arctic Bibliography 9189. Borba de Moraes I: 438. Forbes 1:525. Howes K258 ("b"). Lada-Mocarski 80. Streeter sale VI: 3511. Zamorano Eighty 48.
Offered by Kaaterskill Books.
Women and Their Bodies: a Course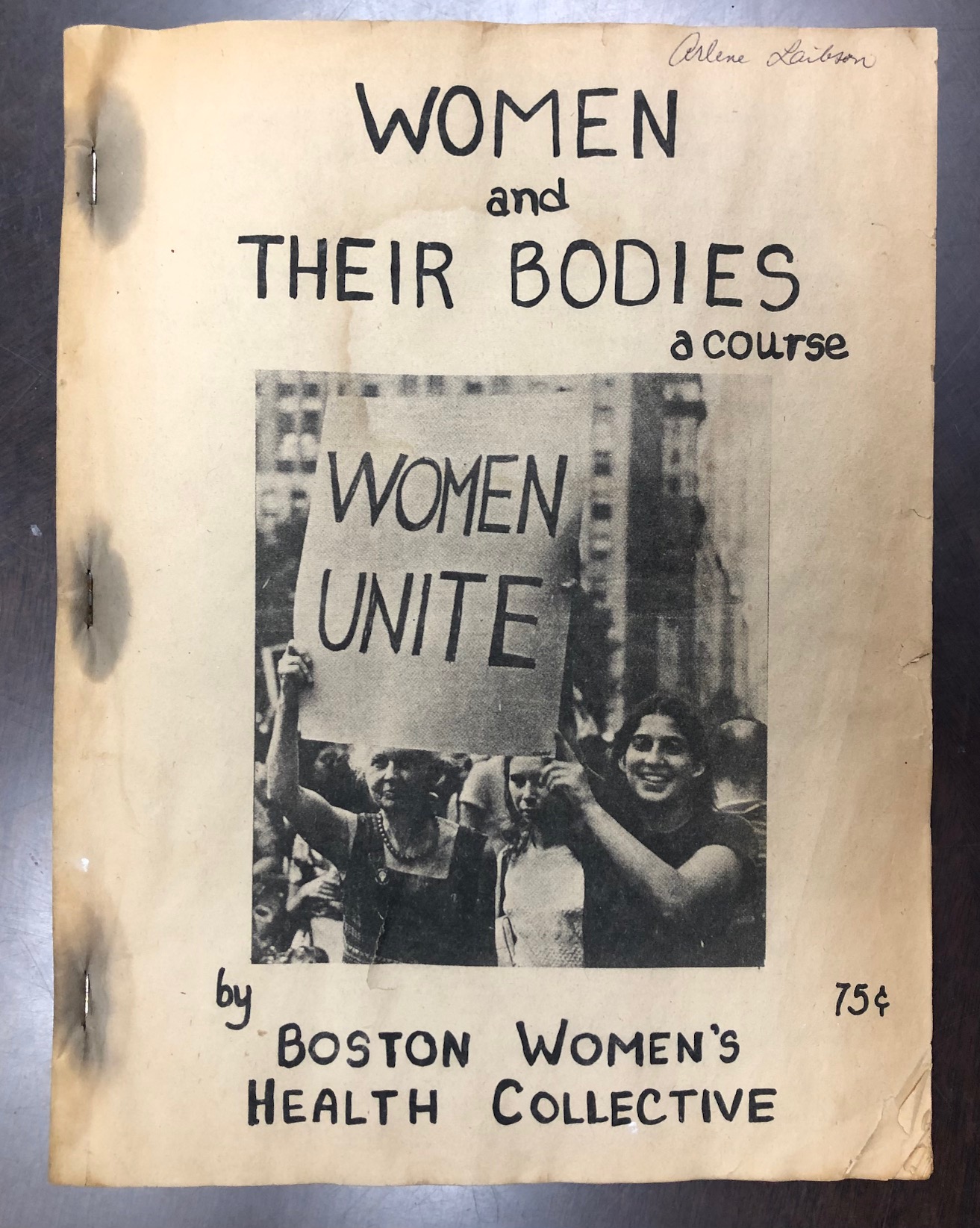 (Boston: Boston Women's Health Collective/ New England Free Press, 1970). First edition of the women's health and civil rights landmark popularly known as Our Bodies, Ourselves, the book's title after this first appearance.
Offered by Brattle Book Shop.
Collection of Nineteen Photographs of Jazz Musicians in Boston's Jazz Workshop and Lennie's on the Turnpike in Peabody, Massachusetts c. 1969 including Miles Davis, Pharoah Sanders, Freddie Hubbard, and Others.
Massachusetts: 1969. Silver gelatin photographs, some mounted, various sizes, most around 6x8 inches. Some wear and creases to mounts, photographs range from good to fine with fine contrast, some photos with noticeable flaws. Very good overall. Very Good.
An evocative collection of photographs of several important musicians taken in Boston in 1969 by Dan Bolling, a Long Island artist and photographer who was stationed at the nearby Hanscom Air Force Base. Apparently unpublished, the document the American jazz scene during the transition period between Hard Bop and Fusion. Three of the photographs show Miles Davis, two while playing and one at the coat check. They were likely taken at his October 17 or 18 date at the Jazz Workshop. The other performers include Freddie Hubbard (4); Pharoah Sanders (3); bassists Milt "The Judge" Hinton (shown in performance in Queens, NY), Buster Williams, Cecil McBee; organist Charles Earland (3); and drummers Jack DeJohnette and Lenny White, as well as one unidentified musician. Bolling is also an exhibiting painter and a member of the Long Island Black Artist Association.
Offered by Auger Down Books.
The Maltese Falcon by Dashiell Hammett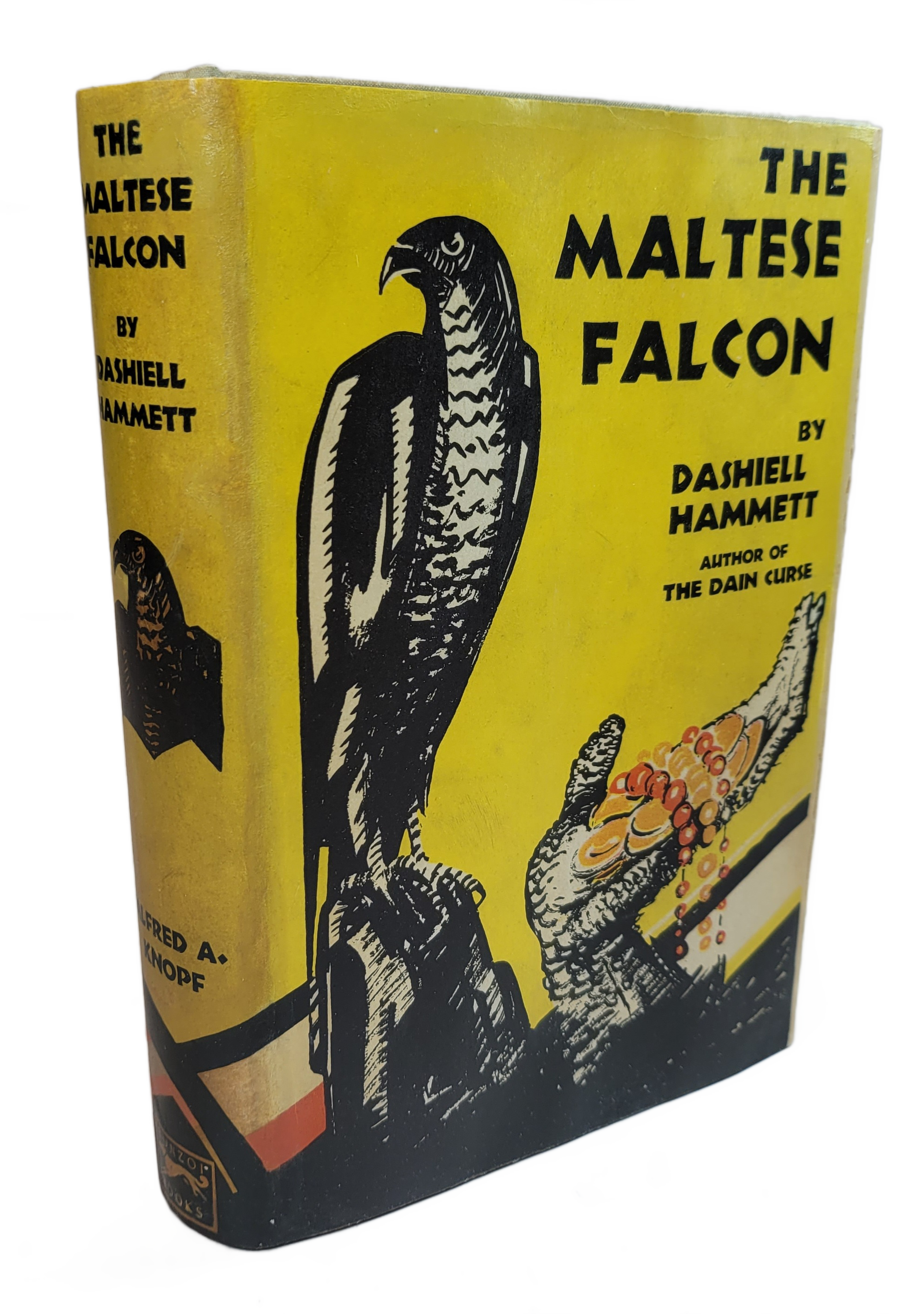 Offered by Heartwood Books & Art.
The Hobbit or There and Back Again by J.R.R. Tolkien

London: George Allen & Unwin Ltd (1937) First edition, first impression, in the first issue jacket. "The outstanding British work of fantasy for children to appear between the two World Wars, and the first of a series of books which eventually brought Tolkien world-wide fame and created a cult following" (Carpenter and Prichard). It is rare to find an unrestored jacket in such bright and vibrant condition.
Keen to draw similarities with Alice's Adventures in Wonderland, the publishers drew parallels between Lewis Carroll and J. R. R. Tolkien. Unfortunately the blurb on the rear inside flap of the first issue of the dust jacket incorrectly cites the author of Alice as "Dodgeson". This required a correction in ink by hand, as in this copy. Tolkien first scribbled the opening lines of The Hobbit in the late 1920s or early 1930s: "in a hole in the ground there lived a hobbit..." The narrative developed into a tale told to the Tolkien children by their father and the author continued to work on it without thought of publication. By the winter of 1932 an incomplete typescript was read by Tolkien's friend and Oxford colleague, C. S. Lewis. By the start of 1936 the narrative broke off at the death of Smaug and a friend of one of Tolkien's pupils, who worked for the publishers Allen & Unwin, read it. She suggested that Tolkien complete the story and submit it to be considered for publication. Tolkien set to work and had nearly finished the story by August that year, sending the typescript to the publishers on 3 October.
Production of the book took several months with significant time devoted to the illustrations. Tolkien prepared more than 100 of his own illustrations for the book, although he realised that this number would have to be greatly reduced for publication. Tolkien was also responsible for the dust jacket design, depicting the mountains of Bilbo Baggins's journey in a remarkable night and day combination. It is described by Alan Powers as "stylized art nouveau". The first edition was published on 21 September 1937 and the first impression of 1,500 copies was sold out by December. C. S. Lewis reviewed the book for The Times Literary Supplement on 2 October 1937. He suggested that both The Hobbit and Alice's Adventures in Wonderland "both belong to a very small class of books which have nothing in common save that each admits us to a world of its own - a world that seems to have been going on before we stumbled into it but
which, once found by the right reader, becomes indispensable to him". Lewis continued, "to define the world of The Hobbit is, of course, impossible, because it is new. You cannot anticipate it before you go there, as you cannot forget it once you have gone". "Prediction is dangerous," concluded Lewis, "but The Hobbit may well prove a classic".
Octavo. Original green cloth, spine and front cover lettered in dark blue, binding blocked with design in dark blue, top edge green, map endpapers printed in black and red. With dust jacket. Housed in a custom green morocco-backed folding box. Map endpapers printed in red and black, frontispiece, and 9 illustrations by the author.
Offered by Peter Harrington.
M.I.T. Student Posters '68-'71
Lot of 76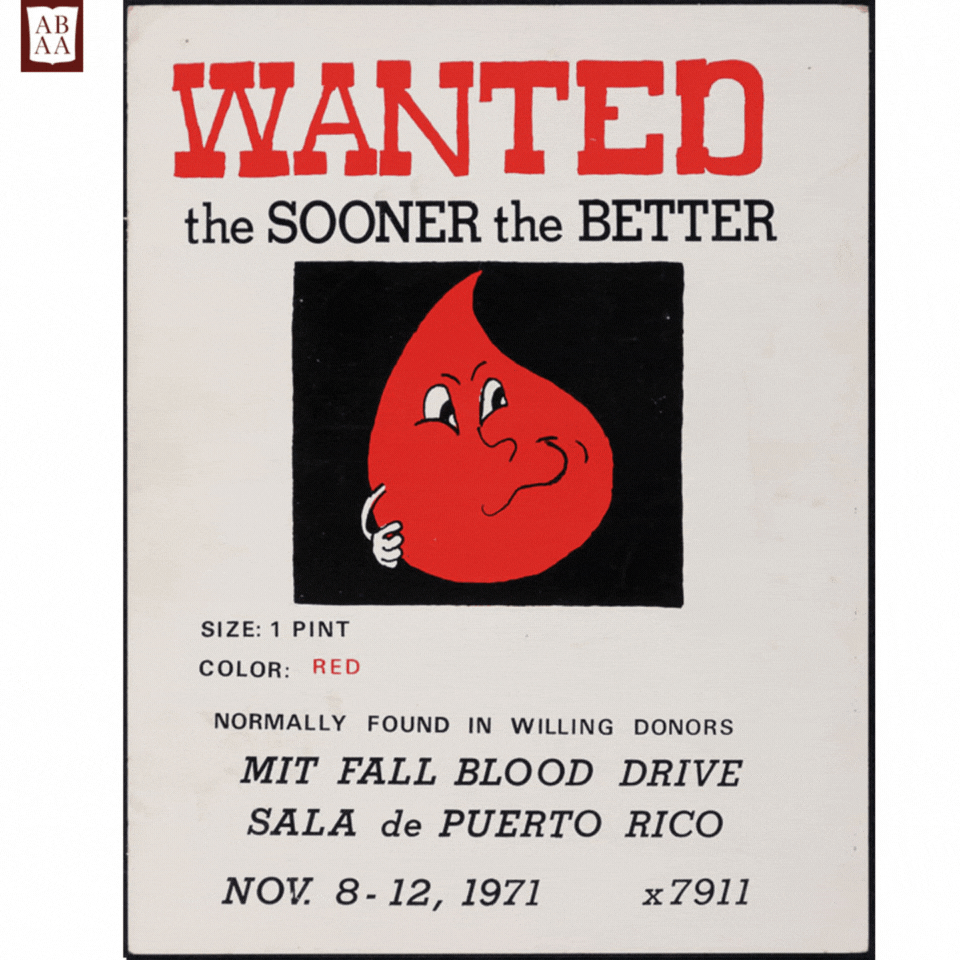 This large collection of seventy-six (76) visually exuberant M.I.T. student life posters from 1968 to 1971 were published by the M.I.T. chapter of Alpha Phi Omega (APO) to adorn the infinite corridor and other M.I.T. campus locations, pinned to bulletin boards, walls, doors and other receptive surfaces. This visually and topically wide-ranging set of posters have distinctive graphic art that was designed to advertise upcoming APO sponsored lectures, academic lectures, volunteer opportunities on and off campus, APO contests - Ugliest Man on Campus, a lunar lander dropping down into Carnival, student government elections, The Institute Screw Contest, radical and traditional theatre, movies, WTBS 88.1 FM, academic colloquia and MIT's campus culture itself. Topics range from the arcane to contemporary music and art - Laura Nyro and, Richie Havens at Kresge Auditorium for example, international drama, environmental activism and physics and mathematics. The graphic art and lettering are varied depending on the subject matter, often ironic or with meaning within meaning. There are many visual puns. APOSTER, APO Type Foundry or A.P.O. appears on almost all of these posters, some with the artist's name such as RJM, MB/hatfield, WiZ, and Bromberg. Two of the posters are not signed APO, one for the Theater Workshop Boston and another for an Environmental Day.
There are manuscript notes on the back of several of the posters, one expressing the print run with a mathematical formula. The name "Funks" is on the verso of each poster. There are three primary size formats, approximately 11" x 14", 14" x 22", 15 7/8" x 26" and a banner size 26" x 8". Condition is generally very good, with bright colors throughout. Some have signs of use, and several have a dark stain at lower margin. The posters may have been kept as a proof set or collected before posting as very few posters have pin or staple holes and some posters are in two formats, with and without text or multiple color formats.
These MIT student APosters are 20th c. broadsides. The art and fonts speak of the times. This large collection demonstrates an ongoing cultural tradition at MIT of student composed art displayed in posters and banners to animate the community.1/ Typefaces, graphic design and color all convey meaning. The design and printing of these posters trained the hand, eye and mind. That is as true today as it was when these '68-'71 posters were printed. The print tradition at MIT endures.
Topic Highlights in the MIT Posters - irony, humor and irreverence:
-Spring Carnival APO Presents the theme: MIT IS A CARNIVAL April 19 Rockwell Cage
-MIT Chaplaincy Guest Lecture: Sexism Racism and Anti-Semitism: Patriarchy and Paronoia (sic) and Matriarchy and the Mastery of Nature" the imagery suggesting otherwise
-UMOC The Blob Comes to MIT covering the Dome
-Physics employment opportunities forum with big Yellow Taxi
-MIT Blood Drive - "We Can't Make Blood in a Lab"
-Technological Fixes versus Real Solutions- Technology & Culture Seminars
-Fresh Dates * For Everyone New Shipment to Arrive Shortly MIT Date Service Class of '72
-Wanted for eleemosynary troglodytism Ugliest Man On Campus
-The Big Screw Returns AlphaPhiOmega Institute Screw Contest Kaleidoscope
-Laura Nyro MIT Kresge Auditorium
Offered by Original Antique Maps by Carol J. Spack.
To learn more about the 2022 Boston Book Fair visit www.bostonbookfair.com...