The 53rd California International Antiquarian Book Fair takes place in Pasadena, California over the weekend of February 7-9, 2020. Here's is a little taste of the rare books and items of print ephemera ABAA members will be exhibiting at this year's Fair!
Bradbury, Ray. The Martian Chronicles.
Garden City, NY: Doubleday, 1950. First edition. 222pp. Octavo. Green cloth boards. Light sunning and wear, corners of jacket clipped. Leaf inscribed by Bradbury laid in.
An excellent example of Bradbury's seminal future history detailing relations between human settlers and Martian natives.
Offered by Ken Sanders Rare Books, booth #610.
Women Organizing for Suffrage and Political Change: A Collection of Unusual, Ephemeral, and Delicate Pieces of Suffrage And Related Women's Social Reform Movements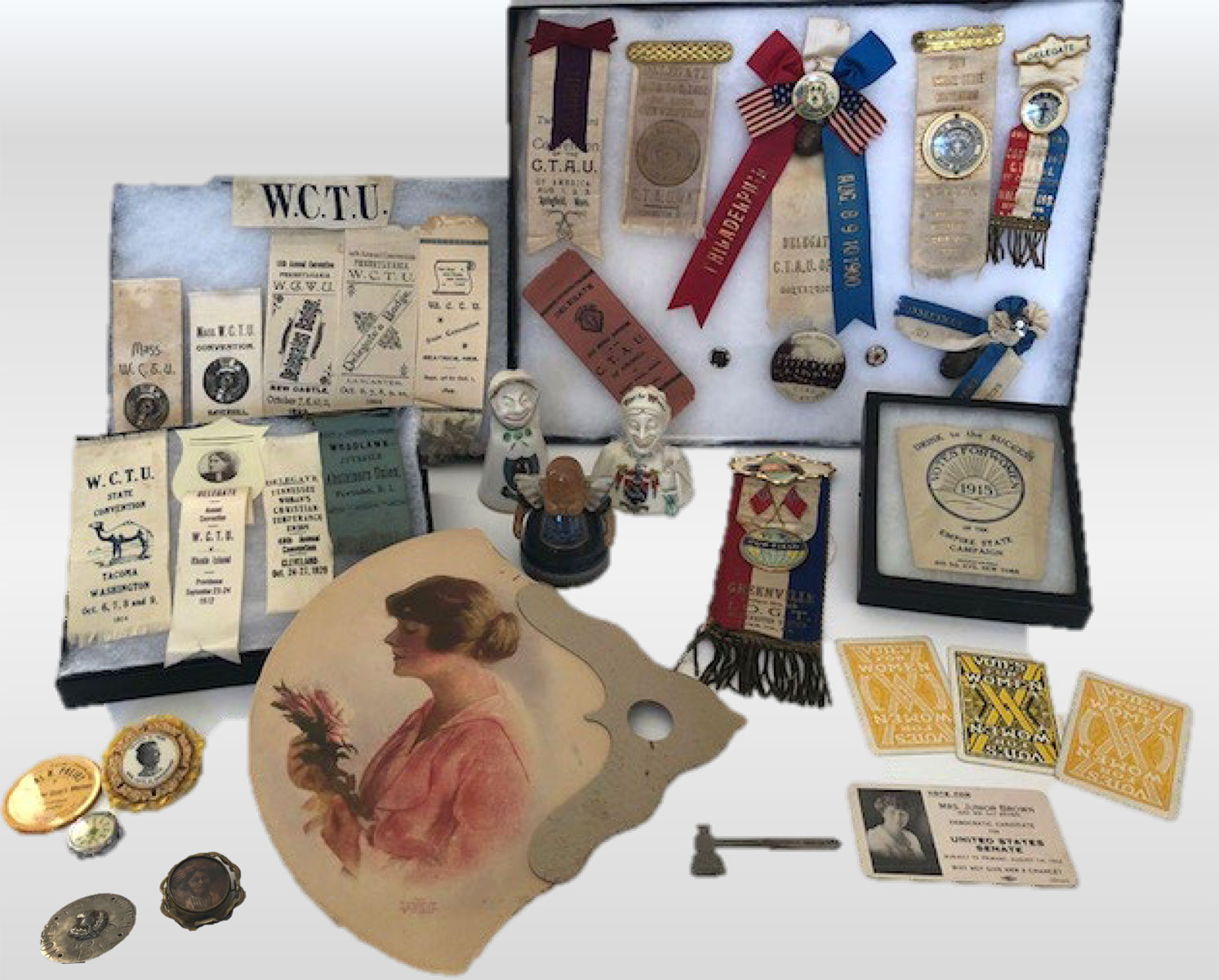 Large collection of 36 original memorabilia and worn items from the women's suffrage movement, as well as from the female led social reform movement for temperance, and early women's political campaigns for office. The worn items of this collection originally served to identify suffragettes at rallies and while canvassing. Rather than the emblematic, but far more numerous suffrage buttons, this collection shows a keen focus on the more unusual representations of suffrage. It includes items that are extremely rare today because they were either very fragile or made to be disgarded, such as a delicate porcelain handbell embellished with the "Votes for Women" motto, or a paper cup from the 1915 "Empire State Campaign" for suffrage.
Items such as these have rarely survived, especially when compared to the resilience of tin-backed buttons. Still otheritems were not made for the masses of suffragettes who filled the ranks at rallies, but were reserved only for those who made
a special sacrifice, like those who endured the harsh conditions, mistreatments and often force-feedings of a prison term. The very rare prison portcullis on a neckchain, later encased within a pin, would have been placed only around the neck of a suffragette who showed this extraordinary devotion to the cause. Historians recognize the importance of the myriad symbols of memorabilia in popularizing the iconography and slogans of early women's movements. 36 items, many of which fall outside the common mold and are extremely rare today.
This collection includes 36 items from several related movements including the American and British branches of suffrage, as well as temperance and women's campaigns or office. The distinctive colors of each campaign became so well-known that a woman's loyalties could be determined simply by laying an eye upon her ribbons or jewelry. One of the highlights is a lovely and rare pin with a miniature set of prison gates encased on one side and a portrait of Emmeline Pankhurst on the other. This pin would have been an honor worn by a woman who spent time in prison for the cause of suffrage. It appears to originally have been a neckchain, that was perhaps made into a pin in order to display the colors of suffrage, or to suit the taste of the wearer. The temperance movement was integrally related to suffrage and advocacy for women and children, since lack of political voice left many women powerless to defend themselves against the physical violence and financial devastation of husbands who drank to excess. Under the presidency of suffragette Frances Willard, the American women's temperance movement led the fight against all abuses against women and children, including sexual exploitation, unsafe working conditions, and alleviation of poverty.
Among the rare items of this collection are 3 original suffrage playing cards each printed with "Votes for Women" amidst stylized "V's"; 21 original worn pinback ribbons from women's temperance conventions beginning in 1890; a small original souvenir "Florence's Hatchet" to honor Florence Kelley, the social reformer most known for her work against child labor abuse, and co-founder of the NAACP. Also we have an original paper cup from the 1915 "Empire State Campaign" of the
American women's suffrage movement; an original women's watch made in Switzerland with "VOTE FOR WOMEN" corresponding to the numbers on the face (no band); a 1909 Royal Doulton inkwell depicting a baby with articulated head and the caption "Votes for Women" across the bib; two related double-faced figurine featuring a positive and negative depiction of the suffragette and the words "Votes for Women" and "She shall have votes" as well as the city of origin; a confetti-ed
pin with the portrait of candidate Kate B. Sherwood dated 1908 and cardboard fan for Florence Danforth 1918 demonstrate women's run for office before earning the right to vote; and finally a mirror courting the vote of women in the early 1920s and a card announcing candidacy of Mrs. Junior Brown for the U.S. Senate in 1922, only 2 years after the suffrage amendment, show the tremendous strides that only a few short years of political agency were able to accomplish for American women. This is only the 2nd collection of suffrage memorabilia reaching close to this quality and magnitude that we have ever offered. An extensive collection containing rare, fragile, and unusual mementos of the women's suffrage movement.
Offered by Max Rambod Rare Books, booth #819.
JOYCE, James. Ulysses. (First Edition)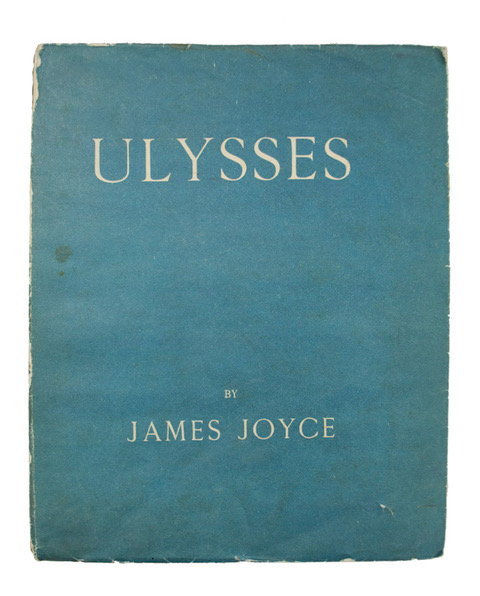 Paris: Shakespeare and Company, 1922. First edition. One of 100 numbered copies on Dutch handmade paper, out of a total of 1000, this being number 41. Signed by Joyce. Quarto (9 3/4 inches x 7 3/4 inches; 237 x 195 mm). [viii], 732, [1, colophon], [3, blank] pp. Of the 1,000 copies of the first edition, 100 were on Dutch handmade paper (measuring 23.7 x 19.5 cm.) and signed by Joyce, 150 were on vergé d'Arches paper (measuring 26.2 x 20.1 cm.), and 750 were on handmade paper (measuring 23.7 x 18.5 cm.). The last two formats were not issued signed. Complete with flyleaves.
Original blue printed wrappers. Uncut. Interior is extremely clean. Wrappers with some minor edge wear and rubbing. Fragile original spine with expected minimal chipping. Some loss along lower back joint and some small loss to the head and tail of spine and a few nicks along edges. Some very minor toning and foxing to first and last few leaves. Remnants of an old bookplate that was removed on front free endpaper. A very fresh copy, completely unsophisticated, superior in condition to how most copies are usually found. Housed in a custom blue cloth clamshell case with morocco label.
"The novel is universally hailed as the most influential work of modern times" (Grolier Joyce 69). After working seven years on Ulysses, Joyce, desperate to find a publisher, turned to Sylvia Beach of Shakespeare and Company in Paris. "Within a month of the publication, the first printing of Ulysses was practically sold out, and within a year Joyce had become a well-known literary figure. Ulysses was explosive in its impact on the literary world of 1922 ... Then began the great game of smuggling the edition into countries where it was forbidden, especially England and the United States. The contraband article was transported across the seas and national borders in all sorts of cunning ways" (de Grazia, 27).
Offered by Heritage Book Shop, booth 512.
Wells, H[erbert] G[eorge]. LA GUERRE DES MONDES [THE WAR OF THE WORLDS]. Traduit de l'Anglais par Henry-D. Davray.
Edition Illustrée par Alvim-Corrêa. Bruxelles: Édité par L. Vandamme & Co, 1906. Folio, pp. [1-6] 7-234 [235-244] [245: colophon] [246: blank], 32 plates with full-page illustrations (tipped in to the text pages) and 101 illustrations in the text (one full-page, the remainder smaller) by Henrique Alvim-Corrêa, title page printed in red and gold, decorated paper covers.

First printing with these illustrations. Copy number 5 of 500 numbered copies, an early copy bound in paper initialed by the artist. This first fully illustrated edition with a highly imaginative, atmospheric, spectacular visual interpretation of Wells's masterpiece. A quote attributed to Wells on the artwork was "Alvim Corrêa did more for my work with his brush than I did with my pen." The illustrations have a "steampunk" quality and are perhaps an influence to that movement. Henrique Alvim Corrêa (1876-1910), a Brazilian painter, illustrator and designer, moved to Europe at age 16 in 1892 shortly after the proclamation of the Republic of Brazil. Based in Belgium, he became known for his illustrations of science fiction, especially this edition of THE WAR OF THE WORLDS, his masterpiece. He also produced work on military subjects, particularly the Franco-Prussian War (1870-1871), as well as erotic art signed "Henri Lemort." Corrêa suffered from tuberculosis and died in 1910 at 34 years of age. The original artwork from this book remained in the hands of the family until 1990 when it was sold to a private collector, in May of 2015 most of the artwork was sold at auction.
"The great classic of interplanetary invasion ..." - Bleiler, Science-Fiction: The Early Years 2331. "... a forceful, sophisticated novel that remains original, intense, and provocative today." - Survey of Science Fiction Literature V, pp. 2416-23. "... still the most remarkable fantasy of imaginary warfare that has so far appeared in the history of the genre." - Clarke, Voices Prophesying War: Future Wars 1763-3749, p. 86. THE WAR OF THE WORLDS "set the seal on Wells's success. The novel was immediately taken up in Britain and America, and translated into European languages. It has remained popular ever since, spawning many imitations, fathering all invasion-of-earth stories, yet transcending them in the grandeur of its concept." - Bleiler (ed), Science Fiction Writers, p. 27. Filmed twice, the first memorably by George Pal in 1953 and most recently by Stephen Spielberg in 2005. Offsetting to the half title page from the pattern of the front cover, foxing to text pages throughout, plates clean, some very tiny tears to right front cover edge, some mild stress creasing, two very small stains to lower front cover and slight wear to base of spine. A nearly fine copy. A spectacular and highly desirable copy of a fragile book considering that (1) most extant copies have been rebound; (2) many copies lack plates; and (3) many -- if not most -- ARE NOT signed by the Corrêa. This is a remarkable survival in the original paper covers. As a further note, these illustrations show both a more striking imagination and a higher technical skill than the better-known Warwick Goble magazine illustrations for THE WAR OF THE WORLDS. OCLC reports 11 copies, only one in the United States (Worcester Public Library). Rare.
Offered by John W. Knott, Jr., Bookseller, booth 408.
King, Jr., Dr. Martin Luther. Birth of a New Age.
Cleveland, Ohio: Stephens' Recording Service (also known as Memo Records), 1956. 33 1/3 rpm vinyl record in cardboard sleeve measuring 12¼" x 12 1/8. Approximately 43 minutes of audio. Record fine, sleeve very good with moderate edge wear, some separation along bottom edge but holding tightly and scattered instances of light dust soiling.
This is a vinyl recording of a Martin Luther King, Jr. speech. Until now, as we explain below, the voices embedded in its grooves have been lost to history. King gave this speech to the National Negro Funeral Directors Association ("NNFDA") on August 7, 1956. He was just 27 years old at the time. 1955 saw him complete his first year as pastor at the Dexter Avenue Baptist Church, welcome his first child and the Montgomery bus boycott began that December. By the time of this speech King was still in the midst of the boycott despite the United States Supreme Court making segregation on public transportation illegal in April. He was becoming a national figure by this point but was still unknown to many.
The recording exists because one of the attendees of the NNFDA banquet, Carlton Stephens, a metallurgical engineer, recorded the speech and wanted to share it with friends. He wrote King in September, 1956 asking permission to produce and sell a record of the speech, offering to donate profits to the Montgomery Improvement Association ("MIA"). In December he reported to King that he ordered one thousand copies and asked for suggestions on distribution. While King's staff responded within a week to acknowledge Stephens' letter, there is no correspondence reflecting whether the MIA helped with distribution. Outside of an advertisement placed in the March 6, 1957 issue of The Memphis World, we are unable to locate any other efforts at distribution or sale. The last extant letter from Stephens to King, from February 1957, contained a check for $100, representing the sale of the first hundred records with a promise of another check for $100 after the next 100 were sold. The correspondence between King and Stephens also reveals that the jacket design was done by African American artist Sterling Hykes. The liner notes were written by Stephens' wife, Carriebell J. Cook who went on to co-chair Cleveland's United Freedom Movement. These notes provide an extensive background on King's educational and professional accomplishments as he was just stepping in to the national limelight. It touched on the efforts of the MIA and presciently declared, "the name of the distinguished Dr. Martin Luther King, Jr. will long be remembered as a leader of the battle against tradition in the southland."
King gave a speech with the same title four days later at an Alpha Phi Alpha ("APA") banquet in Buffalo, New York celebrating the fraternity's 50th anniversary. The fraternity printed the text of that speech in a booklet in 1956 as well as in the Fall 1968 issue of its journal, "The Sphinx," and the passages from which we'll quote below come from the 1956 publication. The overall theme of each speech is the same but there are dozens of differences between the recording offered here and the speech as printed by APA. There are a number of significant differences including sections in this speech that do not appear at all in the APA speech, and other areas are reworded nearly in their entirety.
Offered by Langdon Manor Books, booth 117.
(VERNET, Horace and LANTÉ, illustrators). Incroyables et Merveilleuses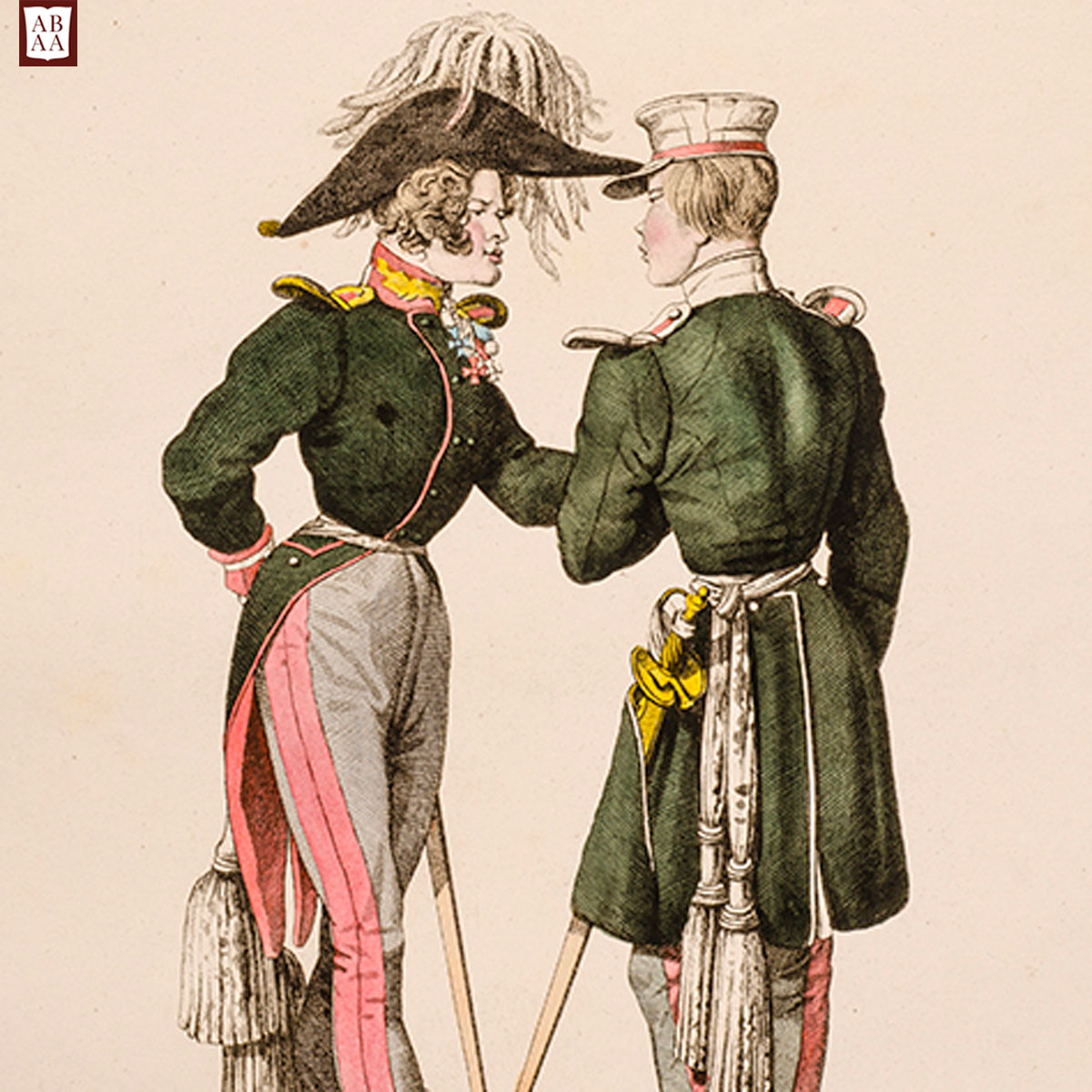 Paris: ca. 1815. First edition. Folio (16 5/16 x 10 7/8 inches; 414 x 276 mm.). Thirty-three hand colored engraved plates numbered 1-33 by Gatine after H. Vernet. No title-page or text, as issued. All with original tissue guards. Small and insignificant lower marginal tears on third and fourth plates, otherwise fine. Contemporary quarter green roan over marbled boards, smooth spine ruled and lettered in gilt, marbled end-papers. A wonderful copy with the plates remarkably clean and fresh. The very rare complete suite of hand-coloured engravings of dandies ('Incroyable') and their female counterparts ('Merveilleuse').
Offered by David Brass Rare Books, Inc., booth 813.
1934 BETTE DAVIS SIGNED PHOTO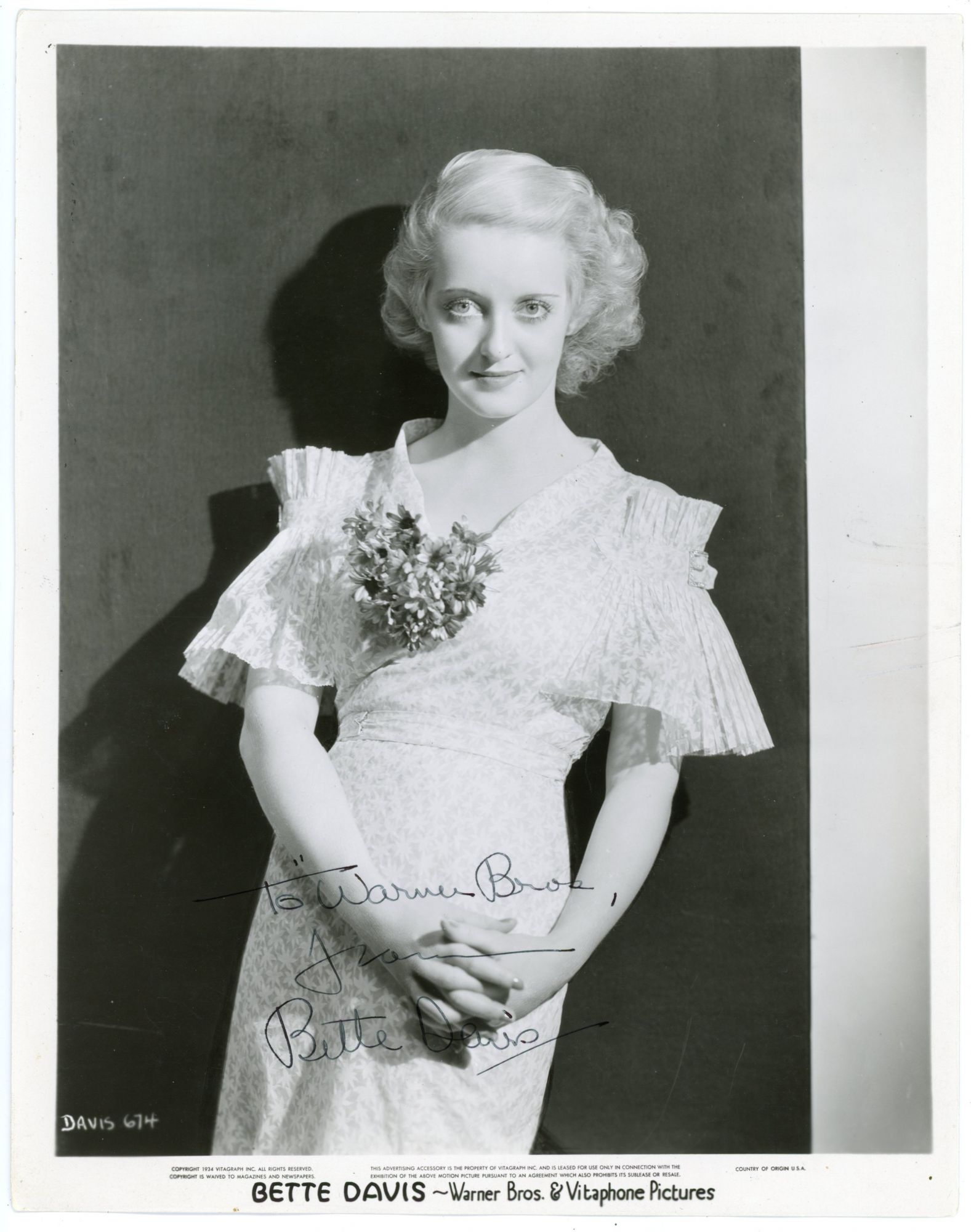 8" x 10" photo of a young Bette Davis inscribed "To Warner Bros., from Bette Davis." It is copyright 1934 and has a stamp on the verso for Dell Publishing Company.
Offered by House of Mirth, booth #107.
Susan B. Anthony INSCRIBED to the President of the New York State Suffrage Association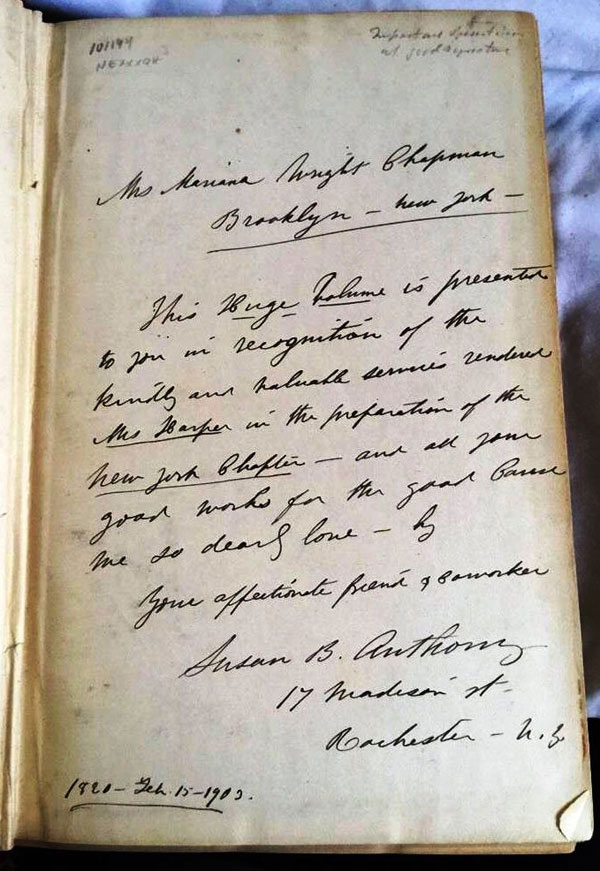 ANTHONY, Susan B. & HARPER, Ida Husted. HISTORY OF WOMAN SUFFRAGE. Volume IV. New York: Susan B. Anthony, (1902). First Edition. The fourth volume, eventually complete in six volumes, in publisher's purple cloth. Illustrated with copperplate and photogravure engravings. INSCRIBED and SIGNED by Anthony on her birthday, filling the front free endpaper: "Mrs Mariana Wright Chapman/Brooklyn -- New York --/This Huge Volume is presented/to you in recognition of the/kindly and valuable services rendered/Mrs. Harper in the preparation of the/New York Chapter -- and all your/good works for the good Cause/we so dearly love -- by/Your affectionate friend & coworker/Susan B. Anthony/17 Madison St./Rochester -- N. Y./1820 -- Feb. 15 -- 1903." Owner name in ink at the top of the front pastedown. Professionally rebacked retaining the original spine. Near Fine and an important Association copy.
Mariana Wright Chapman was a prominent New York Quaker suffragist who was President of the Women's Suffrage Association of Brooklyn and later President of the New York State Suffrage Association, Anthony's home state. As a charter member of the New York League for Political Education, she was instrumental in founding the Friends Equal Rights Association. Chapman corresponded frequently with the leaders of the Suffrage movement.
Offered by Charles Agvent, booth #602.
POWELL EXPEDITION - John K. HILLERS (1843-1925); E. O. BEAMAN (1837-1876) and James FENNIMORE, photographers. Extraordinary group of stereoview images of Native Americans, taken on Powell's Survey of the Colorado River.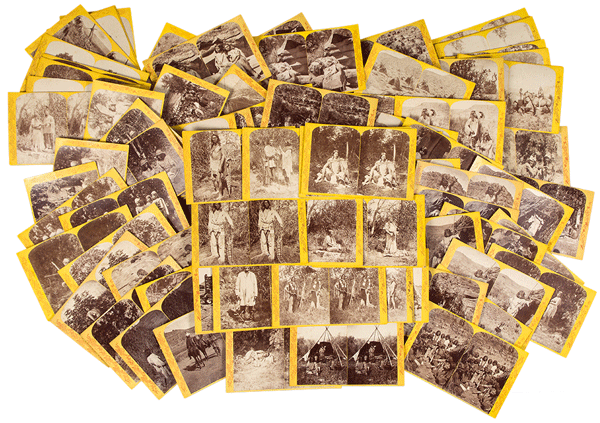 Arizona, Utah, Nevada and New Mexico: 1871-1874. 92 arch-topped albumen stereoview images. Each on yellow U.S. Topographical and Geological Survey of the Colorado River of the West mounts, "Deluxe" stereoview size (4 1/2 x 7 inches). Most with pink "Indians of the Colorado Valley" caption labels on verso, many with J.F. Jarvis publication labels. Includes one duplicate as noted below.
Although no published list of the Indians of the Colorado Valley / Powell Expedition stereoviews was published, a contemporary manuscript list survives in the Smithsonian (1795-C) which reveals that 117 images were done, along with the photographers of each. Although the caption labels attribute all the images to Hillers, many are by Powell's original photographer E. O. Beaman, who became entangled with Powell over the publication rights to the images after he left the expedition (and thus Powell substituted Hillers name for many of Beaman's photographs). Images numbered 75-77 and 89-117 are by Beaman; images numbered 75-77 by Fennimore; the remaining are by Hillers.
Offered by Donald A. Heald Rare Books, booth #824.
UNIQUE 1866 LINCOLN MOURNING FAN -- A Unique Variant Produced for Presentation At the World's Fair of 1867 in Paris
OPEN-WORK, EMBOSSED ALUMINUM COMMEMORATIVE FAN: TWO SIDED, 3-INCH, PAINTED LITHOGRAPHIC PAPER FAN-LEAF. Designed By August E. A. Luce for Bartolomé Crespo De Borbon, Habana-Paris, 1866. Original ornate tassel still attached. 22 X 10 in. wide when open. Presented in a special leather case, 8-1/4 x 12 inches, 1-1/4 inches high. BELOW THE HAND-COLORED, PAPER FAN-LEAF there are small oval areas for albumen photographs to be attached on both sides. There were three distinct markets for the fan: North America, Spain and France (and perhaps China); and Central America. The one for North America had photos of Civil War Union generals and politician and that for Europe and Asian had various Queens of Europe (named Belgium, Spain, China, etc.). This fan was of the European type, unusually still retaining most of its albumen photographs (the glue didn't always hold and this is the most we've seen still attached).
WE HAVE HANDLED ALL THREE OF THOSE PREVIOUSLY ON THE MARKET, each one a bit different. One had wooden sticks. Another, produced for women's defense, had a hidden, retractable knife blade and a small, hinged receptacle for
poison. One with Union generals for portraits. And this one for presentation. THE PRESENT FAN IS ALSO UNIQUE, being housed in a presentation, red leather box titled "EX POSITION UNIVERSELLE DE PARIS 1867". On the inside is a felt
receptacle for the partially closed fan and the words "EVENTAIL BLINDE [armored fan] ROYAL". Obviously, this was specially produced for display at that fair. The fan was listed in the Fair catalog (not present), Catalogo general de la seccion de Espana, under the Overseas submissions from Cuba (page 408: Abanicos blindados [armor-plated fan], con reproducciones fotograficas de las principals fases de la vida del Presidente Lincoln y do los garndes hombres Americnos sus contemporaneos."
THIS FAN IS ALSO SINGULAR in that the blades and sticks are of a very sparkly, silver nature, embellished with unique decorative ornamentations. THE GUARDS AND 9 STICKS are of cast aluminum, a product then considered a precious metal. The sticks are enhanced with medallions supported by American eagles, terminating in the form of a star. The guards also have special imprinted designs THE PAPER RECTO has a painted portrait of Lincoln, surrounded by angels and cherubs, two columns topped by American eagles, and photo reproductions of a Spanish song w/ music; THE VERSO has 5 scenes of the assassination events, each surrounded by demon images; reproductions of battle scenes are included.
WORTH NOTING: the eagles on the recto hold banners inscribed "The patent plated fan" (the Cuban maker had bought the rights from an American firm). Lincolniana offers one of the richest areas of collecting, because of the numerous intersects that occur throughout the Lincoln story. This fan embodies a number of those intersects: Historical Memory; Victorian Artistic Tastes; Technology (the aluminum); and Mourning Culture.
As a Victorian mourning item, this is one of the loveliest display pieces found. In character, composition, and technique, the lithographs on both sides convey not even the faintest suggestion of European taste; but are, indeed, distinctively American and could almost have emerged from the presses of Currier and Ives. There is a long tradition of producing women's fans with American presidents or patriotic themes as subject matter, beginning with a French-made fan celebrating Thomas Jefferson's 1801 Inauguration. In terms of its elaborate construction, beautiful and detailed vignettes, and superb condition, this is surely the finest example of this genre which we have encountered.
A desirable memento of our 16th President's death -- and the emotions it engendered. And the only one of its kind to have sold in the last 49 years!
Offered by Abraham Lincoln Book Shop, Inc., booth #108.
Alphand, Adolphe, LES PROMENADES DE PARIS: HISTOIRE, DESCRIPTION DES EMBELLISSEMENTS, DEPENSES DE CREATION ET D'ENTRETIEN DES BOIS DE BOULOGNE ET DE VINCENNES, CHAMPS-ELYSEES, PARCS, SQUARES, BOULEVARDS, PLACES PLANTEES, , Paris, J. Rothschild, Editeur, 1867-1873.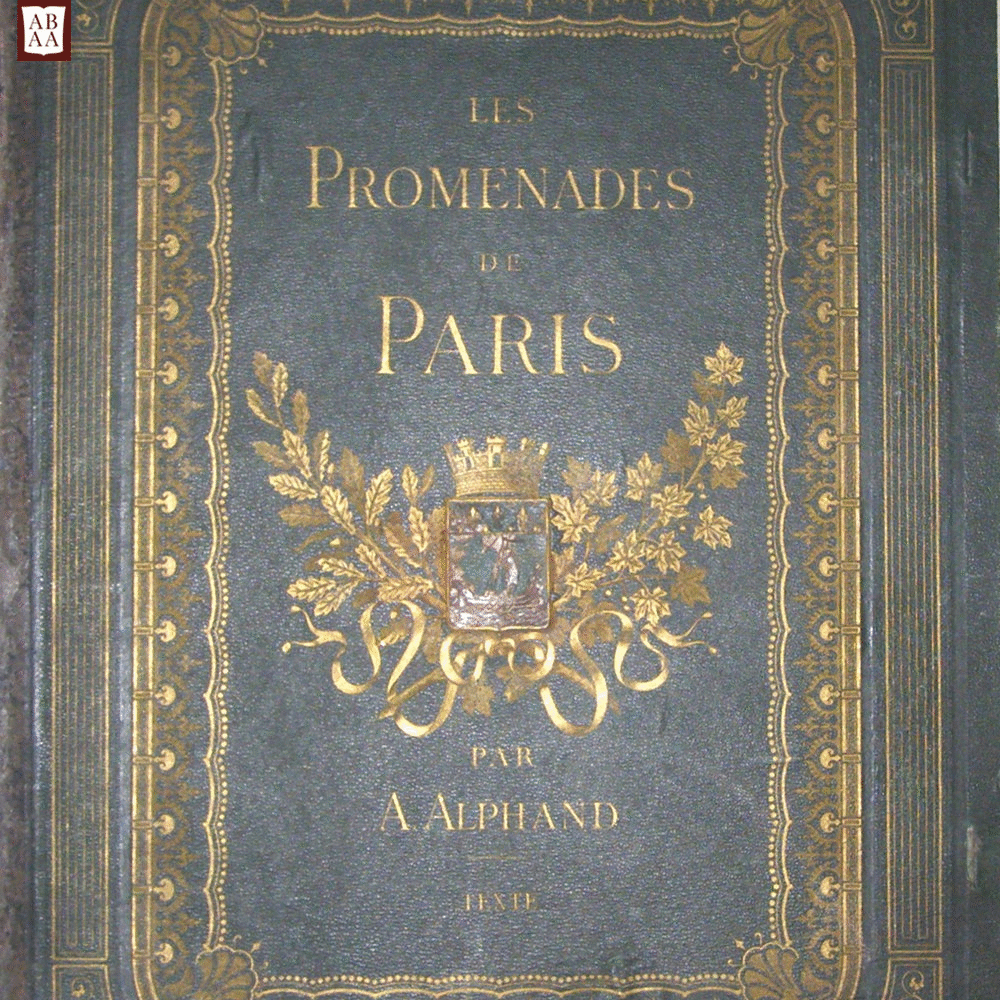 First edition. Two volumes of unbound sheets as issued in publisher's portfolios. Elephant folio (18 x 26 inches). Illustrated with 487 wood engravings (gravures sur bois), 80 engravings on steel (acier) and 23 chromolithographs. Two title pages, both printed in black and red, the first dated 1868, the other, 1867-1873. Volume I. (Texte) contains signatures loose in the portfolio, and Volume II, (Planches) contains the loose plates and plans, many folding, as well as the brilliant chromolithographs. Some pages of the text volume have light soil; page xvii has a slight separation at the fold, xlvii a marginal corner tear (no loss) and Le Bois de Vincennes also has a marginal tear (no loss).

The plates include 22 magnificent chromolithographed botanical plates; one of the plans is also chromolithographed, bringing the total to 23 as called for in the title. There is a corner dampstain to the plates, mostly light, and not affecting any images, occasional light soil else very good. The publisher's portfolios are in green pebble-grained cloth, gilt. All hinges have been repaired, both within and without; the plate portfolio is worn from damp on the rear board, the text portfolio has a repaired scrape on the rear board, and the leather spines and gilt spine titles are worn and cracked and have had repairs to the head and tail; cloth ties have perished on both cases; but they still give a nice presentation and protection to the text and plates. Collated and complete, and rare thus. In French.
Offered by Thorn Books, booth #202.
The History of Woman Suffrage (first edition presentation copy).
(Anthony, Susan B., Elizabeth Cady Stanton, Matilda Gage, Ida Husted Harper.)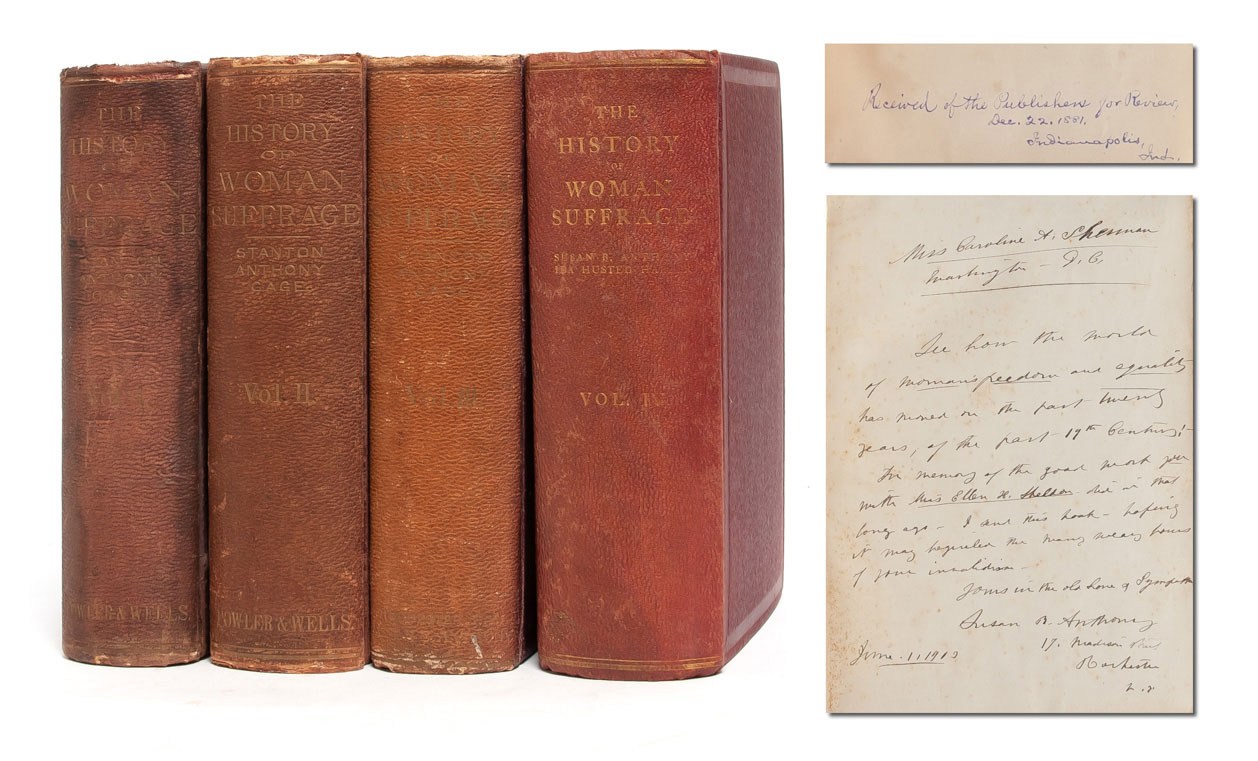 New York [Vols 1-2], Rochester [Vols 3-4]: Fowler & Wells [Vols 1-2], Susan B. Anthony [Vols 3-4], 1881, 1882, 1887, 1902. First edition. Including the first four of six volumes contained within the final version of the set, these being the only volumes published in Anthony and Stanton's lifetimes. Original publisher's cloth bindings with titles in gilt to spines. Some rubbing to extremities, particularly at crowns and feet of spines. Brown coated endpapers. Front endpaper excised from Volume II. Light scattered foxing throughout. Handwritten publisher's office note on the footer of the Dedication page of Volume I and a contemporary handwritten list of illustrations pasted to the verso. An exceptional set with an important association, Susan B. Anthony writes lengthy inscriptions to Caroline A. Sherman, the Recording Secretary of the National Woman Suffrage Association, on the flyleaves of Volumes III and IV. While one to two volumes of the set occasionally appear on the market, it is quite rare to find the first four volumes of this important work together, and with such an important association. Four volume sets have appeared at auction only twice, in 2008 and 1911, with the complete six volume set in first edition appearing only once, over a decade ago.
Spanning over 5,000 pages and drawing on primary sources from the National Woman Suffrage Association leaders and their archives, The History of Woman Suffrage is still considered one of the most important accounts of this American equality movement. For Anthony, it was critical that women write themselves into U.S. history as well as leave a road map for future activists. To this end, when it became clear in 1885 that this comprehensive project would cost more money than it would raise, she purchased the rights to the contents and plates for Volumes I-II and published Volumes III-IV as sole owner. To promote the movement, she donated copies to libraries and presented copies to contributors and people with political influence.
The present set is an example of Anthony's strategy. Within the later two volumes, those owned and published by Anthony, the suffrage leader left personal inscriptions to an important associate who had worked closely with her on the lengthy History. Caroline A. Sherman had served as the Recording Secretary to Anthony and the NWSA, helping organize key documents and make the book's production possible. In Volume III Anthony writes to her friend at the Riggs House Hotel, a frequent meeting space for the NWSA, in the year of publication: "To Caroline A. Sherman, from her loving friend Susan B. Anthony. Rochester NY | The Riggs House Washington DC March 2, '87." In Volume IV Anthony becomes more effusive, writing, "Miss Caroline A. Sherman, Washington DC. See how the world of women's freedom and equality has moved on in the past twenty years, of the past 19th century! The memory of the good work you with Miss Ellen H. Sheldon did in that long ago -- I send this book -- hoping it may beguile the many weary hours of your invalidism. Yours in the old love & sympathy, Susan B. Anthony. 17 Madison Street Rochester, NY | July 11, 1902." The 15 years between Volumes III and IV had seen a massive and effective expansion of voting rights to women on the state level; and a federal law nicknamed the Susan B. Anthony Amendment had been proposed for ratification to extend voting rights to women at the national level. While Sherman descended into ill health at the time of this inscription, Anthony, whose fight for equality had begun in 1848, would die within four years of the volume's release. Yet Anthony had set her cohort up for success and had established her legacy. Under her protegees Gage and Harper, another two massive volumes would be released documenting what her mentee Carrie Chapman Catt accomplished: the ratification of the 19th Amendment and extension of the franchise to women in 1920.
A work of exceptional importance, with a scarce association.
Offered by Whitmore Rare Books, booth #513.

Burton, Riccardo [Richard F. Burton]. I Mormoni E La Citta Dei Santi [The City of the Saints].
Milano [Milan]: Fratelli Treves, Editori, 1875. First Edition. 161pp. Octavo [22cm] 1/2 calf over red and black marbled boards with raised bands and gilt stamped title and bands to backstrip. Near fine.
Abridged edition of Burton's classic work in Italian with numerous illustrations from Le Tour du Monde. This work was translated from the French into Italian. This is not a work that we've handled previously.
"An outstanding narrative of Western travel published in London, 1861, (perhaps more often seen in the New York, 1862, edition) is Richard F. Burton's 'The City of the Saints and across the Rocky Mountains to California.' Already celebrated for his travels to the 'holy cities' of the Old World, Burton made a pilgrimage in 1860 to Great Salt Lake City, taking the overland stage from St. Joseph, and after a few weeks among the Mormons, going on to San Francisco via the Comstock." - Carl Wheat

Offered by Tschanz Rare Books, booth #816.

MILLER, Henry. A BOUND PHOTOCOPY OF THE ORIGINAL 1931 MS. OF TROPIC OF CANCER with additional typed material by Miller.
N.p. [Los Angeles], n.p. [Daniel Bloxam, M.D.], n.d. [c. late 1990s?]. Quarto (11 1/2 x 9 x 6 in.; 15lbs.). 2281 pp., with text to rectos, illustrations (erotic photographs, post cards, drawings, paintings by Miller, etc.) to versos, and including 32 pp. table of contents, index, and concordance to 1934 edition. Bound in full black cloth, gilt lettered title to spine and upper board.
One of fewer than 10 copies produced by Miller scholar-collector Dr. Daniel Bloxam of Los Angeles and bound and sold to members of the underground Miller collecting community upon request. This is the first copy to emerge into the public marketplace; no copies have appeared at auction or within the trade; OCLC/KVK record no copies in institutional holdings.
Here is Miller's massive original manuscript for TOC, written in 1931 and rejected at that time by Obelisk Press publisher, Jack Kahane. Miller reworked/rewrote the book and submitted the revised text to Kahane, who published it in 1934. That manuscript was lost/discarded by the printers. This, the original 1931 ms., was deposited at UCLA by Miller via his friend, Lawrence Clark Powell, head of UCLA's Special Collections, in 1948 for safekeeping. Miller willed it to his daughter, Val[entine]. In 1986, Val sent it to Christie's, where Frederick Koch bought it for $165,000 ($436,138.58 adjusted for inflation). Koch donated it to Yale's Beinecke Library.
Dr. Bloxam, alas deceased, told at least one Miller scholar-collector that none of Miller's children provided assistance to him in the preparation of this item. How Bloxham acquired the photocopy is a matter of no little mystery. He did not personally copy the ms. while it was at UCLA, and the UCLA ms. now at Yale, does not include the extra material found here. The extra text is comprised of 250 text pages and 89 pp. of the "Bertha" section which appears to be nearly identical to the letters on file at the NYPL. We know that bits and pieces of Miller manuscript material have been circulating within the Miller underground for decades. In lieu of further information, we speculate that Bloxam amassed such material over the years and augmented it with text provided by others. A Very Fine copy.
Offered by Booktryst, booth #202.
Camus, Albert. The Outsider.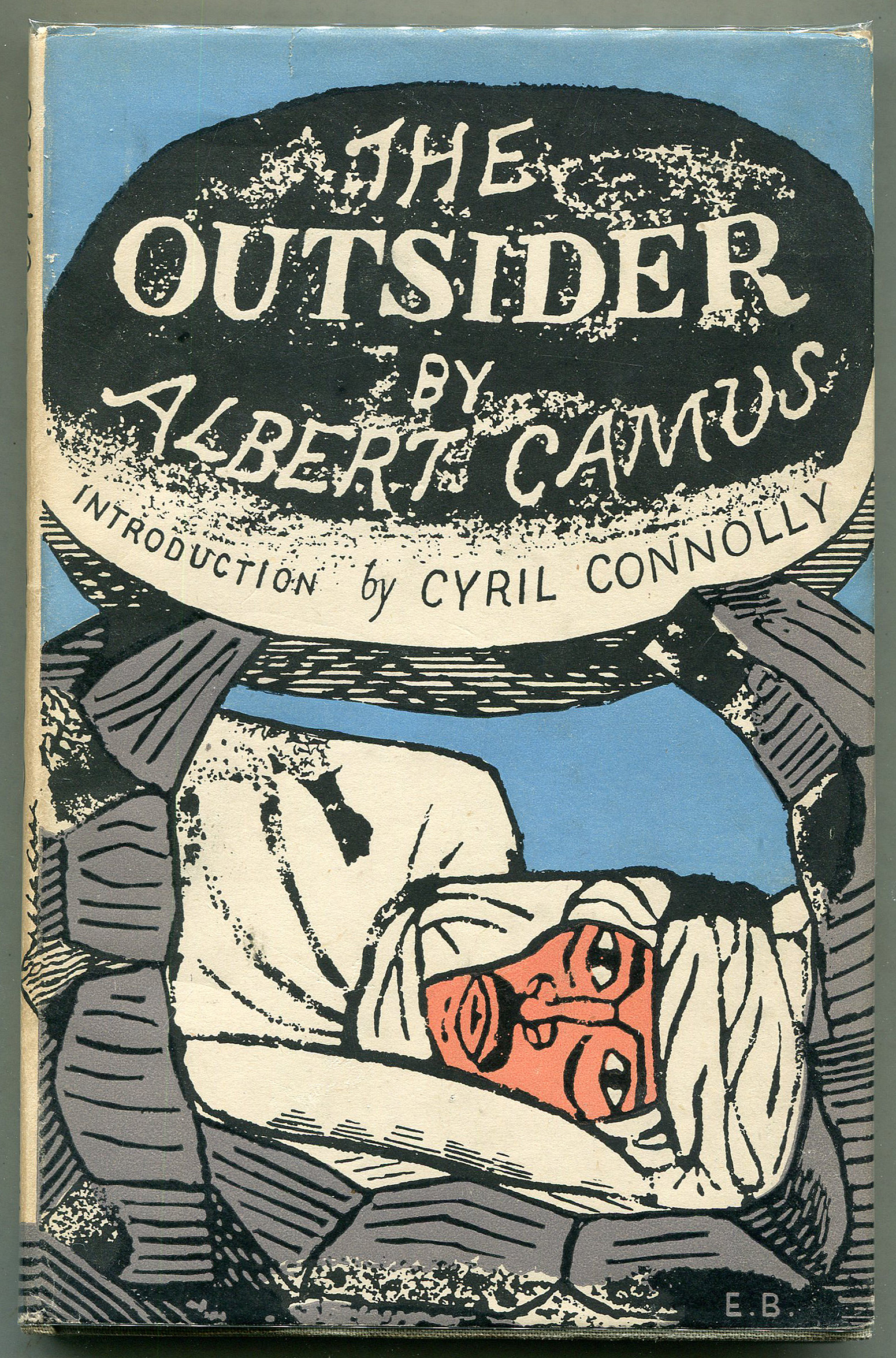 London: Hamish Hamilton (1946). First English language edition. 103 pp. Bound in grey-green cloth with gold lettering on the spine. Price of 6s. net on front flap of jacket. First edition in English and Camus' first English publication. Translated by Stuart Gilbert. Ahearn Collected Books, 157 (4th ed.). Published in France as L'Étranger in 1942, this novel was number one on Le Monde's 100 Books of the Century. Widely regarded as a classic of twentieth-century literature, Camus' novel is the first of several novels he wrote that explore the notion of the absurd within a fictional context, in contrast to the more direct and thorough examination of this notion in his philosophical essays. Camus won the Nobel Prize in Literature in 1957. A beautiful copy of this important book, Camus' best-known and most acclaimed novel.
Offered by Evening Star Books, booth #101.
Large archive consisting of Cole Porter's financial records that were kept by the Porter family lawyer in Peru, Indiana, including invoices listing hundreds of antiques and objets d'art used to ostentatiously furnish the Porter's Paris and Venice apartments as well as box office and royalty receipts for shows including Paris, Fifty Million Frenchmen, The Gay Divorcee, and Anything Goes.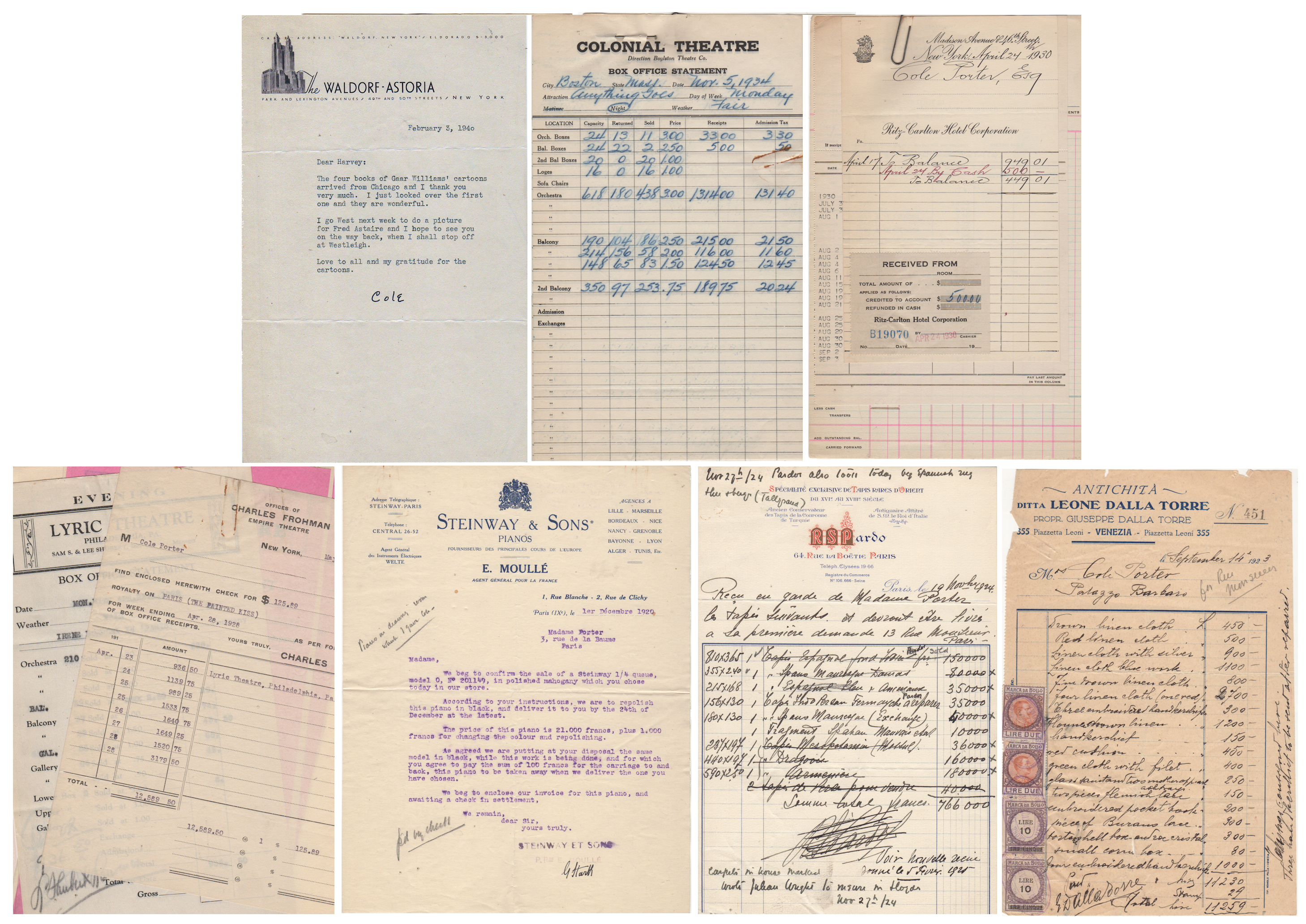 Cole Porter, Madam Cole Porter (Linda Lee Thomas), and Harry Cole. France, Italy, New York City, and Peru, Indiana: 1917-1962.
There are over 200 items in this archive including signed letters, telegrams, invoices, box office and royalty receipts, hotel and restaurant tabs, cancelled checks, bank tickets, a copy of Porter's 1930 will, and more. All are in nice shape. There are twelve letters, one cancelled check, and one bank withdrawal with Porter's distinctive printed signature. Some of Porter's comments in these letters include: "Linda and I are tooting off on a slight cruise to Venezuela over the holidays." "I go West next week to do a picture for Fred Astaire. . .." "I purchased this painting from the British War Relief Association and am having it sent on to New York for my apartment there, in the Waldorf." "Beside the Thousand dollars that I asked you to send me this morning, could you send me another thousand as I have quite a few cash presents I want to give for Christmas, and in spite of the fact that the money rolls in like water, it rolls out like lightning. . .." "How much more money could I borrow in case of a crisis? These taxes are something incredible and there are days I haven't even enough money to pay the barber." "I am sure that I have never met Mr. Estler, and if I didn't receive outrageous demands every day from so-called 'fans' I should be outraged by his great nerve. . .."
Other items include: Itemized bills from stays at the Ritz-Carlton and Waldorf-Astoria Hotels. Kate C. Porter's (Cole's mother) copy of the 1930 "Last Will of Cole Porter". Payment document for the "Motion Picture Rights" to Fifty Million Frenchmen, Box Office Statements for Porter's first Broadway hit "Irene Bodoni in Paris" that elevated him into the ranks of upper echelon Broadway composers, an "English Royalties" statement for Gay Divorcee and the "Final Return", a royalty document for Nymph Errant, Box Office Statements for Anything Goes, Request from "the Oldsmobile company" to perform a parody corporate performance of Kiss Me, Kate, and French and Italian invoices for perhaps more than 500 objets d'art and antiques (including a 22,000-franc Steinway piano, the equivalent of about $22,000 2020 dollars).
Unique. The objet d'art and antique invoices are especially significant and likely the only complete record of what was actually in the Porter's legendarily extravagant European apartments. Cole Porter donated his personal papers to Yale University, but that collection appears to hold nothing like what is in this archive.
Offered by Read 'Em Again Books & Paper, booth #507.
KINGSBOROUGH, Viscount Edward. Antiquities of Mexico, Comprising Facsimiles of Ancient Mexican Paintings and Hieroglyphics..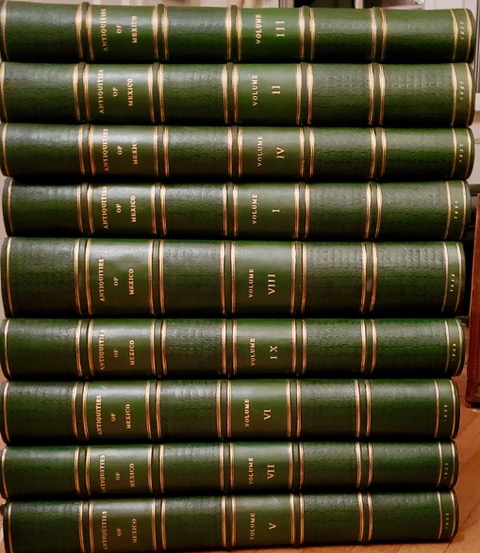 London: Robert Havell/Henry G. Bohn, 1831-1848. First edition of this massive work. Nine folio volumes. Volumes 1-7 published by Havell, volumes 8-9 by Henry G. Bohn. Text in English and Spanish. With 742 lithographic plates (most hand colored and 6 folding) and 2 lithographic tables (complete). 742 plates; 588 hand-colored lithographs (39 of these colored in part only), 144 uncolored lithographs (of which 127 are chalk lithos on mounted India paper), 4 engravings, and 6 aquatints (one folding), 2 lithographic tables in text volumes V and VI, with the 60-page section for the projected volume X bound in at end of volume IX. Complete. Beautifully bound in quarter green morocco over green cloth,
gilt spine lettering. Old perforations expertly and invisibly repaired to the point of indistinguishability. Each massive volume is roughly two feet square, weighs about 65 pounds, and consists of hundreds of pages of text and magnificent illustrations in color and black-and-white. A very handsome copy of an exceeding important and rare book.
Kingsborough's splendid work on the antiquities of Mexico is considered to be one of the most important books ever printed on the subject of Mexican and Central American archaeology, providing in incredible detail a panoramic history of pre-Cortesian culture and the early conquest. "The greatest illustrated work on Mexican antiquities. Lord Kingsborough's (1795-1837) fascination with Mexican antiquities began while studying at Oxford, when Sir Thomas Phillipps showed him the Codex Mendoza, described by Samuel Purchas in 1626 and preserved in the Bodleian Library. Thus inspired and encouraged by Phillipps, Kingsborough decided to devote his life to the study of Mexican antiquities and the publication of this work. To this end, Kingsborough commissioned the Italian landscape painter Agostino Aglio to furnish the reproduction drawings and lithographs of the Mesoamerican artworks and codices used to illustrate the volumes. Born in Cremona and resident in London since 1803, Aglio had previously illustrated antiquities of Ancient Egypt and Magna Græcia on behalf of the English architect William Wilkins. Aglio spent the better part of six years travelling to the libraries and museums of Europe to examine and draw all of the "Ancient Mexican" documents, artefacts and manuscripts known in European collections of the time. . The plates depict mostly Mesoamerican pictorial codices, together with over 150 plates of sculpture and architecture. The substantial text, with sections in Spanish, English, French, and Italian, includes Sahagun's Historia General de la Nueva España and the chronicles of Alvarado Tezozómoc and Alva Ixtlilxochitl. This enormous project cost Kingsborough £32,000 and his life: in 1837 he died of typhus contracted in prison in Dublin, a few days after being arrested for a debt to a paper manufacturer and others. Had he survived a few more months, Kingsborough would have inherited his father's annual estate of £40,000" (Sotheby's).
Offered here is the hand-colored edition. "Two main types of Antiquities of Mexico were published: one with color plates, the other with uncolored line drawings. Apparently lithographic prints of the line drawings were taken and colored individually by Aglio,or under his direction, to make the colored plates. The colored varieties always fetched a higher price. Besides some references stating implicitely that these two varieties existed, some stated the fact explicitly. An article in the Foreign Quarterly Review of 1832 states in the footnote on p. 91,"The price is £120 with the plates in plain outline, and £175 coloured." Sabin 37800; Palau 37800; Brunet III, 663.
Offered by Nat DesMarais Rare Books, booth, #116.

UFO Archives of Wendelle Stevens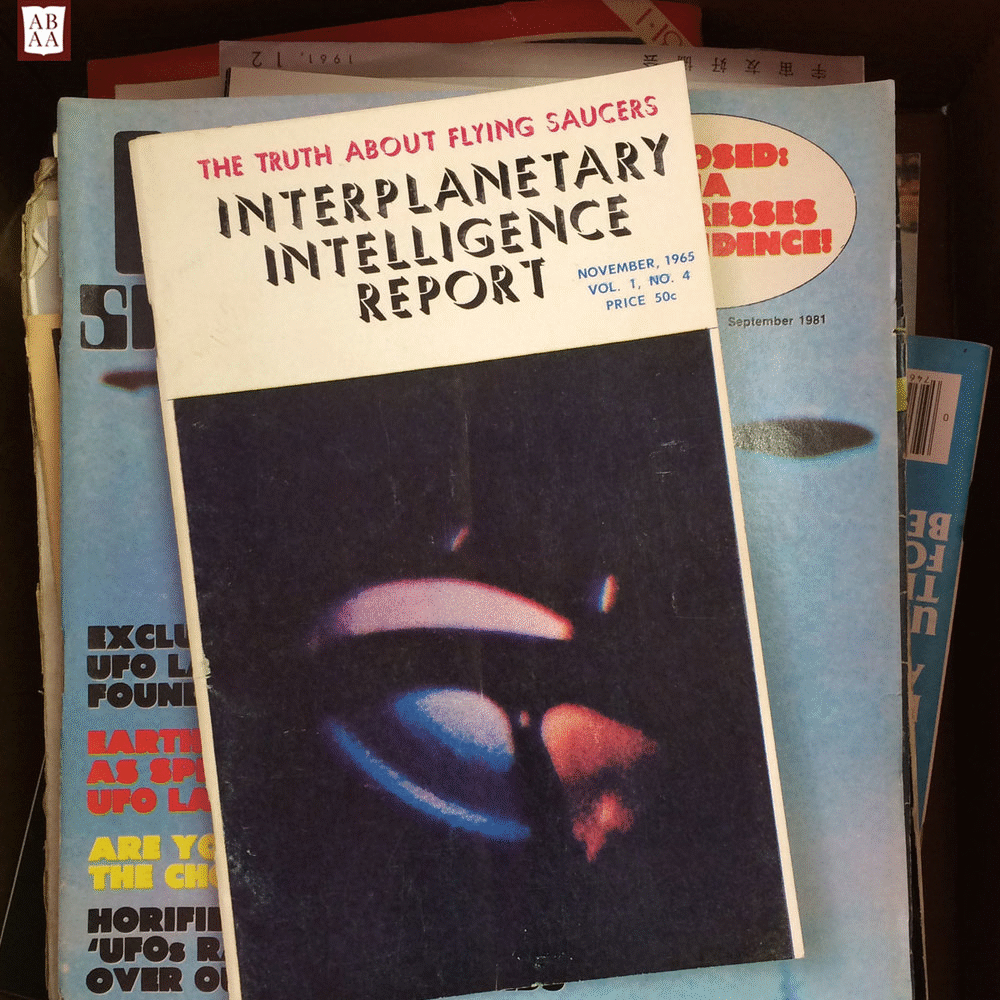 UFO Photo Archive - Wendelle C. Stevens. 1945-2010. Twenty-four boxes containing material related to the life and career of ufologist Wendelle C. Stevens and the operation of his UFO Photo Archive, including more than 5000 photographs of UFO sightings and related phenomena, 300-plus items of correspondence (containing letters, photographs, drawings and/or manuscripts), 350-plus periodicals, including rare and international publications, approximately 3 linear ft of material related to Stevens' own encounter experiences, including séance transcripts and other new age material, Colonel Stevens' Air Force Flight Record, Health Record and more. An item-level inventory with photographed highlights is available upon request.

Colonel Wendelle C. Stevens, born 1923 in Round Prairie, Minnesota, was a leading ufologist for more than 50 years and the creator of one of the largest private UFO photo archives known. Stevens' interest in the UFO phenomenon was kindled by his experience as an Air Force pilot in the Arctic after the end of World War II, where he encountered mysterious radio transmissions while working as part of a classified project to photograph and map the area using new technology. Stevens began his own investigations after retiring from the Air Force, and in 1979 published the 4-volume UFO… Contact from the Pleiades, which detailed the extraterrestrial experiences of Edouard "Billy" Meier in Germany and established Stevens' reputation in the world of Ufology. Over the following three decades, Stevens amassed his collection of UFO photographs from around the world, researching and writing articles about the encounter stories they illustrated and appearing as an expert at UFO conferences internationally. From his home in Tucson, he was the Director of Investigations for the Aerial Phenomena Research Organization (APRO) and a founder of the International UFO Congress. In total, Stevens authored or co-authored more than 22 UFO-related monographs. Colonel Stevens received a lifetime achievement award at the First World UFO Forum in Brasilia, 1997. He passed away in Tucson, Arizona, in 2010. This collection of material was acquired directly from a storage locker owned by Stevens. An associate of Stevens, John Hughes, kept up on the the rental fee for the locker after Stevens passed away. In February of 2018, Hughes also died, and the locker was acquired by a single bidder, who then transferred ownership of the material to Back of Beyond Books, where it currently resides.
Offered by Back of Beyond Books, booth #517.
White, Dr. Victoria - Chief Editor. A MANUAL Of NURSING Prepared for the Training School for Nurses Attached to Bellevue Hospital.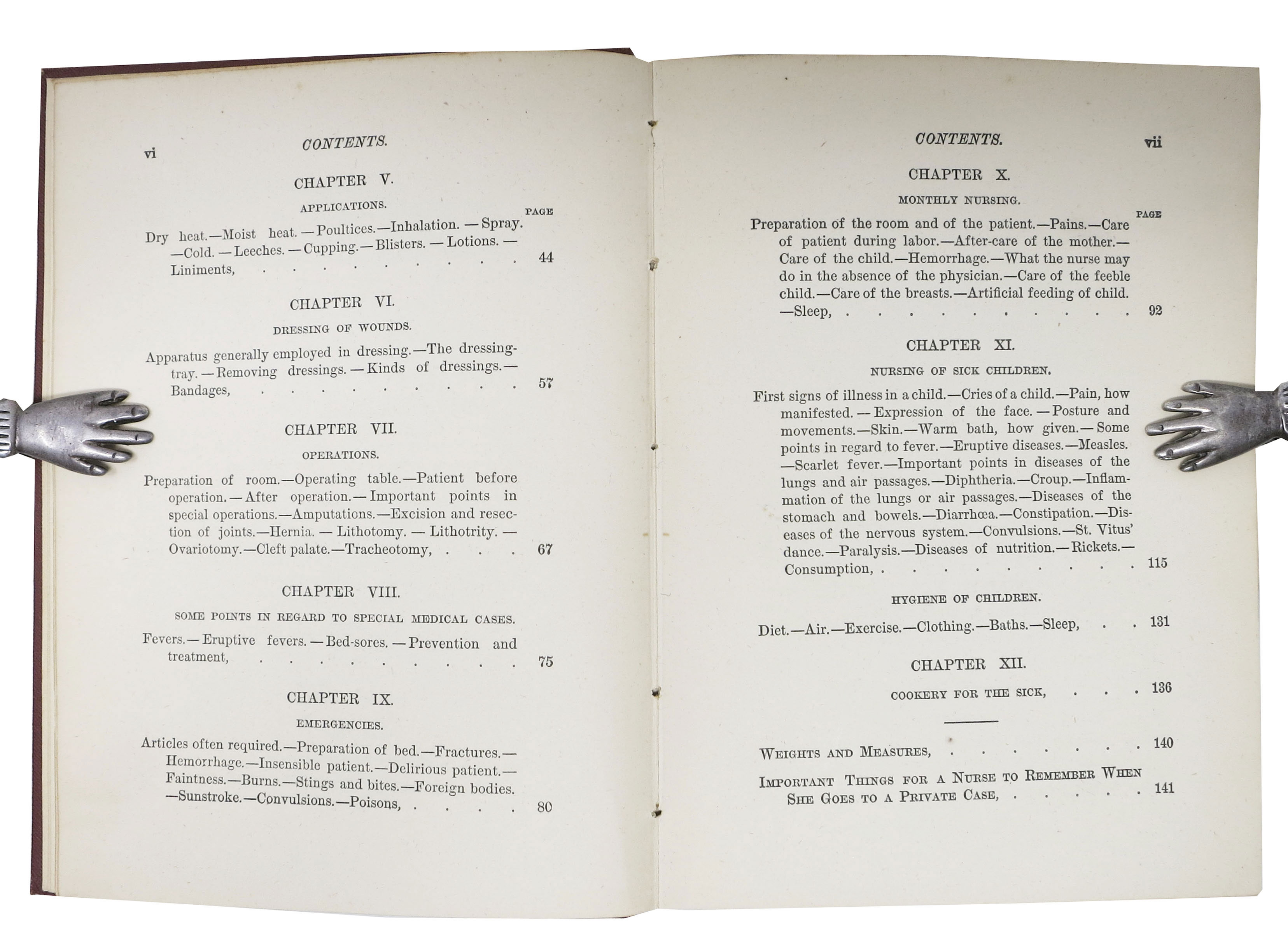 New York: G. P. Putnam's Sons, 1878. 1st edition (Cordasco 70-2315). vii, [1], 143, [5] pp. Adverts last 4 pages. 12mo. 6-3/4" x 5". Original publisher's terra-cotta cloth binding with gilt stamped lettering to front board. Square & tight. Light shelfwear. A pleasing VG+ copy.
A study of United States nursing history reveals that formal nursing schools were initially established in the early 1870s at two locales: Connecticut, at the Connecticut Training School in New Haven, and New York, at Bellevue. Both schools began instruction using Nightingale's NOTES ON NURSING, but found the need to publish texts of their own to accompany the training regimen provided their students... this manual of Bellevue's was one that resulted. There is tangential evidence that hints that CTS published one locally in 1876, though no copy is currently known to exist. Consequently, at present, this work of White's has the distinction of being regarded as the first strictly U.S. nursing textbook, receiving such priority based on its 1878 imprint date (the known C.T.S. Lippincott publication having an 1879 imprint date. Cf. Cordasco 70-1507).
A quite uncommon book on the subject, much more so than the Nightingale title, and just as important, if not more important, to the profession's development in the United States. OCLC does show fairly wide institutional holdings, however this seminal text is not in the NUC, nor none at auction these past 30 years and, in our experience, is infrequently encountered in the trade.
Offered by Tavistock Books, booth #312.