Pardon the pun, but the 51st California International Antiquarian Book Fair is going to be a monster event! Not only are about 200 rare book dealers from around the world bringing the cream of their respective crops to Pasadena, but it's also the 200th anniversary of the publication of Mary Shelley's Frankenstein, and there's going to be a huge exhibit to celebrate the classic book.
From the organizers:
From February 9-11, 2018, Southern California hosts the nation's largest rare book exhibition as thousands of book lovers, booksellers, and scholars converge at the 51st California International Antiquarian Book Fair. The 2018 Book Fair also celebrates the 200th anniversary of the publication of Mary Shelley's Frankenstein; or, The Modern Prometheus with a special exhibit spotlighting holdings from the Academy of Motion Picture Arts & Sciences, Occidental College Library's Ned Guymon Mystery and Detective Fiction Collection, University of California Riverside Library's Eaton Collection of Science Fiction & Fantasy, and Sara Karloff, the daughter of Boris Karloff.

Recognized as one of the world's pre-eminent exhibitions of antiquarian books, this eagerly anticipated bi-annual fair gives visitors the opportunity to see, learn about and purchase the finest in rare books, manuscripts, autographs, graphics, photographs and more.
Featuring over 200 booksellers from the Antiquarian Booksellers' Association of America (ABAA) and International League of Antiquarian Booksellers (ILAB), the Book Fair presents volumes from five centuries of printing, as well as original manuscripts many of which predate Gutenberg. Books cover every imaginable area -- from the history of travel and exploration, early science and medicine to classic literature, modern first editions and children's and illustrated books. Items range from a few dollars to six figures.
"Mary Shelley's Frankenstein has captured the imagination of readers and artists for 200 years and has spawned a complete genre of literature, movies and pop culture," said Michael R. Thompson, Book Fair Co-Chair of the Southern California Chapter of the ABAA. "We hope the myriad expressions of the Frankenstein story in this exhibition will excite Book Fair visitors about the possibilities of collecting in subject areas that interest them. With hundreds of top booksellers across the country and around the world, the Book Fair affords boundless opportunities for both the experienced and new collector to unleash their passions."
"The 2017 edition of the Book Fair will have an especially strong international flavor as many of the foreign dealers assembled for the ILAB Congress in Pasadena the preceding week will stay on to exhibit," said Book Fair Co-Chair Jennifer Johnson. "We are particularly excited to welcome a group of Japanese dealers, who are exhibiting at our Book Fair for the first time."
This weekend extravaganza of rare and beautiful books will also include talks and seminars including a session on the basics of collecting. Discovery Day on Sunday lets attendees present three items to experts for free examination. Designed with the budding collector in mind, "Book Fair Finds" is a program in which dealers spotlight items priced at $100 or less.
The Book Fair takes place at the Pasadena Convention Center at 300 East Green Street, Pasadena, CA. Tickets on Friday, February 9 are $25 for three-day admission. Proceeds from Friday tickets benefit and offer free admission to the Huntington Library, Art Collections, and Botanical Gardens in February. Tickets on Saturday or Sunday are $15 and include return entry and free admission to the Huntington during the Fair.
---
What: 51st annual California International Antiquarian Book Fair
Where: Pasadena, CA
When: February 9-11, 2018
Tickets: https://www.eventbrite.com/e/51st-california-international-antiquarian-book-fair-presented-by-the-abaa-and-ilab-tickets-38559910731
For more information, visit cabookfair.com...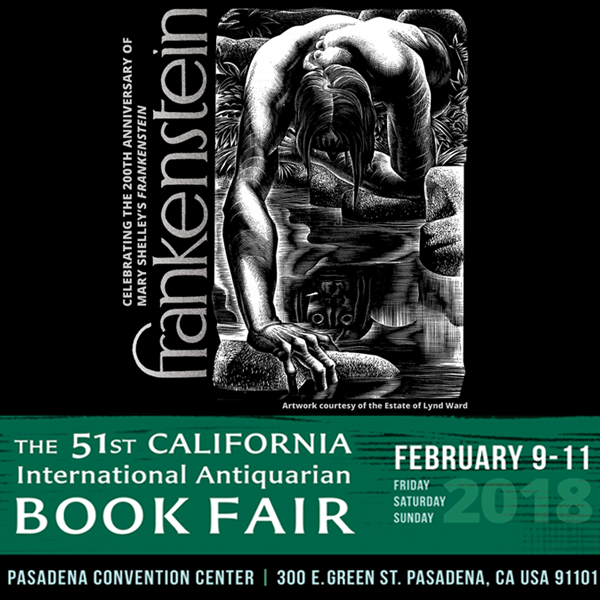 ---
Featured Items!
Dracula & Frankenstein Pressbook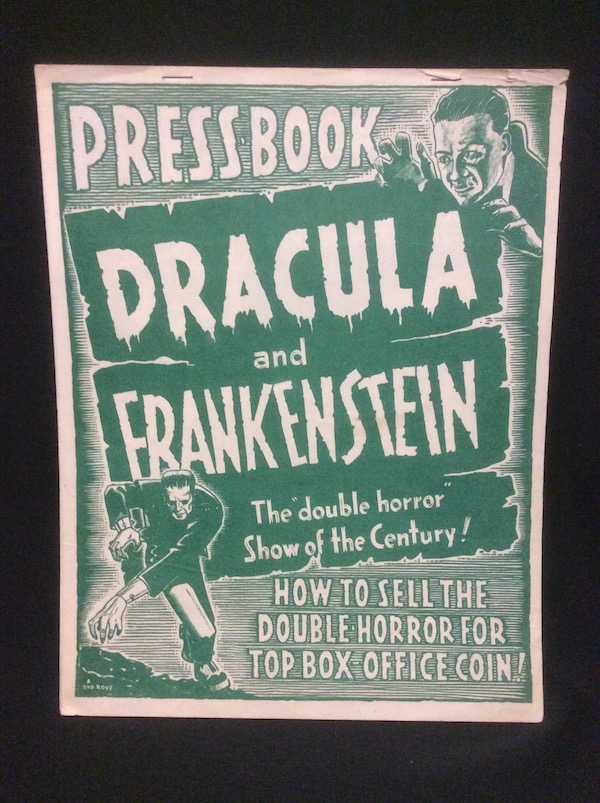 Stapled at the top edge as issued, there follow nine illustrated pages of press campaigns including spot announcements, attendance records, stunts, display ads, clippings, etc. recommending "double horror" showings of 1931's Dracula and Frankenstein. (Offered by Jeffrey H. Marks Rare Books)
Frankenstein: or, The Modern Prometheus + The Ghost-Seer (2 Vols) 1st Illustrated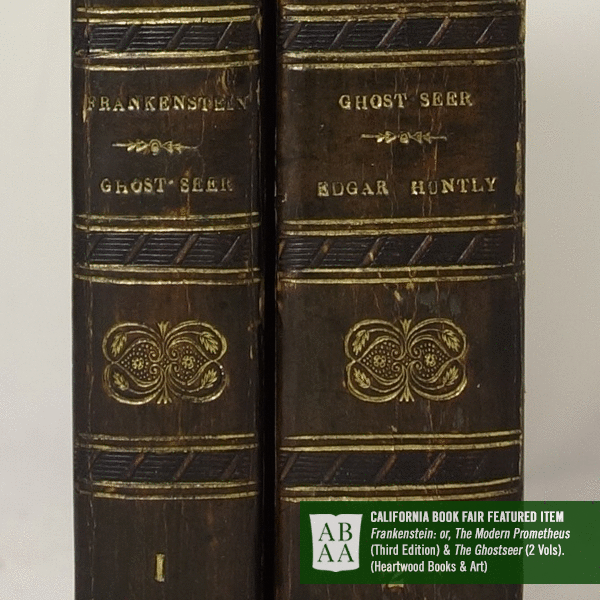 Third Edition. FIRST ILLUSTRATED EDITION OF FRANKENSTEIN, revised, corrected, and with a New Introduction by the author. TWO VOLUMES. In the introduction, Mary Shelley relates for the first time the circumstances and origin of the tale. Also, in this edition, Dr. Frankenstein's creation is depicted for the first time - we also see the doctor fleeing in terror from his awakening monster. Bound with THE GHOST-SEER! by Schiller and EDGAR HUNTLEY, OR, THE SLEEP WALKER by Charles Brockden Brown. This is the rarest issue of this edition, as it is bound both with THE GHOST-SEER and EDGAR HUNTLEY, rarely found thus. Contemporary half-calf and marbled boards, spines lettered and numbered in gilt with strapwork tooling and three gilt ornaments each. Frontispiece illustration for each. (Offered by Heartwood Books & Art)
F. Scott Fitzgerald, Tender is the Night
Pristine First Edition in brilliant unrestored dust wrapper. (Offered by Green Gate Farm Antiquarian Books)

Aesop, Sebastian Brandt, Appologi sive Mythologi cum quibusdam Carminum et Fabularum additionibus Sebastiani Brant
Basel: Jacob Wolff of Pforzheim, 1501. First edition thus. An early illustrated edition of Aesop's Fables, augmented and edited by Sebastian Brant and the first edition to include his additional 140 sections. Two parts in one volume, folio (leaves measuring 297 x 208 mm). Collates complete, retaining one of the two blank leaves (M6 lacking). Collation identical to the Fairfax-Murray copy: a-b8, c6-o8 (alternately), p-s6 (s6 blank and original); A-B8, C-D6, E8-K6 (alternately), L4, M5, (M6, final blank, lacking). With the famous woodcut portrait of Aesop on the verso of a1 and a smaller woodcut portrait of Brant on the verso of A1 in part two. A total of 335 woodcuts divided into 194 in part one and 141 in part two (inclusive of the portraits). Text in Latin.

Full black straight-grain morocco. Boards ruled in gilt with gilt dentelles. Spine stamped and lettered in gilt. All edges gilt. Marbled endpapers. Generous margins. Previous owner's small bookplate on front pastedown. This copy has been very carefully restored and generally presents quite well. Certain passages were deemed obscene shortly after publication and as a consequence, most known copies have a few sections defaced. This copy is no different with a number of passages and illustrations crossed out and/or marked "no legas" ("do not read"). A number of leaves have had small marginal tears or wormholes repaired, occasionally affecting a letter or a word. One leaf, C4, with a small hole affecting the woodcut on the recto and two or three words on the verso. A few leaves have been remargined, including the title page to part 2 (leaf A1). In two places leaves are bound out of order. The flaws notwithstanding, a lovely book.

The plan of this edition was conceived by Sebastian Brant. The first part of the book is based on Johann Zainer's first illustrated edition of 1476-77, translated into Latin by Heinrich Steinhöwel. Brant expands the work, polishes the language and includes his commentaries to these fables. The second part is an entirely new work by Brant, of 140 fables, riddles, accounts of miracles and other wonders of nature. These 140 new chapters follow the same structure as the first section, with a woodcut followed by verse and then prose, "some of a very remarkable character," according to Hugh W. Davies (Fairfax Murray). These compositions are taken from the works of Stace, Juvenal, Virgil, Ovid, Lucien... The first story, taken from Hesiod, is said to be the oldest known fable.

"The numerous woodcuts in this volume fall into two distinct categories. The woodcuts in the first part (with a few exceptions) are rather simplistic and naive in execution and are based (in reverse) on the woodcuts from Zainer's successful Ulm edition of c.1476 (incidentally the first illustrated edition of Aesop); the actual blocks were first used in Wolff's edition of not after 1489 (Goff A115). The woodcuts of the second part are more sophisticated, with the use of hatching and perspective to enliven the images, and they were cut specifically for this edition; is it thought they were produced by the workshop of Johann Grüninger in Strassburg." (Sotheby's) According to Hugh W. Davies, "The remainder of the cuts are by a new artist, the style entirely differing from the older blocks. These are heavily shaded by thin close parallel lines, amalgamating into a solid mass in the deepest shadows. The perspective as a rule is fair: the faces are well rounded, the noses being broad at the bridge but well-shaped. The cuts have the appearance of metal, but they nevertheless are probably on wood."

In the past 30 years there have been five other auction results for this book (one copy selling twice). The average price achieved in those five sales (including the buyer's premium) is just under $119,000. If we average just the two copies sold in the last ten years, that average jumps to over $167,000. Of those five results, the lowest sale price (from 2002) made over $81,000. And finally, to complete the analysis, a particularly fine copy was offered by the trade in 2014 for 200,000 pounds, roughly $329,000. So, while our copy has it's defects and imperfections (as do almost all other copies), it is priced competitively for such a lovely and important work.
(Offered by Whitmore Rare Books)
George Grosz, ECCE HOMO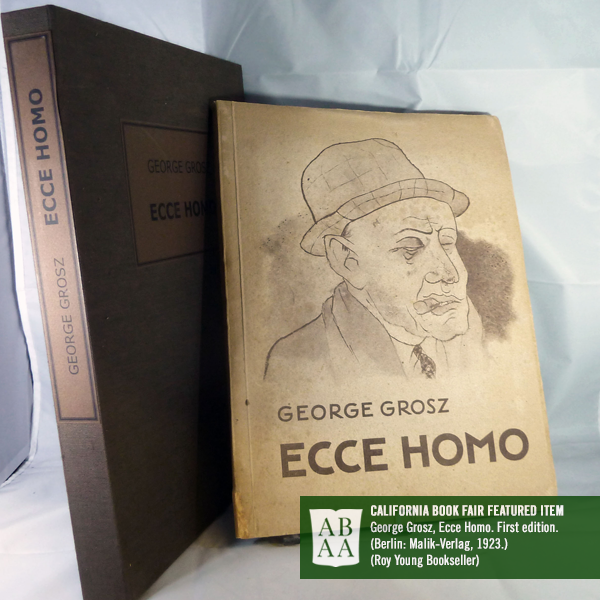 First edition of George Grosz's "Ecce Homo" (Berlin: Malik-Verlag, 1923), his fierce attack on the morality of German life after the First World War, which resulted in the prosecution of Grosz and the suppression of some of the plates (all present here). (Offered by Roy Young Bookseller)
Dodgson, Charles Lutwidge, pseud. Lewis Carroll. Aventures d'Alice au Pays des Merveilles.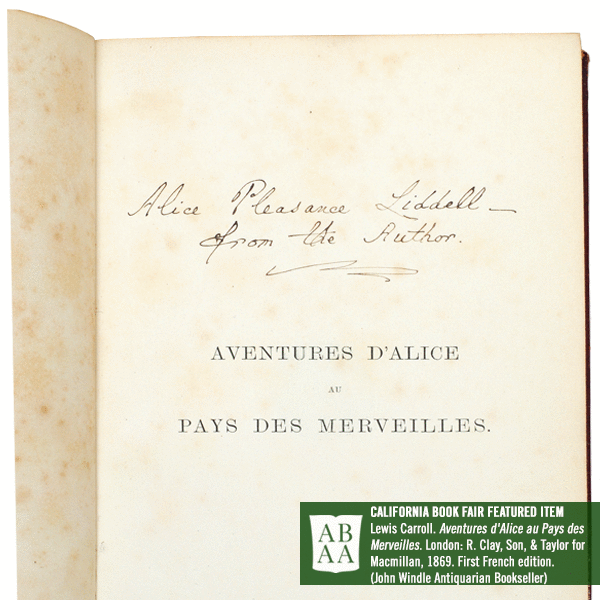 London: R. Clay, Son, and Taylor for Macmillan, 1869. 8vo (186 x 127 mm), (xii), 196 pp. with 42 illustrations after John Tenniel. Red morocco by J.B. Hawes, covers with gilt frames and tooled corner-pieces, "A.P.L." in the center of the upper cover, backstrip gilt-lettered, green endpapers, edges gilt. Scattered foxing to first and last few leaves, extremities of binding lightly rubbed, spot on lower board.
First French edition, Alice's copy. Inscribed by Dodgson to the original Alice: "Alice Pleasance Liddell from the Author". Second foreign language translation after the German edition published earlier the same year. The difficult work of translation was done by Henri Bué. His judicious approach, which included substituting the parodies of English popular songs with French equivalents, was commended by Carroll in a statement on the verso of the title page. An extraordinarily evocative piece of history - this is the only the second book Carroll inscribed to Alice, and was done when she was 17 and the infamous break between him and the Liddell family was six years past. Of the presentation copies of the earlier books, the 1865 Alice's Adventures in Wonderland was specially bound but not inscribed and is now in the Houghton Library; the 1866 Alice's Adventures in Wonderland was inscribed but not specially bound and is now in the Berg Collection at the NYPL; and the German first edition was signed by Alice but not by Carroll. (Similarly, the presentation copy of Through the Looking-Glass (1872) was signed only by Alice. It last sold at the Gloucester sale 26 Jan 2006 (£48,000).)
Provenance: Alice Pleasance Liddell (inscription; sale, Sotheby's, 3 April 1928, lot 321), Sir R. Leicester Harmsworth (inscription; sale, 26 March 1947, lot 2893), Duke of Gloucester (sale, Christie's 26 January 2006, lot 484, £55,000), private collector.
(Offered by John Windle Antiquarian Bookseller)