Some 35 years ago, Charles Bukowski wrote, "Fante was my god"—and with those four words, he brought John Fante and his great books back out of near-obscurity.
The quote is from the preface Bukowski wrote for the 1980 Black Sparrow Press reissue of Fante's 1939 novel Ask the Dust, his semi-autobiographical masterpiece of loneliness and Los Angeles, optimism and passion in the face of destitution and abandon. Bukowski's work owed a debt to Fante, but in bringing Fante back and—with the help of Black Sparrow's John Martin—getting Fante's work back into print, Bukowski gave a generous gift to the literary world at large. Fante died just three years after his return to the limelight, but thanks to Buk, many of Fante's works—including five novels and a short fiction collection (as well as five posthumously released books of fiction and two books of letters)—remain in print today.
---
Ask the Dust (Inscribed First Edition) by John Fante
NY: Stackpole. (1939). The second book in his semi-autobiographical "Bandini quartet," based on the author's life and experiences in Depression-era Los Angeles. Made into a film in 2006 by Robert Towne, who reportedly called it the best novel ever written about Los Angeles. The film starred Colin Farrell, Selma Hayek and Donald Sutherland. Inscribed by Fante in the year of publication to the collector (and bibliographer of Christopher Morley) Henry Tatnall Brown, Jr., "with the hope that he likes my book," and dated November 14, 1939, apparently at a promotional event for the book. Brown's bookplate front pastedown, slight offsetting from the bookplate; else a fine copy in a near fine, spine-sunned dust jacket with very light edge wear. A very nice copy of Fante's most famous and acclaimed book, seldom found with a notable association. First Edition. Hardcover. Fine. (Offered by Ken Lopez - Bookseller)
---
John Fante was born in 1909 in Denver, Colorado. His father was an Italian immigrant and his mother was a second-generation Italian. Fante was raised strict Roman Catholic and the impact of those rigorous early years on Fante's character is evident in his early fiction, which is heavily autobiographical and focuses at least in part on his deeply religious childhood. Fante studied briefly for the priesthood, but, to use his words, he "discover[ed] no vocation and abandoned them" and at the age of 20, he decided to head west to Los Angeles—riding in the back of open trucks and jumping freight trains to get there.
Fante had a couple of relatives in Wilmington, so that's where he settled once he made it to L.A., though eventually, he found his own place in Long Beach. Fante briefly held a series of labor-intensive jobs, including digging ditches, selling peanuts on the passenger streamer the S.S. Catalina, and working for the California Packing Company in a fish-canning plant on Terminal Island. Between steady gigs, he would go to the Waterfront Employers Association in San Pedro and hire himself out as a casual dock and warehouse laborer.
Before long, Fante resolved himself to ditch these exhausting gigs and become a writer, a great writer—one like his heroes Knut Hamsun and Sinclair Lewis—opting to live in poverty in an attempt to "make it" as a writer. He found an apartment in the Alta Vista Hotel on Bunker Hill and decided to devote all of his waking hours to crafting fiction and trying to place stories in magazines. Fante had his sights on The American Mercury, edited by H. L. Mencken, and he tirelessly beat down Mencken's door with submissions until he finally got a story taken there in August of 1932.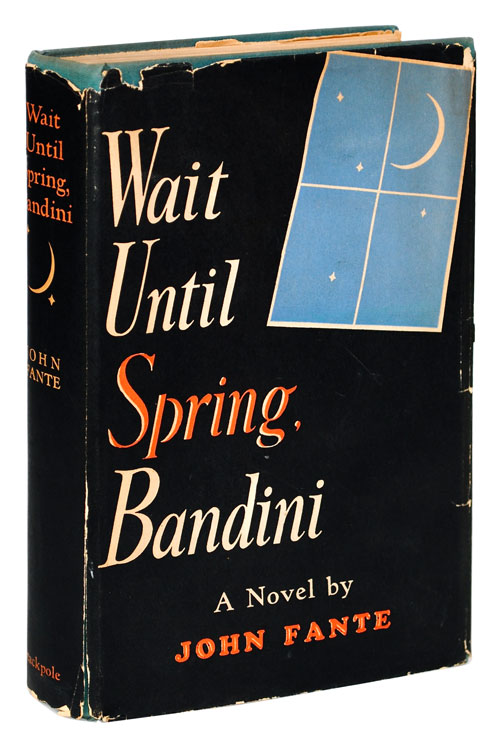 In the years following, Fante dedicated himself to the novel form and in 1938, Stackpole Sons published his first novel, Wait Until Spring, Bandini—one of four volumes that would make up what is now referred to as "The Saga of Arturo Bandini" or "The Bandini Quartet." For the novels of this quartet, Fante created a recurring character, Arturo Bandini, a sort-of Fante alter-ego. Ask the Dust, considered by many to be Fante's master-work, followed just a year after Wait Until Spring…—also published by Stackpole. Both of these novels regrettably went virtually unnoticed upon their release, due in large part to a small print run. Though it's difficult to know why exactly the print run was so small, many believe it was a result of Stackpole being sued at the time for an unauthorized publication of Mein Kampf. Regardless of the reason, these early Fante books are incredibly scarce and have become quite collectible in recent years.
Several of Fante's books read as love letters to Los Angeles, and none more so than Ask the Dust. As much as L.A. beats him down, Bandini can't help being effusive in his passion for the city, saying early on in the book, "Los Angeles, give me some of you! Los Angeles come to me the way I came to you, my feet over your streets, you pretty town I loved you so much, you sad flower in the sand, you pretty flower." He's taken with the city's beauty and it represents all of the hopes and dreams he has for what his life can be.
---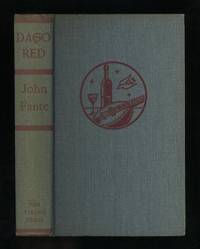 Dago Red by John Fante
New York: The Viking Press. Very Good. 1940. First Edition. Hardcover. (no dust jacket) [moderately shelfworn, binding solid, light spotting to top edge, light finger-smudges on a few pages, slight fading to spine cloth, ownership signature of novelist Martin Dibner on ffep]. (chapter head drawings) Fante's third book, a collection of his (as usual) rather nakedly autobiographical short stories, thirteen interrelated tales centered around family life in an Italian-American community. (Offered by ReadInk)
---
After Viking put out a collection in 1940 of Fante's short fiction entitled Dago Red—another very rare volume on the market these days—Fante began working in the film industry and was able to put together quite a successful career as a screenwriter up through the late '60s. Some of his credits include Jeanne Eagles, The Reluctant Saint, and Walk on the Wild Side.
In 1952, he published Full of Life with Little, Brown, later adapting it for the screen. Bantam reissued Ask the Dust in 1954 in a pulp paperback with a drawing of a very James Dean-looking Bandini on the cover, giving new life to the old novel and no doubt finding an audience with a new generation of readers.
---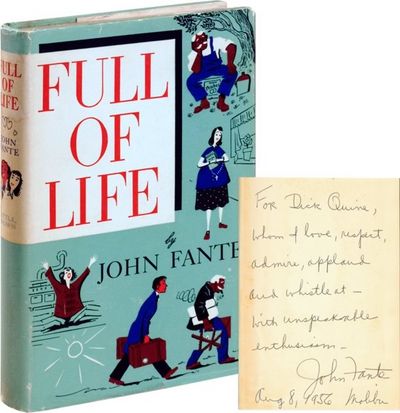 Full of Life (First Edition, Inscribed) by John Fante
Boston: Little, Brown, 1952. First Edition. First Edition. INSCRIBED by Fante in 1956 to Richard Quine: "For Dick Quine, / Whom I love, respect, admire, applaud, and whistle at--with unspeakable enthusiasm. / John Fante / Aug 8, 1956 / Mobbu." Quine was an American film director and producer. (Offered by Royal Books, Inc.)
---
Though Bukowski is to be credited with Fante being in print today, Fante wasn't completely forgotten by the late '70s. In 1977, Houghton Mifflin put out The Brotherhood of the Grape, an excellent short novel by Fante and his first new book in 25 years.
In 1980, when Black Sparrow reissued Ask the Dust, John Martin got Bukowski to write the preface and Black Sparrow did several editions of the book, including a very handsome hardcover version limited to 75 copies and signed by both Fante and Bukowski. Two years later, in 1982, Black Sparrow began releasing hitherto unpublished work by Fante, starting with a new novel, Dreams from Bunker Hill.
By this time, Fante had been suffering severely from diabetes for many years and its complications had brought about blindness—…Bunker Hill was written by dictation to Fante's wife, Joyce. The year of Fante's death in 1983, Black Sparrow brought out a reissue of Wait Until Spring, Bandini—it was the first time the book had been in print in 45 years.

I first heard of John Fante from my buddy Bob Pajich—who used the name Arturo Bandini as his email handle back in the early '00s. Bob recommended Ask the Dust multiple times to me, saying it was his favorite novel ever and, I'm not sure why, but it took me years to get around to finding a copy. Once I did get a copy and once I read it, I was incredulous that the book was really from the late '30s—the prose was so alive, so contemporary. And more than that, it was really funny and at turns so bitter and so tender. The character of Arturo Bandini was so well-written, so honest, so sincere, some scenes had me shaking my head, laughing at his follies, and others had me heart-broken at what felt was his very real pain. This one book hooked me on Fante—I had to have anything of his I could find.
Over the past several years, I've been able to locate nearly everything Fante published in his lifetime, and several items in addition to that, including some Fante scholarship. Black Sparrow published seven books (of new material, not reprints) after Fante's death, Fante-scholar Stephen Cooper has released a Fante Reader and a biography, and Fante's son Dan—a fiction writer in his own right—put out a biography as well. A couple years ago, I acquired a somewhat beat-up copy of the August 1932 American Mercury that features Fante's first magazine publication, a short story called "Altar Boy." And recently, I was able to purchase a gorgeous hardcover of the Black Sparrow reissue of Wait Until Spring, Bandini, which is signed by Fante. That volume is hands-down one of the most prized possessions in my entire book collection.
---
Note: this article was originally published in February 2016. We are republishing it as the book-collecting world descends on Los Angeles for the ILAB Congress followed by the 51st annual California International Antiquarian Book Fair in Pasadena, CA.