Dalton Trumbo got his start in writing as a reporter in college, and subsequently contributed stories to the popular magazines of the early 1930s: McCall's, the Saturday Evening Post, etc. In 1935, he got a job at Warner Brothers studios, and began his career as a prolific screenwriter and occasional novelist.
His first novel, Eclipse, drew heavily on his youth in Grand Junction, Colorado, and, like Thomas Wolfe's Look Homeward, Angel a few years previously, caused a lot of consternation in his hometown.
Trumbo quickly became an in-demand screenwriter, and was nominated for an Academy Award in 1940 for Kitty Foyle.
Johnny Got His Gun
His third novel, Johnny Got His Gun, was released in 1939, and struck a chord with its anti-war message, winning a National Book Award (then called the American Booksellers' Award). Johnny Got His Gun tells the story of Jon Bonham, who survives the war but must slowly come to terms with the fact that he's lost all his limbs and his face. A stream of consciousness novel, the book is notable in part because Trumbo omits all commas. The novel (and later the film version) became important anti-war touchstones during the Vietnam war era.
Blacklisting
In the political climate of the early 1940s, the American communist party was a magnet for those with anti-war sympathies, intellectuals, and anti-fascists. Trumbo was a member for several years, along with many other artists and writers. He was called to testify by the House Un-American Activities Committee in 1947, along with nine other screenwriters. He refused to testify, and was blacklisted by Hollywood. He served almost a year in jail for contempt of Congress, and subsequently moved to Mexico.
The blacklisting did not stop him writing screenplays; he wrote prolifically under a series of pseudonyms. He wrote so many films under assumed names that it took decades for his full filmography to emerge. (For example, in 2011, 25 years after his death, he finally received credit for the Audrey Hepburn romantic comedy Roman Holiday.)
Trumbo received support from major figures in Hollywood, albeit privately at first. When, in 1960, Otto Preminger revealed that Trumbo had written the screenplay for his blockbuster Exodus, and Kirk Douglas publicly credited Trumbo for the screenplay for Spartacus, another major hit, the blacklist was effectively over.
Academy Awards
Noteably, Trumbo won two Academy Awards while blacklisted (for The Brave One (1956) under the pseudonym Robert Rich, and for Roman Holiday (1953), in this case another screenwriter, Ian McLellan Hunter, agreed to be publicly credited as the writer, and accepted the award. As noted above, the Academy finally acknowledged Trumbo in 2011.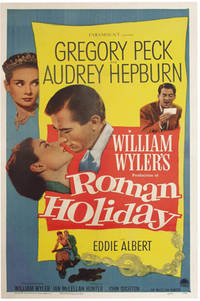 Roman Holiday (Original Poster)
Los Angeles: Paramount, 1953. American one sheet film poster for the classic 1953 romantic comedy, "Roman Holiday," directed by William Wyler, written for the screen by Dalton Trumbo (writing under the front Ian McLellan Hunter), and starring Gregory Peck, Audrey Hepburn, and Eddie Albert. Near Fine condition, 27 x 41 inches (105 x 89 cm), linen-backed and rolled. (Offered by Royal Books, Inc.)
In 1971, Trumbo wrote and directed an acclaimed film adaptation of his novel Johnny Got His Gun. He died in 1976, aged 70.
View the original theatrical trailer for Johnny Got His Gun.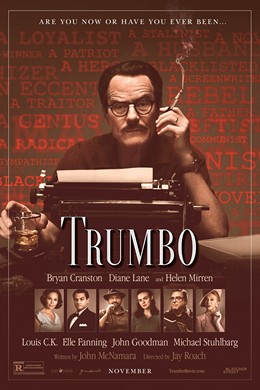 Trumbo, a film based on the screenwriter's life and experiences during his blacklisting, was released in 2015, starring Breaking Bad's Bryan Cranston, Diane Lane, and Helen Mirren.
---
Notable items connected to Dalton Trumbo: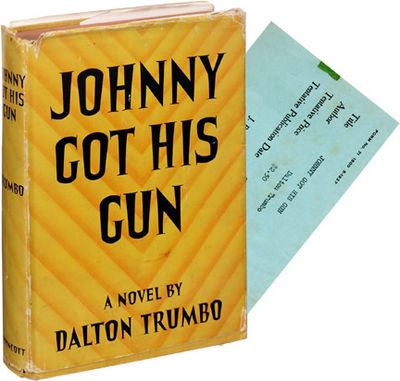 Johnny Got His Gun (First Edition, Review Copy)
Philadelphia: J.B. Lippincott, 1939. First Edition. First Edition. REVIEW COPY, with publisher's review slip tipped in at the front endpaper, and in a variant trial jacket. Jacket is just a bit taller than the book, an early variant printed separately for review copies. Trumbo would go on to adapt his novel to film (as both screenwriter and director) over thirty years after its publication, in 1971.Near Fine in a bright, Very Good or better dust jacket. Jacket shows some moderate fray at the spine ends and corners, but no significant loss. Presents quite well overall. (Offered by Royal Books, Inc.)
---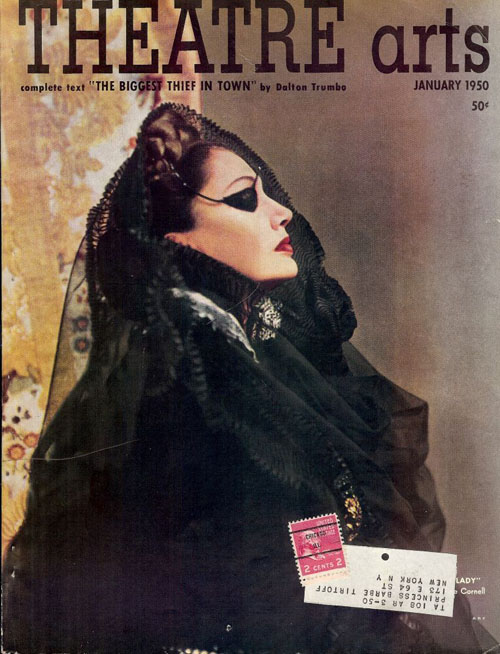 "The Biggest Thief in Town" by Dalton Trumbo ( In The Theater Arts Magazine, January, 1950)
1950. TRUMO, Dalton. THE BIGGEST THIEF IN TOWN. In The Theater Arts Magazine, January, 1950. Very Good (address label front cover, little creasing). (Offered by Antic Hay Books)
---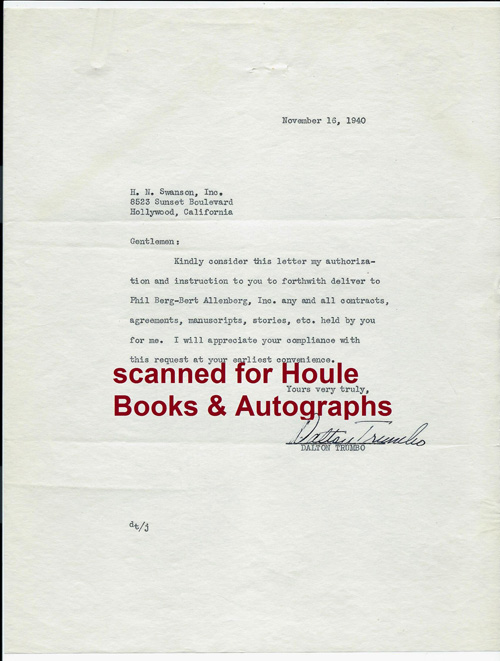 ("Dalton Trumbo") 1 page, November 16, 1940, to literary agent H. N. Swanson, Hollywood. 11" x 8 1/2". Very good (staple holes on top). Trumbo having terminated his contract with the Swanson Agency asks him to deliver all stories, manuscripts, and related items to his new agent Phil Berg - Bert Allenberg. (Offered by Houle Rare Books & Autographs)
---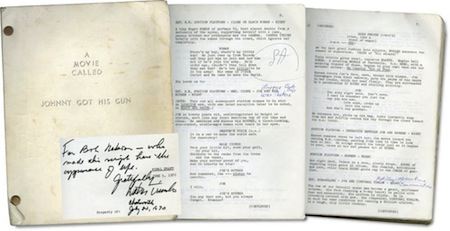 Johnny Got His Gun (Original screenplay, inscribed in 1970 by Dalton Trumbo to set decorator George R. Nelson)
Los Angeles: World Entertainment / Robert Rich Productions, 1970. Final Draft Script for the 1971 film, "Johnny Got His Gun," directed and written for the screen by Dalton Trumbo based on his 1939 novel, and starring Timothy Bottoms, Donald Sutherland, and Donald Barry. This is set decorator George R. Nelson's working copy, inscribed to Nelson by Trumbo on the title page during the production of the film: "For Bob Nelson / who made this script have the appearance of life / Gratefully / Dalton Trumbo / Chatsworth / July 24, 1970."
Nelson's notes are in holograph blue ink throughout, noting various props needed for various scenes (e.g., "Artillery", "war poster", "machine gun," etc.) Trumbo's classic meditation on the horror of war was first published in 1939 by J.B. Lippincott, winning the National Book Award (then called the American Book Sellers Award), and was subsequently serialized in the leftist newspaper The Daily Worker in 1940. Trumbo's left-leaning views, and ultimately his direct association with the Communist Party in the early 1940s caused him to be called before the House Un-American Activities committee, where, along with 9 other writers and directors, he refused to testify about Communist activity in Hollywood. The group, dubbed The Hollywood Ten, was subsequently blacklisted, and Trumbo spent 11 months in prison. Thirty years after the book's publication, Trumbo himself directed the film adaptation of his novel, which won the Grand Prize of the Jury at Cannes. White production company wrappers; title page present, stated FINAL DRAFT, with a date of June 5, 1970. 134 leaves, mechanically reproduced, rectos only. Pages and wrapper Very Good, well used but completely intact, bound with two tarnished gold brads. (Offered by Royal Books, Inc.)
---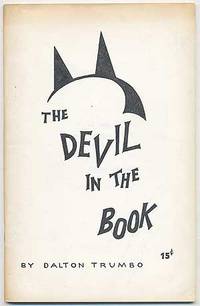 The Devil in the Book by Dalton Trumbo
(Los Angeles): (California Emergency Defense Committee). 1956. First. First edition. Some slight tanning to the edges, else fine in stapled wrappers. (Offered by Between the Covers Rare Books)
---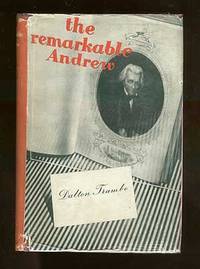 The Remarkable Andrew by Dalton Trumbo
London: John Lane. (1941). First. First UK edition. Small stain to the bottom of the spine, else near fine in very good, price-clipped dustjacket with a chip to the top of the spine obscuring the first word of the title, nicking and creasing to the edges of the panels, and light soiling to the rear panel. (Offered by Between the Covers Rare Books)
---
Komma (after Dalton Trumbo's Johnny Got His Gun)
In 2010, the artist Antonia Hirsch created an installation wherein a computerized voice read from Trumbo's text of Johnny Got His Gun -- which was written in a stream of consciousness without the use of commas (the word comma being derived from the Greek Komma, meaning "something cut out") against a black screen. Whenever a comma should have appeared in Trumbo's text, a white light flashed. The disorienting effect appears to have been intended to replicate the mental state of Trumbo's protagonist, who is trying to deal with the loss of his limbs in war.
Hirsch also published an artist's book, Komma, as part of the installation, showing only the commas in white ink against black paper.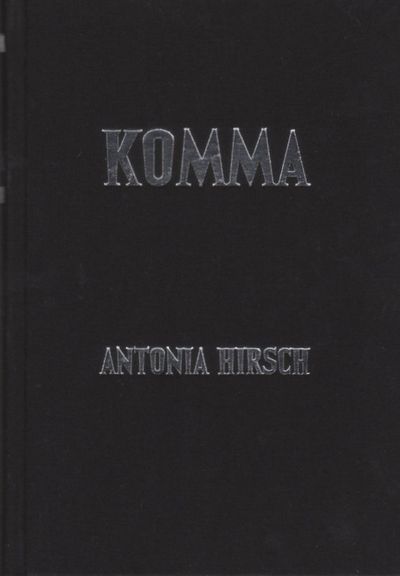 Komma (after Dalton Trumbo's Johnny Got His Gun by Antonia Hirsch (Signed, First Edition)
Vancouver: Fillip Editions, 2010. First Edition. Hardcover. Fine. 8vo. Black silver-gilt cloth. As new. Very fine. 309pp. with 16pp. stapled insert. Limited edition, one of twenty numbered copies, this #5, SIGNED by Hirsch. A brilliant artists' book. Dalton Trumbo's classic anti-war novel JOHNNY GOT HIS GUN was famously written without the use of commas. Hirsch, hiring a copywriter, had all of the commas inserted in their grammatically proper place in the novel. And then she removed the text. What remains - elegant constellations of white punctuation against black pages - is a somber and moving tribute to the original work. Maria Muhle and Kristina Lee Podesva provide context and commentary in the 16pp. insert. (Offered by Brian Cassidy, Bookseller)